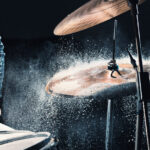 27% Of People Think This Drummer Is The Absolute Worst
echo get_the_meta(); ?>
The drummer is often the unsung hero in a rock band. While the lead vocalist provides the audience with the lyrics to sing along to, and the lead guitarist melts faces with sick shreds, the drummer often sits at the back of the stage, obscured by his own instruments. Indeed, so disposable is the drummer — at least, when played for laughs — that the fictitious band Spinal Tap made the strange deaths of their drummers a running joke in "This Is Spinal Tap."
However, the drummer's job is harder than it looks. If a song is in a complicated time signature, for example, the rest of the band relies on the drummer's rhythm cues to keep time. Or in other cases, a song may be known almost exclusively for a spectacular drum break, in which case all of the credit goes to the person holding the sticks. Grunge asked 597 U.S.-based readers which drummer was the absolute worst. Here are the "winners."
Our readers have a whole lotta love for John Bonham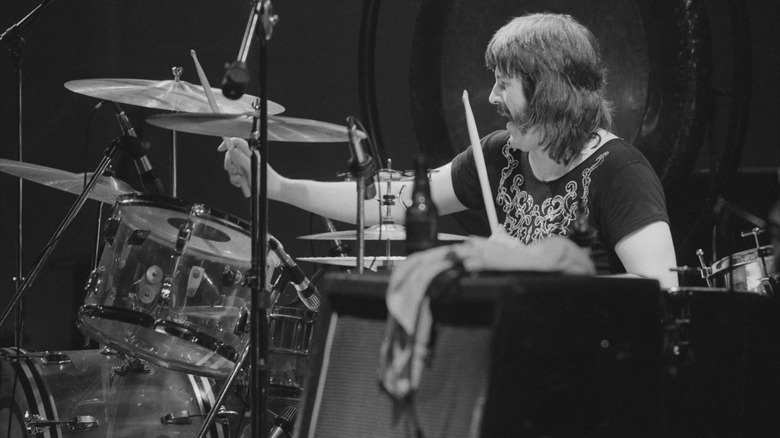 Michael Putland/Getty Images
If you listen closely to Led Zeppelin's song "Black Dog," you can clearly hear the sound of John Bonham clicking his drumsticks together. As a fan noted on musicians' message board The Gear Page, that's because the song features two distinct time signatures that come into play at different sections, and it was up to Bonham to keep on top of it all.
This sort of technical proficiency is what made Bonham one of the most respected drummers in rock history. Indeed, Pearl Jam drummer Jack Irons told Modern Drummer that Bonham's drum "sound" was arguably the best of them all. "Bonham couldn't be separated from his sound; it went with him," Irons said.
Bonham, a notoriously heavy drinker, died in 1980 at 32 following a bout of exceptionally heavy alcohol consumption, according to The Express.
Despite his relatively brief career, our readers were loath to consider him the worst drummer of all time, with only 6.87% saying he was the worst.
Neil Peart was a working man for 46 years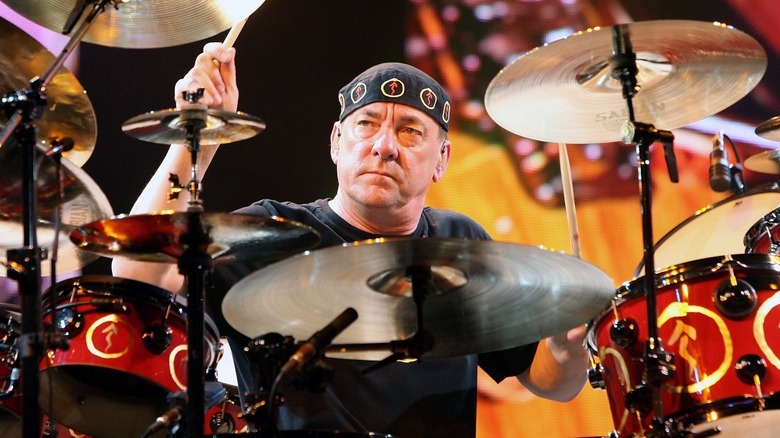 Ethan Miller/Getty Images
The Canadian band Rush may be known for the high-pitched voice of lead vocalist Geddy Lee, but often as not, Lee was actually singing words penned by someone else — that someone being his band's drummer, Neil Peart.
As Rolling Stone reported, Peart joined Rush in 1974, just before the band exploded in popularity. In addition to bringing his technical and jazz-inspired drumming abilities to the band, he also wrote multiple songs for the group, drawing on Ayn Rand and science fiction, among other influences, for inspiration.
"Neil is the most air-drummed-to drummer of all time," former Police drummer Stewart Copeland told The Washington Post. Peart died in January 2020 at 67 following a three-year battle with brain cancer. His legacy remains largely untarnished, as only 15.08% considered him the absolute worst.
Our readers think Dave Grohl smells like teen spirit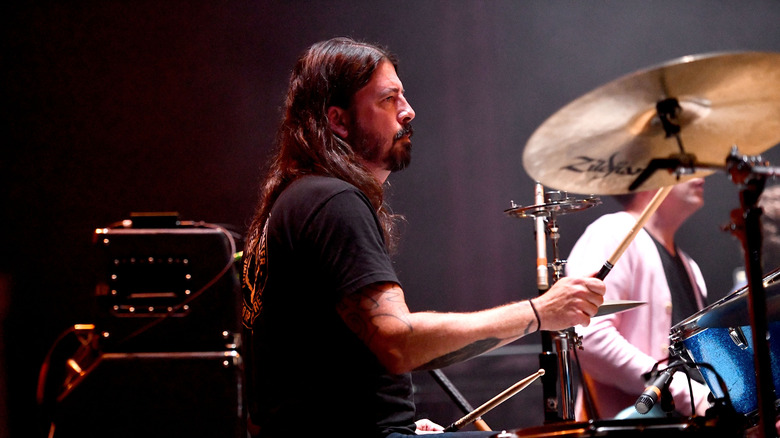 Scott Dudelson/Getty Images
Dave Grohl and Nirvana were both having issues finding the right fit for their respective careers when they teamed up in 1990. As Music Feeds explains, Grohl had tried his hand behind the drums for a short-lived band named Scream, even while Nirvana was going through drummer after drummer trying to find the right guy. Eventually, Scream broke up, leaving Grohl unemployed, and Nirvana managed to get a hold of his phone number, and the rest is history.
Grohl was only with Nirvana for a few years, up until Cobain's tragic death in 1994, which effectively ended the pioneering Seattle grunge band once and for all. Dave would go on to find other work, notably the Foo Fighters. According to Guitar World, he and his old Nirvana bandmates sometimes get together to play music, just for the love of the process.
Our readers still look kindly on Dave Grohl's Nirvana years though, as only 15.41% said that Grohl worst.
Phil Collins will be in our readers' hearts
Shutterstock
If you were asked to name a song known for its drum solo, you're likely to think of Phil Collins' "In The Air Tonight." Its drum break so famous it became a cultural touchstone, and even served as the basis for a gag in the 2009 comedy "The Hangover."
Of course, that was from Collins' solo career; before that, he'd spent over a decade behind the drums with the band Genesis, providing the lion's share of the lead vocals as well. He would continue to reunite with his old band for one-off concerts, reunion tours, and such over the decades, according to Smooth Radio.
Collins' drumming career with Genesis was the right fit for the band from the beginning, former member Tony Banks once said, via Ultimate Classic Rock. "I think there was little doubt at the end of [his audition] that Phil was the best. Certainly Peter [Gabriel] and I felt that," he said.
Our readers are equally impressed with the Collins-Genesis combination, with only 16.75% calling him the worst drummer.
All our readers need is Ringo Starr at the drums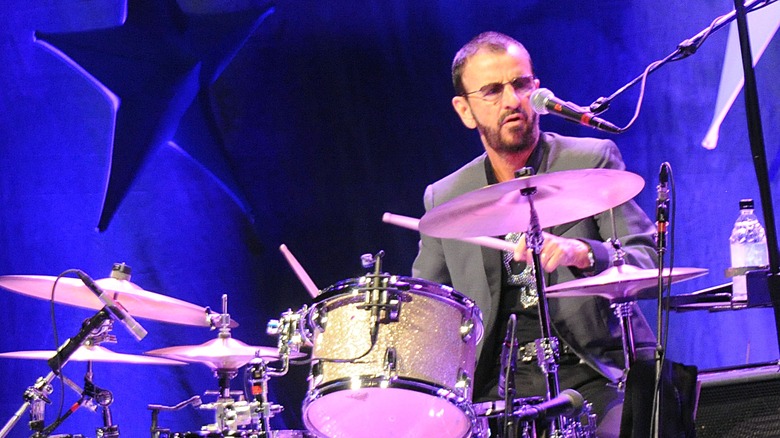 Chris Mckay/Getty Images
Ringo Starr is in the unenviable position of generally being the least respected member of the most-respected rock band of all time. As The Guardian reported, while The Beatles were selling out arenas, melting the hearts of teenage girls everywhere, and forever changing the face of Rock & Roll, he labored more or less in obscurity behind the drums.
Indeed, even his own bandmate, John Lennon, once famously said that, as a drummer, Starr, whose real name is Richard Starkey, was "not technically good." Similarly, The Guardian music reviewer Ben Cardew wrote that Starr's drumming was "not complicated," but at the same time, it was "lethally exact" and sometimes sounded like five drummers at once. 
Our readers are also willing to give Starr's drumming a pass, as only 19.10% called him the absolute worst drummer.
Our readers say "not now" when it comes to Travis Barker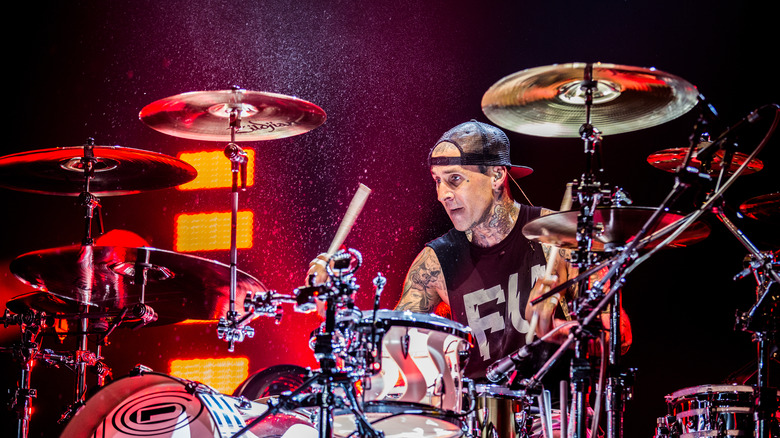 Shutterstock
Perhaps no other drummer on this list is as much of a journeyman as Travis Barker. Officially he's the drummer for pop-punk act Blink-182, a job he's had since 1998, according to Kerrang. He's also lent his talents to other groups in genres ranging from EDM to rap, according to Rolling Stone. He also brings to the table a marketable look, complete with a TV-ready boyish face, and his punk-skater aesthetic.
Depending on whom you ask, Barker is either among the best of rock drummers, or he's a workhorse whose celebrity eclipses his technical ability. As to the former claim, that's made by Rolling Stone, which referenced his "animalistic" artistry when naming him #99 in its list of the top 100 drummers of all time. However, over on Drumming.com's message boards, users are convinced that Barker is just an OK drummer, nothing more nothing less, albeit one who benefitted from celebrity.
When it comes to Grunge readers, they're quite clear in their feelings about Barker. A clear plurality of poll respondents — 26.80% — say Barker is the absolute worst drummer.