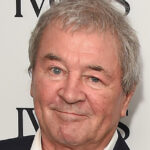 A Look At Ian Gillan And Ritchie Blackmore's Feud
echo get_the_meta(); ?>
Band members don't necessarily need to be friends in order to create classic hits in the studio and perform them onstage. For much of their existence, that applied to Deep Purple, a band that was most successful with two strong personalities in the same lineup — frontman Ian Gillan and guitarist Ritchie Blackmore. Together with the rest of the "Mark II" lineup (bassist Roger Glover, keyboardist Jon Lord, and drummer Ian Paice), Gillan and Blackmore teamed up on future classics such as "Black Night," "Highway Star," and of course, that little song about smoke on the water and fire in the sky. But they also happened to have a hard time seeing eye-to-eye for most of their time as bandmates and continued to throw verbal jabs at each other even after Blackmore left Deep Purple for good in 1993.
There are many reasons why two people in the same band could go from being on relatively pleasant terms to hating each other. Creative differences, substance abuse, different career objectives, even dating the same person — these are all factors that could make relationships between bandmates go sour, and it could take years for their differences to be resolved, if at all. So what led Gillan and Blackmore to start feuding? Have there been efforts from either side to mend those proverbial fences? And what do both men think of each other nowadays?
The reason why Gillan left Deep Purple in 1973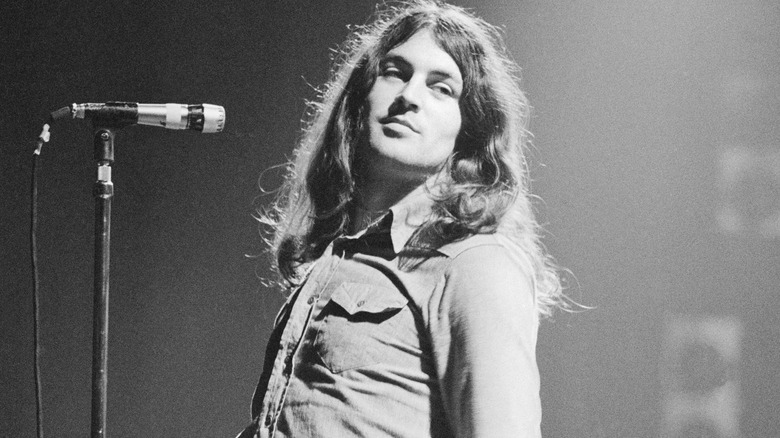 Michael Putland/Getty Images
On the surface, Deep Purple had a great year in 1973. That was, after all, when "Smoke on the Water" peaked at No. 4 on the Billboard Hot 100, also giving them their most recognizable hit. However, infighting was beginning to tear the band apart, as Ritchie Blackmore fired bassist Roger Glover, effectively ending their Mark II lineup, as noted by Ultimate Classic Rock. Around the same time, Ian Gillan also left the group, submitting a resignation letter to his bandmates while they toured behind their album "Who Do We Think We Are."
In 2020, Gillan spoke to Classic Rock Magazine (via Louder) and talked about why he opted to leave Deep Purple in 1973, stressing that the "deep" in the group's name is the "opposite of shallow" and mentioning that he quit because a "hint of commercialism crept into the band." He also suggested that it was Blackmore who was behind Deep Purple's switch to a more commercial sound. "He had an ear for the more popular stuff," Gillan explained. "And it was very successful. But I thought it couldn't survive, because it was planting itself in a fashion, and fashions come and fashions go. Once you're out of fashion, you're out of fashion."
If Gillan and Blackmore were indeed feuding about Deep Purple's creative direction back in '73, it was just one of many conflicts they were facing. And it wasn't as pronounced as the bigger issues they had with each other in the coming decades.
Gillan was 'glad' Blackmore quit Deep Purple for good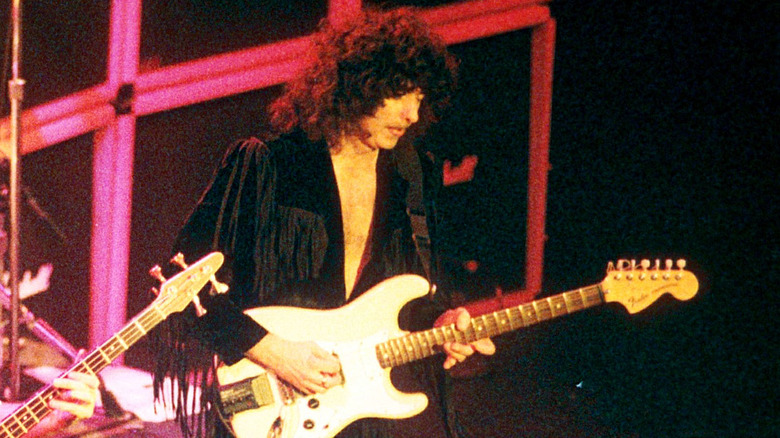 Brian Rasic/Getty Images
After Gillan and Glover left Deep Purple, the band continued for another three years before disbanding in 1976. (Blackmore quit in 1975 and was replaced by the late Tommy Bolin.) Eight years later, the entire Mark II lineup reunited, though as Gillan told Rock Radio 106.6 in 2015 (via Something Else Reviews), his issues with Blackmore resurfaced soon after — specifically, he wasn't happy with the pop-metal direction the guitarist seemingly favored, as well as his increased control over the band. Things would come to a head in 1993, when Blackmore left Deep Purple for the second and last time, shortly after an onstage meltdown where he took the stage late and threw a drink at a cameraman, as recalled by Ultimate Classic Rock.
Interviewed years later, Gillan admitted feeling "glad" that Blackmore quit Deep Purple, suggesting that if he stayed, it would have led to the "end" of the band. "The shows were getting shorter and shorter, the audiences were getting smaller and smaller," he added. "We were playing in small halls, and they weren't even full — they were half empty — and Ritchie was walking offstage every night." As cited by Guitar World, Gillan said in the same interview that when Blackmore left, his bandmates were able to relax instead of walking on eggshells every time they did or said something that might upset the axeman.
Blackmore felt Gillan was intelligent but 'coarse'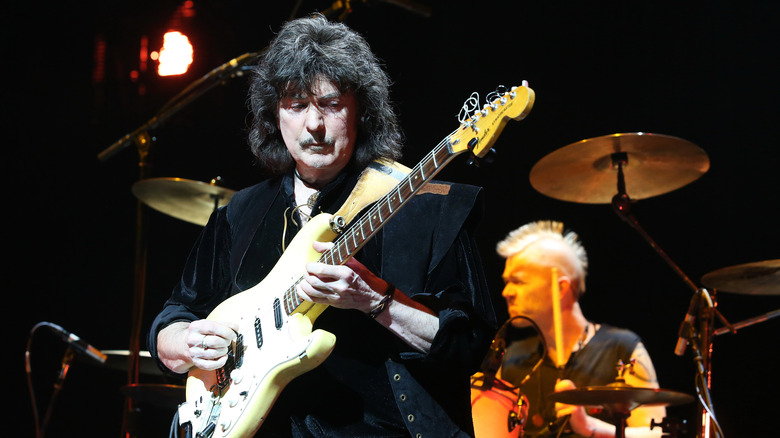 Epsilon/Getty Images
So far, we've covered many of Ian Gillan's more pointed comments about Ritchie Blackmore, mainly the ones where the singer suggested the guitarist was a dictator who, unlike his bandmates, favored a more radio-friendly sound. For his part, Blackmore wasn't too complimentary about Gillan in a 1995 interview with Classic Rock Magazine (via Louder) where he admitted to calling the frontman "Oliver Rude" — a reference to the "very brash" English actor Oliver Reed. "[He's] an intelligent man," Blackmore added. "But he just used to be so coarse. I didn't like to be around the guy because I felt that he was doing things for shock value, to be talked about, for the hell of it."
In addition, Blackmore shared his side of the story when it came to the massive personnel changes that rocked Deep Purple in 1973. He told Classic Rock that he really "didn't want to get rid" of Roger Glover; instead, his plan was to leave the band and form a power trio with drummer Ian Paice and Thin Lizzy singer-bassist Phil Lynott. When Paice expressed reluctance to leave Deep Purple and suggested to Blackmore that they should consider Gillan as vocalist instead of Lynott, the axeman supposedly told the drummer that he "can't handle Gillan."
Both men may have already buried the hatchet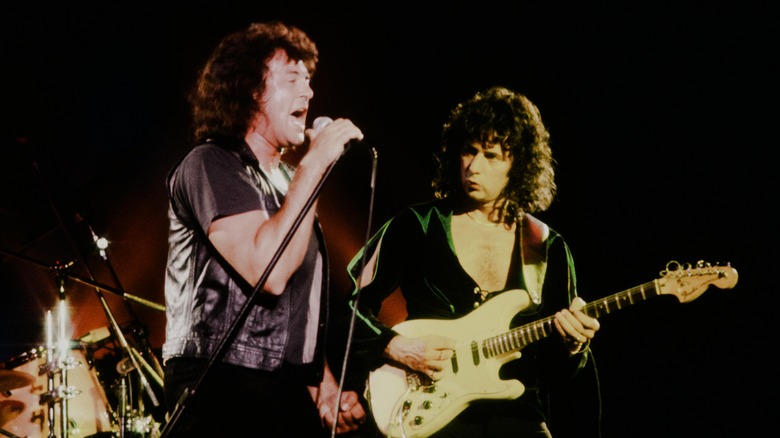 Koh Hasebe/shinko Music/Getty Images
Fortunately, it looks like Gillan and Blackmore may have already ended their decades-long feud. That's more than what could be said about certain classic rockers who remain at odds a good five decades after they first started beefing — we're looking at you, surviving members of Creedence Clearwater Revival.
Although Gillan stressed to German publication Bild in 2017 (via Loudwire) that Blackmore doesn't seem to have grown up despite his advanced age, he also admitted that he and the guitarist had "made [their] peace" and were, at the time, in regular communication with each other. "We've solved a lot of difficulties that were nothing to do with the direct relationship — old management problems that were dividing us and things like that; boring stuff, but important nonetheless within the group," the frontman said. "So that's all been solved now. So there are messages going back and forth and I can sense goodwill much more than in the past."
Sadly, those looking forward to a Deep Purple Mark II reunion shouldn't hold their breath. Gillan said that if the band breaks up, he'll likely work on solo recordings and/or collaborate with other musicians … provided they're not named Ritchie Blackmore. "When you get divorced, it's hard to go back," he explained. "You must always respect and enjoy the memories and the nostalgia, but would you do it again? Probably not."