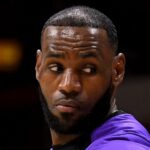 Athletes Who Farted On Live TV
echo get_the_meta(); ?>
A polite, civilized society often refuses to acknowledge it, but come on: Farts are funny. They make a silly sound and annoy others, and these two things are the entire basis of comedy. Farts are also totally natural, a sign that a person's digestive system is working properly, expelling unwanted waste gas produced in the conversion of food into energy. Literally everybody farts, but all are also expected to keep those silent-but-deadlies or rear-end trumpet fanfares to themselves.
Athletes are, by definition, a very physical group of people. They push their bodies to the limit in the name of sports achievement. They work themselves hard and, as such, consume a lot of healthy foods, and both of these lifestyle elements can certainly contribute to flatulence. And once in a while, these superhumans have no choice but to show their human side, and a fart leaks out … during a televised game or interview. Here are some absolutely hilarious and embarrassing times a professional sports person broke wind while the cameras were on.
Lebron James isn't afraid to pass to teammates
LeBron James is among the greatest basketball players ever. He's been the NBA's Rookie of the Year, its Most Valuable Player, and won championships for two franchises. Another thing King James has done twice: Poison his teammates with his farts.
In a scene with all the comic timing he displayed in Trainwreck, James sauntered over to the bench of his Cleveland Cavaliers during a game in February 2009. Then he sat down and acted like everything was normal and mundane … which wasn't the case at all, judging from the reaction of the poor guy seated next to him, teammate Anderson Varejao. James can't keep his smirk from turning into infectious laughter as the air that escaped his rear-end hit Varejao, who, after an expression of panic crosses his face, covers his face with his warmup jacket.
After James entered free agency in 2018 and signed with the Los Angeles Lakers, he played his first game in the famous yellow-and-purple jersey in front of a paying crowd, nationally broadcast on TNT, on September 30, 2018, a preseason contest against the Denver Nuggets. James proved that he would be the same player for the new squad and released an airborne nugget of his own, farting out such a noxious blast of flatulence at the Lakers bench (to the annoyance of his teammates) that he puts his own shirt up over his nose and mouth and laughs uproariously at his own childish prank.
Cliff Lee lost the game and some built-up gas
Lefty ace Cliff Lee was one of the more dominant pitchers in Major League Baseball in the 2000s, winning nearly 150 games with Cleveland, Seattle, Texas, and finally Philadelphia, over his 13-year career, which also included a Cy Young Award in 2009, the year he went 22-3 with a 2.54 earned run average. By 2014, which would prove to be his last season in the big leagues, Lee had a tough time throwing the heat that he used to, particularly after an elbow strain put him on the injured list for two months, according to NBC Sports. In his first start back, he gave up 12 hits and six runs (including a home run) in just under six innings in a loss to the San Francisco Giants. 
After the game, Lee spoke with a confab of Philadelphia Phillies beat reporters in the team clubhouse, appearing forlorn and frustrated. "I want this team to win, I'm gonna do everything I can to help that happen. That's really it," Lee explained. Then he stayed silent for a moment, not to allow his words to be more impactful but probably because he was loading up a pitch. After that pause, Lee delivered an audible fart, and one that sounded particularly wet and messy. (He then asked reporters, rhetorically, it would seem, "Did y'all get that on tape?")
Joakim Noah almost had to end an interview due to a stinky surprise
NBA big man Joakim Noah was drafted by the Chicago Bulls in 2007, but he really came into his own in the 2009-2010 campaign, when his points and rebounds averages jumped into the double digits for the first time. Another explosive moment, but of a different kind, went down early in the season. Noah sat for a postgame interview in the Bulls' locker room in November 2009. When a reporter asked about his progress as a player, Noah thoughtfully answered, "It definitely helps," but then got too distracted and sidetracked to continue his train of thought because of a rogue, unclaimed fart. 
"Did you fart?" Noah asked the reporter while scrunching his nose, contorting his face in discomfort and attempting to wave the smell away with his hands. "It stinks," he added. The reporter wouldn't take ownership for the fart, nor would anyone else in the locker room, although Noah mumbles the name of who he suspects, as if the mystery gas-passer had done that kind of thing before.
Something stinky was afoot for soccer star Rafael van der Vaart
Dutch soccer star Rafael van der Vaart is among his sport's most notable talents of the 21st century. Going pro at age 17, he was named the Dutch Football Talent of the Year in 2000 and played in more than 100 international games for The Netherlands' national team, including the 2010 FIFA World Cup title match. 
Apparently, van der Vaart ultimately wants to make a name for himself doing things that rhyme with his last name. Toward the end of his soccer career in 2019, he took up darts. And back in 2008 in a Dutch national team game against Romania, van Der Vaart let loose a fart. The player headed to his squad's bench during the match and apparently released some toxic gas so unpleasantly fragrant that his teammates pulled up their shirts over their noses in search of fresh air. They all looked over to van der Vaart, who could only confirm with a wincing smile that yes, it was he who had dealt what the others had smelt.
Ian Poulter chatted up a competing golfer, but not with his mouth
In June 2020, golf fans had a whole day of the Travelers Championship to look forward to. The tournament, broadcast live on cable TV from the TPC River Highlands course in Connecticut, got off to a rough start on the very first hole. Veteran Australian golfer Greg Chalmers took to the tee and let one rip — a club-hit ball down the fairway, that is. Just after his stroke, Australian golfer Ian Poulter let one rip, too — not a ball, but the unmistakable sound of a crackling fart leaving the rear end of a human being and traveling through golf pants into the air. 
It was so loud that the TV crew's sound equipment picked it up and broadcast it to millions of homes. To his credit, Poulter admitted it was he who farted, not Chalmers, quipping to the crew, "Did you get that?" Chalmers told the smell-creating golfer, "Stay over there." Later that day, Poulter reconfirmed his guilt, tweeting, "3 club wind this morning on the first tee. Always beware of the live [mic]."
Hines Ward caught a pass he didn't want to catch
After playing a regular season of 16 grueling, body-pummeling games, the best NFL teams compete in the playoffs, where the pressure is even more intense: Win the game and advance closer to the Super Bowl. Lose, and you're out for the year. There was a lot of tension building up inside some anonymous member of the Pittsburgh Steelers on the sidelines during a January 2009 AFC Divisional game, and that player apparently couldn't help but release some of it — literally. Leading the San Diego Chargers 28 to 10 in the fourth quarter, the unknown faster released that pressure in the form of what was a particularly bad-smelling bit of flatulence by the team's bench. 
Star wide receiver Hines Ward is the unfortunate party who smells it first and tries to block any more inhalation of it by burying his face in a blanket. He looks to his teammate, Santonio Holmes, who denies that he's the one that he farted, emphatically shaking his head in the negative. Interestingly, Holmes doesn't seem to be bothered by the smelly fart at all, so according to the dictum of "whoever smelt it, dealt it," the blame falls squarely on Ward.
Brian Urlacher blocked the offense, not his bowels
Brian Urlacher was a defensive powerhouse. The middle linebacker was named to eight Pro Bowls and is enshrined in the Pro Football Hall of Fame. He spent his entire career with the Chicago Bears, and in the 2010 season, Urlacher helped lead the team into the NFL playoffs, where it faced the Seattle Seahawks in an NFC Divisional game. A few days before the contest, Urlacher appeared on a Chicago-area Fox Sports program to talk about the playoffs and his personal preparations. 
"Do you just close yourself off from everyone?" Urlacher was asked by one of two hosts. "I mean, do you become a different guy before a monster game like this?" It's both unfortunate and hilarious that the sports broadcaster used the words that he did because while his brain processed those words, Urlacher's digestive system decidedly did not allow the football star to close anything off and instead unleashed the monster within. Not only was it audible to viewers at home, but show co-host Jerry Azumah tries to stifle a laugh when he makes eye contact with Urlacher, letting the linebacker know that yes, he heard the sounds that his body just made.
Rugby player Kyran Bracken dances and farts on ice
Kyran Bracken played rugby (at the scrum-half position) for England's national team from 1993 to 2003, suiting up for 51 rough-and-tumble matches. Four years after he retired from rugby, he attempted another tough sport, and a completely different one at that: ice dancing. He appeared on the second season of Dancing on Ice, a U.K. TV show kind of like Dancing with the Stars, except that instead of celebrities teaming up with professional dancers, they paired up with pro skaters to stage elaborate ice dancing routines. The sport's most famous practitioners are Jayne Torvill and Christopher Dean, who together won medals for the U.K. in the 1984 and 1994 Winter Olympics. 
Both Torvill and Dean coached contestants on Dancing on Ice, and in one training session that aired on the show, Torvill shows Bracken the basics. Torvill supports Bracken on a trip across a rink as he more or less sits on her lap. He could fill the moment of silence during such an awkward moment with small talk, but he doesn't — Bracken rips out a quick, loud fart instead. Almost instinctively, he tries to get up and away from Torvill as soon as possible. "He farted on me," Torvill explains to crew members through surprised laughter. (And, in the end, Bracken won that season of Dancing on Ice.)
A rough and rowdy fart at a Rough N' Rowdy fight
Rough N' Rowdy is a series of pay-per-view amateur boxing events in which strong but regular guys without a lot of professional training pummel each other in a ring in front of a crowd and television audience. The card at 2019's Rough N' Rowdy 8 featured a bout between West Virginia fighters "Bulldog" Steven Anderson and "The Real Deal" Ronald Smith.
After about half a minute of the two guys wildly swinging at each other and then retreating to their respective corners, "The Real Deal" released a real offense. While waiting for the fight to resume, he farted with such vigor that it overwhelmed the "ring girls" sitting several feet away. Rough N' Rowdy didn't pick up the sounds of Smith's flatulence, but its cameras caught a glimpse of four young women looking nauseated while trying desperately to fan the smell out of the ambient air.
After the fight, which Smith won, a ringside reporter immediately asked the boxer to explain what had transpired in the first round. "Did you fart, man?" he asked. "Yeah," The Real Deal confirmed. "Bro, it still stinks over there. What did you eat?" the reporter inquired. "I don't even know!" Smith lied before theorizing that eggs were the culprit.
Who would fart on a golf course? Tiger Woods would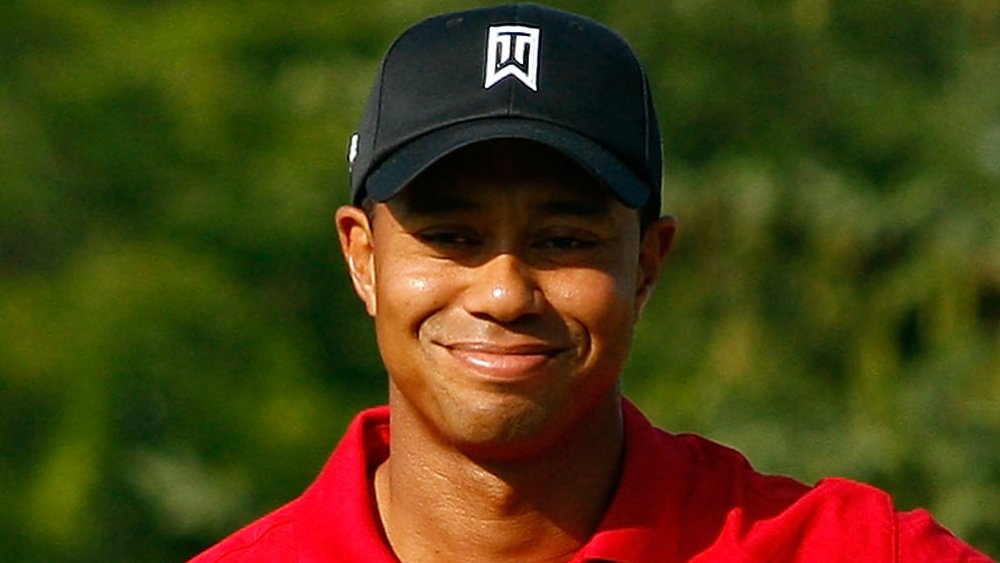 Chris Graythen/Getty Images
In golf, the term "open" refers to how tournaments on the PGA Tour are playable to any golfer who meets the requirements and conditions. Tiger Woods, among the most famous and accomplished athletes the sport has ever seen, apparently thought that the word meant something else, like in the sense that he could act freely, or even allow his digestive system to breathe, as it were. 
During the 2009 Buick Open, Woods stood on a fairway, surveying the lush, green playing surface that awaited him. This moment of serenity passed when Woods passed … gas, that is. (He even lifted up his leg to let it travel more comfortably.) Unlike other athletes, who might be ashamed they did something like this in public, with TV cameras (and microphones) recording his every move, Woods appears amused by the whole thing, standing proudly after his triumphant fart, smiling and laughing while his caddy, Steve Williams, does the same.
The TMZ-made video of the fart spread like, well, a fart, and the moment became known as "Fartgate." However, representatives from Buick Open broadcaster CBS told TMZ that it wasn't Tiger Woods who broke wind at the tournament. The network didn't deny that the audible bit that made Woods and Williams laugh sounded exactly like a fart, just that golden boy Tiger Woods was the responsible party.
A moment none too sweet for the Miami Heat
The intensity and severity of a fart can be measured (unofficially, and certainly not scientifically) by how far it travels. If only one person nearby can smell an air biscuit, then it's really not that substantial of a fluffy. If multiple individuals sitting at an increasing distance from the person who let loose from their caboose are fully nasally bombarded, then that's a powerful burst of hot air indeed. 
Professional basketball players apparently fire invisible flatulence torpedos with the same force and intensity they bring to their sport of choice. During a late-season game against the Chicago Bulls in April 2012, someone associated with the Miami Heat — a coach or a reserve player — made their presence known with an epic fart. Cameras picked up the reaction of the Heat bench, where players desperately tried to shield their noses and mouths. As shown later during a TNT halftime report, the repugnant gas noticeably affects as many as five Heat players.
The art of the fart in professional darts
To most North Americans, darts is a casual game — it's fun to throw pointy things at a board on the other side of a rumpus room or a crowded bar. But in Europe, darts is considered a sport, and competitions and tournaments are broadcast live on major television outlets. This all subjects professional "dartists" to the same pressures and scrutiny experienced by athletes while playing primarily a mind game that requires intense focus and concentration. Any distracting outside stimulus can completely get a dart player's head out of the game, such as sounds or even smells. The latter reportedly affected the outcome of a knockout stage match of the 2018 Grand Slam of Darts. 
In the match, Gary Anderson of Scotland soundly defeated Netherlands-based Wesley Harms, 10 to 2. However, Harms attributed the blowout to his opponent allegedly blowing out a "fragrant smell" on the the darts-throwing stage. How bad was it? "It'll take me two nights to lose this smell from my nose," Harms told Dutch TV station RTL7 (via the BBC). So while Harms thinks he lost because Anderson broke wind so egregiously and toxically, Anderson denies any wrongdoing whatsoever and fingered Harms as the fearsome farter responsible for an odor he likened to rotten eggs. "I thought Wesley had farted on stage," Anderson told RTL7, claiming innocence because of a lack of secondary evidence: "Usually if I fart on stage I sh*t myself."