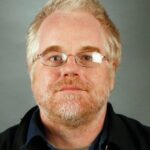 Celebrities Who Freakishly Died The Same Bizarre Way
echo get_the_meta(); ?>
It's always sad when a celebrity dies, since you kind of feel like you know them. And some deaths are just depressing at face value because they come too early or involve tragic accidents. Since so many people pay attention to the deaths of stars, sometimes they notice strange patterns. A lot has been made of the theory that celebrity deaths come in threes, but on the weird scale that has nothing on the deaths of two or more famous people that have really unexpected similarities.
It doesn't happen often, but when it does it's seriously creepy. One celebrity will die tragically with some odd details surrounding their death, then, sometime later, another celebrity dies the same way with those exact same odd details. On very rare occasions, it happens a third time. If you ever become a celebrity, don't just worry about the rule of three; worry about the rule of how and where.
Natalie Wood and Carol Wayne had eerily similar drowning deaths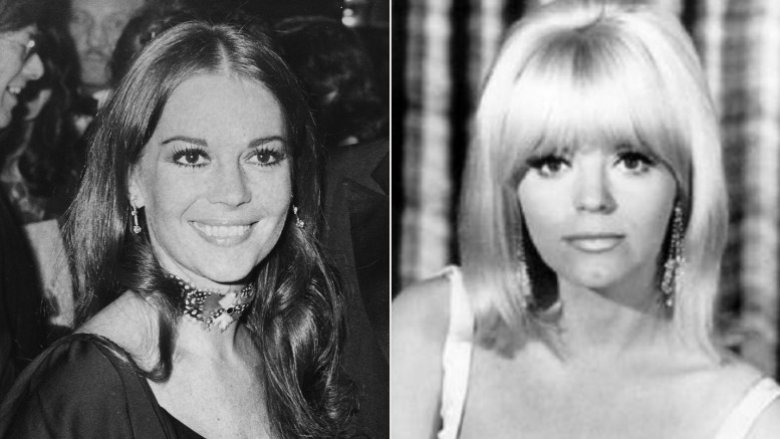 Getty Images/Wikipedia
Natalie Wood's was one of the most infamous unexplained deaths in Hollywood history. That's why it's absolutely bizarre that just over four years later, another beautiful actress met an eerily similar fate. Both Wood and Carol Wayne, most famous for starring in sketches on The Tonight Show with Johnny Carson, mysteriously drowned in the Pacific after arguments with their significant others.
Over Thanksgiving weekend in 1981, Natalie Wood (left) was on a yacht off California with her husband (actor Robert Wagner), her costar Christopher Walken, and the boat's captain. According to the New York Times, she was found dead in the water on November 29, which was odd since she had once famously said she was afraid of the ocean. The boat's captain swore he saw an "explosive, alcohol-fueled fight" between Wood and Wagner the night before she was found. Despite this, and the bruises on Wood's body, her death was ruled accidental. She was 43.
In January 1985, Carol Wayne was also vacationing with friends and her boyfriend, Edward Durston, on the Pacific coast of Mexico. TV Party says there was a joke at the time that Wayne could never drown because of her large chest. But she was found floating dead in the ocean all the same. Like Wood, she was afraid of water and could not swim. It was reported the last time Wayne was seen alive she and Durston were having a massive argument. Suspicions were raised, but Wayne's death was also ruled accidental. She was 42.
Tommy Cooper and Ian Cognito died onstage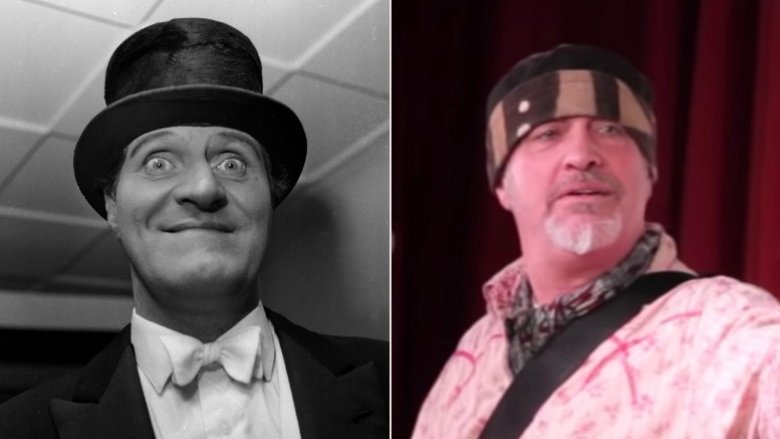 Getty Images, YouTube
Comedians die onstage all the time, but it's rare their lives literally end there, which makes the deaths of Tommy Cooper and Ian Cognito all the weirder. Both British funnymen suffered heart attacks in front of live audiences, almost 35 years to the day apart. And since comedians often do strange things in their acts, neither audience thought anything was wrong.
According to Wales Online, Tommy Cooper (left) was performing on the hit TV program Live From Her Majesty's on April 15, 1984. Millions of people tuned in to watch the live show, plus there was an audience in the theater. Cooper was in the middle of his routine when he suddenly dropped to his knees. Since he was known for slapstick and improv, no one, not even the people backstage, thought anything bad had happened. The audience kept laughing. Eventually, the presenter figured out it wasn't a joke and called for a commercial break. Cooper was taken to the hospital, where he was declared dead.
On April 11, 2019, Ian Cognito was performing his own stand-up set in England. Variety says he was also known for his flamboyant performances, and the comedian had made a joke about having a heart attack or stroke only minutes earlier. When Cognito sat down, put his head back, and started twitching, it just seemed like a funny callback. Once again, the audience laughed as the comedian died of a heart attack. After a few minutes, someone finally called an ambulance, but Cognito was gone.
Two conductors died after conducting the same opera in the same place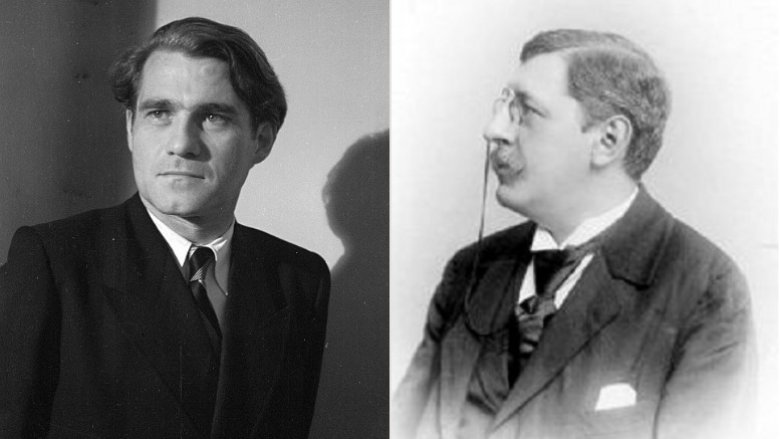 Wikipedia
The Richard Wagner opera Tristan und Isolde is considered cursed, and there are plenty of superstitions that surround it. According to Opera Vivra, Wagner had problems writing and producing the work, and once it premiered everyone hated it. His wife left him while he was composing it, one of the leads got extremely ill during rehearsals, and the other one died shortly after starring in it. But the thing that cinched it for the superstitions was two conductors collapsing in the exact same spot while conducting Tristan, 57 years apart.
The Telegraph reports that in 1911 in Munich, 54-year-old celebrity conductor Felix Mottl (right) was leading the 100th performance of the famous work, while his mistress was playing the female lead. According to legend, she was singing the aria "Death-doomed head, death-doomed heart" when Mottl suffered a heart attack and collapsed. New York Public Radio says he managed to hold on 11 more days before dying.
Joseph Keilberth was an expert on Wagner who produced his work for TV and some of the best opera houses in Europe (per Bach Cantatas). Obviously, he was going to have to go near Tristan und Isolde eventually. Still, it must have felt creepy when in 1968 he stood on the same spot in the same orchestra in Munich as Mottl did when he had his heart attack, to conduct the same opera. This time, the male lead had just finished the aria "Let me die, never to awake," when 60-year-old Keilberth did just that.
Edward Kennedy and John McCain died of the same cancer on the same day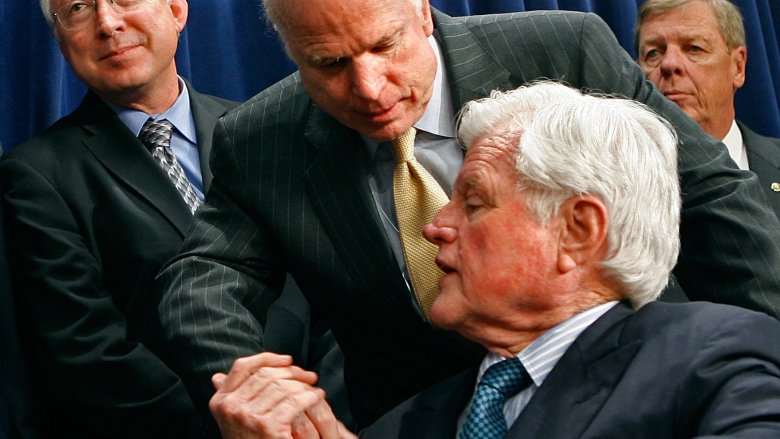 Chip Somodevilla/Getty Images
While most of the similarities on this list were overlooked at the time, the comparisons between the deaths of Edward Kennedy and John McCain, two political heavyweights, were impossible to ignore. When McCain announced he was ill, the New York Times even ran an article titled "Eerie Parallels Between John McCain and Edward Kennedy." Both were diagnosed with the same relatively rare form of brain cancer while in the middle of major health care debates in the Senate. Both lived just over a year after being diagnosed. And both died on the same day, August 25, nine years apart.
Kennedy announced he had glioblastoma, an extremely aggressive form of brain cancer, in 2008. He disappeared from the Senate while he had treatment but returned for a key Medicare vote. When Kennedy died 15 months later, at 77, McCain gave a eulogy at his memorial service because even though they sat on different sides of the aisle in Congress, they were good friends.
According to Time, McCain received his own diagnosis of glioblastoma in 2017. (Adding to the weirdness, Vice President Joe Biden's son Beau had died from the same brain cancer in 2015.) McCain voted against repealing Obamacare days after he announced his diagnosis. He also left the Senate for a while to receive treatment, but it failed. He lived 13 months after being diagnosed and died in 2018, age 81.
Steve McNair and Phil Hartman died in similar murder-suicides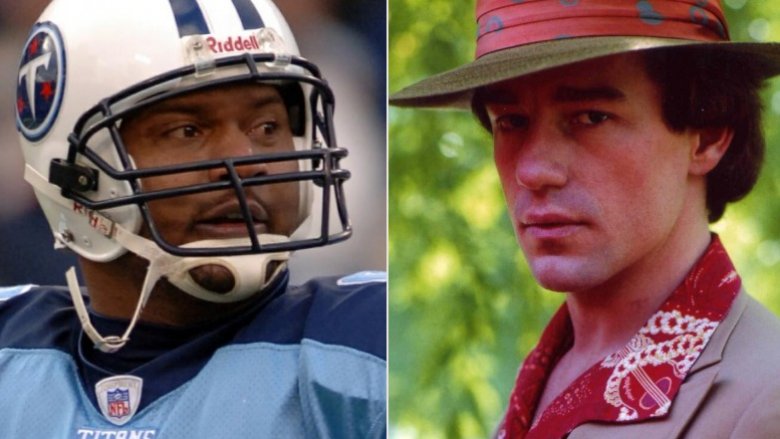 Joe Murphy/Getty Images, Wikipedia
Parallels in natural deaths are one thing, but similarities in murder are even more disturbing. Comedian/actor Phil Hartman and NFL star Steve McNair were both shot in their sleep by women with substance abuse issues with whom they had deteriorating romantic relationships. And both women then killed themselves.
Phil Hartman found fame on Saturday Night Live but branched out successfully into TV and movies. But his marriage was "tumultuous," and his wife, Brynn, had issues with cocaine and alcohol. The night he died, he and Brynn had an argument over her drug use, according to Oxygen. Then Hartman went to bed. Salon reports that at some point, Brynn got out one of their guns and shot her sleeping husband three times in the head and chest. She got drunk, made some phone calls, drove to a friend's house, and brought them back to see what she'd done. The police showed up. Eventually, Brynn locked herself in the bathroom and took her own life, shooting herself in the head.
Super Bowl-alum Steve McNair was married but had a girlfriend on the side. ESPN says lover Sahel Kazemi knew he was cheating on her with even more women, so she cheated on him back. They would fight. Two days before she killed him, she got a DUI. Knowing their relationship was unraveling, she bought a gun and as he slept on his couch in 2009, she shot him four times in the head and chest. She then committed suicide by shooting herself.
If you or anyone you know is having suicidal thoughts, please call the National Suicide Prevention Lifeline at 1-800-273-TALK (8255).
Michael Kennedy and Sonny Bono both hit trees while skiing, in the same week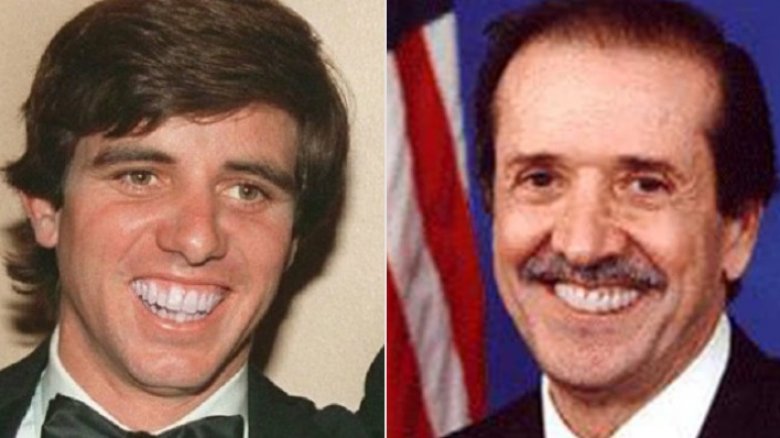 Wikipedia
When the New York Times ran an article on January 1, 1998, that Michael L. Kennedy (left), the son of political giant Robert F. Kennedy, had died after colliding with a tree while skiing with his family, the paper could have had no clue that within less than a week they would run almost the exact same article on politician (and former pop star) Sonny Bono. Both men had crazy youths of excess and fame, and both became more serious once they got older. Then both of them met their end the same way.
Michael Kennedy was in Aspen, Colorado, with his extended family when the tragedy happened. In hindsight, it seems obvious someone was going to get hurt. The Kennedy family had apparently been playing football-on-skis for generations, even though one friend who was invited to play with them (and refused) called it "very, very dangerous." While Michael was an extremely talented skier, that afternoon he lost control and crashed into a tree, resulting in major head injuries. Attempts to stabilize him failed, and he was pronounced dead at a hospital about 90 minutes later.
Six days later, Representative Bono was skiing with his own family, this time in California. He left them in the afternoon to go ski alone and didn't come back by evening, so they reported him missing. The ski patrol found Bono in a wooded area. He, too, had smashed into a tree sometime in the afternoon, resulting in massive head injuries that killed him.
Three veteran actors died in L.A. house fires within weeks of each other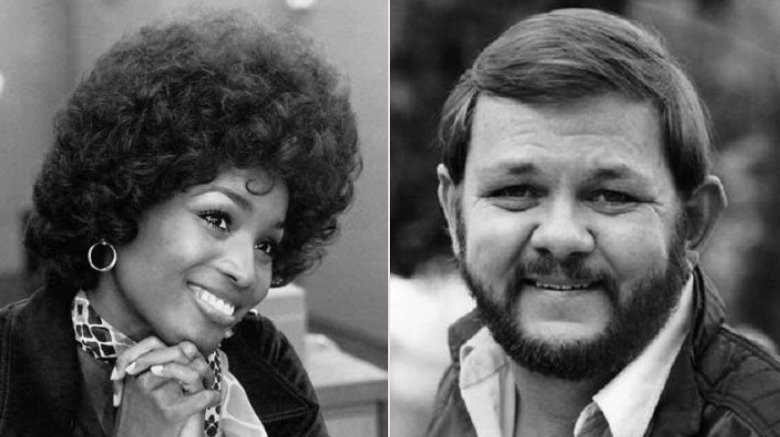 Wikipedia
Actors Teresa Graves (left), Dennis Patrick, and Royce Applegate (right) might not be household names, but they all found a decent amount of fame around the same era. Their careers even overlapped, with Graves and Patrick both appearing in episodes of The Rookies, while Patrick and Applegate both showed up in Dallas, The Streets of San Francisco, and Mod Squad. Unfortunately, their deaths in house fires in Los Angeles also overlapped the same 12-week period.
On October 10, 2002, Teresa Graves, who in the '70s had starred in her own TV show, Get Christie Love!, was alone in her house in Los Angeles when a faulty space heater started a fire that caused major damage, according to the Chicago Tribune. She was found unconscious but couldn't be revived at the hospital. She died at 54.
Just three days later, at his own home in L.A., 84-year-old Dennis Patrick, most famously of Dallas, was also alone except for his dog when a fire started, reports the LA Times. Sadly, both he and the dog died and were found next to each other after firefighters doused the flames.
Veteran actor Royce Applegate showed up in dozens of TV shows and films. But on January 1, 2003, less than three months after Graves and Patrick died in their own house fires, one started at his L.A. home as well. The L.A. Times said he was found dead after the fire burned for an hour. Applegate was also home alone when he died at 63.
Three famous men died alone in their bathrooms thanks to heroin
Jason Merritt, Hulton Archive/Getty Images
It's always tragic when someone throws their life away on drugs. While heroin overdoses are nothing unusual in celebrity circles, something about the similarities in the deaths of comedian Lenny Bruce (right), and actors Robert Pastorelli and Philip Seymour Hoffman (left) make them extra depressing.
All three men died in their 40s, but Bruce was the youngest. According to his official site, the counterculture comedian was arrested numerous times, including for drug possession. That would be the bad boy indulgence that killed him. CBS News says in 1966, Bruce was found dead on his bathroom floor of a heroin (or "morphine") overdose, the needle still sticking out of his arm. He died alone at 40.
Robert Pastorelli was most famous for starring on Murphy Brown. People reports he battled a heroin addiction and was being investigated over his girlfriend's death when he died. But his death was ruled accidental when he overdosed on heroin, alone at 49 in 2004, and was found on the floor of his bathroom with a needle in his arm.
Philip Seymour Hoffman was one of the greatest actors of his generation, and while he had battled drug addiction in his youth, he'd been sober 23 years by 2012, per the Hollywood Reporter. But that year he fell off the wagon. Hoffman went into rehab in 2013. Sadly, it didn't work. In 2014, he too was found dead on his bathroom floor of a heroin overdose with a needle still in his arm. He died alone at 46.
Michael Witney and John Gregory Dunne died before dinner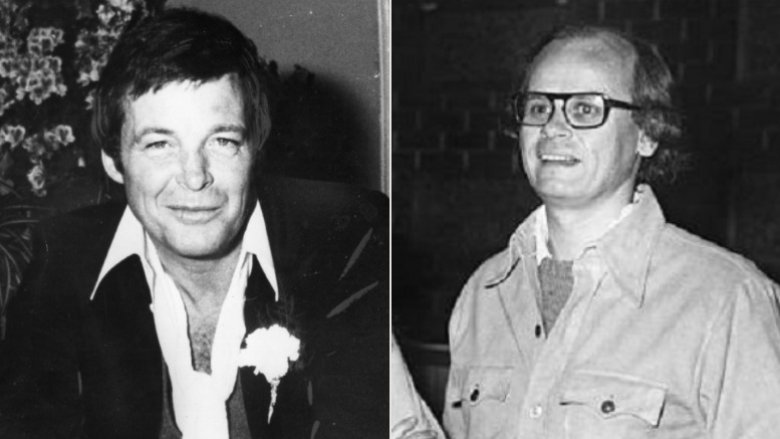 Keystone, Frank Edwards/Getty Images
John Gregory Dunne was a journalist, screenwriter and novelist, happily married to the more famous author Joan Didion, with whom he had one daughter. Michael Witney was an actor, unhappily married to the much more famous iconic model Twiggy, with whom he, too, had one daughter. And while their deaths would come almost exactly 20 years apart, they had some odd similarities.
According to a New York Times article from the time, Witney was already estranged from his wife of six years when he sat down to dinner with his young daughter at a restaurant in New York City on November 30, 1983. But Witney didn't get to enjoy the meal; he suffered a massive heart attack. He was rushed to a hospital, but doctors failed to revive him. (While his filmography was not unimpressive, guest-starring on some of the biggest shows of the era, his level of fame was reflected in the fact the paper didn't manage to spell his last name right when announcing his death.) Twiggy was onstage in a play at the time and wasn't told until the show ended.
Dunne was also sitting down to dinner with family in New York City, this time with his wife at their home, when he died on December 30, 2003. The L.A. Times reported Dunne had an extremely impressive writing career, but that doesn't matter at the end. He also died of a massive heart attack before he could enjoy his last meal with his loved one.