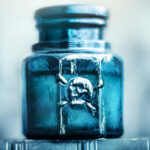 Deadliest Poisons In The World
echo get_the_meta(); ?>
Let's start with the basics: What, exactly, is considered a poison? According to the Centers for Disease Control and Prevention, it's "any substance, including medications, that is harmful to your body if too much is eaten, inhaled, injected, or absorbed through the skin." Chemicals, drugs, gases… they're all considered poisons, as far as the Mayo Clinic is concerned, so here's the next question: How are the deadliest poisons determined?
Different poisons kill in different ways, after all, so there's a few ways researchers measure toxicity. According to the Canadian Centre for Occupational Health and Safety, two of the most useful are LD50 and LC50. That stands for Lethal Dose and Lethal Concentration, and it's basically a reference to how much of a substance is needed to cause fatalities in half of the animals tested. (Those are usually mice and rats, and don't worry — that's the most detail we're going to go into here.)
The results of these studies are then plugged into tables that define substances from extreme toxicity to not-at-all toxic. It's the former that's morbidly more interesting, so let's look at some of the deadliest poisons humankind has ever discovered or created… in no particular order.
The gas used in the most terrifying chemical attack of the 1990s
There's a reason it's used so often in fiction