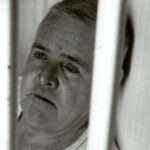 Details You Didn't Know About Henry Lee Lucas
echo get_the_meta(); ?>
Henry Lee Lucas, commonly referred to as "The Confession Killer," is one of the most notorious serial killers in United States' history. Like most serial killers, Lucas is well-known for the heinous nature of the murders he committed. However, he is also known for the sheer number he admitted to (but likely did not actually commit).
A native of Blacksburg, Virginia, Henry Lee Lucas was one of nine children. As reported by Biography, Lucas was raised in an abusive home. In addition to being alcoholics, his parents were physically and emotionally abusive toward all of their children.
It is unclear how much Henry Lee Lucas' childhood impacted the person he would become. However, he began displaying deviant behavior as a teen. Biography reports Lucas confessed to "having sex with his half-brother and with dead animals" when he was a teenager. Those early behaviors were not only foreboding, they turned out to offer a dire warning. Lucas was about to unleash a great deal of damage upon the world.
Henry Lee Lucas' first murder victim was his mother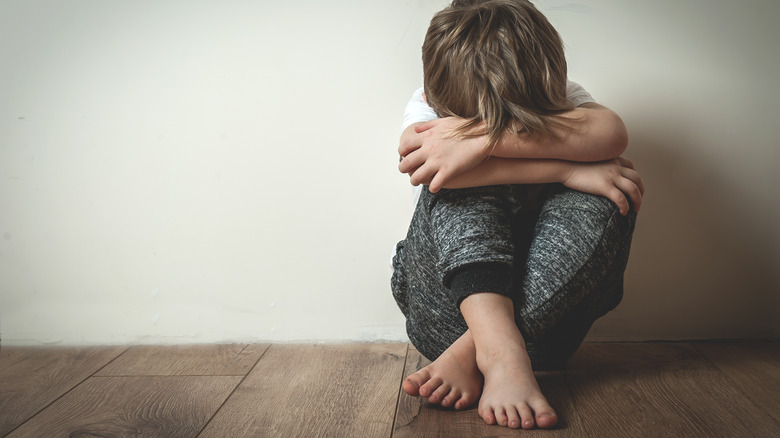 Shutterstock
Henry Lee Lucas' father lost both of his legs in an accident while he was working for the railroad. As he had nine children, and was unable to obtain traditional employment, Henry's father started making and selling illegal alcohol. As reported by Weebly, Henry's mother operated as a sex worker to supplement his meager income. On many occasions, Henry was reportedly forced to watch his mother with her clients.
In a series of interviews, Henry Lee Lucas detailed years of physical abuse at the hands of his parents and siblings, sexual abuse by his uncle, and severe neglect by his entire family. He also described a particularly brutal incident, which led to the loss of his eye.
In 1959, Henry Lee Lucas was visiting his family for Christmas. As reported by Digital Spy, Henry and his mother got into a verbal altercation, which quickly turned physical. In an interview about the incident, Henry said he remembered slapping his mother "alongside the neck" and watching her fall to the floor. When he attempted to pick her up, he realized he "had a knife in [his] hand and she had been cut." The 74-year-old woman was pronounced dead at the scene.
Following his arrest, Henry Lee Lucas claimed he killed his mother in self-defense. However, he was ultimately convicted of second-degree murder and sentenced to 20 to 40 years in prison. Sources are conflicted about when he was released but it's believed he served either ten or eleven years for her murder, per Digital Spy. 
A brain injury may be responsible for Henry Lee Lucas' erratic behavior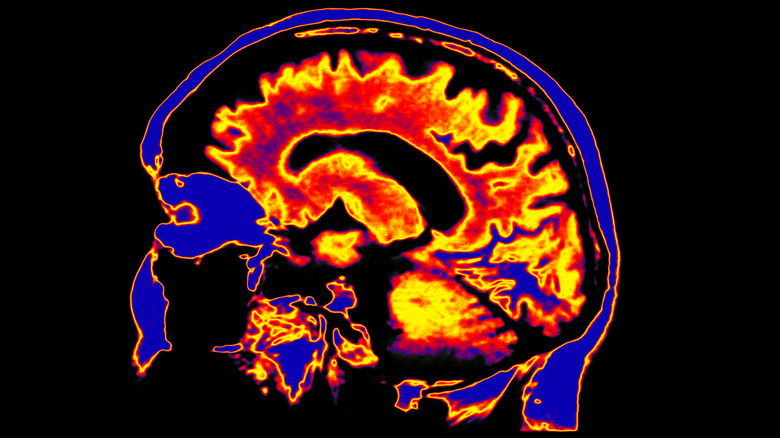 Shutterstock
As reported by D Magazine, the abuse Henry Lee Lucas suffered as a child included several serious head injuries. Between the ages of five and 10, Henry was stabbed in the eye, struck in the back of the head with a two-by-four, and suffered another blow to the face.
Henry Lee Lucas recalled having a number of seizures in the years following the head injuries, which could indicate he suffered a traumatic brain injury. Dr. Vernon Mark, who is the director of neurosurgery at Boston City Hospital and president of the Center for Memory Impairment and Neurobehavioral Disorders, believes the seizures may have been caused by temporal lobe epilepsy.
D Magazine reports temporal lobe epilepsy can stem from an injury to a section of the brain called the corpus callosum. Patients with impaired functioning of the corpus callosum often display "Jekyll and Hyde syndrome." Essentially, the injury prevents patients from having control over antisocial urges they may experience.
Doctors also believe Henry Lee Lucas' excessive alcohol consumption may have contributed to his behavior and mental impairment. Dr. William Walsh said he believes Lucas experienced "extreme personality deterioration" when he drank alcohol.
Psychoanalyst Alice Miller suggests Henry Lee Lucas' relationship with his mother was also a contributing factor. As reported by D Magazine, Lucas' mother did not allow him to cry or express grief or anger. Therefore, his emotions were repressed until they essentially exploded.
Henry Lee Lucas had a lover and partner in crime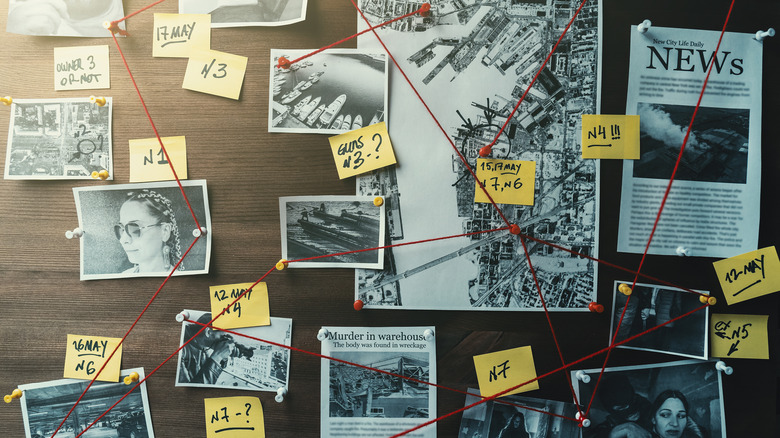 Shutterstock
Although Henry Lee Lucas is a well-known serial killer, there were actually two "confession killers." As reported by All That's Interesting, Lucas' lover, Ottis Toole, confessed to traveling throughout the United States with Lucas and helping him choose and kill his victims.
Henry Lee Lucas and Ottis Toole met in 1976 while having a meal at a soup kitchen. All That's Interesting reports the men bonded over a similarly difficult childhood. In addition to being physically and sexually abused, Lucas and Toole were both forced to wear female clothing by their mothers.
Lucas and Toole had both committed murder and served time in prison before they met. After further discussion, they realized they wanted to continue their life of crime — together.
All That's Interesting reports Henry Lee Lucas and Ottis Toole commenced a crime spree, which spanned 26 states over a period of years. A majority of the couple's victims were hitchhikers, sex workers, and migrant workers, who were easy prey for the career criminals. In addition to killing their victims, the men reportedly raped and tortured their victims and mutilated their corpses.
According to some reports, Lucas and Toole bragged about cannibalizing some of their victims.
Henry Lee Lucas and Ottis Toole's relationship reportedly faltered when Lucas took an interest in Toole's 15-year-old niece. Although they eventually separated and were arrested for different crimes, they both confessed to killing nearly 100 people while they were together.
Authorities bribed Henry Lee Lucas with milkshakes and cigarettes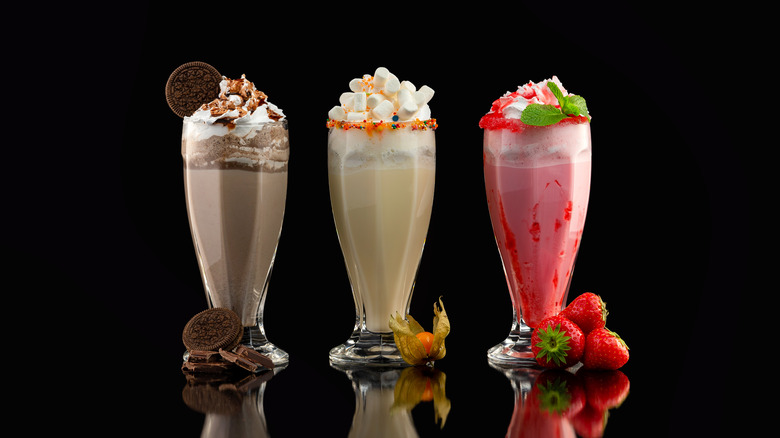 Shutterstock
Henry Lee Lucas was ultimately arrested for the unlawful possession of a firearm. However, he confessed to two murders during his initial interrogation. As reported by Medium, Lucas later confessed to killing hundreds of people in multiple states.
James B. Adams, who was Director of the Texas Department of Public Safety at the time, formed the "Lucas Task Force" to investigate the crimes Lucas admitted to. Although the task force officially "cleared" 213 previously unsolved murders, the task force, which was headed by former Sheriff Jim Boutwell, faced harsh criticism for their methods and their willingness to believe Lucas' often implausible confessions.
Vulture reports Henry Lee Lucas was often allowed to roam around the police station without restraints while he was discussing the case with the task force. He was also taken to restaurants for meals and provided with strawberry milkshakes and cigarettes on-demand.
The task force also allowed Lucas access to case files, including crime scene photos. On numerous occasions, he was actually transported to crime scenes to discuss the murders with local authorities.
As reported by Medium, it was eventually revealed that a majority of Henry Lee Lucas' confessions were blatantly false. Journalist Hugh Aynesworth spent months fact-checking Lucas' confessions and ultimately determined "Henry Lee Lucas would have had to use his 13-year-old Ford station wagon to cover 11,000 miles in one month to have committed the crimes police attributed to him."
George W. Bush commuted Henry Lee Lucas' death sentence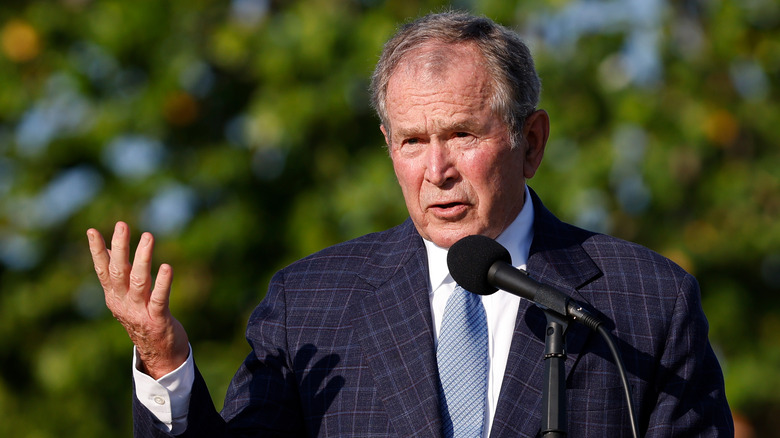 Cliff Hawkins/Getty Images
At times, Henry Lee Lucas claimed he killed as many as 600 people. However, physical evidence only linked Henry Lee Lucas to two murders, and he later admitted his confessions were a hoax. As reported by The Washington Post, Lucas said, "I only got three, really … But they're goin' wild every time I tell 'em about some more . . . I'm gonna show 'em. They think I'm stupid, but before all this is over, everyone will know who's really stupid. And we'll see who the real criminals are." 
Medium reports Henry Lee Lucas was ultimately convicted on 11 homicides and sentenced to death. However, he continued to claim he only had three victims and all of the other confessions were false. 
In June 1998, then Texas Governor George W. Bush commuted Henry Lee Lucas' death sentence to life in prison. The New York Times reports Bush referred to irregularities in Lucas' confession, including "strong evidence" that Lucas was in another state when one of his victims was killed. As the confession was the only evidence of Lucas' involvement in the woman's death Bush said he had "a special obligation to make sure the State of Texas never executes a person for a crime they may not have committed."
Henry Lee Lucas died on March 12, 2001, of a heart attack. As reported by ABC News, Lucas had a history of heart-related issues and had been previously hospitalized.