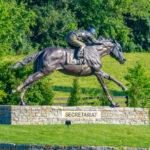 Did Secretariat Ever Lose A Race?
echo get_the_meta(); ?>
The remarkable Secretariat, also known as Big Red, has gone down in history as one of the greatest racehorses ever. As reported by Britannica, he was born in Virginia in 1970, first showing great promise when he first raced two years later. In those first races in 1972, he impressed the industry with his speed and ability to seemingly gain stamina and strength as he raced.
Secretariat's crowning glory came the following year when he famously won the Triple Crown in spectacular fashion. As History reports, he won Belmont Stakes, the third and final Triple Crown Race, by an absurd distance, leaving the second-place horse in the dust by 31 lengths. A feat truly worthy of a wonder horse.
Anybody who was there would be forgiven for thinking that this racing legend was absolutely unstoppable, but it's just not possible to win every race. Even the mighty Secretariat was indeed bested at times.
The remarkable, if not undefeated, Secretariat
Shutterstock
In his first race, per Britannica, the horse placed not first but fourth. It's a shame that there's a blot on record though, as this was the only race of his first seven that he didn't win.
Interestingly, on October 14, 1972, he both won a race and didn't. During New York's prestigious Champagne Stakes, Secretariat crossed the line first by a narrow two lengths but was disqualified after jostling the opposing horse slightly (jockey Ron Turcotte had used his whip with the 'wrong' hand, causing Secretariat to turn).
This isn't to say that Secretariat was never in last place in a race, though. Quite the contrary, in fact: as Britannica goes on to explain, By the end of the year, Secretariat had developed a reputation for languishing at the back of the pack, building speed and momentum, and then taking first place (sometimes by a considerable distance).
He didn't always have the stamina to thunder his way to victory: at the Wood Memorial Stakes race in 1973, he finished third, a real blow as the legendary Kentucky Derby approached. His groomer, Eddie Sweat, later told The Thoroughbred Record (per History), that Big Red had an abscess in his mouth at the time of the race. His respectable performance in spite of this just proves that, while not infallible or unbeatable, Secretariat really was horse racing royalty, much lamented on his death in 1989.