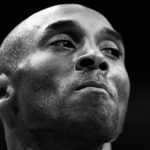 Disturbing Details Found In Kobe Bryant's Autopsy
echo get_the_meta(); ?>
When people think of the legendary basketball player, Kobe Bryant, they think of an incredible competitor on the basketball court who gave his all in every game. There was no such thing as a game being out of reach for his team. He was known for being able to will the Los Angeles Lakers, with whom he played his entire career, to heart-stopping, come-from-behind wins, and his single-minded competitiveness earned him the nickname, "Black Mamba." He won five NBA titles with the Lakers, according to Biography. He retired in 2016, and it looked like he was content to spend time with his wife Vanessa and their four children, some of whom played basketball themselves. For all the other things that could be said about a complicated man, there has never been any doubt that Bryant loved his family very much. He even had a tattoo of a crown on his right shoulder with his wife's name above it and he also had three of his four children's names on that same arm. Bryant likely planned to add another tattoo to honor his youngest, daughter Capri, born in the summer of 2019. 
Then, life, as it often does, changed in an unexpected way — and in a terrifying instant. When Bryant and his daughter, Gianna, died in a helicopter crash on January 26, 2020, it became one of those "Where were you when you heard" moments. According to USA Today, Bryant, who was 41, was taking Gianna, 13, to her youth basketball game at his Mamba Sports Academy. Like her father, Gianna had been a standout player. The sudden loss of the basketball icon and his young teen daughter was hard for many to process. Then the public had to anxiously wait for the autopsy results.
The lives of nine people cut short in an instant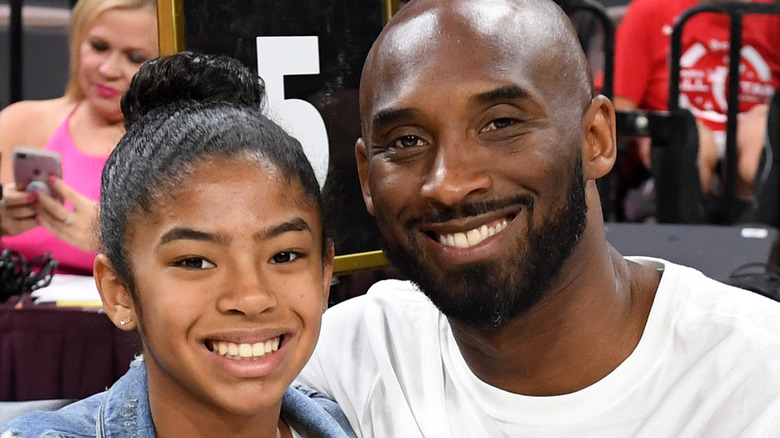 Ethan Miller/Getty Images
According to The Sporting News, the salient point that was highlighted in the coroner's report offers some small comfort: Everyone on the helicopter most likely died instantly upon impact. There were disturbing things about what happened to them post-impact, but that was to be expected in a crash that saw the vehicle traveling at 184 mph when it hit the ground, via AP News. Officially, per the coroner's office, all nine aboard died of blunt force trauma. There were severe burns that delayed identification, but those mercifully occurred after those passengers had died. Per Meawww, Kobe's tattoos were instrumental in making that official identification. 
The pilot, Ara Zobayan, was experienced. Nevertheless, he made a grievous error in judgment in foggy conditions, and the result was fatal for all involved. The National Transportation Safety Board said that the probable cause was "the pilot's decision to continue flight under visual flight rules into instrumental meteorological conditions, which resulted in the pilot's spatial disorientation and loss of control." They said there was nothing that went wrong with the helicopter itself. There were no illegal drugs found in his system. A cruel reminder of how drastic an impact small choices can have for any of us.
Kobe Bryant's widow, Vanessa, settled a lawsuit with the pilot and the company that owned the helicopter in June 2021, according to AP News. She also filed a lawsuit against Los Angeles County over the decision by some officials present at the crash site to take photos of the victims and later leak them online. That lawsuit is still pending as of this writing, according to NPR.
People will never forget Kobe Bryant's intensity on the basketball court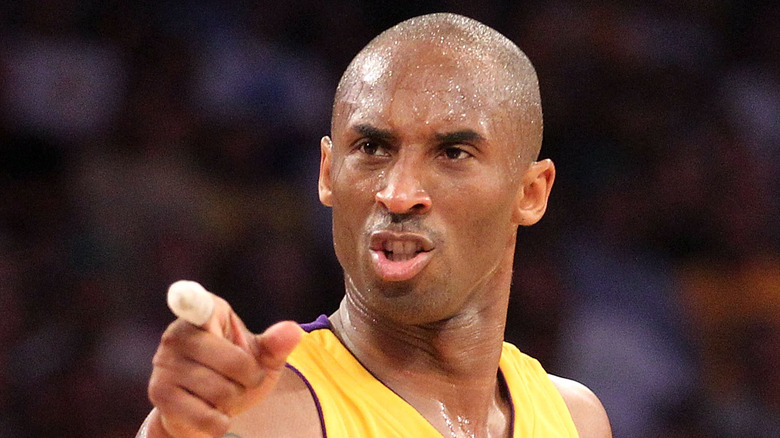 Ronald Martinez/Getty Images
Kobe Bryant was far from the only athlete to tragically die in a helicopter or plane crash. The list, which spans decades, includes boxing legend Rocky Marciano, baseball Hall of Famers Roberto Clemente and Roy Halladay, New York Yankee captain Thurman Munson and pitcher Cory Lidle, and golfer Payne Stewart, via USA Today. All of them joined a group of people whose lives were cut way too short. While air travel is generally safe in the hands of experienced people, there is always the risk that something could happen, whether with the weather or machine malfunction and, unfortunately, Bryant and his daughter were in the wrong place at the wrong time. 
Constant travel is both a perk and a pain to professional athletes. And though Bryant had retired, he nevertheless had the means to make a cross-county trip that would have otherwise been arduous in Los Angeles' notoriously bad traffic a little easier on himself, his daughter, and their guests. In the days following the crash, some offered pushback on the star's decision to fly that day but the reality is that Bryant could simply afford to do it. His autopsy revealed nothing more in his system than Ritalin, a common medication typically prescribed for ADHD, says ABC News. His judgment wasn't clouded. For an athlete of his stature, taking a short flight that day was a logical decision — even if we can never make sense of the tragedy.
Instead, we mourn the lives cut short — Kobe's, Gianna's, and those of the seven others who perished alongside them — and wonder what they would have been able to accomplish going forward. No autopsy report can change that.