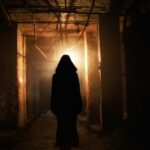 Disturbing Things That Actually Happened At Haunted Houses
echo get_the_meta(); ?>
Haunted house attractions are known for being creepy, unnerving, and of course, scary. While they're fun to explore, things sometimes don't go as planned and accidents happen. Terrible things have come to pass inside commercial haunted attractions: from heart attacks to accidental deaths and mishaps. While intended for entertainment, haunted houses can be especially frightening when unexpected things take place, scarring witnesses for life.
Here's an example: In 2012, a teenager, Jessica Rue nearly died at a haunted attraction in Missouri. She was a staff member at Creepyworld and almost got choked by a noose while acting in a show. Onlookers thought this was a part of the act as Rue struggled to break free and was finally rescued by a colleague minutes later. According to NY Daily News, the teen suffered for a long time after the incident, experiencing memory loss and physical symptoms such as headaches.
Rue's experience is rare but not the only one. Here's a glimpse into some of the most disturbing events that have taken place inside haunted houses over the years.
A woman accidentally stabbed her friend inside a haunted house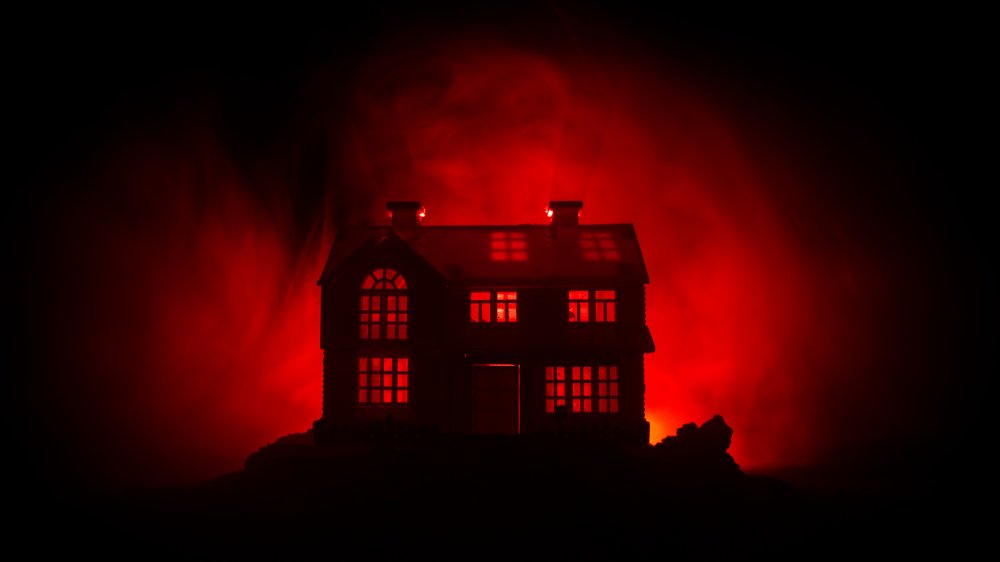 Shutterstock
A trip to a haunted house attraction went horribly wrong for a group of friends from Nashville. A person, believed to be a staff member at a Halloween attraction called The Nashville Nightmare Haunted House, gave a knife to one of the girls from the group. According to WJLA, the girl believed it was a prop and playfully stabbed her friend with it.
The staff member who had approached the girl had asked her whether her friend was "messing around with her." She said, "Yes." She was then given a knife that looked like a prop knife and the staff member told her, "Well here, stab him." She playfully stabbed her friend and exclaimed, "Ha ha, gotcha!" To her horror, he started bleeding. The group of friends was petrified at what had just transpired. Reflecting on the scene later, the girl recalled, "His arm was gushing blood like something out of a horror scene."
Meanwhile, the staff member disappeared. The group rushed their friend to a hospital. The Nashville Nightmare, for its part, later told ABC News that the company was reexamining its safety measures. "We have robust safety and security protocols in place, including metal detectors and onsite medical and security staffs," a part of the statement read. "We are going over all of our safety protocols with all of our staff again, as the safety and security of all of our patrons is always our main concern."
McKamey Manor's extreme settings left a woman injured
A horror attraction, McKamey Manor in Tennessee has often been in the news for all the wrong reasons. According to The Washington Post, the haunted house requires a person to sign a waiver that goes on for 40 pages. They are also required to undergo a physical exam, pass a background check, and clear a drug test. A description on McKamey Manor's site reads, "Understand that each tour will be different based upon your personal fears, and can last up to 10 hours. Each guest will be mentally and physically challenged until you reach your personal breaking point."
A participant, Amy Milligan decided to take a shot at the challenge and entered McKamey Manor in 2015. She later spoke about her experiences, recalling the level of torture she was forced to endure. In her official video from McKamey Manor, Milligan looks uncomfortable as she is dragged around by her hair and manhandled. In one of the scenes, she is seen trapped in a freezer with a blindfold over her eyes.
At one point, Milligan decided she couldn't endure the pain anymore and pleaded with the staff members to free her. "I'm going to die here," Milligan said in the video. "I'm going to drown. My hair is wrapping around my neck and I start freaking out. I'm telling them I can't breathe and they're just laughing and doing it more."
A teenager died inside a haunted house attraction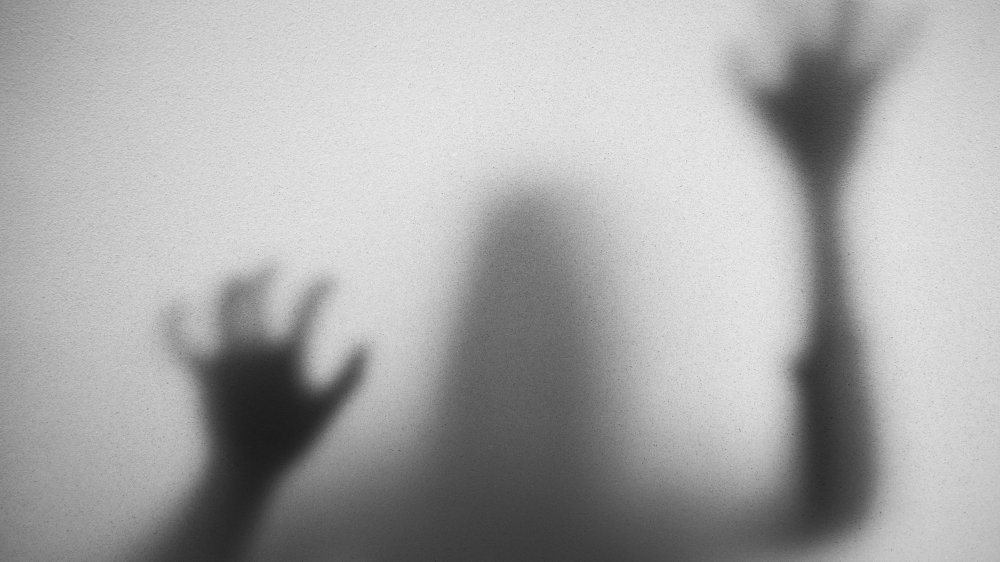 Shutterstock
In October 2014, a 16-year-old was visiting a haunted house with her family and friends when tragedy struck. The girl, Christian Benge was at The Land of Illusion Haunted Scream Park in Ohio and ventured into one of its haunted houses. She collapsed all of a sudden and was taken to a medical facility where she passed away.
According to NBC News, Benge suffered a heart attack at the haunted house and had a pre-existing medical condition. "The physical autopsy showed that she had, among the preexisting conditions, which were all respiratory, she also had some heart anomaly, a heart with the walls that were thicker than they should be," one of the investigators from the coroner's office, Doyle Burke said. "A compromised heart is what it is." The disturbing incident was labelled as unfortunate. The Land of Illusion released a statement that read, "Christian will be in our hearts forever… we ask the community to remember her as the kind and beautiful young person she was. Now is the time to reflect on the joy she brought to so many."
In Hong Kong, a man got killed inside a haunted house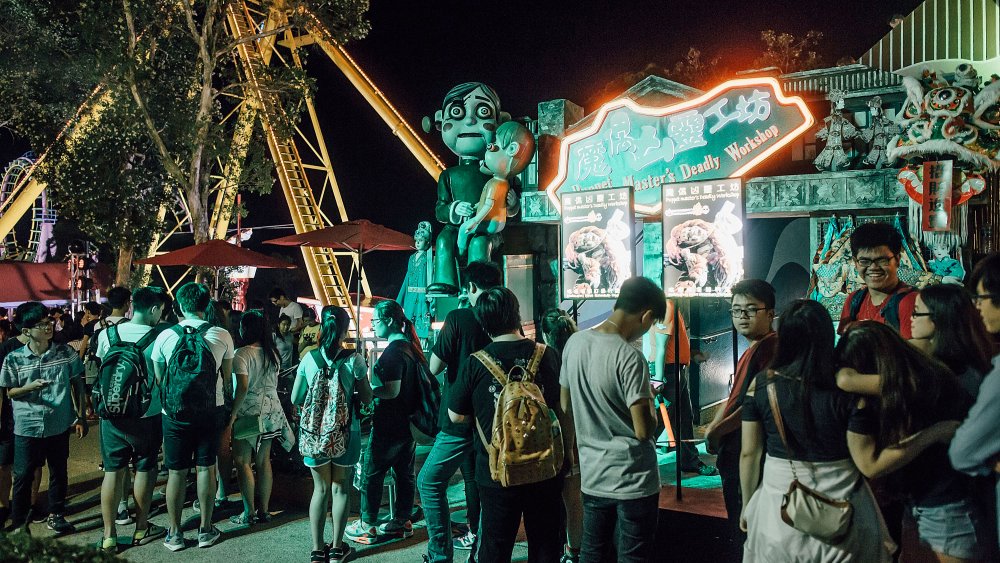 Anthony Kwan/Getty Images
In 2017, a 21-year-old lost his life inside a theme park's haunted house attraction in Hong Kong. According to the South China Morning Post, the man, identified as Cheung, lost consciousness barely five minutes after entering the haunted house. He had accidentally wandered in an area that was off-limits to visitors. While medics at the scene rushed to help Cheung and also arranged for an ambulance, they were unable to save him. He was declared dead at a nearby hospital.
In an alarming revelation, media outlets reported that Cheung was, in fact, hit by a coffin. The coffin was a part of a ride that required visitors to enter via a slide. A structural engineer criticized the fact that the restricted area wasn't shut off. "A haunted house should be designed to offer a single way out for visitors," he said. "If an emergency exit is required, a sign should be posted." Post the mishap, the park decided to close down its haunted house.
A cardiac arrest took place here
In 2017, a man passed away in Georgia after suffering a heart attack inside a haunted house. He was at the local 13 Stories Haunted House when the incident occurred. 13 Stories Haunted House is known for its varied attractions including a zombie-themed alley and a section called Vertigo, challenging visitors to make it through the space without being spooked.
Allyn Glover, who owns the attraction told the AJC that the visitor was on his way out when the incident took place. "On Saturday, October 28th, 13 Stories management was notified of a person needing medical attention," the statement read. "The man had just completed all three attractions and was preparing to exit the facility when he appeared to be in duress."
Immediately after his cardiac arrest, an ambulance was called and EMTs trying to revive him with a defibrillator. Unfortunately, he didn't respond to treatment and was pronounced dead later.
A woman was run over by a car outside a haunted house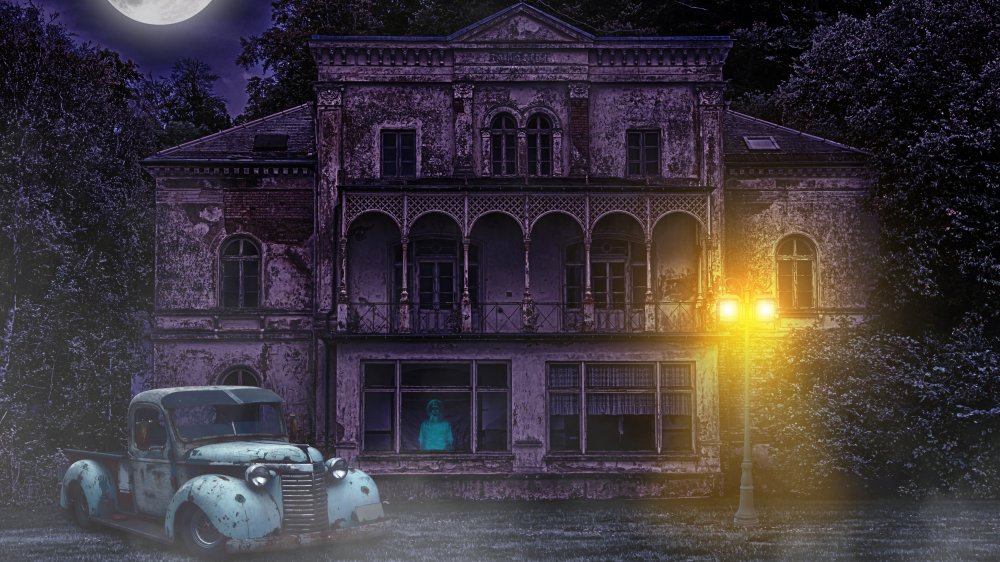 Shutterstock
In 1997, a car hit a woman right outside a haunted house in Connecticut. Unfortunately, witnesses who passed by thought she was a part of a Halloween act and didn't think she was actually bleeding. According to a piece by The Hartford Courant, an eyewitness, Gale Fulton saw the lady struggling to get up and was unnerved. He left the scene but reached out to medical workers and told them about the incident. He thought that the woman was performing a risky stunt on the street. But by then, the injured woman was critical and died shortly after.
An investigator said that many witnesses like Fulton didn't realize there was a tragedy unfolding in front of their eyes. "Other witnesses also indicated they thought that the body on the road was part of the haunted house act," the detective stated. The man responsible for the hit-and-run, Bruce Imbt was eventually tracked down and punished. Imbt was unaware that he'd been responsible for the woman's demise until he found out about the incident later. His arrest warrant read,"Imbt stated that he heard a thud sound from the right side of his car and that he did not see anything but thought that he had hit a pipe that was sticking out from a pickup truck, or it sounded as if someone had thrown a brick at his windshield."
A hayride killed a teen in the 1990s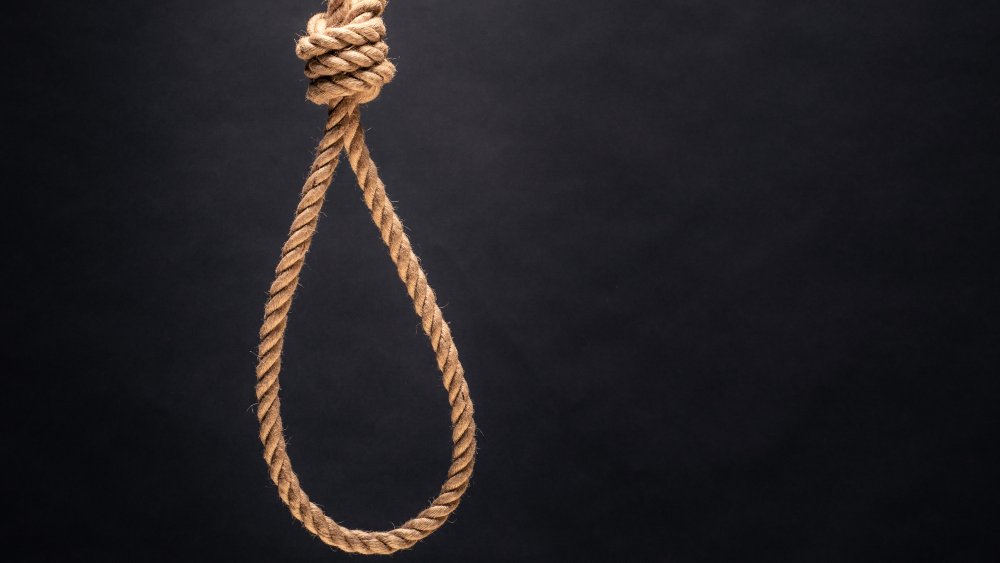 Shutterstock
Unfortunately, not even something as charming as a Halloween hayride is safe. In 1990, a teenager who was pretending to be a victim of hanging actually lost control while performing the stunt for people going past on a hayride. According to AP News, the noose ended up killing the actor when he was performing for his audience at a haunted attraction in New Jersey. A prosecutor who was involved in the case said, ″The way it's supposed to work is he's supposed to have the noose around his neck, but it's not a noose that tightens." He would normally pretend to hang himself and then get back on his feet after the act and talk to his audience, much to their amusement.
The planned act was performed as usual just a short while before the mishap. The staff members noticed something was terribly wrong when the victim didn't move after his final act and stayed silent. Post the accident, the haunted attraction was shut down as prosecutors investigated the incident.
A worker died inside a haunted house in Disneyland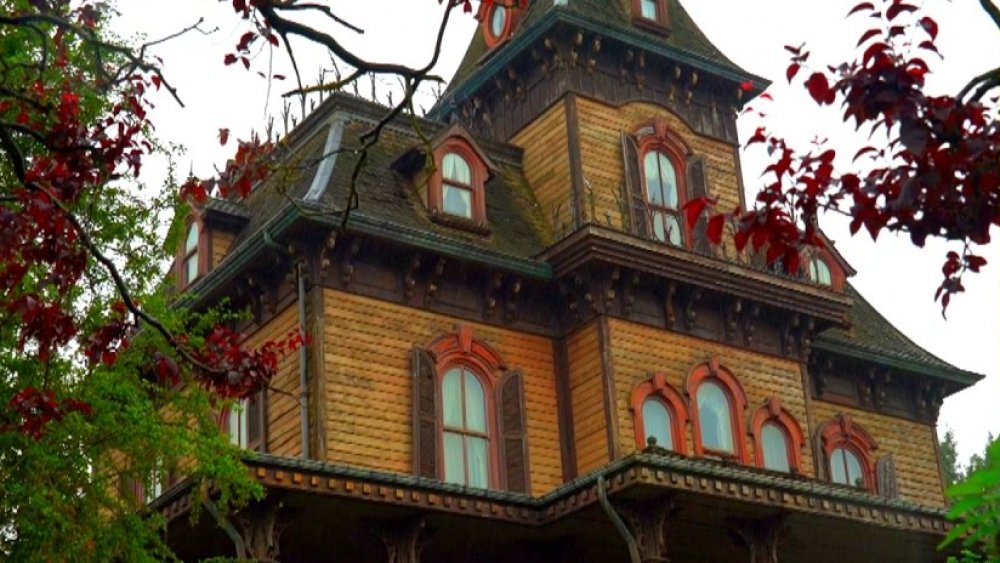 Chesnot/Getty Images
The Phantom Manor at Disneyland Paris is intended for visitors who are looking to get a little spooked. It's described by the theme park as a mysterious experience "with ghoulish ghosts and spirits." In 2016, it sadly got a real one, when a staff member lost his life while working inside the park's haunted house. 
According to Variety, the victim, 45, was carrying out maintenance work and tackling light fixtures when he got electrocuted. His colleagues found his dead body later. The attraction, The Phantom Manor, was shut down for days as local authorities tried to make sense of the incident. Disneyland Paris released an official statement that read, "We are truly saddened to learn of the passing of one of our cast members, and our hearts go out to his family and friends during this very difficult time."
The victim was a popular man, known for his positivity and optimism. According to Le Parisien, he was a longtime employee at Disneyland – he first joined the team in 2002. 
A principal got killed in a haunted house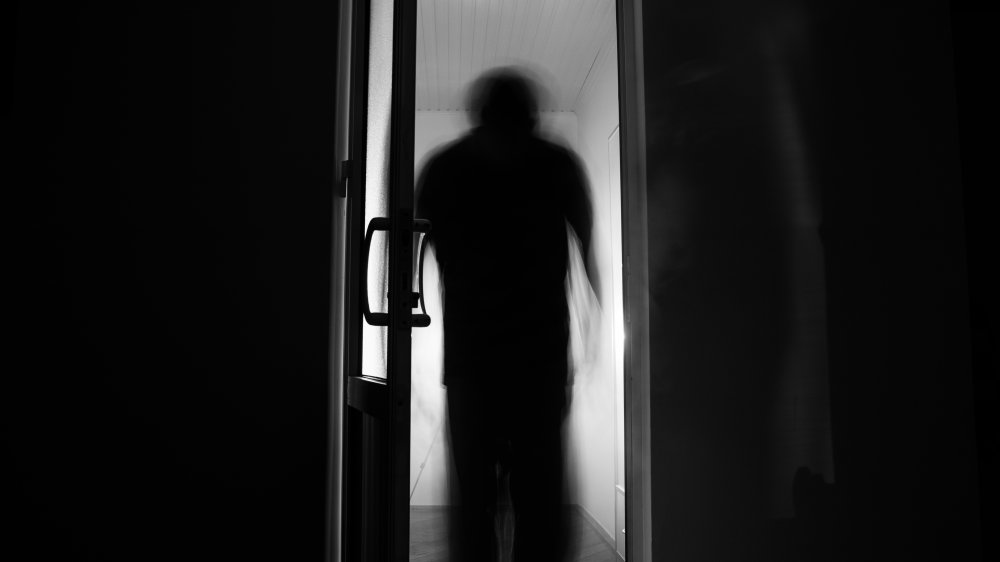 Shutterstock
Disturbing events inside haunted house attractions go way back in time. In 1957, a school trip took a turn for the worse when the school principal died inside the haunted house. According to a piece by Time, the school staff decided to treat their students by trying something new right before Halloween that year. The English teacher and her students went to a haunted house located near Utica, Kansas.
The school principal, William Hobert Sallee, thought he'd make the experience more interesting and prank his students by pretending to hang himself in a room. Sallee was fully prepped for his role and added dark greasepaint and ketchup to his face for dramatic effect. He then proceeded to hang himself from the ceiling. As the students slowly explored the house, they were taken aback by the visuals: a figure was suspended in the dark, and rightly thought it was a part of the surprises that were planned for them inside the house. Unaware that their school principal was moaning in actual pain, the students discussed among themselves and stated that this scene was definitely the most frightening experience inside the haunted house.
It was only revealed that Sallee had died when the English teacher returned to take a picture of him and realized he had actually been hanged. Somehow, while doing the prank, Sallee had slipped and the noose had, alarmingly, ended up around his neck.