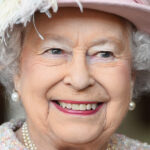 Everything We Know About Queen Elizabeth's Platinum Jubilee So Far
echo get_the_meta(); ?>
Nothing says "aristocratic badass" like a royal jubilee. Filled with requisite amounts of decorum, fanfare, and guest appearances from everyone's favorite (and not-so-favorite) royals, these events celebrate a monarch's life and reign. They come with heady doses of pageantry that only generations of nobles can dream up, and they leave subjects filled with starstruck glee as hard-earned tax dollars evaporate into extravagant flower arrangements, fireworks displays, fancy clothes, and military parades.
Town & Country reports that from June 2nd through 5th, 2022, Queen Elizabeth II will celebrate an unprecedented milestone: 70 years on the British throne. A feat never achieved by a previous reigning monarch, it will mark a "truly historic moment," according to UK culture secretary Oliver Dowden.
Sure, Elizabeth II isn't the first to host a royal jubilee. According to the royal family's website, King George III had a gold jubilee to commemorate 50 years of throne-straddling. And Queen Victoria pushed the envelope, hosting both gold and diamond jubilees, respectively marking her 50th and 60th anniversaries. (Nobody could scowl like her!) But no previous ruler has had the staying power of Elizabeth II, which makes her upcoming Platinum Jubilee an unprecedented milestone in the United Kingdom.
What can we expect from this momentous event? Here's everything we know so far about what the BBC has termed a "once-in-a-generation show."
Britain's longest-ruling monarch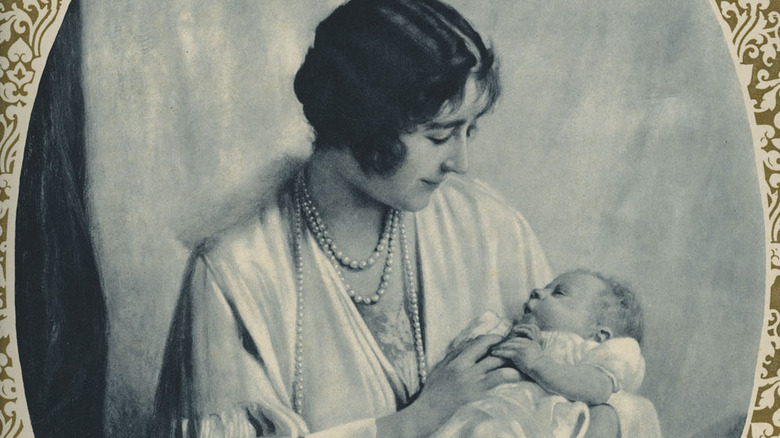 Culture Club/Getty Images
Queen Elizabeth II's contributions to the monarchy go much further than simply outlasting everybody else (and raising princes known for questionable behavior). She's witnessed tremendous change during her lifetime. 
During World War II, the royal family remained at Buckingham Palace despite multiple warnings to evacuate. After the palace was bombed by the Luftwaffe, Queen Elizabeth (Elizabeth II's mom) resolutely remarked, "I'm almost glad we have been bombed. It makes me feel I can look the East End in the face" (via the Daily Mail). These words rendered the future "Queen Mum" a heroine in the eyes of the British people. 
As for Elizabeth II? She won the nation's hearts through regular radio broadcasts for children in Britain (via Biography). Her first public speech via radio took place on October 13, 1940. Addressing her fellow kids and countrymen, she stated, "[W]hen peace comes, remember it will be for us, the children of today, to make the world of tomorrow a better and happier place."
An unexpected abdication paves the way to the throne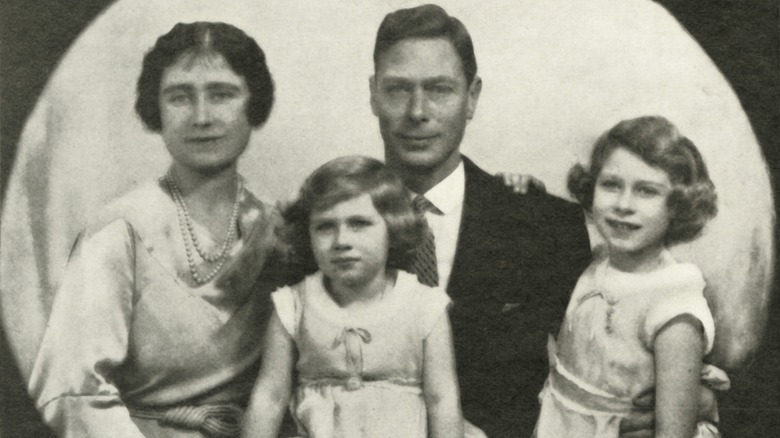 Print Collector/Getty Images
As reported by History, the abdication of Elizabeth II's uncle, King Edward VIII, in 1936 shook up her family's entire existence. Almost overnight, her shy, retiring, and stammering father became the UK's unexpected monarch, King George VI (and inspired a top-notch Colin Firth film, 2010's "The King's Speech," to boot). As for Elizabeth II, she stepped into a new role as the heir apparent to the English throne (via Global News).
If you haven't watched "The Crown" lately, let us fill you in quickly.
The trouble all started when Edward VIII fell head over heels for a twice-divorced American, Wallis Simpson. His obsession for the expat with the stark eyebrows and severe red lipstick brought Elizabeth II closer to the throne than she'd ever imagined, uncomfortably close for an adolescent. 
While Simpson tried to persuade her royal lover to remain on the throne and keep her as a mistress, Edward VIII would hear nothing of it. His stubborn resolve to marry Simpson sent ripples through the nation, not to mention a branch of the royal family tree that was never meant to rule. Nevertheless, George VI, his wife Elizabeth, and their daughters, Elizabeth II and Margaret, rose to the occasion on the eve of one of the most devastating wars in history. 
The Wallis-Edward romance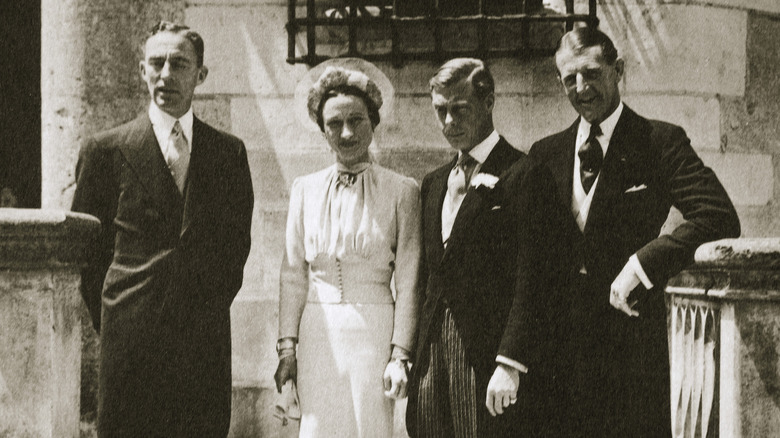 Heritage Images/Getty Images
The Wallis-Edward "romance" evolved into a bizarre, embellished fairy tale or tragedy, depending on your vantage point. And it had an incalculable influence on Elizabeth II's future as she inched ever closer to the throne. Simpson ended up shouldering the blame for Edward VIII's abdication as the public labeled her a conniving vixen. As for Edward VIII? He came out looking like the last great romantic hero. 
But there's a darker side to this story that often gets overlooked.
As the New Zealand Herald reports, historical documents suggest that Edward VIII fostered an appalling admiration for (and offered an unspecified amount of support to) Germany's Third Reich. His dangerous fascination with Nazism probably had more to do with getting him kicked to Buckingham Palace's proverbial curb than a romantic dalliance. Nothing better illustrated his troubling pro-Nazi sympathies than his honeymoon with Simpson. They traveled to Germany in 1937, just two years before Great Britain would declare war on Germany. Where did they go during their visit? None other than Adolf Hitler's holiday retreat, the Berchtesgaden, to meet with the Führer himself.
Reflecting on these circumstances, King George VI and Queen Elizabeth represented bulwarks against the infectious ideological beliefs that Edward VIII entertained. Together, the king and queen and their daughters navigated the nation through the war years. But tragedy would strike in 1952, as reported by History Extra. King George VI passed away unexpectedly from inoperable cancer, and Elizabeth II ascended the throne. She became the eighth female in history to reign over Britain, according to ThoughtCo. 
A 'once-in-a-generation' show
Shutterstock
In September 2015, Elizabeth II surpassed her great-great-grandmother, Queen Victoria, as the longest-reigning monarch in British history. Queen Victoria had a whopping 63 years and seven months under her belt (via Town & Country) — a formidable record to shatter and deserving of a roaring party.
What do we know about the Platinum Jubilee at this point? As reported by Town & Country, the four-day holiday will celebrate Elizabeth II's momentous seven-decade-long rule, and the British government has promised members of the Commonwealth and the entire world a "once-in-a-generation" show (via inews.co.uk).
Expect a "blockbuster celebration" chock-full of pageantry, ceremonial splendor, and cutting-edge tech displays, as reported by The Guardian. These festivities have one primary focus: commemorating Elizabeth II's impact on the UK and world throughout her lengthy reign. While much of the detailed planning for the event remains under wraps, we can look to past jubilees to better understand what's to come.
For example, during her 2002 Golden Jubilee, Buckingham Palace hosted a "party at the palace." During this event, Brian May of Queen belted out "God Save the Queen" on his guitar while standing atop the palace roof. While we can only hypothesize about how COVID-19 restrictions will or won't impact the festivities, one thing's for sure: Despite remaining mum, palace officials have big plans in the works.
Royal jubilees are biblical celebrations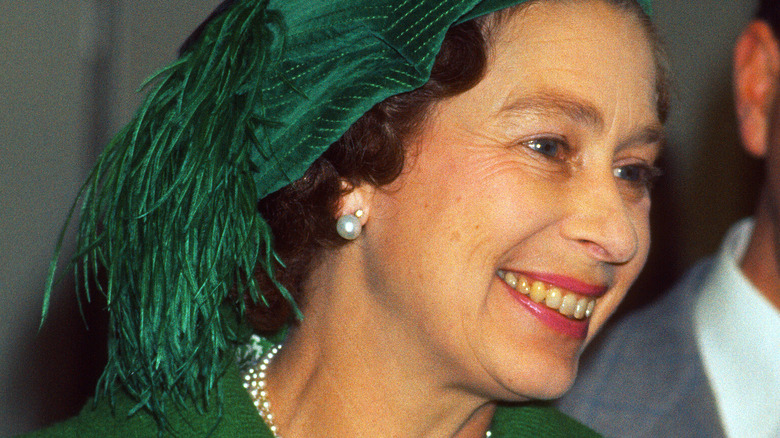 Anwar Hussein/Getty Images
Today, royal jubilees celebrate the life and service of a ruler and represent significant events observed worldwide. Although the concept has biblical origins, as noted by the royal family's website, these celebrations proved rare for most of Britain's history. Why? Because of the comparatively short life spans (and careers) of most rulers.
What's more, a general lack of historical records about past jubilees means we have few details about how these events may (or may not) have played out in terms of festivities. For example, very little has been handed down to us about the jubilees of rulers such as Henry III, Edward III, or James VI and I. Yet, each of these monarchs celebrated 50 years on the throne. Did they celebrate jubilees as we do today? If so, what did their silver and gold jubilees look like? We may never know. 
But we do know that Brits and the Commonwealth nations like to party with their queen at significant milestones Because of her lengthy reign, Queen Elizabeth II has witnessed several significant jubilee celebrations. These have included her 1977 Silver Jubilee, her 2002 Golden Jubilee, and her 2012 Diamond Jubilee.
Famous jubilees from the past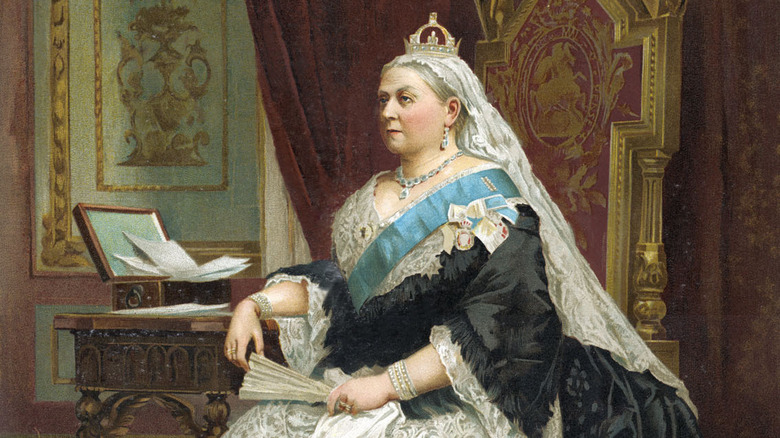 Culture Club/Getty Images
What about Elizabeth II's predecessors? We know that Queen Victoria enjoyed both gold and diamond jubilees. According to the royal family, her 1887 Golden Jubilee included a sparkling feast and a veritable who's who of important people. Fifty foreign princes and kings journeyed to London to help her commemorate the event in style. The day after the feast, she participated in a seemingly endless procession. Refusing to wear her crown in favor of a bonnet and long dress, she sat in a gilded carriage. A line of majestic beige horses pulled it. 
For her Diamond Jubilee in 1897, the governing heads of Britain's overseas dominions and colonies made the journey to celebrate with her. Mark Twain witnessed the jubilee's procession personally, writing, "[It] stretched to the limit of sight in both directions." Incredibly, you can still find film footage of the event. 
Besides Queen Victoria, the royal family also has much to say about King George III's jubilee, celebrated in both the Colonies and Great Britain. It involved a fireworks display at Frogmore. In London, he participated in a procession to St. Paul's Cathedral for a formal ceremony, followed by a celebratory dinner at the Mansion House. King George III spearheaded much of the incredible fanfare and pomp we associate with royal jubilees today. 
As you can see, these noble celebrations boast an extravagant history. This reality makes us all the more excited to see what's in store for 2022. 
Four days of celebration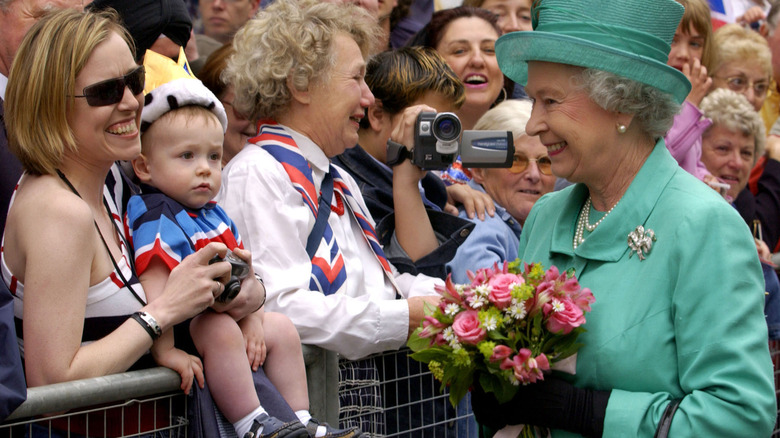 Anwar Hussein/Getty Images
Loverboy sang it best: "Everybody's working for the weekend." And this proves no less true in the wake of Her Majesty's upcoming holiday. Many Brits already have their sights set on the four-day weekend that'll accompany it.
To accommodate the affair, the bank holiday weekend at the end of May will shift to Thursday, June 2. What's more, the bank holiday calendar will see the addition of another day, June 3, according to The Guardian. Brits can look forward to this long weekend, the perfect time to revel in the queen's incredible career.
Of course, impressive plans remain in the works for events that'll encompass those four days. Like historic jubilees we discussed earlier, expect plenty of processions and a ceremony of thanksgiving, most likely at St. Paul's Cathedral. There will also be glittering feasts attended by the most powerful and notable figures worldwide. But the Platinum Jubilee will also seek inspiration from pop culture, particularly the music scene. 
The Platinum Jubilee should have show-stopping musical performances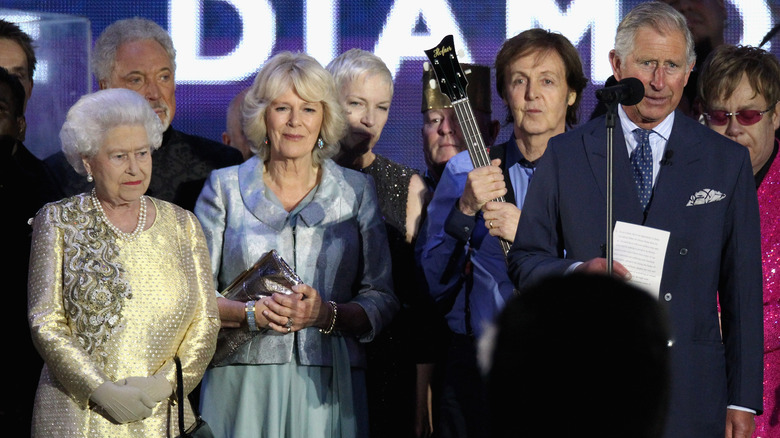 Dan Kitwood/Getty Images
Traditional formalities, pomp, and circumstance will pervade the Platinum Jubilee, but we also anticipate a hefty dose of notable performers. After all, Britain's greatest pop and rock royalty teamed up to entertain crowds gathered to celebrate Queen Elizabeth II's Diamond Jubilee, the second one to take place in British history.
According to Rolling Stone, musical appearances included Sir Paul McCartney and Elton John, among many others. All told, some 12,000 ticket holders came out, with many thousands more lining the route to the venue. We anticipate some big-name entertainers for Elizabeth II's platinum celebration.
What else might crowds see during the extra-long weekend? If it's anything like the queen's Diamond Jubilee, as reported on by CNBC, expect a carriage procession from St. Paul's Cathedral as well as a flyover from the Royal Air Force. There may also be a Thames River Pageant like the one held on June 3, 2012. This jubilee-related river parade boasted over 1,000 boats, including a specially designated royal barge, The Spirit of Chartwell, with the queen on board.
Many appearances from the royal family are expected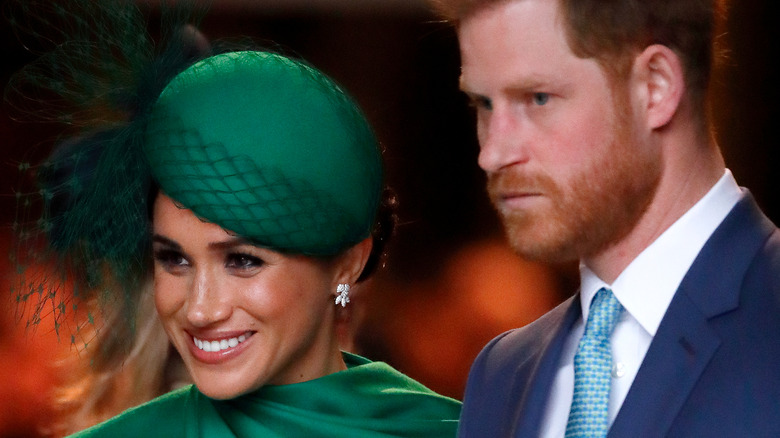 Max Mumby/indigo/Getty Images
According to the BBC, the Department for Digital, Culture, Media, and Sports (DCMS) and the Royal Household will organize the queen's commemorations. In the days leading up to and through the four-day holiday, expect to see many notable royal family members. Of course, things always get interesting when you have a group of rowdy royals assembled.
There's already much-anticipated drama with the Sussexes. Harry and Meghan want to attend the jubilee, but it remains a point of controversy at the palace. According to Cosmopolitan, questions abound about whether it'll get awkward. (Hello, Oprah interview!) Some staffers have also expressed concerns that the couple could overshadow the queen.
What's more, the Sussexes' potential presence has opened up an etiquette "bag of worms." Questions abound, like where to position Harry and Meghan? And which events should they be permitted to attend? There's also the sticky matter of whether the Sussexes should stand on the royal balcony during the RAF flyover. But drama aside, the Sussexes remain far from the most controversial and polarizing figures who could make an appearance.
Avoiding a PR nightmare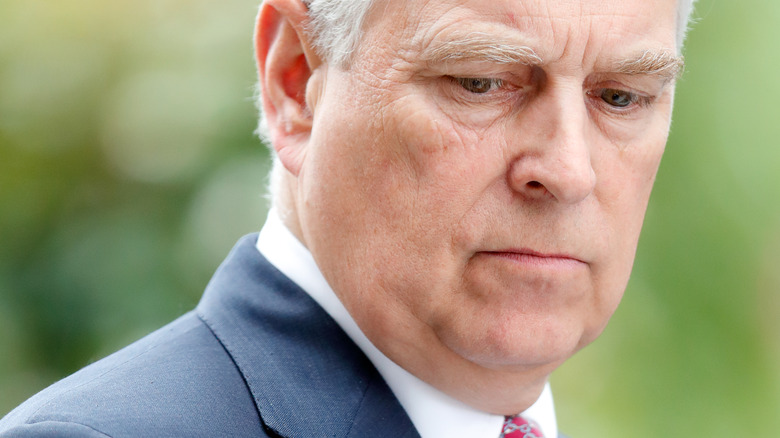 Max Mumby/indigo/Getty Images
We're most interested in how the palace will choose to handle inviting (or excluding) the Duke of York, Prince Andrew. It's a safe guess that he doesn't currently rank at the top of anybody's draft guest list. After all, he's had a strained relationship with the public and media in recent years. 
The last time many of us saw him, he was squirming through one of the most uncomfortable, mortifying BBC interviews in recent memory. As Emily Maitlis grilled him with the grit of a muckraking journalist, he attempted to justify an alleged relationship with convicted pedophile Jeffrey Epstein and his so-called accomplice, Ghislaine Maxwell. His alibis and strange twists of logic inspired a negative public backlash. 
Following the interview, Andrew announced his departure from the limelight (via W Magazine), but what that ultimately means for the queen's jubilee, we have yet to find out. Andrew may prove too big a PR liability to get co-opted back into these events, despite the monumental nature of his mother's celebration.
Celebrations across the United Kingdom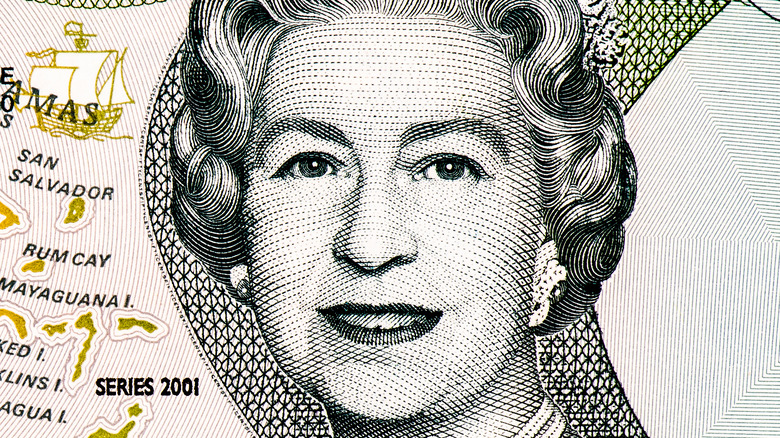 Shutterstock
The DCMS and the Royal Household have plenty of "spectacular" moments in store for residents and visitors to the UK in June 2022, and you don't have to visit London to get in on the action. Other major cities across the UK and Commonwealth will also host special activities. These additional celebrations remain in keeping with the Platinum Jubilee's ultimate vision, to "bring the entire nation and the Commonwealth together" (via Town & Country).
The DCMS remains hesitant to part with too many details. But they have announced, "Spectacular moments in London and other major cities will be complemented by events in communities across the UK and the Commonwealth, allowing people to join together in celebration and thanks at a national and local level" (via Yahoo Sports). One example of this? A much-needed tree planting initiative across the United Kingdom.
While all eyes remain on the UK, some Canadians also want to get into party mode for the big event. As members of the British Commonwealth, Canada has a special role to play in this unparalleled event, as do other Commonwealth nations. 
According to John Fraser and Nathan Tidridge, writing for the Globe and Mail, Canada needs to go all-out celebrating. Why? Because they see it as a way to commemorate the queen of Canada while recognizing the sacrifice and service of so many Canadians during her reign. Although plans remain less defined and publicized in places such as Ottawa, it'll be fascinating to watch how festivities culminate and unfold as we move closer to 2022.
The Platinum Jubilee has a deeper meaning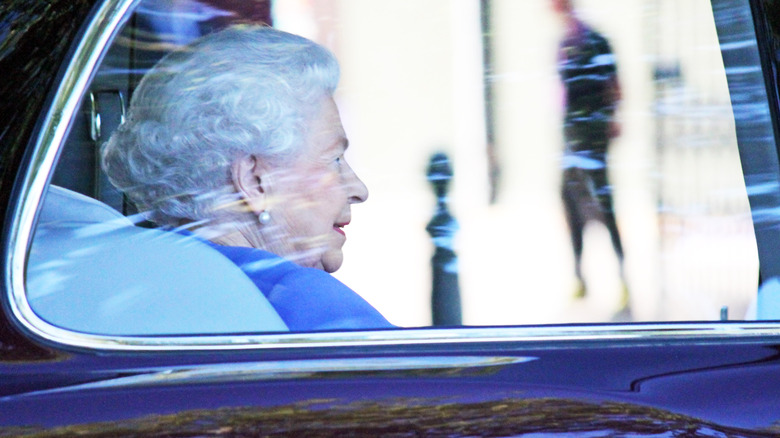 Shutterstock
Although Queen Elizabeth II's Platinum Jubilee will mark the anniversary of her reign, it also holds a more profound meaning, according to Town & Country. It represents an opportunity for the queen to communicate gratitude to her subjects for their loyalty and support over the years.
That said, the date upon which the celebration will fall has little to do with the actual anniversary of her coronation, which is February 6. The queen prefers to observe this day in quiet reflection. The decision to move the celebration to June coincides with the Golden and Diamond Jubilees commemorating her 50th and 60th anniversaries. Not only does June afford better weather, but Elizabeth II has never "celebrated" the day she ascended the throne. After all, it marks the death anniversary of her beloved father, King George VI.
As Dickie Arbiter, the queen's former press secretary, related to the Telegraph, "She has always made it clear that her long reign is a consequence of her father's early death and so it is not a day for celebration."
A celebration to remember (and put rumors to rest)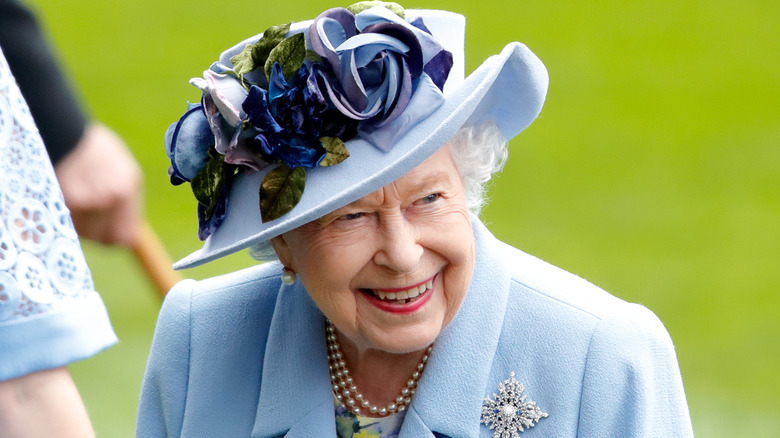 Max Mumby/indigo/Getty Images
Besides being the first platinum jubilee ever celebrated by a reigning monarch, this event also will lay to rest recent rumors. According to the Huffington Post, many had speculated that Queen Elizabeth II would step down on her 95th birthday to make way for Prince Charles. But preparations for the Platinum Jubilee have put these rumors to rest (not to mention the fact that she turned 95 on April 21, 2021).
Queen Elizabeth II has become a veritable institution, and she's marked many significant milestones in her life (via Royal Central). For example, her coronation represented the first ever televised in full to audiences all over the world. Over 20 million people tuned in to watch the festivities. For the first time in history, these viewers outnumbered their radio-listening compatriots, according to the BBC. 
So, it's only fitting that Elizabeth II would enjoy yet another historic moment with her subjects and the rest of the world. To mark the celebrations, the Platinum Jubilee medal will get awarded to those employed in the public service sector, including emergency service workers, prison employees, and members of the Armed Forces, according to The Guardian. 
Besides preparations for the Platinum Jubilee, the British have shown great enthusiasm about celebrating their queen. Some have suggested renaming the Severn Bridge in honor of the jubilee. What's more, the organization Historic Royal Palaces is designing a Commonwealth-themed garden for display in the Tower of London's moat in Elizabeth II's honor (via The Times). Such an extraordinary ruler deserves a one-of-a-kind party, so get ready for a memorable celebration in 2022.