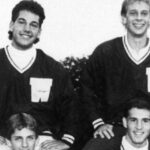 Give a Shout for These Famous Celebrity Cheerleaders
echo get_the_meta(); ?>
Everybody gets their start somewhere, and for a lot of actors, singers, and other media personalities, their first taste of show biz was shouting on the sidelines while waving a pair of pom poms. Some of your favorite celebrities have wielded a pom or two in their lifetimes, even up to the cream of the crop of A-list celebs. Here are some famous names that added their voices to the squad before reaching the front pages of the tabloids.
Cameron Diaz

Cameron Diaz may have only become famous after starring in 1994's 'The Mask', alongside Jim Carrey, but during her teen years, she was already on her way, appearing as a fashion model for brands such as Calvin Klein and Levi's. But even before all of that, this famous blonde was a top cheerleader at Long Beach Polytechnic High School.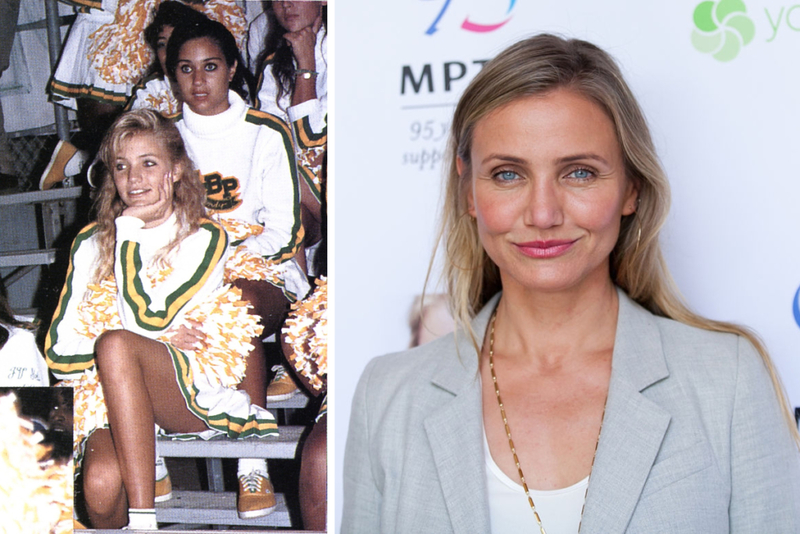 There's nothing like pretending to be excited for basketball to help build your acting skills.
Diane Sawyer

Born only a few months after the end of World War II, Sawyer once revealed she felt overshadowed by her older sister. That all changed when cheerful, blonde Diane joined the cheerleaders at Seneca High School in Louisville, Kentucky, and then she started to gain attention after a lifetime of living like a loner.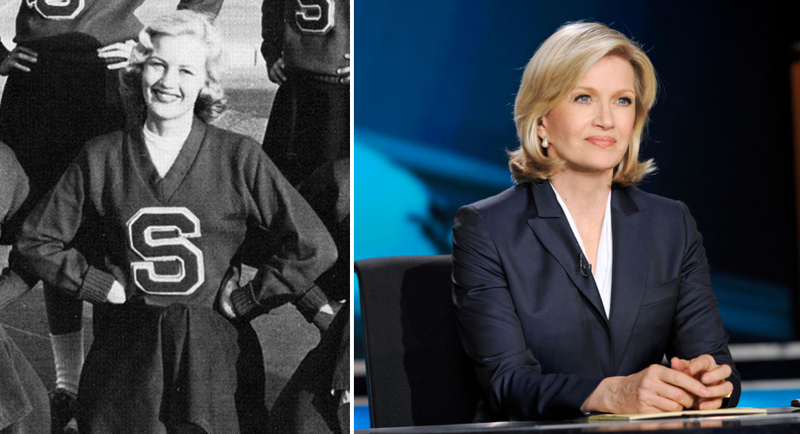 After cheerleading, Sawyer spent three years promoting the Coca-Cola Pavilion at the World's Fair, and began appearing on television in 1978 – she remains there today, still showing up on ABC news.
Olivia Munn

Olivia Munn spent a great deal of her life in Japan, where her stepfather was stationed in the Air Force. However, when her mother and stepfather split up, Olivia returned to her mother's home in Oklahoma, where she cheered as part of the Putnam City North High School squad. She went to school for journalism, and moved to Los Angeles to pursue show business.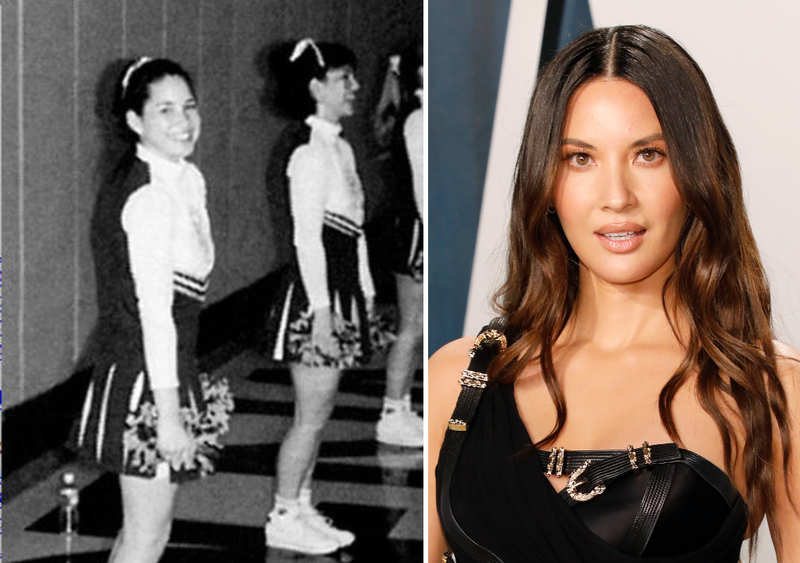 This combo led her to becoming the host of 'Attack of the Show', which discussed pop culture, general news, and previews of video games, movies, and digital media. She has since jumped to movies, playing Psylock in 'X-Men: Apocalypse'.
Ciara

Ciara Princess Wilson, now known just as Ciara, acted as the captain of Riverdale High School's cheerleading squad, and has gone on record saying she loves everything about the sport: the dancing, the energy, and the excitement.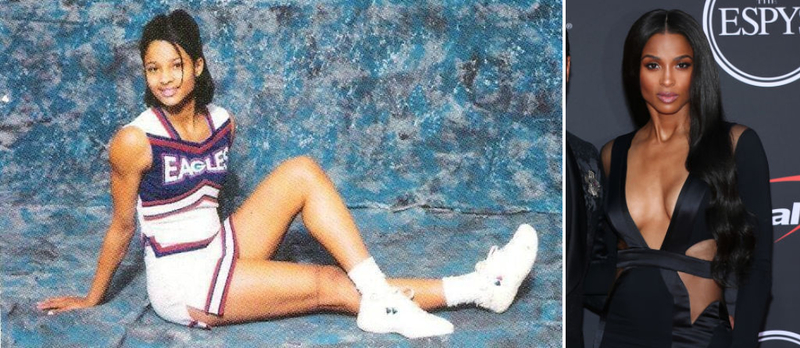 In an interview, the famous R&B singer said: "unfortunately, I couldn't be as involved as I wanted to be because it was the year when my music started to become even more important to me." It turns out the music was worth it, since she has multiple platinum albums, with millions of copies sold.
Kirsten Dunst

She had the main role as cheerleader Torrance Shipman in the movie 'Bring It On', and it should come as a shock to nobody that Kirsten Dunst was a real-life pom girl all the way up until the movie came out.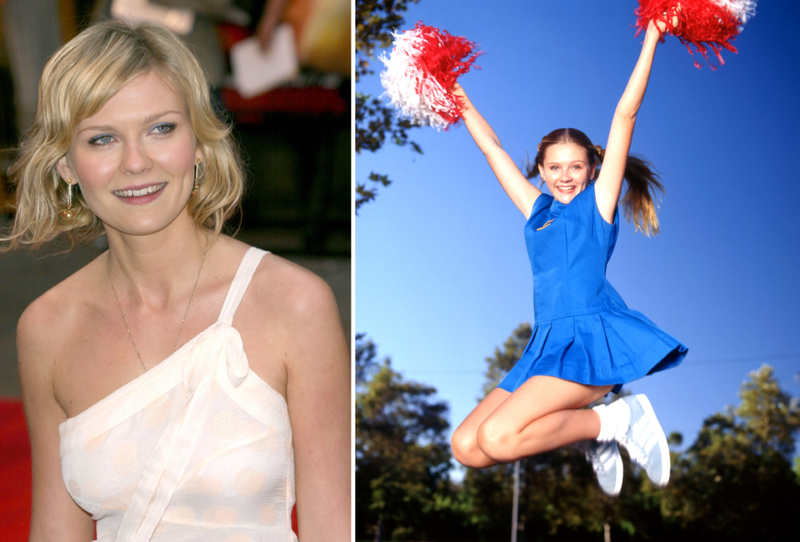 Dunst signed with the Ford Modeling Agency at an unbelievable three years old, while she was living in New Jersey, and appeared in over a hundred commercials before her big break. As her career grew, she was a cheerleader at Laurel High School and Notre Dame High School.
Eva Longoria

Unlike many of the names on this list, cheerleading wasn't just a fun activity for Mexican-American actress Eva Longoria. For her, it led directly into her Hollywood career. While cheering at Roy Miller High School in Corpus Cristi, Texas and at Texas A&M-Kingsville, Longoria appeared in pageants, and won the Miss Corpus Cristi pageant in 1988.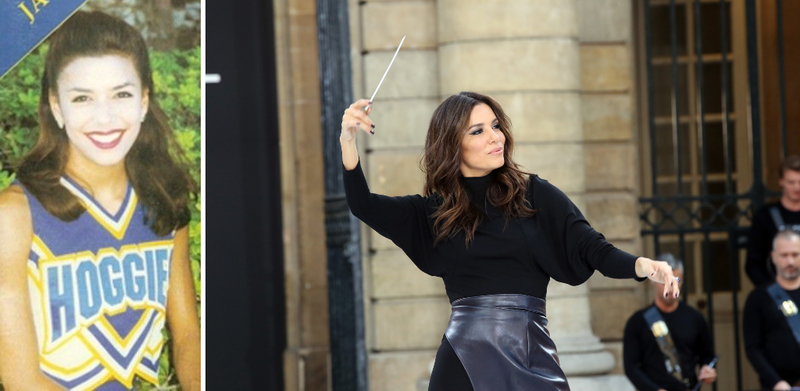 Soon after, a theatrical agent in Los Angeles discovered her, and the rest is history. Longoria is best known as Gabrielle Solis in the ABC series 'Desperate Housewives'.
Kathie Lee Gifford

Kathie Lee Gifford was a cheerleader by the age of fourteen, having been born in Paris but moved to Bowie, Maryland by the age of four. This future famous name won Maryland's Junior Miss Pageant in 1970, which gave her a springboard to stardom.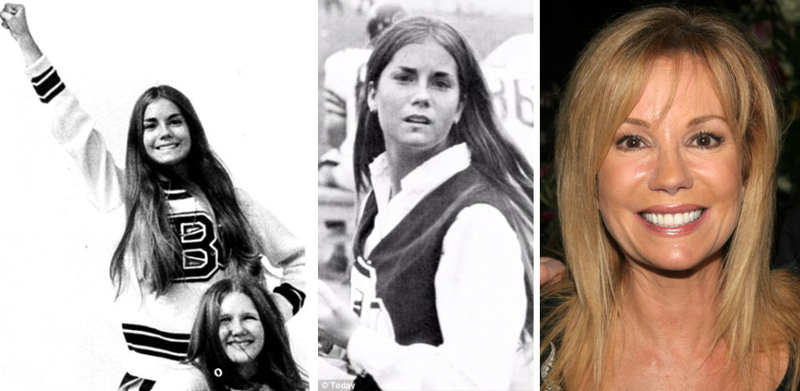 After graduating from high school, Gifford went to Oral Roberts University in Tulsa, Oklahoma, and studied drama and music. After a fifteen-year run on 'Live! With Regis and Kathie Lee', there aren't many people who don't recognize this cheerleader.
Meryl Streep

Meryl Streep is one of Hollywood's leading ladies, much-loved the world over thanks to her kind demeanor, her acting prowess, and cheerfulness. One sleuth managed to dig up her high school yearbook in 2012, and found photographic evidence that Streep was a varsity cheerleader at Bernards High School in New Jersey.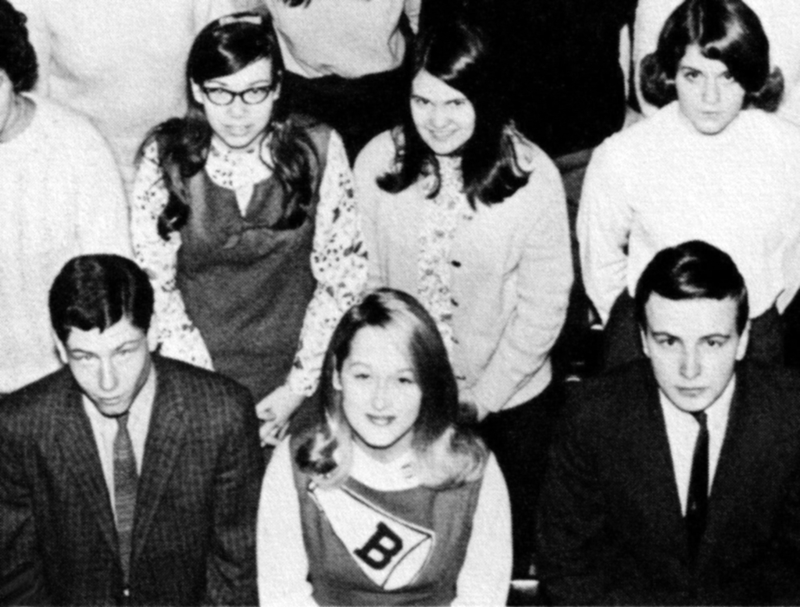 The picture features Streep – instantly recognizable – wearing her classic cheer uniform, and sporting a kind smile. She went on to make her mark with the help of blockbusters like 'The Devil Wears Prada', 'Out of Africa', and 'Doubt'.
Sandra Bullock

Wow, another award-winning actress who got her start as a cheerleader. Sandra Bullock has been in numerous incredible movies and television shows, but guess what? She was once a cheerleader. She led pep rallies at Washington-Lee High School in Arlington, Virginia.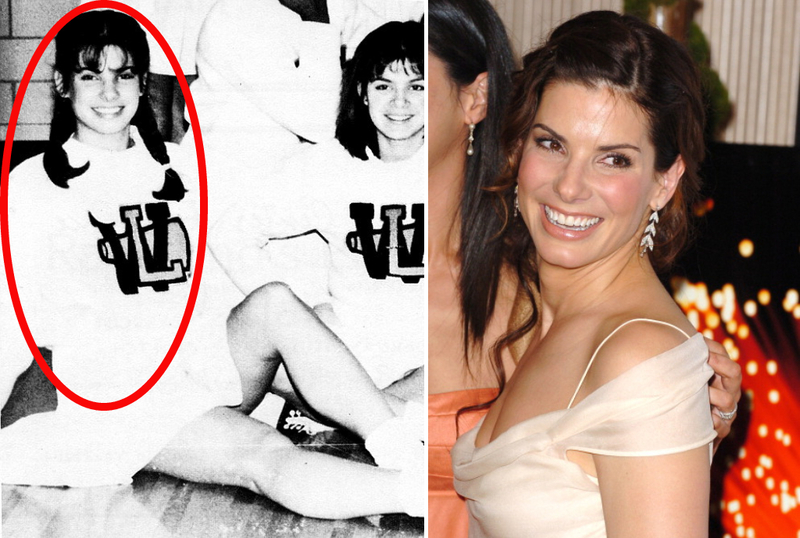 However, Bullock already had her eye on the prize, since she was a big part of the school's theater productions before graduating in 1982. Sandra certainly wasn't blind-sided by fame, if her personality is any indication – that time in high school got her started young.
Steve Martin

You've certainly seen Steve in some of his blockbuster comedy films thanks to a career that has spanned more than five decades, but before he grew to fame in the sixties, he was a member of his high school cheerleading squad in Garden Grove, California.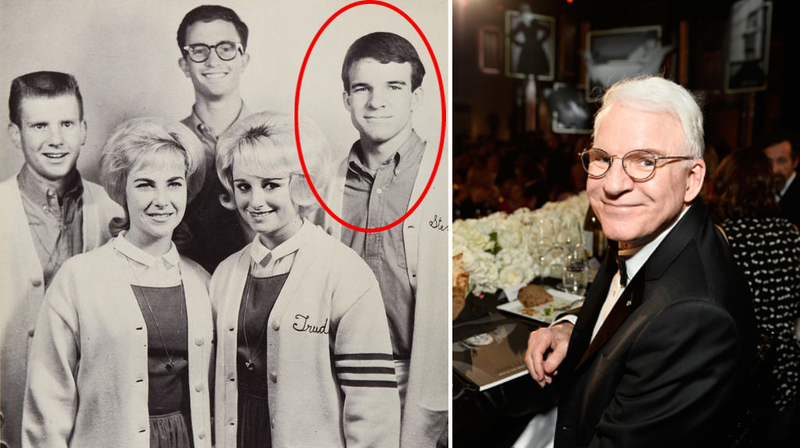 The man who would go on to become one of the most beloved and famous funny-men in the world also tried his hand at writing cheers for the squad to perform, but they ended up not using them for one reason or another. Don't worry young Steve, your time will come.
Denise Richards

Before becoming a cheerleader for El Camino High School in Oceanside, California, Denise Richards was an athletic Illinois Tomboy. Once moving beyond schooling, Richards took the nineties by storm in shows like 'Saved By The Bell' and 'Married with Children', before meeting her now ex-husband Charlie Sheen.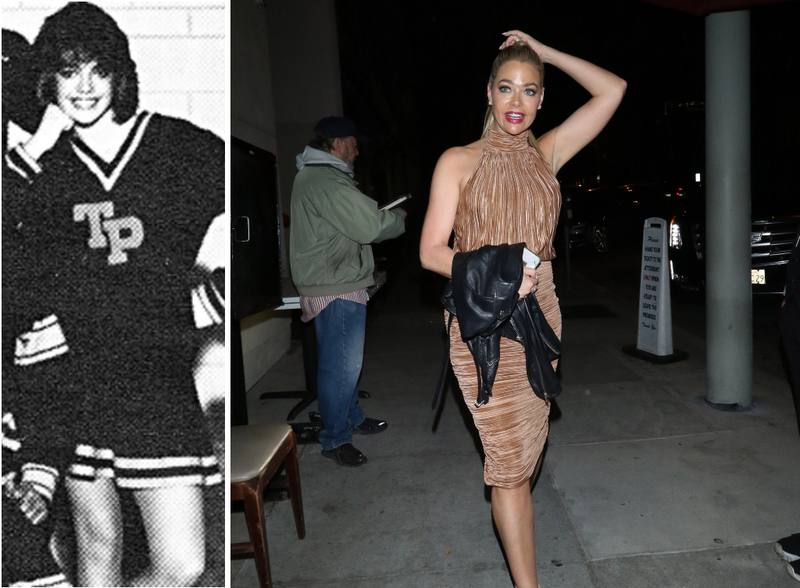 If you've ever wondered how Sheen learned how to spell "winning", we may have just discovered the answer. Richards has recently appeared in 'Reality Queen!', 'My Adventures with Santa', and 'Adventures of Dally & Spanky'.
Halle Berry

The first African-American to win an Academy Award for Best Actress did plenty while she was attending Bedford High School in Cleveland. As the daughter of a hospital manager and a psychiatric nurse, Halle Berry was a cheerleader, an honors student, an editor of the school newspaper, and even wore the crown as prom queen.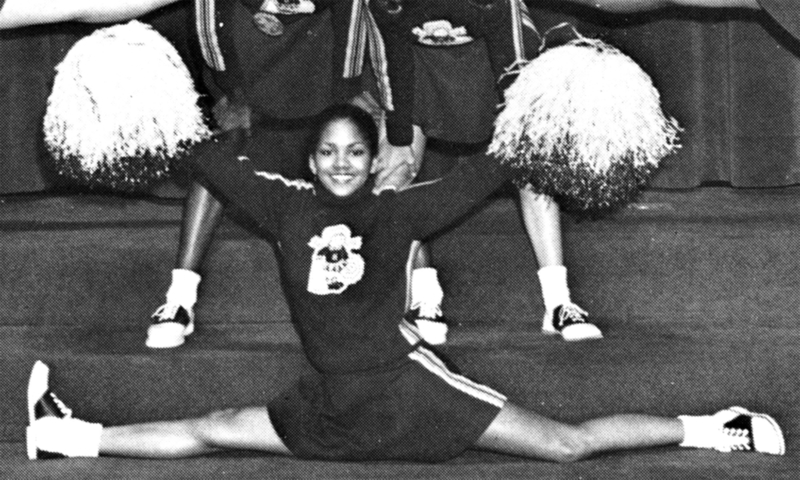 Her television debut came in 1989, and two years later she reached the big time with a breakout thanks to Spike Lee's 'Jungle Fever'. Her Oscar came in 2001, when she acted in the film 'Monsters Ball'.
Kelly Ripa

Kelly Ripa has always had an affinity for performance while growing up in southern New Jersey, and when she attended Eastern Regional High School, she became a cheerleader with a winning smile. Her drama teacher, one Jim Beckley, encouraged her to pursue acting, and Ripa found her calling in life.

She dropped out of college, landing a major role in the soap opera 'All My Children'. She's gone on to do plenty during her long career, including appearing as the host of 'Live With Kelly and Ryan'.
Jenna Dewan

Jenna Dewan's killer dance moves have been on display since 2006, when she appeared as the female lead in the dancing movie 'Step Up', alongside pre-fame Channing Tatum. Before getting her start, Jenna was your everyday high school student living in Texas, cheering on the home team before breaking into the entertainment business thanks to appearing as a back-up dancer for superstar Janet Jackson in 2001.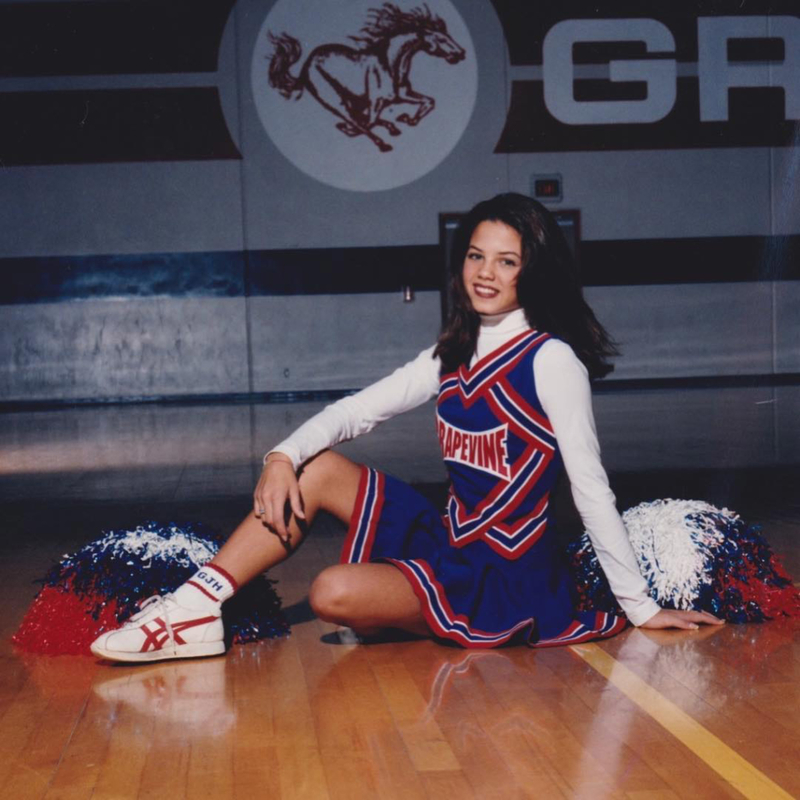 The dancer-slash-actress recently shared a throwback Thursday pic of her in a cute red, white, and blue cheerleading getup.
Lindsay Lohan

Famous redhead Lindsay is the daughter of a former Wall Street trader, and grew up on Long Island in New York. She was part of the cheerleading team for both Cold Spring Harbor High School and Sanford H. Calhoun High School before switching to homeschooling.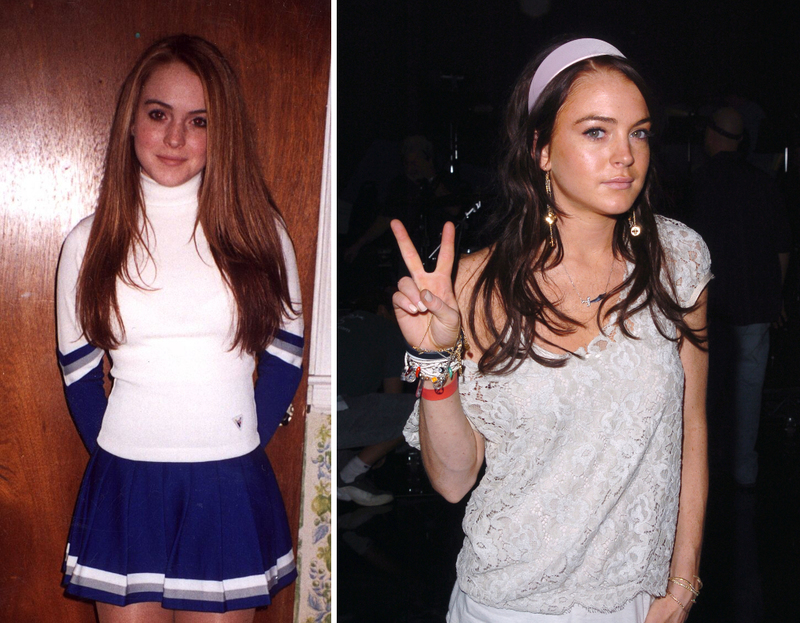 But her Hollywood career began before she even started high school, when she was a child model for famous fashion icons like Calvin Klein and Abercrombie, and even appeared in TV spots for Pizza Hut, Wendy's, and Jell-O. Lohan made the jump to the silver screen in 1998 with 'The Parent Trap', where she played two characters who were twin sisters.  
Sally Field

Sally Field has done plenty during her half-century in the entertainment biz, including starring in hit movies like 'Forrest Gump' and 'Mrs. Doubtfire'. She even has two Academy Awards to her name, and has had big TV roles in shows like 'The Flying Nun' and 'Gidget'.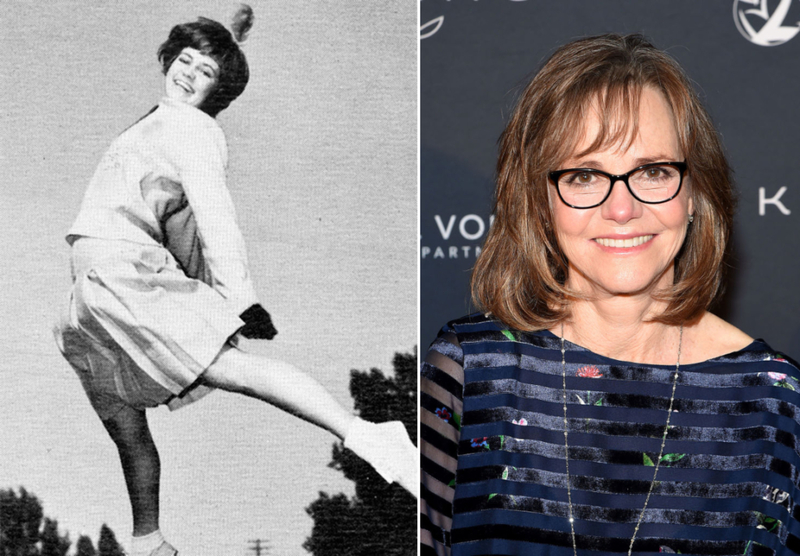 However, Field has been performing since she was a teen, as a cheerleader for Birmingham High School in Van Nuys, California.
Cynthia Bailey

Famous American model Cynthia Bailey has fanned out to become a reality TV star and actress. However, before she grew into the gorgeous woman she is today, Bailey used to beam as a cheerleader at Deshler High School in her hometown of Alabama.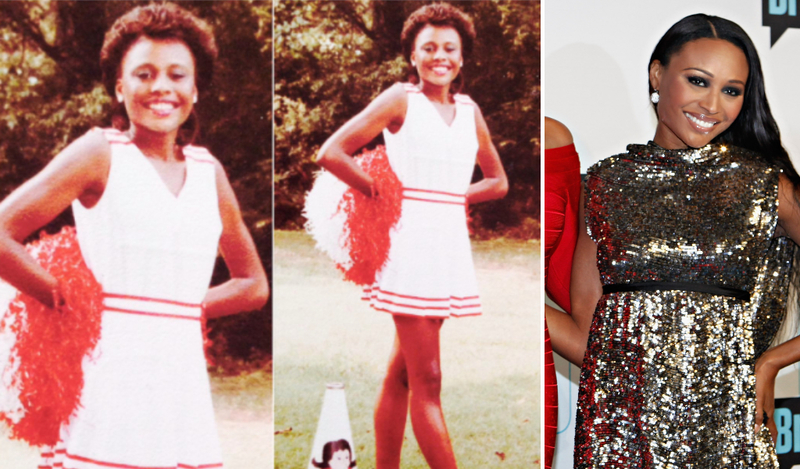 Fortunately for her, Bailey left Alabama at the young age of 18 to pursue a career in New York. The rest, as they say, is history.
Gabrielle Union

While Gabrielle Union was born in Omaha, Nebraska, her family moved when she was eight to Pleasanton, California, and when she entered high school, Union became a cheerleader. She took her skills to the big screen in the 2000 movie 'Bring it On', fittingly about cheerleaders.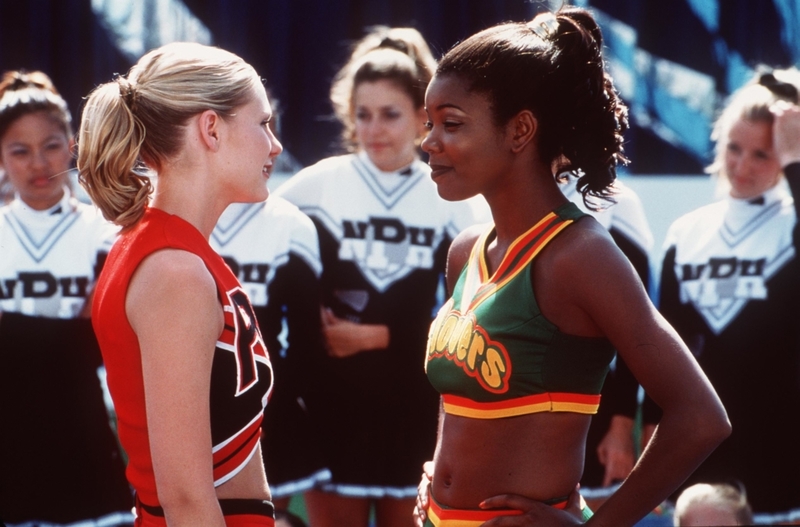 Union plays the main character's cheerleading rival, Isis. Sports are a big deal in the Union family, according to Gabrielle, who once said: "In my family, if you couldn't talk Cornhusker football, then you don't get to have an opinion."
Renee Zellweger

Zellweger is a cool cucumber now, but just like most of us, she was once a high school student trying to find her way through life. While she was at Katy High School in Katy, Texas, Zellweger showed off her athleticism and ability to manipulate the crowd as part of the cheer squad.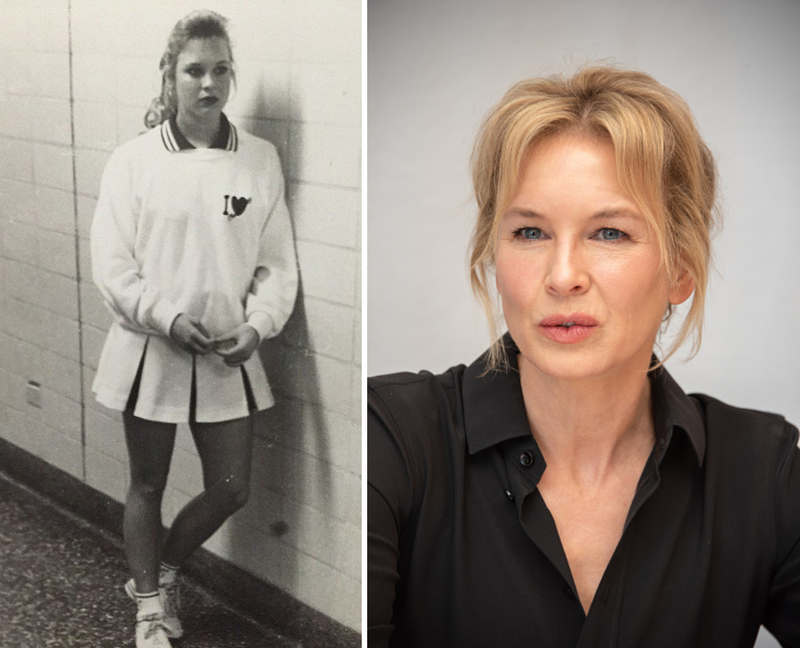 In fact, Renee has kept up with the flips and dips, once appearing on the 'Jimmy Fallon Show' to show off her physical abilities. After appearing in 'Bridget Jones's Diary', Zellweger went on to dominate the box office every time she showed her face.
Calista Flockhart

The star of the hit TV series 'Ally McBeal', Calista Flockhart was used to being in the spotlight from an early age. Back when she was a young teenager attending Shawnee High School in New Jersey, she used to hold pom poms and cheer like nobody's business. Then, in the '80s, she attended the Mason Gross School of the Arts at Rutgers University, where she met fellow actress, Jane Krakowski.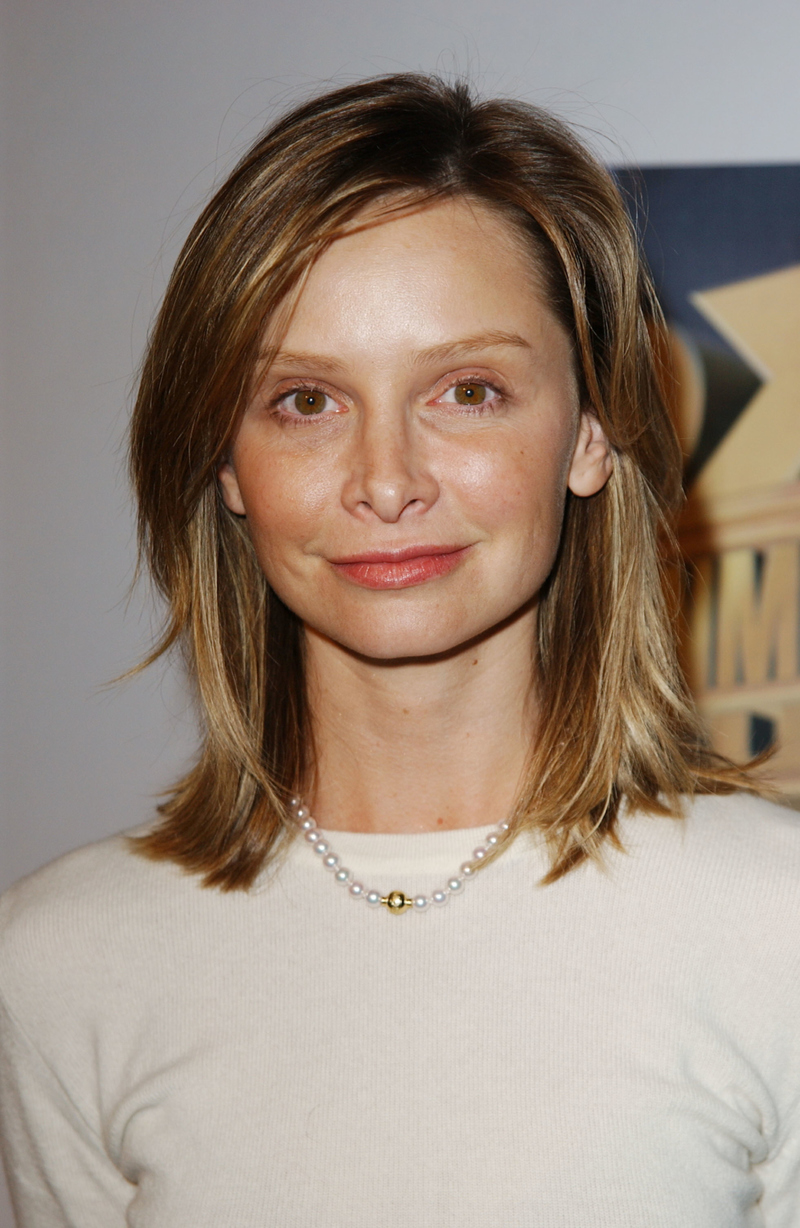 The two future famous actresses would start off in 'Ally McBeal', and then go their separate ways to have amazingly successful careers.
Mandy Moore

Mandy has done plenty throughout her years in Hollywood – not only did she star in 2001's 'The Princess Diaries' (wielding pom poms in the film as Lana Thomas), but she also put on a hit song at the tender age of fifteen: "Candy." She's starred in 'A Walk to Remember', and has a starring role on the show 'This is Us'.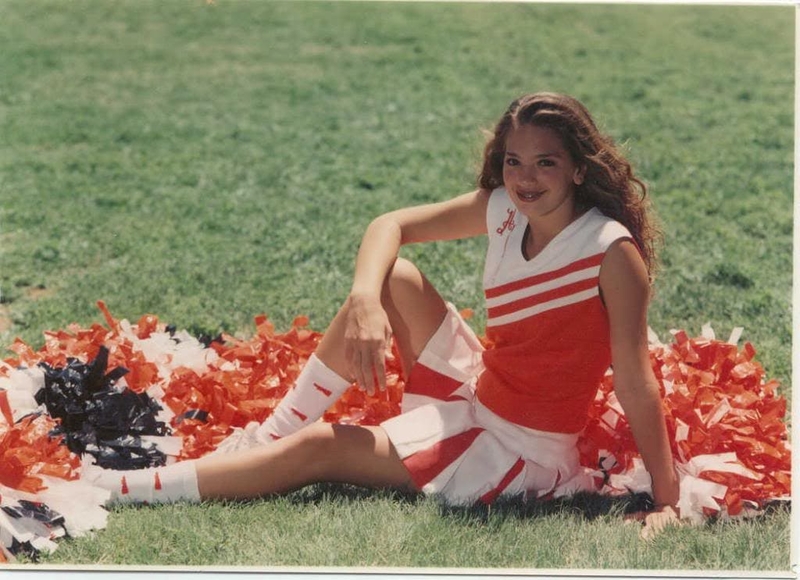 But Mandy got her start as a star cheering on the local Pop Warner football team, which undoubtedly helped her get the acting and active skills that have ended up taking her far in life.
Amy Poehler

Before she started appearing on shows such as 'Saturday Night Live', '30 Rock', and 'Parks and Recreation', Poehler was part of the Burlington High School cheerleading team, wielding pom poms and pumping up the crowd during football games, pep rallies, and much more.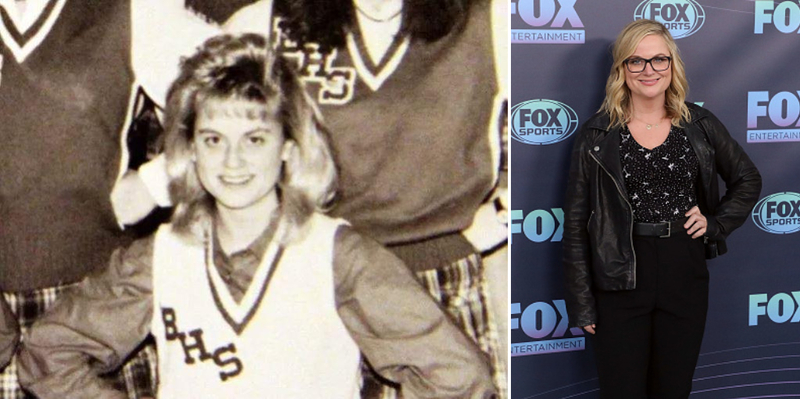 Poehler attended high school from 1986 to 1989, and then went on to Boston College to get a degree in communications. After that, she made her way to the Windy City, where she worked on her comedic skills and made herself into the TV and film actress we know today.
Danielle Brooks

Danielle Brooks starred in 'Orange is the New Black', but before she did that, and before graduating, she was part of the cheerleading team at her school. She ended up quitting because she was uncomfortable or nervous about the skirt that was part of the uniform, but she used it as a growing opportunity.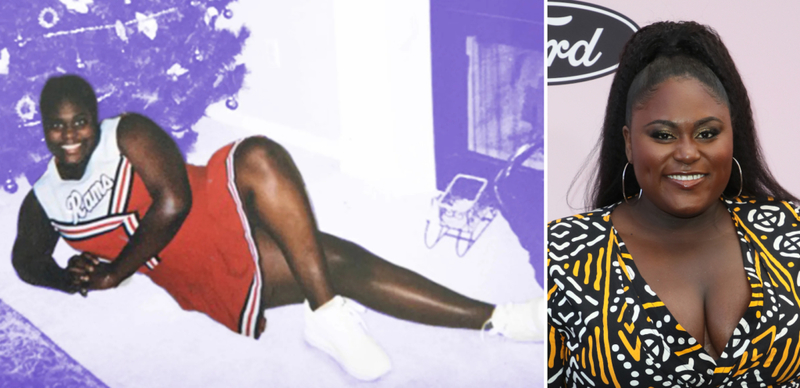 In a letter to herself the actress shared online, she wrote: "You really quit cheerleading because of how you felt you looked when you were wearing a skirt? OK! Never ever quit anything again because you're scared of what others might think of you – unless you become an exotic dancer, the only exception. But even then, only quit because you want to."
Megan Fox

Want a fact that's sure to surprise you? Future famous beauty and Hollywood superstar Megan Fox, while attending Morningside Academy in Port St. Lucie, Florida, was the subject of cruel bullying. She was part of the cheerleading squad both at this high school and an earlier one, in Tennessee.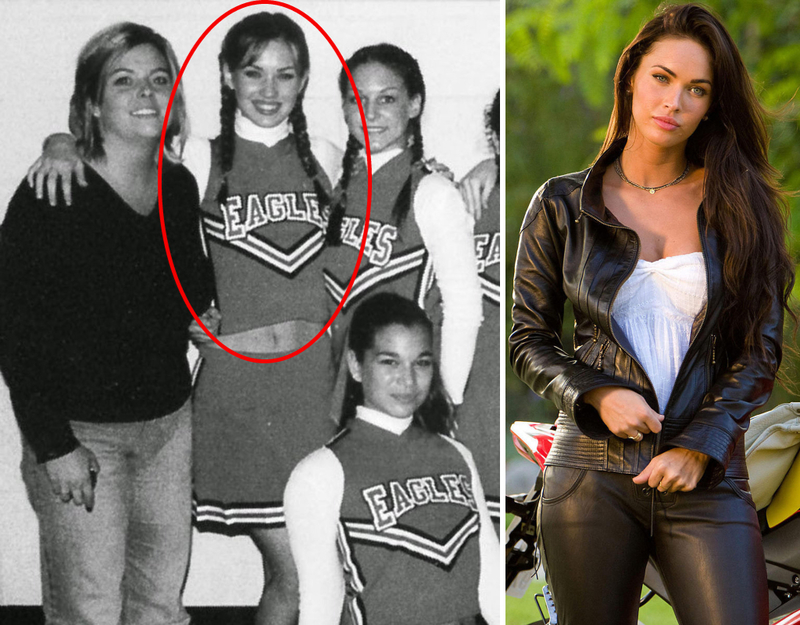 But the eye-candy of the 'Transformers' franchise wasn't to be denied, and after moving to California, she began acting, eventually starring alongside Lindsay Lohan as, drum roll, a cheerleader, in 'Confessions of a Teenage Drama Queen'.
Paul Rudd

The incredible shrinking man was one of the "yell leaders" at Overland Park High School in Kansas. His infectious smile and endearing personality also helped him get elected as Student Body President. Flips and jumps and bringing an energy to the crowd surely has some kind of use while acting, but we're not sure what.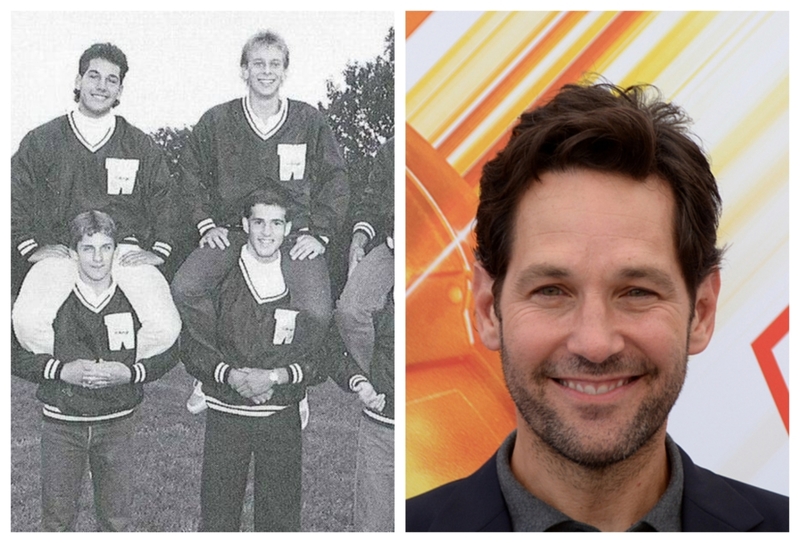 There aren't a whole lot of male cheerleaders on this list, but it may surprise you to know they were once far more prevalent. In fact, until around the 1950's, cheerleading was made up of mostly males!
Stacy Keibler

There's no denying Stacy Keibler is an attractive woman, but she used her smarts to take herself higher and higher. While she started out using her athleticism as a cheerleader for the Baltimore Ravens, she jumped straight to professional wrestling with the WCW from 1999 to 2001, at which point she moved to the competing WWE, going on to have five years of regular appearances.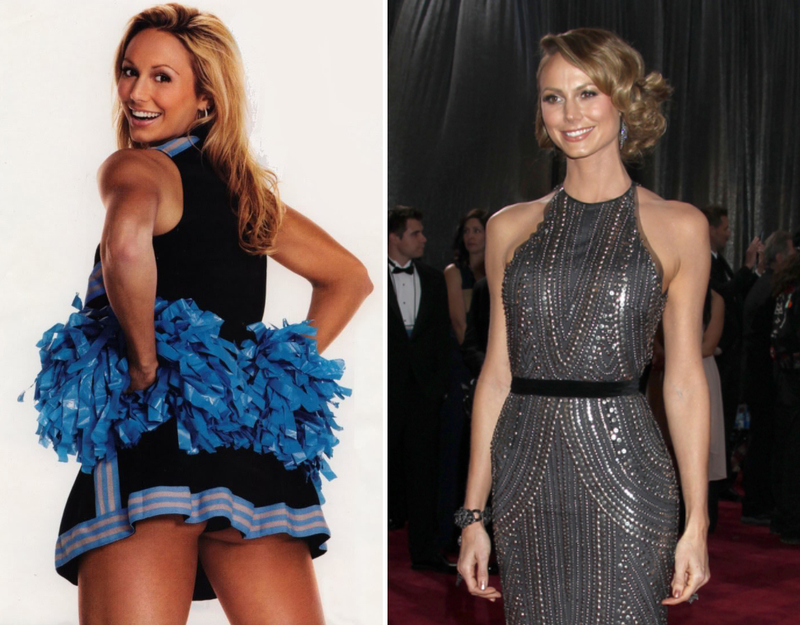 She now writes for Stuff magazine, as well as modeling, acting in a few films, and appearing as a TV host.
Reese Witherspoon

Witherspoon has been showing off her acting skills for a long time now, in movies such as 'Legally Blonde' and 'Walk the Line', but long before she had her current fame, she was part of her school's cheerleading squad.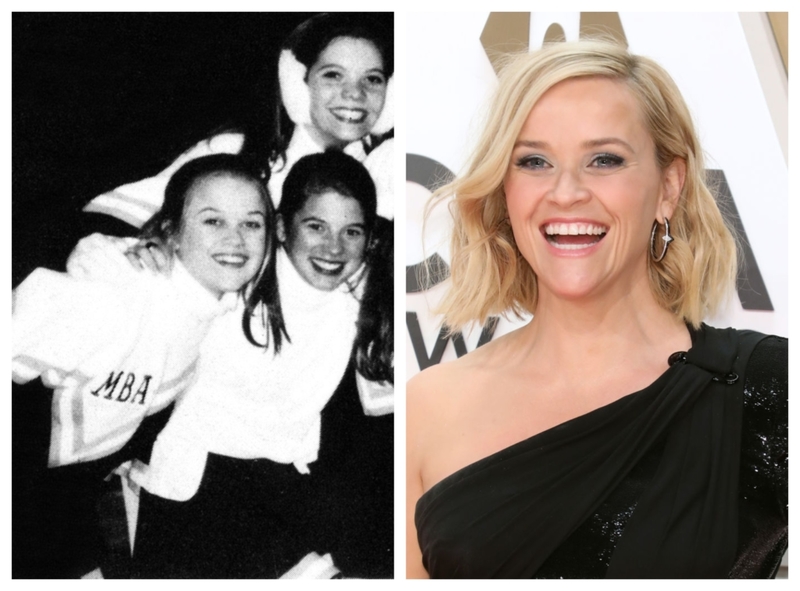 The famous actress posted a black-and-white picture of herself at the top of a human pyramid, cheering the Generals on to victory many years before she made her debut in 1991's 'The Man in the Moon'.
Ann Margret

Perhaps one of the most senior members of this list, Ann Margret Olsson was born in 1941 in Sweden, and was a singer, dancer, and cheerleader at New Trier High School in Winnetka Illinois after her family moved. She held star potential in her hand even all the way back then, judging from the big smile and eye-catching pose she's holding.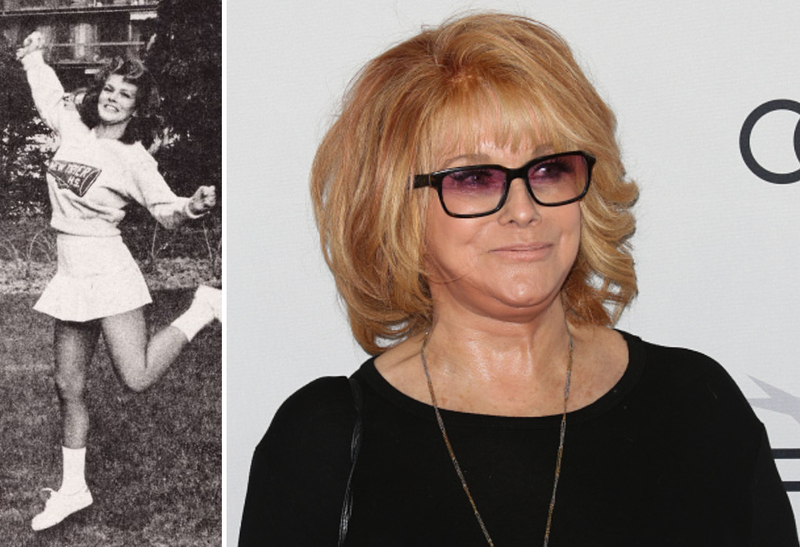 The Swedish-American actress appeared in legendary films, such as 'Bye Bye Birdie', 'Carnal Knowledge', 'Grumpy Old Men', 'The Cheap Detective', and almost a hundred more as one of Hollywood's ultimate leading ladies and sex symbols.
Sela Ward

Before she was a talented actress, author and producer, the beautiful Sela Ward wore a cheerleading outfit and screamed cheers for the Crimson Tide football team of the University of Alabama. After graduating in 1977, with a degree in fine art and advertising, she went on to pursue an acting career.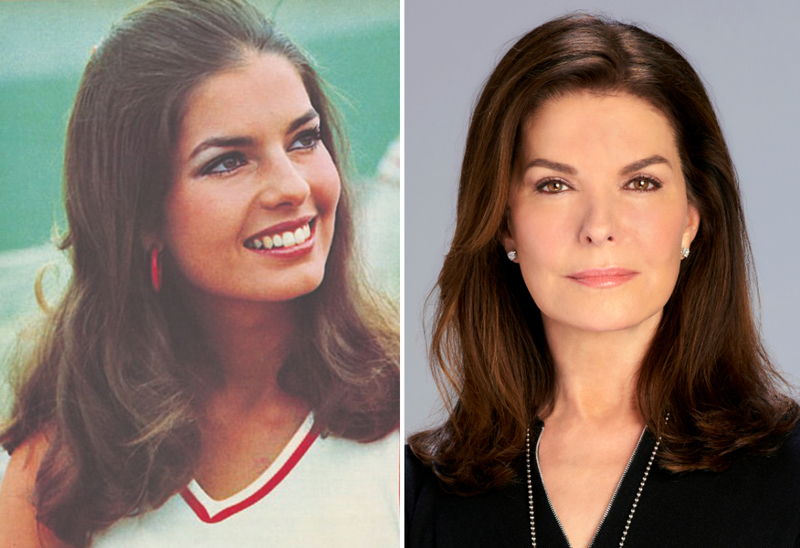 Ward had her big breakas Teddy Reed, in the famous NBC series, 'Sisters', for which she won an Emmy.
Alicia Silverstone

Thanks to a red, white, and blue cheerleading uniform, Alicia Silverstone looks all the more patriotic in this image of her posing with the rest of her squad. But despite being the poster-child for all-American beauty, Alicia was actually born to British parents while they were living in San Francisco.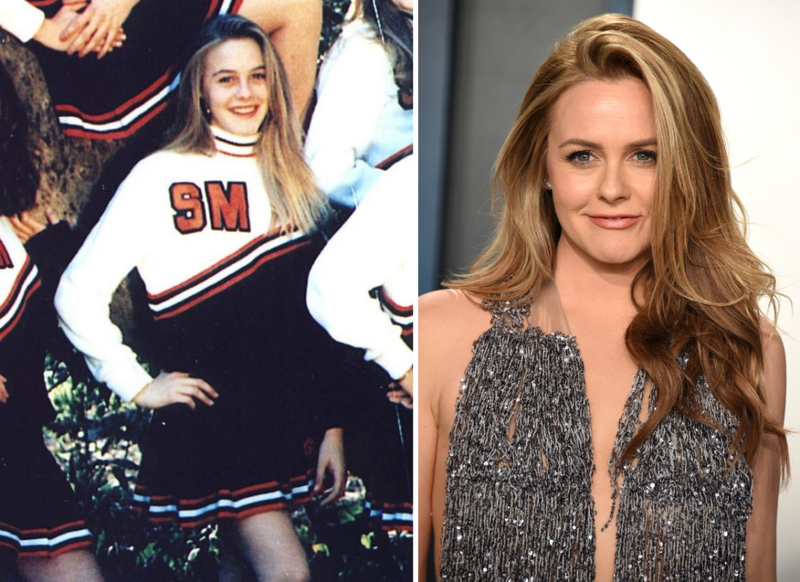 Silverstone got her start performing at San Mateo High School cheering on the Bearcats, but never guessed she would become an A-lister and star in movies like 'Clueless', 'Batman & Robin', and tons more.
Michael Douglas

Michael was excited to follow in his father's footsteps, and just like dear old dad, Michael Douglas was part of the cheerleading squad at his school, Choate Preparatory School. The Douglas men don't disappoint, and Michael soon made the jump to the screen.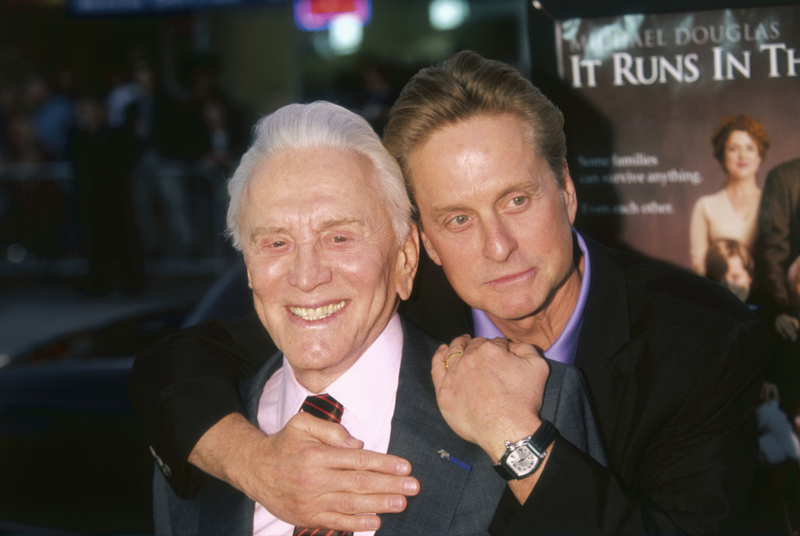 His first role was as a Jeep driver in 'Cast a Giant Shadow' (1966), but if you've been watching the Marvel movies, you've probably seen him as scientist Hank Pym alongside another male cheerleader, Paul Rudd.
Jayma Mays

Yet another young lass who used her amateur skills as a cheerleader to take herself to the next level of fame, Jayma Mays appeared on the television show 'Glee' as Emma Pillsbury, constantly locking horns with cheerleading coach, Sue Sylvester.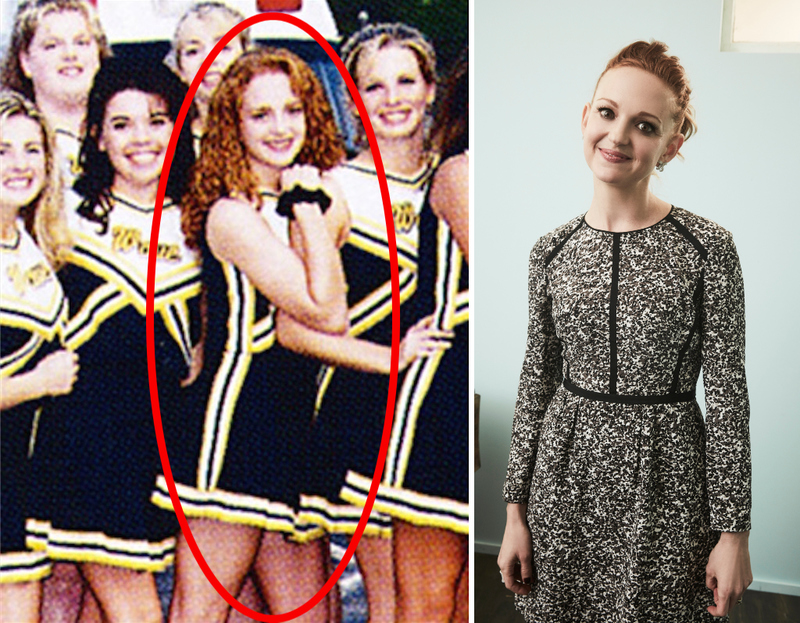 An image has surfaced of her bright red ringlets, bright smile, and playful posture, along with a bunch of other members of her squad, putting proof to the pudding that it's a good idea to give it your all, even in high school – you might just end up famous.
Jesse James Decker

Even while auditioning with Nashville labels, Jessie James Decker was a burgeoning fifteen-year-old cheerleader. She was rejected at that young age, but she didn't give up, and within a few years she was gaining recognition thanks to her hit songs.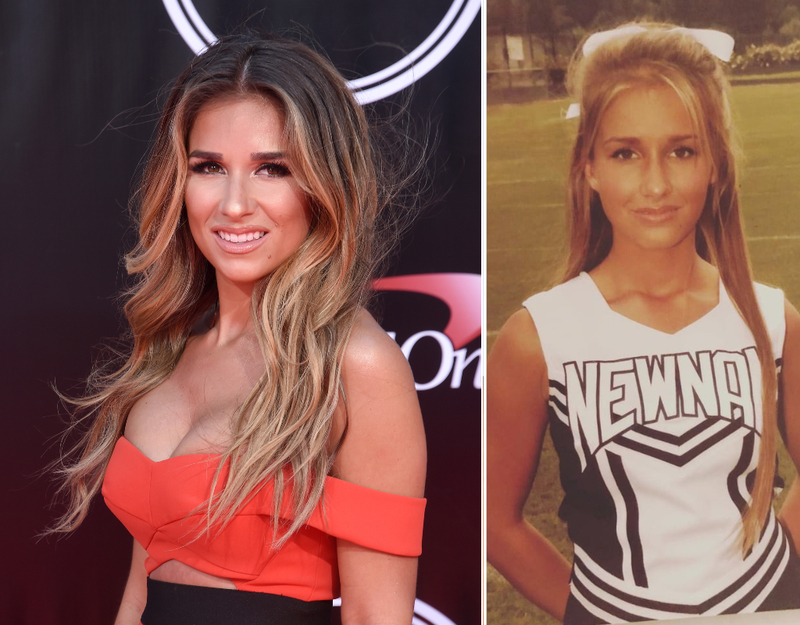 She's now not only a famous country pop singer and songwriter, she's also made her mark on reality television with her husband, former NFL wide receiver Eric Decker, and she's even branched out into the fashion world with her own line of fetching clothing.
Brooke Shields

Brooke Shields was once considered one of the most beautiful women in the world. Even though she started a career in modeling, she took an interest in acting and made her big debut when she played Emmeline in 1980's 'The Blue Lagoon'. But before she was stranded on a deserted island, Shields was a very spirited cheerleader at her private school in New Jersey.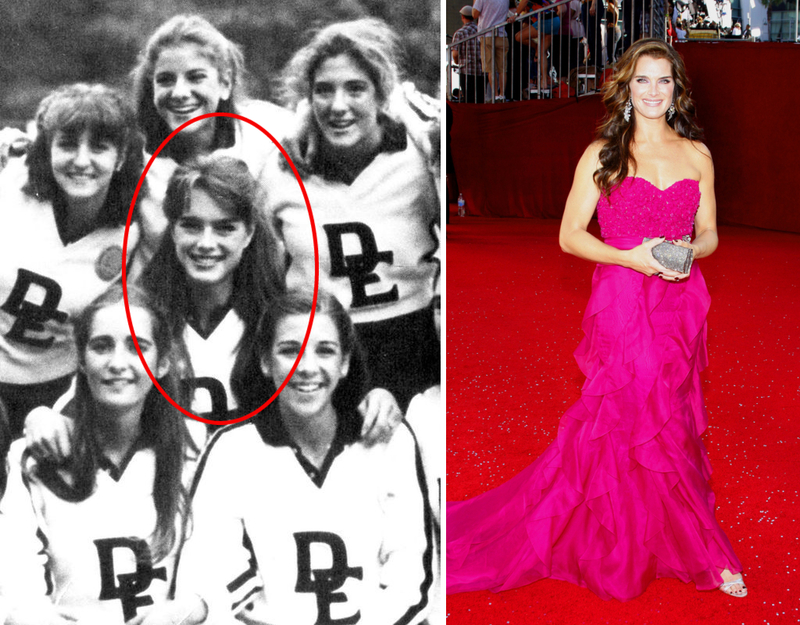 Apparently, she was incredibly excited when she finally made the cheerleading squad. Little did she know this was just the first of countless wins in her life.
Nene Leakes

The vivacious, spirited Leakes has reached fame and fortune thanks to her role on the popular E! Reality series 'Real House Wives of Atlanta'. She's had a life of high-energy antics, and from a young age she was leading people in cheers and dances, all the way back in grade school.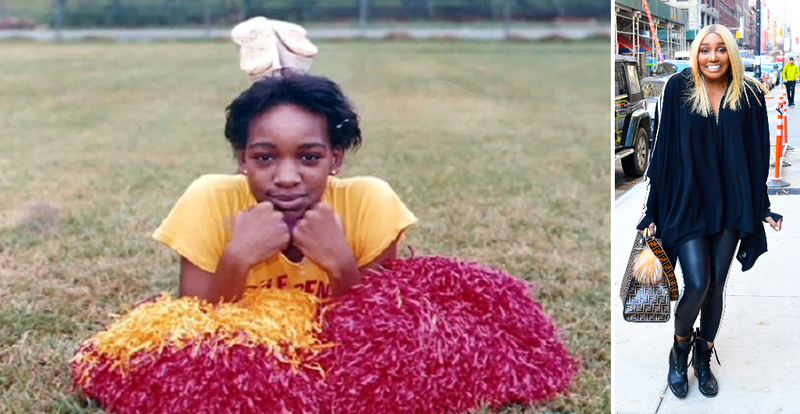 She's been putting on a good show with pom poms for a long time, and the picture above shows she, like so many of the other stars in this article, have an engaging, natural look, and no doubt got the entire stadium – or the soccer field – cheering along with her.
Jennifer Lawrence

Jennifer Lawrence has always been a busy gal, spending plenty of time acting in the 'Hunger Games' movies, 'Silver Linings Playbook', and even the long-running 'X-Men' series. She was also busy in high school, playing softball, basketball, field hockey, and screaming out cheers in Louisville, Kentucky.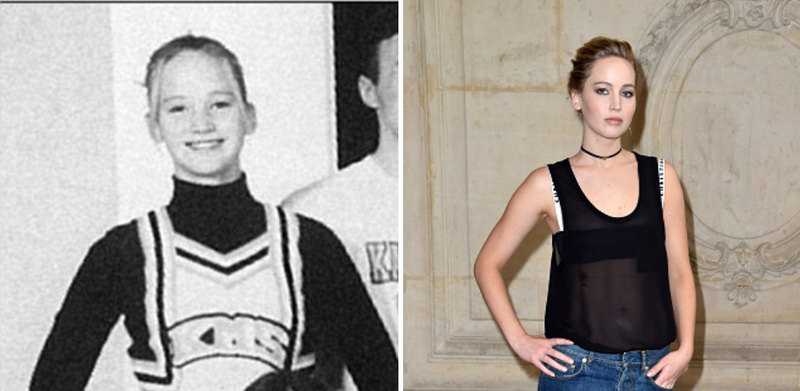 Business has led to success for this famous young actress, with plenty of her roles requiring athleticism, strength, and stamina that she might not have developed without all those extracurricular activities.
Kirk Douglas

The late Kirk Douglas was a world-renowned actor, but his first shot at fame came when he was part of his cheerleading squad in Amsterdam High School in Amsterdam, New York. Douglas was already working on his acting skills while at the high school, before making his big film debut at the age of thirty, in 1946's 'The Strange Love of Martha Ivers' alongside Barbara Stanwyck.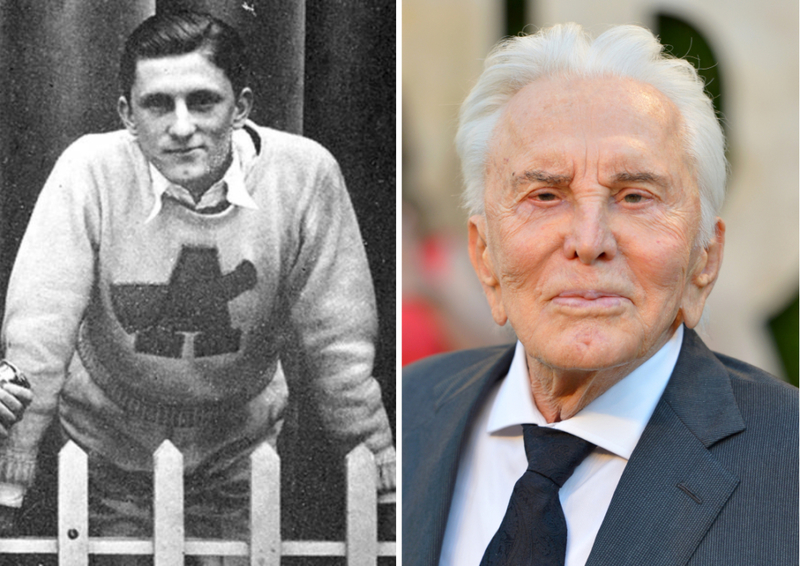 Douglas soon went on to become one of the leading box-office stars, starring in serious dramas, westerns, and war films. He appeared in almost a hundred films over the course of his life.
Paula Abdul

Paula Abdul has done plenty, including dancing, acting, and working as a choreographer, but she's mostly known as a singer and songwriter. However, not only did she get her start as part of the cheer squad at Van Nuys High School in Los Angeles (while also succeeding as an honors student), and after graduating she took her skills to the pros, become a Laker Girl – becoming head choreographer – and cheering on the likes of Jamaal Wilkes, Kareem Abdul-Jabbar, and Magic Johnson.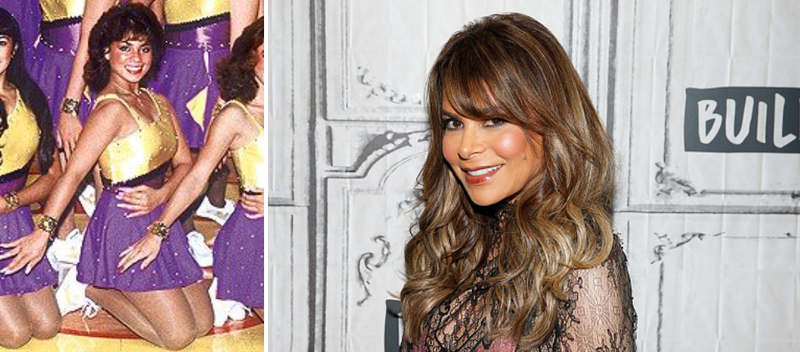 Before long, Abdul had been spotted by talent scouts and started her rise in Hollywood, and nowadays you can see her at the judges' table on 'American Idol'.
Jessica Simpson

Jessica Simpson's beauty and fame are almost unmatched, and she, like many others, got her start performing as a cheerleader while attending Richardson North Junior High School in Texas. While she dropped out of school at fifteen to pursue her singing career, she went on to become one of the biggest cheerleaders for the Dallas Cowboys and husband Tony Romo.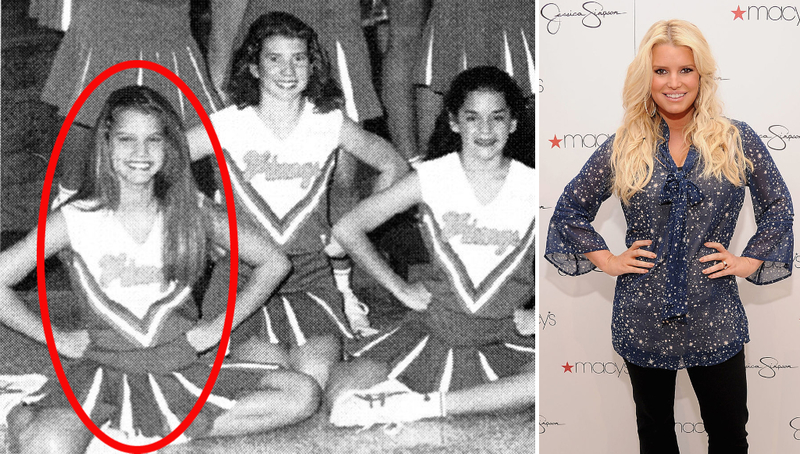 While Simpson was at J.J. Pearce High School, she impressed Columbia Records executive Tommy Mottola, who immediately signed her to a record deal.
Nicole "Snooki" Polizzi

Before she became one of the stars of 'Jersey Shore', everyone's favorite miniature Italian-American was part of the cheerleading team from her high school in Marlboro, New York.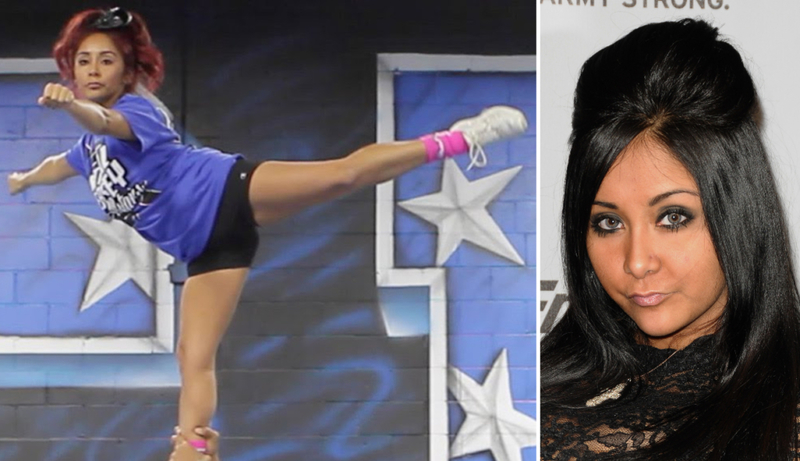 The sport wasn't a springboard to fame like many of the people on this list – in fact, Polizzi has commented how difficult the team was for her, especially regarding her weight: "Cheerleading was my life in high school, but it wasn't always easy for me. I started to be anorexic. There were freshmen, who were seventy pounds and I was, like, my spot as a flier is going to get taken away. So I ended up starving myself."
Phaedra Parks

From high-powered attorney to reality show star of 'Real House Wives of Atlanta', Phaedra Parks got her start as an adorable cheerleader in Clarke Central High School in Athens, Georgia.

She passed the time cheering for her team as part of the squad, but when she graduated in 1990, she went on to pursue a career in law, leading her to getting cheers not only on the field or court, but also in the courtroom.
Olivia Wilde

While Phillips Academy in Andover, Massachusetts doesn't have a cheerleading team, it does have a "step team", which is apparently exactly like a cheerleading team, but it has a different name. However, according to Olivia Wilde, stepping is "another form of cheering. If you say so, Wilde.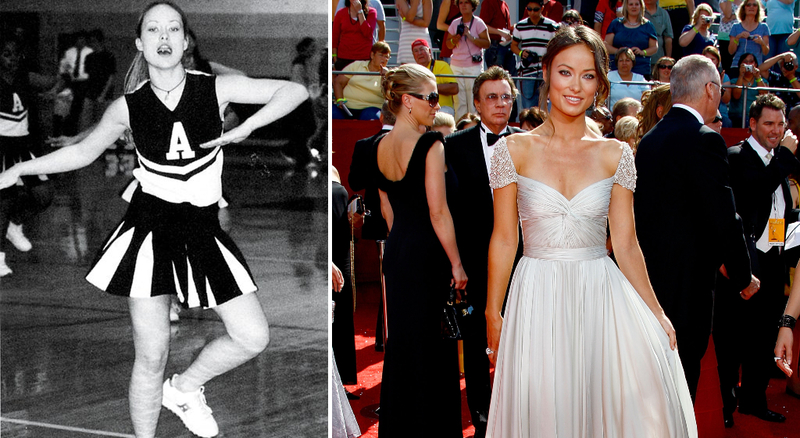 Wilde is incredibly famous, well-known around the world as a beauty and an actress, but she isn't the most famous person from her school, or even from her "step team" – that honor belongs to former president George W. Bush, who has much older photographs that feature him wearing a similar outfit to the one Olivia is sporting here.
Kirstie Alley

There must be something about cheerleading that helps on the path to acting. Is it physical training? Spending time convincing people to think a certain thing? Is it just a correlation? Whatever the reason, yet another famous actress, Kirstie Alley, cheered at her school, the Wichita Southeast High School in Kansas.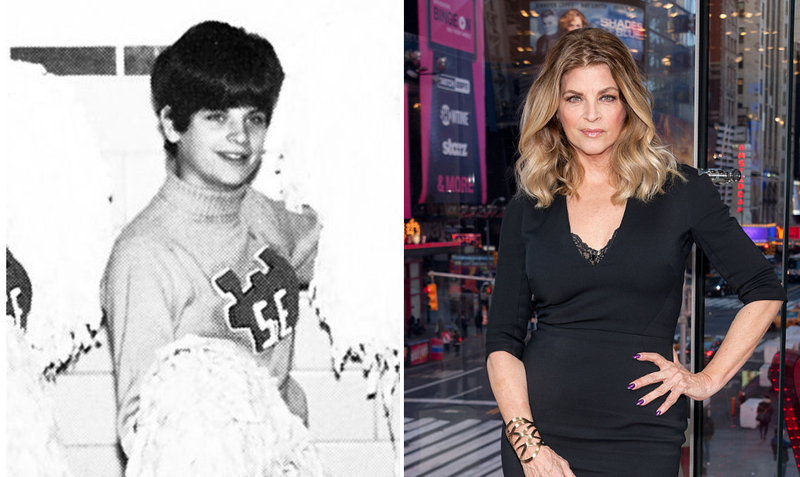 After dropping out of Kansas State, she moved to Hollywood and proceeded to make it big, acting in the famous sitcom 'Cheers', and much more. She's even successfully gotten out of Scientology.
Miley Cyrus

Since she's the daughter of famous country music star Billy Ray Cyrus, it's no surprise Miley has made her way into the spotlight time and time again. Before she even appeared as the dual-living character on 'Hannah Montana', seven-year-old Cyrus was already getting eyes on her as a cheerleader for the Tennessee Premiere soccer team in her Franklin hometown.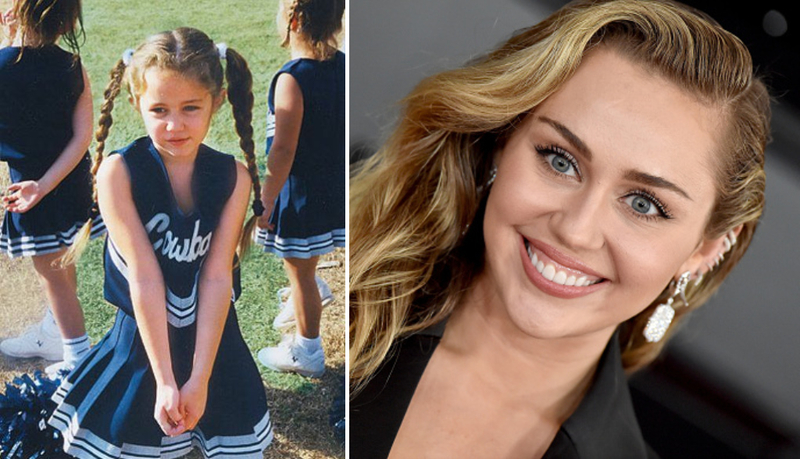 Performing is in her blood, but even the biggest names on this list usually get their start in high school, but not Miley – she was ready to start her career before even hitting ten.
Kendall Jenner

While most of the names on this list used cheerleading as a way to build skills, get noticed, or start performing, for famous Kendall Jenner the opposite is true. This ultra-famous (for some reason) gal sometimes felt all the fame getting to her, and would escape from the limelight by donning a blue and white uniform and shaking a few pom poms.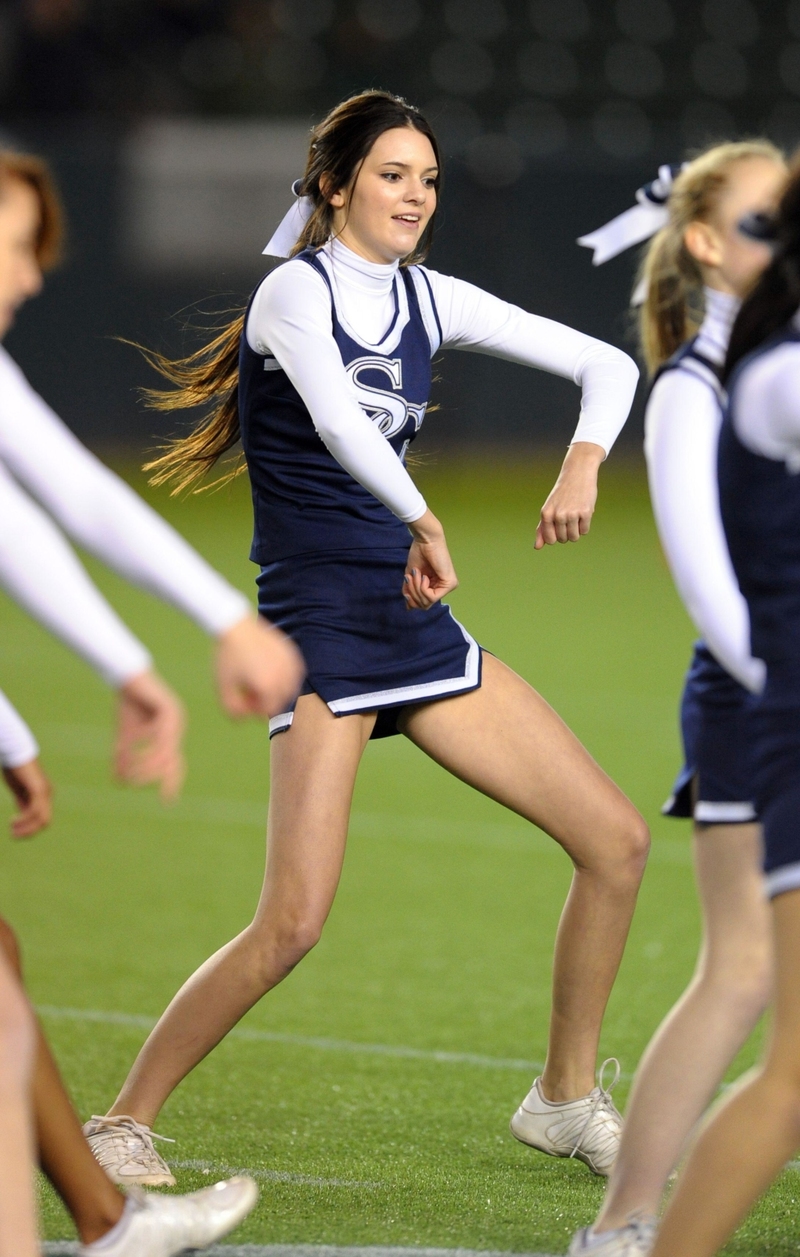 As a member of the varsity squad of Sierra Canyon School, Kendall used this high school activity to, ironically, forget about being in the public eye, instead of escaping into the world of competitive dance.
Kathy Griffin

Kathy Griffin has been a gut-busting comedienne for a long time, and unlike the picture of Streep, it might be hard to tell who it is in this picture, but it is indeed the redheaded joker, at a young and spry seventeen years old. She's come a long way since she was atop the pyramid as part of Oak Park and River Forest High School in Oak Park, Illinois.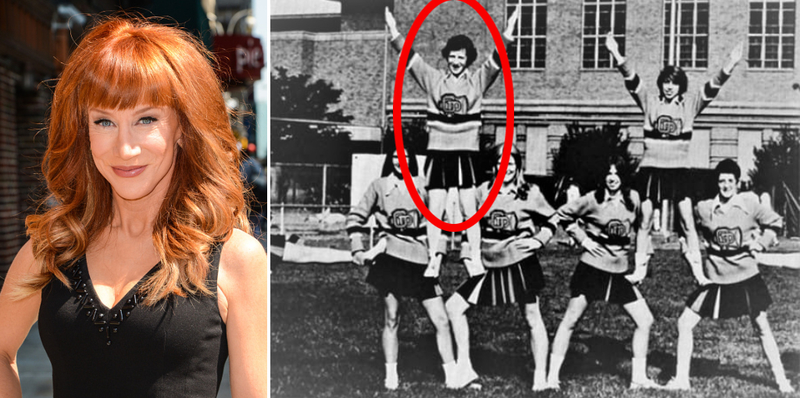 There's no doubt she added plenty of spirit to her team's spirit squad. She's also had a number of movie credits, including 'The Cable Guy' and 'Suddenly Susan'.
Dakota Fanning

Yet another actress on the list that took things the wrong way around: Dakota Fanning was acting long before she became a cheerleader during high school. There were plenty of roles to choose from for this young actress, including on television shows like 'ER', 'CSI: Crime Scene Investigation', 'The Practice', 'Spin City', 'Ally McBeal', and 'The Ellen Show'.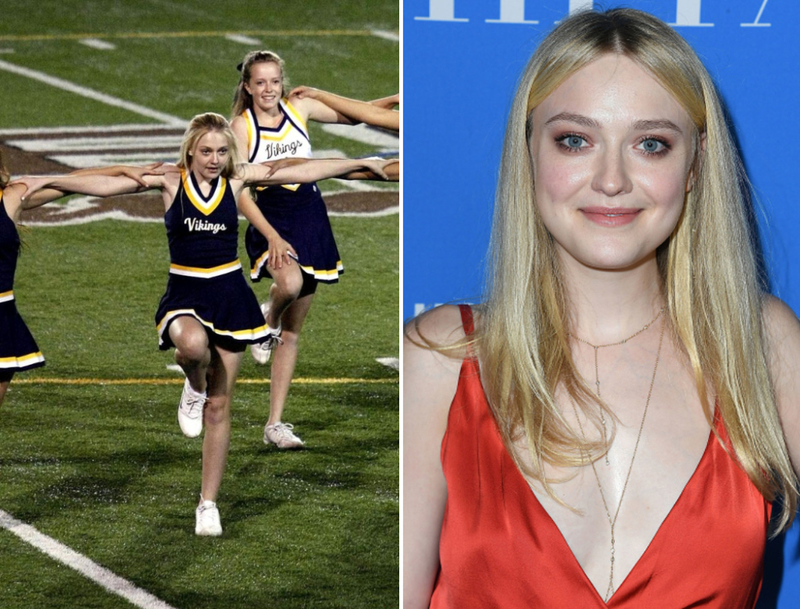 Already a well-known name in Hollywood, when Fanning returned to her education and the more social aspects of school, she also joined the varsity cheerleading squad at Campbell Hall School – and she was voted the homecoming queen, to nobody's surprise.
Rashida Jones

Life is all about balance, which may be why Rashida Jones has ended up so successful. She not only shook her pom poms during her grade school days, but she was also part of the math club and a member of the National Honor Society.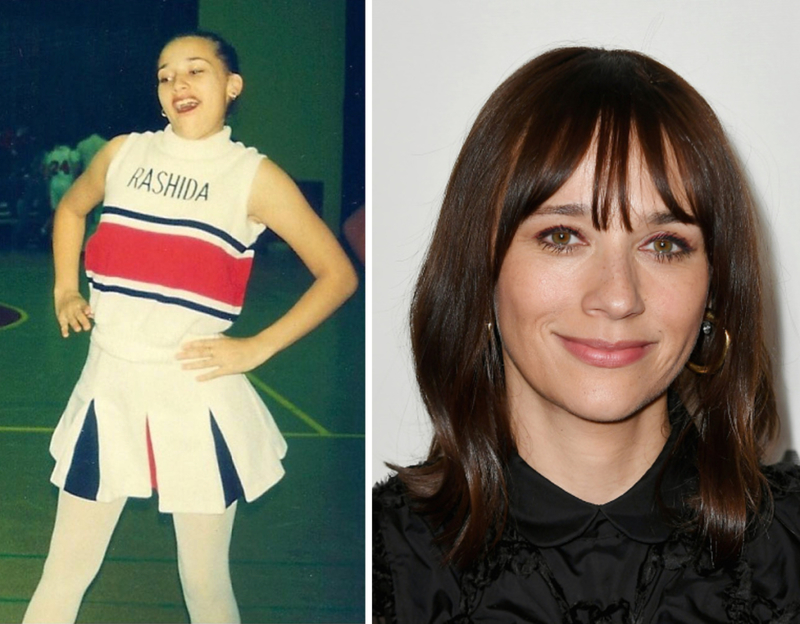 She seemed to do everything as a kid, which helped her land roles starting with 'Myth America' in 1998, and including 'The Muppets', 'The Social Network', 'I Love You, Man', and 'Toy Story 4', for which she was a co-story writer.
Blake Lively

To the surprise of her actor father and talent scout mother, Blake Lively wasn't originally interested in performing, preferring a quiet life out of the spotlight. But eventually, her genetics, or maybe enough begging from mom and dad, won out.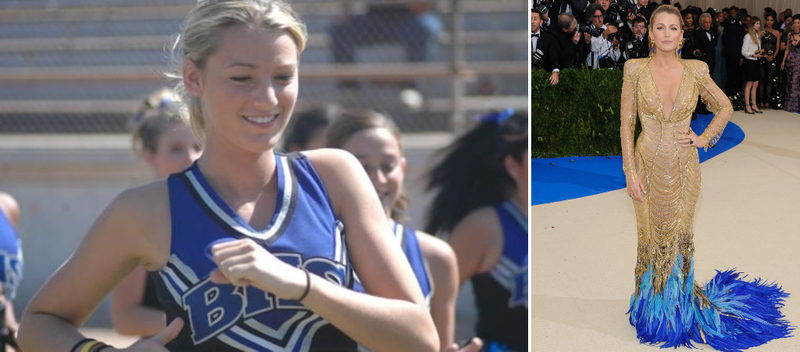 While Blake was taking classes at Burbank High School, she not only had to leave time for homework, but also for her cheerleading, as well as working as an actress for the movie 'The Sisterhood of the Traveling Pants', the first of many movies she has appeared in, which include 'The Town', and 'The Shallows'. She's also had some big TV roles, including 'Gossip Girl'.
Brooklyn Decker

Brooklyn Decker might still look like a teenager even now that she's in her thirties, so how young must she have looked when she was attending and cheering for Butler High School in Charlotte, North Carolina? The model-turned-actress was also the school's senior class president, before going on to become a world-famous name and face, appearing in blockbuster movies such as 'Just Go With It', 'Battleship', 'What to Expect When You're Expecting', and 'Stretch'.

She's also had plenty of appearances on television shows such as 'Grace and Frankie', 'New Girl', and 'Friends with Better Lives'.
Madonna

Before she became the Queen of Pop, Madonna was the child of blue-collar Italian immigrants, attending Rochester Adams High School. Like Fergie, she was a straight-A student and a member of the cheerleading squad, proving she's more than a pretty face. She's also, as you may be surprised to know, a natural brunette, and it's a shame she decided to pull pop culture toward the blonde.

Madonna dropped out of the University of Michigan (even after getting a dance scholarship), and moved to New York City in 1978 to become a pop star.
Melissa Rycroft

While in high school, Miss Rycroft was part of the…drill squad. Didn't see that one coming, did you? However, Rycroft was so good at her chosen activity she went on to lead the squad, and then become a cheerleader for the Dallas Cowboys.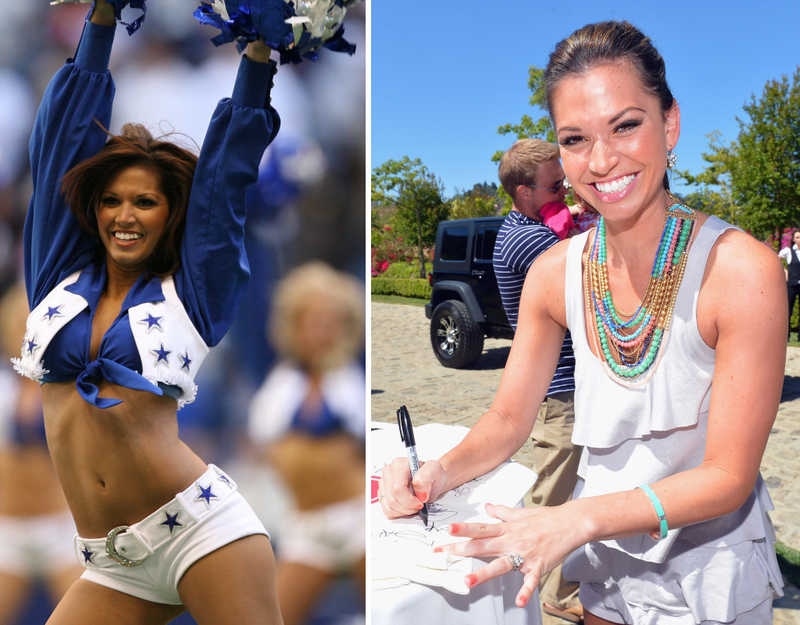 Her TV debut came from CMT's 'Dallas Cowboys Cheerleaders: Making the Team', but she has also appeared on 'The Bachelor' and 'Dancing with the Stars'. She's also appeared as a host on CMT's 'Redneck Island'.
Rachael Ray

Years before she was on your TV screen whipping up some delicious food, Rachael Ray led the cheers at the Lake George High School, in Lake George, New York.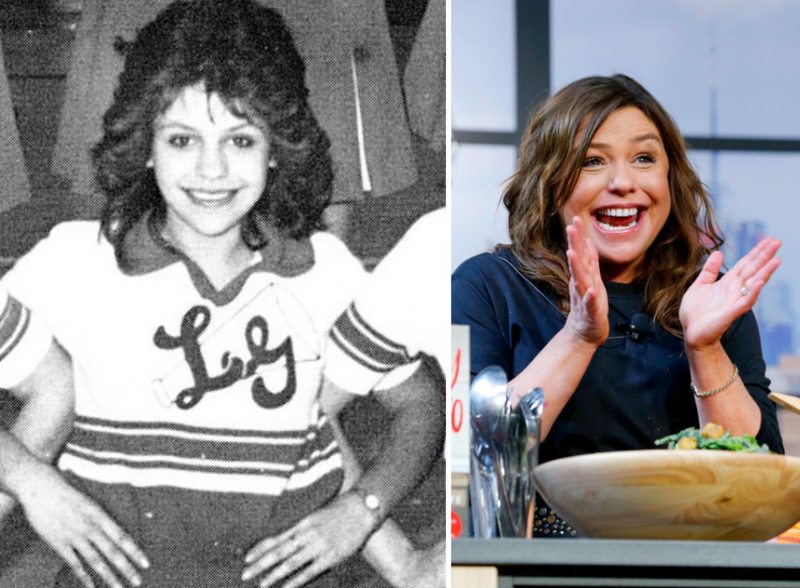 While Rachael nowadays spends her time creating magic in the kitchen or appearing on multiple shows for the Food Network, she used to shake the poms with the best of them, adding her smile and shouts to the team. She even has her name on her own line of kitchenware.
Lucy Hale

Lucy Hale is famous for her role of Aria Montgomery in 'Pretty Little Liars', but before she showed up on your screens, she was a cheerleader for a great deal of her life. She's also been singing and acting since she was young, even appearing on the show 'American Juniors' as a competitor.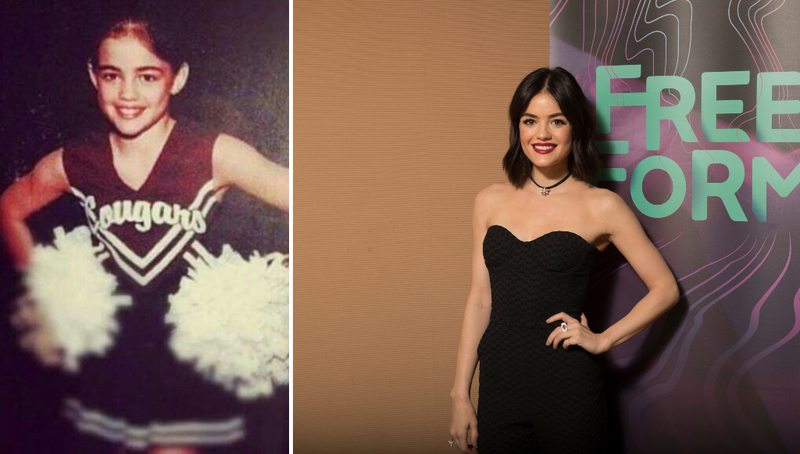 She first added her skills to movies with 'The Sisterhood of the Traveling Pants 2' in 2008, and has only gone on to bigger and better things since. Believe it or not, her first love is music, and while it may not be what most people remember her for, she released an album in 2014: 'Road Between'.
Samuel L. Jackson

Here's one you probably didn't predict showing up on this list. The Big L was part of the cheerleading squad at Morehouse College, and by his own admission he joined the squad to meet more women. There's just one problem there, Sam: Morehouse was an all-boy's college.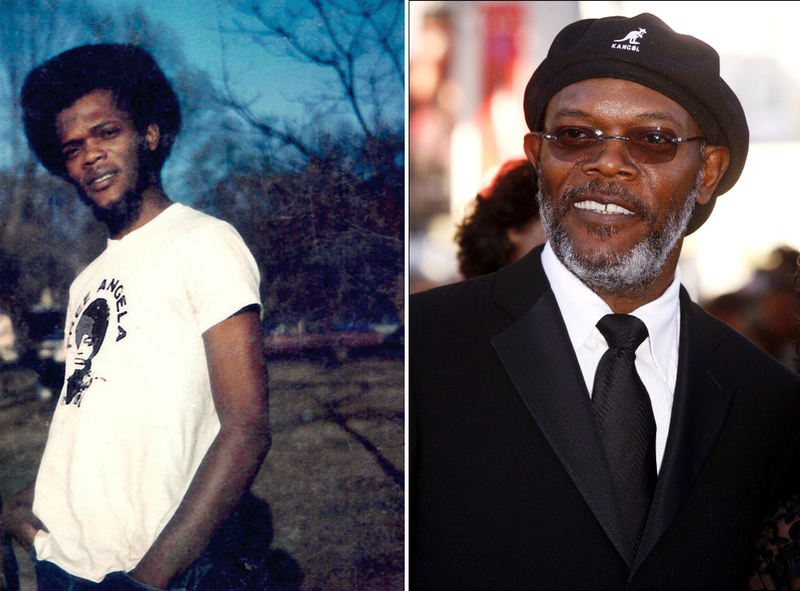 Jackson originally was attending college to get a degree in marine biology, but after joining an acting troupe for class credit, a switch flipped, he changed majors, and he ended up getting a Bachelor of Arts in Drama degree. Movie history began, and we've been enjoying this energetic actor ever since.
Chrissy Teigen

Chrissy Teigen has a long history of making the internet go wild with every picture she posts, but even before she was a famous model, she danced with the rest of the cheerleading team at Snohomish High School.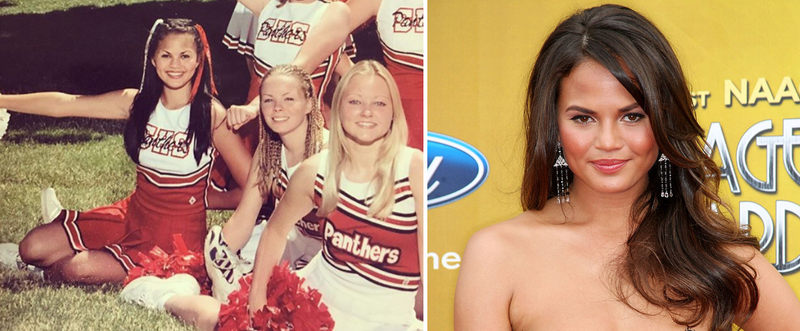 She posted an Instagram picture of herself with a few of her old teammates in the Panthers' red and white uniform, and her eye-catching black hair and heart-stopping smile are already on display.
Christina Aguilera

Before she was a world-famous diva, the beautiful and talented singer Christina Aguilera used to cheer her little heart out in North Allegheny Intermediate High School, in Pittsburgh, Pennsylvania. And right after her cheerleading career, she joined Disney's 'The Mickey Mouse Club', which was just the beginning of a wildly successful career.

In 1999, Aguilera broke music records with her hit track, 'Genie in a Bottle'. Her career skyrocketed after that, and this music star went on to produce several albums, win five Grammys, and even act in major blockbusters, like 'Burlesque'.
Katie Couric

Katie Couric is famous the world over for journalism, thanks to appearing as the global anchor for 'Yahoo! News' and '60 Minutes', two of the most famous news programs around. But this famous news face spent plenty of her time as a cheerleader at the various high schools she attended as a teen, in and around Arlington, Virginia.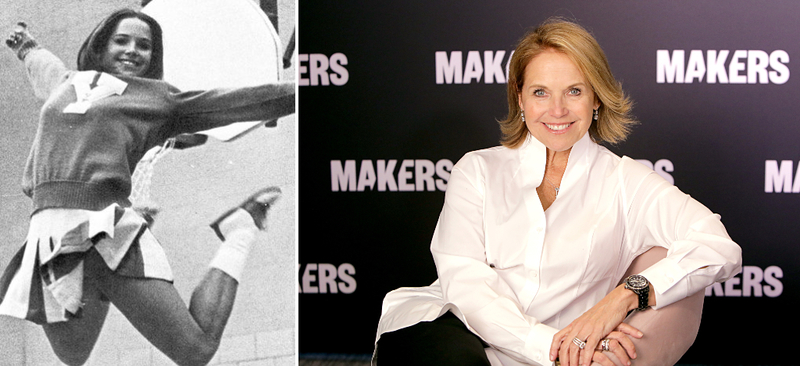 She certainly had some moves back in the day, as you can see from the picture here, and she's already working on her journalist's smile, too.
George W. Bush

Former U.S. President George W. Bush wasn't always a senior man in the White House. Before he was one of the most recognized men on Earth, Bush was a preppy cheerleader at the Phillips Academy in Andover, Massachusetts. He cheered with a megaphone, was head cheerleader of his squad during senior year and also played baseball.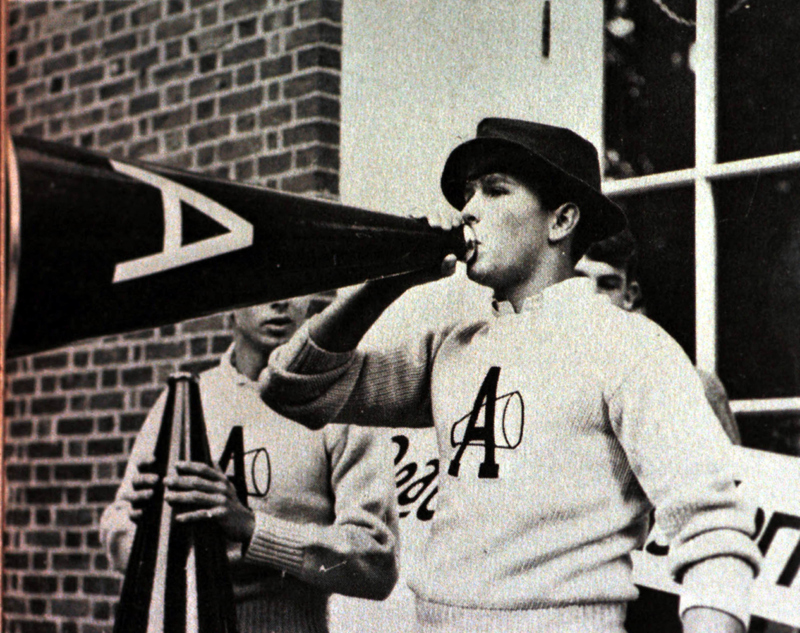 He went on to attend Yale University and Harvard Business School, which eventually led him to the coveted position of being president of the free world.
Kylie Jenner

Sisters often do things together and the Kardashians, as many know, are no exception. Kendall was a cheerleader and so was Kylie. She eventually was homeschooled but before that, Kylie was on the cheer squad at Sierra Canyon School in Chatsworth, California.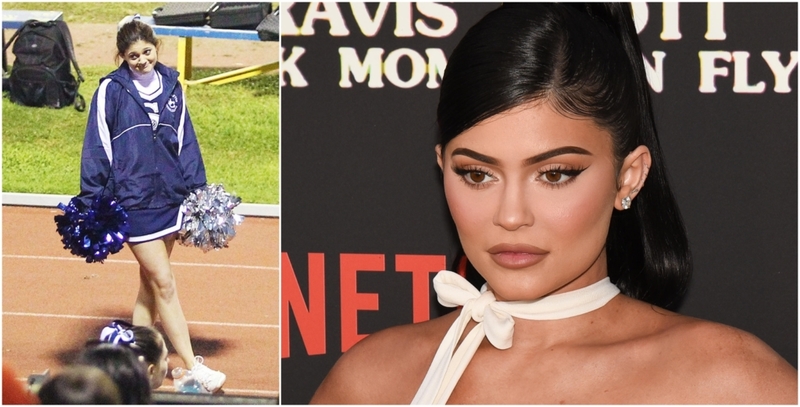 She may have been a cast member of the most well-known reality TV shows in the history of reality TV, but Kylie also had moments where she was just a regular high schooler. Today, however, she's still known as a reality star and a businesswoman.
Kenza Zouiten Subosic

The Swedish influencer who has a well-followed and curated blog, was a former cheerleader, in fact, she was an all-star cheerleader. Kenza was an elite cheerleader while growing up in Stockholm, but her millions of followers are probably already aware of her cheer past.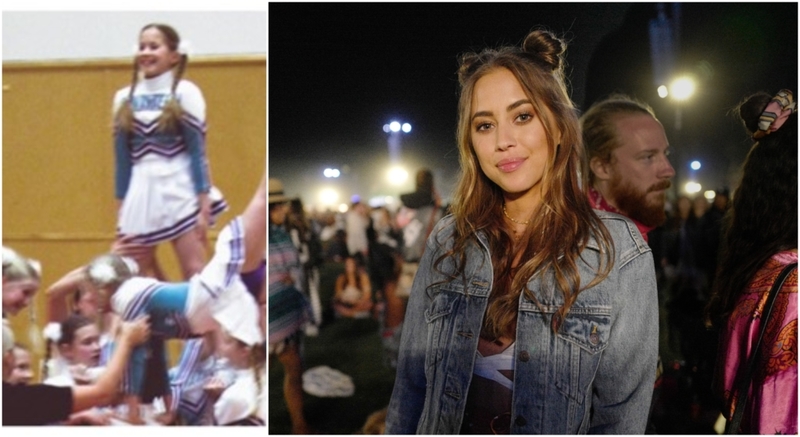 The founder of clothing label IvyRevel has garnered quite a social media audience but (according to at least one Instagram post) is also still as agile and athletic as she was in her cheerleading days. Go Kenza!
Emma Chamberlain

YouTuber Emma Chamberlain took her cheerleading very seriously and was considered a competitive cheerleader. She described herself as a "sassy" cheerleader who was on the California All-Stars Pink cheer squad.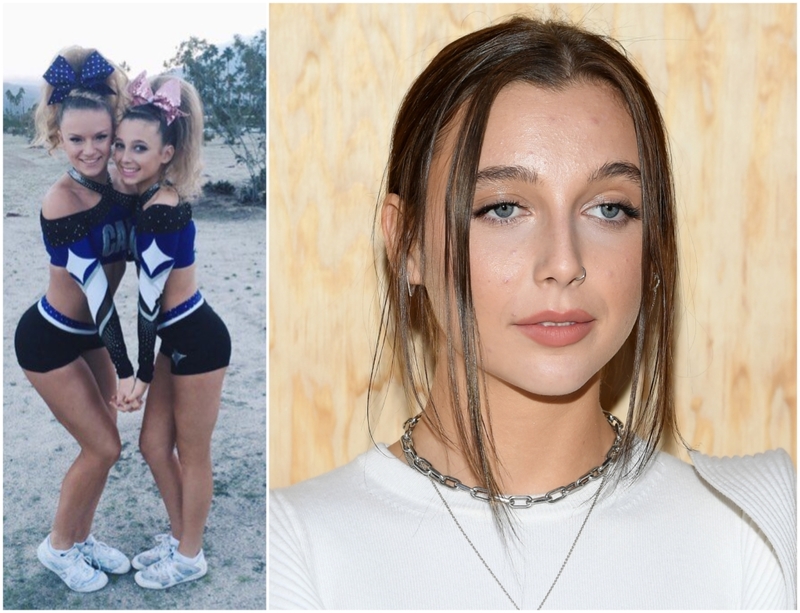 Emma was in competitive cheerleading for five years and was also on her high school team but was later dismissed for an undisclosed reason. But today, the twenty-year-old influencer and businesswoman is bust with other ventures and is worth about 8 million dollars so it's doubtful she misses those cheerleading days!
Ronald Reagan

There are a number of political figures on this list but it may not be surprising to see Ronald Reagan here, considering he went on to be an actor before becoming the 40th President of the United States.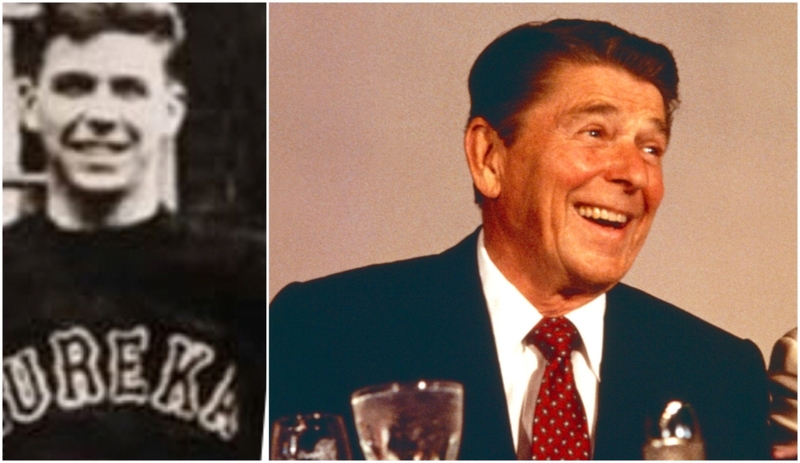 In his youth, Reagan was a member of the cheer squad at Eureka College in Illinois. But he was also a jock too and was the captain of the swim team and on the football team. It seems Reagan was never afraid to be front and center.
Franklin D. Roosevelt

Yet another leader of the free world who at one time revved up sports fans with their enthusiasm, Franklin Roosevelt was a cheerleader at Harvard University. The Ivy league cheerleader was on the squad for three years in total from 1900 to 1903.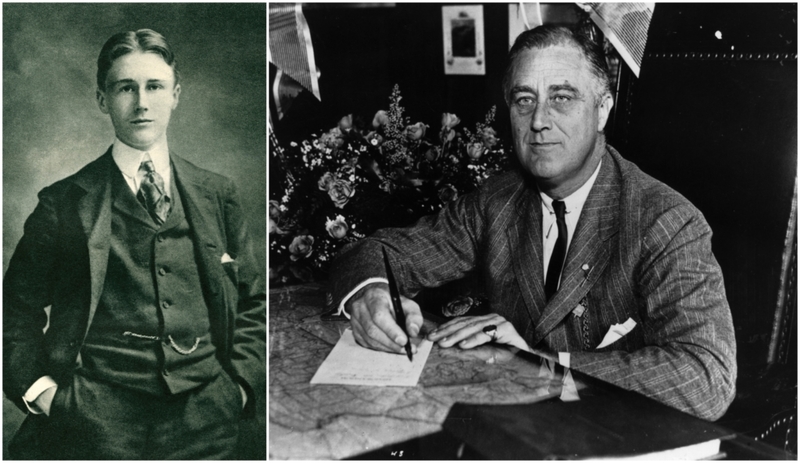 Despite his athletic past, Roosevelt sadly developed polio later in his life and was wheelchair-bound even during his presidency. There was no cure for his paralysis (which was from the waist down) but he was able to find some relief through hydrotherapy.
Mitt Romney

Another politician who was involved in cheerleading was Mitt Romney. Well, technically the former Republican presidential candidate was on the Pep club but at least he showed some school spirit!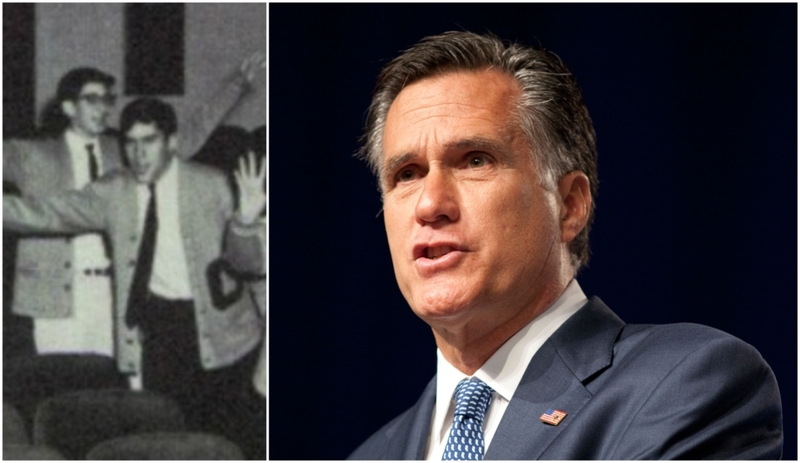 Unfortunately for Romney, he received some light chastisement while he was on the campaign trail for his former cheerleading. It seems that while cheerleading is considered primarily a feminine activity today, in decades past no one thought any differently of guys and girls cheerleading together. Hopefully, this idea will soon be revived.
Rick Perry

The two-time presidential candidate who attended Texas A & M University Texan governor likes to say that he wasn't actually a cheerleader but a "yell leader", maybe this description sounds better to him?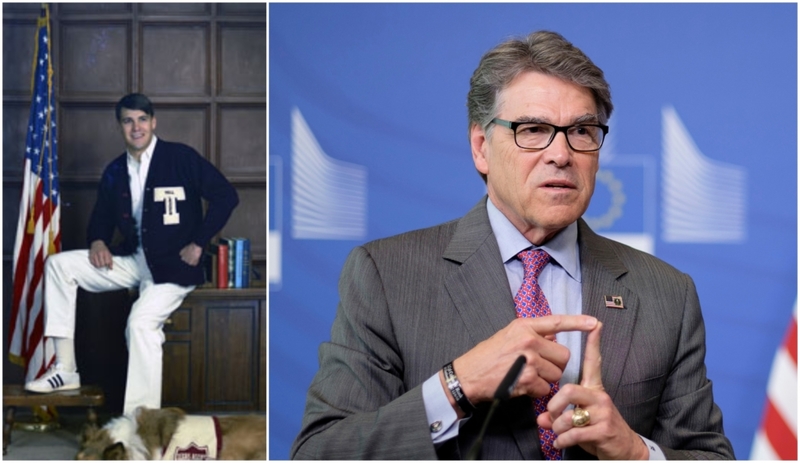 Texas A & M is actually a military-type university and being a cheer, um, we mean yell leader, is actually a position of honor. Perry was chosen for the position through the votes of his peers and ended up becoming "the face" of the athletic department. Seems his early life was political even before he entered politics.
Trent Lott

The former Mississippi Senator was very busy while attending Mississippi State University. He was not only a cheerleader but was also an Ole Miss representative and President of the Sigma Nu Chapter.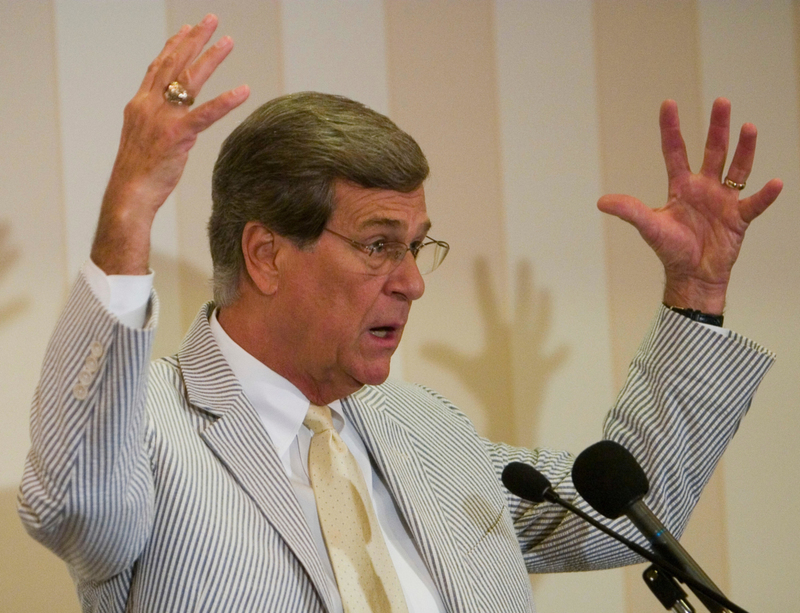 Cheerleading seems to be nearly a prerequisite to entering the political field later on in life. Perhaps it's the need to lead a crowd with an optimistic attitude that attracts so many future politicians to cheerleading. Lott was on the team with another future senator, Thad Cochran.
Kay Bailey Hutchison

Going back to the ladies, Republican Texan senator had her stint as a cheerleader while she was at the University of Texas – Austin. Hutchison was 19 when she was on the squad and eventually graduated from the University with her Bachelor's degree.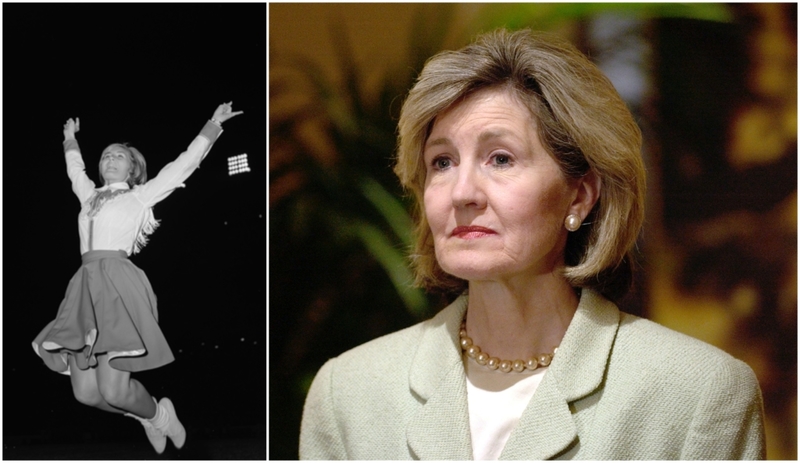 Before entering her political career, Hutchison was even a cheerleader (if only for a brief time) for the Texas Longhorns! An exclusive opportunity for almost any young woman and especially for the woman who would go on to be the first female Texan to be elected to the U.S. Senate.
Ruth Bader Ginsburg

Pioneer Ruth Bader Ginsburg had a very full life. Ginsberg made history as the first Jewish woman (and the second woman in history) to land a place as a  Supreme Court Justice.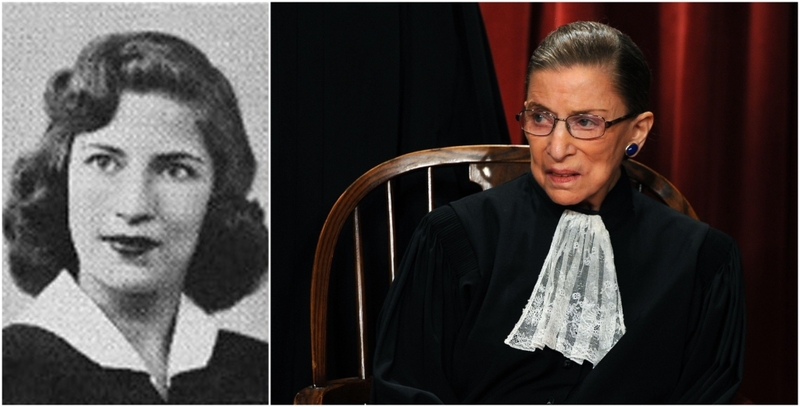 One of the faces of feminism, Ginsburg did also dip her feet into cheerleading when she attended Madison High School in Brooklyn, New York. At that age, she would have never imagined that she would go on to be worth about $18.1 million as a Supreme Court Justice.
Thad Cochran

Fellow cheer squad member to Trent Lott, Thad Cochran was a cheerleader for the University of Mississippi. He was on the squad for both his freshman and sophomore years and, like Lott, was voted onto the team by his peers. Seems highly political.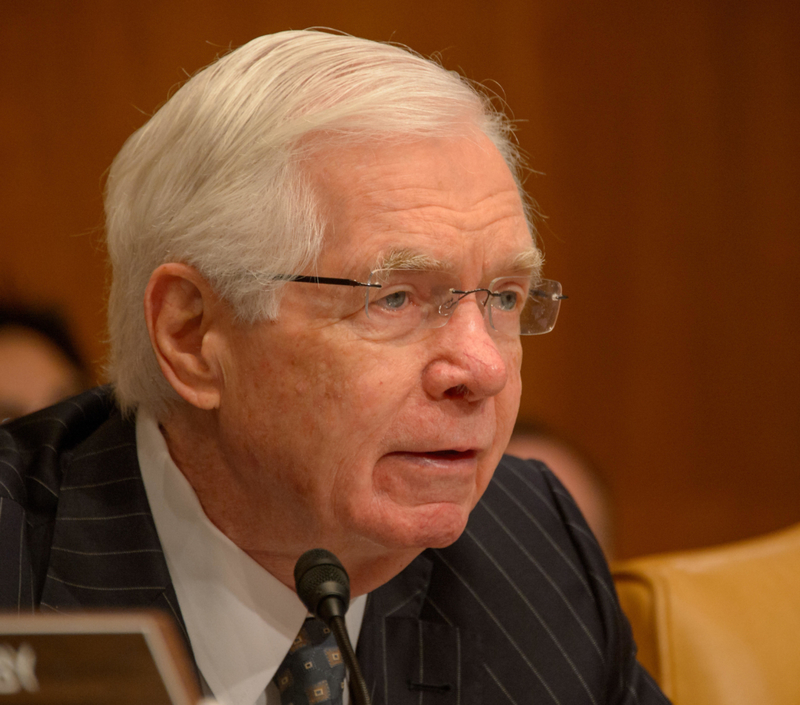 Cochran compared the voting for the cheer squad to a political election and said that it was his fraternity that convinced him to take a step toward the team. He even made the bold move to switch to being a cheerleader after already being an established football player.
Aaron Spelling

After serving in the military, future TV mogul Aaron Spelling was a cheerleader at Southern Methodist University. At the time, no one would have ever guessed the cheerleader would have gone on to be one of the most well-known businessmen in the world of TV.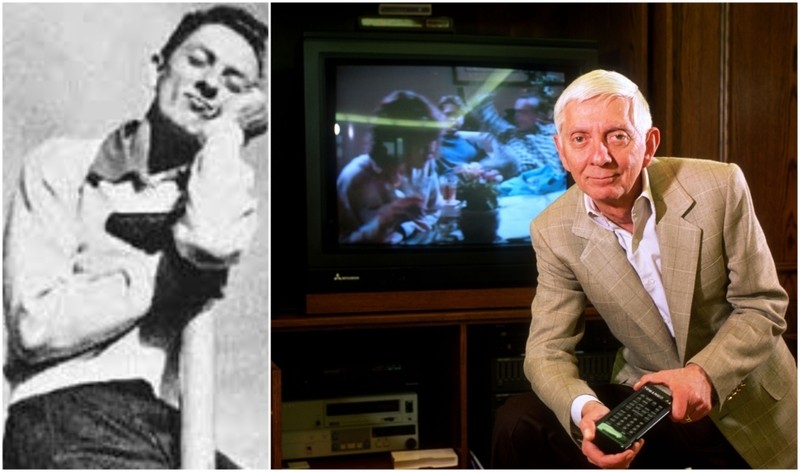 Cheerleading requires a healthy amount of enthusiasm, athleticism, confidence, and comfort in front of a crowd. It seems that cheerleading attracted not only future politicians but also those who were going to later be in the public eye.
Jimmy Stewart

Jimmy Stewart certainly had a life outside of and before he was an actor. He chose to enter into the latter part of World War II and later became a colonel in the Army Air Corps. He even participated in 20 combat missions that led to a handful of medals.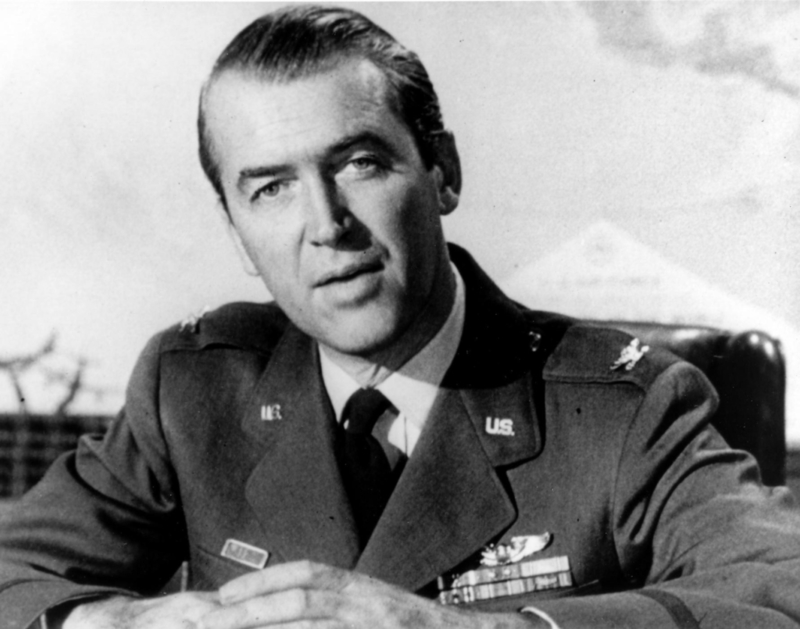 But, before that, he was a cheerleader. While he attended Princeton, Stewart decided to join the cheerleading squad for both his junior and senior years. Seems like being part of a team was hardwired into the famous actor.
Hilarie Burton

Actress Hilarie Burton played a cheerleader on the teen soap opera, "One Tree Hill," but she was also one in real life. Showing a lot of school spirit, Burton was homecoming queen during her senior year, student council president, and, of course, in the cheer squad.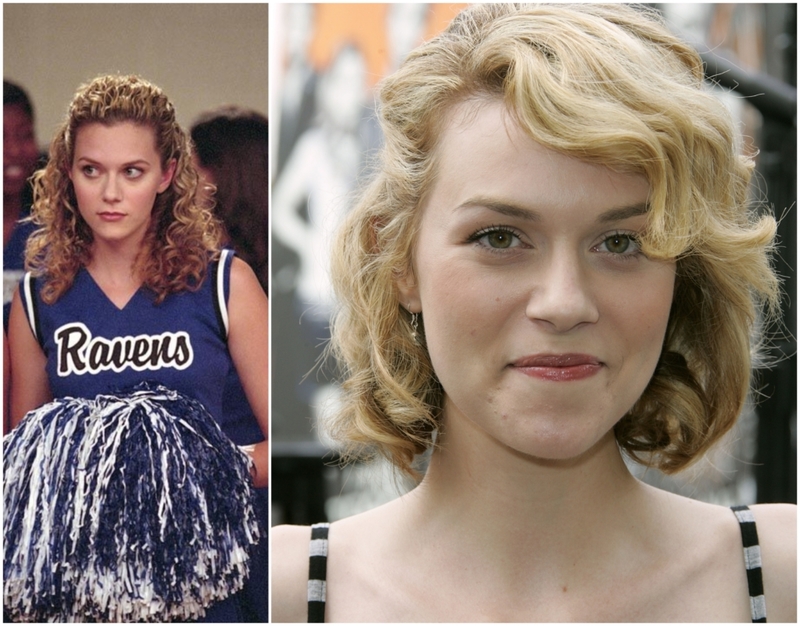 Burton went on to star in a handful of other projects and was a host on Total Request Live. These days she enjoys the quiet life with her husband Jeffrey Dean Morgan and their kids.
Megyn Kelly

Known for her steely demeanor and sharp interview skills, former Fox News anchor Megyn Kelly had a preppier side back in high school. Before she was the "never back down" reporter, she was a cheerleader in a small-town high school.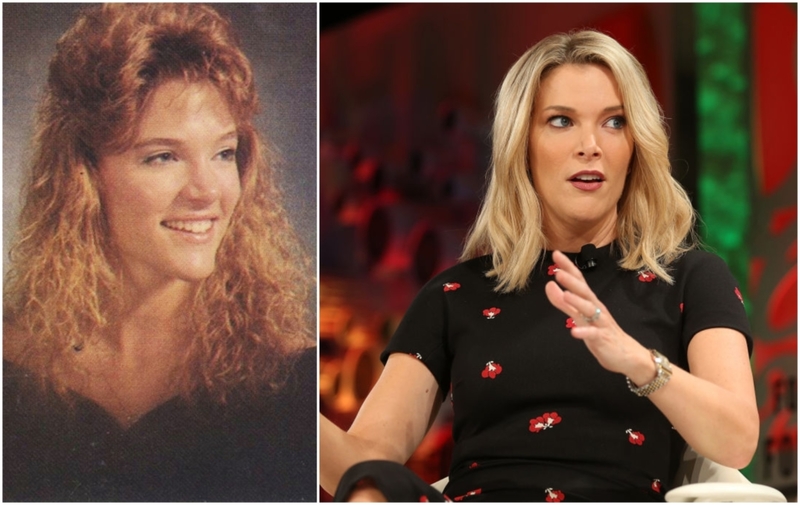 Born in Illinois to a nurse and a college professor, Megyn Kelly was a cheerleader throughout her time in high school. But she would soon leave those days behind and later graduate from Syracuse University with a law degree. Kelly credits her days as a lawyer for helping her keep her cool when interviewing tough subjects.
Camille Kostek

Model Camille Kostek was a cheerleader in high school before becoming a familiar face for brands like Reebok. After playing lacrosse in college as well as joining the dance squad, Kostek went on to be a professional cheerleader.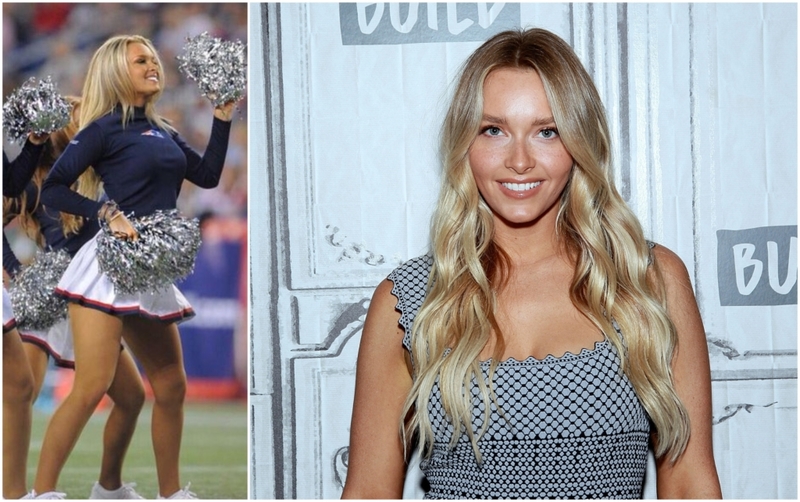 At the age of 19, she began as a cheerleader for the Hartford Colonials in the United Football League. She later made it onto the New England Patriots cheer team. She retired in 2015 and went on to be a host on various TV shows for CBS, ABC, and Fox.
Arielle Kebbel

Actress Arielle Kebbel, probably best known for her roles in teen films and TV shows like "American Pie," "John Tucker Must Die" and "Gilmore Girls," also had a cheerleading background.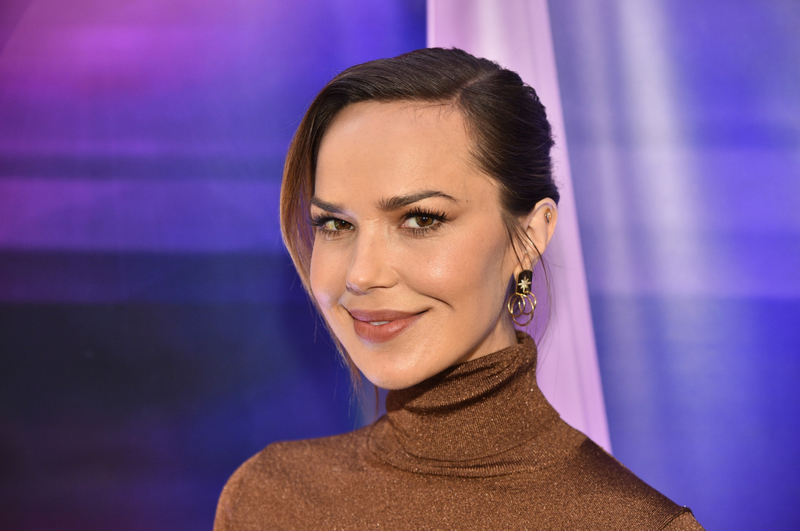 Arielle was a cheerleader while attending Winter Park Highschool before she dove headfirst into modeling and, later on, acting. Since her breakout roles during her late teens and early twenties, fans can not spot Arielle in various, smaller TV projects, such as "Lincoln Rhyme: Hunt for the Bone Collector" and "After We Fell."
Brooke Hogan

Model, singer, and reality star Brooke Hogan was already used to the spotlight. As the daughter of wrestler "Hulk" Hogan, she was naturally set to star in the family's reality series, "Hogans Knows Best."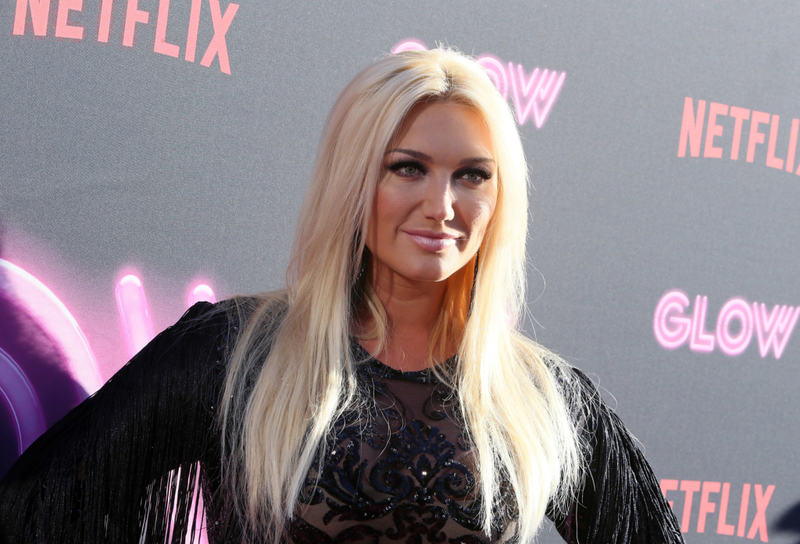 Brooke was a high school cheerleader while attending school in Clearwater Florida. She also made an appearance alongside her dad in a WWE special in 2015. Today, Brooke has a decorating company that caters to Airbnb. But she is also still focused on her music career and lives in Nashville, Tennessee.
Dwight D. Eisenhower

That's right! The 34th President of America also knew how to bring it on. Giving hope to all the current cheerleaders with presidential aspirations, put your hands together for Dwight D. Eisenhower!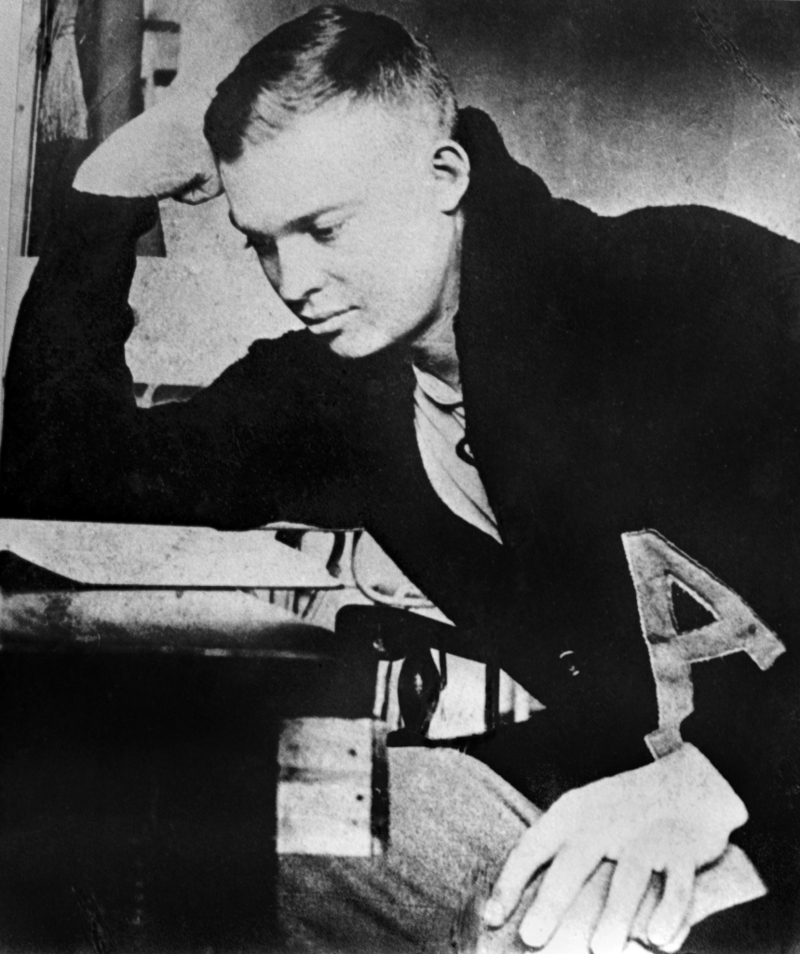 The former president didn't start out as a member of the squad. Instead, he first joined his West Point school's football team. He had his sight set on football until an injury made him change course and join the cheerleaders.