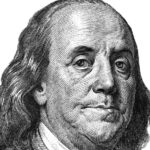 How Benjamin Franklin's Career Got A Boost From His Brother Being Jailed
echo get_the_meta(); ?>
The world has a lot to thank Benjamin Franklin for. He, meanwhile, had a lot to thank his brother for, despite their tumultuous relationship. Here's the story of James Franklin's imprisonment, and how it helped his famous sibling fast-track a writing career.
Benjamin Franklin was one of 17 siblings (the 10th-born), per Britannica. His elder brother James was a printer, and Benjamin, with a keen interest in the trade himself, became his brother's apprentice at the age of 12. According to The Medford Historical Register (per Geni), James enjoyed a certain renown in his own right, moving on from printing the Boston Gazette to his very own newspaper, the New-England Courant, in 1721. The next year, he created a library in Boston, which attracted some prestigious bibliophiles of the day.
As reported by US History, the vocation suited Benjamin, but it was a difficult business. With the technology of the 1720s, publishing a newspaper was incredibly slow and difficult work. Benjamin wanted to write, but received no real opportunities to do so, as his brother was reportedly jealous and treated him very harshly, doling out frequent beatings.
Silence would not be silenced, and nor would Benjamin Franklin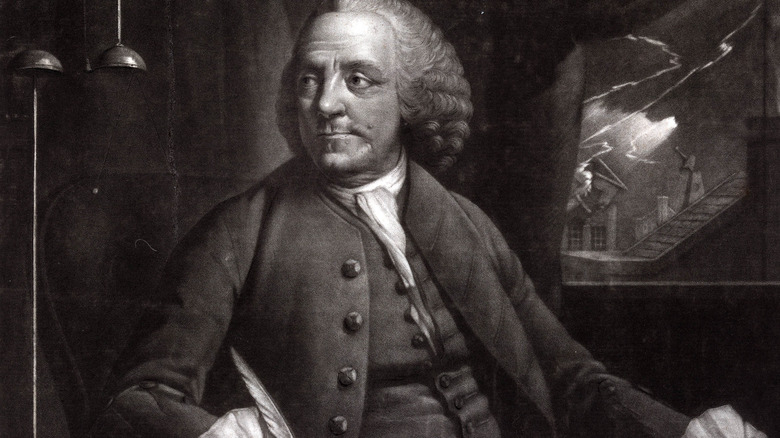 Apic/Getty Images
The Benjamin Franklin Historical Society states that the young man's apprenticeship to his brother was to last until he was 21, and that he would receive no monetary compensation until then. Desperate to take on a more creative role than selling the newspaper, he devised an alias, Silence Dogood, and wrote under that name.
"Silence" was presented as a minister's widow and outspoken against authority, the Benjamin Franklin Historical Society went on. James did not know that these writings were actually his brother's work, and considered them more than worthy of publishing in the newspaper. The Courant, after all, had a distinctly anti-governmental tone, so these works would have fit the theme perfectly. 
Unfortunately, though, it was exactly these leanings that led to James' downfall as the newspaper's publisher. His younger brother's star would then be out from his shadow, free to rise, allowing him to become the respected writer and publisher (among many other things) that Benjamin Franklin is known for to this day.
An unexpected 'promotion'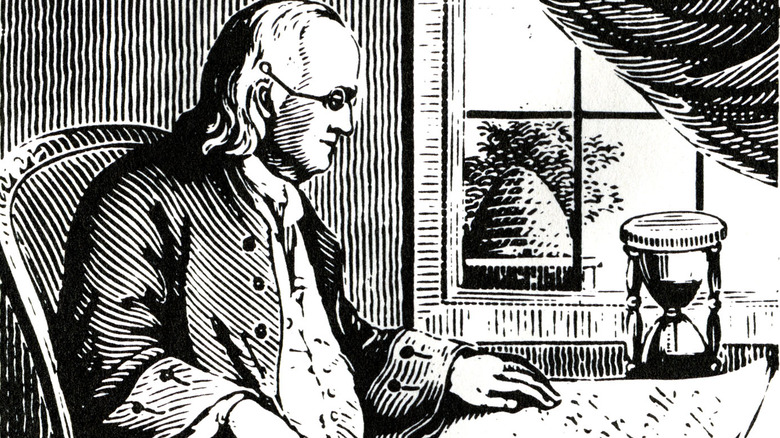 Culture Club/Getty Images
In a roundabout way, Benjamin Franklin's big break came when his brother printed something inflamatory. In June 1722, James printed an article on the subject of pirates, stating that the Massachusetts government had prepared a vessel to deal with them. It reported of the captain (per US History), "'tis thought he will sail some time this month, wind and weather permitting."
The Massachusetts government saw this as a slight on their pirate-tackling prowess, and a council sentenced James Franklin to jail for two weeks. Who took charge of the printing of the newspaper during that time? His brother Benjamin, then aged just 16. The following year, according to US History, the newspaper published "Essay against Hypocrites," a thinly-veiled attack on Cotton Mather, a prominent member of the clergy. The backlash from this stunt caused James to publish a less-than-sincere apology later that month.
In the aftermath, Benjamin's name received another great boost: he became known as the newspaper's printer, to keep James' name out of the public eye. Per Britannica, Benjamin left soon after, when a great fight between the brothers erupted (their relationship had been souring for some time). Benjamin moved on to Philadelphia, says Britannica, where his experience soon found him further work in the printing field. He moved in with the Reads (later to marry Deborah Read), the cachet of having had his name so closely associated with the New-England Courant surely starting to help him along the road to future fame.
The extraordinary story continues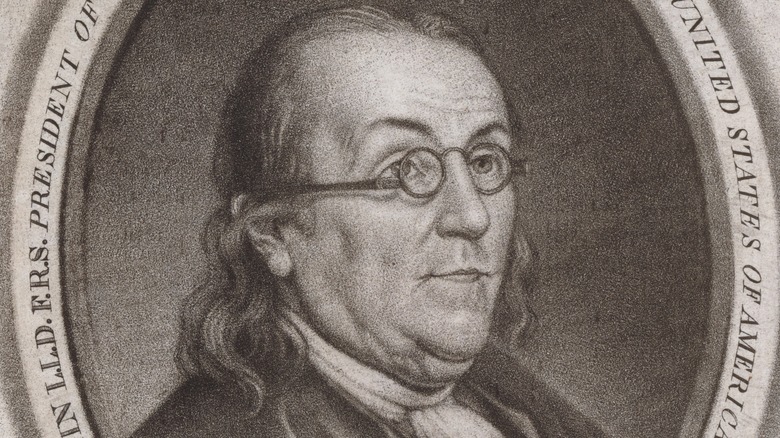 Heritage Images/Getty Images
As Biography reports, Franklin would travel to London several times over the course of his life (Deborah did not want to accompany him). Sadly, his 1724 jaunt to the U.K. capital didn't prove to be the lucrative experience he had expected. Philadelphia's Governor William Keith had told Franklin he'd have the opportunity to establish his own printing shop and visited to gather supplies, but Keith's help wasn't forthcoming after all. The letters of credit Franklin was supposed to receive from the governor, per The Benjamin Franklin Historical Society, did not arrive in England. As a result, Franklin could not purchase the equipment he would need. Nevertheless, still a teenager, Franklin found printing work in London, too. Being Benjamin Franklin, he also took the opportunity to become a renowned swimmer while he was there, taking long-distance swims in London's River Thames.
These experiences allowed the up-and-comer to cement his reputation even further. In 1762, he had such a reputation with the British government that he could help his son William Franklin secure the post of royal governor of New Jersey, Biography states. Perhaps this, alongside a multitude of other achievements of Franklin's, would never have happened if his brother's reputation (and his own relationship with him) hadn't gone awry.