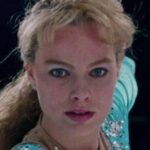 How I, Tonya Ignored Tonya Harding's True Story
echo get_the_meta(); ?>
The next Winter Olympics aren't until early next year in Beijing, but with the long-delayed 2020 Summer Olympics finally set to take place in Tokyo this month, many people are looking back at the biggest controversies in the Games' overall history. And that includes the Tonya Harding-Nancy Kerrigan incident. Technically, it's not an Olympic controversy per se. But since it was all over the news in the lead-up to the 1994 Winter Olympics in Lillehammer, we can probably count it. 
One way to get started on this scandal is by watching the 2017 biopic "I, Tonya." Starring Margot Robbie as Harding and Sebastian Stan as her then-husband, Jeff Gillooly, the movie offers a darkly comedic, yet largely accurate look at Harding's rise in figure skating — and her eventual fall as she, Gillooly, and bodyguard Shawn Eckhardt were accused of hiring two men to attack Kerrigan following a practice session. 
"I, Tonya" got a lot of things right, disturbing as many of these facts may be, as detailed by Vulture. For instance, LaVona Golden (Allison Janney) was accurately portrayed as quite possibly the worst mother in the history of sports moms, and apparently, Eckhardt (Paul Walter Hauser) really made a number of boneheaded moves in the aftermath of the attack, including bragging about the crime to anyone who'd listen. However, there were a few creative liberties that were taken, as well as a number of facets of Harding's life that were seemingly ignored by the movie.
Some of LaVona Golden's more abusive moments might not have actually happened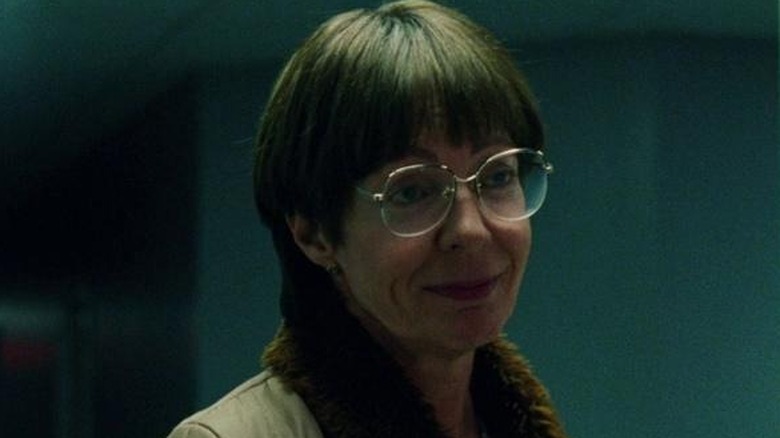 Neon
In its fact-checking guide on "I, Tonya," Vulture detailed several dramatized incidents involving Tonya Harding's mother, LaVona Golden, that apparently happened in real life as well. At least two people claimed to have seen Golden hit Tonya with a hairbrush, and Golden's insistence that her daughter keep practicing without bathroom breaks did result in a few on-ice "accidents." And while the actual incident took place at an ice rink and not at Harding's home, Golden did try to coerce her daughter into making incriminating statements while secretly recording her with a microphone she hid underneath her coat. As far as we can tell, calling LaVona Golden a piece of work is an understatement, and Cliff Richard's "Devil Woman" was the perfect choice of background music for her first scenes in the biopic.
On the other hand, there are some alleged examples of Golden's cruelty as a mother that were featured in "I, Tonya" but might have been made up in order to make her look as nasty as possible. These include the scene where she paid $5 for a man to heckle her daughter at the 1991 U.S. Championships, as well as the much more infamous moment where she threw a knife at Harding during an explosive fight at the dinner table, wounding the young woman's arm as she looked on without an ounce of remorse.
The 'Creepy Chris' incident was much worse in real life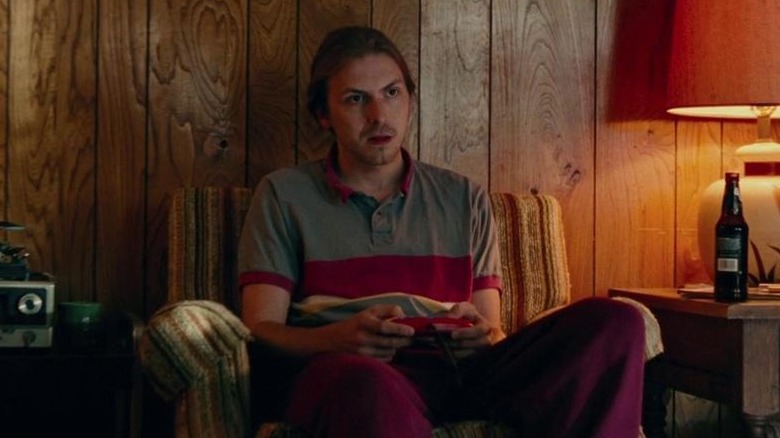 Neon
"I, Tonya" made it very clear that Tonya Harding had a rough childhood with an abusive, bullying mother, but on top of that, she also had to deal with her older half-brother, who is simply known in the movie as "Creepy Chris." In the film, Chris is only present in one scene, where he gropes Tonya's breasts and is easily subdued by the then-15-year-old. Present-day Harding narrates that on that day, which coincided with her first date with Jeff Gillooly, she had Chris arrested. After that, he is never seen or mentioned again.
According to Vulture, the truth is much worse than what was depicted in the biopic. Harding did indeed have a half-brother named Chris Davison, who was 11 years older. On the night of her first date with Gillooly, Davison allegedly forced himself repeatedly on his much younger half-sister, who retaliated by burning him with her curling iron. After Harding hid in the upstairs bathroom, Davison beat the door down, but luckily, she was able to escape and notify the police; she then hit her half-brother with a hockey stick when he continued to chase after her. 
A few hours later, the cops arrested Davison, who spent some time in jail and died in the late '80s when he was struck by a hit-and-run driver, per The Seattle Times. Unsurprisingly, Harding did not attend his funeral.
Harding didn't really fire her first coach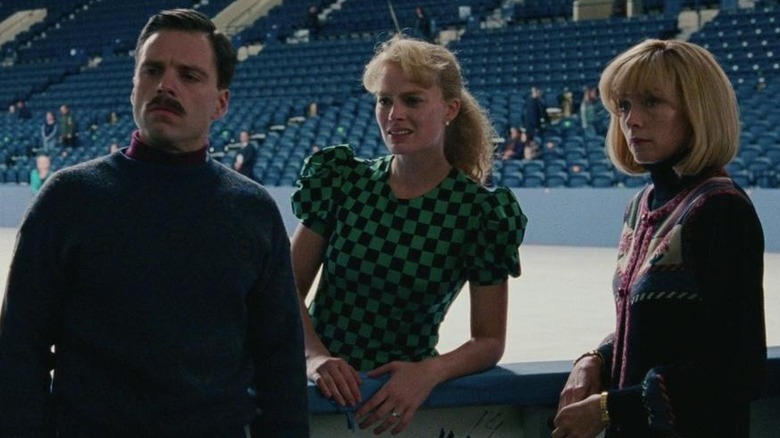 Neon
In one of "I, Tonya's" more explosive moments, an irate Tonya Harding confronts the judges at a competition after her scores turn out lower than expected. She swears at an especially patronizing judge, then meets with her coach, Diane Rawlinson, who isn't pleased one bit with her protege's behavior. Tonya accuses Diane of not being supportive enough, then fires her, announcing that Dody Teachman wants to coach her anyway. As noted by Vulture, this scene was complete fiction, as Teachman was already working as Rawlinson's assistant and the change in coaches was a very amicable one.
The switch had nothing to do either with Harding's brash, nonconformist style and attitude clashing with Rawlinson's straight-laced personality. Instead, her work ethic appeared to be the main issue. "The bottom line is, it wasn't working," Rawlinson explained to Sports Illustrated. "Tonya wasn't training, and wasn't meeting the goals she had set for herself. So I delegated her to Dody."
As for the scene where Harding rehires Rawlinson ahead of the 1994 Winter Olympics, that, too, did not really happen. Both women did team up once again in the lead-up to Lillehammer, but Harding wrote in her autobiography "The Tonya Tapes" that she only reconnected with her former coach because her then-husband wanted her to do so. It is, however, apparently true that Rawlinson was not a fan of Harding's blue nail polish.
Harding's boxing career wasn't as bad as it looked in the film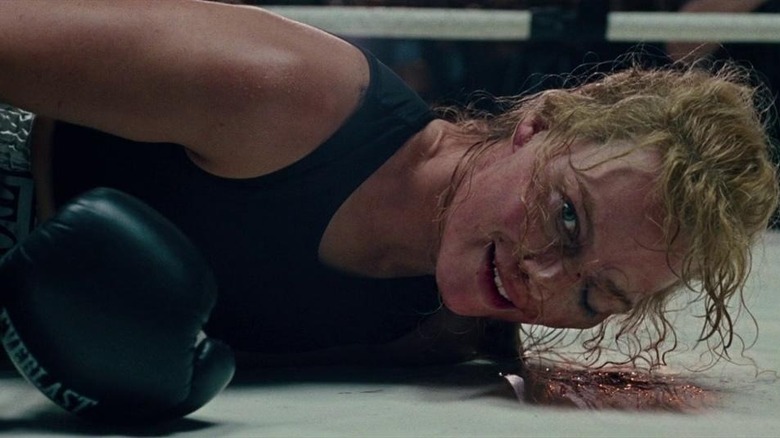 Neon
As "I, Tonya" focused primarily on Tonya Harding's figure skating career and the scandal that destroyed it, not much attention was given to her post-skating endeavors, including her time as a professional boxer. In the movie, we see Harding face up against a few other women (while getting stunned quite a few times) until she is viciously knocked down by a much larger opponent, crashing to the canvas as the fans cheer loudly. One may think that her boxing career was an utter failure based on those scenes, but in reality, she didn't do too poorly for someone who first trained for the sport in her early 30s.
According to her BoxRec page, Harding had a 3-3-0 record in her one-year-long boxing career, with her last bout being a TKO loss to Amy Johnson on June 25, 2004. She did, however, pick up three straight wins at one point, all via unanimous decision. Her asthma essentially forced her to retire from the ring (via Willamette Week), and if you watched the boxing scenes in "I, Tonya" closely, you would have noticed Tonya using an inhaler in between rounds during one of her fights.
Looking back on Harding's boxing career, promoter Tony Holden told ESPN in 2017 that the former figure skater "always acted like such a professional" and worked hard to improve her pugilistic skills.