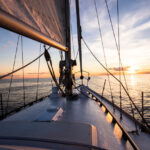 How Steve Callahan Survived Adrift At Sea For 76 Days
echo get_the_meta(); ?>
In 1980, Steven Callahan was reeling from a devastating divorce. In an attempt to forget his troubles, he planned a sailing trip that would take him to Bermuda, England, and the Canary Islands, before returning back home to the United States.
As reported by History Daily, Callahan designed and built his 21-foot sloop sailboat, "Napoleon Solo," himself, and had vast sailing experience. However, nothing could have prepared him for the disaster that would destroy his boat and leave him drifting in the Atlantic Ocean for 76 days.
In January 1981, Steven Callahan left New England for his epic journey. History Daily reports He made it to Bermuda, then the port of Cornwall in England, without any issues or concerns. While in England, he joined a group of other sailors who were taking part in a race to Antigua.
As reported by History Daily, the group ran into a severe storm along the way, and several boats, including "Napoleon Solo," were severely damaged. Although Steven Callahan was not harmed in the storm, he was forced to drop out of the race so he could repair his boat and continue his planned voyage.
Once "Napoleon Solo" was repaired, Callahan sailed through Spain and Portugal before arriving at the Canary Islands.
Cruising World reports Steven Callahan left the Canaries on January 29, 1982. Callahan said the first week of his journey to the Bahamas "was smooth." However, on the evening of February 4, something struck the ship and tore a hole in the hull.
Disaster strikes "Napoleon Solo"
Steven Callahan is finally rescued