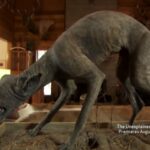 Inside The Texas Blue Dog Sightings
echo get_the_meta(); ?>
Blue Healer. Blue Monday. Blue Lacy. Johnnie Walker Blue Label. All blue things, two blue dogs, one a completely unrelated bottle of overpriced alcohol, and another a completely unrelated synth song from the '80s. If you guessed that Healer and Lacy were dogs, then bingo: no need to be blue, yourself.
One of these dogs, the Blue Lacy, is the state dog of Texas. It's not too well-known, but quite striking, a sleek animal bred from coyotes and hounds for ranching in the mid-1800s, per Rover. You might also know that an equally blue item, the bluebonnet, is a pretty flower native to Texas that is actually not blue, but purple. Huh. How's that for facts?
But the Texas Blue Dog? A Blue Lacy-like, redundantly Texan named, chupacabresque cryptid that has apparently been caught on YouTube posing as a coyote with mange? Totally credible. Seeker reports that Dr. Phylis Canion, a rancher/nutrionist in Cuero County, caught sight of a bluish, hairless, dog-ish creature on her property in 2007 that supposedly sucked all the blood from her goats, chickens, and other livestock. Canion's story spread because of an episode of The Unexplained Files on the spuriously named Science Channel, and has since been connected to the older, regional chupacabra tale that we all know and love. For those familiar with dogs, the creature in question looks like maybe a Mexican xolo crossed the border and produced some sickly offspring that can't bite too well, but can only draw blood. 
Totally not just a hairless, wild dog
Officer Brandon Reidel, following up on Canion's complaint, chased the blue "creature" (totally a dog) down a dirt street and filmed the encounter on his dash cam, swearing that it was nothing like he'd ever seen before. For her part, Canion warned her neighbors, said that the creature couldn't be captured, and wanted to get evidence to corroborate her story by filming one on camera. As described in Huffpost, similar creatures had been seen in eastern Texas and Oklahoma, and typically hunted during dawn and dusk — common hunting hours for wild dogs.
After months of no luck, one of Canion's neighbors found a dead Texas Blue Dog, as Canion took to calling them, on the side of the road. Naturally, Canion went and grabbed it, had it taxidermied, and handed it over to a professor in the Department of Biology at Texas State University-San Marcos, Michael Forstner. The creature had an unusually large overbite, tough, blue-gray skin with coarse, sparse hair atop it, and deep blue eyes. Or, as Dr. Forstner said, "I mean, it's a vertebrate." DNA analysis, as it turns out, revealed with 97 percent certainty that it was a coyote. It's not too uncommon for different types of dogs to breed together, after all.
Before this series of events there was no talk of any "Texas Blue Dog," and there hasn't been any talk since. It seems that the only blue dogs in Texas are Blue Lacys, after all.