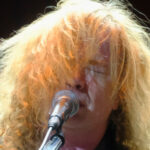 Megadeth Was Younger Than You Thought When They Wrote Rust In Peace
echo get_the_meta(); ?>
In the days prior to recording their landmark debut album Kill 'Em All in April 1983, founding members of the legendary band Metallica, lead singer James Hetfield and drummer Lars Ulrich, fired guitarist Dave Mustaine due to personal conflicts within the band (via Loudwire). The firing proved fateful for not only Metallica, but Mustaine as well. On his way back to L.A. after the firing, Mustaine vowed to form a band that was heavier and louder than the mighty Metallica. The following year, Mustaine, along with newly recruited guitarist David Ellefson, recorded a three song demo called Last Rites. Megadeth had begun its ascent.
Born in La Mesa, California, on September 13, 1961, to parents who were Jehovah's Witnesses, Dave Mustaine was the youngest of three siblings (via All Music). After being turned on to music by his older sister playing Cat Stevens albums, Mustaine quickly turned to metal for teenage solace. Not only teaching himself to play the guitar but picking up a healthy addiction to drugs and alcohol along the way, he went as far as selling drugs to support himself. In 1981, at the tender age of 20, Mustaine responded to an ad posted in a local newspaper by a metal band looking for a lead guitarist. Mustaine met with a scrawny James Hetfield and wild Lars Ulrich a short time later. Without playing a note, the boys from Metallica hired the guitarist on the spot.
Peace sells, but who is buying?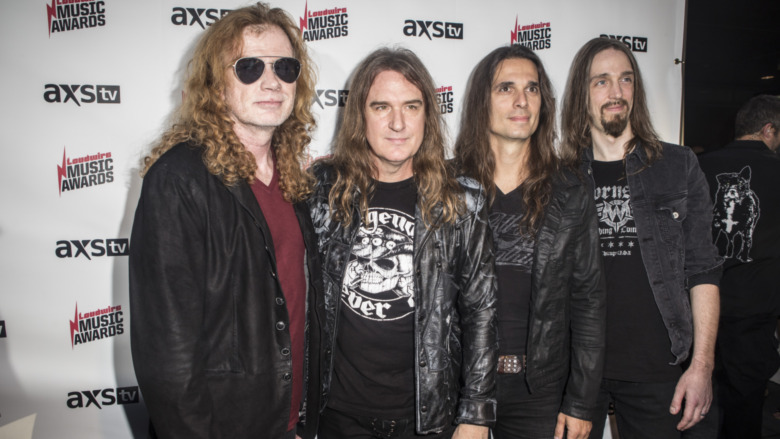 Harmony Gerber/Getty Images
The grouping would prove to not be a stable one. Shortly after hiring Mustaine, Metallica began recording what would become their landmark debut, Kill 'Em All, in New York City. But, before many tracks were laid down, it became clear to everyone involved in the project that Mustaine had a serious problem. 
According to Brian Slagel of Metal Blade Records, Mustaine's vices really got in the way. "Dave was an incredibly talented guy, but he also had an incredibly large problem with alcohol and drugs. He'd get wasted and become a real crazy person, a raging maniac, and the other guys just couldn't deal with that after a while. I mean, they all drank of course, but I guess they could all hold their liquor better than Dave, and I could see they were beginning to get fed up of seeing Dave drunk out of his mind all the time," Slagel recalled, via Metworld. Mustaine was fired from the band on April 11, 1983.
A return to greatness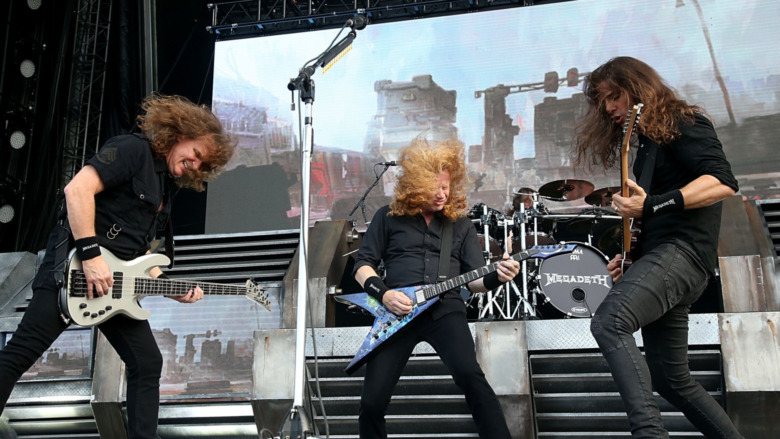 Gary Miller/Getty Images
In less than a year, Dave Mustaine along with drummer Gar Samuelson and guitarist Chris Poland formed Megadeth. After signing with New York-based Combat Records, the newly formed Megadeth recorded their debut album, Killing Is My Business…and Business Is Good! Building on the success of their debut album and supporting tour, Megadeth found themselves back in the recording studio in 1986 to record their follow-up, Peace Sells…but Who's Buying, which was quickly followed up with their third release, So Far, So Good…So What! in 1988. 
Mustaine's drug problems were waiting in the wings, however, finally rearing its ugly head during the auditions for a new lead guitarist for Megadeth in March 1989. Mustaine, driving high during downtime from recording, crashed his car into a parked vehicle. He was arrested, charged and sentenced to court-ordered rehab.
With Dave Mustaine freshly sober, Megadeth regrouped in March 1990 with new members Nick Menza on drums and Marty Friedman shredding on guitar, and the band set about recording its fourth release, Rust In Peace (via Loudwire). Featuring a more purposeful social-political bent, Rust In Peace was released to the public in September 1990, debuting at No. 23 on the record charts in the United States. Over the years Rust In Peace has been declared one of the best thrash albums of all time by the likes of legendary rock magazines Decibel and Kerrang! (via Kerrang!). Dave Mustaine was only 30 when Rust In Peace was released in 1990.