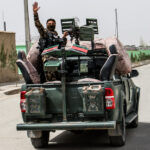 Most Dangerous Countries In The World
echo get_the_meta(); ?>
When you're a world traveler, it can be exciting to visit new places. Some countries, including China, Italy, and Mexico, are particularly popular when it comes to foreign travelers. They have a lot of natural and historic sites that are appealing for those who enjoy experiencing new things. But not all countries are safe to visit, due to a variety of reasons. Some are in the midst of civil war and unrest, while others are prone to terrorist attacks. Still more are dangerous because the spread of COVID-19 and other diseases, such as cholera, which can be difficult to control.
The unfortunate thing about many of these countries is that they have some beautiful landscapes and historic sites that would make them top-notch destinations for anyone who likes to travel. Unfortunately, you could get hurt or even killed if you visit them. As a result, many governments have put travel advisories into place. If you do intend on journeying to these dangerous hotspots, you may find yourself in a precarious situation, and there may be little to nothing your home country's government can do to help you out should you need assistance.
Here are the world's most dangerous countries, so you know which ones to avoid the next time you're planning your overseas vacation.
Afghanistan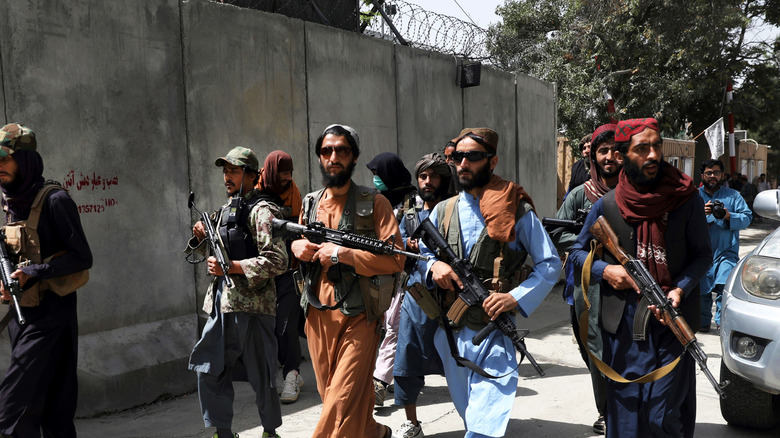 John Smith 2021/Shutterstock
The worst country to visit is currently Afghanistan. The U.S. State Department has issued a Level 4 travel advisory, their highest level, meaning "Do Not Travel," due to "civil unrest, armed conflict, crime, terrorism, kidnapping, and COVID-19." Once U.S. forces started evacuating the country in 2021, violence started escalating, and it's unsafe to travel in any area of Afghanistan. Thirteen U.S. troops and as many as 170 others were killed in a Kabul suicide bombing in August 2021. These military men and women were helping Americans and U.S.-friendly Afghans leave the country as the Taliban regained power, per the AP.
And it's not just the Taliban and ISIS-K groups that residents and visitors need to be wary of. On August 30, 2021, a U.S. drone strike killed nine family members, including six children, in a Kabul residential neighborhood, according to CNN. Civilian casualties during this type of military withdrawal can occur without warning, so it's critical to avoid Afghanistan if you value your life.
Central African Republic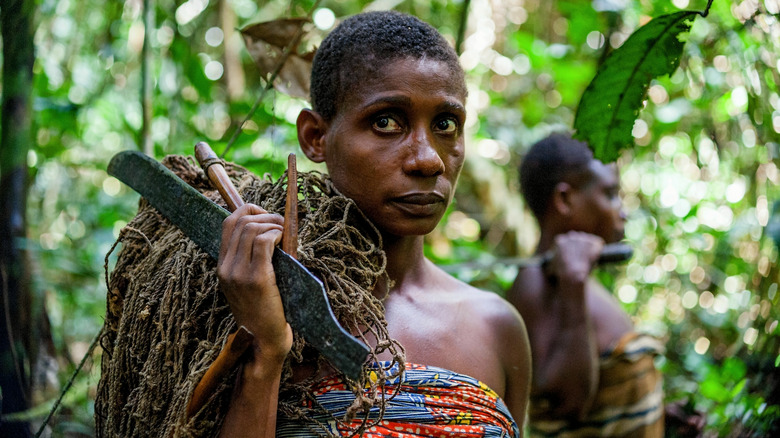 Sergey Uryadnikov/Shutterstock
Central African Republic is a beautiful country, particularly when it comes to its wildlife. The Manovo-Gounda National Park features many animals, including black rhinoceroses, which are a rare species, according to The Crazy Tourist. You can also see a variety of cheetahs, leopards, and elephants in this protected area. If you want to see gorillas in their natural habitat, the National Park of Dzanga-Ndoki is a great place to visit. Unfortunately, it's highly unlikely you'll be able to experience these incredible animals in your lifetime. It's dangerous to visit Central African Republic due to military violence, the threat of poachers, and, according to the U.S. State Department, crime, civil unrest, armed robbery, aggravated battery, and kidnapping.
While no threats have specifically targeted Americans, it's not uncommon for armed conflict to occur in areas such as Bangui, the capital. In addition, COVID-19 is a large problem in the country, which can pose a danger, particularly for unvaccinated folks. The State Department warns that armed groups are in charge of many areas in the country, and they commonly kidnap, injure, and sometimes kill civilians. It can also be challenging to find safety due to airport, border, and road closures. In addition, a terrorist attack could occur at a moment's notice, according to Gov.uk.
Iraq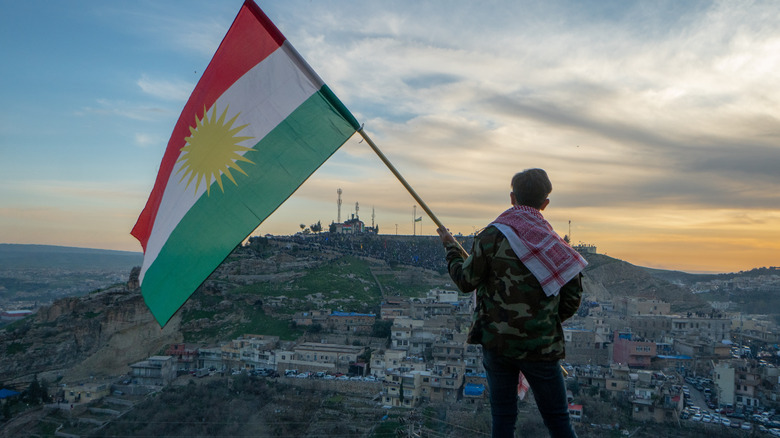 Felix Friebe/Shutterstock
Iraq has several UNESCO World Heritage Sites and other beautiful areas to visit and explore. It's a great place for bird-watching and has the potential to be an eco-tourist's haven, according to World Travel Guide. In an effort to restore some of its sites, the government plans on rebuilding the Arch of Ctesiphon, which is the largest arch in the world that's constructed of bricks. Some adventure tour companies are even in business. However, it's very risky to travel to this part of the world right now. According to Travel Safe Abroad, the overall risk of visiting this Middle Eastern country is "High" due to its tumultuous geopolitical landscape.
It's dangerous to travel on public transportation, and petty crime in bus and train stations is a regular occurrence. Violent crime is on the rise, and some foreigners have been kidnapped in recent years. Terrorist attacks, particularly from extremist groups, is not uncommon. Visitors are advised to travel in groups and to avoid going out at night. Since the country is essentially a war zone, there are minefields all over the place. As a result, people are advised to avoid fields, particularly those without any markings.
Libya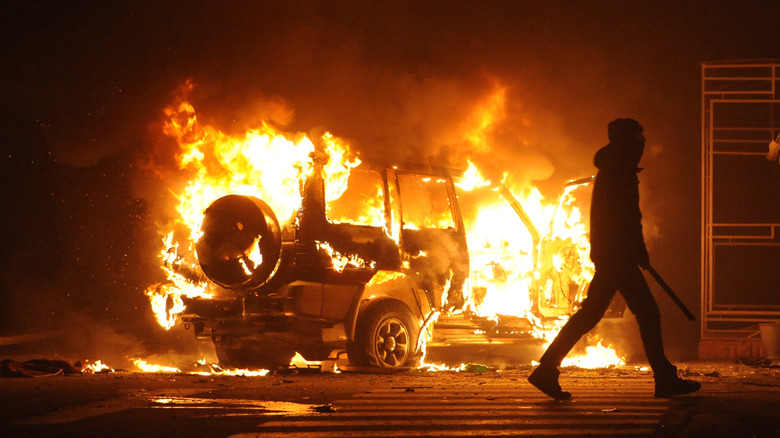 Bumble Dee/Shutterstock
Libya is one of the biggest countries in Africa. It features a beautiful Mediterranean coastline and has incredible deserts (have you heard of the Sahara?) as well as numerous UNESCO World Heritage Sites, according to World Travel Guide. It's full of olive groves, enticing spices, and seafood. The locals also love travelers and are very hospitable. But no matter how much you want to visit these ancient sites and experience the country's natural and intrinsic beauty, traveling there is dangerous. Tourism basically came to an end following the Arab Spring and subsequent civil war.
Violent fighting is a common occurrence in the country, according to Smarttraveller. It's highly risky to travel there due to the threat of terrorist attacks, kidnappings, and crime. It can be difficult for a foreign government to help visitors in Libya, so it's best not to go at all. In addition, it shares its border with other dangerous countries, including Algeria, Niger, Chad, and Sudan. Armed groups are prevalent in these areas, so it's best not to cross the border. In addition to COVID-19, infectious diseases such as tuberculosis, measles, typhoid, hepatitis, and plague are a common occurrence.
Mali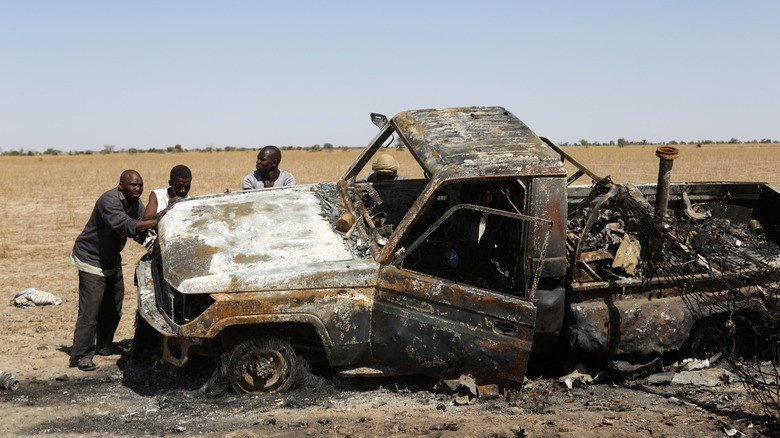 YM Photos/Shutterstock
Before the North's financial conflict and the threat of terrorist attacks in the early 2000s, tourism was growing in Mali, which is located in West Africa. Places to visit include the Great Mosque of Djenne, a UNESCO World Heritage Site and a beautiful historic mosque, according to Mappr. The Boucle du Baoule National Park is home to giraffes, rhinos, antelopes, baboons, and lions and is also known for its prehistoric rock art and graves. Mali National Park in the capital is a perfect place to relax, while the Medina Koura Bazaar is fun for shoppers.
Unfortunately, violent crime, terrorism, and kidnapping make Mali a dangerous place to visit. According to the U.S. State Department, local holidays and seasonal events in Bamako are a magnet for criminals, and terrorist attacks occur at a variety of places, including nightclubs, hotels, eating establishments, and other areas in which foreigners are present. A major problem is that the United States can't help its citizens during an emergency because U.S. government employees are prohibited from traveling outside of Bamako due to security issues.
Somalia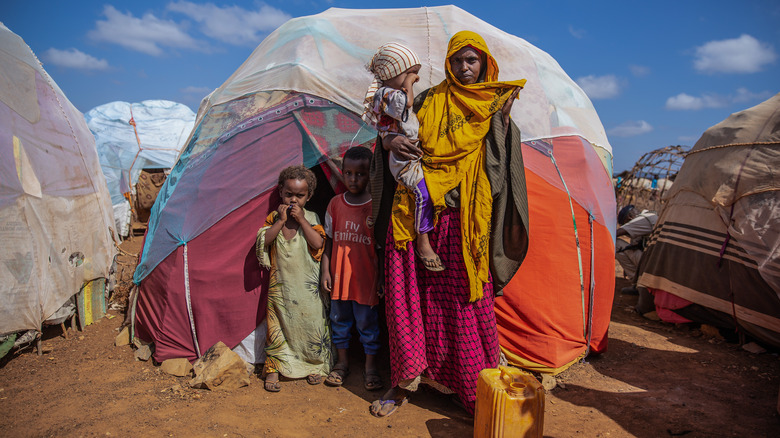 Amors Photos/Shutterstock
Somalia is located on the tip of the African horn and has the longest coastline in Africa. One of the best places to visit is Laas Geel, which features some of the continent's earliest cave paintings, according to The Crazy Tourist. There are alcoves and tunnels with prehistoric art featuring colorful depictions of cattle, shepherds, and what some believe are cows that were worshipped as gods. Since there's very little development, visitors are able to explore the area with no commercial interference. Other points of interest include Aibat Island on the Zeila Archipelago and Lag Badana-Bushbush National Park, which has stilted bungalows.
However, Somalia is rife with civil war, military coups, and border disputes, according to Travel Safe Abroad. Islamist groups and other fractions, some of which are affiliated with Al-Qaeda or al-Shabaab, have made the country a dangerous hot spot. Overall, it's risky due to terrorism, kidnappings, and other violent crime. Terrorist attacks in and near Mogadishu occur nearly every day. in 2016, there were over a dozen attacks in hotels, restaurants, and the international airport. It's unsafe to travel in buses and taxis due to roadblocks that often lead to robberies and other crimes. It's particularly unsafe for women in Somalia, and there's a strong chance that if you travel there, you will be injured or killed.
South Sudan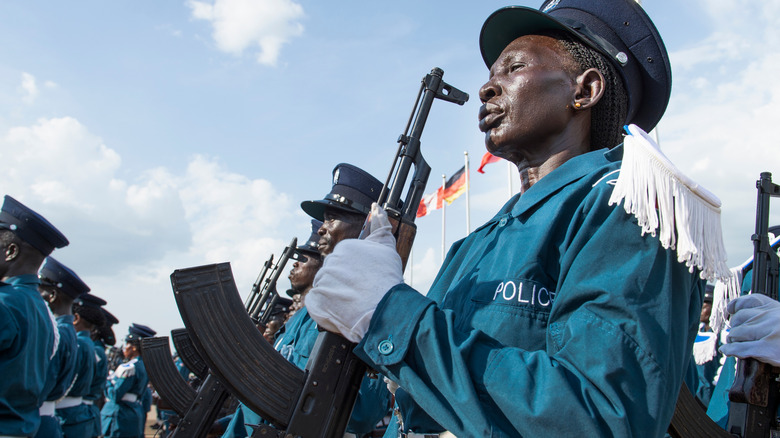 Richard Juilliart/Shutterstock
South Sudan separated from Sudan in 2011, and it boasts some incredible natural wonders. The country features the Nile River and an area known as "Mountain Sea," which is a haven for hippos, according to World Travel Guide. This inland wetland region has several islands that sightseers can explore by canoe. There is also Boma National Park, which has elephants, giraffes, and lions and also features the world's largest migration — 2 million animals regularly relocate to find new feeding grounds, and this spectacle is certainly incredible to behold.
Unfortunately, South Sudan is unstable, and violence is common. Terrorist attacks can occur in hotels, restaurants, government buildings, airports, transportation hubs, and other public areas. Murder, kidnapping, robbery, sexual assault, and other crimes run rampant, as do petty theft, home invasions, and carjackings, according to Smarttraveller. In addition, due to COVID-19, the country has a strong "anti-foreigner sentiment." Finally, the country is prone to flooding from July to November, which can result in the spread of infectious diseases.
Syria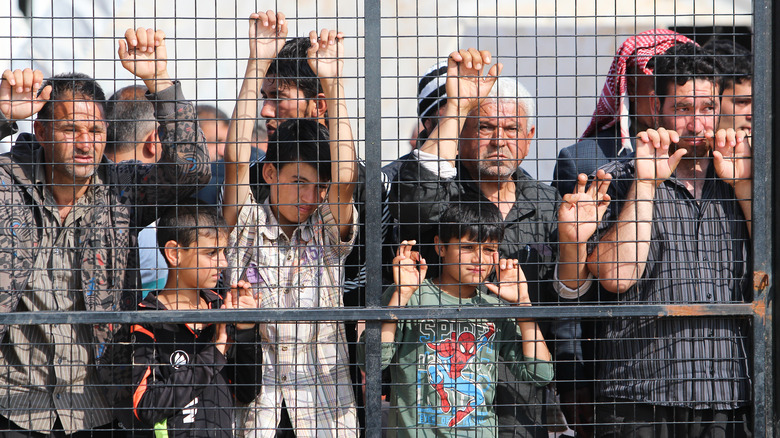 Amors Photos/Shutterstock
Before civil war broke out in 2011, Syria was one of the most popular places to visit in the Middle East, according to Unusual Traveler. It's a beautiful country and includes attractions such as the medieval Krak des Chevaliers castle, a big symbol of the crusades and a UNESCO World Heritage Site, according to Atlas Obscura. Other points of interest include the Bosra Roman Ruins in southern Syria, the Al Azem Palace, Umayyad Mosque, Al-Hamidiyah Souq, Aleppo Citadel, and of course the ancient city of Palmyra, according to Rocky Road Travel.
But since Syria is a war zone, it's unsafe to visit, and you run the risk of experiencing a terrorist attack if you do. Several terrorist groups call Syria their home, including Daesh (more commonly known as ISIS) and Hay'at Tahrir al-Sham, according to Travel Safe Abroad. It's unsafe for both men and women, who are advised not to wander about Syria either during the daytime or at night. Basically, you'd better stay indoors if you go there. Hundreds of thousands of people have died in the country's civil war, and bombings and other attacks can still occur. The cities of Aleppo, Damascus, and Homs are particularly dangerous.
In addition, Syria borders Iraq, Lebanon, and Jordan, which house ISIS terrorists, making it hard to leave the country should you experience any problems.
Yemen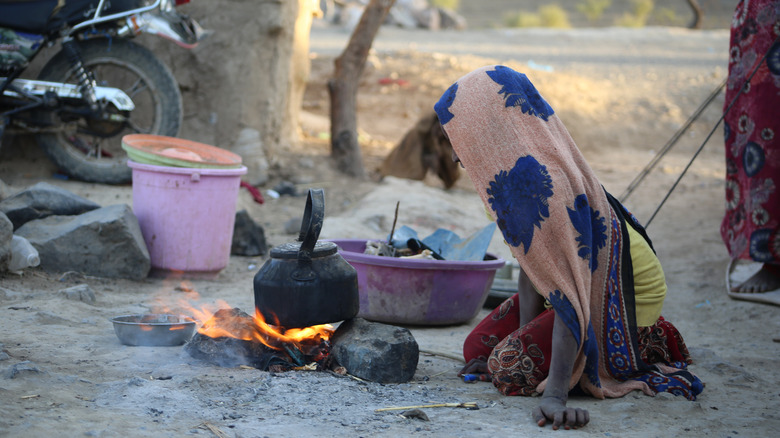 Akramalrasny/Shutterstock
Yemen is located in the Arabian Peninsula in the Middle East and may be among the longest-inhabited regions on Earth, according to Wow Travel. The country has beautiful walled cities, ancient buildings, and mosques. The natural landscape has a diverse selection of river valleys, mountains, and coastlines. It includes Socotra Island, which boasts white sand beaches with pink desert roses and a rare type of frankincense. Yemen also has the Old City of Sana'a, terraced lands, medieval villages, palaces, and several UNESCO World Heritage Sites.
However, the U.S. State Department discourages travel to Yemen due to terrorism, violence in general, landmines, and COVID-19 and other diseases. The country is coping with a civil war as well as terrorist attacks that can occur in public places, such as transportation hubs and shopping malls, without notice. Armed conflict and air strikes are common. Westerners, including Americans, are subjected to attacks and kidnappings. It can be difficult to access electricity, clean water, and medical assistance in Yemen. You will also risk contracting cholera, and proper medical treatment is unlikely to be an option.
The State Department has noted that some tour companies are operating in Yemen with unofficial and invalid visas and warns, "U.S. citizens should not travel to Socotra or any other part of Yemen."
Democratic Republic of the Congo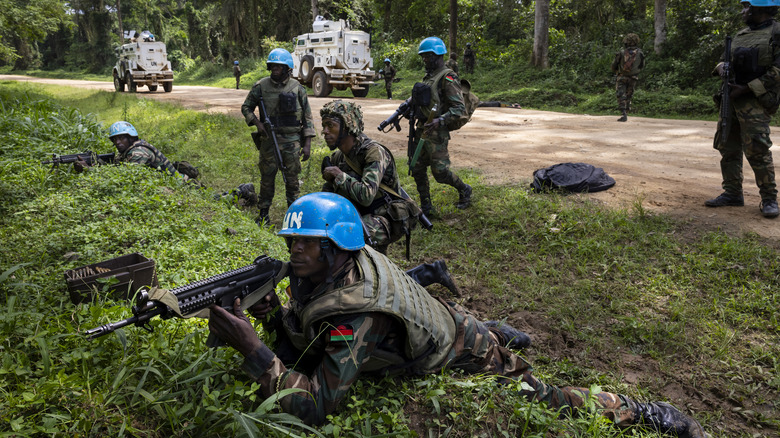 Brent Stirton/Getty Images
In a perfect world, the Democratic Republic of Congo would be a great place for an African safari. It's home to three special animal species: endangered mountain gorillas, lowland gorillas, and the Okapis, also known as the Congolese giraffe. The country features Virunga National Park, which draws tourists who want to specifically spend time with mountain gorillas, who congregate in families featuring up to 40 members. The park also features the biggest lava lake on Earth on top of Mount Nyiragongo.
But the U.S. State Department has issued a Level 4 travel advisory for the Democratic Republic of Congo. First, there is a "very high level" of COVID-19 in the country, making it particularly unsafe for unvaccinated travelers. In addition, it is rife with crime and civil unrest. The North Kivu and Ituri provinces in particular are known for these issues, as well as for armed conflict, terrorism, and kidnapping. It's also best to avoid the eastern DRC region and the three Kasai provinces.
Other problems include armed robbery and home invasion and assault. Local police don't have the resources to help victims of these crimes. In addition, criminals may pretend to be police and security personnel, further complicating the issue. The country is known for experiencing violent demonstrations, and the U.S. government struggles to help U.S. citizens should they need assistance outside of Kinshasa.
Nigeria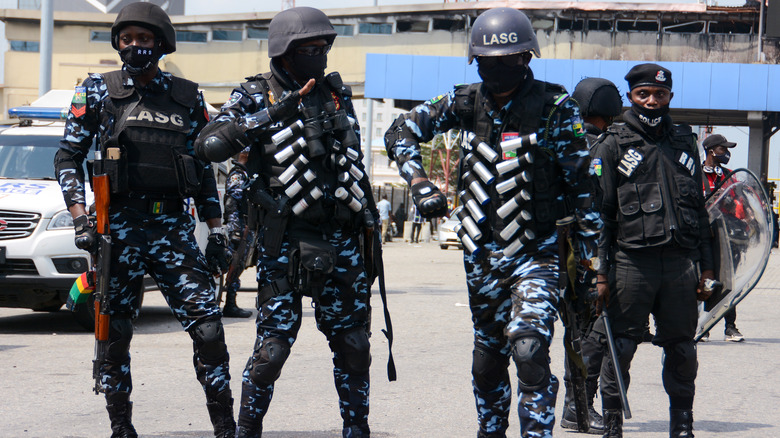 Oluwafemi Dawodu/Shutterstock
If you like the hustle and bustle of the city as well as watching wild animals in their natural environment, Nigeria is the place to go, according to World Travel Guide. The most populated country in Africa, Nigeria is home to rivers, streams, mountainous regions, national parks, and incredible cuisine, including spicy dishes and seafood. You can see elephants, buffalo, and many different types of birds at Old Oyo National Park, according to Culture Trip. The Ngel Nyaki Forest Reserve features the endangered Nigeria-Cameroon chimpanzee, while the Lekki Conservation Centre has the longest canopy walkway on the continent. The Cross River National Park includes the Cross River gorilla, chimpanzees, drills, baboons, leopards and forest elephants.
The bad news is that terrorism, kidnappings, and other violent crime are prevalent, according to Travel Safe Abroad. It's unsafe to take public transportation, and since 2009, over 140 foreign nationals have been kidnapped. (Six did not survive.) The worst areas of the country are in the north and northeast due to terrorist attacks, but such incidents can occur in other areas as well. These attacks are largely carried out by the Islamist group known as Boko Haram. Jihadist groups are common in many areas of the country, and visitors are advised not to travel alone or at night.
Ukraine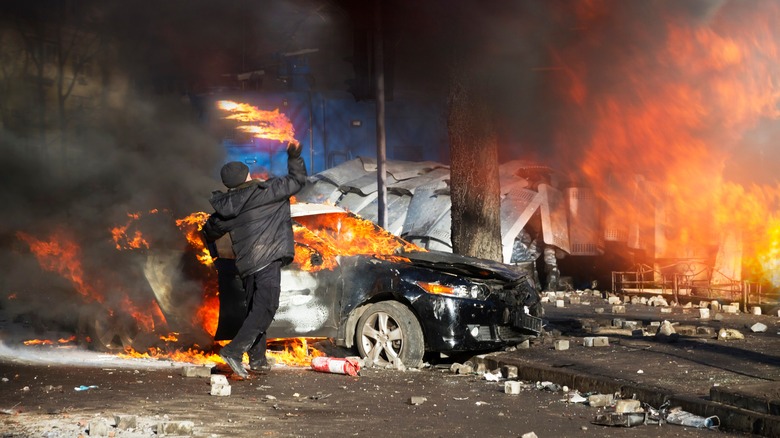 Roman Mikhailiuk/Shutterstock
If it was safe, Ukraine would be a great place to visit because it has less tourists than other countries in Europe. It's located on the Black Sea and features a diverse landscape with beaches, forests, and mountains. The country is steeped in history and cultural attractions. It has everything from cities to ski resorts and tiny villages, as well as several UNESCO World Heritage Sites for the discernable traveler, according to The Crazy Tourist. Attractions include the seaport town Odesa, Myrhorod on the Khorol River, and Chernivtsi, known as "Little Vienna."
While Ukraine isn't necessarily the most dangerous country in the world, travel to Donetsk and Luhansk is best avoided due to armed conflict in the region, according to Smarttraveller. Foreigners in these areas have been kidnapped, and there are many landmines present. Over the years, car bombings and other assassinations have occurred. Public events and protests have turned violent. Robberies, muggings, street crime, street scams, and even drink spiking are not uncommon. In general, it's a good idea to avoid Ukraine due to its instability.