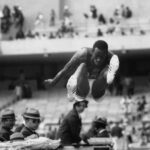 Olympic Records That Were Held For The Shortest And Longest Time
echo get_the_meta(); ?>
The word "record" in conjunction with athletic performance implies some kind of permanence. While records are made to be broken, you kind of expect something as hefty as an Olympic record to stand for a while. After all, the Olympics is when the greatest athletes in the world go head-to-head. Any records set in that scenario are by definition going to be quite a challenge for anyone to break.
And sometimes that's definitely the case — there are Olympic records that have lasted for decades. It's important to note that there's a distinction made between world records and Olympic records — SportyMags notes that an Olympic record is specific to the Olympic games. Someone can set a world record that's superior to the Olympic record, but the Olympic record still stands until someone breaks it at an Olympic games.
Sometimes Olympic records are set and broken almost immediately — a side effect of having a bunch of world-class athletes competing at the same time. For every Olympic record that's stood for years or decades, there's one that stood for just a few minutes — or even a few seconds. Here are some of the Olympic records that were held for the shortest and longest time.
Marjorie Gestring: youngest gold medalist, 58 years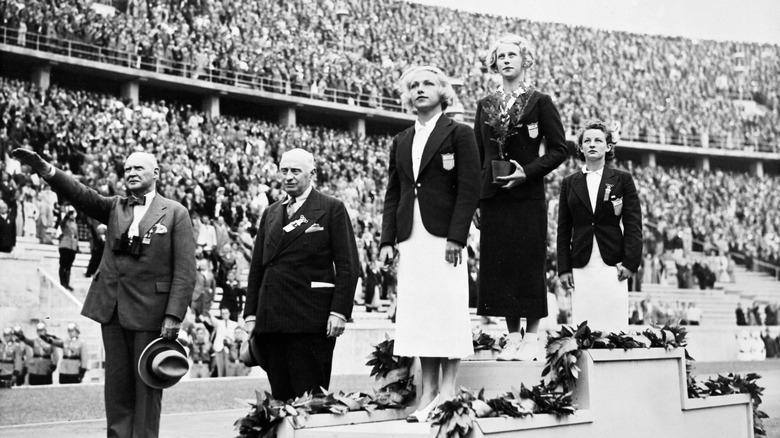 Imagno/Getty Images
You might assume that in order to win gold at the Olympics, or just to compete in the games, you have to be a certain age. And that's true — the precise minimum age for participation is determined by each country, and you might be surprised to learn that those ages vary from 13 to 18. In the U.S., the minimum age is 13.
But getting to the Olympics and winning a gold medal are two very different things. Michael Phelps was 15 when he competed in his first Olympics, but he was 19 when he won his first gold. Which makes Marjorie Gestring's achievement in the 1936 Olympic games in Berlin pretty amazing: According to Olympics.com, she won gold in the springboard diving event at the age of 13 years and 268 days, making her the youngest gold medal winner in history.
Gestring's athletic career faded quickly, unfortunately, but her record stood for the next 58 years. At the Olympic games in Lillehammer in 1994, South Korea's Kim Yun-Mi won gold at the age of 13 years and85 days, breaking Gestring's record.
Heide Rosendahl: women's pentathlon, 1.12 seconds
What's it like to hold an Olympic record for less than two seconds? Ask Heide Rosendahl, who accomplished this in 1972, when she held the Olympic record in the women's pentathlon so briefly she was probably unaware of her reign.
Britannica explains that the pentathlon is based on an event originally part of the ancient Greek Olympics, composed of five distinct events. The precise events included in the pentathlon have changed over the years, at one point based on ancient Greek games, then later based on the skills a soldier might need on the battlefield.
The Olympian Database reports that in 1972, the women's pentathlon included a 100-meter hurdles event, a shot-put event, a high jump, a long jump, and finally a 200-meter dash. These five events were held over a two-day period. ESPN reports that Germany's Heide Rosendahl beat Britain's Mary Peters in the final 200-meter dash event, setting an Olympic record of 4,791 points in the women's pentathlon. The problem? 1.12 seconds later when Peters crossed the finish line and officially finished the event, she had 4,801 points, setting a fresh Olympic (and world) record that erased Rosendahl's. Chances are Rosendahl didn't even have time to realize she'd set a record before it was broken.
Bob Beamon: long jump, 53 years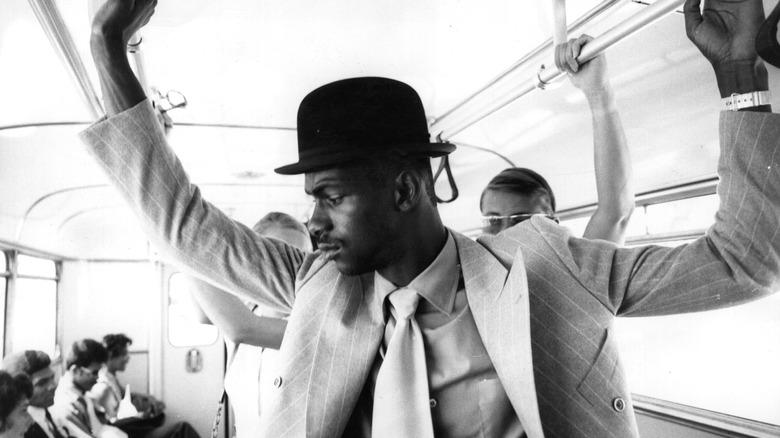 Keystone/Getty Images
The long jump is one of the most dramatic solo events in the Olympics — a single runner races forward, then sends themselves hurtling through the air further than physics should allow. According to ESPN, up until 1968, the world record for the long jump stood at 27 feet, 4 and 3/4 inches, and was held by Soviet jumper Igor Ter-Ovanesyan and American Ralph Boston. Britannica tells us that Boston was actually the first man to break the 27-foot mark.
Normally, records like these are broken by small increments — an inch here, and inch there. But in 1968, Beamon didn't just inch past the record. He bested it by nearly two feet, notching an 8.9 meter (29 foot, 2 and 1/2 inch) jump that set both a new world record and an Olympic record. Remarkably, according to Black History in America, Beamon almost didn't make it to the Olympics that year — he fouled his first two qualifying jumps, leaving him just one last chance to make the team. Beamon made a few adjustments and managed to nail his final qualifying jump.
Beamon's Olympic record still stands today, 53 years after it was set, making it the longest-standing Olympic record ever. The world record was broken in 1991 by American Mike Powell, who also jumped 8.95 meters (29 feet, 4 and 1/4 inch) in 1991 at the World Championships in Tokyo.
Naim Süleymanoğlu: weightlifting, minutes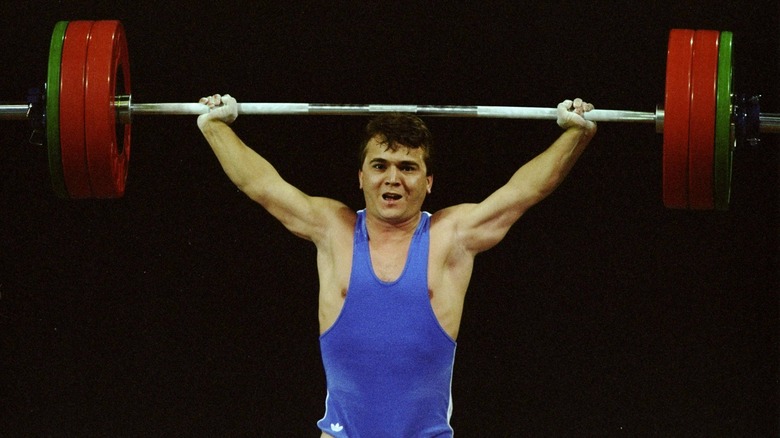 Simon Bruty/Getty Images
In Atlanta in 1996, the world of weightlifting witnessed one of the greatest battles ever. According to BarBend, Turkish weightlifter Naim "Pocket Hercules" Süleymanoğlu considered Valerios Leonidis, representing Greece, to be his only true competition. The results of the 1996 games proved him correct.
The New York Times recounts that the two athletes spent an entire day one-upping each other in an epic battle that saw no fewer than three world records set. Leonidis lifted 308 pounds; Süleymanoğlu lifted 319. Leonidis matched him, then both failed to lift 324.5 pounds.
The competition moved into the clean-and-jerk phase, which involves lifting a weight first to shoulder level, then above your head. Süleymanoğlu went first and managed 396 pounds. Leonidis did the same. Süleymanoğlu announced he would try for 407 — a new world record — and he succeeded. A few minutes later, Leonidis went out and lifted 413.75 pounds, erasing Süleymanoğlu's record in an instant.
Leonidis' triumph didn't last long. Süleymanoğlu came back and matched Leonidis with 413.75 — but Leonidis retained the record, because he was lighter by a pound and a half. Leonidis tried to reclaim the lead with 418 pounds, but couldn't manage it, so his technical world record was his sole consolation.
Nadia Comaneci: gymnastics, 45 years and counting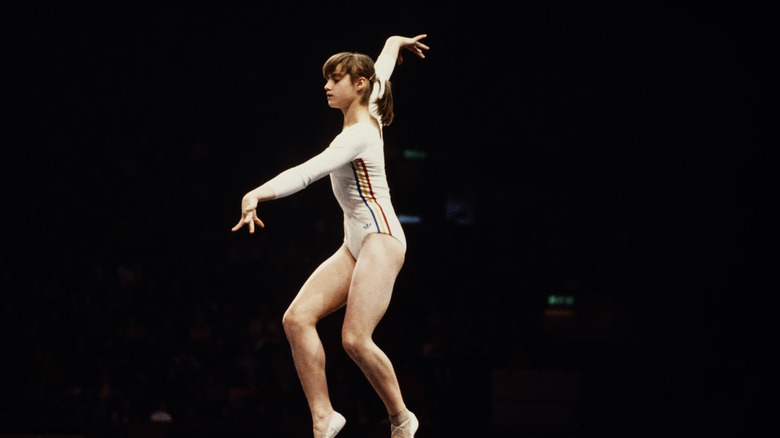 Don Morley/Getty Images
Prior to the 1976 Olympic games, no gymnast had ever scored a perfect 10. As part of the gymnastics competition, every gymnast competing in Montreal that year had to include a compulsory portion — an identical routine. AP News reports that Romania's Nadia Comaneci performed the compulsory portion of her routine so flawlessly she scored the first-ever perfect 10. As explained by NBC Sportsworld, it was so unprecedented that the scoreboards weren't capable of displaying her scores — instead they showed 1.00.
Comaneci isn't the only gymnast to score a perfect 10. Once the barrier had been broken, judges began awarding them with increasingly frequency. Comaneci scored a remarkable seven perfect 10s in Montreal in 1976, but Nellie Kim had three that year as well. At the 1980 Moscow Olympics, nine gymnasts scored perfect 10s. In 1984 in Los Angeles, there were 44 perfect 10s. In 1988, 28 more.
Judges realized that things were getting out of hand, and became much stricter — in 1992, only two gymnasts received perfect 10s, the last ever being Lavinia Milosovici. After that, no more were given out, and, as the Huffington Post notes, in 2006 the scoring system was changed into a dual track system where gymnasts are scored according to degree of difficulty and execution. Since the difficult score has no upper limit, this essentially makes a perfect score impossible. Which means Comaneci's record will probably stand forever.
Thierry Vigneron: pole vault, a few minutes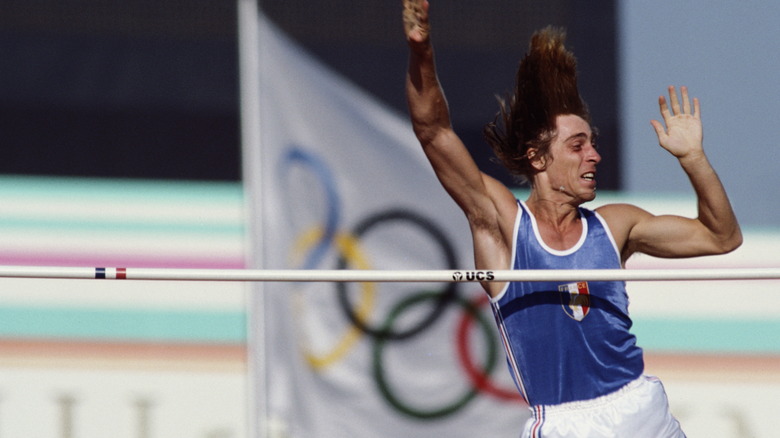 Tony Duffy/Getty Images
Ukrainian Sergey Bubka is probably the greatest pole vaulter of all time. The Guardian reports that Bubka broke the world record for pole vaulting an incredible 35 times, usually breaking his own record. But because he was paid an enormous bonus every time he broke the record, many suspect he held himself back and never actually vaulted as high as he could have, in order to leave room for a future bonus.
In Rome in 1984, Bubka entered the games the world record-holder, according to World Athletics. His main competition was Frenchman Thierry Vigneron, and Vigneron — who had held the world record several times himself — came to win. He promptly set a new world record with a 5.91-meter vault that bested Bubka's record by one centimeter. For the next few minutes, Vigneron owned an Olympic record. Then Bubka stepped back onto the field, and almost causally vaulted 5.94 meters, reclaiming the record from Vigneron.
Later on in the same event, Bubka tried to clear 6 feet and failed. But, according to Britannica, he achieved the mark a year later, and in 1994 he achieved his all-time best mark of 6.14 meters, a record that stood until Renaud Lavillenie broke it 20 years later.
Ilona Slupianek: women's shot put, 41 years
East German Ilona Slupianek remains a controversial Olympic figure. According to Olympics.com, Slupianek began her Olympic career in 1976 under her maiden name of Ilona Schoknecht. Then, just as she was getting started, the Los Angeles Times reports, she tested positive for prohibited substances in 1977. Oxford Academic explains that she tested positive for the steroid nandrolone and was briefly banned from the sport altogether.
When her suspension was lifted, she had enough time to qualify for the 1980 Olympics in Moscow. And that's when, 41 years ago, she set an Olympic record with a shot put of 22.41 meters — a little more than 73 and a half feet. And it's an Olympic record that still stands today.
Some suspect that Slupianek had used her suspension to indulge in as many performance-enhancing drugs as possible before returning to the Olympic stage. Global Sports Matters reports that the East German government engaged in a secret state-sponsored doping regime starting in 1974 that required all of their aspiring Olympians to use these substances. The East German government not only administered steroids to its Olympians, it also helped them avoid detection by giving them hormone treatments and even supplying clean urine for test samples. It seems very unlikely that Slupianek was excluded after her suspension, but we'll never know for sure.
Guiseppe Gentile and Nelson Prudencio: Men's Triple Jump, a few minutes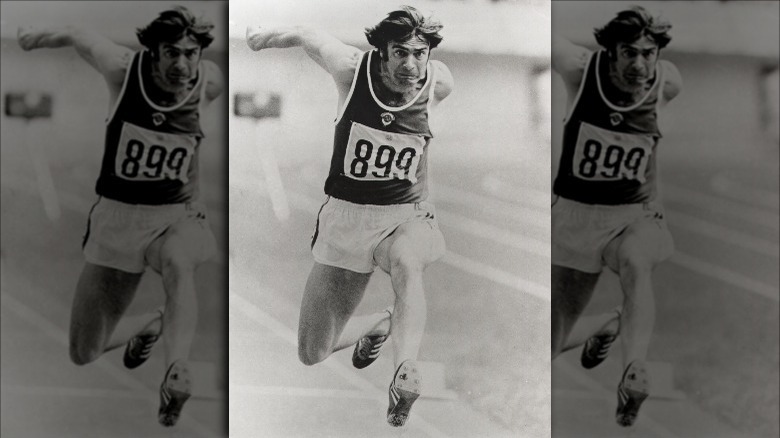 Keystone/Getty Images
There have been few Olympics events as wild as the men's triple jump in Mexico City in 1968. According to Britannica, the city's elevation and high winds led spectators to expect records to be broken. But no one could have predicted what actually happened.
ESPN reports that Italian Guiseppe Gentile kicked things off by setting a new record with 17.10 meters. The next day, Gentile strolled out and beat his own brand-new record by 12 centimeters, hitting 17.22. Gentile probably felt pretty good about his chances of not just winning, but of hanging onto that record.
But it was not to be. Representing the Soviet Union, Viktor Saneyev broke Gentile's new record shortly afterwards with a 17.23. Before anyone could come to terms with the fact that the record had been broken three times in two days, Brazil's Nelson Prudencio snapped off a 17.27 — breaking the record for the fourth time. Prudencio may have imagined it unlikely that anyone would break the record a fifth time — the fourth time in just that's day's events — but that's exactly what happened. Saneyev returned to the field and smashed the record with an outstanding 17.39 performance just a few minutes later. Gentile had broken the world record twice, and wound up with a bronze medal.
Florence Griffith-Joyner: women's 100-meter dash, 33 years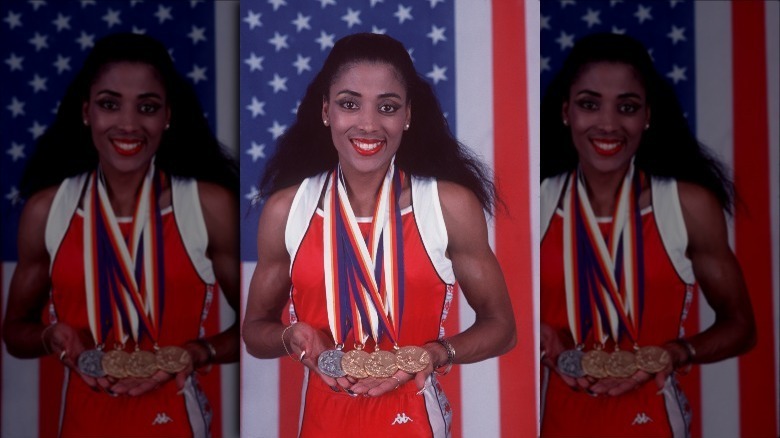 Tony Duffy/Getty Images
At the 1988 Olympics in Seoul, South Korea, Florence Griffith-Joyner made her legend not once, but twice. Not only did Flo-Jo, as she's known, have a unique visual style that favored jewelry and hair most runners avoid because of drag issues, she put in a legendary athletic performance. The Undefeated reports that when she stepped onto the track to run the women's 100-meter dash, the Olympic record was held by one of her competitors, Evelyn Ashford, who had run it in 10.97 seconds in 1984. Flo-Jo beat that right away, running a 10.88 in her first attempt, but then Ashford matched that time, keeping her share of the record.
Undaunted, Flo-Jo set a new record in the quarter-finals, running it in 10.62 seconds. Incredibly, in the finals Griffith-Joyner improved her time to an incredible 10.49, but because she had a wind measured at 6.71 mph at her back, it didn't count as an Olympic record. To put her achievement in perspective, not only does Flo-Jo's record still stand 33 years later (according to NBC Sports, Jamaica's Shelly-Ann Fraser-Pryce ran a 10.63 in 2021, the fastest time recorded since Flo-Jo), but she actually ran faster than 60 out of 101 of the male athletes in the same event.
Alain Bernard: 100-meter freestyle, a few minutes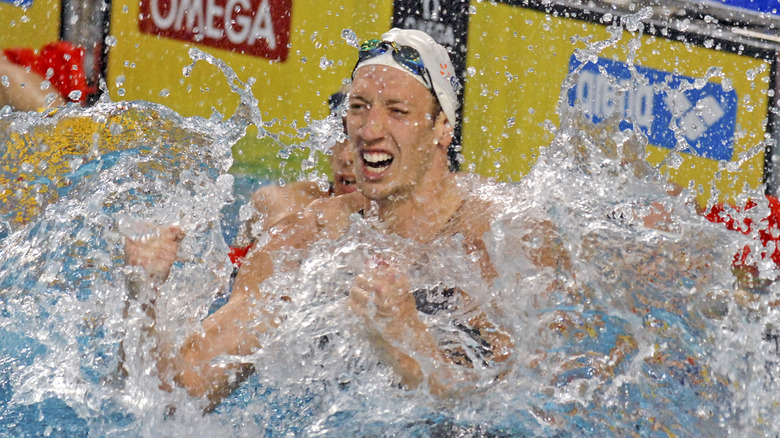 Shutterstock
Swimming World News reports that at the 2008 Olympic games in Beijing, Australian swimmer Eamon Sullivan set a world record for the 100-meter freestyle event with a 47.24 time, which must have been pretty cool. He didn't get to enjoy being a record holder for that long, however — according to Reuters, a few days later Alain Bernard of Team France broke that mark during the event's semi-final round, posting a 47.20 time to claim the record.
But Bernard got to enjoy the glory of holding a world and Olympic record for even less time — just a few minutes, in fact. Sullivan got back in the pool and posted a remarkable 47.05 second swim to take back the record.
Bernard got his revenge, though. As reported by ESPN, about a year later Bernard broke Sullivan's world record — and broke the 47-second barrier — by posting a 46.94 100-meter freestyle time while competing in France. According to Reuters, Bernard lost the world record a few years later to Brazil's Cesar Cielo, who posted a 46.91 to set the world record that still stands today. But the Olympic record remains Sullivan's, as no one has surpassed his performance at the games.
Kevin Young: 400-meter hurdles, 29 years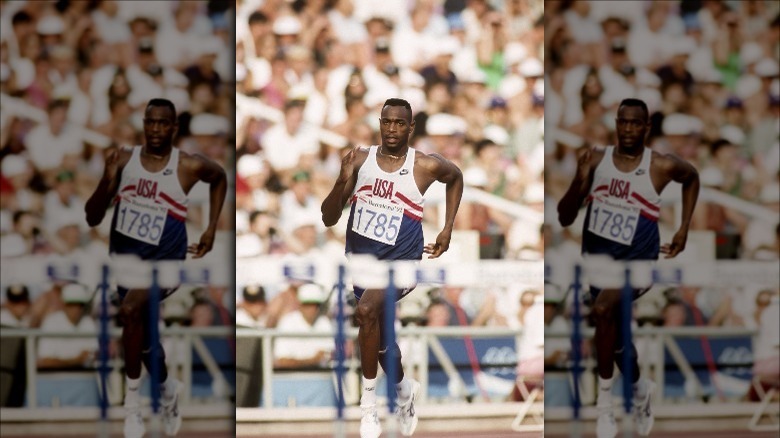 David Madison/Getty Images
As reported by World Athletics, American Kevin Young ran the 400-meter hurdles event in 46.78 seconds while competing at the 1992 Olympics in Barcelona — the first athlete to break through the 47-second mark in the event. He set a world and Olympic record while doing so, beating Edwin Moses' record of 47.02 seconds set in 1983. As reported by Sports Gazette, in the ensuing 29 years, three other runners broke the 47-second mark — Rai Benjamin, Abderrahman Samba, and Karsten Warholm.
Young's record set a kind of meta-record as it became the longest-existing men's track record in the world. And Samba seemed the best bet to break it — even Young thought so, since, as noted by NBC Sports, Samba broke the 47-second barrier nine times in 2019 alone.
But then Benjamin came within five-hundredths of a second of the record at the 2021 Olympics trials in Oregon, posting 476.83 seconds, making him the favorite to break the world record. But, as reported by NBC Olympics, the record finally fell when Warholm broke it with a 46.70 performance at a 2021 event in Oslo. Warholm's new time claims the world record for him and is now the time to beat.
The official Olympic record remains Young's because Warholm's run wasn't part of the official Olympic games, however.
Sergey Litvinov: Hammer throw, 33 years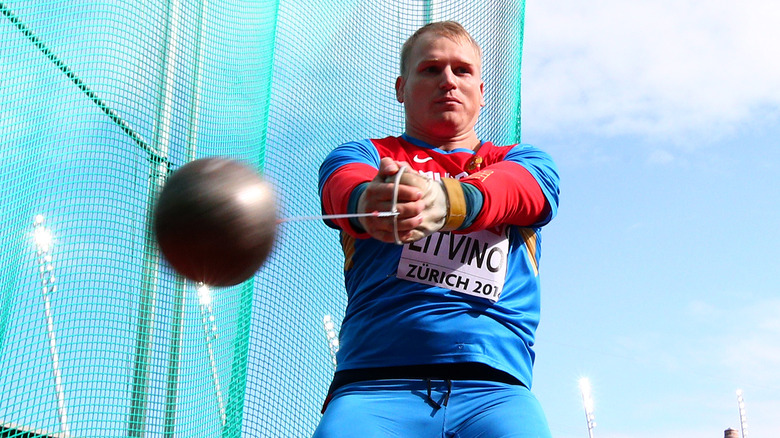 Ian Walton/Getty Images
In the (surprisingly hot) debate concerning who was the greatest hammer thrower of all time, only two names really come up: Sergei Litvinov and Yuriy Sedykh. Sporting Heroes explains that, for an incredible period of athletic domination in the 1980s, the two exchanged world and Olympic records on a regular basis, often surpassing each other just days later. In fact, according to World Athletics, Sedykh set the still-standing world record in the hammer throw in 1986 with 86.74 meters.
Litvinov was never able to surpass his rival, but in 1988 managed to even the score somewhat when he carved his name into the Olympic record books. He took home the gold at the games in Seoul, South Korea that year, managing an impressive 84.8 meters. That set an Olympic record that World Athletics confirms stands to this day.
According to ESPN, after retiring from the sport Litvinov became a coach. His son, Sergei, was one of his students and went on to win several competitions. Sadly, in 2018 Litvinov died after a fall from his bicycle while riding home from a practice session in the Russian city of Sochi. But Litvinov's legacy lives on in both his son and his Olympic record.