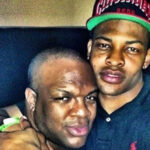 More Partners of Famous LGBT Entertainers
echo get_the_meta(); ?>
If there is one thing we learned from famous LGBT couples, it's that love does not discriminate. It simply knows no bounds and if two people fall victim to Cupid's arrow, it is unstoppable – no matter their gender. Here are many more couples from the LGBT community that prove to us just how strong that love is.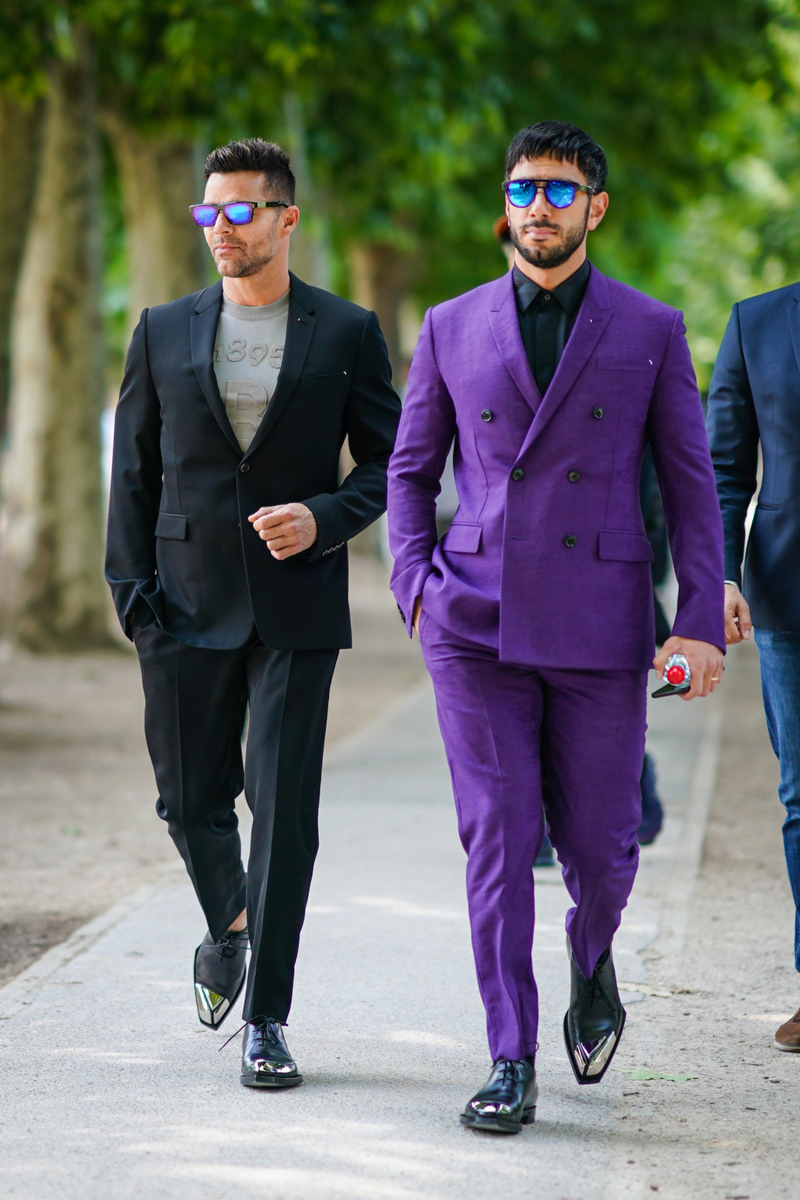 Read on and find out who these personalities are and their significant other.  Their relationship proves love should be 100% free from judgment and prejudice the way it ought to be.
Anderson Cooper and Benjamin Maisani

Hard-nosed journalist Anderson Cooper is as serious about his job as he is about the person he's dating. Cooper has been with Benjamin Maisani since 2009. Though the two do not share the same passion – as Cooper is a journalist and Maisani is an owner of a gay bar – such details didn't stop them from having a loving relationship. At least at first.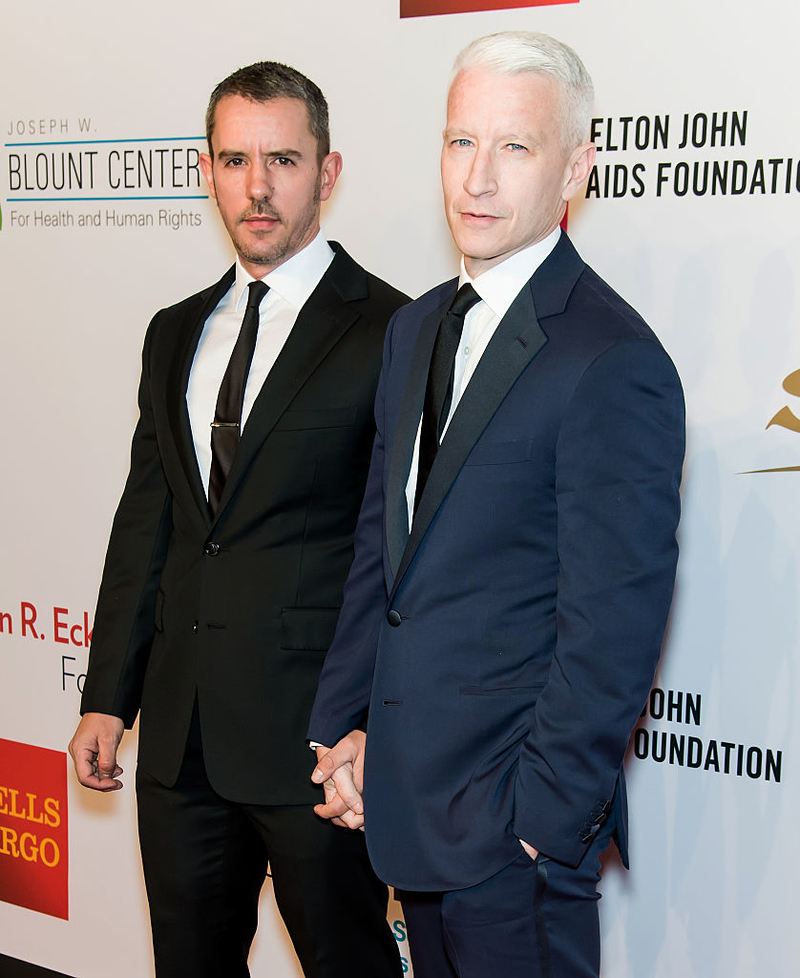 It may have looked like they just couldn't tie the knot, even though the two reportedly owned a home in Connecticut. Eventually, it became clear that these two weren't as solid as they seemed. Unfortunately, the two broke up in March 2018. Since then, Cooper has reportedly been involved with a 33-year-old doctor from Texas! Nice.
Luke Evans and Jon Kortajarena

Luke Evans has been in an on-again and off-again relationship. Though some would rather not have this kind of relationship, some do thrive in such an emotional environment the way Luke Evans does. This Welsh actor doesn't seem to mind that he is in such a relationship with Jon Kortajarena.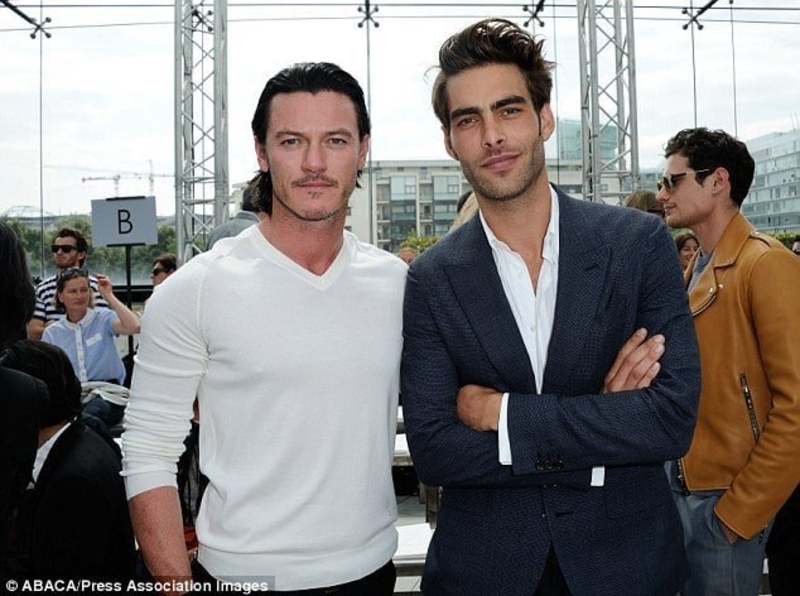 It helps that Kortajarena doesn't seem to care he is in an on-again, off-again relationship as long as he is able to be with the love of his life, nothing else matters eventually.
Ricky Martin and Jwan Yosef

Thanks to Ellen DeGeneres and her show, Ellen, the world was able to witness when singer Ricky Martin confessed that he is in a loving relationship with a painter of Swedish origin. Specifically, the painter's name is Jwan Yosef.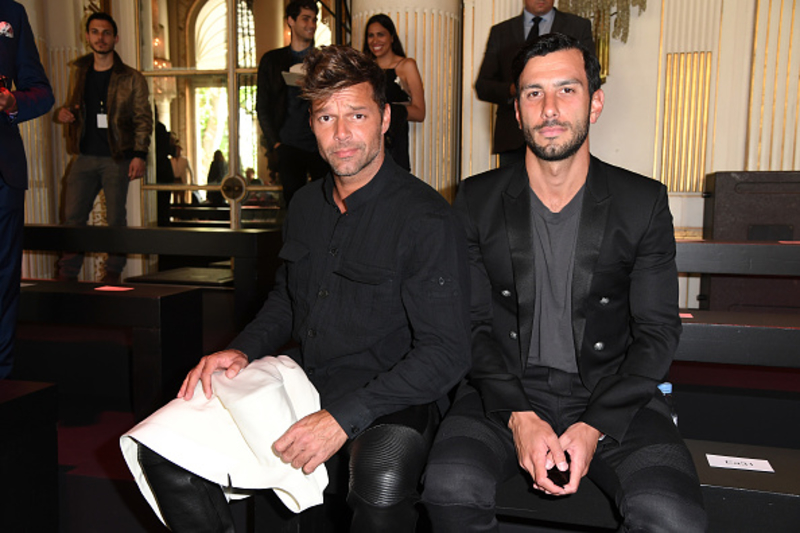 Martin also publicly gushed that he was engaged to be married to Jwan – a fact that made his announcement giddy-inducing. Just by looking at them, both are a sight for sore eyes.
Sean Maher and Paul Maher

Fans of the series, Firefly as well as Serenity, got the surprise of their lives when its star Sean Maher confessed his being homosexual back in 2011. Still, being able to come out was an event Maher had to do for his own peace of mind.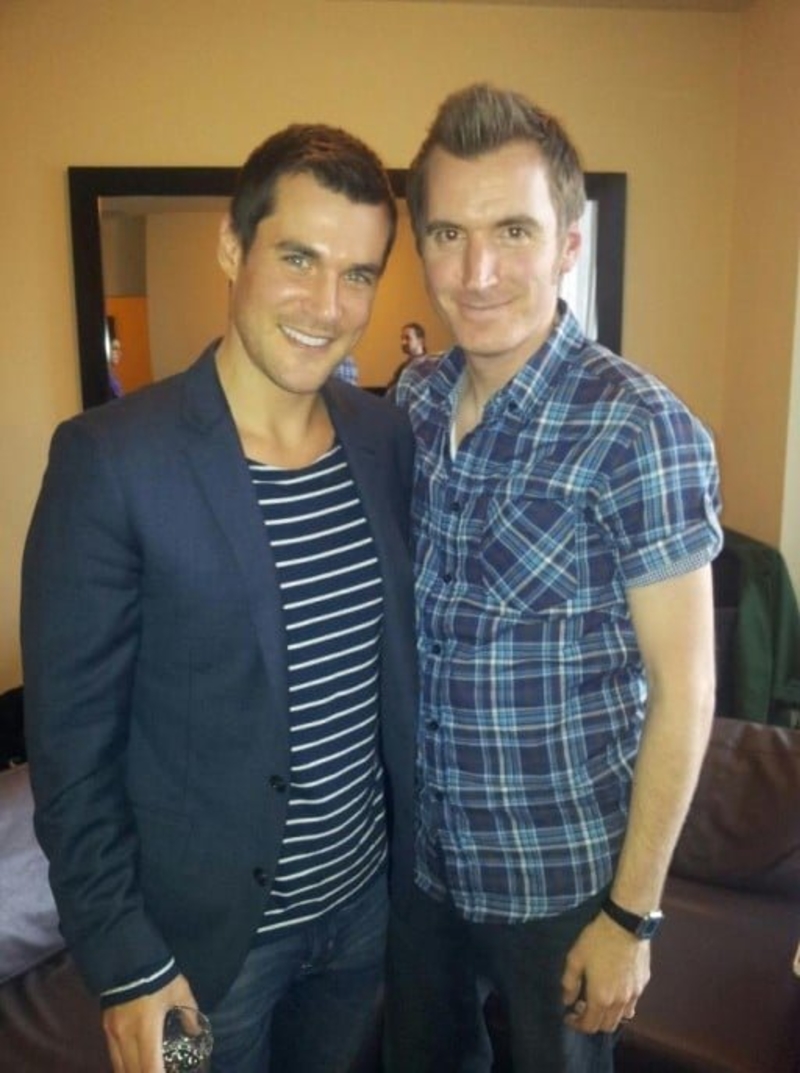 Fast forward to five years later when Sean and Paul were so happy being in a relationship they decided to wed. The couple eventually got married in 2016. Now, Sean and Paul are raising a son and daughter. Specifically, Sean decided to be a stay-at-home father for two whole years.
Chris Colfer and Will Sherrod

Chris Colfer and Will Sherrod have a relationship that was kept under wraps for quite some time. However, this detail didn't stop the duo from continuing their love for each other. Pictures of them enjoying each other's company confirm their genuine affection for each other.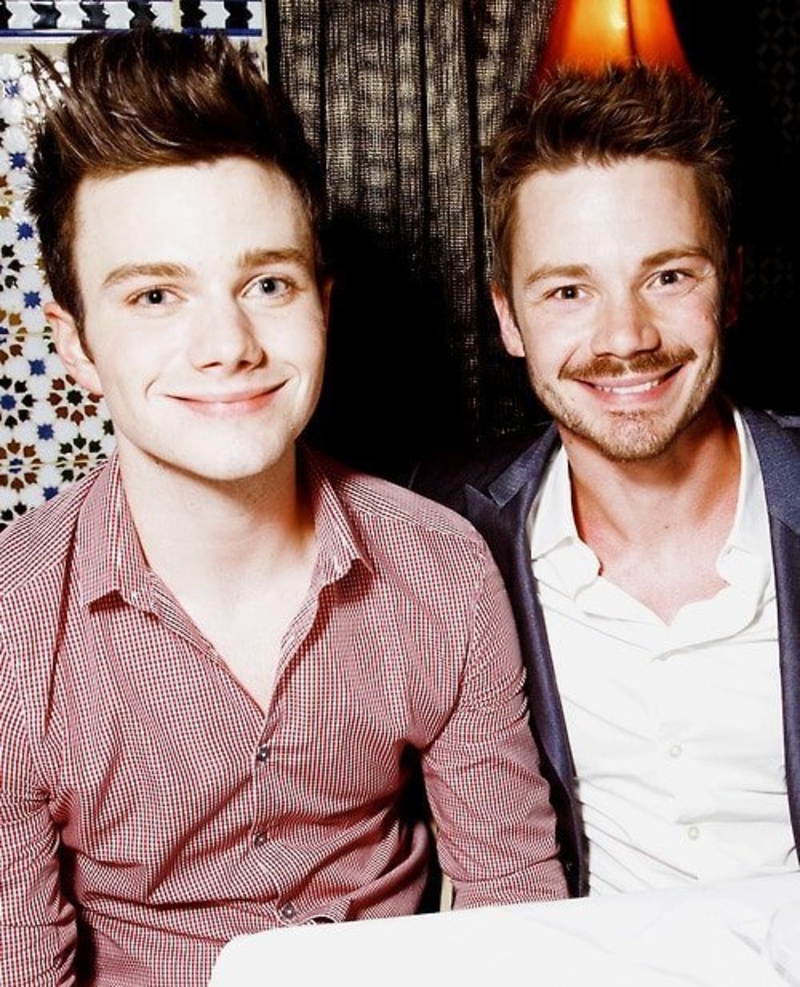 Plus, it is easy to see how much Colfer is indeed extremely happy about being with his partner, Sherrod. Thanks to his emotional high, he was even able to perform the role of Kurt Hummel excellently.
Andrew Rannells and Mike Doyle

The couple who does the same things together, stay together. This statement at least implies that shared passions are an important key in keeping one's relationship alive. Another couple who share the same love for their work is Andrew Rannells and Mike Doyle.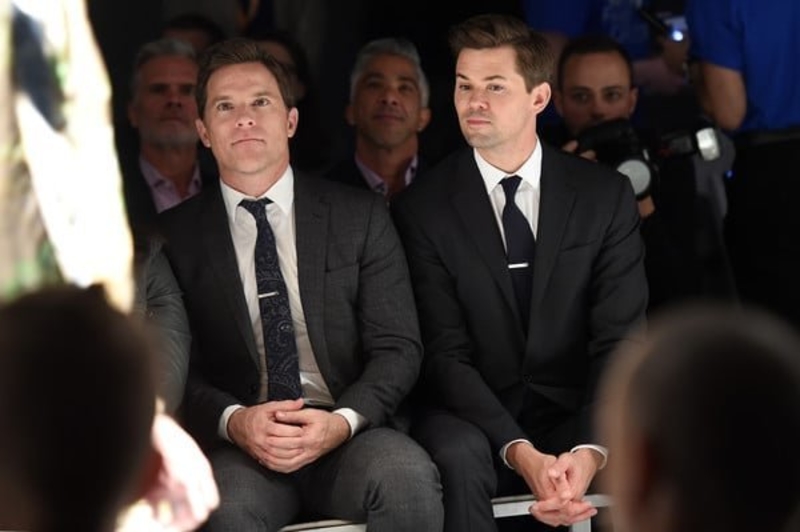 The two are both actors. However, Rannells also voice acts and sings. He is so good, his theatre performance was awarded a Tony. Meanwhile, Doyle, besides acting, also directs, screen writes, and produces. Being in the same industry has helped them to stay together and they have been so since 2011.
Meredith Baxter and Nancy Locke

Meredith Baxter is popular thanks to her memorable roles in the sitcom "Family Ties." Talented as she is, her performances helped her earn five Emmy nominations. However, she wasn't always a homosexual. Baxter used to be married and was so four times.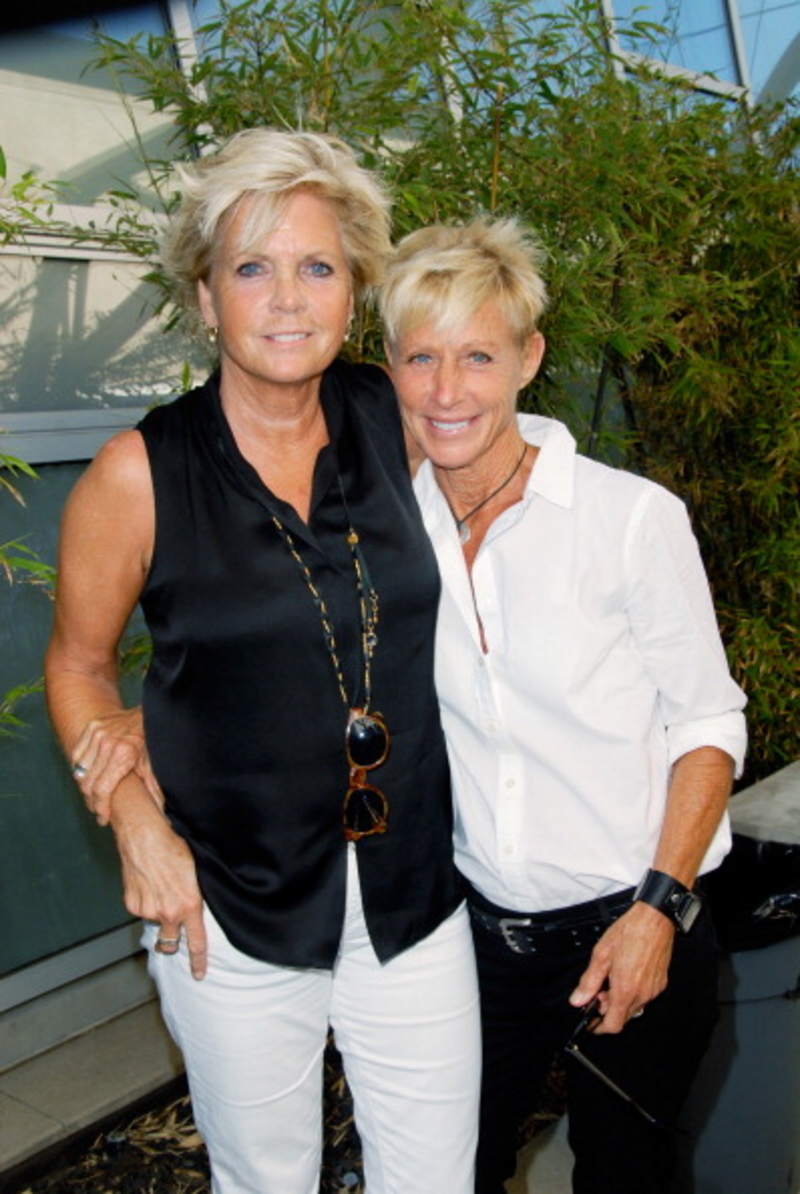 However, when she realized that she was indeed gay, she loudly and proudly exclaimed it back in 2009. Prior to her announcement though, she was in a relationship with a general contractor named Nancy Locke back in 2005. Eight years later, the couple tied the knot.
Victor Garber and Rainer Andreesen

Victor Garber is an actor you'd least expect to come out but here he is confessing to the public how much of a homosexual he is, and is proud of it too. This talented thespian has been seen in Godspell, Titanic, and Sweeney Todd.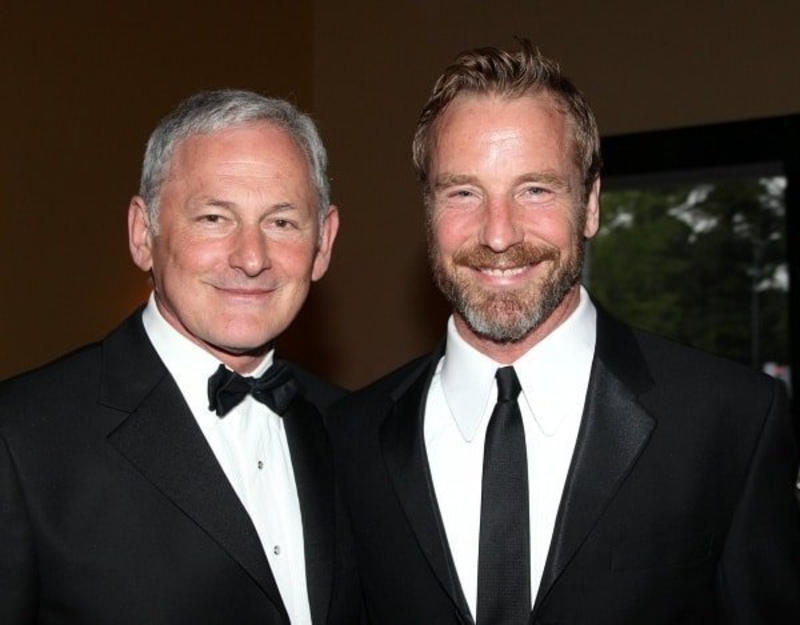 Despite his long career, it was only in 2012 when he revealed his sexuality. Three years later, Garber's Instagram account was filled with well-wishers when he posted that he got married to Rainier Andreesen, a model.
Bob Harper and Anton Gutierrez

Fans of the reality series "The Biggest Loser" probably remember Anton Gutierrez – a contestant who joined the show in November 2015. To everyone's surprise, Gutierrez eventually had a relationship with the show's personal trainer, Bob Harper.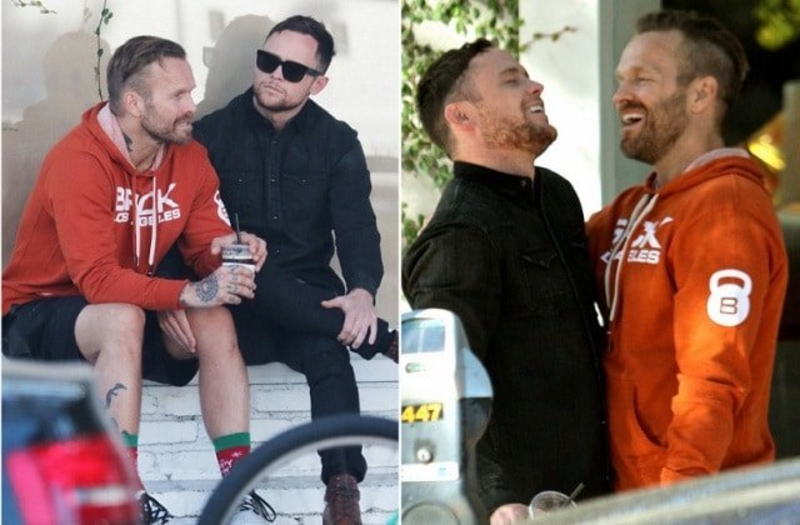 This revelation lead Harper himself to reveal his sexuality during the show's 15th season, specifically the 7th episode. His public outing was prompted by a contestant who was having difficulty coming out to his family as a homosexual.
Maulik Pancholy and Ryan Corvaia

Maulik, one of the stars from "30 Rock," came out about his sexuality back in 2013. At the same time, he also declared his love for Ryan Corvaia – a chef/caterer Maulik has long been in a relationship with for nine years.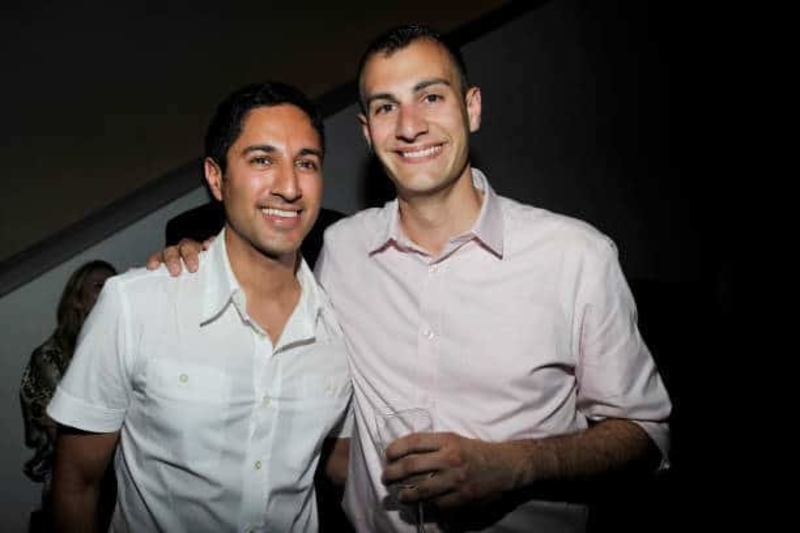 Their love for each other was so strong, the two eventually tied the knot in 2014 at the most romantic place in India – the Taj Mahal. The couple was engaged in the same year too.
Derek J and His Partner

Derek J is a hairstylist who is loud and proud not only of his sexuality but his boyfriend. He wanted to flaunt the love of his life on Instagram that he posted a picture of his boyfriend's ripped body. As is natural in social media, anyone and everyone was sure to pounce on it.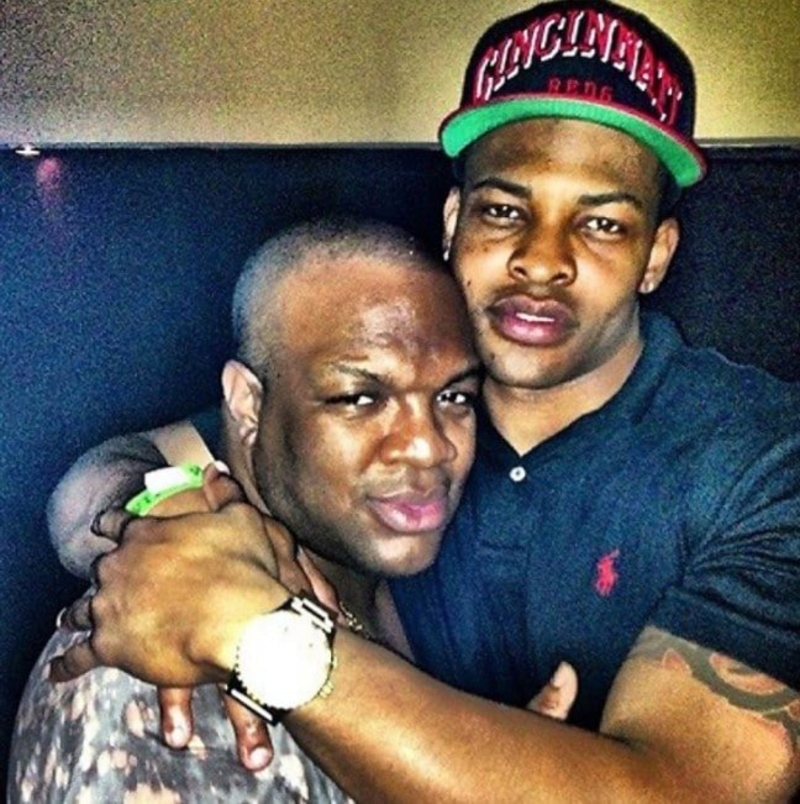 So when they did, one of whom stated that his partner was "too fine to be gay", Derek J offered a response by comparing the comment to something like 'too cute to be black' or 'too cute to be fat'. This proves that Derek J is more than ready to defend the love of his life.
Antonio Douthit-Boyd and Kirven Douthit-Boyd

This list will never run out of couples whose shared passions caused them to stay together, happily ever after. Antonio Douthit-Boyd as well as Kirven Douthit are dancers who have an interest to move their bodies to the beat of the music.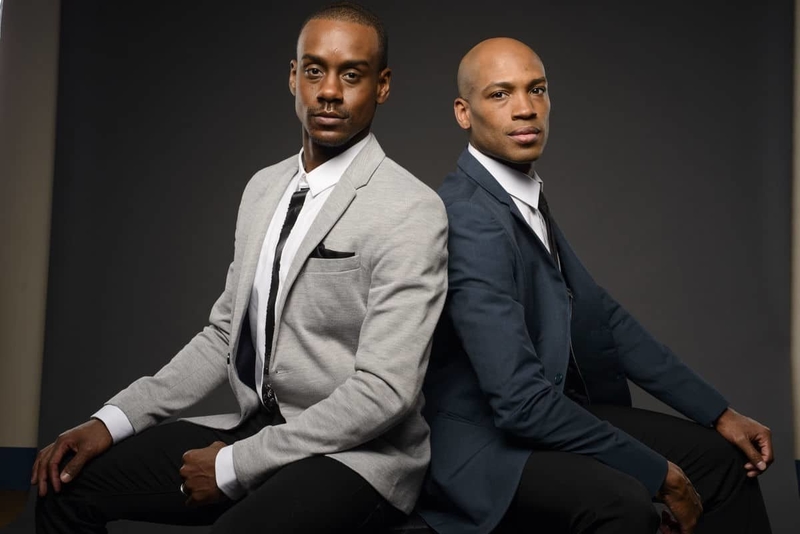 Their love for dance was evident when they met at the Alvin Ailey Dance Company. Since then, the two decided to make their union more solid by tying the knot. Now, they do not tire of traveling the world to dance their hearts away.
Monifah Carter and Terez Mychelle

Monifah Carter is an R&B star who is loud and proud about being gay. She is one of the few African American lesbians currently seen on reality television. She is also proud of her relationship with Terez Mychelle – the two have been in a long-term relationship.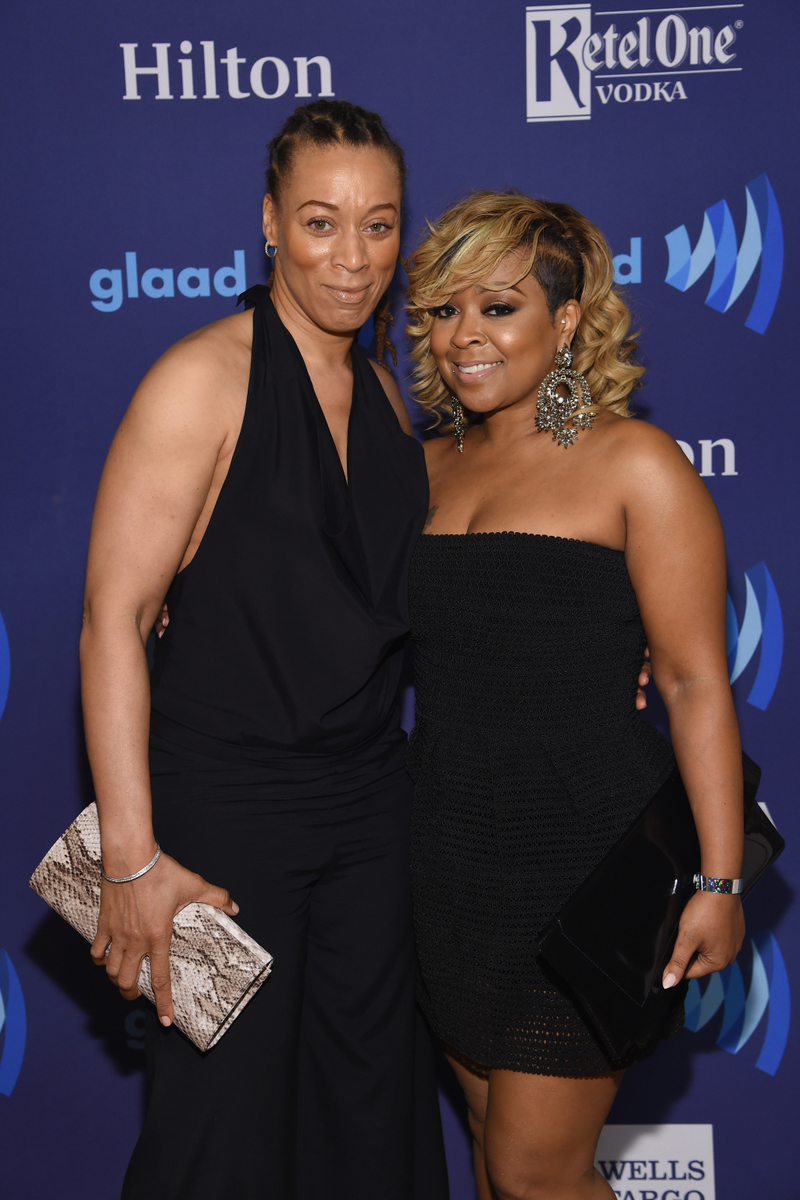 Eventually, the couple decided to get married in April 2014.  Prior to their marriage, the couple prioritized their feelings more than the process it took to legally or technically solidify their union. They believed that being committed to each other was more important.
Darren Young and Nick Villa

Darren Young, a superstar of the WWE, shocked the masculine world of wresting when he publicly announced that he was gay back in 2013. If that was surprising, he continued on to profess that he was in a relationship with Nick Villa for two years.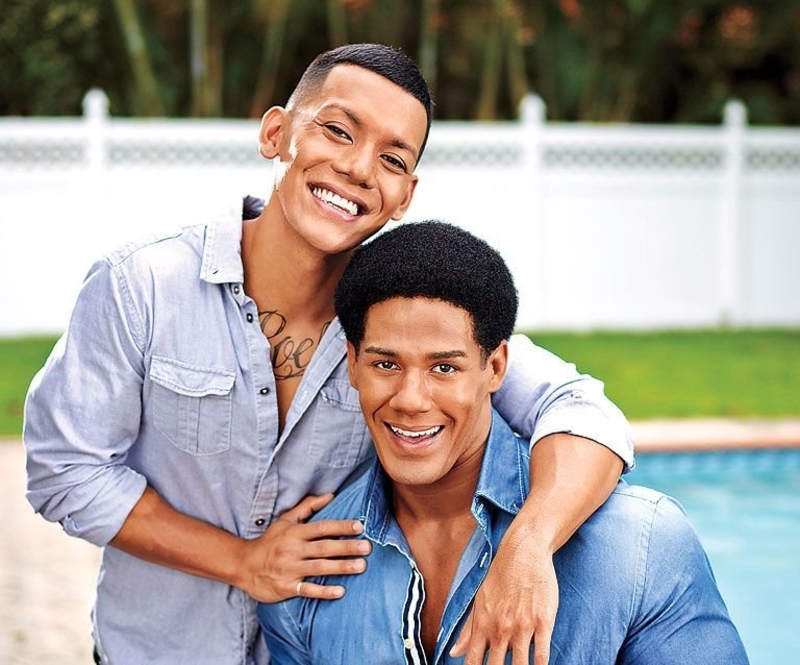 Darren Young's intentions for his revelations have been interpreted as noble. It also empowered those who still keep their sexuality under wraps. But in "The Ellen Show," Young confessed that he came out due to him wanting to bring his boyfriend to WWE events without having to explain himself much.
Quincy Gossfield and Deondray Gossfield

This is another undeniable proof that the best relationships are those who have a shared passion for what they love to do. Quincy Gossfield and Deondray Gossfield are independent filmmakers and producers for television.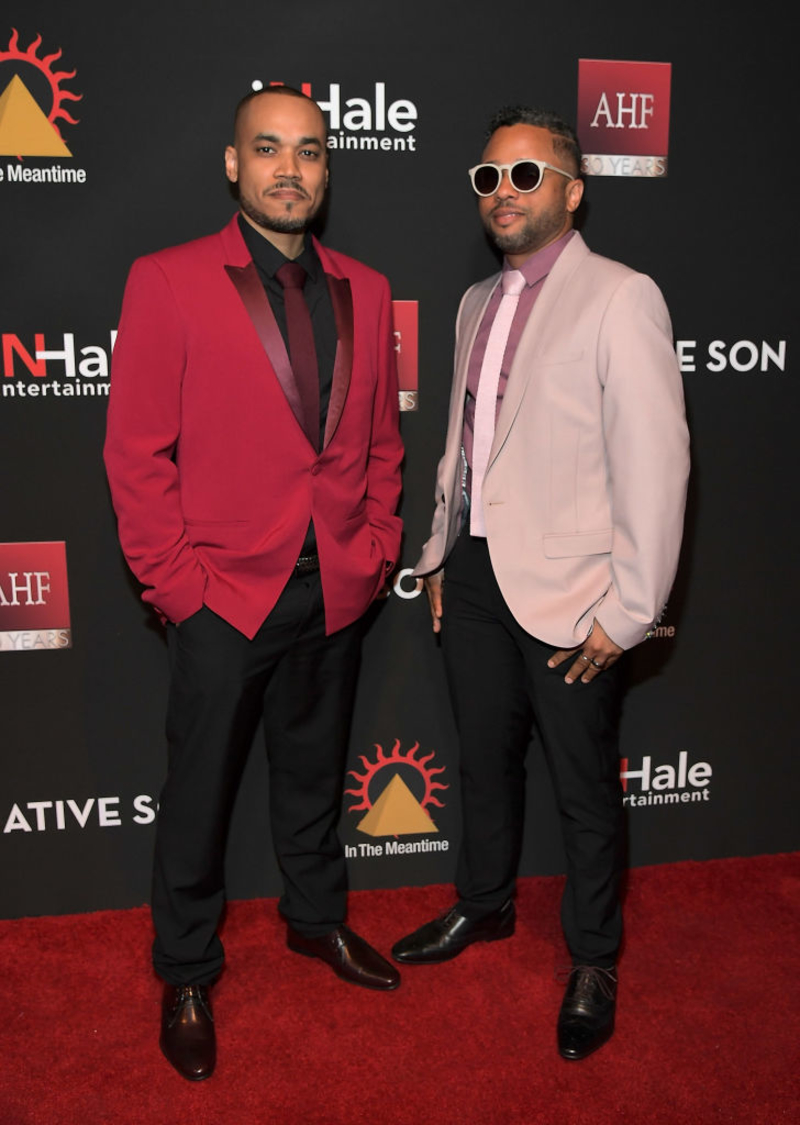 Besides working together, the two have also been together for numerous decades. Even Queen Latifah was witness to their union as she officiated their marriage during the 2014 Grammy Awards while the song "Same Love" was being performed.
Bishop OC Allen and First Gentleman Rashad Burgess

This remarkable couple is another example of a shared passion they are working together to help bring to fruition. Bishop OC Allen and First Gentleman Rashad Burgess operate an Atlanta church that is welcoming of all people.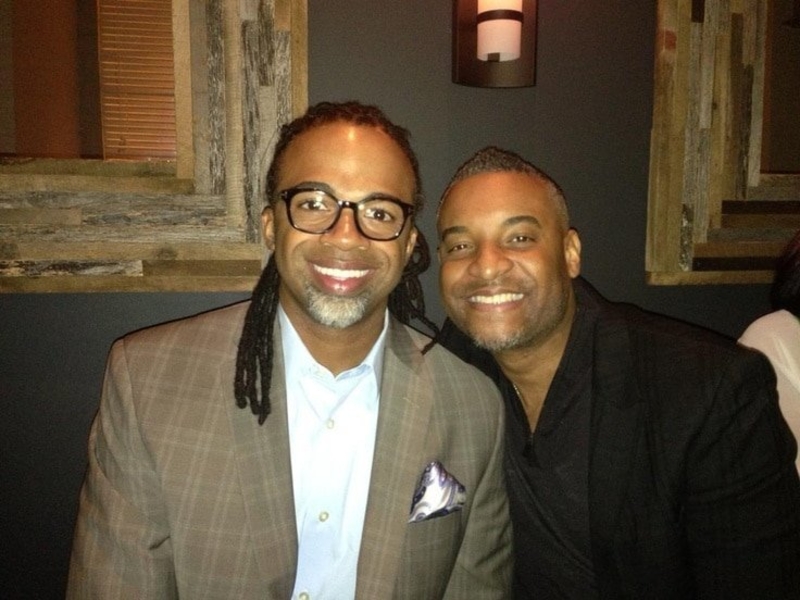 Their Vision Church accepts all genders, sexual preferences, orientations, races, and backgrounds. They promote and practice equality the way it ought to be. As a couple, they have been happily married and have two kids.
Kordale Lewis and Kaleb Anthony

If you got it, flaunt it. Thus that is what Instagram couple Kordale Lewis and Kaleb Anthony did. Using their social media accounts, they featured their own love story as well as the day-to-day lives of their three biological kids.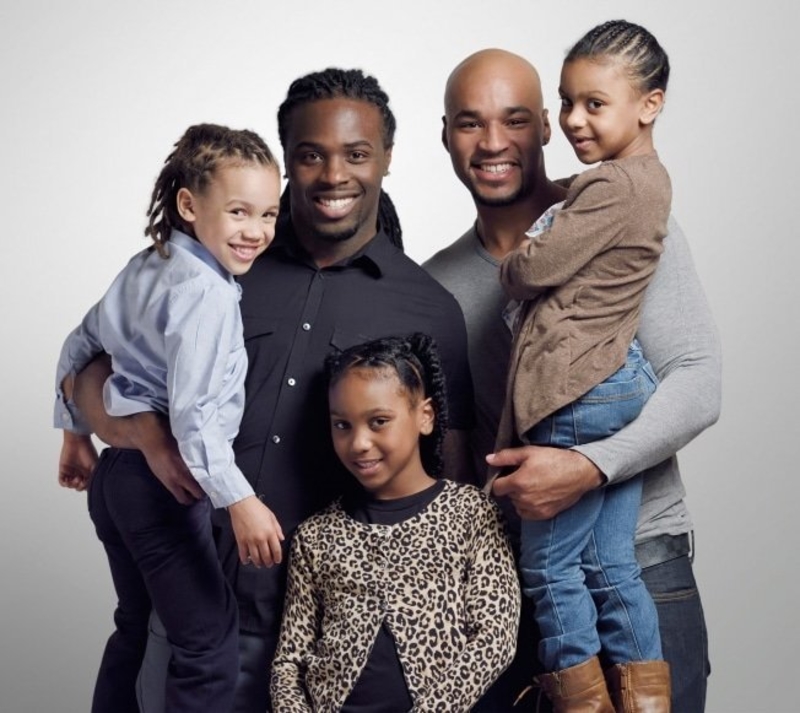 Their Instagram account eventually helped them become viral that a luxury fashion brand in Sweden caught their eye. The fashion house decided to create a campaign around their family. Eventually, they were touted as the first-ever gay black family represented by an ultra-high-end fashion brand.
Guillermo Díaz and His Partner

Some people prefer to keep their privacy than allow it to be out in the open. They treasure their private time rather than share information about themselves. Take Guillermo Diaz – the popular star of the series Scandal.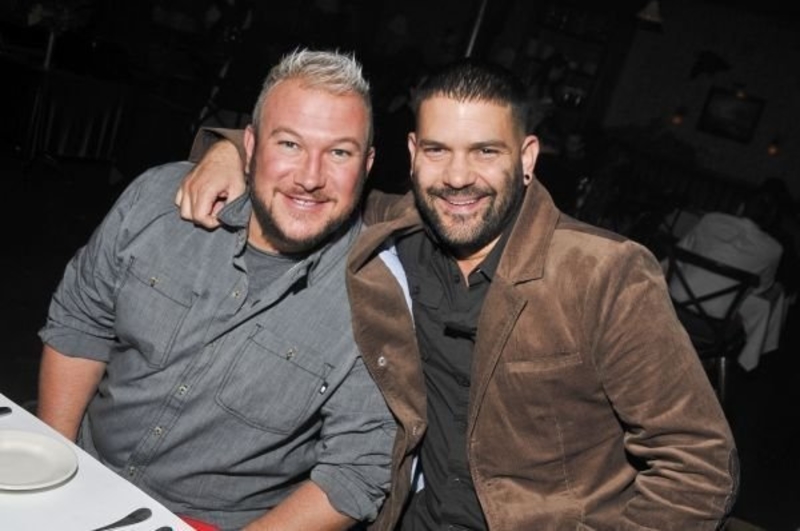 Diaz has professed that he is indeed gay, and openly too. He also has been enjoying a committed relationship with a significant other that he has not named or identified – or would even like to give a clue of. But love is allowing them be so let them be.
Octavius and Jamal Terry-Sims

As time and history has shown, the best kind of couple seem to be those who indeed share an interest and passion both can relate with. Another example of such a couple is Octavius and Jamal Terry-Sims. The former is a fashion designer while the latter is a director and choreographer.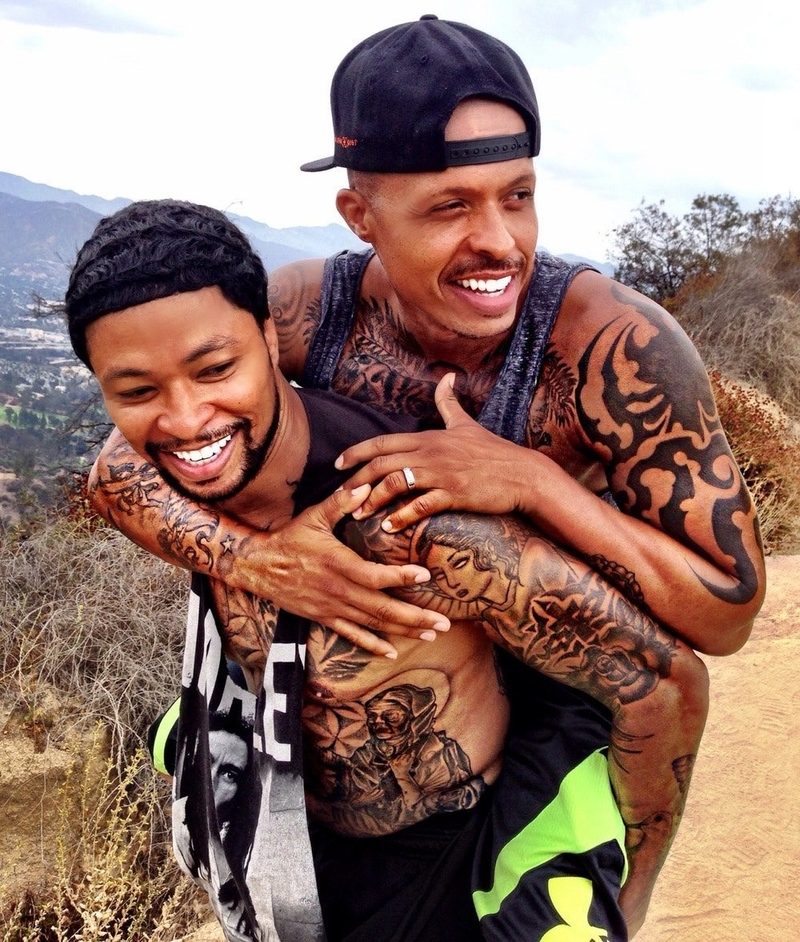 Thanks to their shared interests, the two were able to create GROOM – a full service tuxedo lounge specially made for grooms and groomsmen. Besides this project, the two have publicly declared their affection for each other when they were hitched during the 2014 Grammy Awards while the song "Same Love" was being performed by Macklemore and Ryan Lewis featuring Madonna.
Rob Marshall & John DeLuca

It was on Broadway when couple Rob Marshall and John DeLuca met. That was 1982. Both were actors trying to audition for a coveted role in a musical titled Boogie-Woogie Rumble of a Dream Deferred. Their audition was fortunately successful.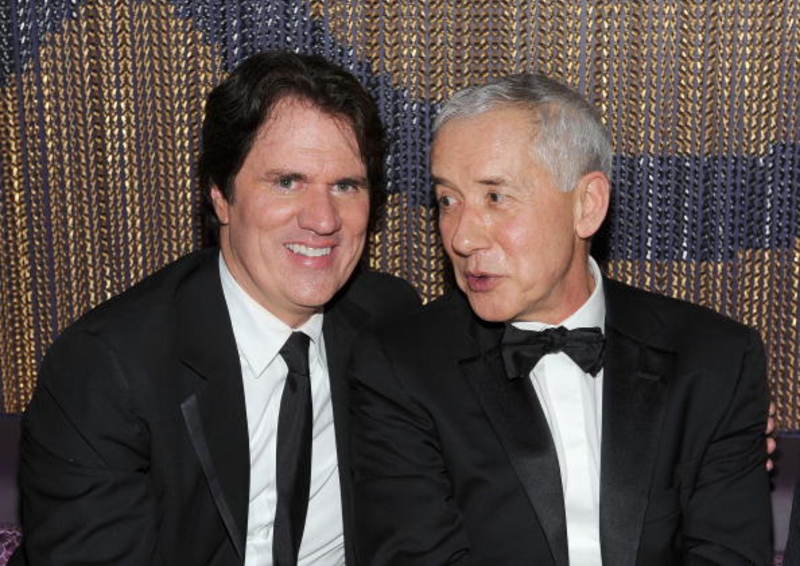 Both actors got the part they wanted. Plus, the better part of the story was that the two of them fell in love with each other – the rest was history. Who doesn't want a similar experience? Love can indeed sprout in the most unexpected places.
Thom Browne & Andrew Bolton

This couple is another example of two people sharing their passions. It also proves that love is best experienced when two can become one in mind and soul. Thom Browne is a fashion designer who has made dresses for former First Lady Michelle Obama back in 2013.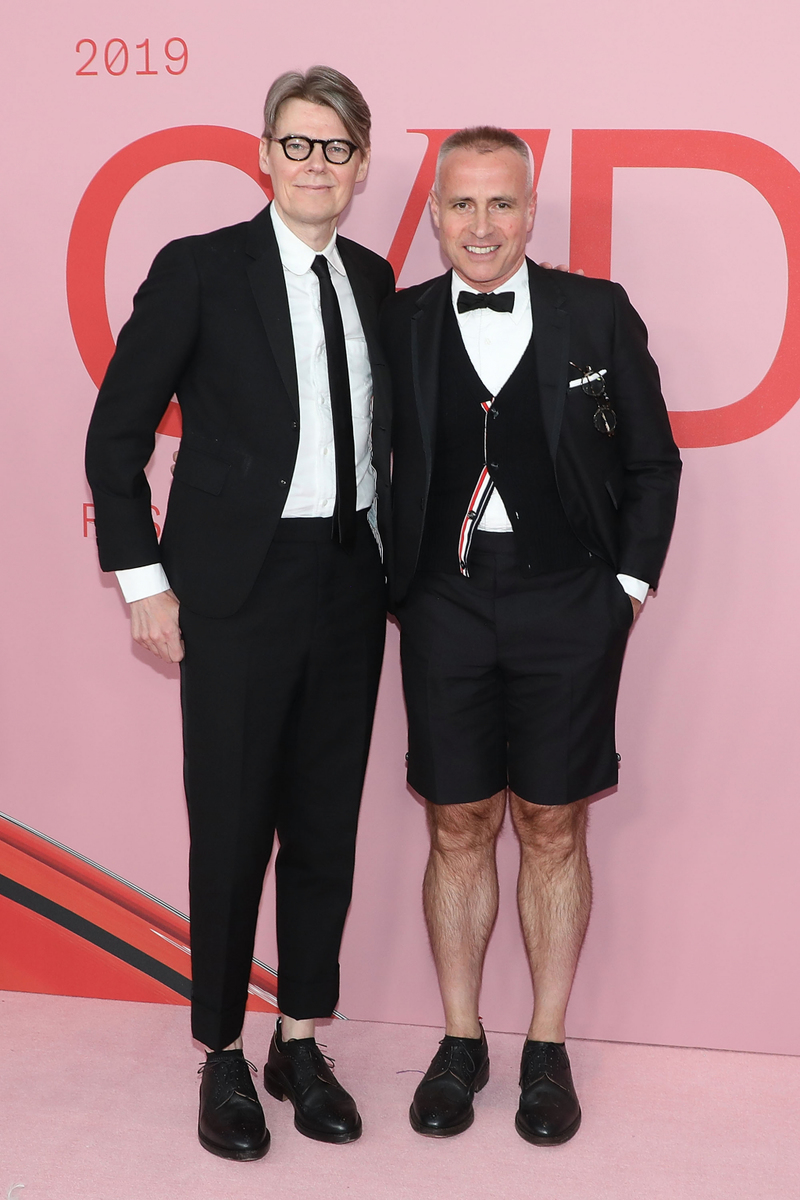 He then partnered with Andrew Bolton, another fashion designer, to create more beautiful designs. Eventually, their work lead to a companionship that went beyond job responsibilities. It was a same-sex relationship that is lead by the heart and soul.
Matt Bomer & Simon Halls

Everyone has heard of secret weddings. But not many may know that secret marriage actually exist. That is exactly what happened to Matt Bomer and Simon Halls. The two were secretly married for three whole years.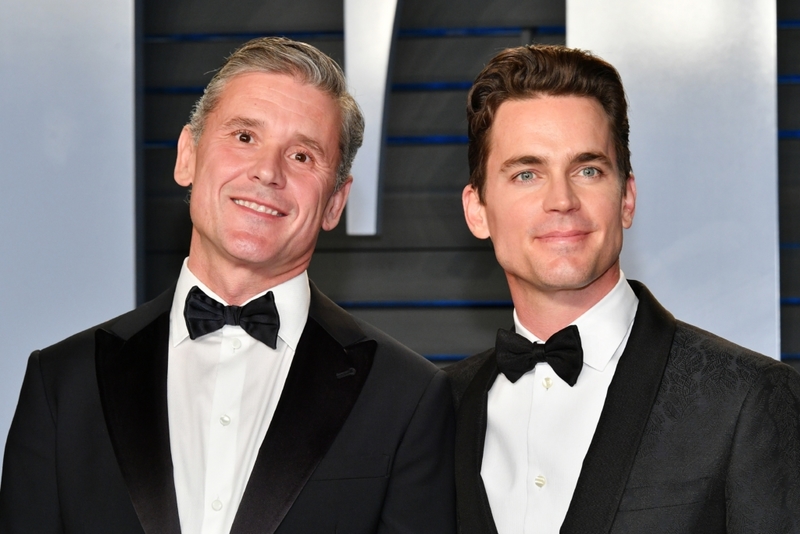 Not many people knew of their marriage and their wedding was attended only by both parties' close family members and friends. Would you do the same thing if you were in their place?
Julie Mehretu & Jessica Rankin

Sharing your passion with someone is the best kind of love there is. Being able to share love and your passion with someone is simply heaven. So when Jessica Rankin met Julie Mehretu and they were able to talk about their interests, the two knew they were onto something.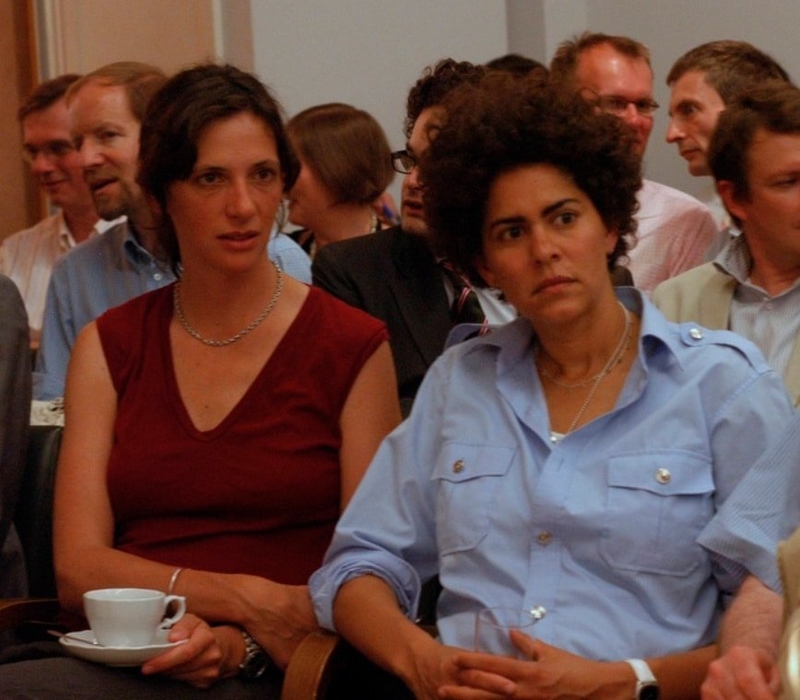 Eventually, they realized they are better couples and thus decided they were indeed each other's perfect match. Both love painting and art. They can definitely paint their love for each other forever ever after.
Queen Latifah And Jeanette Jenkins

Love needs work, but it doesn't have to make you work too hard. Queen Latifah learned that the hard way when she partnered with her personal trainer, Jeanette Jenkins. But it seems to be too hard for both that it went through a few struggles.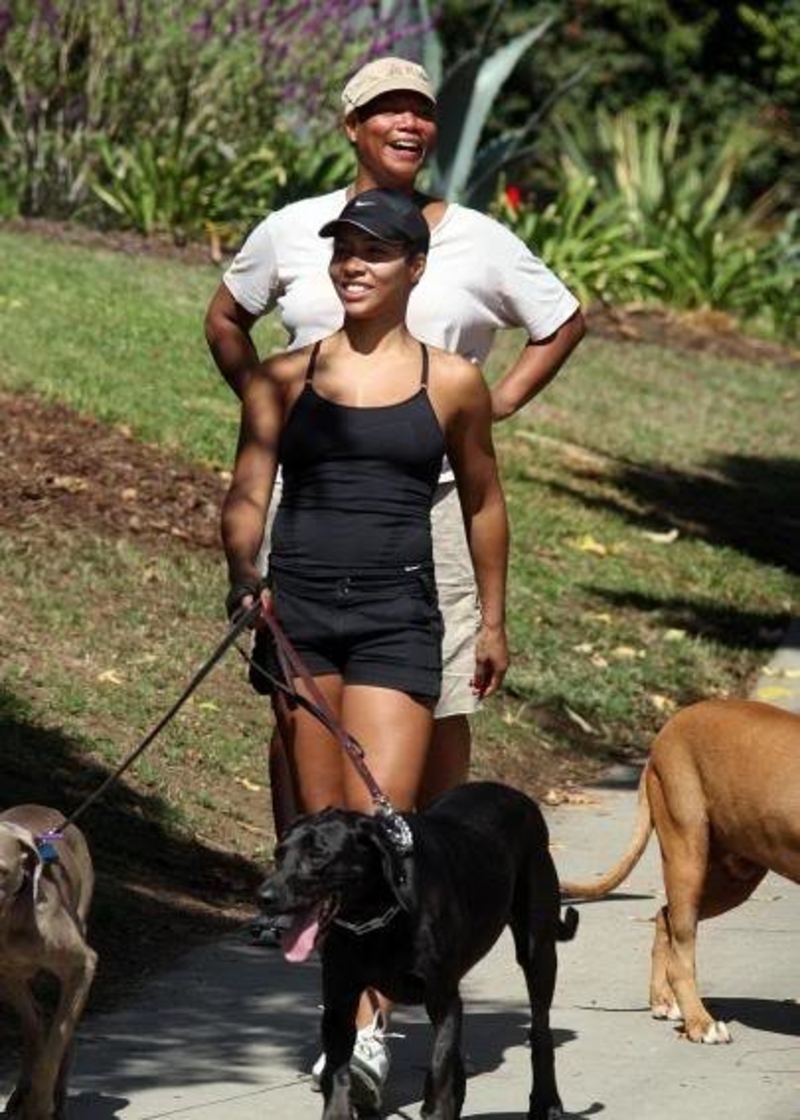 The two began to date in 2002. They loved each other so much they decided to be engaged in 2008. Alas, it seems they were not meant to be. The two eventually broke up in 2014.
Meshell Ndegeocello & Rebecca Walker

Meshell Ndegeocello creates music the same way love blooms – mysterious yet beautifully so. When she made her debut album titled "Plantation Lullabies", many wonder if such music was the reason for someone to fall in love with her.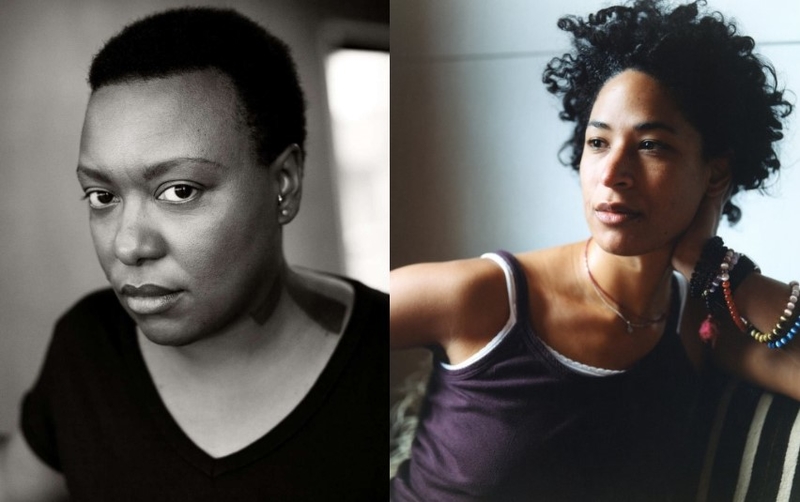 The answer to this question is highly likely yes. Sadly, even though they co-parent, their differences got in the way and Ndegeocello and Rebecca Walker had to end their once beautiful partnership.
Paris Barclay and Christopher Mason

You may have heard of Paris Barclay. He has been seen in impressive television series such as CSI, ER, and The West Wing. At least, his name was and not his likeness. Barclay has directed episodes of these series.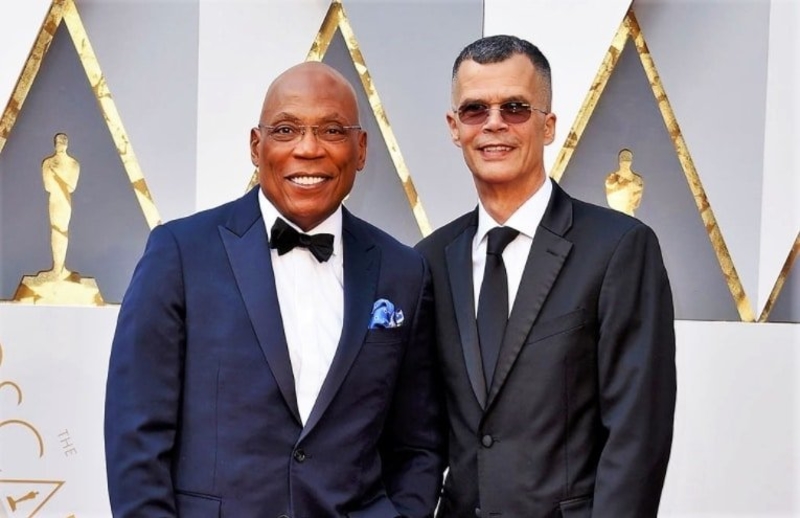 However, it is highly likely that he prefers his name to be attached to the love of his life – partner Christopher Mason. The two have been together for a decade and are still going strong.
Jenna Wolfe and Stephanie Gosk

Work and love are traditionally different entities in itself. Never the twain shall meet, or should they? Jenna Wolfe and Stephanie Gosk seem to defy such an expectation when the two met while working at NBC.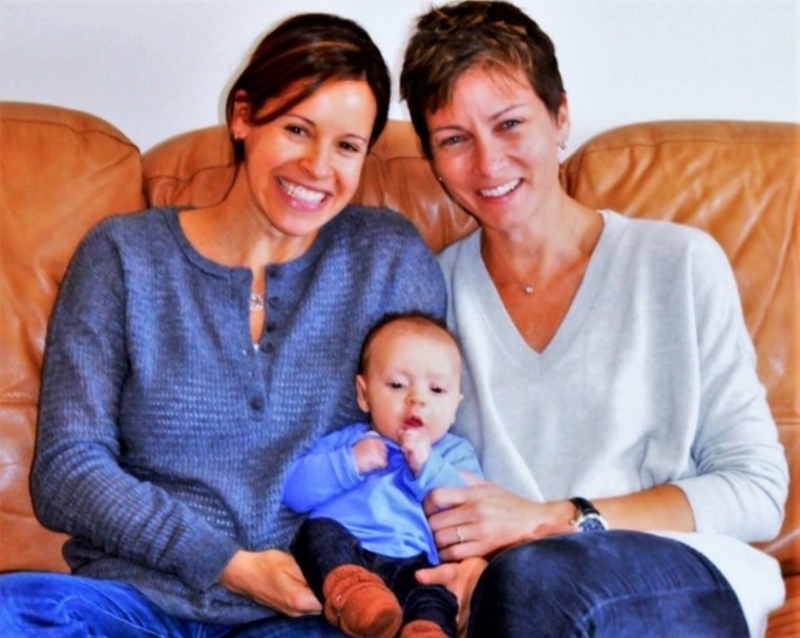 Though both initially had no intent to begin a relationship, that is what their being together eventually lead to. The two got married thus proving that love knows no boundaries.
Bill T. Jones & Bjorn Amelan

Bill T Jones was almost at the end of his rope when he thought he will never find someone to love. Bjorn Amelan was in the same predicament. But lo and behold, life has in store good surprises for everyone. When Jones and Amelan met, they were in for a treat.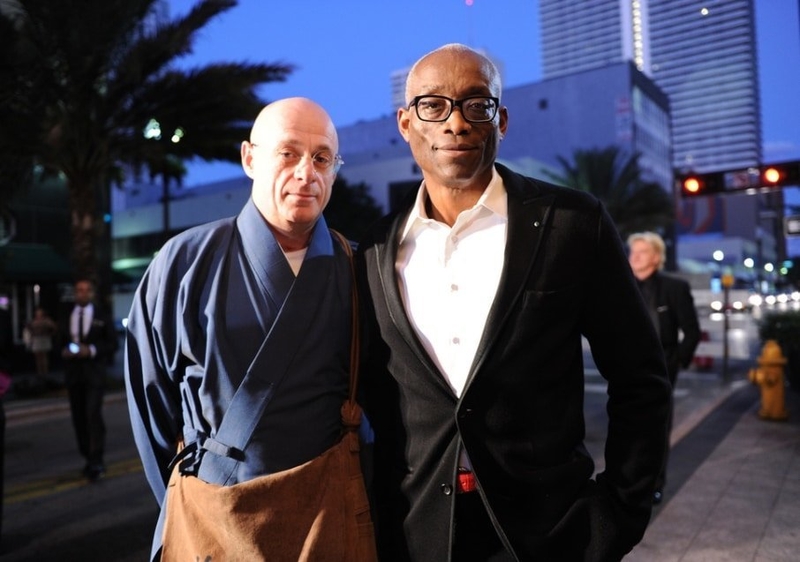 The two eventually fell in love and are still together. Their relationship proves that love is indeed mysterious and is full of fun surprises.
Beth Ditto & Kristin Ogata

No one can stop love from happening. Not even Cupid or the courts can halt two people from falling in love. Beth Ditto and her partner Kristin Ogata showed to the world how true this statement is by tying the knot in Hawaii via a wedding ceremony, that was unofficial.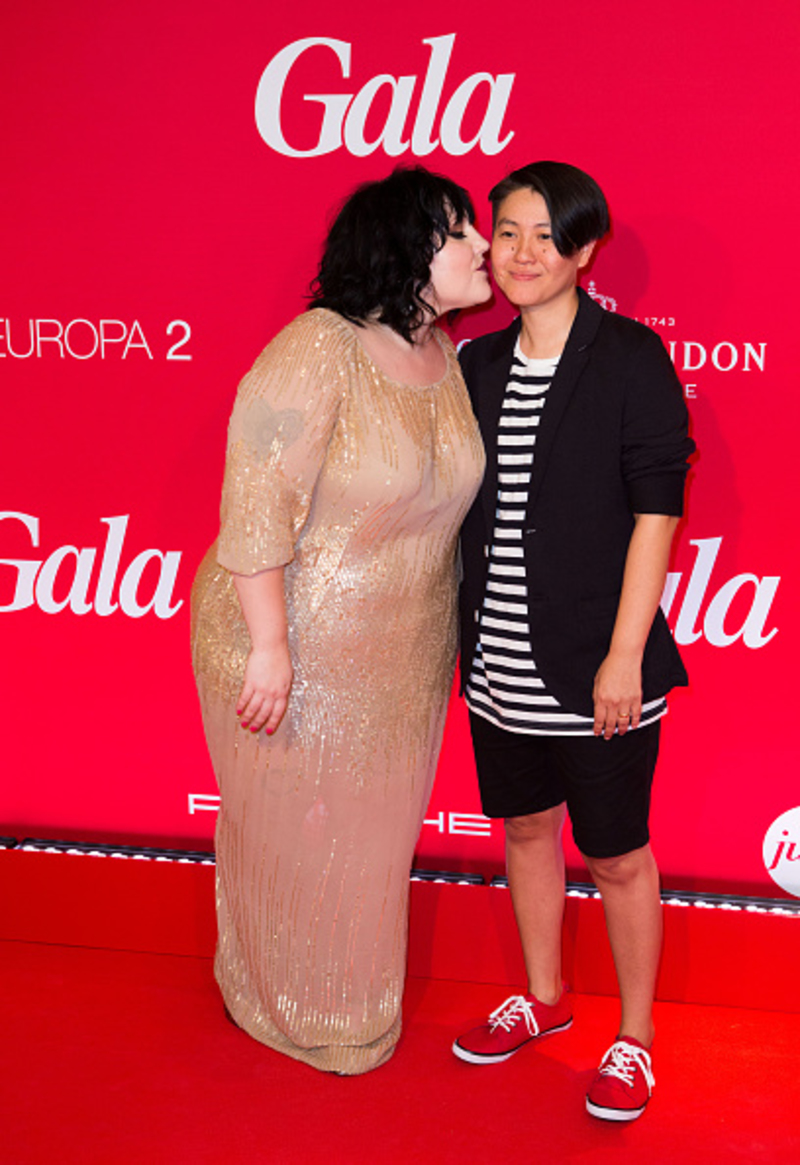 Love was enough to keep them together apparently. However, after 17 months, they decided to go to Oregon to formally acknowledge their union thanks to the same-sex laws in the state.
Terry Sweeney and Lanier Laney

Saturday  Night Live has a slew of comedians who are loud and proud about their sexuality. Terry Sweeney is one such individual who was able to meet the love of his life via the show. He not only experienced professional success via SNL, he also found love.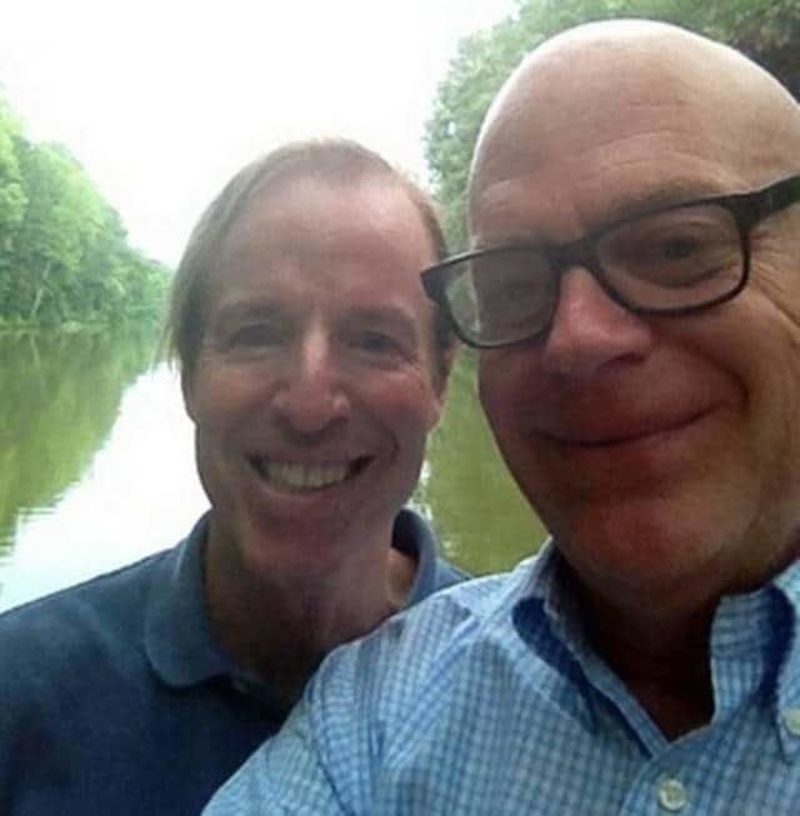 Sweeney met Lanier Laney via the long running show. Since then, the two have been inseparable. They are now partners and continue to support each other's craft.
Rufus Wainwright and Jorn Weisbrodt

Not many know of a program called "parenting partnership". But apparently, such a thing exists. Specifically, German arts administrator Jorn Weisbrodt is in such a program along with Rufus Wainright, a composer who also pens songs and sings.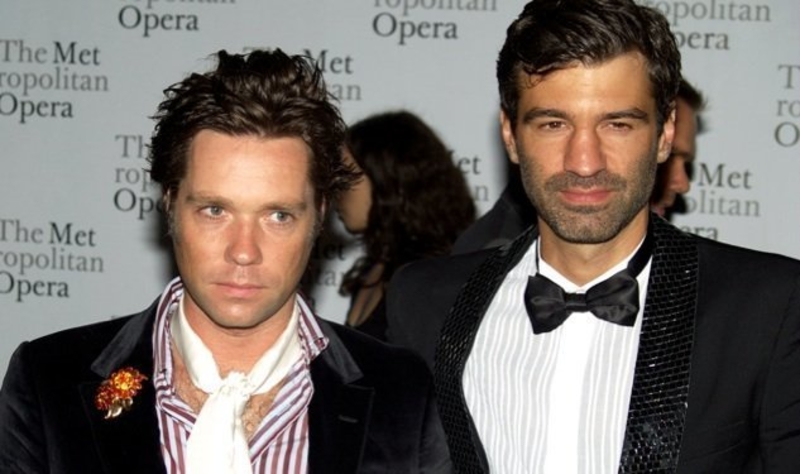 The couple have a daughter under the program which also includes Lorca Cohen – the couple's friend. The program may be likened to a co-parenting scheme that is more structured.
Nick Denton and Derrence Washington

Love is indeed blind and knows no business affiliations. So when Derrence Washington got married to the founder and former CEO of Gawker, Nick Denton, sparks flew. That was 2014. Now, the couple is considered as one of the industry's powerful couple.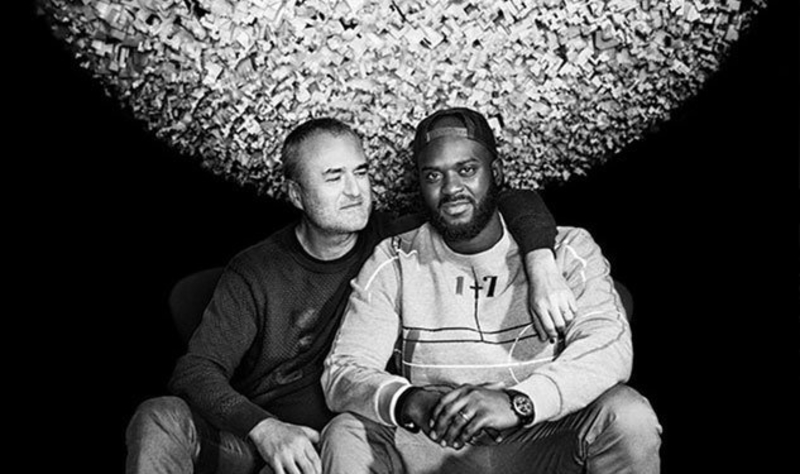 Their power not just lies in the realms of business, there is also power in the love they have of each other. The couple wed in 2014 at the American Museum of Natural History's Hayden Planetarium. The two were in a relationship for a year prior to their wedding.
Mario Cantone and Jerry Dixon

Mario Cantone and Jerry Dixon's relationship started at a time when being open about their sexuality was frowned upon. Though they have been together since 1991, the couple didn't yet make their relationship official until years later.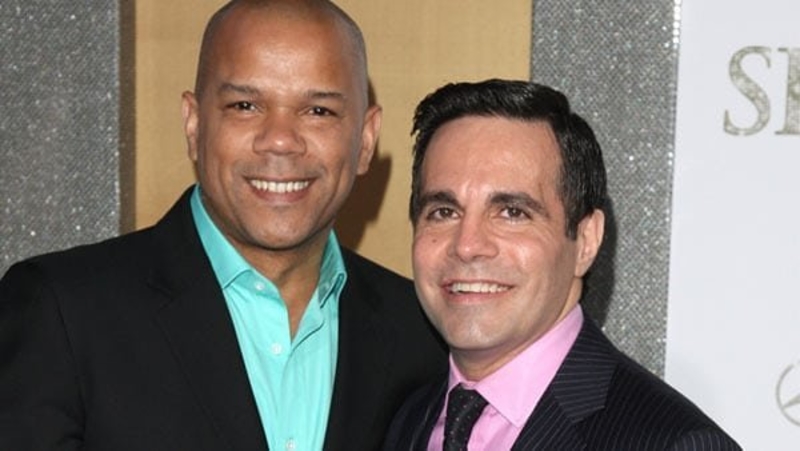 Cantone and Dixon eventually got married in 2011. The couple was wed by pastor Jay Bakker. When interviewed on The View by host Joy Behar, Cantone confessed that Dixon was a "good man" he so loved.
Lee Daniels and Jahil Fisher

Lee Daniels is the producer of the series Empire. Despite her busy schedule, she manages to start a relationship with Jayel Fisher, a freelance stylist. Though they have yet to officially tie the knot, the two have been together for six years.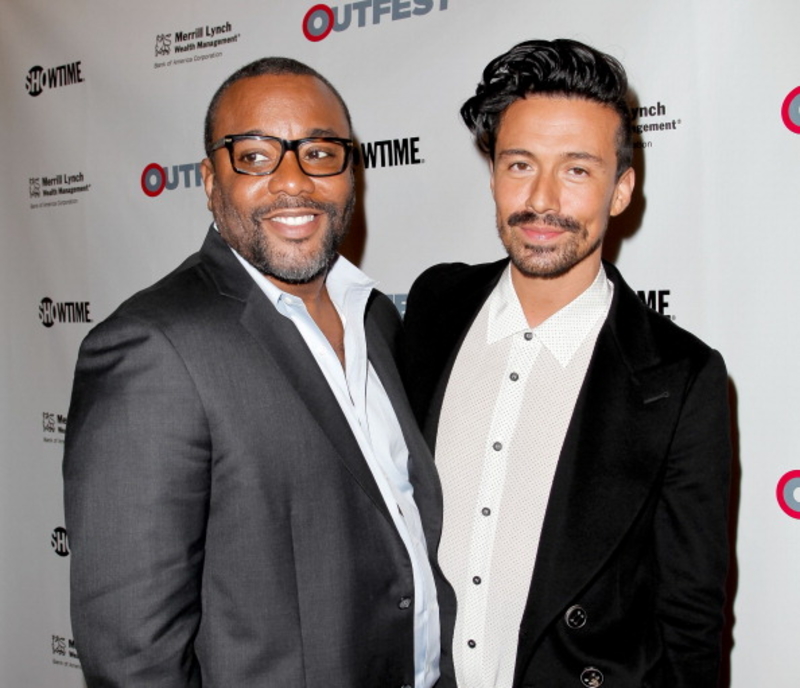 Daniels has long been open about his sexuality. However, he explained that he prefers to be called sexually fluid than gay – the same way Empire actor Jussie Smollett also refer to himself as sexually fluid.
Kristen Stewart and Stella Maxwell

Could it be that Kristin Stewart's relationship then with fellow Twilight co-star Robert Pattinson was a ruse to get people to buy more movie tickets?  Considering that Kristen Stewart is a lesbian, how could she fall in love with Pattinson? Either way, all is water under the bridge now.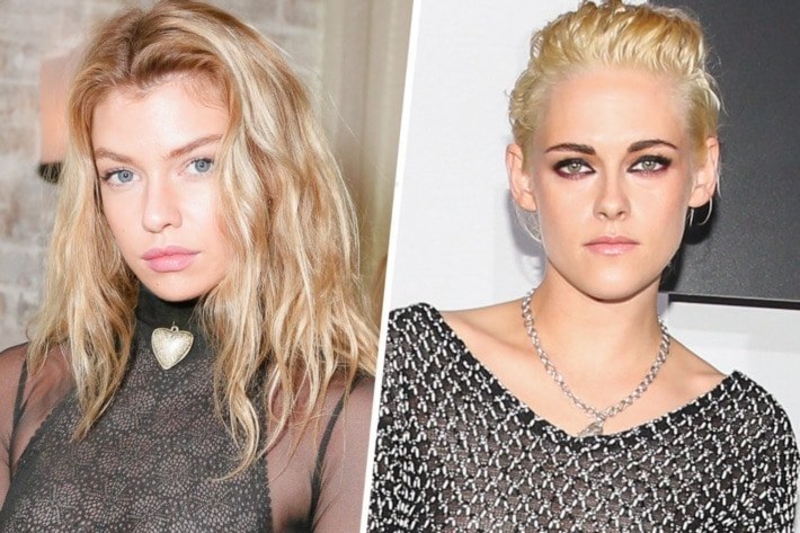 Kristen Stewart is now dating Stela Maxwell, an Irish model for Victoria's Secret Angel. This couple is so pretty to look at they could serve as everyone's couple goals.
Jonathan Bennett and James Vaughan

When actor Jonathan Bennett met television host James Vaughan, the two are so smitten with each other they cannot seem to contain themselves. Similar to giddy teens, the couple decided to make their feelings known publicly via social  media.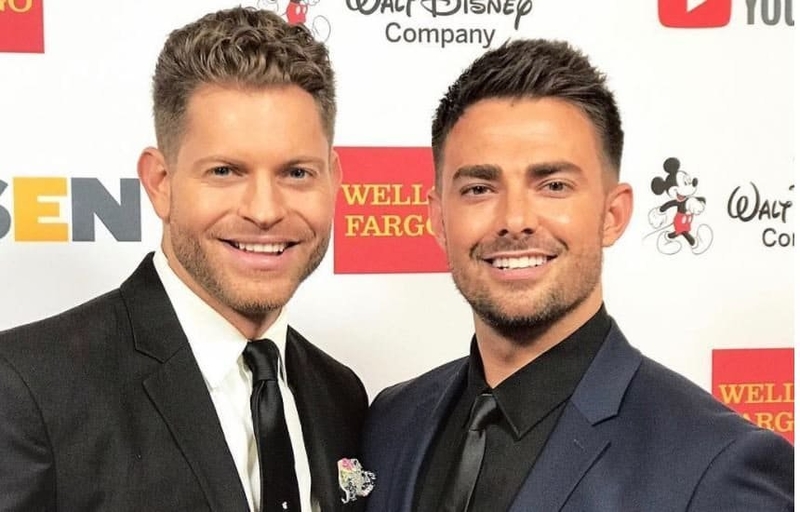 Thus, Bennett started posting gushy posts about his affection towards Vaughan and vice versa. As everyone knows, when feelings start to appear on one's social media posts, it is one way to make a relationship official.
Jonathan Adler and Simon Doonan

Love is timeless. So when Jonathan Adler met Simon Dooman, the two were smitten and have never parted with each other since. That was 1994. Fast forward to 2008 when the couple decided to make their relationship more solid in the legal sense.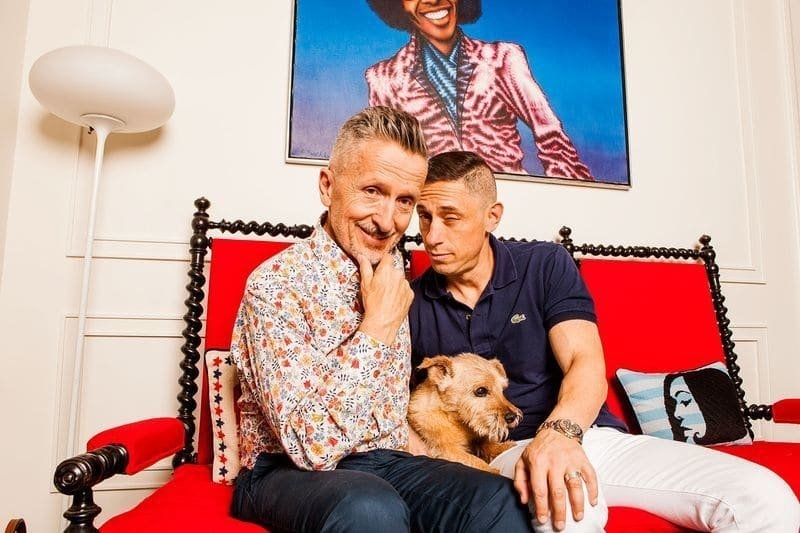 Adler and Doonan got married in California via a wedding ceremony that celebrated their union. Though it took them some time to make their relationship more binding, the couple seems to believe a wedding is mere icing on a cake.
Johnny Weir and Victor Voronov

Johnny Weir is an impressive sportsman who has won a slew of awards. He is a premier Olympic skater when he met lawyer Victor Voronov. They were so smitten with each other they eventually got married in 2012. Though the two met and eventually fell in love, things turned for the worse when they got together.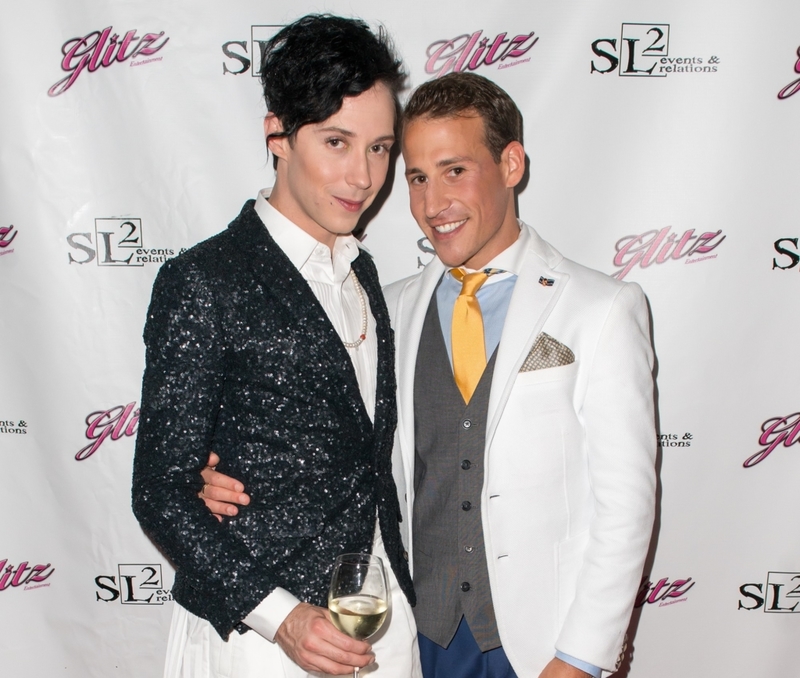 Both accused each other of domestic violence. Eventually, the couple had to part ways and were divorced two years after they wed. Despite their separation, Weir has confessed that he still loves Voronov.
John Benjamin Hickey And Jeffrey Richman

Jeffrey Richman is a producer and writer in the television series Modern Family. Now that he is in a relationship with actor John Benjamin Hickey, could they have their own real life modern family on the way?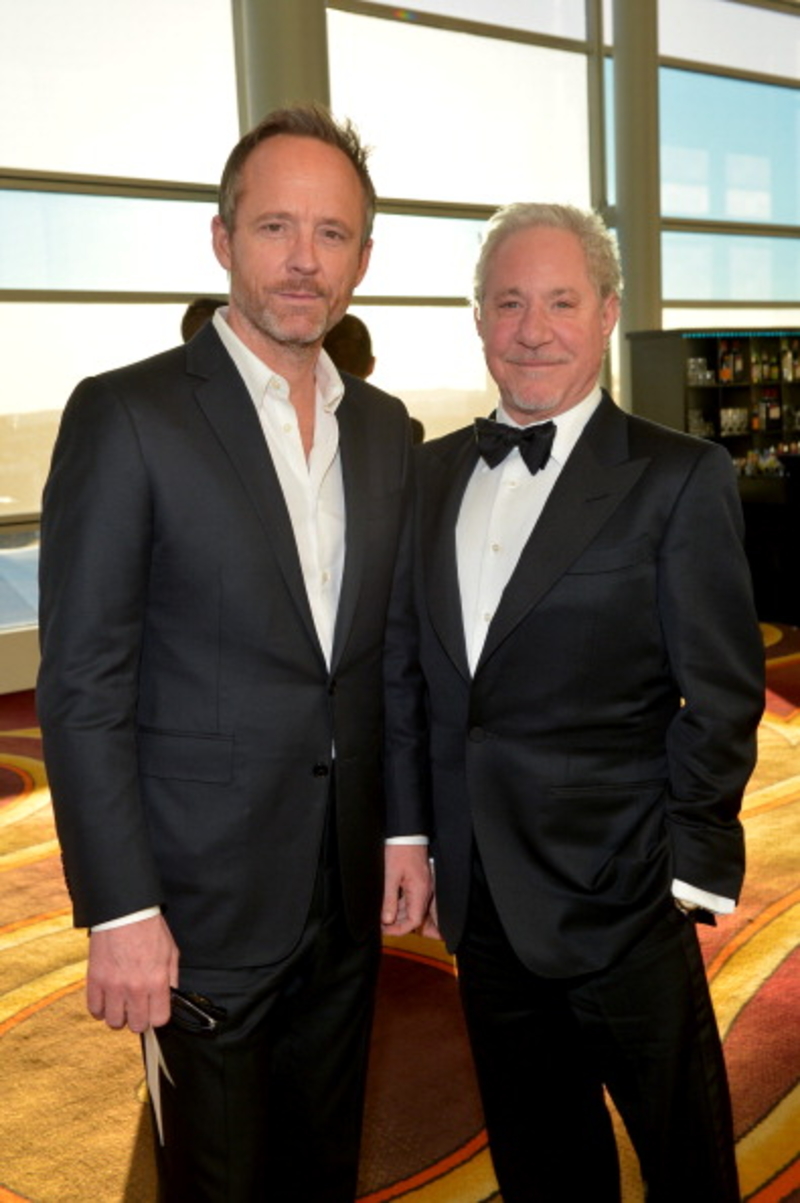 The two met in 2003 and have been together since. So far, this modern couple is making sure they are adamant to make each other happy. It helps that both belong in the same industry and so each know the demands of their jobs.
Jessica Clark And Lacey Stone

British model Jessica Clark is successful in her field. Besides her modeling job, she also serves as host in her own vlog called Lesbian Love which can be seen on the website, afterellen.com. When she met Lacey Stone, a fitness professional, the two were smitten and eventually got married in 2010.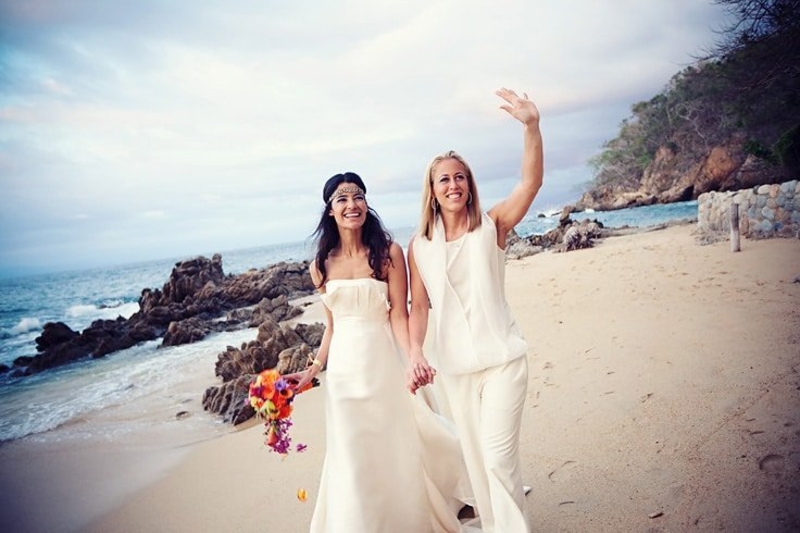 Sadly, despite being together, the two abruptly ended their relationship in 2012. Lacey Stone continues to train celebrities and individuals who are intent to have a sculpted revenge body.
Don Roos and Dan Bucatinsky

It is not only because Don Roos and Dan Bucatinsky have similar sounding first names that make them look as if they are perfectly made for each other, Don and Dan are genuinely in love. Bucatinsky is a popular actor, producer, and writer.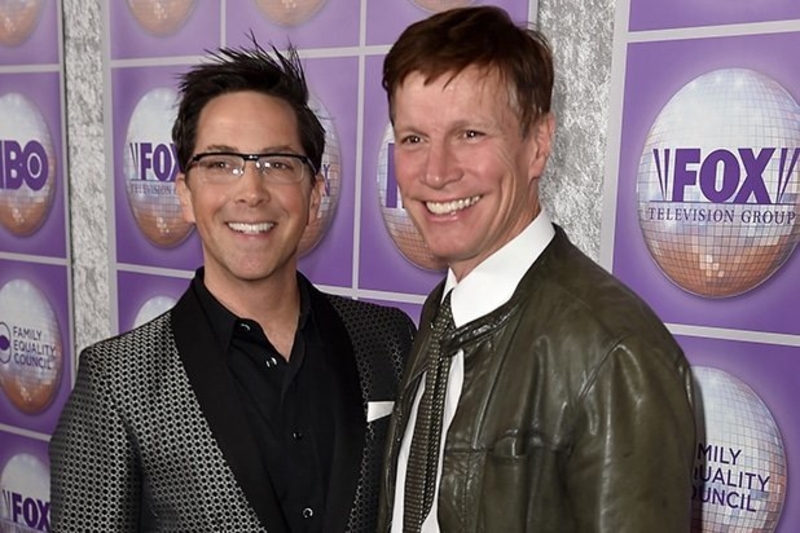 Meanwhile, Roos is a screenwriter. Being in the same business helped them understand the demands of each other's professions. This may be the reason why they have been together for so long. The two met in 1992 and later got married in 2008. Theirs is a happy family as they now have two kids, Jonah and Eliza.
Denis O'Hare and Hugo Redwood

Denis O'Hare is a multi-talented actor. He has won a slew of awards due to his excellent performance.  Besides acting, O'Hare is making sure he achieves a decent work-life balance. His love life is keeping him busy thanks to him being married to Hugo Redwood – a popular designer.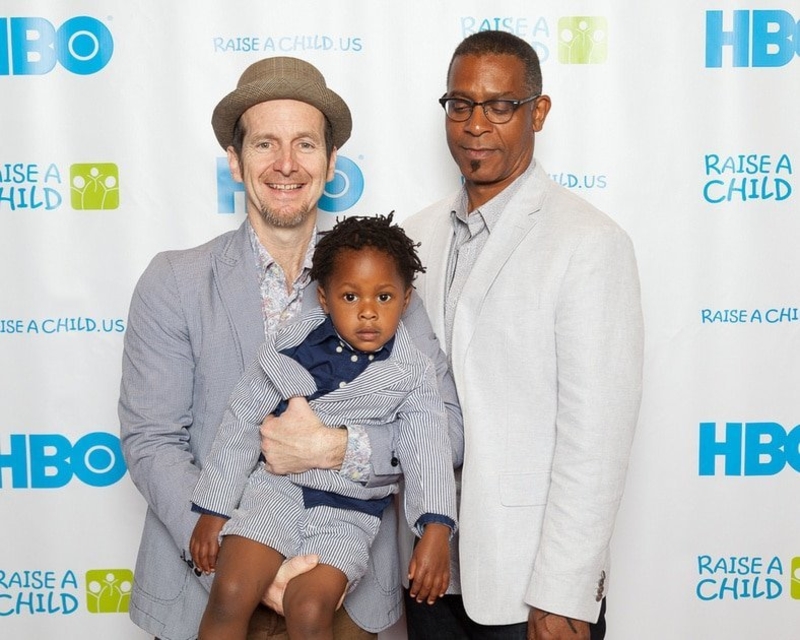 In order to complete the family, Redwood and O'Hare decided to adopt a son. Now, their family is growing. As parents, both are doing their best to be the best fathers for their little Declan.
Chris Hughes and Sean Eldridge

Chris Hughes is an entrepreneur who serves as a spokesman for the networking site Facebook. Besides his work responsibilities, his love life is also filled with to-do lists as he is the husband of Sean Eldridge – a political activist.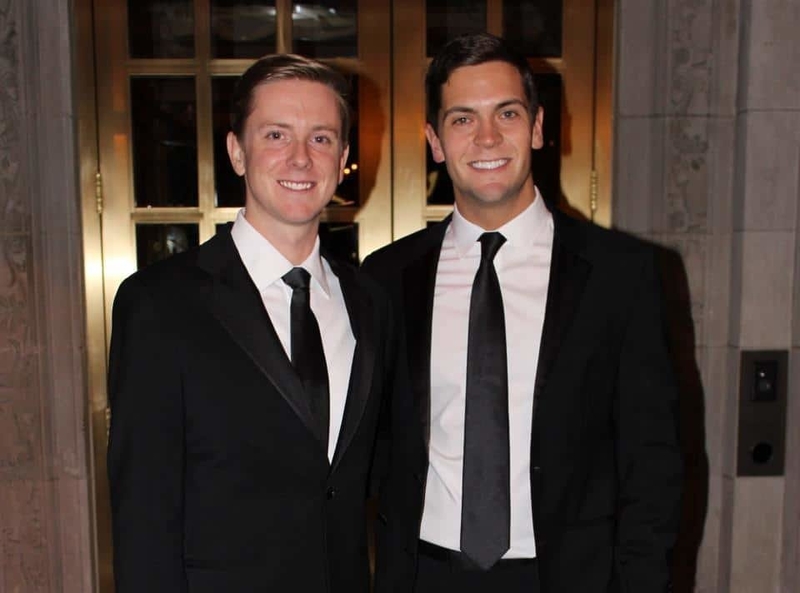 The two made their union more solid by tying the knot in 2012. Despite their busy schedule, the two are making it a point to care for each other the best way they could.  Eldridge is a president of progressive advocacy community Stand-Up America.
Alec Mapa and Jamison Hebert

Alec Mapa and Jamison Hebert have long been in love. Being in a six-year relationship, everyone wondered if they would ever solidify their union beyond the relationship they already have. Their questions when answered in 2008.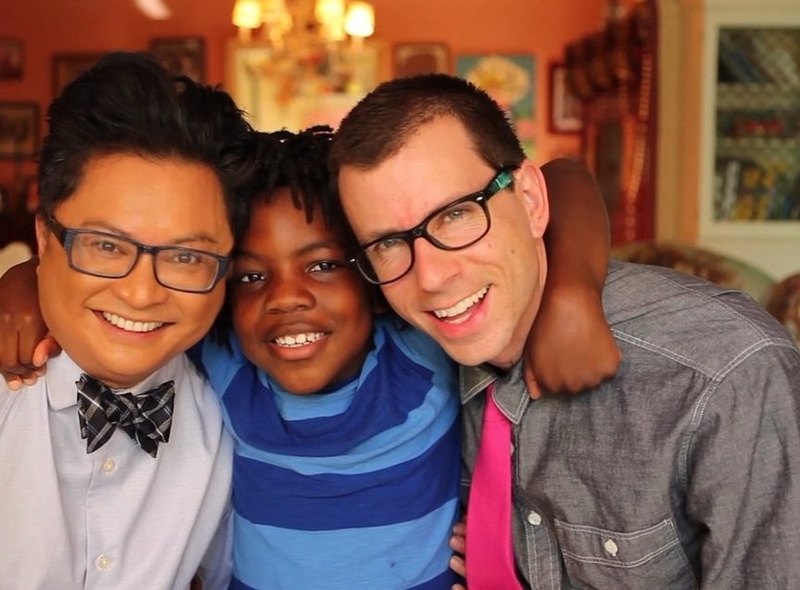 Alec Mapa and Jamison Hebert said "I do" as a way to make their relationship legally binding. As a married couple, the two adopted a son to complete their family. Would they be adopting another child in the near future?  Only time will tell.
Gary Janetti and Brad Goreski

Gary Janetti believes in long-term relationships. His partner Brad Goreski feels the same way. The two have been together for more than a decade, specifically 13 years. The couple, who wanted to solidify their relationship, decided to do just that.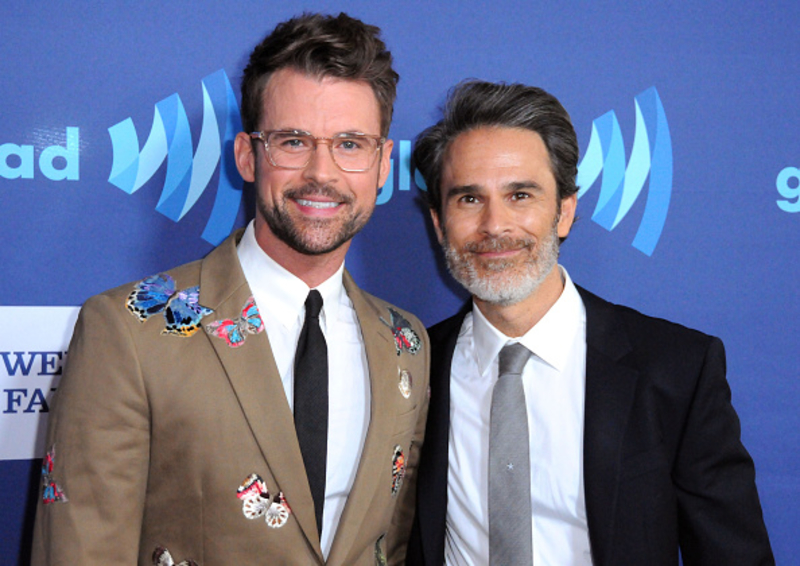 Goreski and Janetti became engaged in December 2014. Though the two have yet to be married, they are working hard to make the relationship work. They divide their time between New York and Los Angeles while also taking care of their dog.
Rosie O'Donnell and Michelle Rounds

Rosie O'Donnell was happily married to Michelle Rounds for two years that the couple even had a daughter together. Sadly, it was 2015 when Rosie filed for divorce. No matter how much their relationship meant, the two were able to reach a settlement.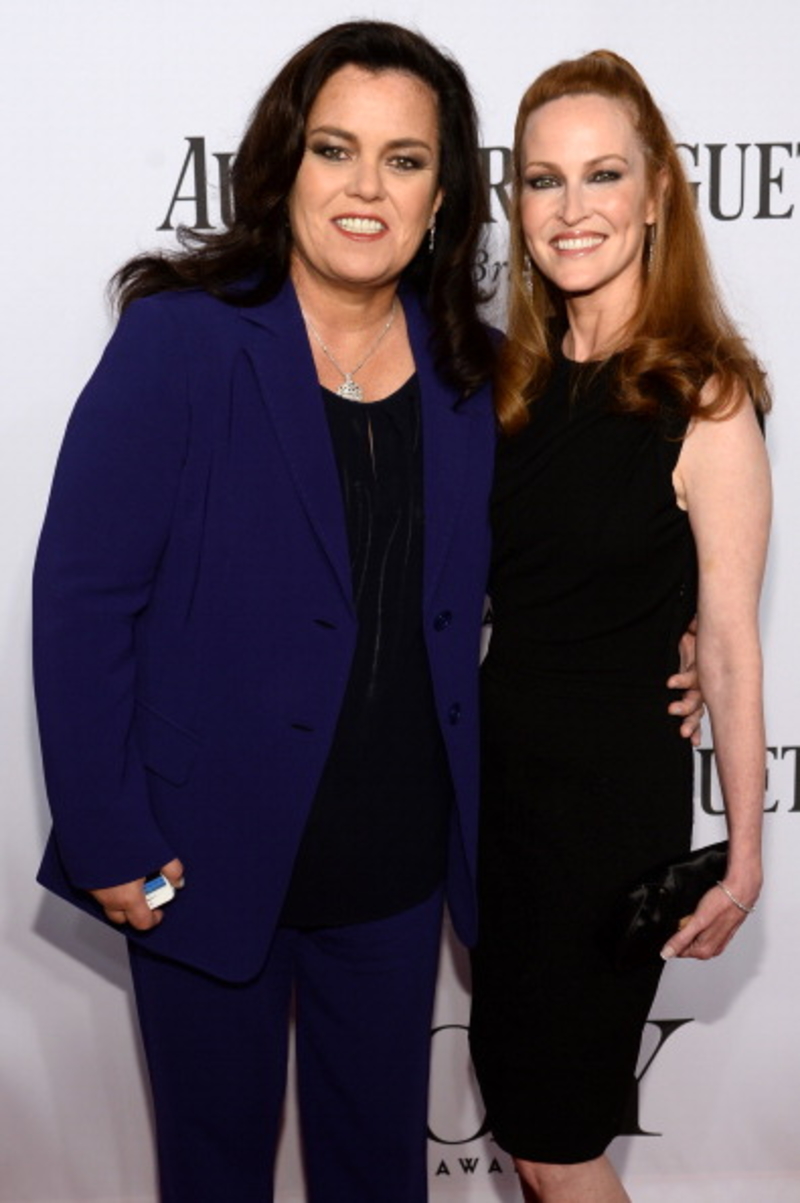 Two years later, Michelle Rounds was able to move on from her past that she eventually remarried. Sadly, she committed suicide in 2017. Rounds' family, friends, Rosie, as well as her daughter, were shocked.
Sam Smith and Brandon Flynn

Singer Sam Smith's fans couldn't get a hold of themselves when they learned he was in a relationship. Meanwhile, fans of 13 Reasons Why Star, Brandon Flynn, similarly was over the moon when they learned that he was dating.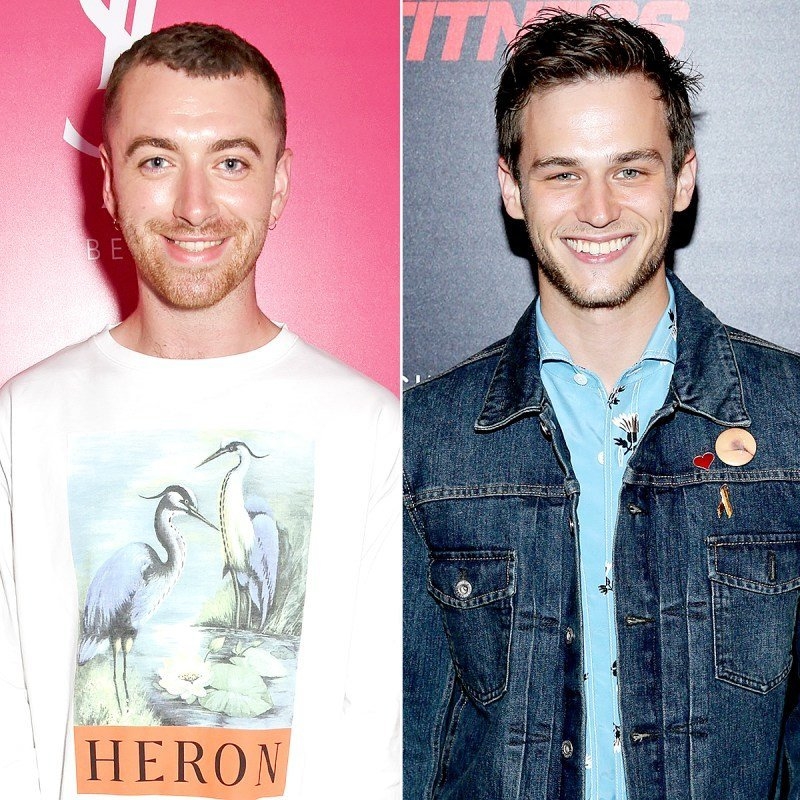 When they learned Smith and Flynn were an item, the two fan groups exploded. The two are doing their best to keep a low profile as they prefer to keep their relationship quiet. Happiness is more important than updating both their fan groups about the status of their relationship. Unfortunetly for them, their fans got wind of the break up in 2018.
Kate McKinnon and Jackie Abbott

Saturday Night Live comedian Kate McKinnon is a comedy genius. However, she makes sure her love life is something she considers as no laughing matter. She was in a serious relationship with Jackie Abbott, an independent movie actress.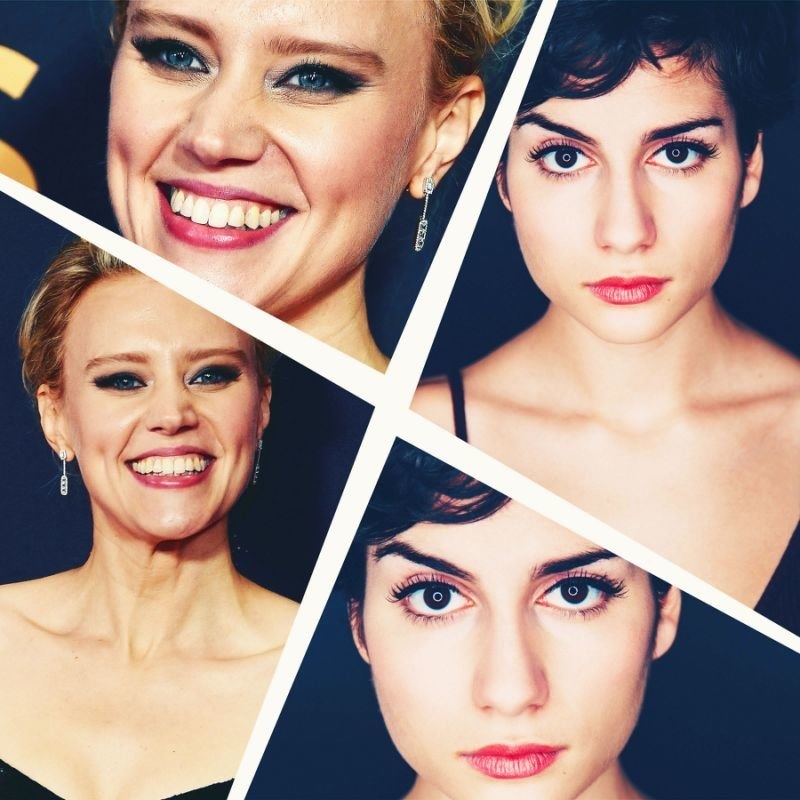 The two went together to the 2017 Emmy's as a couple and even embraced each other when McKinnon won the award for Best Supporting actress. Abbott, besides being an actress, also lists on her resume' the job of "part time clown". It didn't stick though and the two have since parted ways.
Heather Matarazzo and Heather Turman

Heather Matarazzo takes her love life seriously. Even if she is in a relationship with comedian Heather Turman, the two make sure they are not joking around. Matarazzo, an actress in the movie The Princess Diaries, has been dating Turman for an unknown number of years.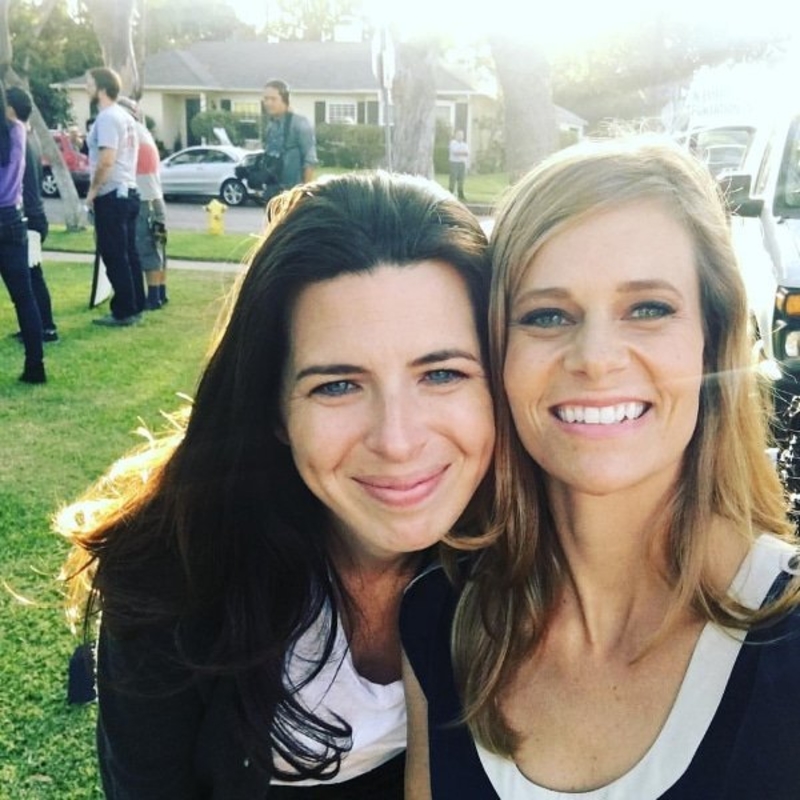 Matarazzo proposed to Turman on January 2018 and the couple was married ten months later. Matarazzo never kept her sexuality under wraps. Her previous relationships have been announced by her publicist.
T. R. Knight and Patrick Leahy

Remember T.R.Knight? He was a cast member of Grey's Anatomy before he decided to leave the show for personal reasons. Though his career wasn't as rosey as he wanted it to be, his love life surely is. Knight is in a long-term relationship with his boyfriend Patrick Leahy.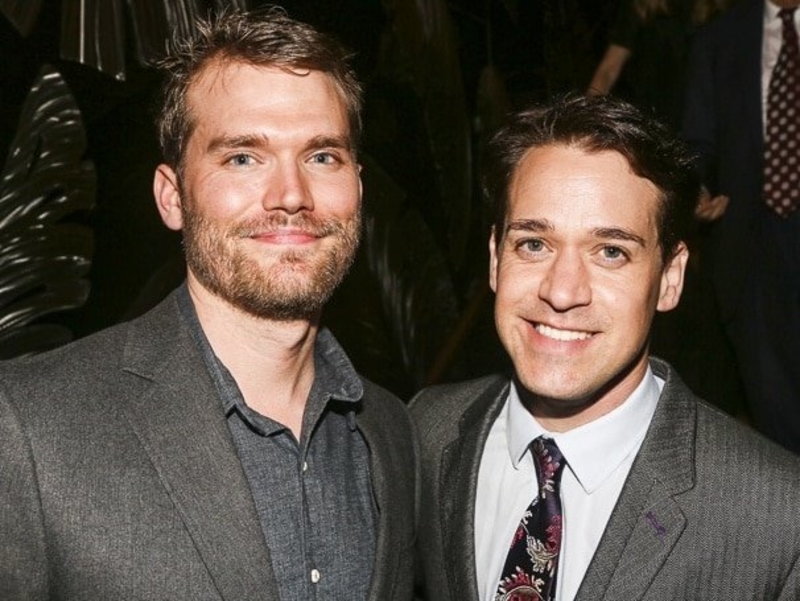 When the two decided to commit to each other legally, Leahy and Knight have been dating for three years. However, the couple publicly announced their relationship in 2010. They got married in 2013 and have been happily together since.
Thomas Roberts and Patrick D. Abner

Thomas Roberts would not let anything get in his way when it comes to having a relationship with the love of his life. When Roberts met Patrick D Abner back in 2000, the two have been inseparable since. But being together wasn't enough for the couple.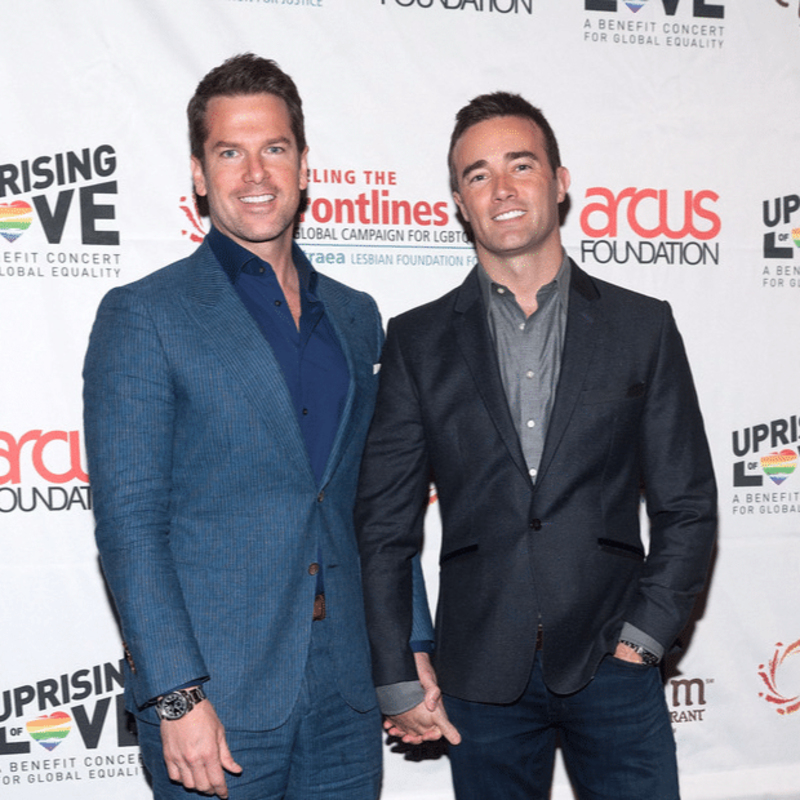 The two wanted to not just be together, they wanted to be publicly acknowledged by the government. Fortunately, the city of New York decided to make legal the process of same-sex marriage. Roberts and Abner found themselves on Gansevoort Park Avenue's rooftop to tie the knot back in 2012. The two have since been living happily ever after.
Michael Arden and Andy Mientus

Michael Arden and Andy Mientus are a couple that couldn't even be more cuter. The two met and began to date in 2010. They were so smitten with each other that they stuck together for 6 years. The couple eventually wanted to solidify their relationship.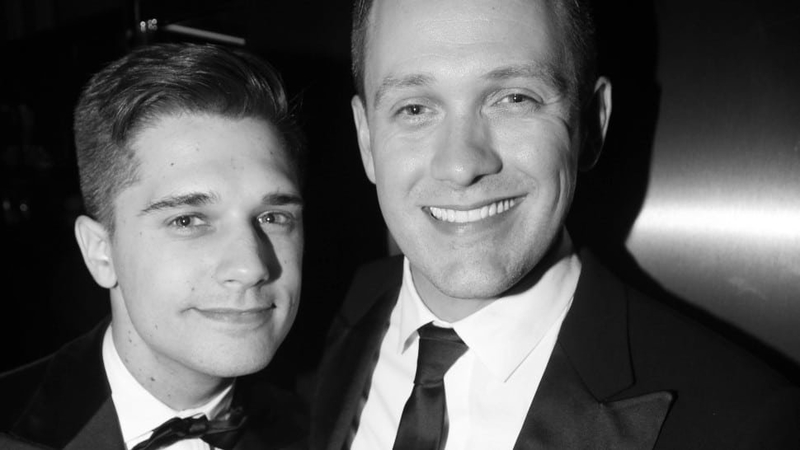 Little did the two know that one was already planning to propose to another. While Arden was getting ready to prepare to pop the question, Mientus was doing the same.  The couple got married in 2016 and has since been living happily ever after.
Ben Whishaw and Mark Bradshaw

Ben Whishaw is an English actor who prefers privacy in his life. Though this may be ironic considering that he is an actor, it seems impossible to keep his wish fulfilled specially when he publicly announced a detail about the relationship he was in.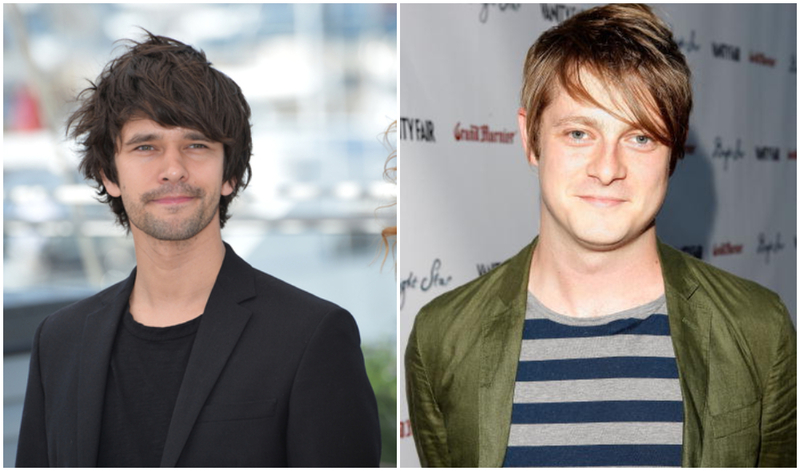 It was 2012 when Ben Whishaw couldn't help himself but exclaim that he and Mark Bradshaw, a composer from Australia, are in a relationship. Plus, it was not just a relationship, the two were in a civil partnership.
Adam Lambert and Sauli Koskinen

Though Adam Lambert has not been visible publicly and professionally, many still remember his performances as well as being the American Idol eighth runner-up. Lambert may not be busy with work, but his heart department is fully booked.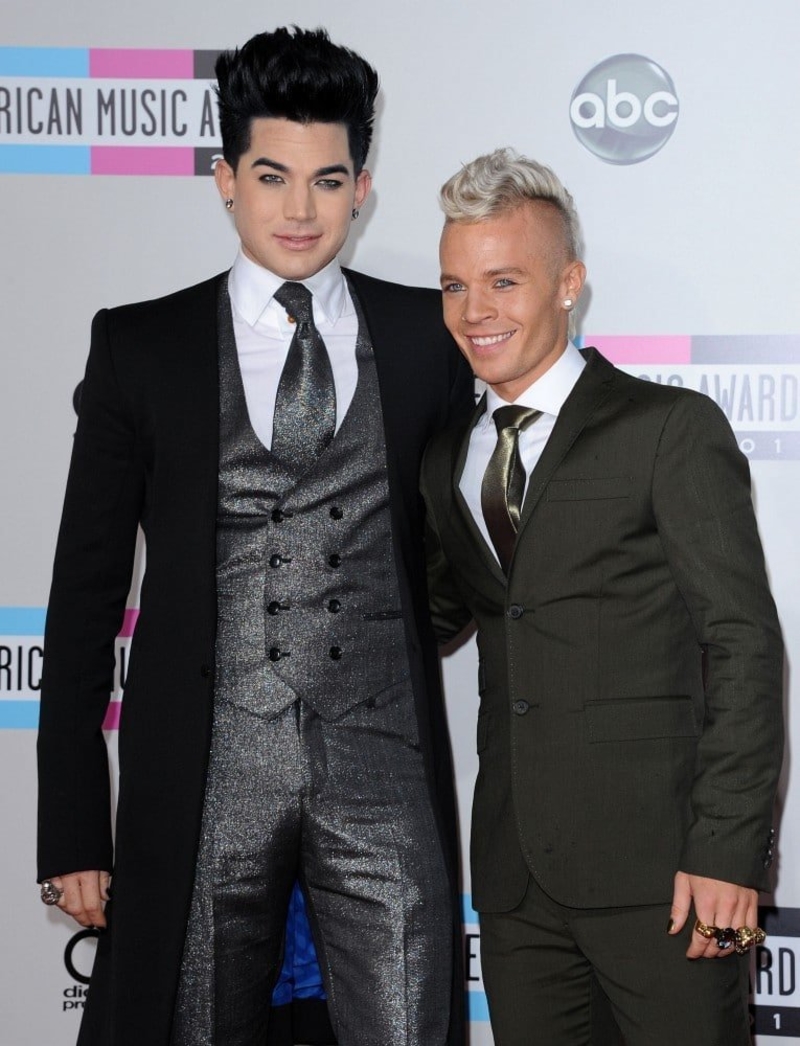 When Sauli Koskinen, a reality TV personality and Finnish entertainment reporter, met Lambert, sparks flew. The two started dating from 2010 until 2013. Sadly, despite their love for each other, the two split yet profess to continue to love each other as friends.
John Barrowman And Scott Gill

It was 1993 when John Barrowman, a writer, singer, actor, and presenter of Scottish descent, watched a play and fell in love with one of the actors. When Barrowman saw Scott Gil on stage, it was love at first sight.
The couple was so smitten with each other, they decided to enter a civil partnership to solidify their union. That's was 2006. Seven years later, the two felt the need to tie the knot and so they did. The two have been legally married ever since.
Dot Marie Jones And Bridgett Casteen

If the character of Coach Bestie in the series Glee scared you, relax. The actress who portrayed that role is nothing but sweet. Though she was a 15-time world arm wrestling champion, she is incredibly nice. When Dot Marie Jones met Bridgett Casteen in 2010, the two became an item and later became engaged a mere three years later.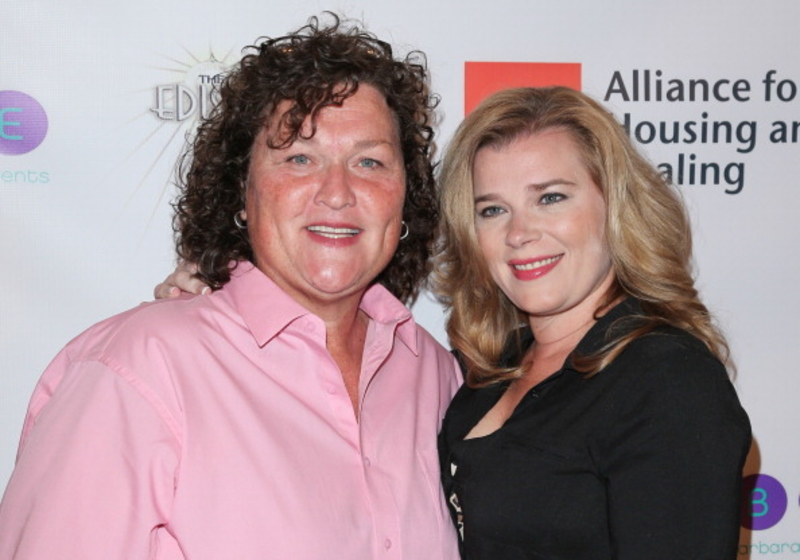 Dot proposed to Casteen on Anaheim Gay Days. Recently, Casteen was hospitalized due to a stroke caused by a hole in her heart that needed to be surgically covered. Casteen is well now and the couple has been living happily together.
Cherry Jones and Sophie Huber

Cherry Jones has always been open about her sexuality. She publicly acknowledged and thanked her 18-year architect partner Mary O'Connor back in 1995 when she accepted her Tony Award. In 2004, Jones was in a relationship with actress Sarah Paulson.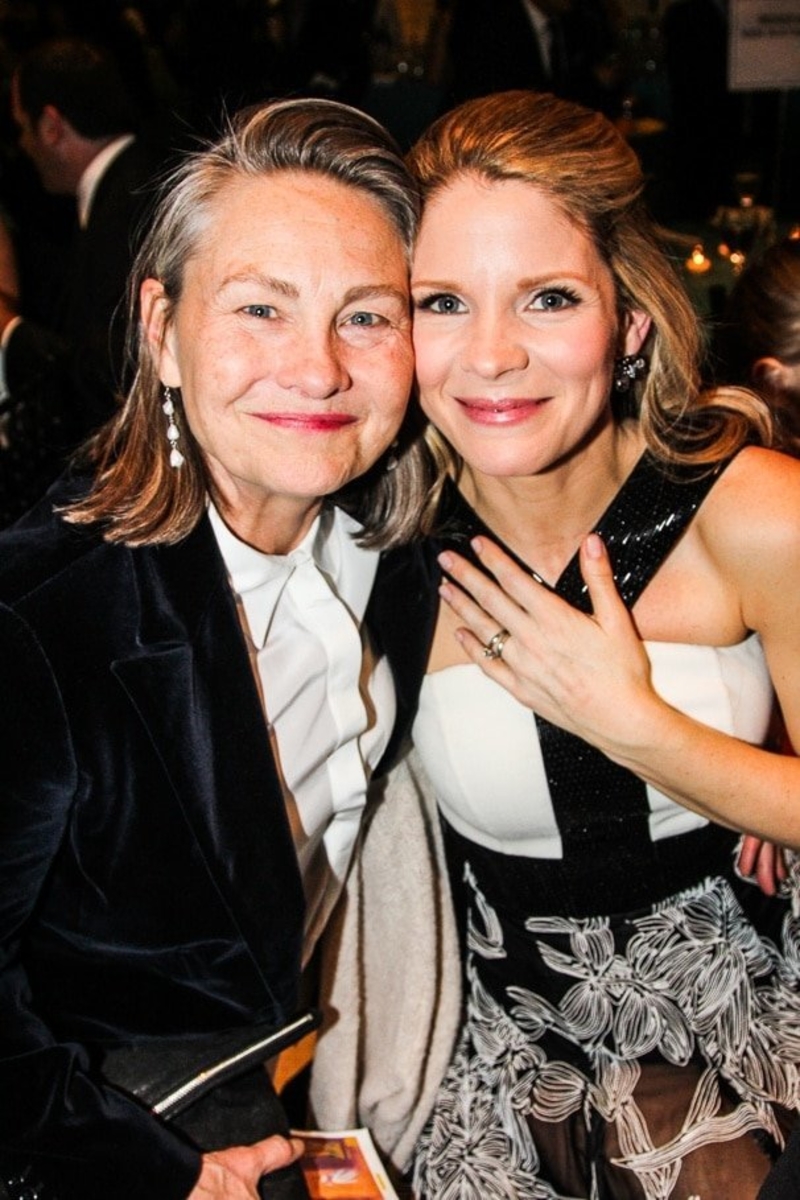 After two years, Paulson and Jones publicly declared their love for each other. However, the two eventually separated in 2009. Jones is now happily married to Sophie Huber since 2015. Huber is a Swiss-born actress, director, composer, and producer.
B.D. Wong and Richie Jackson

American actor B.D. Wong is popular for his character in the series "Law & Order: Special Victims Unit." He is also an accomplished theatre actor having won a Tony for his performance in M. Butterfly. Wong has long been openly gay. His relationship with talent agent Richie Jackson began as early as 1988.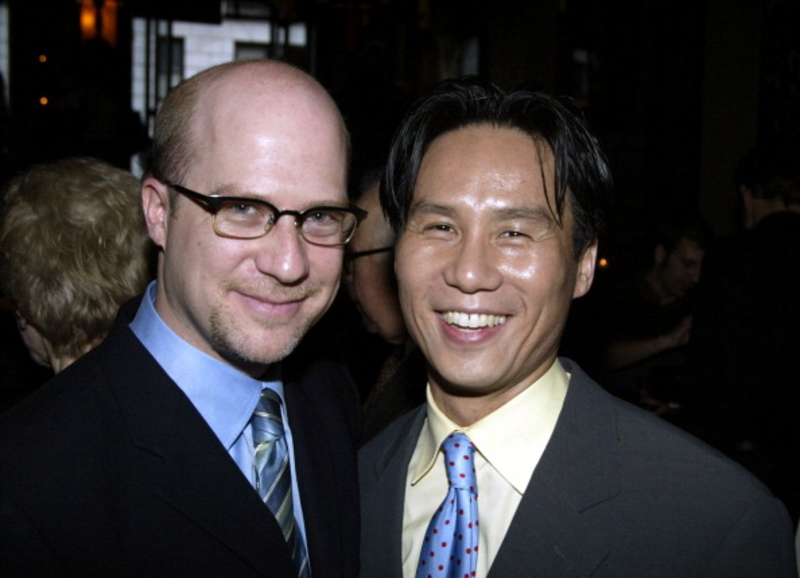 In 2000, the couple had twins, one of whom unfortunately died ninety minutes after birth. Sadly, the couple split in 2004 but continue to co-parent for the sake of their son. Wong recently married his 8-year partner, Richert John Frederickson Schnorr.
Cat Cora and Jennifer Cora

Cat Cora and Jennifer Cora are so in love they stayed together for 17 years as a couple along with their four kids. However, the two eventually divorced in November 2015 after two years of marriage. They have four sons namely Zoran, Caje, and twin boys Thatcher and Nash.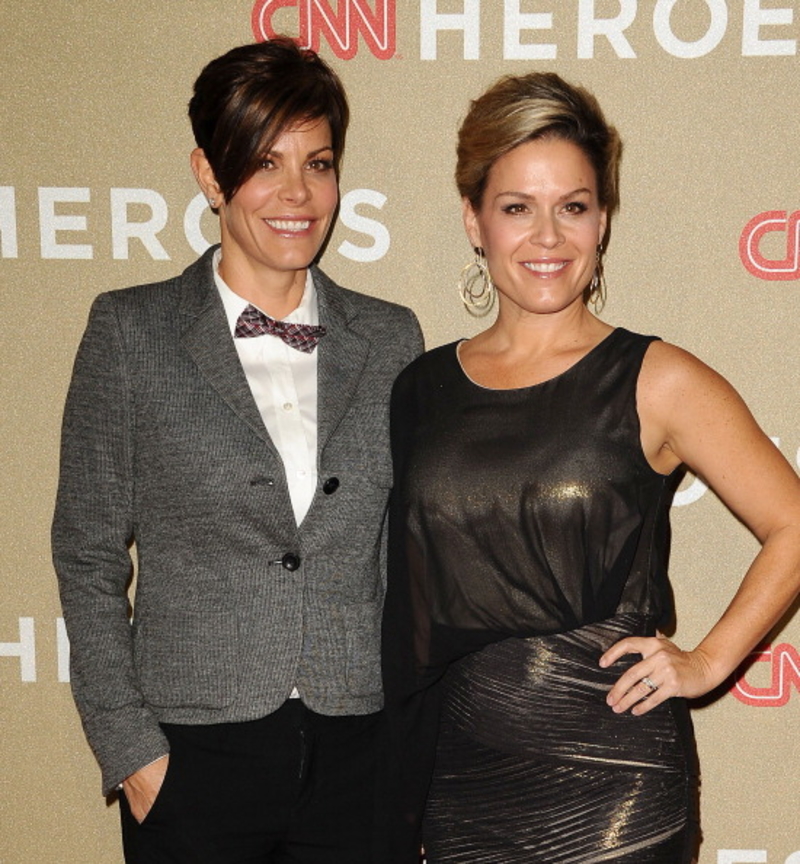 Since then Cat married producer Nicole Ehlrich in Santa Barbara, California's Villa Verano Estate. Cat gushed about her relationship and called her wedding day "magical". The couple each brought their kids. Ehlrich has two sons named Jonas and Gavin.
Colton Haynes and Jeff Leatham

Arrow star Colton Haynes is certainly missed by his fans. Fortunately, he is active on Instagram where he publicly posted how Jeff Leatham, a florist, and his fiancée, popped the "Will you marry me?", question, to which Haynes naturally said yes.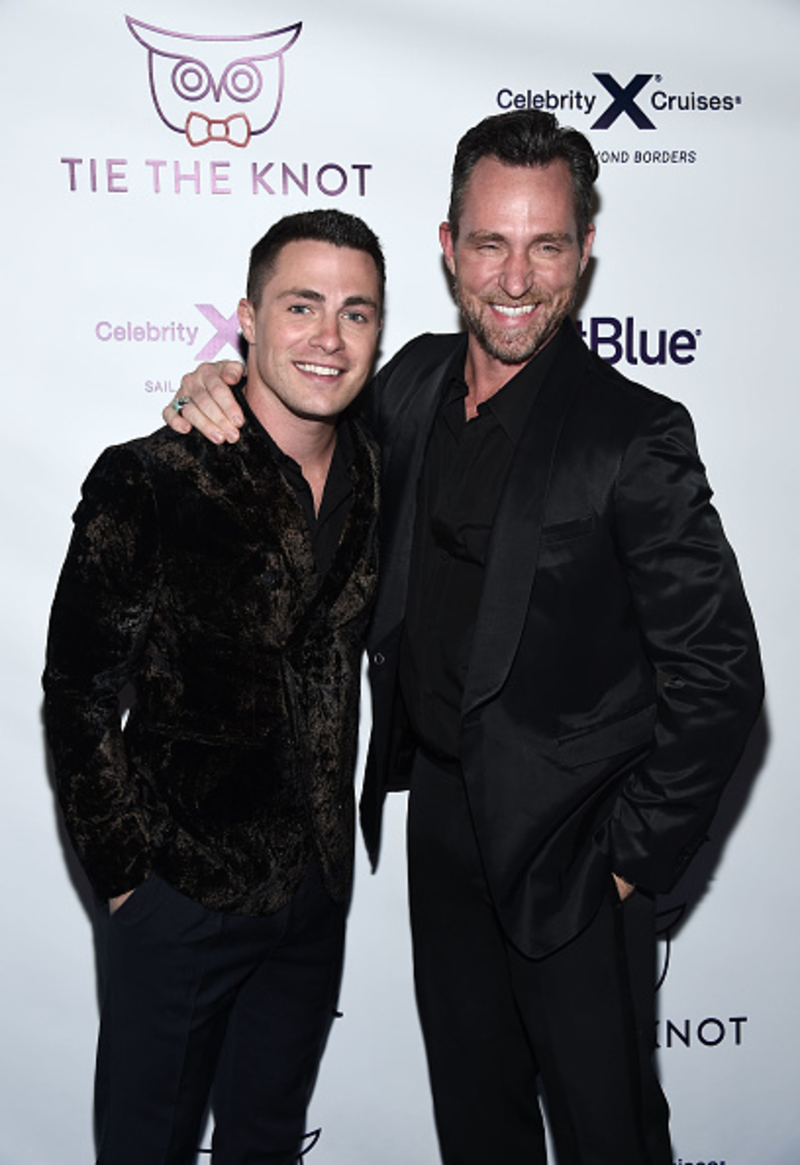 The couple tied the knot in 2017. Sadly, their relationship was short-lived. Six months into their marriage, Haynes filed for divorce from Leatham due to irreconcilable differences. The ex-couple officially set the date of their separation as May 1, 2018.
Zachary Quinto And Miles McMillan

Even Vogue could not help but describe Zachary Quinto and Miles McMillian's relationship as a power couple whose influence goes beyond fashion, film, and the arts. They are the couple goals for the chic.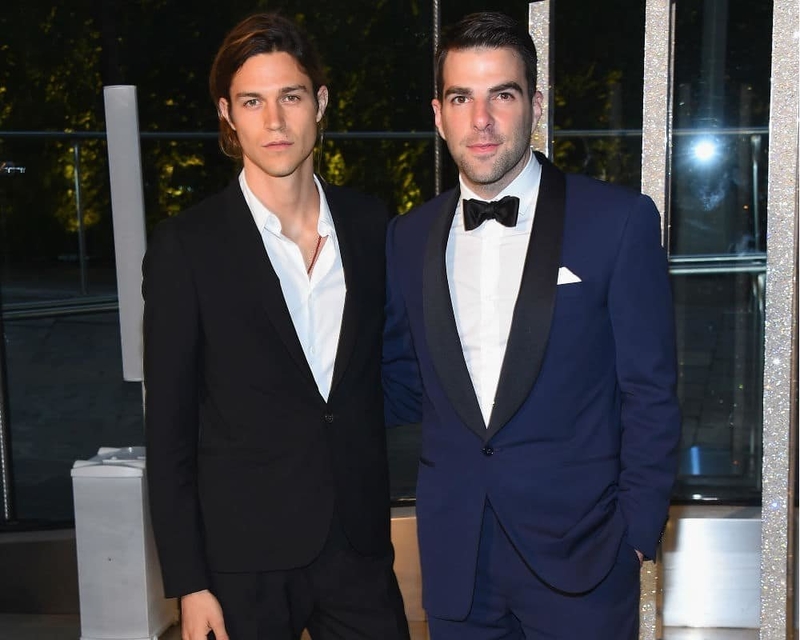 When actor Quinto met painter and model McMillan, sparks flew and they immediately started dating back in 2013. Their love was indeed strong but not everlasting. The couple split after six years in 2019.
Tom Daley and Dustin Lance Black

Tom Daley is a British diver who got married to Dustin Lance Black – a screenwriter. The two began dating in 2013 and eventually announced their engagement in 2015. Two years later, the two got married in a Devon, England castle.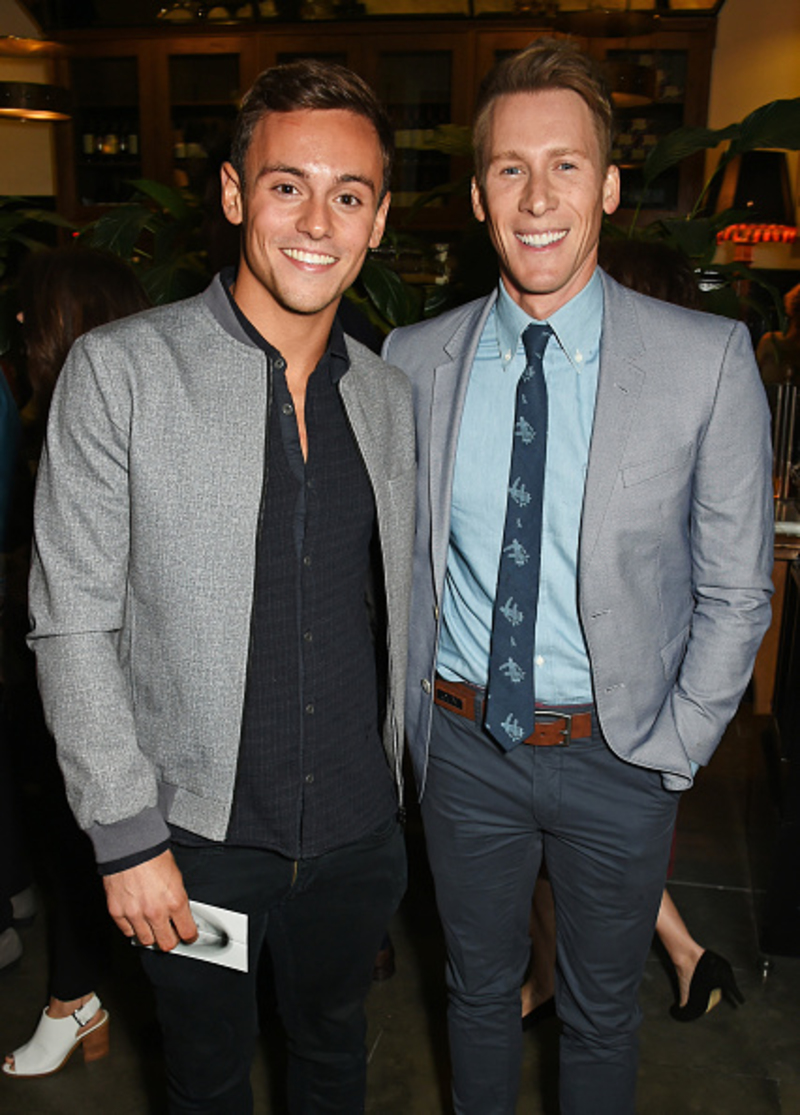 Now, the couple are happy parents to a son born on June 2018 they named Robert Ray. Daley has been an advocate of LGBT rights and recently urged Commonwealth countries to start decriminalising homosexuality.
Jonathan Knight and Harley Rodriguez

New Kids On The Block singer, Jonathan Knight, couldn't help but gush about his boyfriend Harley Rodriguez in a 2016 episode of Jenny McCarthy's Sirius radio show. Knight described how being in Africa helped him pop the question considering that their parents were there and making it official felt natural.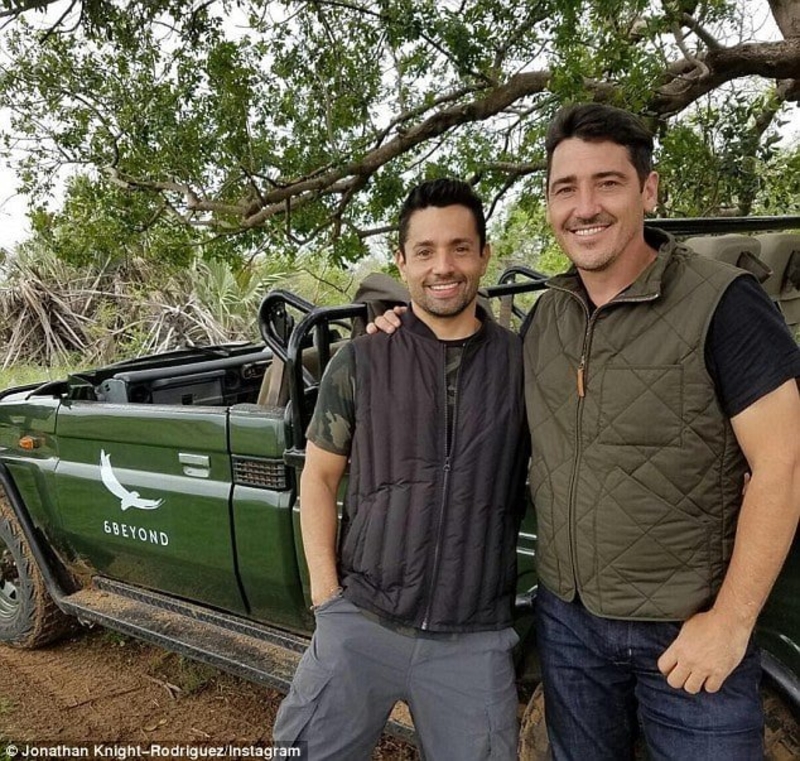 The two recently set a date for the wedding. The couple plan to tie the knot this 2018 after being together since 2008. The couple was part of the 26h season of The Amazing Race where they placed ninth in the competition series.
Daniel Franzese and Joseph Bradley Phillips

Mean Girls comedian Daniel Franzese was so in love with his boyfriend of two years, stylist Bradley Philips, that he eventually asked to marry him – out of all places – in a Starbucks branch in Hollywood, California.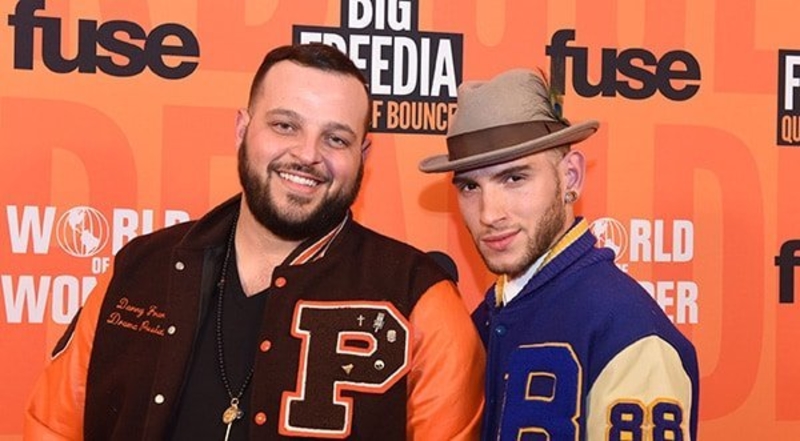 Sadly, maybe because proposing in a Starbucks branch had the symbolic meaning that the engagement was as overrated as its coffee, Bradley and Franzese broke off their engagement but continue to be as friends.
Raven-Symoné and AzMarie Livingston

Remember Raven-Symone in Sesame Street as well as in The Cosby Show? She is now grown up and was in a relationship with singer, actress, model AzMarie Livingston. The two were working on the Fox series Empire as guest stars.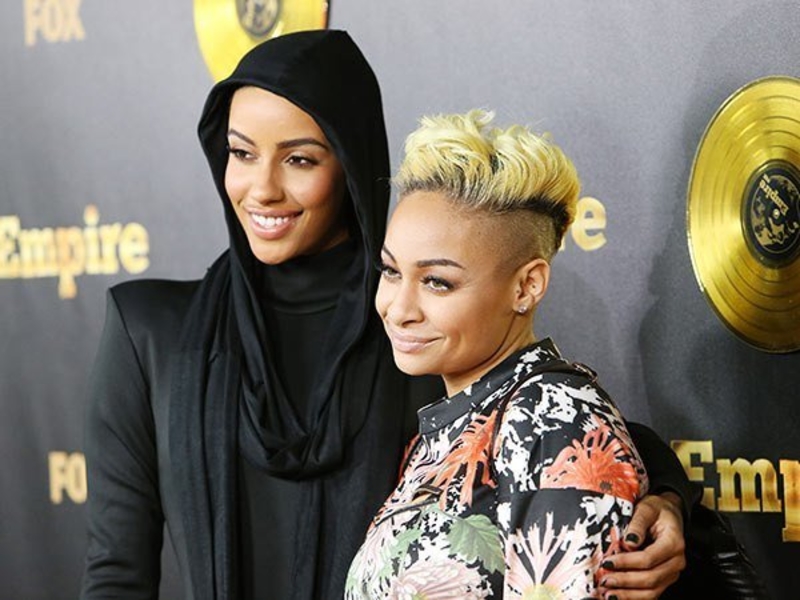 Also, Livingston appeared on America's Next Top Model: British Invasion as a contestant back in 2012. However, after their three year relationship, the two split in 2015. Symone has stated she did not want to be labeled by her sexuality and prefers to be called a human who loves other humans.
Orlando Cruz and Jose Manuel Colon

Who said boxers can't get married to men?  Not many do though due to the backlash they would receive but Orlando Cruz couldn't care less on what people would think. Cruz is the first professional boxer to be open and out about being gay while still working as a boxer.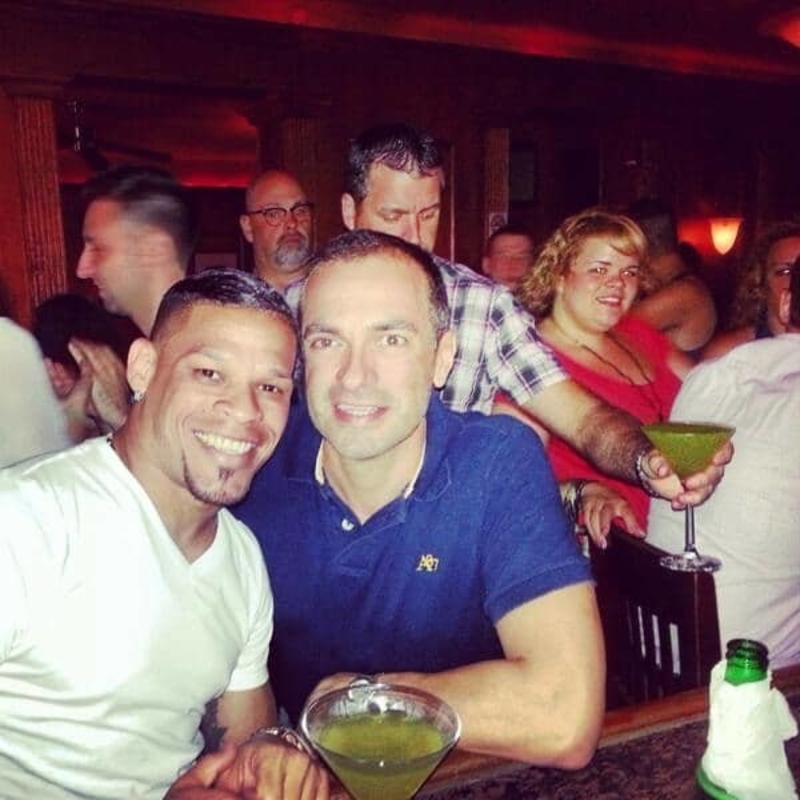 Since he came out, he won his first fight on October 2012. In 2013, he was one of the first inductees to the National Gay and Lesbian Sports Hall of Fame. Cruz went on to marry Jose Manuel Colon in Central Park.
Brittney Griner and Glory Johnson

WNBA star Brittney Griner was married to fellow basketball player Glory Johnson for only 28 days. Three weeks prior to their wedding, the two were already showing signs of problems. Specifically, they were arrested due to domestic abuse.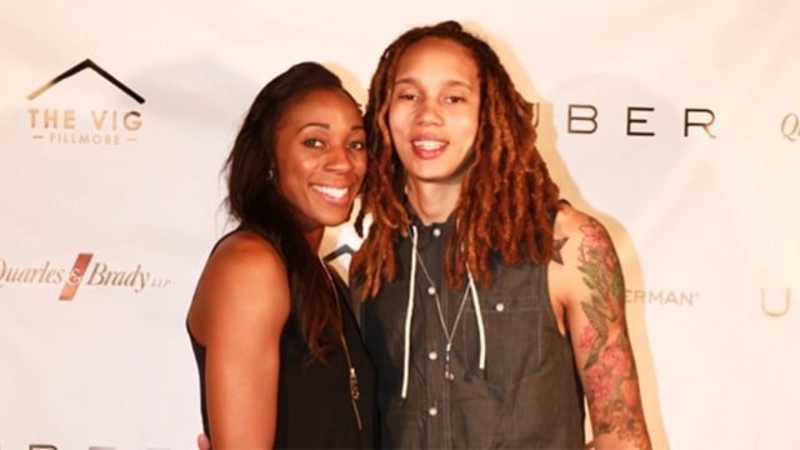 Since then, Griner is now in a relationship with a man who lives near her hometown, Christopher Fry. Meanwhile, Johnson is caring for the twins she conceived via a donor sperm while she was with married to Griner.
Matt Dallas and Blue Hamilton

If you remember the series Kyle XY, you probably remember the actor who played him – Matt Dallas. He is now happily married to music publishing executive Blue Hamilton. The two announced their engagement in 2013 via Twitter. They tied the knot two years after.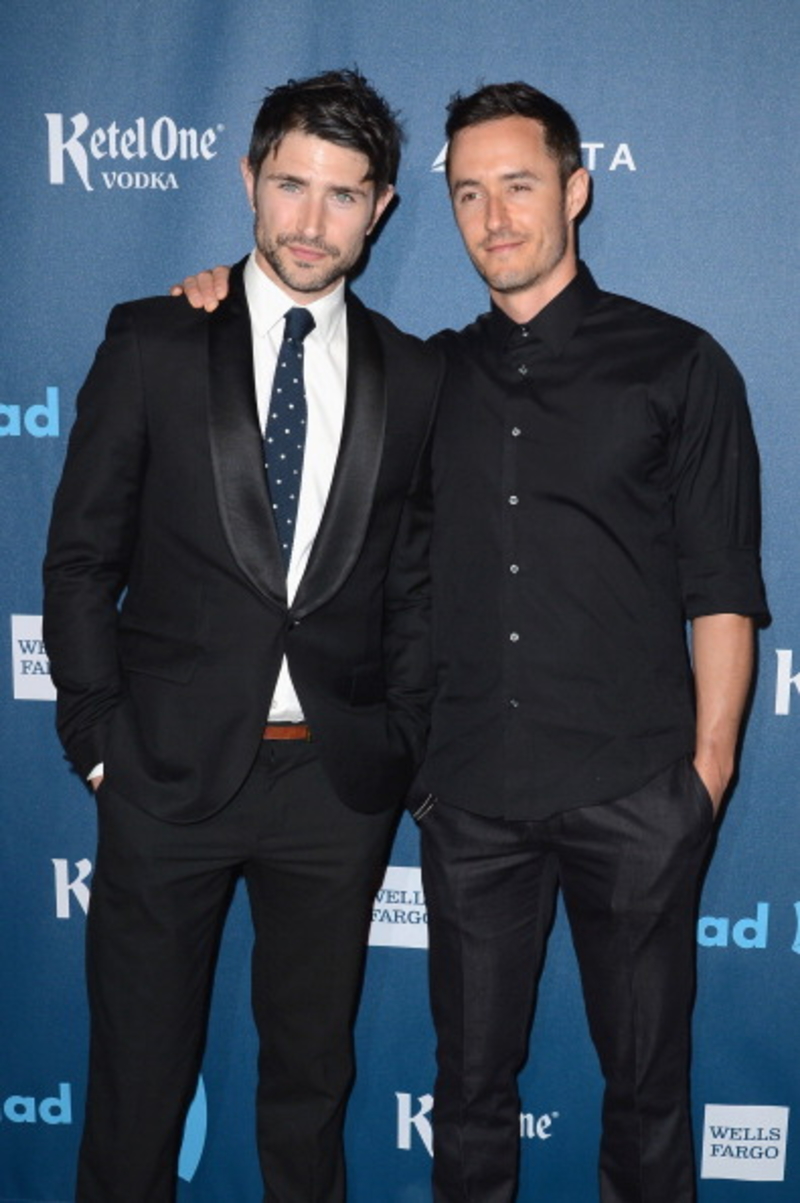 On the same year, the couple adopted Crow – their two year old son. Having a child helped Dallas change his priorities He admitted he used to be selfish, but now, he considers his son on every decision he does. He states that as a couple, they now work together as a team in ways they never used to before.
Alan Cummings and Grant Shaffer

Character actor and theatre thespian Alan Cummings is happily married to graphic artist Grant Shaffer since 2012. They have been dating for two years prior to them entering a civil partnership in 2007. The couple reside in New York City with their two furry kids – Leon and Honey.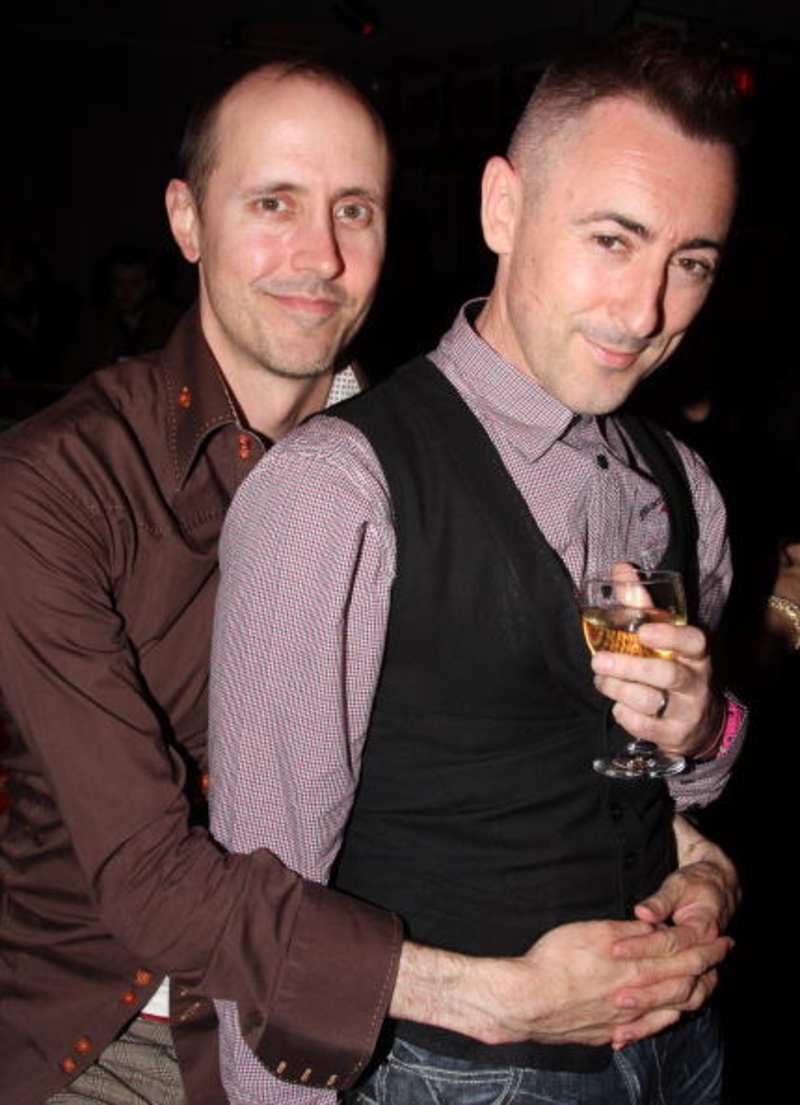 Shaffer has illustrated for magazines such as The New Yorker as well as for newspapers. His 30 Kinds of Passion comic series was in the 2008 edition of the Best American Comics Guide. He also did storyboard work for movies and music videos.
Tig Notaro and Stephanie Allynne

Tig Notaro is a stand-up comedian who is serious about describing how in love she is with actress Stephanie Allynne. The two got married in 2015 and had twin boys a year after via a surrogate. Then 29-year old Allynne wasn't gay though when she met Tig. But she eventually realized that maybe she wasn't straight at all.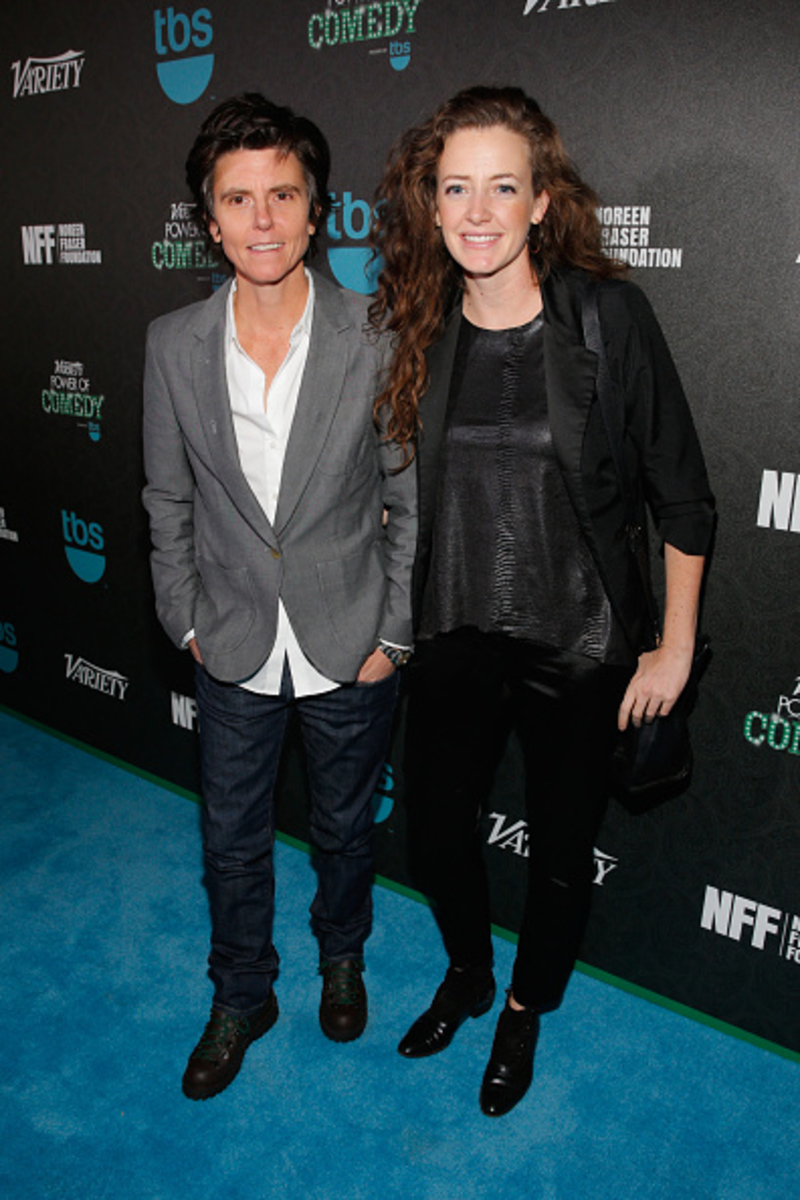 Allynne described her experience as a self-recognition. Though she used to date men, she hasn't been in a serious long-term relationship with one. It was when she met Tig that she realized she wasn't at all in love with men. However, it was through Tig when she exclaimed, "Oh my god, I am fully in love with this person."
Ryan Murphy and David Miller

Glee fans would scream in delight upon learning that their favorite Glee series creator, Ryan Murphy, is a happily married man. Beside Glee, Ryan Murphy also created the series Nip/Tuck, American Horror Story, And American Crime Story.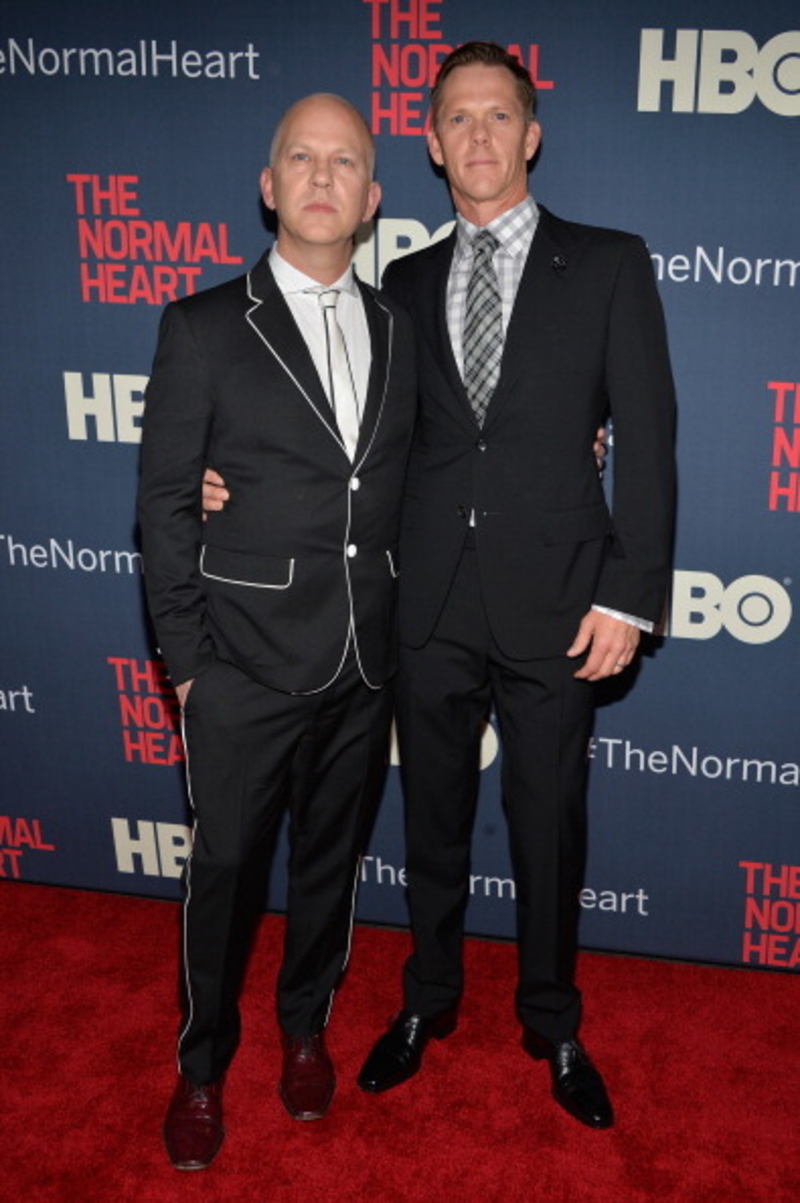 Ryan Murphy married photographer David Miller in 2011 after 15 years of being together. They welcomed their son, Logan Phineas in 2012 through a surrogate. After two years, they had a second son named Ford similarly through surrogate.
David Hyde Pierce and Brian Hargrove

David Hyde Pierce was Dr. Miles Crane in the long-running sitcom Frasier. It was three years after Frasier ended that Pierce publicly announced he was gay. His publicist later confirmed that he was in a relationship with Brian Hargrove – a director, producer and television writer.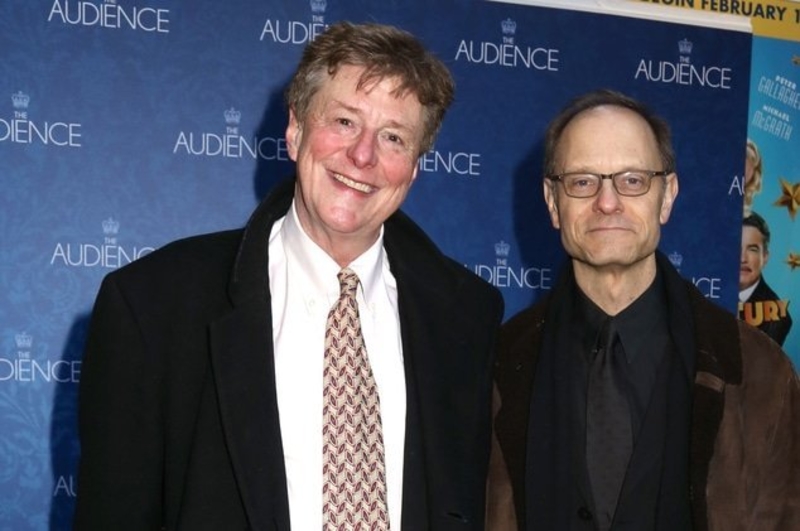 Pierce publicly acknowledged Hargrove when he accepted his Tony Award for the musical Curtains. The two have been together for 24 years but only married in 2008 – days prior to the adoption of Proposition 8 (a law that banned same-sex marriage).
Nate Berkus and Jeremiah Brent

Nate Berkus and Jeremiah Brent are designers who are so in love that describing their relationship as made for each other would be an understatement. They dated for an entire year before they decided to become engaged in 2013. A year later, the two got married. Plus, it was the same year their daughter was born.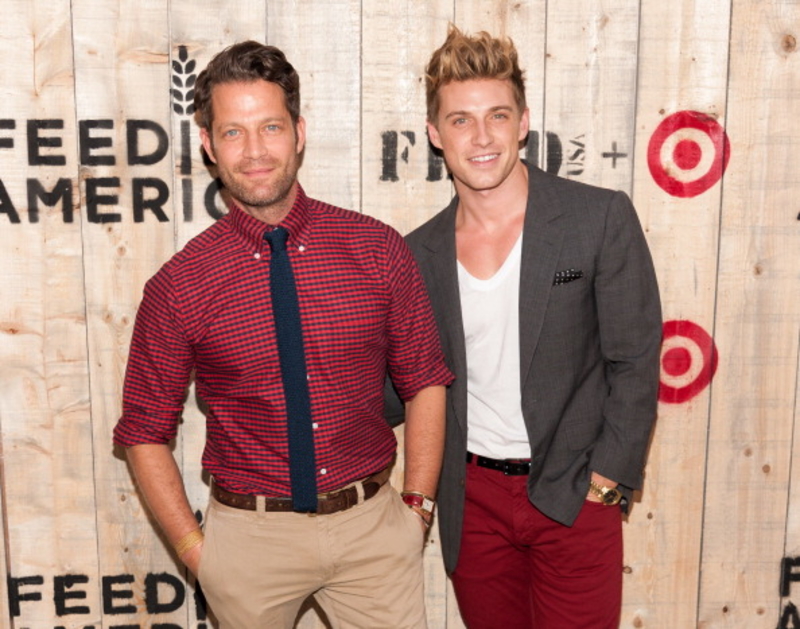 Berkus and Brent, both host the TLC show "Nate & Jeremiah by Design", are hoping to promote surrogacy. This process has helped them welcome another child in their home. The couple recently had a son via surrogate named Oskar Brent-Berkus.
Barry Manilow and Garry Kief

Barry Manilow will always be known as one of the greatest American singers and songwriters who ever lived. For five decades, he has created memorable hits. Though he got married to manager Garry Kief in 2014, and have been with him since 1978, Manilow used to be in a relationship with a woman – and so did Gary.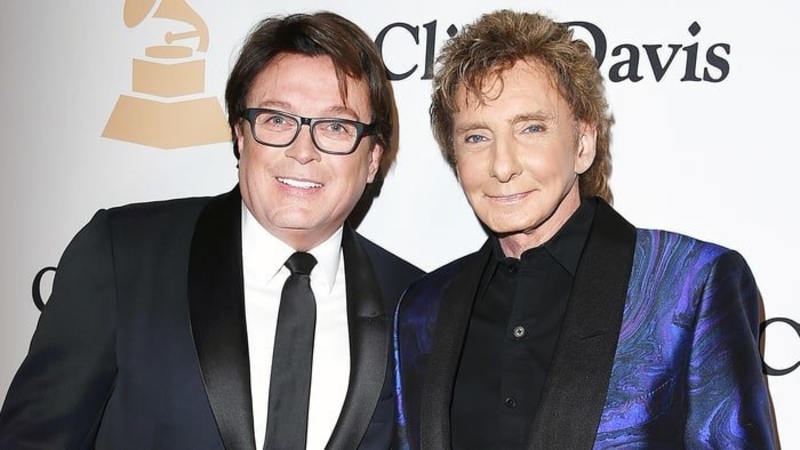 Manilow was first married to Susan Deixler – his high school sweetheart – for two years prior to their marriage being annulled in 1966. Gary was also married and had a daughter named Kristen who was born in 1976. Manilow and Kief made their relationship official in their Palm Springs estate via a wedding attended by friends and family.
Sara Gilbert and Linda Perry

You may know actress and host Sara Gilbert from her role as Darlene in the sitcom Roseanne. She is also one of the hosts of The Talk – a daytime CBS talk show. Before she publicly announced her sexuality in 2010, Gilbert previously dated her Roseanne co-star Johnny Galecki.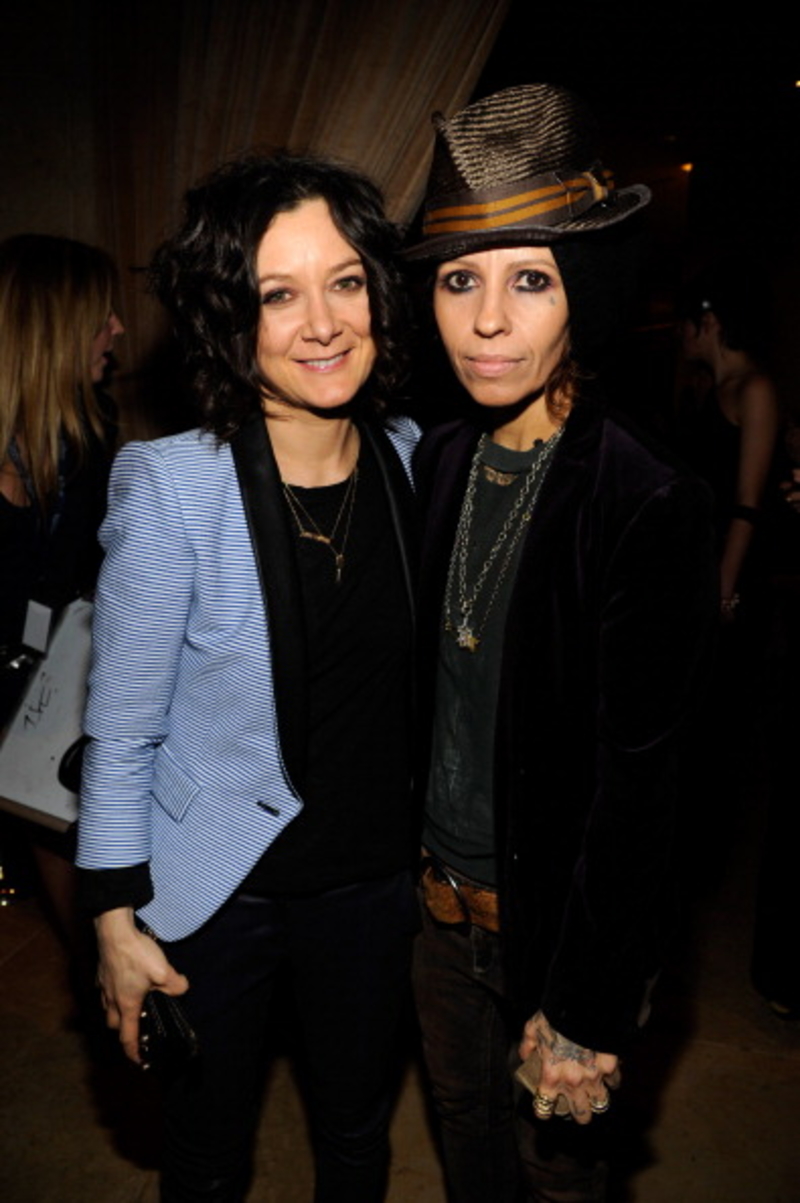 She used to be in a relationship with TV producer Allison Adler but the two amicably separated in 2011. Now, she is with Linda Perry – a music producer and frontwoman of the band 4 Non Blondes. The two became engaged in 2013 and had a son in 2015 they named Rhodes Emilio Gilbert Perry. Unfortabey, the two split in early 2020 but seem to be on a path of repairing something.
Chely Wright and Lauren Blitzer

Country music singer Chely Wright came out as lesbian – one of the first country music stars who ever did – back in 2010 to help erase the stigma of bullying and hate crimes towards LGBT. She also publicly professed the damage caused on her psyche by "lying" and "hiding" about her sexuality. A year later after she came out, she was engaged to Lauren Blitzer – an advocate of LGBT rights.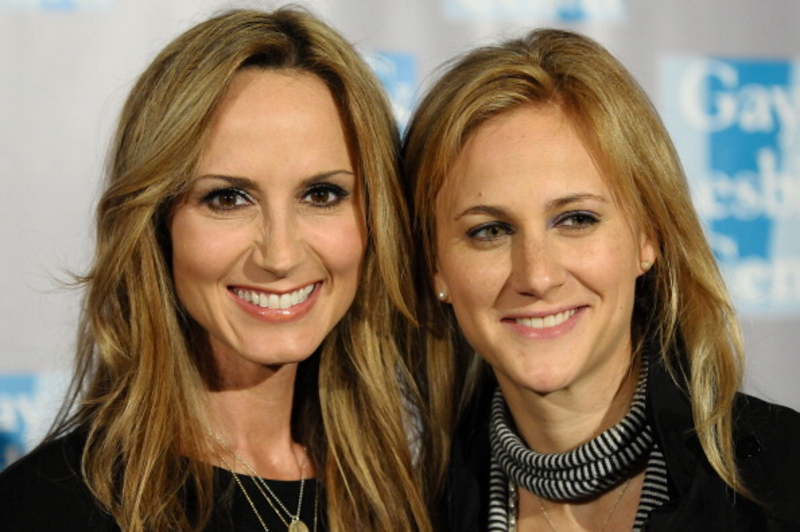 The two eventually got married on 2011 in a Connecticut country estate. The event was officiated by a reverend and rabbi. Two years after their wedding, Chely gave birth to identical twins George Samuel and Everett Joseph.
Robin Roberts and Amber Laign

Robin Roberts, the host of ABC's Good Morning America, didn't announce her sexuality until December 2013. However, her co-workers and friends have long known about her preference long before. At the same time of her announcement, Roberts similarly declared that she is in a relationship with massage therapist Amber Laign since 2005.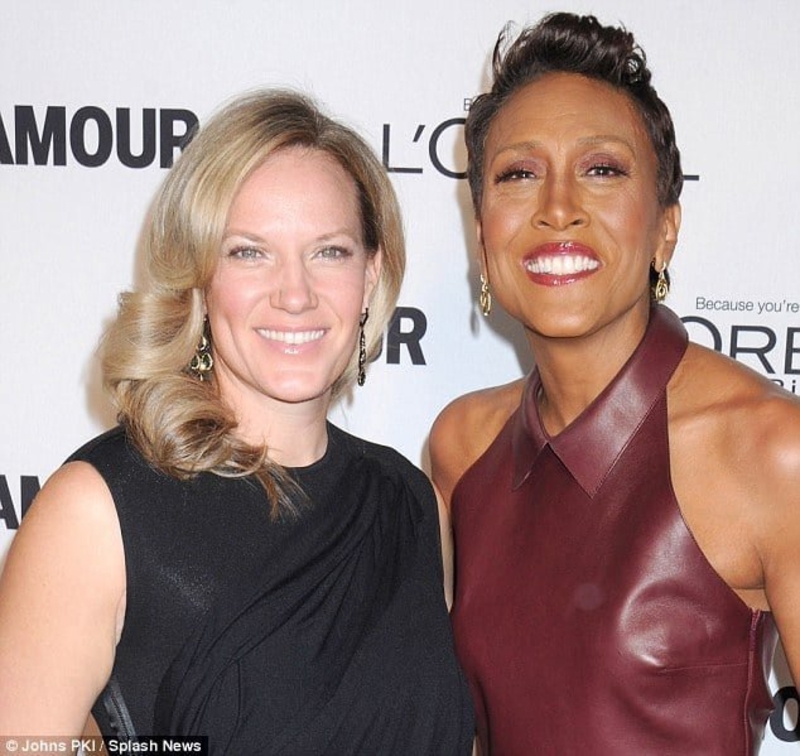 In 2015, Roberts was one of 31 LGBT History Month Icons as according to the Equality Forum. She received a Peabody Award in 2012 as well as an Arthur Ashe Courage Award from ESPN in 2013 due to her public promotion of bone marrow donations, having had bone marrow disease herself.
Cheyenne Jackson and Jason Landau

Cheyenne Jackson, an actor from the series American Horror Story, has no horror stories to tell when it comes to his relationship with entrepreneur and fellow actor Jason Landau. It was 2013 when the two publicly announced that they were dating. A year later, they tied the knot and are now living happily as a family with their twins.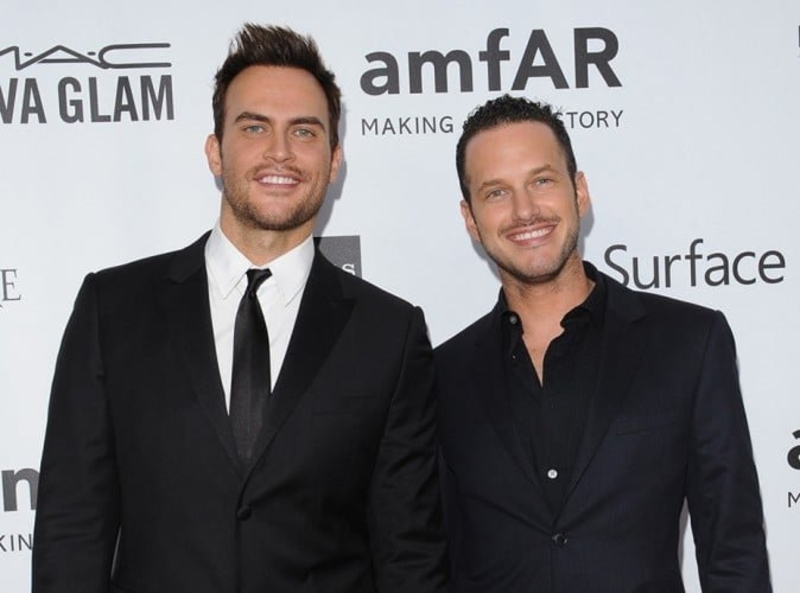 Jackson is serious about being a dedicated dad. He took six months off from work just to be a full time stay-at-home father for the twins. Since then, the family has been living happily every after, together – and hopefully for life.
RuPaul and Georges LeBar

Popular drag queen RuPaul, considered as the United States' most commercially successful drag queen and who is also responsible for making the art of drag be accepted, tied the knot this 2017 with his boyfriend Georges LeBar – a painter from Australia. The couple has been together for more than two decades.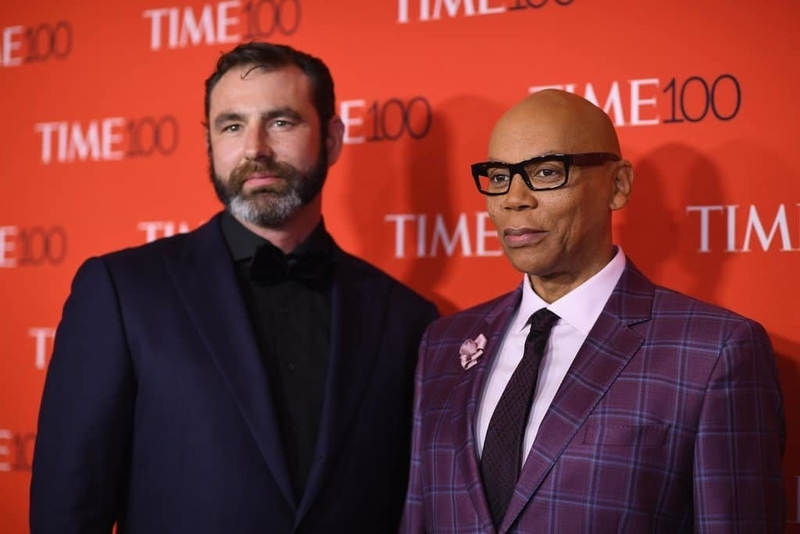 LeBar and RuPaul met in 1994 at New York City's Limelight nightclub. They have been together since. LeBar has a 50-acre Wyoming Ranch. RuPaul describes himself as a shapeshifting drag queen who does whatever he wants at anytime.
Elliot Page and Samantha Thomas

Actor Elliot Page is best remembered for his role in the film Juno. But little know about his relationship with surfer and artist – Samantha Thomas.  Page came out about his sexuality back in 2014 during a Human Rights Campaign. He expressed how he was scared to be out thus causing his spirit and mental health to suffer.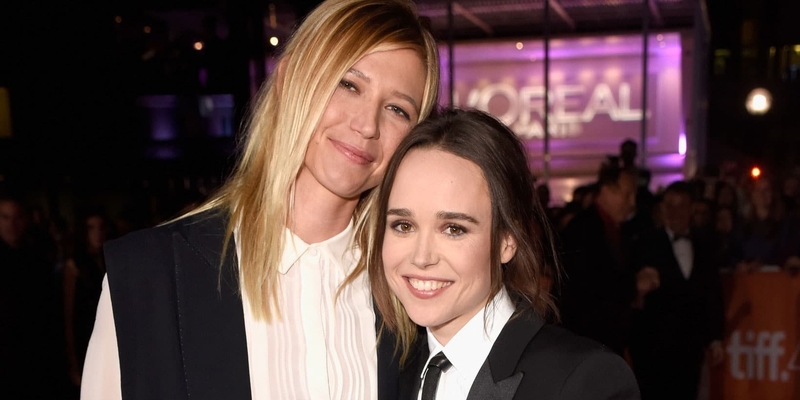 Thomas and Page dated for a year and a half but are no longer an item. In November of 2020, Elliot Page came out as trans.
Melissa Etheridge and Linda Wallem

Guitarist and singer Melissa Etheridge tied the knot with actress and producer Linda Wallem in 2014, a mere two days after the couple turned 53 years old. Prior to their wedding, the two have been best of friends. It was Wallem who Etheridge called when she became a single mother with four kids to care for.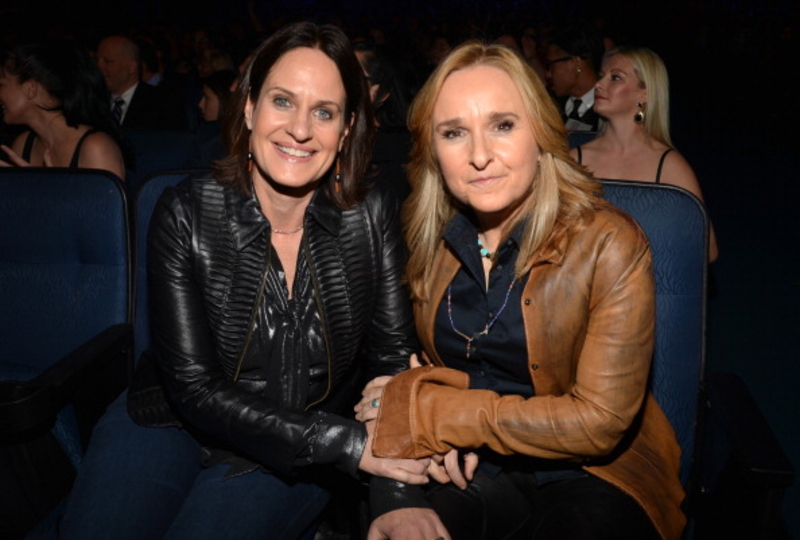 Eventually, the two developed a more intimate relationship that went beyond friendship. It began when the then would-be-couple were helping each other fulfill day to day motherly duties of feeding the kids. Etheridge decided to legalize their relationship and get the benefits of being legally married – and so they did. They have since been living happily together, highly likely ever after.
Lily Tomlin and Jane Wagner

Lily Tomlin first burst into the entertainment scene during the 1960's as a stand-up comic. She later won a slew of awards due to her performances on television, film,  and Broadway. But it was an event in 1971 that Tomlin best remembers fondly.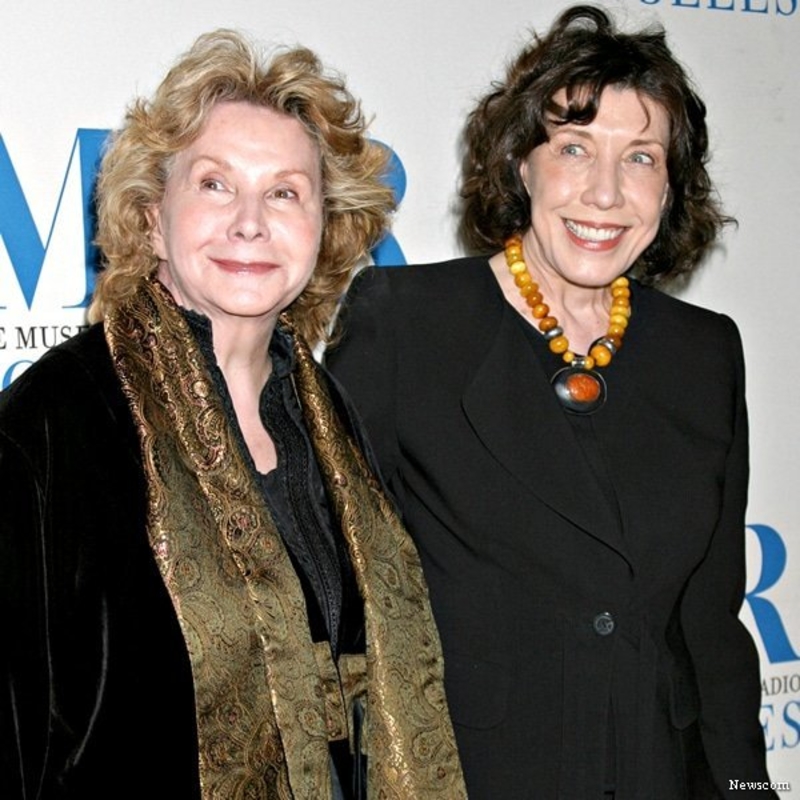 She met writer and would-be wife Jane Wagner when Tomlin invited Wagner to collaborate with her on an LP record album titled And That's The Truth. Since then, the two have been together as a couple, though there were no formal coming out announcements. They tied the knot on December 2013.
Jim Parsons and Todd Spiewak

It was 15 years before The Big Bang Theory actor Jim Parsons, and his now husband Todd Spiewak decided to tie the knot. According to Parsons, he didn't think much of the wedding thing but decided to go ahead with it to "legalise this thing".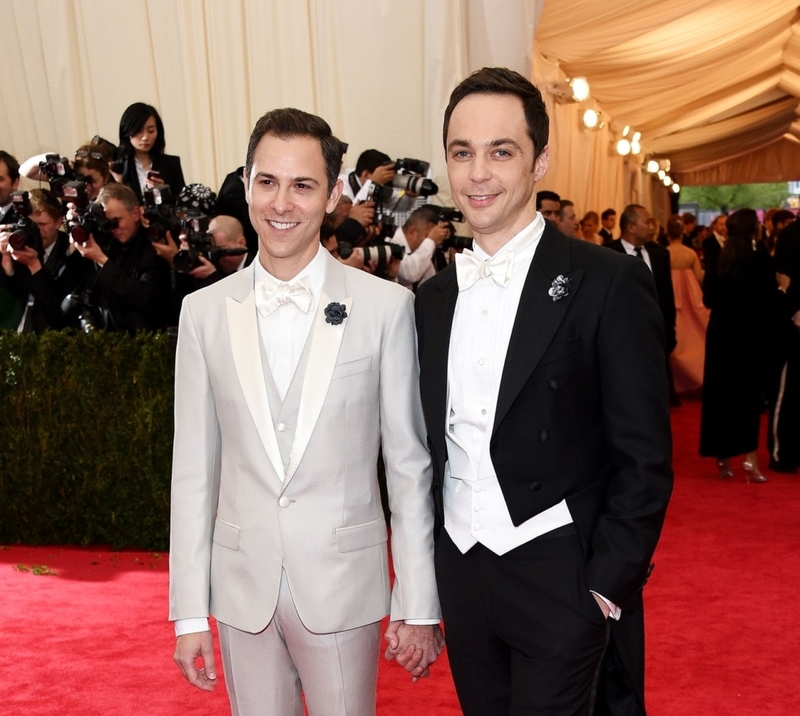 The two wed on May 2017 in New York City's Rainbow Room.  Prior to the wedding, Parsons never felt the need to get married as he was fine staying as they are. He likened the experience of being together with Spiewak as 'close to being with God'.
Jillian Michaels and Heidi Rhoades

You may be familiar with Jillian Michaels thanks to her appearance in the reality show, The Biggest Loser. However, it was in her own reality show on the E! Channel titled Just Jillian where she was seen proposing to her talent manager Heidi Rhoades.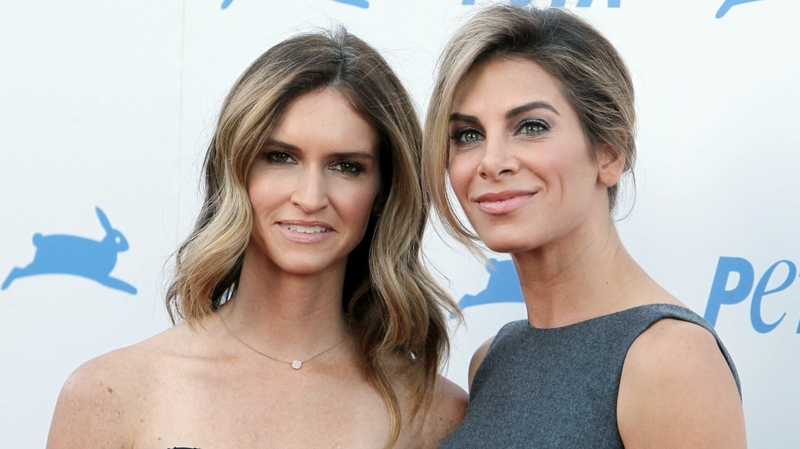 That was 2011, fast forward nine years later and feel free to be shocked when Michaels announced she and Rhoades have split. However, the two have good things to say to each other. Michaels even gushed about Heidi and still declare she loves her ex-fiancée – but they are better as friends and parents than they are as a couple.
Michael Kors and Lance Lepere

Fashion designer Michael Kors has known Lance Lepere since 1990 as the latter was an intern in Kors' company. But a business trip to Paris was a game-changer as both discovered they had the same tastes – they prefer to play with the idea of Americana, fashion-wise.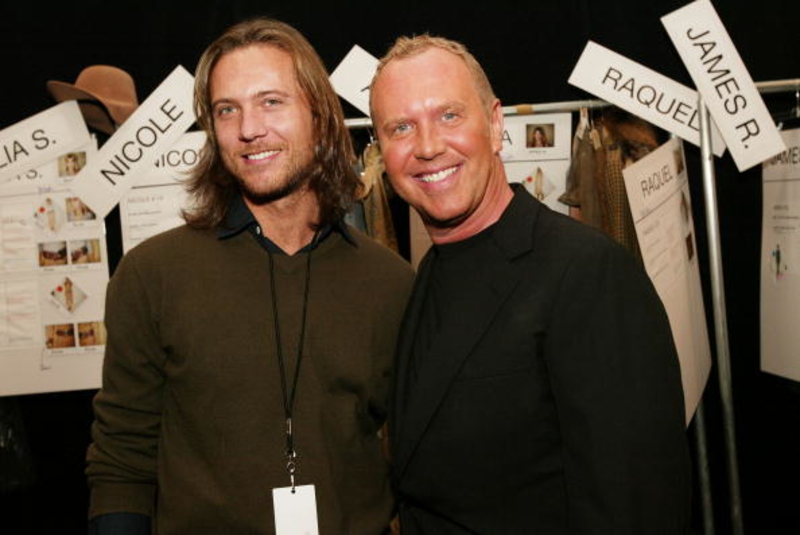 Since then, the two became engaged in 2011 and was later married the same year. The venue for their union was Southampton, New York, specifically on Dune Beach. Kors expressed that marrying someone on a beach while barefoot is more than he could ever dream of.
Wanda Sykes and Alex Sykes

Stand-up comedian Wanda Sykes only outed herself as a lesbian in 2008. A mere month later after she came out, Wanda married Alex Niedbalski – a woman of French descent. They met two years earlier and were immediately in love. Prior to her marriage to Alex, Wanda was married to a man.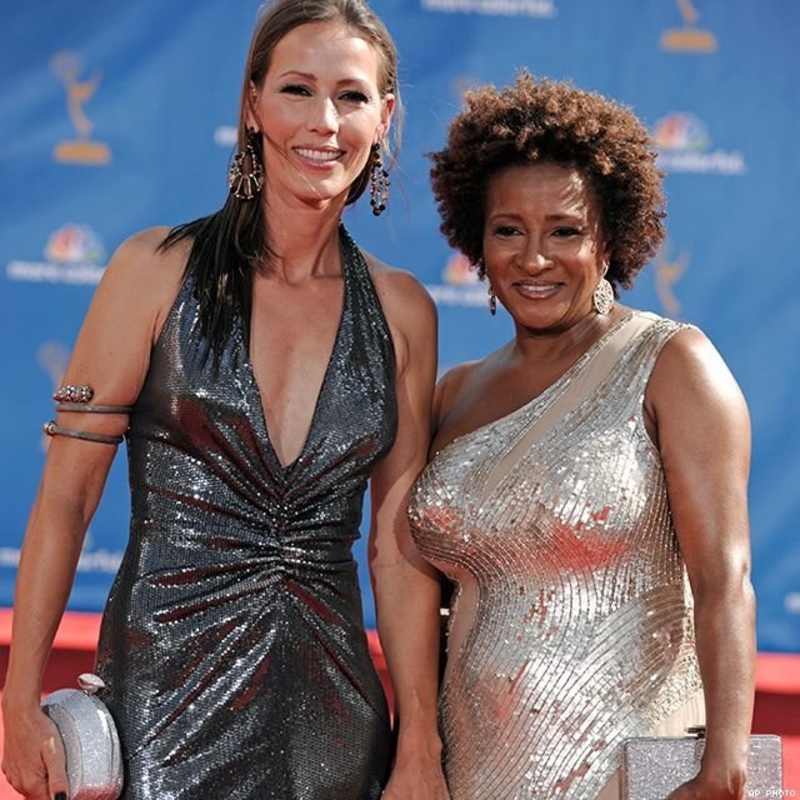 From 1991 to 1998, Wanda was married to Dave Hall – a record producer. However, she is living happily ever after now with Alex whom she shares a son and daughter with. Their fraternal twins were born in 2009.
Tom Ford and Richard Buckley

According to fashion designer Tom Ford, it was love at first sight when he met fashion journalist Richard Buckley. The two met by sharing an elevator ride for ten floors. By the last floor, Ford felt Buckley was the one. That was 1986, fast forward to today and the two are still together, happily ever after.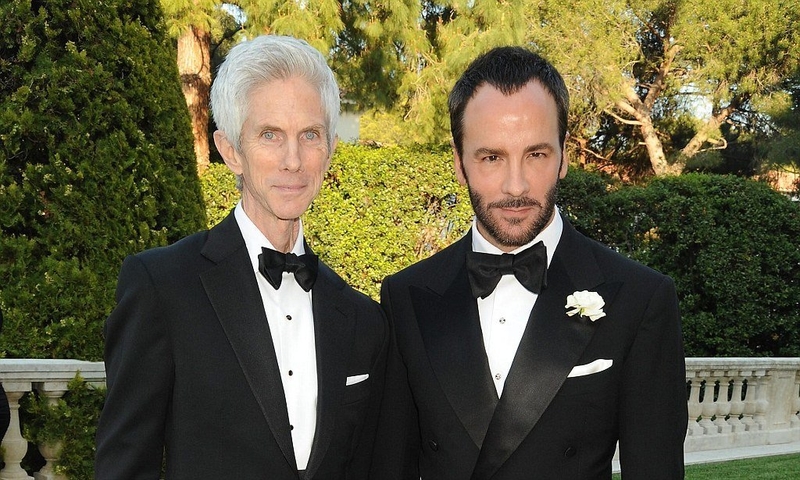 The couple got married this 2014. The two have a four-year old son named Alexander John Buckley Ford. According to Ford, the secret to their relationship is mutual respect. Plus, having a mutually good heart and soul helps a lot.
Elton John and David Furnish

Singer Elton John has long been in a relationship with his director husband David Furnish since 1993 – the same year they met. They have been together since then but eventually solidified their relationship when they decided to unite via a civil partnership in 2005.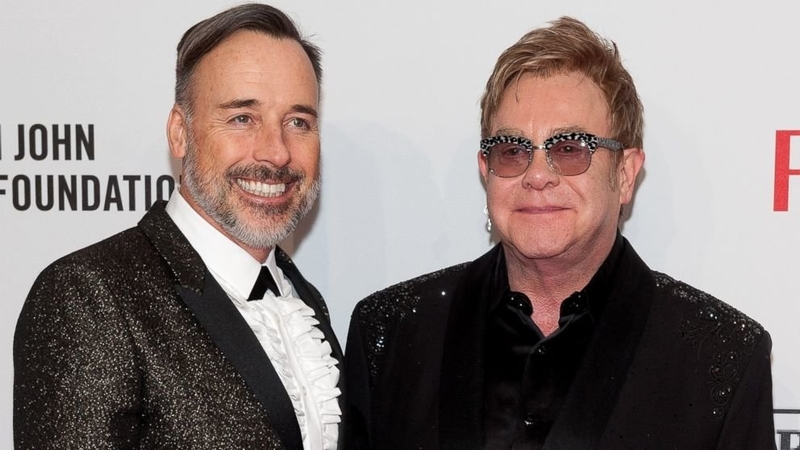 When England and Wales legalised same-sex marriage, the couple wasted no time to tie the knot. They eventually got married on December 21, 2014. Prior to their wedding, their first child was born via surrogate in 2010, while their second son followed three years later.
Cynthia Nixon and Christine Marinoni

Sex and the City star, Cynthia Nixon, used to be married to a man. She was in a relationship with Danny Mozes, a schoolteacher, from 1998 to 2003 – and even had kids with him. But  a year later after their split, Nixon met and began dating Christine Marinoni – an education activist.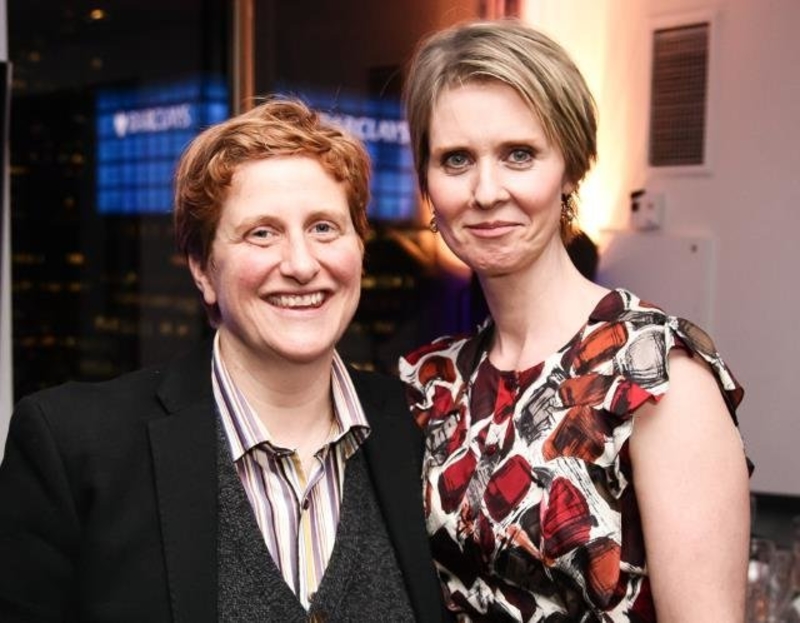 Five years after Nixon and Marinoni met, the two became engaged in 2009. The couple eventually exchanged vows in 2012 in New York. Nixon and Marinoni officially became a family in 2011 when the latter gave birth to a son. Nixon's eldest son from her previous relationship is transgender.
Lance Bass and Michael Turchin

When Lance Bass was a member of the boy band N'Sync, little did anyone know that he would be inclined to prefer those whose gender was the same as his. Fast forward many years later, specifically 2006, when he loudly and proudly revealed to People magazine that he is gay.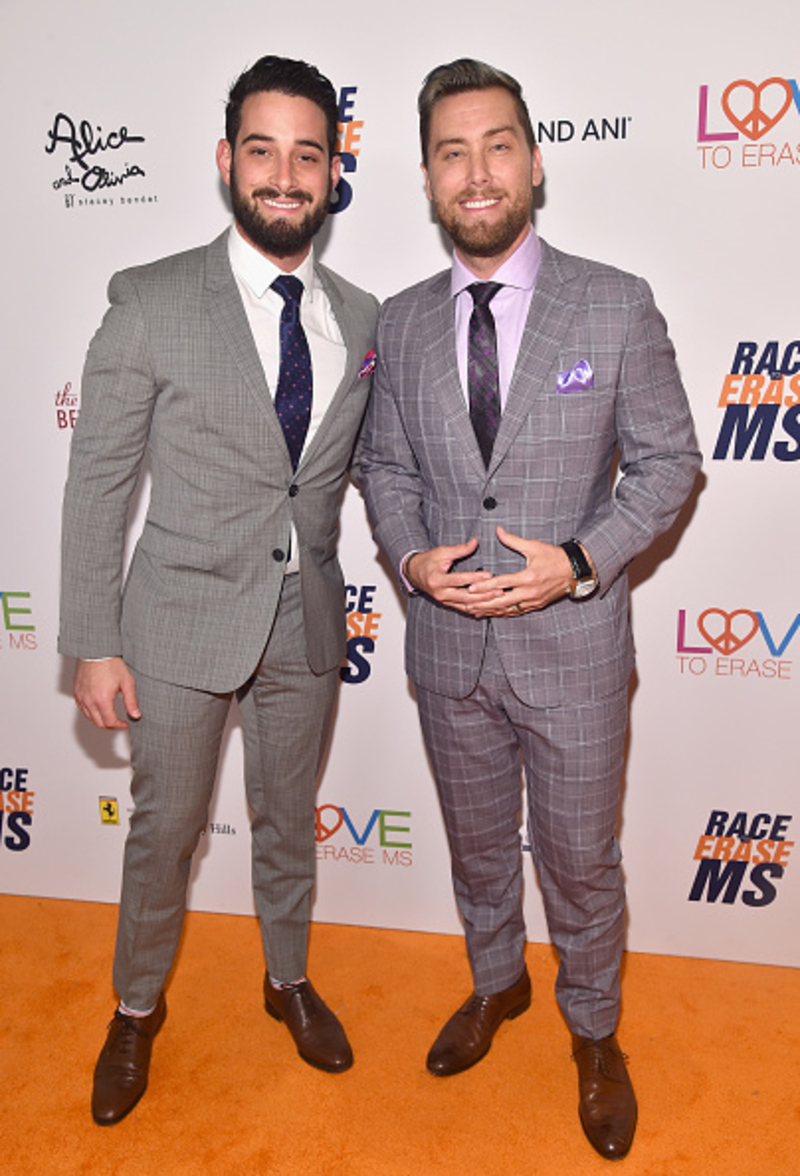 Now, Lance Bass is happily married to actor and painter Michael Turchin.The two wed in 2014 after three years of dating. They were the first same-sex couple to exchange vows on cable TV via the show, Lance Loves Michael: The Lance Bass Wedding.
George Takei and Brad Altman

George Takei, despite being already 80 years old – and despite no longer involved in the Star Trek franchise – is still best remembered as his character Hikaru Sulu. Plus there is no stopping his more than 10 million followers from continually growing.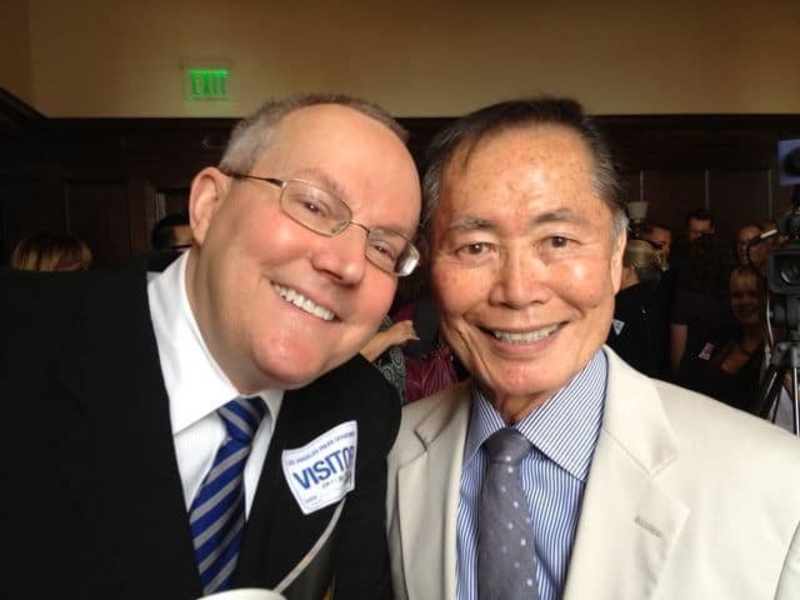 It was only in 2008 when he publicly announced his sexuality by claiming he was in a relationship with actor and writer Brad Altman. Plus, little did anyone know that the two have been together for 18 years. The couple appeared in The Newlywed Game TV show a year later where they won $10,000 for their chosen charity, the Japanese American National Museum.
Jesse Tyler Ferguson and Justin Mikita

Jesse Tyler Ferguson, one of the stars of the television series Modern Family, is starting his very own modern family when he said "I do" to his long-time boyfriend Justin Mikita. The two got engaged in 2012 and got married after a year.
However, just like their non-traditional wedding, the couple opted to receive gifts in a similarly unconventional way.  They asked their wedding guests to instead donate to to the charity "Tie the Knot" -their chosen marriage equality charity.
Nico Tortorella and Bethany Meyers

Nico Tortorella, actor and star of the comedy series Younger, is a pansexual married to gay lifestyle and fitness entrepreneur, Bethany Meyers. The two exchanged marital vows this March 2018 in a New York City courthouse while wearing white wedding gowns. Prior to their marriage, the two have been in a relationship for more than a decade.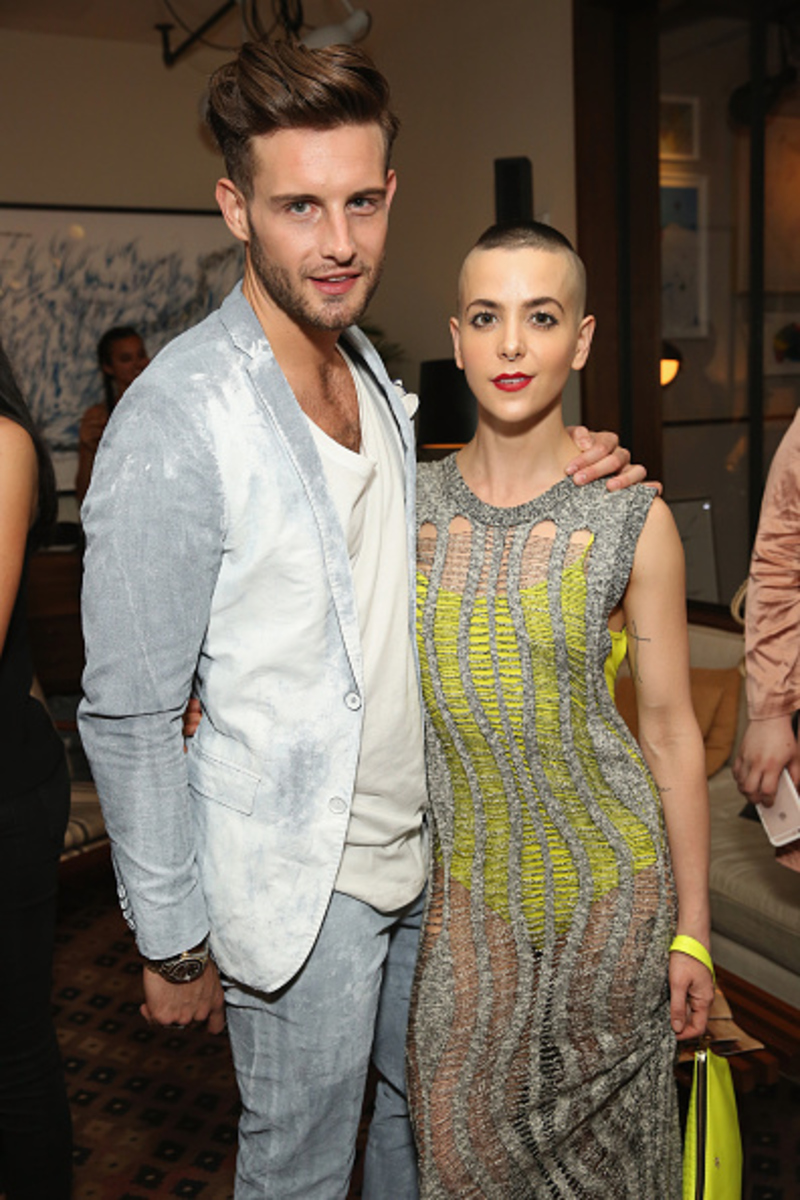 The couple's unconventional wedding reflects their similarly non-traditional relationship. The two, despite being married, do not live together. However, they do see each other weekly. They communicate by using FaceTime each day.
Kendrell Bowman And Anthony Wayne

Anthony Wayne and Kendrell Bowman seems to be a match made in heaven. Wayne is a broadway star who made his debut in 2011 via the musical Anything Goes. Meanwhile, Bowman's official title is stylist and creative image consultant to the stars.

When the two joined together, they became a force everyone had to reckon with — in a good way. The two technically engaged in doing work for You Make Me Feel Mighty Real: A Sylvester Concert – a successful off-broadway musical where Wayne served as the star while Bowman was the show's creative director and costume designer.
Jenna Lyons and Courtney Crangi

Fashion designer and businesswoman Jenna Lyons was married to her artist/husband Vincent Mazeau for nine years when she decided to turn a leaf and be in a relationship with Courtney Crangi – the sibling and business partner of jeweler Philip Crangi. Lyons and Crangi started dating in 2011.
Sadly, despite their creative similarities, the two eventually split in 2017. In the same year, Lyons stepped down from J.Crew – where she was working as creative director – due to very poor sales. Lyons was 49 and Crangi was 44 when their relationship ended.
Sarah Paulson and Holland Taylor

Just when you thought you've seen everything, here comes a relationship that is definitely one for the books. 42-year old actress Sarah Paulson is in a relationship with the mother of Charlie Sheen's character in the sitcom Two and a Half Men – 74-year old Holland Taylor.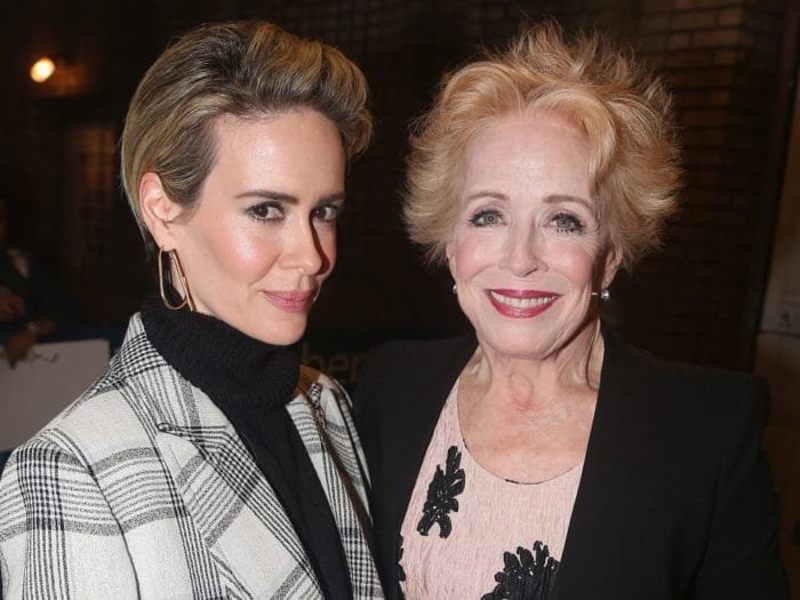 Though some may raise their eyebrows with this scenario, these two couldn't care less. Why would their relationship be any different from when a young woman is in a relationship with a man 30 to 40 years her senior? Age is just a number after all, as shown by this couple.
Michael Sam and Vito Cammisano

Not many people are witness to an NFL player's emotional outburst when it came to the goings-on of their heart. But Michael Sam didn't care what everyone else was thinking when he kissed Vito Cammisano, his boyfriend, on live TV. Apparently, Sam was so happy to be drafted to the NFL he couldn't contain his feelings.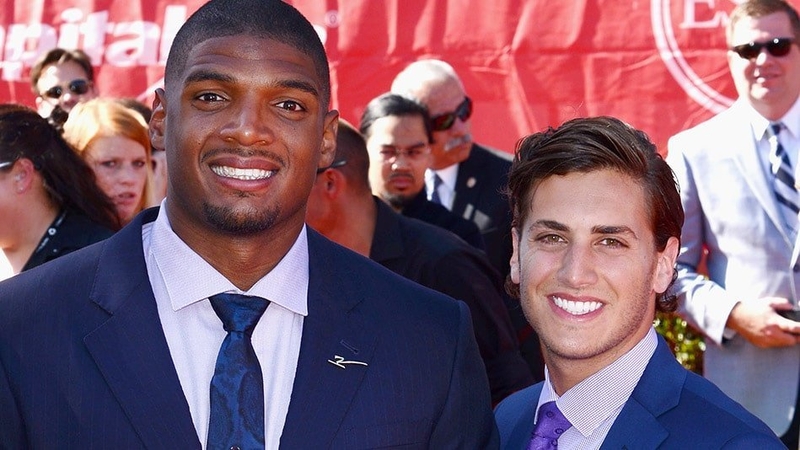 Cammisano is an alumni of the University of Missouri. The two have been dating for months when they decided to publicly announce their love for each other by being engaged on January 2015. Sadly,five months later, the couple ended their relationship.
Cara Delevingne and Annie Clark

Cara Delevingne was ushered into the world of fashion modeling and inadvertently onto everyone's faces when she became the industry's it girl. However, she decided to pursue a different career path far from the catwalk. She once declared that she always wanted to be famous and the center of attention. She may further fulfill that dream now that she is also acting.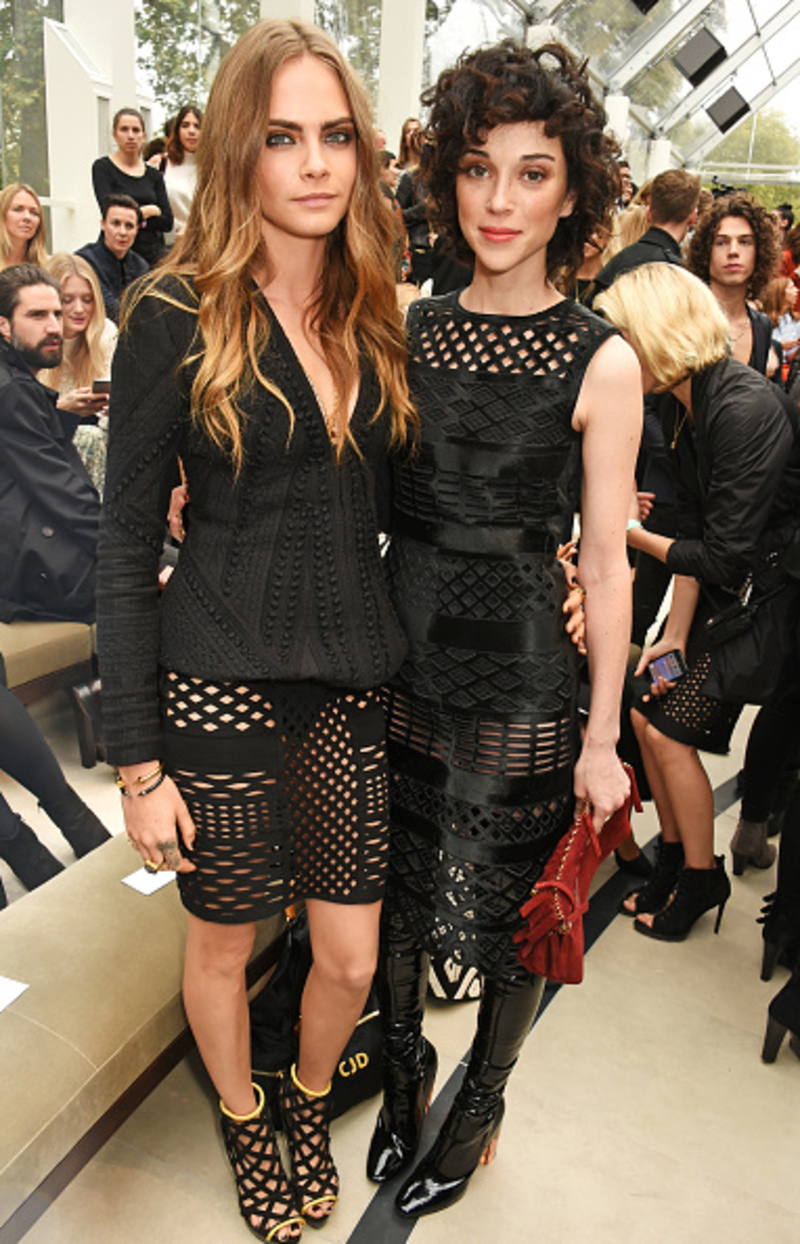 Relationship-wise, she has dated Annie Clark, a musician who also goes by the name St. Vincent. When their relationship became public, everyone in social media almost got into a frenzy. Fortunately, their excitement eventually died down, sadly, the reason for it was due to Delevingne calling it quits with Clark in 2016.
Jodie Foster and Alexandra Hedison

When Jodie Foster was a guest in Late Night with David Letterman, the host irreverently implied Foster's sexuality and how sad it would be that she could never be with a man. However, Jodie Foster thinks otherwise as she is happily married to Alexandra Hedison – a director, artist, and teacher. Meanwhile, Foster is considered as one of this generation's "greatest actresses".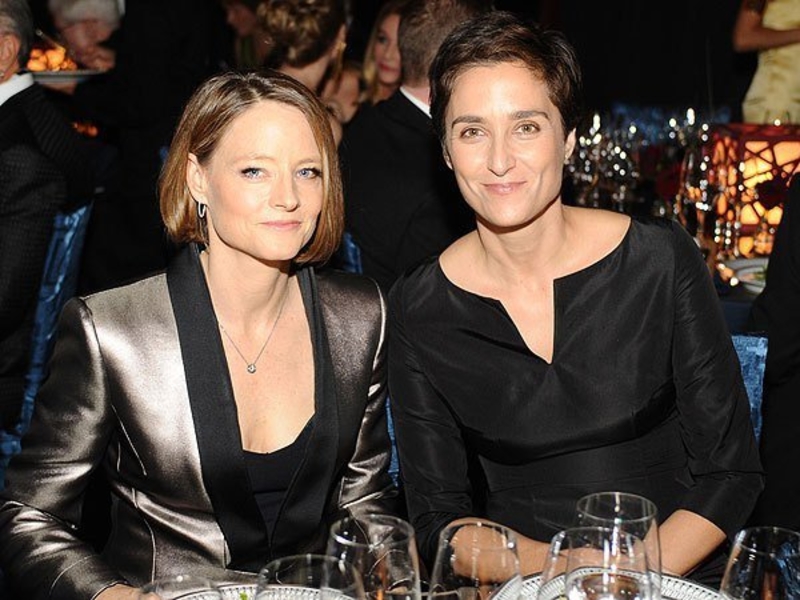 Hedison used to be Ellen DeGeneres' girlfriend. Foster and Hedison wed in 2014 a year after they met. Foster has two kids with her former partner, Cydney Bernard. Her eldest son is reportedly pursuing an acting career while the youngest prefers to stay out of the limelight.
Samira Wiley and Lauren Morelli

Orange isn't just the new black, it officially became red – valentine's day red to be exact – due to the relationship it helped bloom. Lauren Morelli, the Orange Is The New Black writer, met Samira Wiley on set where the latter played a character named Poussey Washington. Since then, the two have been inseparable.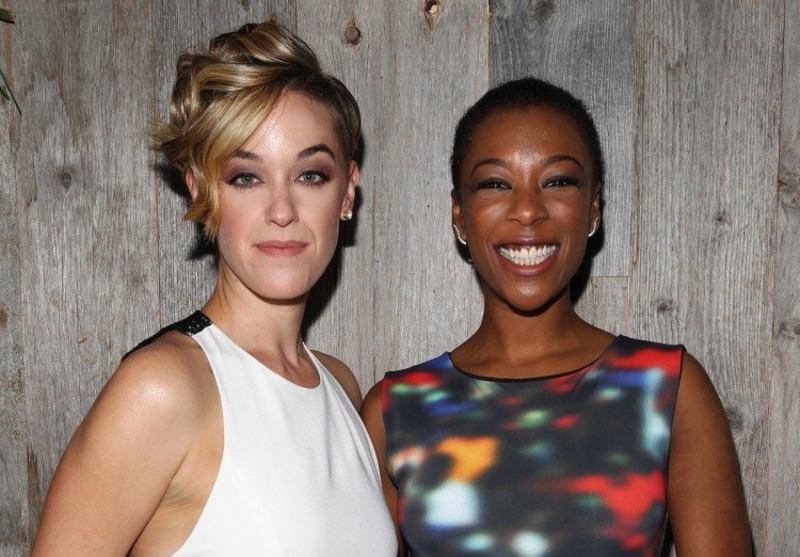 The two eventually became engaged in October 2016, and got married a year later. Morelli used to be married to a man but later realized she was gay while working on the set of the Orange Is The New Black series. She eventually got divorced and hasn't looked back since.
Neil Patrick Harris and David Burtka

The star of the 90's series, Doogie Howser, MD, Neil Patrick Harris and chef David Burtka are everyone's relationship goals. Both are successful in their own right. Harris is an accomplished actor, host, and Broadway star while Burtka similarly dabbled in the profession but is now focused on his other passion of cooking. Though they are out and about now with their relationship, they didn't use to be this loud and proud about it.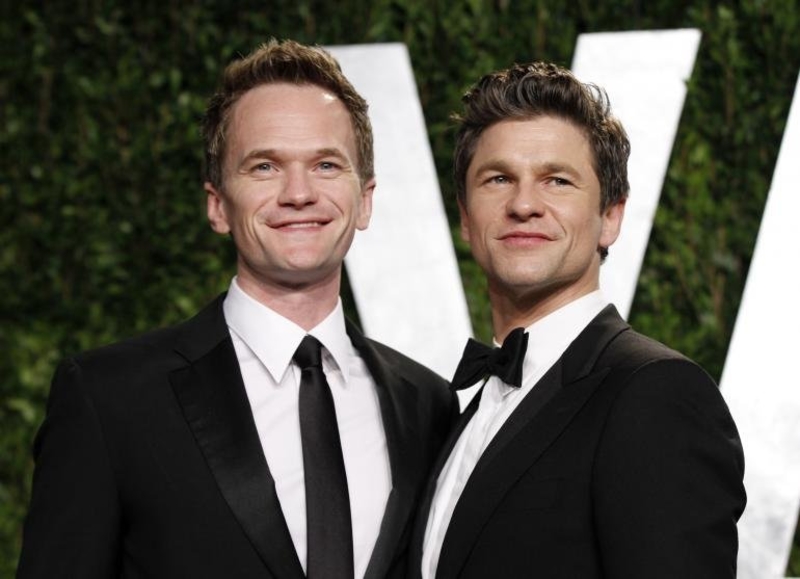 Back then, their relationship was not within the knowledge of the public despite them being already engaged. They kept their love for each other secret for five long years and only made their entire relationship official in 2014. However, before their wedding, their twins were already born in 2010 through surrogacy.
Ellen DeGeneres and Portia De Rossi

Ellen and Portia are currently the most famous lesbian couple in Hollywood. Considered as a power couple, their relationship has stood the test of time. It was 2004 when they began dating. Portia was working as a model and actress, while Ellen was doing stand—up. After four years of being together, they tied the knot in a public wedding. Now, these two are a force to be reckoned with in the entertainment industry.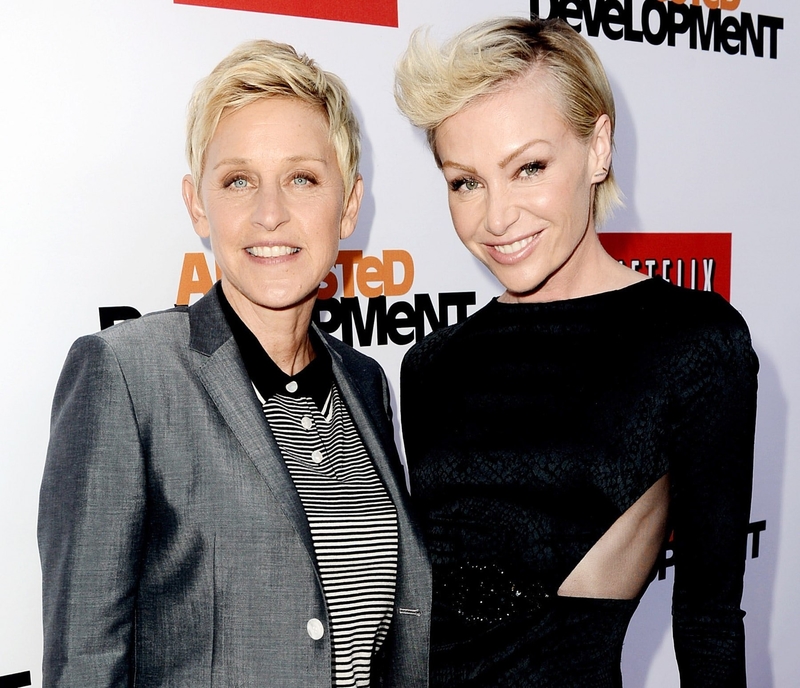 They also serve as a premier example of a relationship that is based on love – sans sexuality aside. Ellen has been awarded the Presidential Medal of Freedom due to her active role on propagating LGBT rights. Meanwhile, Portia is a philanthropist. The couple also loves animals and work with animal rights advocates. Surely, Ellen and Portia can do no wrong.