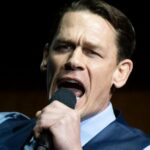 Pro Wrestlers Who Are Worth A Lot More Than You Think
echo get_the_meta(); ?>
Professional wrestling is more than merely an art form that involves athletically-gifted men and women simulating fights inside of rings. It's a profession where somebody can make a fortune, often in only a few years. And the fall of 2019 sparked a new glory era for individuals attempting to make as much as possible in the industry. The birth of All Elite Wrestling and the deals delivered by that promotion caused World Wrestling Entertainment to improve upon offers made to wrestlers signed by WWE and also to those the company wants underneath its umbrella. NXT moving from WWE Network to the USA Network should only bolster how much performers earn in any given year. 
It's worth noting Dwayne "The Rock" Johnson capitalized on the fame he earned performing in WWE to launch a film career and, according to Forbes, become the highest-paid actor in the world for 2019. Celebrity Net Worth estimated Johnson's net worth checked in at over $300 million that same year. Neither Rock nor any of the other wrestling personalities spotlighted in this piece will give us an in-depth look at their finances, so estimates of their net worths must come from contract information that's made public, merchandise sales, and other details. Looking at some of the values mentioned here, it's easy to understand why so many people try to break into WWE each year. 
The Young Bucks have built an empire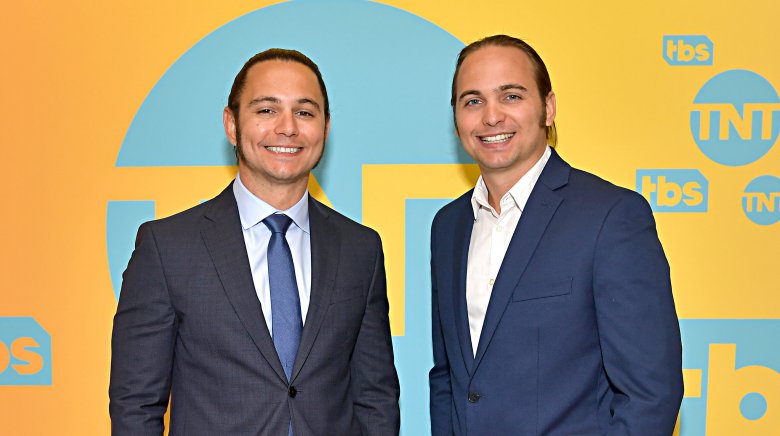 Emma Mcintyre/Getty Images
"Change the World" became a motto of wrestling stable The Elite through the end of 2018, and that's exactly what the Young Bucks are trying to do. As explained by Vice in 2016, Nick and Matt Jackson forged a merchandising empire as part of Bullet Club and as independent stars working for promotions such as New Japan Pro Wrestling and Ring of Honor. In December 2018, Nick tweeted the Bucks were the top merch sellers on Pro Wrestling Tees for that year. 
Soon after, the Bucks signed contracts to officially launch the AEW promotion. As described by Fightful, the Bucks and Cody (Rhodes) signed five-year deals, and the three also serve as Co-Executive Vice Presidents. AEW was a hit right out of the gate. Per the Wrestling Observer (h/t Ringside News), AEW sold between $120,000 and $130,000 worth of merchandise at the Starrcast II and Double or Nothing shows, and that doesn't include pay-per-view buys, ticket sales, money earned off YouTube hits and other revenue the company and Young Bucks generated from the start of the year through September. 
We may not have word-for-word information on the Bucks' AEW contracts, but we're confident the days of Matt not being able to afford a $1.99 sandwich from Popeye's are long gone. 
The Undertaker is pro wrestling royalty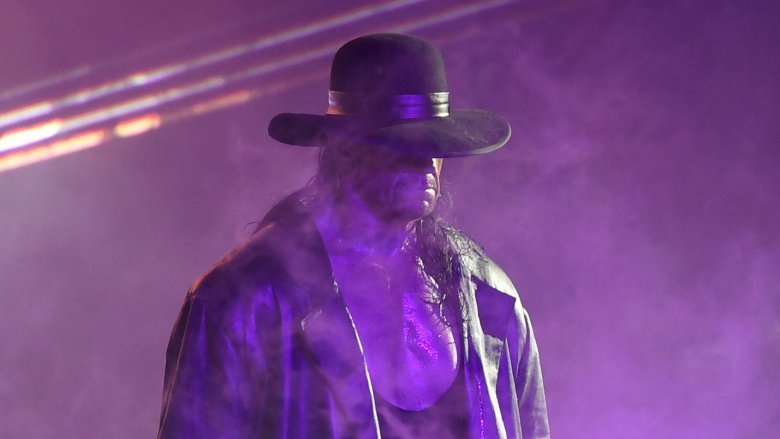 Amer Hilabi/Getty Images
Mark Calaway, more commonly known as the Undertaker, began his pro wrestling career in the mid-1980s, and the phenom continued to make in-ring WWE appearances through the fall of 2019 even though he turned 54-years-old in March of that year. As Uproxx reported, Goldberg received "well over $1 million" for his match versus Undertaker at the 2019 Super Showdown event in Saudi Arabia. This led to speculation the Deadman also must've done rather well for himself to travel halfway around the world for a rather lackluster and forgettable bout. 
That same year, Celebrity Net Worth estimated Undertaker held a net worth of roughly $17 million. During the summer of 2019, Wrestling Observer (h/t Wrestling Inc) reported Undertaker had put pen to paper on what is essentially a "lifetime" WWE contract, one that would prevent him from appearing at independent signings and other events that could include AEW talent. If rumors Undertaker was earning up to $25,000 per hour for those appearances were accurate, Vince McMahon and WWE likely would have had to match or better those values. It seems 'Taker will be financially set long after he makes the long stride to the ring for the last time.
Kevin Owens committed his future to WWE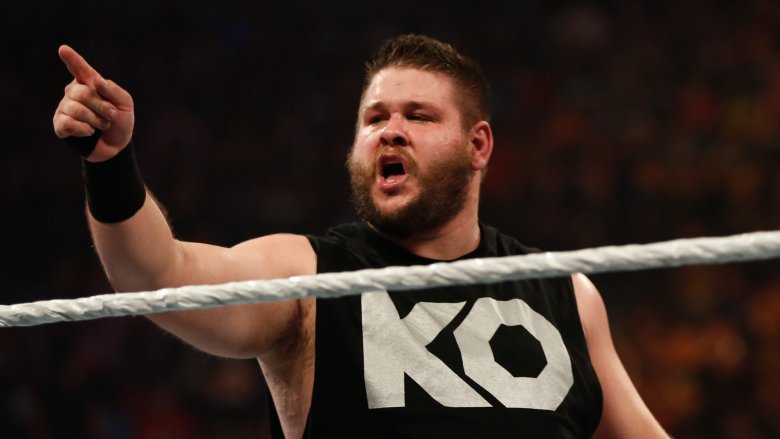 Jp Yim/Getty Images
There was likely a time in the early 2010s when Kevin Owens was certain he was never going to make it in the business. As documented by WWE, Owens traveled around the world with best friend Sami Zayn for nearly a decade, and Zayn was the top babyface in NXT at the time Owens made his on-screen debut for that brand. Soon after Owens defeated Zayn to become NXT champion, KO made his main roster debut on an edition of Raw, where he confronted and attacked John Cena. In August 2016, Owens won the Universal Championship.
Forbes reported Kevin Owens was on a contract paying him $2 million per year for 2018, and Celebrity Net Worth listed Owens' net worth at $3 million for 2019. Both of those values probably required upgrades by the end of the decade. According to Fightful (h/t Ringside News), Owens signed a new five-year deal with the WWE in 2018, one that would keep him from heading to a competitor such as AEW until 2023. Per Wrestling News, Owens claimed he wants to finish his career with the WWE at the same time he announced the existence of his five-year contract.
Dean Ambrose reverted back to his Jon Moxley character for AEW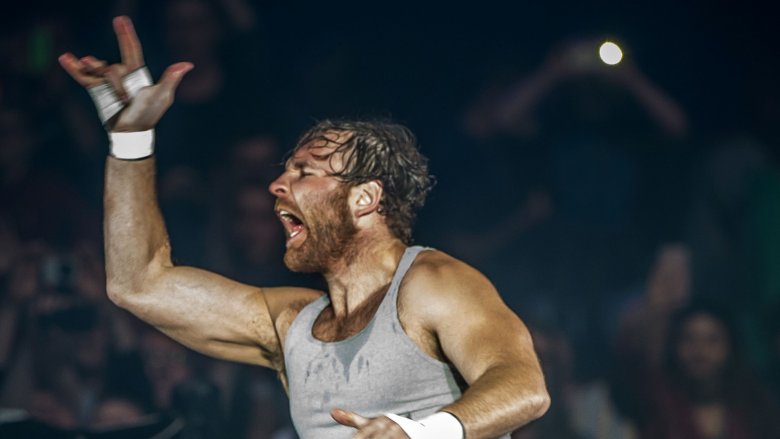 Philippe Huguen/Getty Images
In 2019, the former Dean Ambrose reminded us all not every pro wrestler needs to work for WWE to find happiness and peace. Ambrose appeared headed to stardom back in 2012 when he debuted on the WWE main roster as a member of The Shield, and Jeff Hamlin of the Wrestling Observer called Ambrose "the best babyface" in WWE in November 2015. According to Forbes, Ambrose was earning $2.2 million per year on his final WWE contract, and Celebrity Net Worth posted his net worth was around $7 million in 2019. Money wasn't a problem. 
Nevertheless, Ambrose allowed that deal to expire in April 2019 before he worked for independent shows and eventually signed with AEW. As explained by PW Podcasts, Ambrose, who reverted to his Jox Moxley character, discussed his WWE departure on an episode of the "Talk is Jericho" podcast later that spring. Ambrose explained to Chirs Jericho issues regarding the WWE creative process and his character's storylines, specifically his feud with Roman Reigns, led to his exit from the largest pro wrestling promotion in the world. The specific terms of Moxley's AEW contract weren't made public at the time of his signing. 
Seth Rollins has been a main-event heel and babyface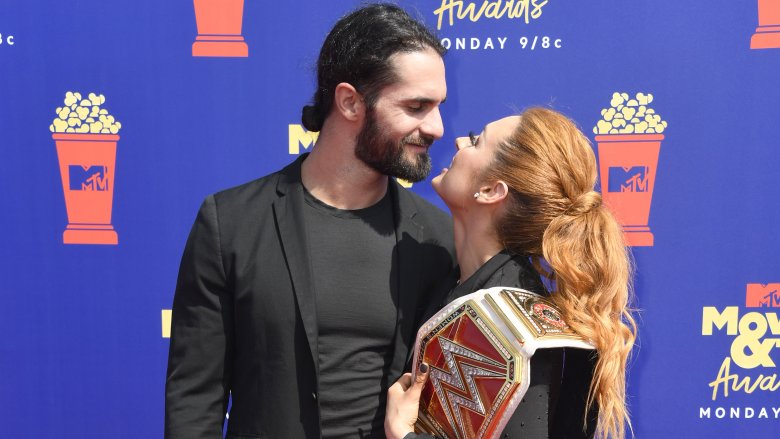 Frazer Harrison/Getty Images
The architect of The Shield appears set to serve as a WWE lifer. After Jox Moxley left the company and then bashed Vince McMahon and others within its front office, Seth Rollins lashed out at his former Shield teammate while speaking on the "Sports Illustrated Media Podcast." According to Bleacher Report, Rollins said Ambrose "took his ball and he went home" and the two "share different perspectives" regarding what they hope to achieve in the industry. Rollins has also repeatedly defended the WWE product via social media, even going so far to once tweet the company was responsible for the "best pro wrestling on the planet."
Rollins' WWE career went much differently than Ambrose's once The Shield disbanded in June 2014. He cashed in his Money in the Bank privileges to win the WWE Championship at WrestleMania 31, and he pinned Brock Lesnar to win the Universal Championship at WrestleMania 35 in April 2019. Per Forbes, Rollins was earning $2.2 million per year in 2018, and Celebrity Net Worth had his net worth at $9 million in 2019. In the summer of 2019, WWE announced Rollins was engaged to fellow wrestler Becky Lynch. 
Roman Reigns may become pro wrestling's next film star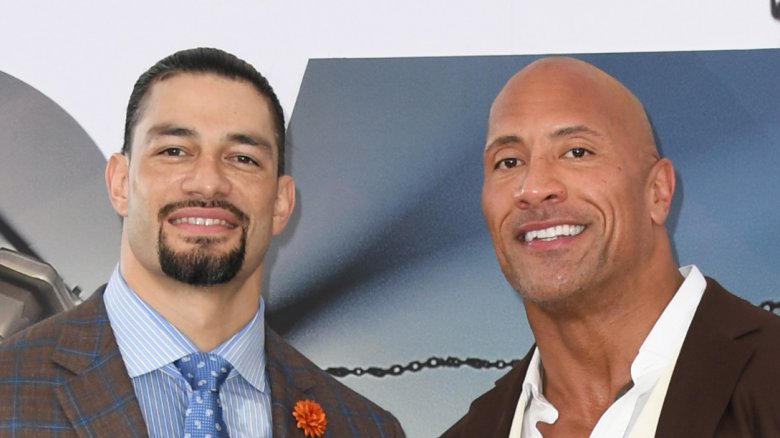 Jon Kopaloff/Getty Images
Even before Seth Rollins turned on his Shield brothers in June 2014, WWE unofficially announced through storylines that Roman Reigns would be the man to hopefully replace John Cena as its top babyface. As described by The Times-Picayune, Reigns worked in four-consecutive WrestleMania main events (31 through 34), and it's possible that trend would've continued another year had he not missed several months of action from the fall of 2018 through early 2019 due to a much-publicized bout with leukemia. That illness ended the Grand Slam champion's Universal title reign.
Forbes posted Reigns earned $4.3 million in 2018 from just his WWE deal, and his net worth was estimated at approximately $12 million in 2019 by Celebrity Net Worth. Like his real-life cousin, The Rock, Reigns has also accepted acting roles, most notably in the Fast & Furious Presents: Hobbs & Shaw film released in the summer of 2019. "The Great One" earned millions of dollars during his WWE stints, but he became a brand unto himself once he embraced life as a full-time actor and out-of-the-ring entertainer. Reigns could follow in his cousin's footsteps, or maybe he'll attempt to split duties whenever he feels he needs a break from the ring. 
Randy Orton is the last member of "Evolution" still on the active roster in 2019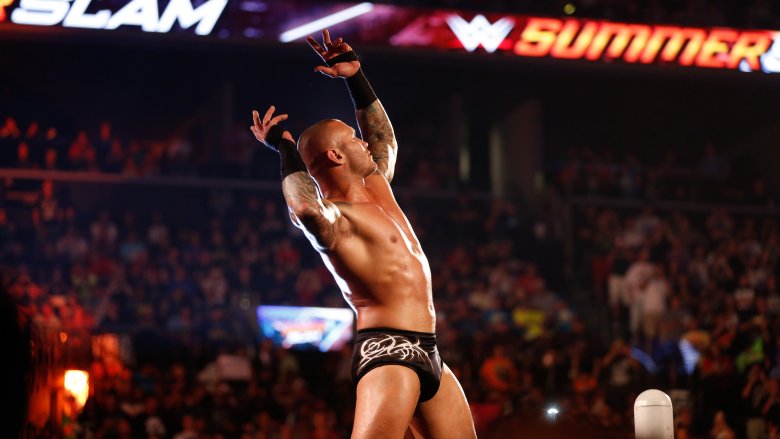 Jp Yim/Getty Images
When the Evolution stable debuted in 2003, both Triple H and "Nature Boy" Ric Flair remarked how third-generation professional wrestler Randy Orton would be the future of the industry. While Orton was never as recognized of a star as Flair or as business savvy as Triple H, the master of the RKO made history in the summer of 2004 when he became the youngest WWE World Heavyweight Champion at the age of 24. Following that fateful night, Orton embarked on a Hall of Fame career that included him earning the right to be called a company Grand Slam champion, and he remained so over with crowds 17 years after his WWE debut that he worked in main events in the summer and fall of 2019. 
That same year, Orton's net worth allegedly sat at around $12 million, and Forbes claimed he made $2.9 million off his WWE deal in 2018. According to Fightful, Orton's ten-year contract with the company expires in 2020. He celebrated his 39th birthday in April 2019, so one would think another ten-year contract with any promotion would be the last big deal he'd sign before hanging his boots up, for good. 
Orton has achieved just about everything possible with WWE. Money talks, of course, but the chance to pursue other interests may draw him away from the company down the road. 
AJ Styles became the "face that runs the place" on SmackDown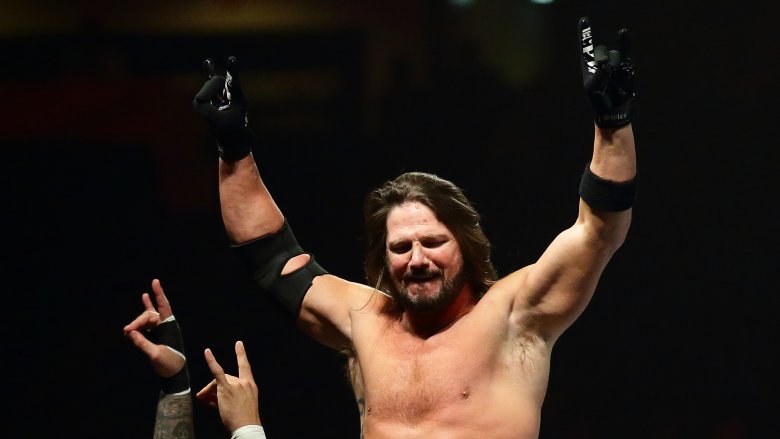 Suhaimi Abdullah/Getty Images
Perhaps not since Shawn Michaels has a WWE performer eclipsed the first half of his career with such a stellar second run as has AJ Styles. After wasting away in TNA/Impact Wrestling for far too long, Styles became the boss and face of Bullet Club and the IWGP Heavyweight Champion, and he won the WWE World Championship less than a year after he debuted with the company at the 2016 Royal Rumble. As explained by The Wrap, Styles' second run with that title, one that lasted 371 days, shattered the previous record (280 days) for a title reign belonging to a wrestler exclusive to the SmackDown brand. 
In March 2019, Styles announced via Twitter he had signed a new deal with WWE. One has to imagine he received a pay raise from what Forbes reported to be a $3.5 million per year contract in 2018, as we're guessing WWE gave him millions upon millions of reasons to ignore any offers from AEW or any other organization. Before Styles began to cash those new checks, Celebrity Net Worth put his net worth at around $6 million. 
CM Punk made millions in WWE and the UFC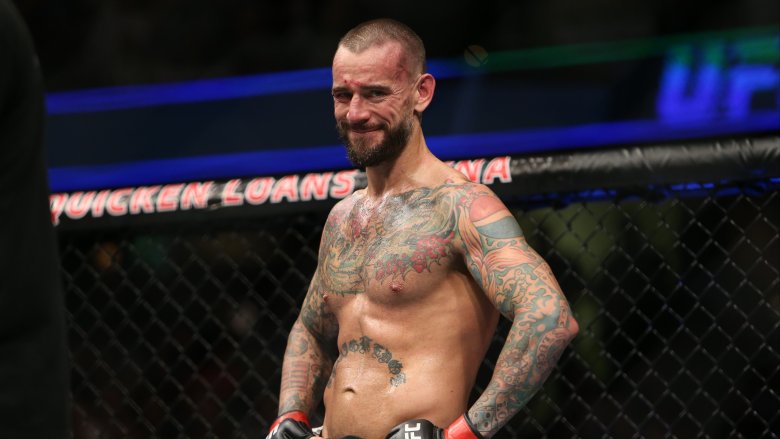 Rey Del Rio/Getty Images
CM Punk walked away from WWE and professional wrestling in 2014, and yet fans continued to chant his name at wrestling shows, signings, and other events through the fall of 2019. After making millions working for Vince McMahon, Punk signed a multi-fight contract with the Ultimate Fighting Championship in December 2014. His wife, former WWE wrestler AJ Lee, claimed Punk earned "a million dollars" for his debut bout, a humiliating loss to Mickey Gall, as explained by Forbes. Per Metro, Punk took home another $503,000 following his second UFC defeat, a loss to Mike Jackson.
According to Uproxx, Punk reigned as the WWE's top merchandise seller for a brief time following his infamous "Pipe Bomb" and title run in 2011. That, coupled with the millions he earned off WWE contracts, other business endeavors, and a noted frugal lifestyle all helped him accumulate an estimated net worth of about $8 million. As noted by Wrestling Inc, Punk claimed in August 2019 he would be open to having a future conversation with Vince McMahon and/or Triple H, but he also said, "I think I had a pretty good career, I don't think there's anything left that I need to accomplish." That's just enough hope for Punk's wrestling fans to cling to as they dream of him returning to the squared circle. 
Brock Lesnar is a WWE and UFC legend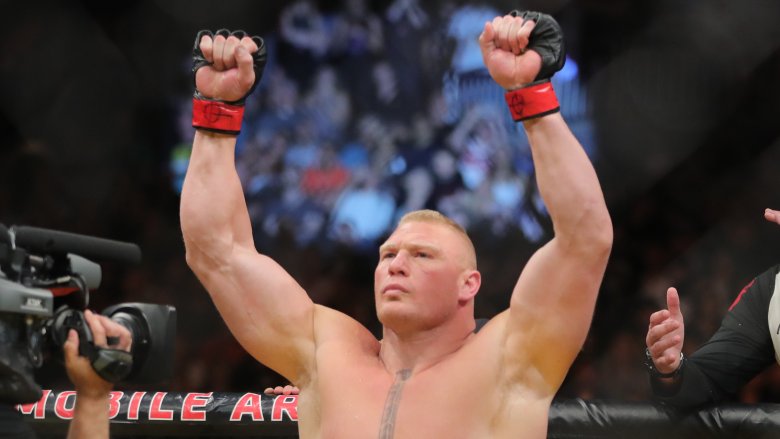 Rey Del Rio/Getty Images
Unlike some professional athletes who suggest they play mostly "for the love of the game," UFC competitor and WWE performer Brock Lesnar was never shy about wanting to work for the company that paid him the most money. After getting rich off his first WWE run, Lesnar earned "approximately $3 million from [his UFC 100 fight] even before the majority of his sponsorship money is tallied," according to MMA Junkie. In August 2019, Tim Bissell of Bloody Elbow estimated Lesnar made "$7,875,000 (not including his fight purses, performance bonuses, and any revenue from pay-per-view sales)" for his UFC bouts from 2008 through 2011. That doesn't include the $2.5 million Lesnar earned for his fight at UFC 200, although he was fined $250,000 due to USADA drug test failures. 
That slight loss in revenue likely bothered Lesnar little, if at all. When he returned to the WWE in 2012, Cageside Seats estimated he was on a one-year deal worth $5 million. Forbes reported the former UFC Heavyweight Champion earned at least $6.5 million from his WWE contract in 2018. Looking at Lesnar's paydays since he was first introduced to WWE audiences as "The Next Big Thing" in 2002, the numbers could lead you to believe evaluations of his net worth hovering around $28 million in 2019 low-balled the actual number. 
WWE used Steve Austin on TV well over a decade after his retirement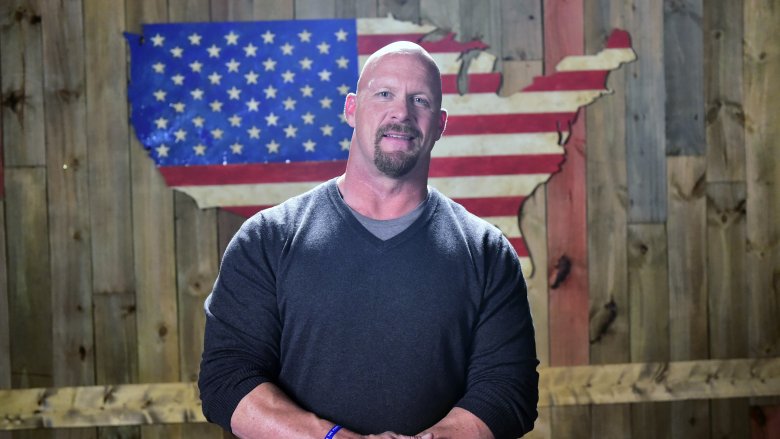 Moses Robinson/Getty Images
In July 2019, talkSport's Alex McCarthy named "Stone Cold" Steve Austin as "the biggest draw in the history of the business. That goes for live events, merchandise, TV ratings and PPV buys." Austin made millions as the top WWE babyface who feuded with the Mr. McMahon character during the "Attitude Era" at a time when the company was legitimately fighting for its life in a "Monday Night War" versus competing promotion World Championship Wrestling. WCW folded in March 2001, and multiple injury setbacks forced Austin to retire from the ring in the spring of 2003. 
Despite never returning to the WWE as a full-time wrestler, Austin continued to make sporadic appearances on television shows and at pay-per-view events through 2019. He also acted in multiple films and TV programs, created a popular and successful podcast and hosted TV shows such as Tough Enough, Steve Austin's Broken Skull Challenge and Straight Up Steve Austin. In 2019, Celebrity Net Worth listed Stone Cold's net worth at $30 million. 
Wrestling fans were able to relive the past and, in some cases, their childhoods when Austin delivered his Stone Cold Stunner finisher to both Vince McMahon and Shane McMahon on an episode of Raw in January 2018. 
Chris Jericho can afford more than "a little bit of the bubbly"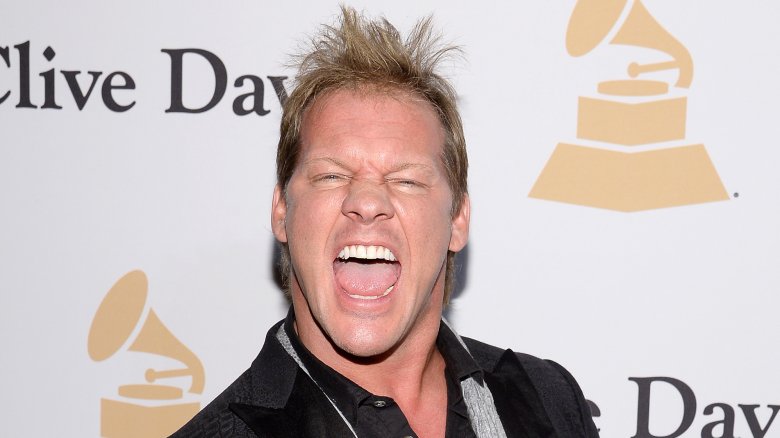 Kevork Djansezian/Getty Images
When Chris Jericho went viral in September 2019 by celebrating becoming the first AEW World Champion with "a little bit of the bubbly," he showed why the promotion was so keen on signing him before its official launch earlier that year. With the likes of the Young Bucks and Kenny Omega already on the roster, AEW had enough "workhorses." The company needed star power and somebody familiar to casual wrestling fans. Jericho, a former WWE Undisputed Champion who debuted in WCW back in 1996, was perfect for the role, and he was ready to accept the challenge of building a new promotion from the ground up. 
Celebrity Net Worth guessed Jericho's net worth was $18 million in 2019. That same year, the former Y2J signed "the best contract of his career" with AEW, as explained by Wrestling Observer Radio (h/t Wrestling Inc). Outside of wrestling, Jericho earned money touring with his band, Fozzy, via multiple acting gigs and television appearances, his "Talk is Jericho" podcast and "Chris Jericho's Rock 'N' Wrestling Rager at Sea" cruise. 
This brilliant businessman probably didn't give AEW a massive discount just so he could pin "Hangman" Adam Page at the 2019 All Out show. 
John Cena is a global superstar and household name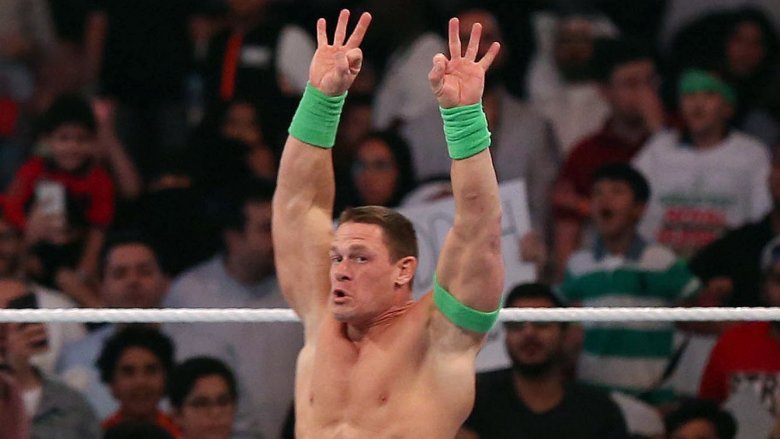 Stringer/Getty Images
It's not a stretch to say John Cena is the biggest international wrestling superstar since Steve Austin, and the WWE's top draw of the first two decades of the 21st century. Forbes reported Cena made $10 million from the company in 2018, which is noteworthy since he was the highest-paid wrestler on the roster even though he wasn't a full-time performer that year. He earned that pay for his previous work as the face of the company's "Ruthless Aggression" era, and also because of his advanced popularity through the end of the decade. As explained by Ringside News, Cena was again the WWE's top merchandise seller as of April 2018 (Roman Reigns surpassed Cena the subsequent summer).  
Cena's estimated net worth of $55 million for 2019 didn't all come from his WWE earnings. Like The Rock, Cena acted in a handful of films from 2000 through 2019, and the former "Doctor of Thuganomics" also co-hosted NBC's Today on multiple occasions. When Kathie Lee Gifford announced her departure from that program in December 2018, People.com mentioned Cena as a possible replacement. That's one example of how Cena's appeal to the masses evolved well beyond attracting only wrestling audiences.