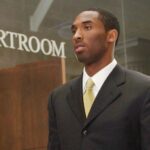 Respected Athletes Who Have Done Terrible Things
echo get_the_meta(); ?>
No one wants their sports heroes to be mere mortals. Not when they can be golden gods, capable of feats the rest of us lowly humans could only dream of. No mere mortal can stick that landing, run that 4.7 40, or hit that long ball 600 feet.
But behind the million-dollar publicists, watered-down personas, and endearing shoe commercials, athletes are still just men and women. Men and women who won the genetic lottery, for sure, but they often have deep, dark sides, and the money to keep those dark sides under wraps. 
For every O.J. Simpson, there are ten athletes who did something awful and somehow seemed to just walk away. What makes these Teflon sportsmen so special? How did their time in the courtroom not affect our fandom in the living room?
Here are just a few of the athletes who've done horrible things, and somehow survived with their reputations intact.
Adrian Peterson exposed cultural fault lines after disciplining his son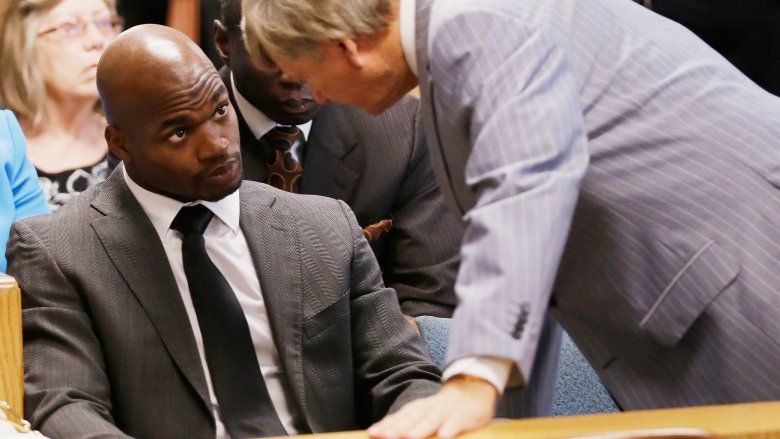 Getty Images
Not that long ago, Adrian Peterson was considered the best running back in the NFL, racking up seven Pro Bowl appearances and being named first team All-Pro four times. Unfortunately, one fateful incident nearly derailed his career, his reputation, and his life.
On May 18, 2014, Peterson attempted to discipline his 4-year-old son for fighting with his brother. What he did next has been highly debated, often along lines of culture and class. While some parents may have chosen a timeout or just grounded the boy, Peterson used a switch, which is basically a light branch, whipping his son on the back, legs, arms, and behind.
When the boy returned to his mother, a doctor claimed the wounds were evidence of child abuse, resulting in an indictment for misdemeanor reckless assault and a lost year in the NFL. Peterson would come back the following season and win another rushing record, but his reputation has never been quite the same.
Kobe barely escapes rape trial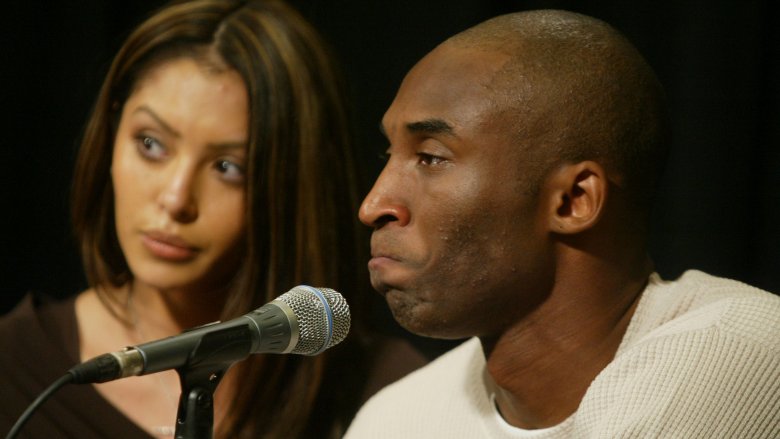 Getty Images
For Kobe Bryant, winning isn't everything, it's the only thing, which might explain why he's still a free man. Younger NBA fans may not remember the Laker legend's brush with the law, but back in the summer of 2003 it was the biggest story in sports.
Bryant, already a three-time NBA champion, was staying at The Lodge & Spa in Cordillera, Colorado, prepping for off-season surgery, when a hotel employee claimed the Lakers icon raped her. According to her interview with the police, Bryant choked the 19-year-old front desk attendant before forcing himself on her. The case was brought to trial and quickly turned ugly. Her reputation savaged in court, the accuser announced she wouldn't cooperate with the prosecution, pursuing a civil trial instead.
The two eventually settled out of court for an undisclosed sum, and Kobe continued his career, winning two more titles, countless accolades, and a freakin' Oscar. These days, most fans don't like to dwell on how close the all-time great came to spending the rest of his career behind bars. It's more convenient to think about the good times.
Peyton Manning apparently couldn't handle rejection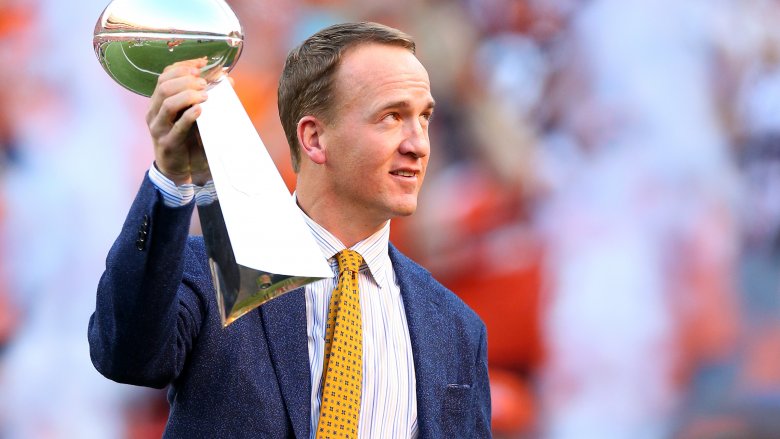 Getty Images
Whether he's winning Super Bowls, hosting awards shows, or pushing pizza, chances are Peyton Manning's doing it in some sort of aw shucks, non-offensive manner. This guy has made bank by being bland, and yet even one of the most market-tested athletes of our time can have a skeleton in the ole' closet.
Back in 1996, while Manning was still a student at the University of Tennessee, he apparently asked out a female personal trainer, Jamie Ann Naughright, and was quickly rebuffed. Unhappy with her answer, he proceeded to drop trou, shoving his nether bits into the woman's face. But here's the thing, Manning was the school's star QB at the time, so his punishment was mild, losing dining hall privileges and being forced to do some early morning runs. Naughright, unsurprisingly, wasn't satisfied with Manning's dinner dilemma as punishment, and sued the school for $300,000.
All seemed settled until Manning wrote about the incident in his book, Manning: A Father, His Sons, and a Football Legacy, calling Naughright a "vulgar woman." Thus, another lawsuit, and another settlement, which put a gag order on all parties involved.
That is, until Manning again brought up the incident in an interview with ESPN Classic Sports Century: Peyton Manning, forcing Naughright to go back to court one last time. Being a champion is one thing; knowing when to keep your mouth shut is another.
Jason Kidd tormented ex-wife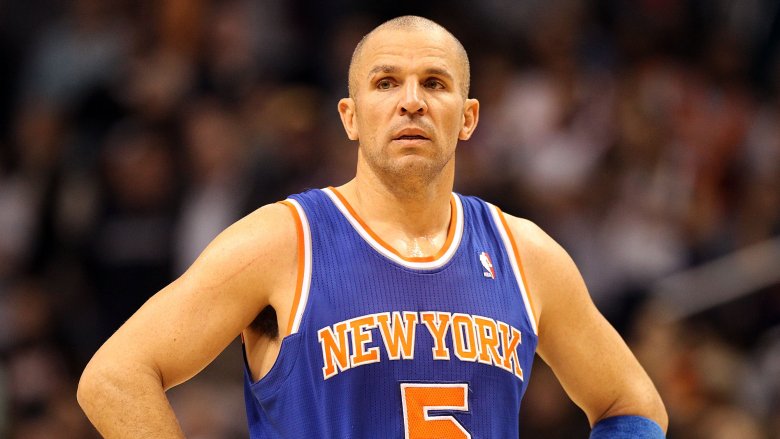 Getty Images
No one has ever played basketball exactly like Jason Kidd, the pass-first point guard whose leadership made up for his lack of a jump shot. Over his nearly two decades in the NBA, he racked up records like a hipster in a vinyl shop. Unfortunately, there's another side to this b-ball lifer, according to his ex-wife.
She says Kidd isn't the likable superstar fans see on TV, but a serial adulterer and abuser who made her life a living hell. According to documents Joumana Kidd filed during her divorce from the NBA superstar, he was sleeping with half the Western hemisphere while keeping her on a short leash using violence. She says he hit her while pregnant, once kicked her in the stomach, and attacked her with everything from a rock to a cookie.
Kidd's counterclaim accused her of domestic violence and claimed she was "increasingly controlling and manipulative," but a 2001 arrest for punching Joumana in the mouth seems to substantiate her story. The couple have been divorced since 2007, with Kidd going on to win an NBA championship and become a coach in the league, but the tabloid stories surrounding this nasty divorce will last a lifetime. 
NFL player Kellen Winslow got turned on at Target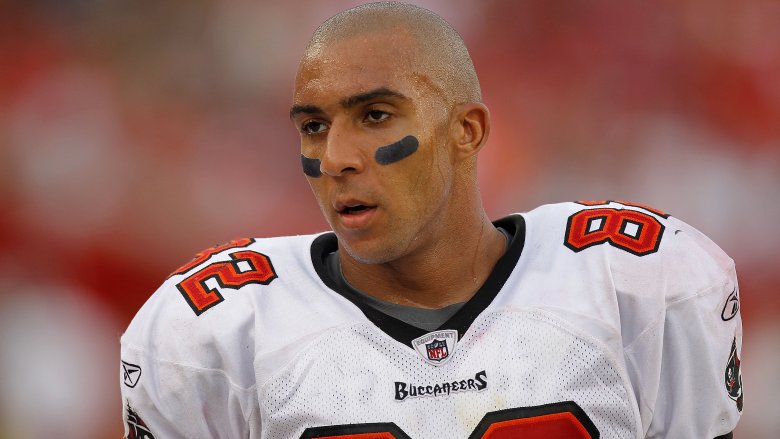 Getty Images
For some brands, the type of publicity that Kellen Winslow Jr. brought them back in 2014 would be worth millions, but for the NFL journeyman, it nearly cost him time behind bars.
It all began with Winslow's arrest for possession of synthetic marijuana in a Target parking lot. Probably not the high point of the Pro Bowler's life, but certainly not a career killer. That is, until NJ.com's Dom Cosentino started digging around and found out that smoking counterfeit kush was just the tip of the icky iceberg.
Apparently, Winslow's arrest came after a bystander noticed the tight end enjoying his Cadillac Escalade for more than the leather seats. That's right, according to the police report he could have been flagged for holding his own miniature football player. By the time the police showed up, Winslow Jr.'s Junior was put away, and he was insistent there had been no public polishing of the helmet.
Instead, he said he was just looking for a Boston Market, which is a funny thing to call it. While the officer never witnessed Winslow in the act, the two open containers of Vaseline didn't exactly scream a craving for rotisserie chicken.
In the end, he was only charged with possession, but that doesn't mean all was forgiven. The locker room never forgets. Just ask his former teammate, Antonio Cromartie, who needled him via Twitter in 2015, asking if he'd been to Target lately.
Ben Roethlisberger twice accused of sexual assault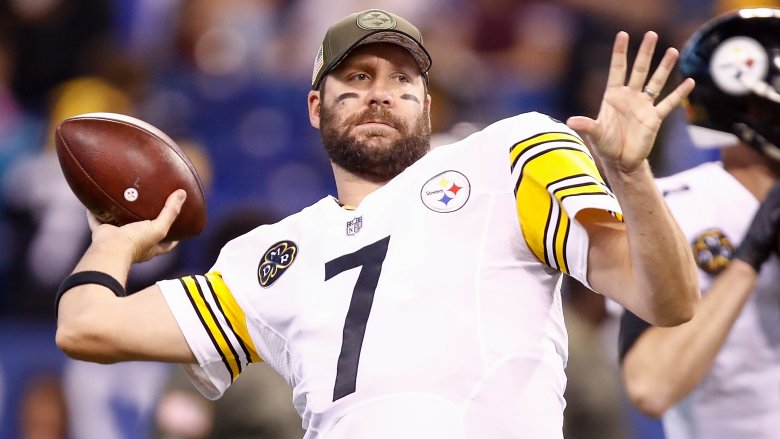 Getty Images
Ben Roethlisberger will never have to buy his own beer in Pittsburgh again. He's a legend for life, and apparently nothing can change that. Any player that's been accused of rape not once, but twice, and still gets to suit up every weekend is clearly untouchable.
The first accusation came from a civil suit filed by Andrea McNulty in 2009, claiming that the Super Bowl-winning QB forced himself on her at a Harrah's hotel in Lake Tahoe, Nevada. She eventually settled with Roethlisberger out of court for an undisclosed sum. 
Roethlisberger was again embroiled in a scandal in 2010, when an anonymous college student alleged he raped her in a bar bathroom in Milledgeville, Georgia. She eventually wrote a letter to the prosecution, asking them not to prosecute, not because she was recanting her story, but because she was afraid of the personal toll a trial would take on her.
Roethlisberger was suspended for four games for violating the NFL's personal conduct policy, and lost a slew of endorsements. But, because if you can win on Sunday all is forgiven, Nike stood by him, and he eventually signed a record-breaking four-year contract with the Steelers, making him one of the richest players in football.
Jim Brown has been accused of attempted murder and rape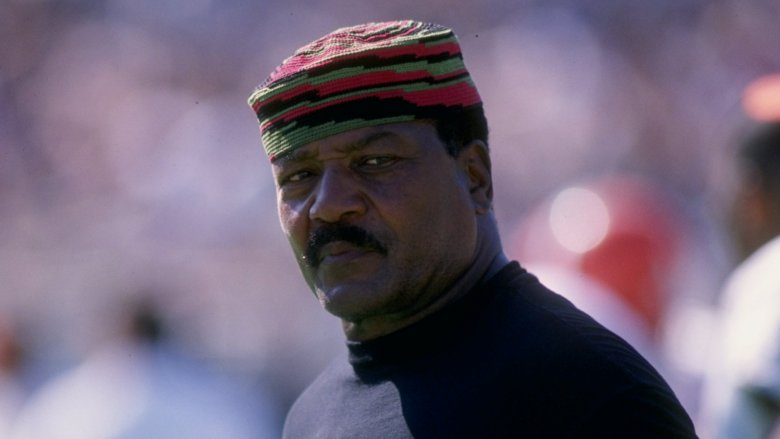 Getty Images
Jim Brown is celebrated for many things — his legendary career on the gridiron, his film stardom, and perhaps most importantly, his activism. He's been at the nexus of sports and politics for decades, helping pave the way for stars like LeBron James and Colin Kaepernick. He's also been charged with beating or raping women six times, including assault with intent to commit murder. As he told Inside Sports in 1981 after beating up a couple police officers who once responded to a call, "You got to have something, goin' out dealing with 270-pound lineman for a living. You quit playing, but that doesn't just go away."
Over five decades, he's been accused of beating a girlfriend nearly unconscious, beating and then throwing two women down a flight of stairs, and forcing himself on a woman in his home. His wife accused him of threatening to murder her, and he even served nearly four months in jail for refusing to attend domestic violence counseling.
In his memoir, Out of Bounds, the former football star denied a number of the accusations, but did say he had slapped women. "And I never should have," he wrote, "I don't think any man should slap a woman. … I don't start fights, but sometimes I don't walk away from them. It hasn't happened in a long time, but it's happened, and I regret those times. I should have been more in control of myself, stronger, more adult."
Alex Rodriguez was once the face of steroids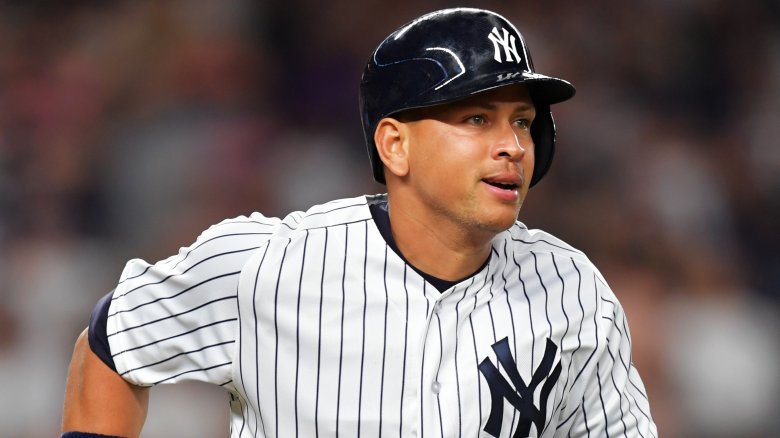 Getty Images
Whoever Alex Rodriguez paid to rehab his image over the last few years has more than earned their money. These days J-Lo's better half is best known as the face of baseball on Fox, back in good graces with the Yankees, and was even floated as a possible manager for the team. That's a world away from where he was a few years ago, an unlikable clubhouse cancer, and the face of the sport's steroid epidemic.
For years, A-Rod denied he ever took a banned substance, calling the rumors a "witch hunt" and fighting tooth and nail to overturn his suspension for the entirety of the 2014 season. In a statement at the time he said, "The deck has been stacked against me from day one. … This is one man's decision, that was not put before a fair and impartial jury, does not involve me having failed a single drug test."
Meanwhile, behind closed doors, and under oath, prosecutors forced him to admit the truth. That he'd paid $12,000 a month for two years to a fake doctor in exchange for performance-enhancing drugs.
He told Joe Buck in 2017 that he would often lay awake at night, wondering, "How the F did I get myself in this position?' I'm the only jackass that has pocket aces and figures out a way to lose the hand." Well, if his beautiful girlfriend and charmed life are any indication, it looks like he got those pocket aces back.
Jameis Winston has repeatedly been accused of sexual assault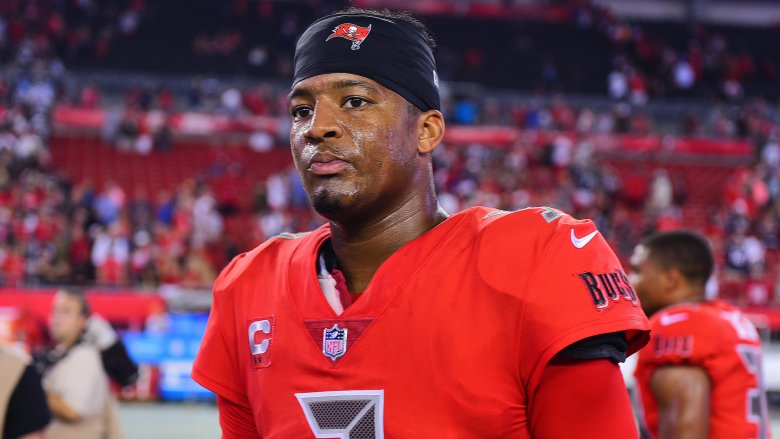 Getty Images
Jameis Winston is one of the NFL's more promising young quarterbacks, helping to lead the Tampa Bay Buccaneers back to relevance. Unfortunately, his story is a lot more complicated than his Sunday celebrations would have you believe. 
Winston's issues began during his time at Florida State University, when he racked up a laundry list of infractions, from stealing $32 worth of crab legs from a Tallahassee Publix to stealing soda from a Burger King. He was also suspended one game for yelling vulgarities in the middle of a campus dining hall. And, sure, these mistakes may all seem within the bounds of a typical college kid acting out, but what happened in December 2012 surely wasn't.
According to Erica Kinsman, a fellow student, Winston raped her and then worked with the school and local police to obstruct the case. The two would eventually reach a settlement, but Winston would win a Heisman Trophy and become the face of an NFL franchise. If a recent accusation of groping an Uber driver is any indication, Winston still has a long way to go to clear his name.
Ray Lewis was once accused of murder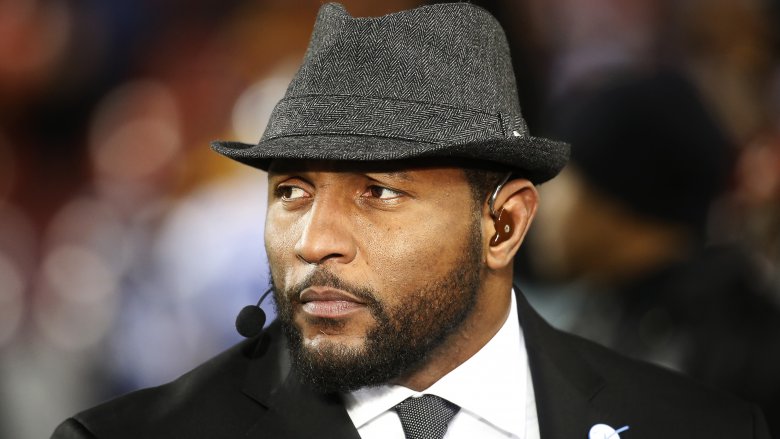 Getty Images
These days, Ray Lewis is one of the faces of football on Fox, a broadcaster who opines every weekend and gets paid millions for doing it. Back in January 2000, he was still a star for the Baltimore Ravens, and about to take part in one of the darkest days of his life. 
It was the night after Super Bowl XXXIV. Lewis and friends were leaving a nightclub in Atlanta when they got mixed up in an altercation that left two men, Richard Lollar and Jacinth Baker, dead.
Lewis was originally charged with two counts of murder, but pleaded down to obstruction of justice after providing testimony against two of his companions that night, Reginald Oakley and Joseph Sweeting. According to a witness the night of the murders, Lewis fled the scene, muttering, "I'm not trying to end my career like this." And he didn't, receiving one year of probation and a $250,000 fine.
Lewis insists that night is never far from his mind, telling the Baltimore Sun, "No day leaves this Earth without me asking God to ease the pain of anybody who was affected by that whole ordeal." Still, he's gotten the chance to finish out his Hall of Fame-worthy career, which is more than most with a murder charge on their rap sheet could hope for. 
Dez Bryant attacked his own mother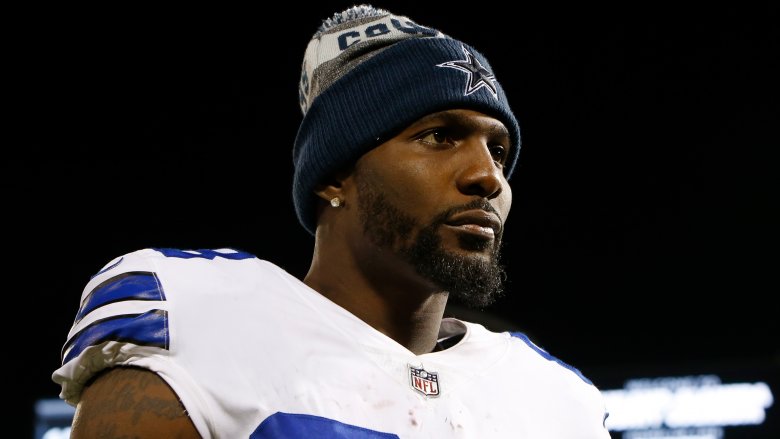 Getty Images
When people think of troubled NFL players, Dallas Cowboys running back Ezekiel Elliott often comes to mind. But few remember that his teammate and staunch defender Dez Bryant has also had a run-in with the law.
Back in 2012, Bryant was arrested for attacking his mother during an argument, hitting her face with his baseball cap and tearing her shirt after she tried to break up a fight between the wide receiver and his brother. In a police interview, Bryant's mother said he "started talking about how he's going to knock me out."
While Bryant's arrest could have resulted in a fine of up to $4,000 or a year in jail, he cut a deal with prosecutors, promising to stay out of trouble for the next 12 months. Bryant has gone on to become a three time Pro-Bowler and does seem to have stayed out of trouble. In 2013, he even spoke at a "Men Against Abuse" rally in Dallas, declaring, "I'm done with domestic abuse."
Chad 'Ochocinco' Johnson headbutted wife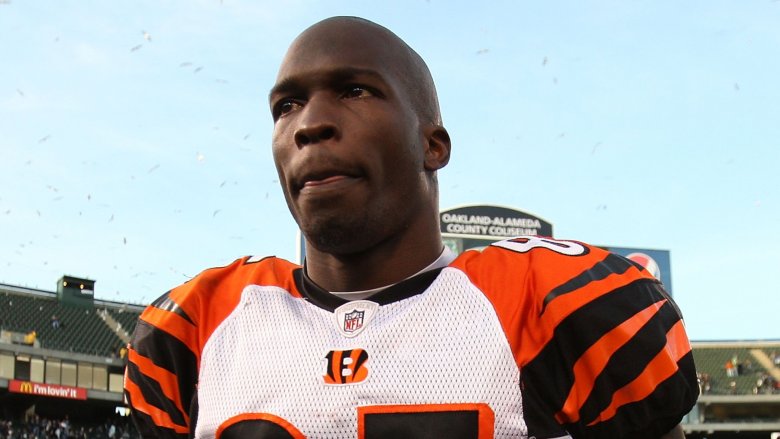 Getty Images
In the end, it was a box of condoms that set him off. Chad "Ochocinco" Johnson has been a superstar receiver in the NFL, a reality show fixture and one of the most tenacious tweeters in football, but when Johnson was arrested in August 2012, he was a jealous husband wondering why his wife had bought a box of condoms.
What began as an argument quickly turned physical. According to a police report filed at the time, Johnson grabbed his then-wife, Evelyn Lozada, and headbutted her. By the time the cops had arrived, a three inch laceration was visible on her forehead.
Johnson ending up pleading no contest to misdemeanor domestic battery and was sentenced to probation. He and Lozada divorced shortly after the incident, having been married for only 41 days.
Johnson did end up serving time, though, after celebrating his plea deal in court by patting his lawyer on the butt. The presiding judge was unamused, to say the least, and sentenced the football star to 30 days in jail, of which he served seven.