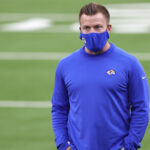 Sean McVay: Here's How Much The Rams Head Coach Is Really Worth
echo get_the_meta(); ?>
The Los Angeles Rams exacted revenge on the Seattle Seahawks on Saturday, January 9, 2021, with a 30-20 win over the team that had beaten them the month before to claim the NFC division championship. And the sports media had nothing but good things to say about the organization. ESPN extolled the virtues of quarterback Jared Goff, who pulled off the win with a broken thumb. And Sports Illustrated said that head coach Sean McVay and defensive coordinator Brandon Staley "prove[d] their worth again" with the wild-card win. The magazine recognized the hype behind the young head coach, but said that he is continuing to show that "he is among a small pack of coaches sprinting out ahead of the rest of the league; the kind of guy who out-of-touch coaches stash film of to stay afloat."
McVay may have proved his worth on the gridiron, but exactly how much is he worth, you know, money-wise? According to Showbiz Cheat Sheet, the 34-year-old coach is worth an estimated $7 million. He is currently on a five-year contract with the Rams, pulling in about $1.2 million a year. That kind of dough has allowed him a pretty snazzy lifestyle with his girlfriend, Ukrainian model Veronika Khomyn, and a multi-million dollar southern California home. And if the Rams continue this momentum and win the Super Bowl, you can bet that net worth will only head up from here.
Rams head coach Sean McVay's multi-million dollar home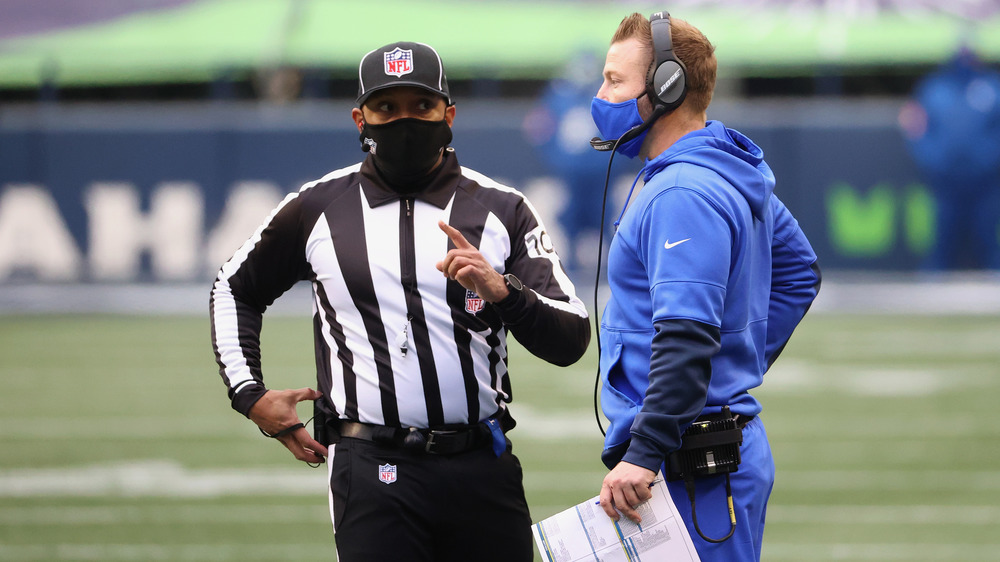 Abbie Parr/Getty Images
According to Trulia, McVay bought a sleek $2.7-million home overlooking Encino, California, after signing with the Rams in 2017. Not bad for a 30-something guy who is about to bring a long-floundering NFL team back to the verge of greatness. Built in 1966, the open concept home boasts 4,660 square feet of living space spread out over six bedrooms and six bathrooms and a fully remodeled kitchen with an eight-by-four marble-topped island and custom-made cabinets. His luxurious master bedroom is walled with huge windows that provide panoramic views of the city of Encino below. Walk-in closets, large bathrooms with soaking tubs and huge showers, balconies, a home theater — this place is packed with luxury.
The minimalist gray concrete exterior provides a pleasing contrast to the colorful hillside beyond. He's got lots of space to host parties, with a big lawn, a swimming pool, covered patio, and built-in barbecue. When you have a supermodel girlfriend, you need a place to which she can invite all her friends, right?
When the coronavirus pandemic put everything out of whack, including the 2020 NFL draft, McVay's sprawling Encino home was the perfect place to use as a command center. According to USA Today, he hunkered down with several monitors and laptops in a command center that "look[ed] like he could set off a spaceship." He apparently made some good picks from that spot, because the Rams have their sights set on the Super Bowl this year.
Sean McVay's stellar career with the Los Angeles Rams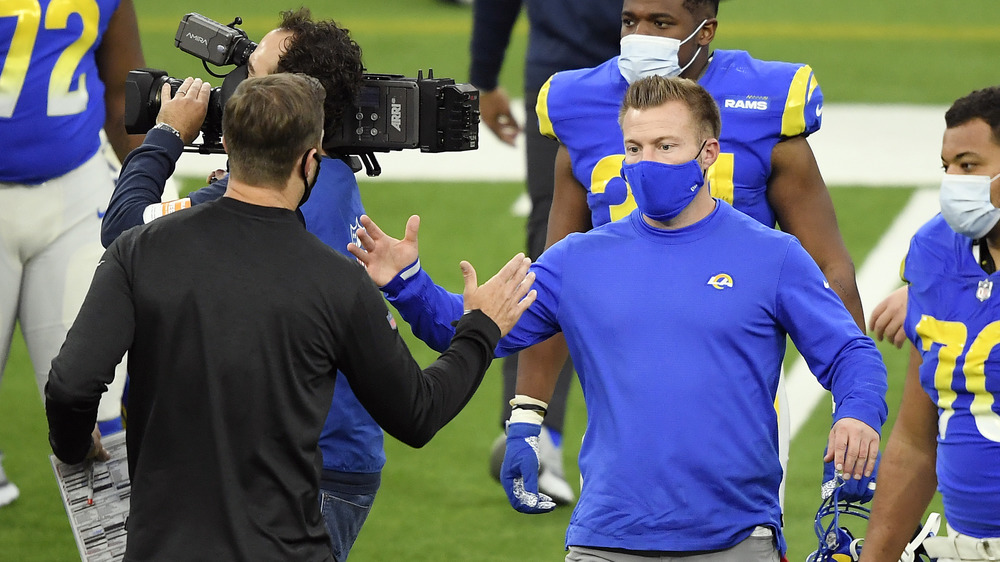 Kevork Djansezian/Getty Images
According to his official Rams bio, McVay "became the youngest coach in modern NFL history" when he signed with the team at just 31 years old. The team came away with a winning 13-3 season his second year with them, and when they made it to the Super Bowl in 2019, he was also the youngest head coach to take his team to the big game. The Rams lost that year to the New England Patriots, but McVay is hoping to go all the way this year.
According to Showbiz Cheat Sheet, McVay comes from a football family. His father played college football, a defensive back, and his grandfather had a pretty successful football career, as well. He played for the University of Miami and went on to work as a head coach of a number of different college teams. In the 1980s, he was the director of football operations for the San Francisco 49ers. Sean himself played football in high school and college, and then worked his way up in the Washington Redskins (who have one of the most offensive logos of all time, but they're changing their ways, according to ABC News). He proved any fan misgivings to be incorrect in his first few years with the Rams, and Los Angeles fans are hopeful that this year he and his team will come away with pro football's most coveted trophy.