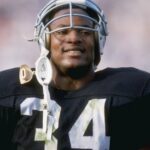 The Best Multiple Sport Athletes
echo get_the_meta(); ?>
Imagine what it takes to succeed in sports. There's a reason they've made so many classic movies about the struggle. All those early mornings at the gym. All those late nights under the lights. A lifetime of coaches' screams and cracked ribs. One more jump shot. One last swing. Feel the burn. Never give up. It's like living inside of some sort of never ending '80s training montage.
Now picture doing that twice. Making it in one sport seems superhuman. To succeed at two feels nearly godlike. That may be why multi-sport stars are so few and far between. If it takes 10,000 hours to become a master at something, as the writer Malcolm Gladwell once posited, then how to heck do these athletes find the time to do it twice? From the early days of American sports, all the way up to today, few have been able to accomplish this extraordinary feat, and the ones that did have (for the most part) become legends.
Charlie Ward Went From Heisman To NBA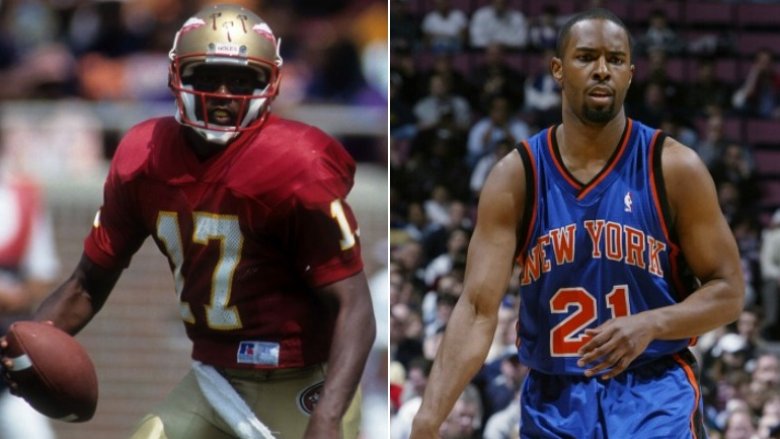 Getty Images
Charlie Ward was certainly a two sport athlete in college, playing both football and basketball at Florida State University. Still, to anyone paying attention, his primary focus was clearly on the gridiron. It was as a quarterback that he led his Seminoles to a 12-1 record, and a National Championship. It was football that would award him the Heisman Trophy, and induct him into the College Football Hall of Fame.
But then he went undrafted by the NFL, and had to rethink everything he knew about himself as an athlete. Seeing an opportunity to make headway in the NBA draft, despite more modest basketball accomplishments, Ward transformed his game in a matter of months. Scouts, coaches and players soon took notice. Sam Cassell declared, "he's going to play in this league." After playing the point guard one-on-one, Anfernee Hardaway raved, "I knew he was good, but I didn't know he was this good," Pat Kennedy, Dean Smith and Jim Valvano all predicted he had what it took to make it in the league. And they were right. Ward would be selected by the New York Knicks with the 26th pick of the 1994 Draft, spending the majority of his career with the squad, and playing a vital role in their run to the 1999 Finals. Remarkably, Ward was also drafted twice by the MLB, despite never playing an inning of baseball at Florida State, and went deep in the 1994 Arthur Ashe amateur tennis tournament as a tennis player. 
Dave DeBusschere went from pitcher to power forward
On August 13th, 1963, Dave DeBusschere would pitch his second to last game in the majors. A shut out, as it turned out. His career to that point had been sporadic, showing promise but rarely getting the opportunity to pitch on a regular schedule. He went 3-4 with a 3.09 ERA during the '63 season. The next year he was sent back down to the minors, where he would toil for two more years. By the time his next call-up came, he was over the frustration, and fled to greener pastures.
And the NBA's pastures were greener, indeed. Right off the bat, he earned a spot on the all-rookie team and the nickname "Big D" for his hard-edged defense. As the Atlanta Hawks Bill Bridges of the once told Newsday, "there's not one other guy in this league who gives the 100 percent DeBusschere does, every night, every game of the season, at both ends of the court." During his 12-year NBA career, much of it with the legendary Red Holtzman-coached Knicks, DeBusschere would win two championships, be named to the All-Defensive team six times, and the All-Star team another eight. Despite an under the radar style based more on sweat than skill, DeBusschere would carve out a Hall of Fame career, and was even named one the NBA's 50 Greatest Players in 1996. 
Bob Hayes' Olympic speed transformed the NFL
Bob Hayes didn't just win at the 1964 Tokyo Olympics, he dominated. He didn't just win the gold medal for the 100 meters, he beat the next fastest by four full meters, tying the then-word record of 10.05 seconds. He didn't just anchor the gold medal-winning 400-meter relay team, he made up nine meters on the field, running his leg at an unconscious 8.6. When the Cowboys picked him with their seventh-round pick later that year, it was treated as a gimmick. That is, until he took the field. 
Frank Clarke, the Cowboys best receiver at the time, said, "It was like he was melting, he was so fast." It didn't take long for Hayes' speed to wreak havoc on NFL defenses. He was just too fast for man-to-man coverages. The solution was the little-used zone defense, in which players were assigned certain areas of the field, as opposed to trying to keep pace with him. The NFL would never look the same. 
Over his 11 years, Hayes would catch 71 touchdown passes and make three Pro Bowls. He was inducted into the Pro Football Hall of Fame in 2009, the only athlete to win an Olympic gold medal and a Super Bowl ring. He may have passed away in 2002, but he still holds multiple Track & Field records. Former Dallas defensive back Charlie Waters summed it up best."His speed was mind-boggling. When he got even with you, you'd already lost the race."
Gene Conley won championships in two different sports
Gene Conley had an explanation for his lengthy baseball career: "I could sling the ball good." And he wasn't lying. In 1955, Al Hirshberg wrote in The Saturday Evening Post that Conley's fastball seemed "to come out of third base," thanks to his superhuman wingspan. It was enough for Conley to stick for 11 seasons in the majors, and make four All-Star teams. That's a mighty accomplishment, especially when you factor in his off-season job as a power forward for the Boston Celtics.
Conley is one of the few athletes to win championships in two separate major American sports, and he's by far the most consequential to both teams he played for. He was a part of the Milwaukee Braves team that bested the New York Yankees in the World Series, playing alongside Hank Aaron and Warren Spahn. And he was a part of the Celtics squad that won championships in 1959, 1960, and 1961, fronted by legends Bill Russell and Bob Cousy. As his Celtics coach, Red Auerbach, said at the time, "He's the most incredible athlete in the country. He's the only one who spends the entire year competing under the heaviest of pressure in two major sports. The average athlete would crack under that strain in a hurry. He thrives on it."
Duke Kahanamoku took his skills from swimming to the surf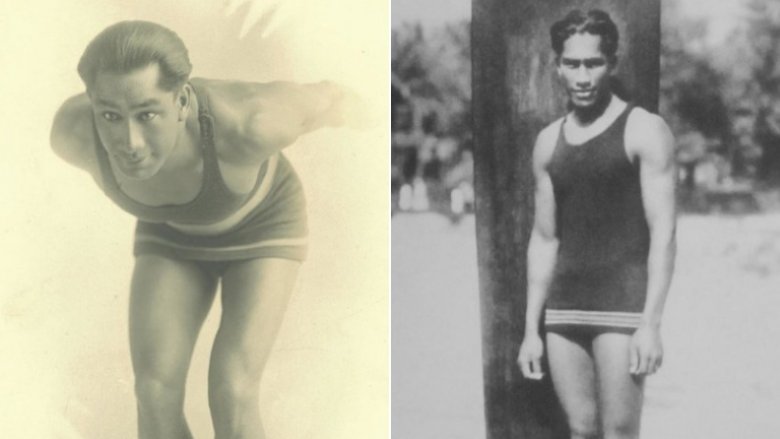 Wiki Images
Duke Kahanamoku spent his life in the water. A native Hawaiian at the turn of the 20th century, his ocean prowess would bring him Olympic glory and help transform the world. But first, it just needed to get his family out of debt. With bills to pay, a young Duke was looking for ways to make money, so he started taking part in some local swimming competitions. He won, and kept winning all the way to the 1912 Olympics, where he would win the 100 meter freestyle gold medal, along with a silver in the 4×200 relay.
Quickly becoming a cultural icon thanks to his uniquely Hawaiian roots, he toured the world, teaching his famous "Kahanamoku Kick" method of swimming. And while he was out there, he'd share another relic from his Hawaiian homeland. Foreign missionaries had largely outlawed surfing from the Hawaiian islands in the late 19th century, but a few locals refused to let the tradition die. Duke was a natural on the board, and perhaps the greatest proselytizer the sport had ever known. In fact, he's now considered the father of modern surfing. He would go on to win more Olympic medals, star in several movies, and even become the sheriff of Honolulu, but his greatest legacy is the sport he brought to the world. He was, in fact, the first person to be inducted into both the Surfing and Swimming Hall of Fames.
Babe Didrikson Zaharias went from track star to golf great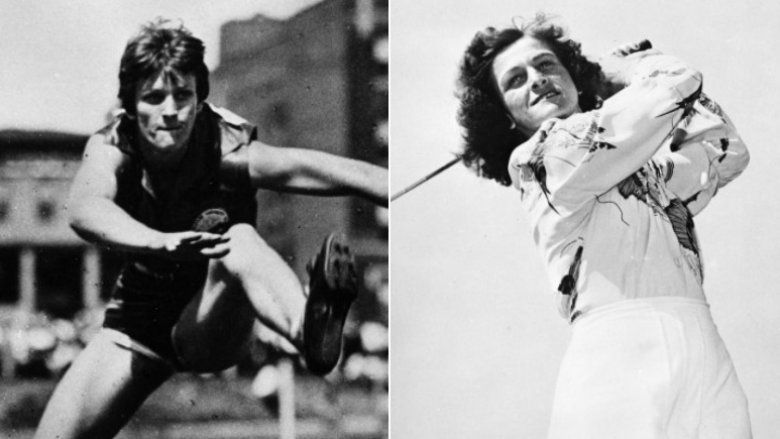 Getty Images
It's hard to put into words how transformative Babe Didrikson Zaharias was in the early part of the 20th century. To put it bluntly, she helped put women's sports on the map, first at the Olympics, and then on the golf course, although there are few sports she didn't find time to master. At one point or another, you could have seen her swimming, boxing, playing tennis, baseball or basketball, and frankly kicking butt at them.
She won three medals at the 1933 Olympics, and could have won more, but women were limited to three events at the time. Yikes. She once told The New York Times that no other woman "rivals me very closely as an athlete." She wasn't wrong. When she turned to golf, she did so with the dedication of a madwoman. The New York Times wrote that, "when she decided to center her attention on golf, she tightened up her game by driving as many as 1,000 balls a day and playing until her hands were so sore, they had to be taped." She'd go on to win 14 tournaments in row as amateur, before helping to found the LPGA. She'd then win 31 professional tournaments and ten majors. The AP named her Woman Athlete of the Year six times, and Sports Illustrated called her the Woman Athlete of the 20th Century in individual sports.
Brian Jordan was an All-Star in two sports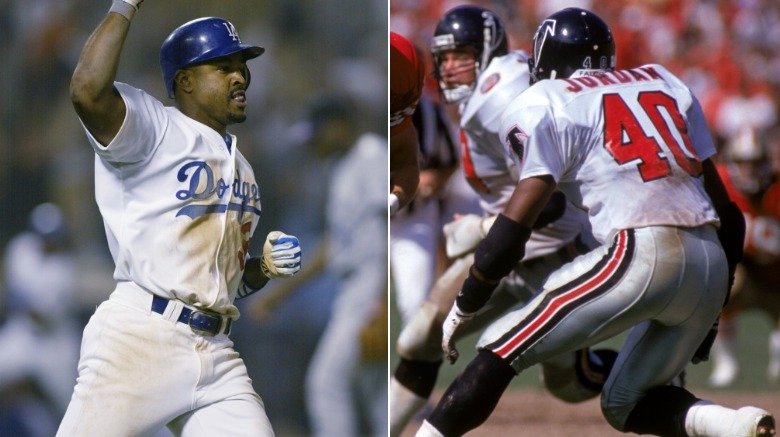 Getty Images
It all came down to money in the end. The St. Louis Cardinals were willing to pony up enough to convince Brian Jordan it was time to stop playing football, and give up his dream of being a multi-sport superstar. Still, when all's said and done, Jordan played in more than double the baseball games as Bo Jackson and Deion Sanders, two other two-sport stars, and was the only one of the three to be named an All-Star in both sports.
The NFL honor came in 1991, when Jordan led his Falcons team in tackles and was named a Pro Bowl alternate. He made the MLB All-Star team in 1999, scoring 100 runs, driving in 115 runs, and helping his Braves squad make it to the World Series. Jordan never lived up to the high expectations that were placed on him, particularly in baseball, but he had a solid career and has his place in history, thanks to his All-Star spots in two leagues.
Wilt Chamberlain dominated wherever he went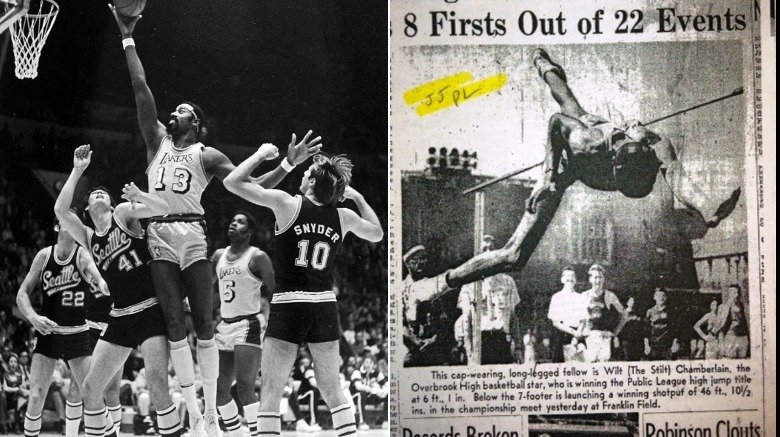 Getty Images/The Philadelphia Inquirer
Wilt Chamberlain was the most dominant player in NBA history. His stats are littered with one eye-popping number after another. He averaged 50.4 PPG in the '61-'62 season, and 27.2 RPG during the '60-61 season, two stats that remain records to this day. Heck, he averaged 48.53 minutes a game in 1962, despite there only being 48 minutes in a game. He recorded a quadruple double against Bill Russell in the 1967 playoffs, and once led the league in assists from the center position. And, perhaps most famously, he's the only player to score 100 points in a game. This guy was a unicorn, if unicorns had groupies. That's right, his stat-gathering continued off the court, where he once claimed to have bedded 20,000 women.
And you almost believe it, when you look at how he dominated every aspect of this life. For instance, Chamberlain was a world-class track & field athlete, without ever putting much effort into it. In high school he ran the 440-yard dash in under 50 seconds. In college, the day after a particularly taxing win on the hardwood, Chamberlain competed in the high jump, and tied for the indoor title with a 6-6 ¾ jump. He would end up winning three straight high jump championships, and earning a letter in Track & Field. Oh, and he once beat Jim Brown in a foot race in his bare feet. He was supernatural at sports in a way we've never seen again. 
Deion Sanders was Prime Time in baseball and football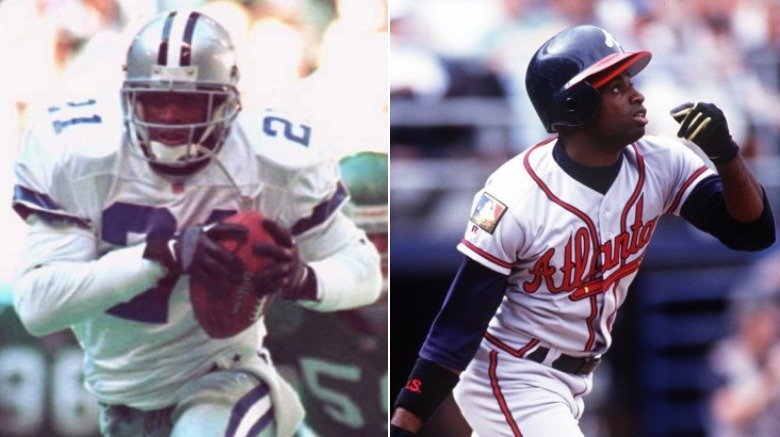 Getty Images
When it came time to choose baseball or football, following his triumphant career at Florida State, Deion Sanders did what he always does: he took an either/or situation, and made it yes or no. Yes, he would play in the major leagues, after getting drafted by the Yankees in the '88 MLB draft. Yes, he would play in the NFL, after being selected fifth by the Falcons in the '89 draft.
And he would do it with flair, right from the start. In 1989, Sanders hit a home run for the New York Yankees and then scored a touchdown on a punt return in his NFL debut just five days later. Sanders' trick was to make the whole thing a show. Whether it was being the only athlete to appear in both a World Series and a Super Bowl, or by being the only player to suit up for a baseball and football game in the same day, Neon Deion did it with style. And with Eight Pro Bowls, two championship rings, and a NFL Hall of Fame induction, you can afford a lot of style.
Jim Brown may be best player ever in two sports
For his nine seasons in the NFL, Jim Brown was a force of nature, leading the league in rushing eight times, winning three MVPs and one championship. In fact, some fifty years later, he still holds the record for rushing per game, at 104.3 yards per game. Time Magazinedeclared at the time, "there is only one player in the game today whose ability on field commands almost universal admiration, and that is Jimmy Brown." Many still say he's the greatest running back to ever lace up. Oh, and one more thing — football may not even have been his best sport.
In 1984, Jim Brown told The New York Times, "Lacrosse is probably the best sport I ever played." And he was the best at it. As a high school senior, he scored 43 goals in ten games, second best in the nation. Roy Simmons, the legendary Syracuse Lacrosse coach, once said, "I coached this game for 46 years, and Jim Brown was the greatest lacrosse player I ever saw,"' claiming, "he scored one goal underhanded with his right hand, one overhanded with his right, one underhanded with his left, one overhanded with his left. There was nobody like him." Brown was inducted into the National Lacrosse Hall of Fame in 1996, and still gets asked about his famous quote: "I'd rather play lacrosse six days a week and football on the seventh."
Bo Jackson knows Football and Baseball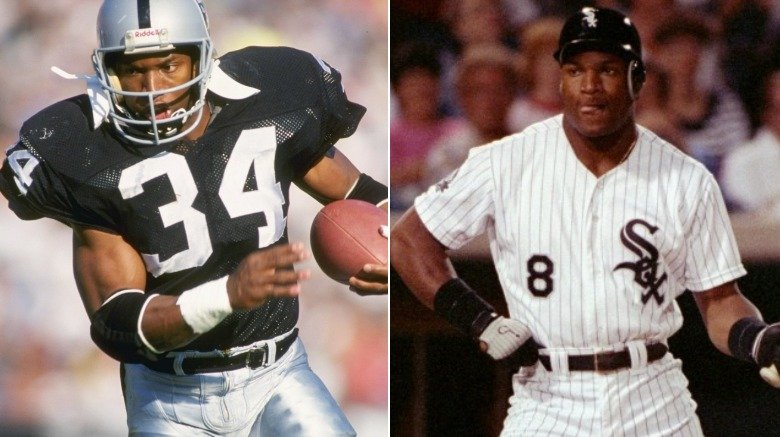 Getty Images
Bo Jackson is the most famous two-sport athlete in history. Don't take our word for it. Just watch one of the many, many commercials he made at the peak of his powers. And what a peak it was. Whether it was the All-Star game home run that had even President Reagan gobsmacked, or the smackdown Jackson put on linebacker Brian "The Boz" Bosworth in a game, Jackson wasn't just performing in two sports. He was a one-man highlight reel. He could literally walk on walls to make catches, and he wasn't shy to show up the competition. He once hit two home runs right over outfielder Deion Sanders, who raved, "He's like Jose Canseco. He swings the bat so hard that if the ball touches it, it's bound to go somewhere." Even when Bo blew it, he did something eye popping, like the time he broke a bat over his own leg after striking out. 
Jackson's career was sadly cut short in both games due to injury. To this day, he regrets subjecting himself to the rigors of a football career. "If I knew back then what I know now," Jackson told USA Today, "I would have never played football. Never. I wish I had known about all of those head injuries, but no one knew that. And the people that did know that, they wouldn't tell anybody."
Jim Thorpe may be greatest athlete of all time
The remarkable thing about Jim Thorpe, the original athletic renaissance man, is that many of his records still hold up. That's an incredible feat, considering the advancement in training and equipment that modern athletes have access too. Thorpe competed in 15 events at the 1912 Olympics, winning eight of them, even though he was forced to wear a pair of mismatched shoes after losing his own. His 11.2 record in the 100-meter dash wouldn't be matched for decades. At the same time, he was competing in football and baseball professionally, playing six seasons in the MLB, and winning three football championships before the NFL was even founded, partially by him. And, because that wasn't enough, he also barnstormed with a Native American basketball team, helping to popularize the sport.
Frankly, everything about Thorpe's life sounds larger than life. As a boy, he grew up breaking wild horses for fun. He once beat high hurdle champion Fred Kelly at his own game during an exhibition tour of Europe. He played football for the famous "Pop" Warner and against future president Dwight D. Eisenhower. For fun, Thorpe would often place kick field goals from the 50 yard line, then turn around and dropkick the ball through the opposite goal post. And this was all years before his country would recognized his people at citizens, not granting American Indians those rights until 1924. Is it any wonder that King Gustaf of Sweden once told Thorpe he was the greatest athlete in the world?