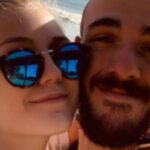 The Biggest Brian Laundrie Theories: What Really Happened?
echo get_the_meta(); ?>
A young couple went on a road trip to explore the United States, only to both end up dead thousands of miles apart from one another just months later — igniting a mystery that captured the interest and stoked the ire of the American public. They documented their journey on social media, sharing images of the vast and breathtaking American West, managing to make it look as if they had it all to themselves. 
Yet the remains of Gabby Petito, 22, and her fiance, Brian Laundrie, 23, were discovered in separate wildernesses weeks after their deaths. Nature did its work at covering up potential clues as to what happened to them, but for Petito, who was found in Grand Teton National Park on September 19, the coroner eventually ruled her death a homicide due to strangulation. 
In the meantime, Laundrie had been missing since September 13 after returning home to Florida on September 1, while the search for Petito was still on. At that time, Petito was still a missing person case, but neither Laundrie nor his family would talk to police, casting more suspicion on the situation. 
It was Laundrie's parents, though, that reported him missing, telling police he had gone to a favorite hiking spot in Sarasota County's Carlton Reserve, according to ABC News.
Law enforcement searched the area for weeks to no avail. The young man who was believed to be the last person to be with Petito when she was alive seemed to have vanished. 
Laundrie's remains had been submerged underwater
But it turned out that he hadn't vanished at all. He was underwater at Florida's Carlton Reserve where his partial remains were finally found on October 21, which helps explain why his discovery had been so elusive. By now with the information that his finance had been murdered, Laundrie was named a person of interest by police but it was moot. Police would never get to question Laundrie. 
According to what FBI Special Agent Michael McPherson said in a press conference (via WESH), investigators found Laundrie's backpack and his journal in an area where they found his remains, which, "up until recently have been underwater." 
The search has been made difficult because of the south Florida landscape.  Per WESH, Lee County Sheriff, Carmine Marceno, said in a news conference, "Today when I walked back there, I got to see firsthand the treacherous conditions that they were working on. We're talking water levels up above almost the chest area, rattlesnakes, moccasins, alligators."
According to CNN, Laundrie left his parents' home without his wallet or cell phone but clearly did have his backpack, some supplies, and a journal. It's unclear what his plan was when he went to the reserve, or if he even had a plan. It's also unclear if exactly what happened between the couple will ever be known, but what is known is that Petito was strangled to death by someone, and the most likely suspect seems to have taken most of the answers with him. 
So far, the results are inconclusive
According to CNN, the autopsy on Laundrie came back inconclusive and was sent to a forensic anthropologist. Reporter Sam Brock with NBC tweeted that the remains included a "portion of a human skull" which was "badly decomposed." The other remains were described as "skeletal," per NBC News. 
The notebook found near Laundrie's body is "possibly salvageable" according to CNN, and may hold clues to what really happened to Petito and to Laundrie himself. The notebook was wet but, ideally, forensic investigators will be able to decipher some of what was written in Laundrie's journal. 
As the whole situation is still under investigation, police nor the FBI are publicly speculating about how Laundrie died. Former FBI profiler Jim Clemente told CNN that because of the degree of decay, "It's going to be much more difficult to make a good, solid determination as to the cause and manner of death unless there's some kind of major, serious trauma to the skull that can be identified."
Clemente said if Laundrie had drowned, for instance, it would be hard to tell because the remains are too far gone. It's also possible he died of a snake bite or animal attack, or even starvation. Suicide is another obvious possibility, and one that even Laundrie's family was worried about. 
Laundrie's parents were 'concerned' about his mental state
The Laundrie's attorney, Steven Bertolino, told "Good Morning America" (via YouTube) that he has discussed the possibility of their son's suicide with Brian's parents, saying, "You know, we just do not know. Of course knowing his mental state when he walked out the door it was always a concern" but he said the family will accept whatever answers the medical examiners come up with. 
According to what Bertolino told GMA, Laundrie was grieving when he left their house for the last time on September 13, even though Petito's remains were not found until the 19th. Bertolino would not elaborate, but said that Brian had been "extremely upset," and his parents were very concerned about him. Still, there was nothing they could do to keep him from leaving the house that day. 
With so few clues to go on regarding Brian Laundrie's cause of death due to the advanced state of decomposition of his remains, it's in the hands of forensic scientists to sift through the remaining clues. They must try to determine whether Laundrie indeed killed Petito, and if so, why? It's possible that his journal holds the answers to those questions. 
As for what caused Laundrie's death, whether it was suicide, an accident, some kind of natural cause, or the off chance it was a homicide, the answer may never be known. Regardless of the causes of any of it, the situation is nothing short of needless and tragic for the loved ones left behind.