The Chilling Truth About The Russian Werewolf Killer
echo get_the_meta(); ?>
Between 1992 and 2010, Mikhail Viktorovich Popkov, who is commonly referred to as the Russian Werewolf killer, sexually assaulted and killed an estimated 80+ people in the Irkutsk region of Siberia. As reported by ABC News, a vast majority of Popkov's victims were women, whom he believed were "morally unfit" and therefore deserved to die.
Prior to his arrest and conviction, Mikhail Popkov was a police officer, who, by all accounts, was an "exemplary family man." The husband and father appeared to lead a "normal" life and had a close relationship with his daughter. However, Popkov was clearly leading a double life.
In a number of interviews, which were conducted after his arrest, Popkov said he was simply trying to rid the city of "fallen women."
ABC News reports Mikhail Popkov used his position as a police officer to gain his victims' trust. While in uniform, the killer would approach women, who were walking alone at night, and offer them a ride. He would then offer them alcohol, drive them to a secluded location, and sexually assault them before beating or stabbing them to death.
As reported by ABC News, Popkov blamed his victims for being out at night "without being accompanied by men and without a specific goal." He said they were willing to get in his car because they were "in search of adventure."
Although Russian authorities formed a task force to identify and capture the Russian Werewolf, Mikhail Popkov was careful to cover his tracks.
The Russian Werewolf killer was finally caught after 18 years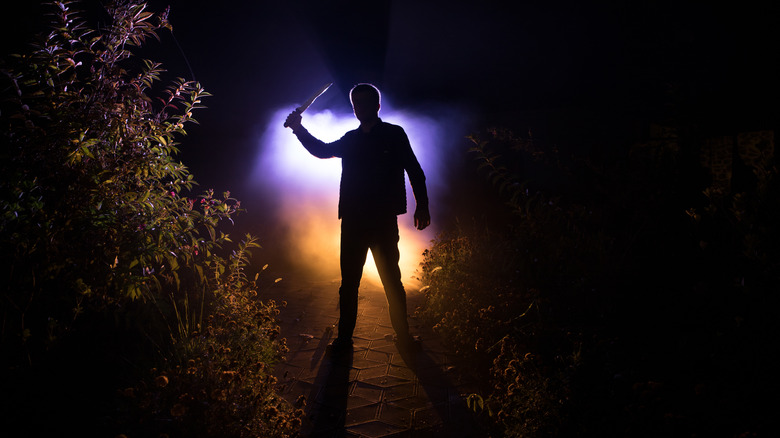 Shutterstock
On more than one occasion, Mikhail Popkov joined his colleagues while they investigated the scenes of murders committed by the Werewolf Killer. However, they had no idea their fellow officer was the perpetrator.
As reported by ABC News, authorities got an important break in the case when a victim, who managed to escape, identified her attacker as a police officer. In response to the victim's report, authorities began interviewing police officers about their possible involvement with the serial killings. 
In March 2012, Mikhail Popkov was interviewed and asked for a DNA sample, which he provided without hesitation. After the interview, he consulted with an attorney, resigned from the police department, and moved out of town.
The DNA conclusively linked Popkov to several of the Werewolf Killer's victims. He was immediately tracked down and arrested without further incident. ABC News reports the Werewolf Killer freely confessed to killing more than 80 people.
In January 2015, Mikhail Popkov was convicted on 22 counts of murder and two attempted murders. He was subsequently sentenced to life in prison. As reported by CBS News, he was convicted on 56 more counts of murder in December 2018.
The Werewolf Killer never apologized for killing his victims. He stressed the fact that he chose women who were either drunk or behaving "immorally." As reported by CBS News, he said, "any society condemns the behavior of a debauched woman."