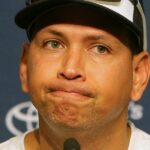 The Dirtiest Players In Baseball History
echo get_the_meta(); ?>
The history of Major League Baseball is littered with dubious figures who found success in the Big Leagues but who also weren't role models for younger fans. Many of these individuals broke known on-the-diamond rules and even put opponents in danger to win regular-season games. Others reportedly and allegedly injected chemicals into their bodies to gain advantages over opposing players. Ironically, many of the supposed dirtiest players in baseball history are also viewed as the greatest athletes to ever participate in the Bigs, and some are even enshrined in the Hall of Fame. 
The man who will most likely hold the highest batting average among every-day Major League players was known to be a miserable human being, somebody who irritated and angered teammates, those who played against him, umpires, fans, and outside observers. Odds are he would never make it into the Hall of Fame if current voters were to decide his fate, and his status brings up questions about who should and shouldn't get in among current candidates. The famous adage teaches that "if you're not cheating, you're not trying." Many of the dirtiest players in baseball history tested this mantra in multiple ways. 
Albert Belle tried to run people over on and off the diamond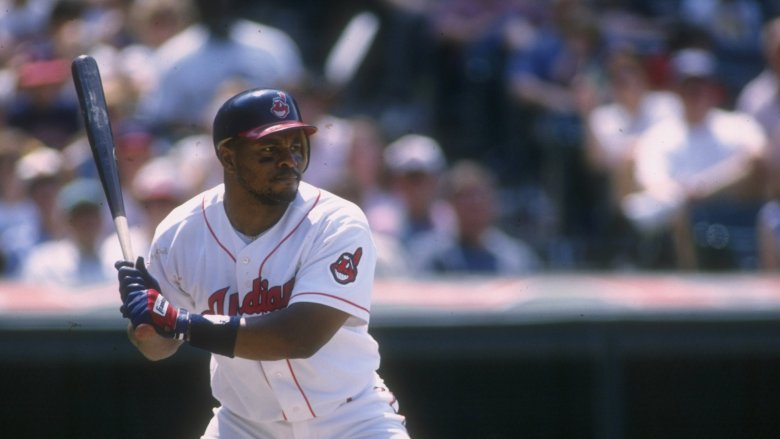 Rick Stewart/Getty Images
In 1995, Cleveland Indians slugger Albert Belle posted one of the greatest offensive seasons in Major League history when he notched 50 doubles and 50 home runs in the same campaign. Belle deserves to have a seat in Cooperstown, as Craig Muder wrote, but the fact that he wasn't the nicest man on or off the field could keep him out of the Hall for good. Famously, Belle once ran over Milwaukee Brewers infielder Fernando Vina while trying to break up a double play. That is only the beginning. 
As Craig Calcaterra of NBC Sports wrote, the enigmatic outfielder once chased children who threw eggs at his house on Halloween. Belle annoyed teammates and even went so far as to ruin some of their possessions inside of the Cleveland clubhouse. He was also accused of using a corked bat during a game. While Belle was never mentioned as somebody who used performance-enhancing drugs, the perception will always exist that he suffered from "Roid Rage." It's too bad because Belle's incredible career often flies under the radar due to his personality and his sins. 
Jenrry Mejia's lifetime ban was "lifetime" in name only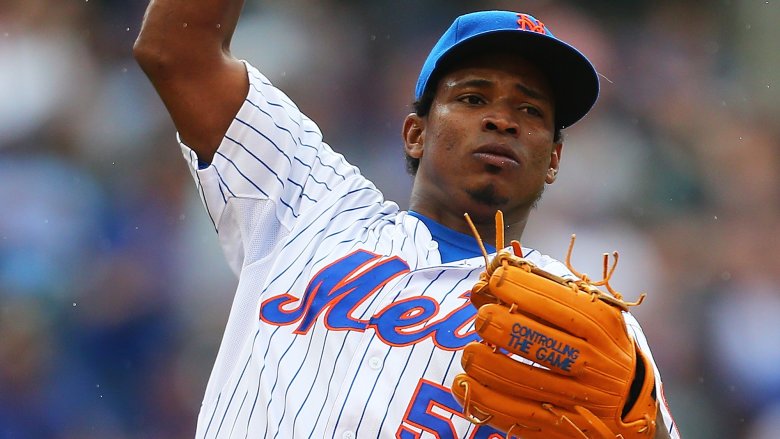 Mike Stobe/Getty Images
When is a lifetime ban not really a lifetime ban? Pitcher Jenrry Mejia could probably speak on the subject at length. In 2010, Mejia was a promising 20-year-old coming up with the New York Mets, and the hope was that he would eventually evolve into a top-tier starter compared to the likes of Jacob deGrom and Noah Syndergaard. An injury and Tommy John surgery stalled his progress, however, and the league handed him an 80-game suspension in 2015 after he reportedly tested positive for PEDs. Mejia learned no lesson from that ban, though, and he received a "permanent" ban from MLB in February 2016. 
Apparently, permanent is not the same as infinite in the eyes of the Big Leagues. MLB reinstated Mejia in the summer of 2018, and he spent time in the Boston Red Sox farm system during the 2019 season. Ironically, the Mets' bullpen was disastrous throughout that same campaign, as closer Edwin Diaz and others on the roster repeatedly wasted leads and cost the Amazins games. New York could've used an available, healthy, and rule-abiding Mejia to fan batters and not choke in the final innings of contests. 
Fellow players have lashed out at Manny Machado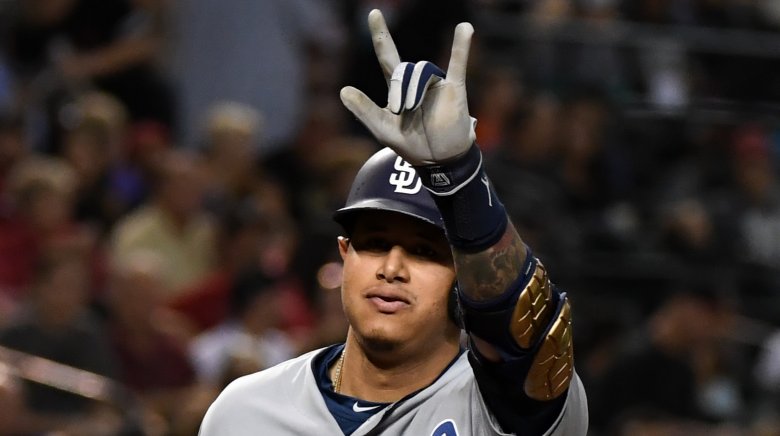 Norm Hall/Getty Images
When the San Diego Padres signed Manny Machado to a 10-year contract in February 2019, the club assumed it was acquiring one of the best available infielders at the time, and also a cornerstone of a future championship lineup. The previous October, Machado seemed to intentionally kick Milwaukee Brewers first baseman Jesus Aguilar in the tenth inning of a postseason game. That incident resulted in both benches clearing, and it wasn't the first time Machado had been accused of dirty play and even attempting to injure somebody. 
In June 2016, Machado had beef with pitcher Yordano Ventura, and the All-Star charged the mound after being hit by a pitch. That same month, Machado was accused of completing a dirty slide into second base during a game versus the Boston Red Sox. Two years earlier, Machado sparked a near brawl when he tossed a bat towards an opposing third baseman. 
Per Business Insider, 2018 National League Most Valuable Player Christian Yelich referred to Machado as a "dirty player" in the fall of that year, and added that "you can't respect someone who plays the game like that." 
"King" Kelly allegedly skipped bases during games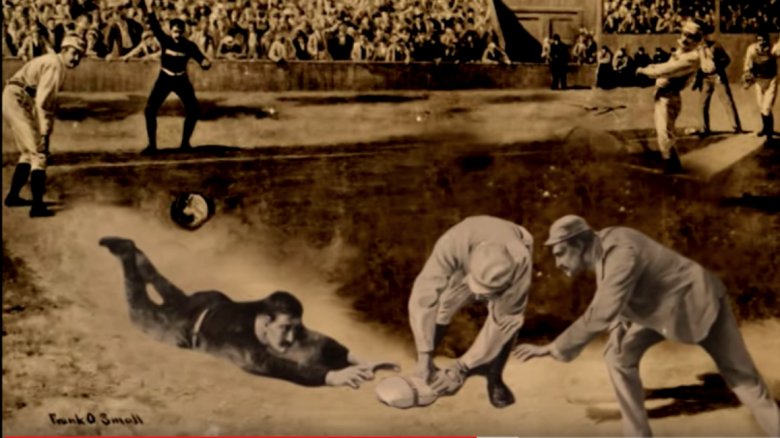 According to the Baseball Hall of Fame, Mike "King" Kelly was one of the most popular baseball players from 1878 through 1893. Kelly won a pair of batting titles, he stole five bases in one game on a handful of occasions and, per the Hall, authored the sport's first biography. In January 2007, Josh Timmers of Bleed Cubbie Blue wrote that Kelly "was the greatest player ever at going from first to third or second to home." As Timmers explained, Kelly's base running prowess didn't come from blinding speed or extraordinary athleticism. 
Generations before a half-dozen high-definition cameras infiltrated ballparks and long before several umpires ruled the diamond, Kelly was known to skip bases when the single ump on the field wasn't looking. According to The Irish Times, Kelly's antics and his slide into home plate sparked the birth of a pop song and a chant heard throughout baseball venues. Unlike in modern times when such behavior would earn an athlete scorn and admonishment, Kelly's cheating made him even more beloved among audiences of his time. 
Ryan Braun's lies eventually caught up with him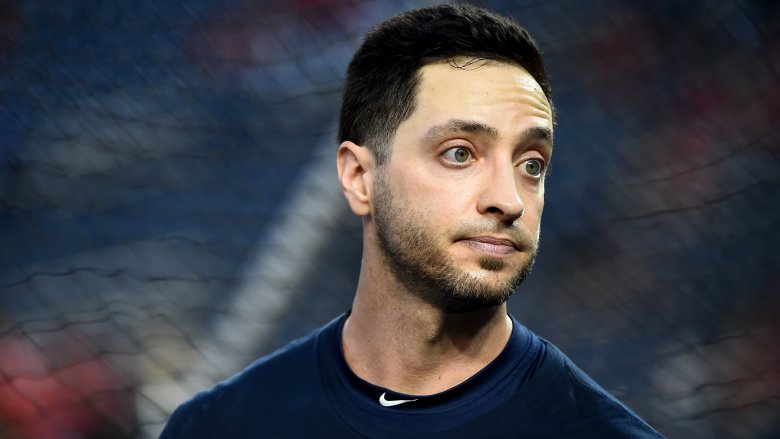 Will Newton/Getty Images
In 2011, Milwaukee Brewers All-Star Ryan Braun joined an exclusive club when he notched 30 home runs and 30 stolen bases in the same season. That November, Braun unsurprisingly won NL MVP, and he also earned Silver Slugger honors. A month later, ESPN's "Outside the Lines" reported that Braun tested positive for PEDs, but he won an appeal after it was deemed that the collection of his sample did not follow the proper protocol. At the time, Braun seemed like a hero among players, as he defeated what had been viewed as an unbeatable system and also exposed flaws in MLB drug testing. 
After maintaining his innocence for over a year, the truth caught up with Braun in the summer of 2013 when he earned a lengthy suspension due to his involvement with the Biogenesis clinic that distributed drugs to professional athletes. As explained by ESPN, Braun came clean following this punishment, and he admitted: "I realize now that I have made some mistakes. I am willing to accept the consequences of those actions." Later that same year, ESPN confirmed Braun tried to discredit the urine collector, even going so far as to refer to that person as an anti-Semite. 
Gaylord Perry wasn't shy about doctoring baseballs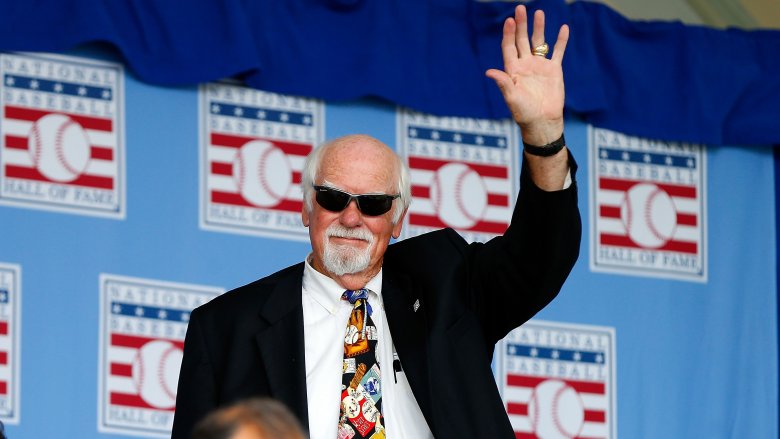 Jim Mcisaac/Getty Images
In his prime, Gaylord Perry was the equivalent of a pitching machine and a man who twice led the Majors in complete games and who threw into extra innings 39 times. In total, Perry earned decisions in 579 contests, won 314 of those games, started 690 times, and he completed 303 of those outings. He won the Cy Young award on two occasions, was a five-time All-Star, and was elected into the Hall of Fame. Amazingly, he accomplished all of this greatness while nearly everybody associated with the sport knew he was cheating.
As USA Today explained, Perry once went so far as to approach Vaseline about a potential sponsorship opportunity. He even wrote a book called Me and the Spitter. While he started pitching in 1962 and probably cheated every season he played, he wasn't ejected from a game until August 1982. 
Perry used his devilish ways to intimidate opponents, as he would touch his cap or parts of his body to indicate that he was putting an illegal substance on the ball even when he wasn't. Some are known as students of the game. Perry was a professor. 
Joe Niekro was once caught cheating on the mound
In the summer of 1987, Joe Niekro was a 42-year-old pitcher who had two decades of experience under his belt and who was clearly in the twilight of his career. The prior season, he won only nine of 25 starts, and the man who led the National League in wins in 1979 was but a shell of his former great self. He was pitching for the Minnesota Twins in August of '87 when the home plate umpire approached the mound after inspecting a baseball that had been thrown for a strike. 
Following some verbal sparring, Niekro was ordered to empty his pockets, and an emery board used to file fingernails was discovered. According to the Los Angeles Times, Niekro told reporters that he carried "an emery board and a small piece of sandpaper" each time that he took the hill as a knuckleballer. Gene Mauch, manager of the Angels at the time of Niekro's ejection, responded by saying that "everybody always knew" that Niekro scuffed or otherwise doctored balls. Ultimately, the league suspended Niekro for 10 games. 
Whitey Ford did whatever possible to remain in the Majors as long as possible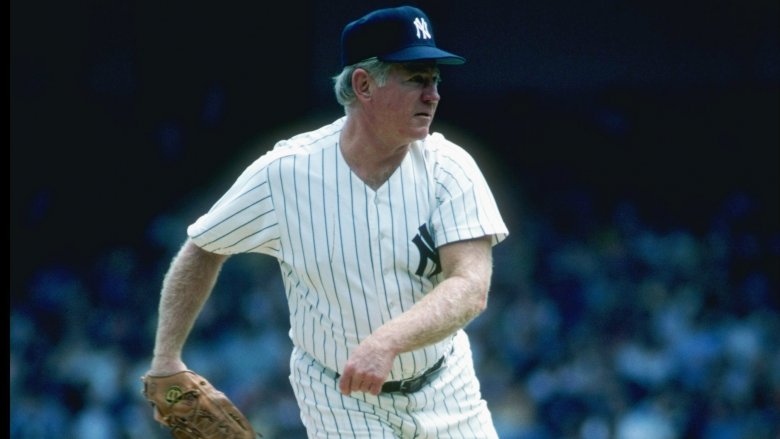 T.g. Higgins/Getty Images
"If it were me and I needed to cheat to be able to throw the good stuff that would keep me in the major leagues at a salary of about $800,000 a year, I'd do whatever I had to do." Per Bleacher Report, this is what famous New York Yankees hurler Whitey Ford told a reporter in 1987, roughly 20 years after he hung his glove up for good. "The Chairman of the Board" pitched in 16 Big League campaigns, won 236 of his 438 starts and earned 10 All-Star appearances, six championship rings, a plaque in the famed Yankees Monument Park and a spot in the Baseball Hall of Fame. 
Ford's greatness was matched by his dirty play and cheating ways. Per the Los Angeles Times, Ford openly admitted to often throwing a "gunk ball" that was covered in saliva, baby oil, turpentine, resin, and pretty much anything else that he could think of before he ventured to the mound. According to The Society For American Baseball Research, Ford had a special ring made so that he could cut into baseballs during his starts. Per his admission, Ford never mastered the spitball. Imagine what he could've achieved had he learned that dark art. 
Sammy Sosa allegedly bent the rules more than once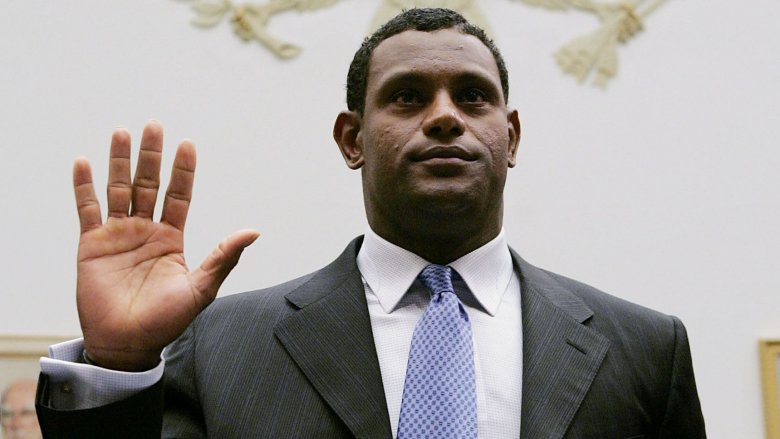 Mark Wilson/Getty Images
Of course, we all know the real story behind the great home run record chase of 1998. Jose Canseco outed slugger Mark McGwire, who eventually publicly admitted that he used steroids and even apologized to his former manager and MLB commissioner Bud Selig. Sammy Sosa, who trailed McGwire at the end of that famous summer, was mentioned as a player who was popped by a 2003 drug test that was supposed to remain anonymous. In 2005, Sosa denied taking PEDs during his career. 
Baseball players injecting themselves with chemicals became forgivable over time, as many fans learned to accept that a plethora of players never linked with steroids were probably on the gas during the 1990s and early 2000s. Sosa became more infamous in June 2003, however, when he was suspended after he was caught using a corked bat during a game. Sosa claimed that he accidentally used a batting-practice bat during the in-game at-bat, but he nevertheless received an eight-game ban from the league. Anybody can make a mistake, and it's possible Sosa told the truth. With that said, Hall of Fame voters weren't kind to Sosa from 2014 through 2019. 
The Black Sox threw a World Series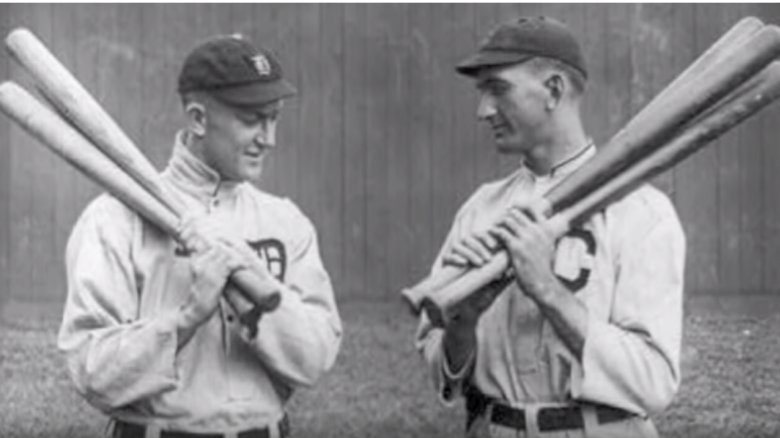 Books have been written and a well-known movie was made about the Chicago White Sox roster that threw the 1919 World Series due to their involvement with gamblers. As explained by The Society For American Baseball Research, then-White Sox owner Charles Comiskey built a reputation for being stingy toward players, and it's long been suspected that Comiskey knew about the fix even before the series concluded. The Sox, heavy favorites ahead of the series, lost to the Cincinnati Reds, and eight Chicago players received lifetime bans that kept them out of the Hall of Fame. 
Whether or not "Shoeless" Joe Jackson was involved in the conspiracy has been disputed for 100 years. Jackson hit .375, a series high among players who participated in all eight games, he was the only player to hit a home run, and he drove home a team-high six runs. He was, however, guilty of at least a couple of questionable defensive miscues, although nobody can say with any certainty that he made those mistakes on purpose. In September 2015, commissioner Rob Manfred informed individuals at the Joe Jackson Museum that he would not reverse the bans handed down to the Black Sox players. 
A-Rod's slap did his reputation no favors
Thearon W. Henderson/Getty Images
We don't want to pick on Alex Rodriguez, who deserves to be recognized as one of his generation's best players. After all, the former New York Yankees great and one-time World Series champion was neither the first nor last player linked with PEDs who routinely denied using those substances only to later admit that he had cheated. What stands out about Rodriguez is the lengths he went to while trying to keep his name and reputation clean. Knowing all we know now, his 40-minute long interview with WFAN radio icon Mike Francesa is nothing short of laughable. 
A-Rod also was far from a saint on the field. Most notably, he suffered a minor base running meltdown during the 2004 American League Championship Series when he purposely slapped the baseball away from Boston Red Sox pitcher Bronson Arroyo while attempting to reach first safely. The umps correctly ruled Rodriguez out following a brief meeting, and that moment became one of the top highlights of Boston's comeback from trailing the Yankees 3-0 in the series. 
What grown athlete slaps at another during a game? 
Should Pete Rose be in the Hall of Fame?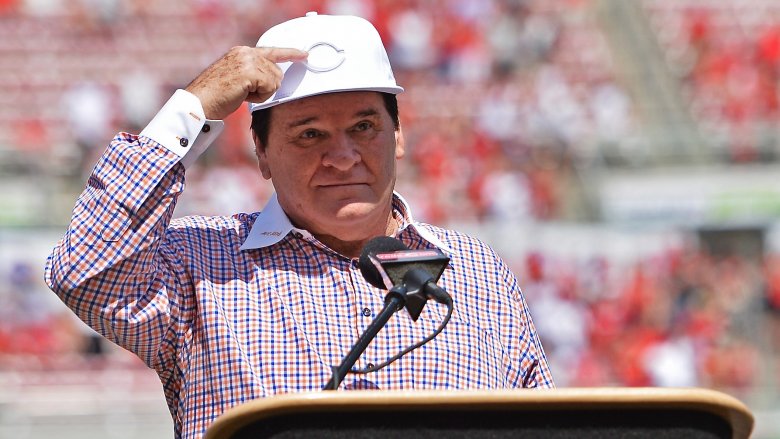 Jamie Sabau/Getty Images
How you remember Pete Rose may depend on your age and if you saw him during the prime of his career. Some will always view him as "Charlie Hustle," a man who left everything on the diamond every time he played and never held anything back. Others, however, view Rose as a tainted figure who allowed his demons to get the best of him and who received a lifetime ban from MLB because he bet on baseball, so much so that he even wagered on the outcomes of games that he managed while working for the Cincinnati Reds. 
In the 1970 All-Star Game, an exhibition contest, Rose barreled over Cleveland Indians catcher Ray Fosse to score the winning run for the National League. While Fosse remained in the Bigs through the end of the decade, he was never the same player following that collision. In July 2015, Fosse, 68-years -ld at the time, told the Associated Press (h/t Denver Post) he later learned he suffered a fractured and separated shoulder from the hit, and also that he never fully recovered from one of the most infamous incidents in league history. 
Ty Cobb would risk injuring opposing players to win a game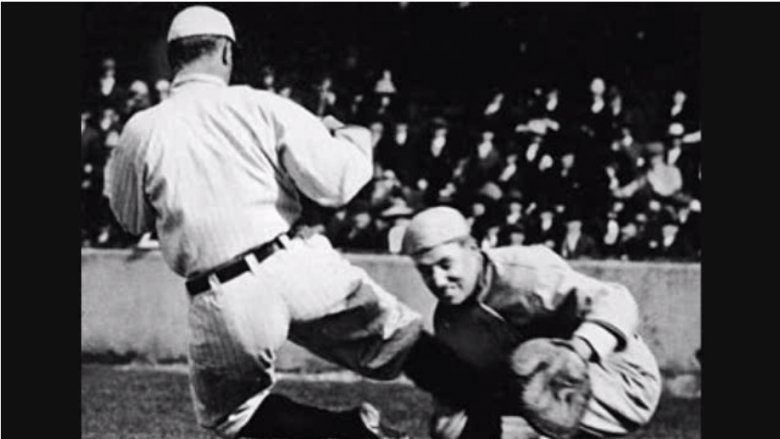 Unless MLB drastically changes rules to benefit hitters, nobody will ever flirt with reaching Ty Cobb's career batting average record of .366. At worst, Cobb remains the second greatest hitter in league history behind only Pete Rose, and "The Georgia Peach" retired as an all-time great who was guaranteed a spot in the Hall of Fame even before he played in his last game. With that said, historians and fans will always remember Cobb as one of the foulest pro athletes in American history. ESPN Page 2 readers voted Cobb the dirtiest pro athlete ever.
Cobb spiked opposing players with his cleats as he slid into bases. He once got into a fight with a fan in the stands. According to The Society for American Baseball Research, legendary manager Connie Mack once said Cobb was "the greatest ballplayer in the world, but he is also one of the dirtiest." As ESPN explained, Cobb allegedly sharpened his spikes to terrify and terrorize infielders as he rounded the bases. 
Much of Cobb's anger can be linked to his mother accidentally shooting and killing his father before Cobb made the Big Leagues. "I didn't get over that. I've never gotten over it," he later said.