The Disturbing Story Of Georgia Tann
echo get_the_meta(); ?>
Beulah George "Georgia" Tann was purportedly a child trafficker nearly 100 years before we started calling them that. She allegedly kidnapped, lied, and neglected children to the point of death, tearing families apart all for her own profit. Over the course of more than two decades, Tann adopted out an estimated 5,000 children to well-to-do families all around the U.S., according to Insider, and she did so by dubious means on every level.
Though she'd been reportedly fired in Mississippi for taking children from poor families without legitimate cause, Tann moved to Tennessee, where she was hired at the Shelby branch of the Tennessee Children's Home Society starting in 1922. After a few years in that position, in 1929, she was named executive director of the Shelby chapter of the adoption agency, according to Insider. 
As such, her alleged modus operandi was to get her hands on children by whatever means necessary, often driving through poor neighborhoods and shanty towns and offering the most appealing children rides in her fancy black car. Most of those children never saw their biological families again, per Insider.
Georgia Tann lured children into her car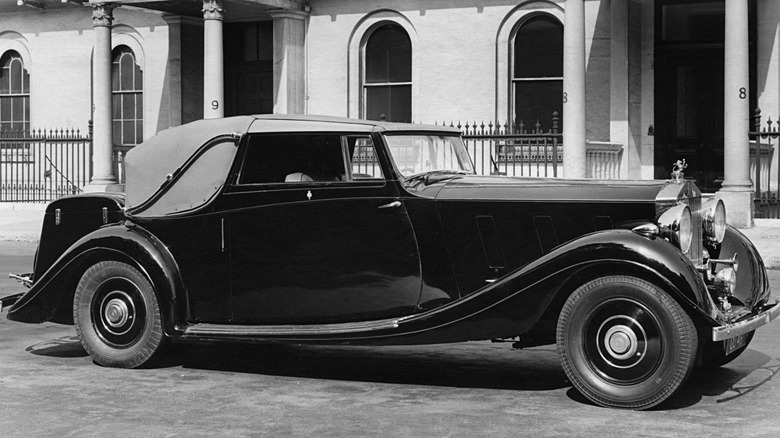 Heritage Images/Getty Images
Lisa Wingate, who co-authored two books on the subject of the Tennessee Children's Home Society, explained to WBUR that because times were so different, infants and small children were somewhat easy prey.
"There was no air conditioning. People used to leave children out to sit in the yard, or put a crib out on the porch," Wingate said. "Children played outside. That was before the day and time, 'Don't talk to strangers' and, 'Don't get in a car with anybody,' so, it was very easy for her to roll up. Many children had never been in a car, during those years. And, so, it was very easy for her to roll up and say, 'Hey, would you like a ride in my nice car?' And she's this grandmotherly looking woman. And in the children would go."
Georgia Tann would then supposedly take the stolen kids to the children's home and adopt them out to wealthy families for exorbitant amounts of money. Tann would likely make up backstories for the children to make them more enticing to prospective adoptive parents, then reportedly keep 80 to 90% of the adoption fees, according to the Tennessee State Library and Archives. Over the course of her 21 years running the children's home, Insider reported she is believed to have made $1 million, which would be about $11 million in today's money. 
Hundreds of babies died under Tann's care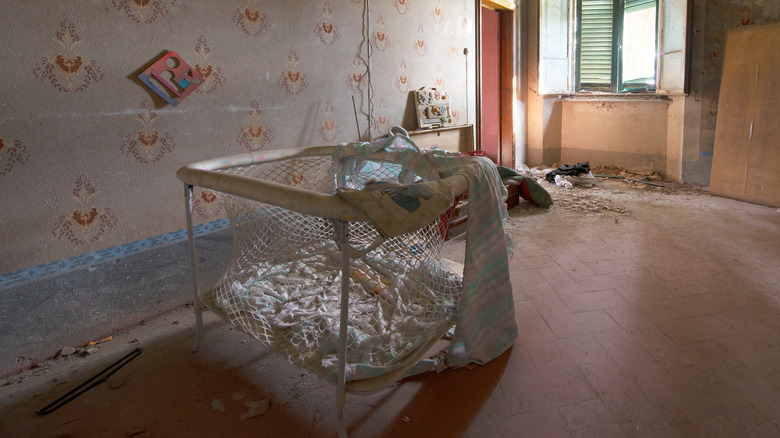 Shutterstock
Georgia Tann didn't just allegedly kidnap small children. Babies were always desired, so she purportedly preyed on unwed mothers. Also possibly involved were doctors and other agency officials who tipped her off to where she could find new babies, Insider reported. They would reportedly lie and tell the mothers the baby had died, or have them sign away their parental rights while they were still groggy from the sedation commonly given to women in labor at that time. Other times, she would supposedly shame the mother into giving her child up for adoption.
According to Wingate, it's estimated 500 to 600 babies died at the orphanage because they were "not marketable." If they were sickly, had a birth defect or health issue, if they were too fussy, or even just "not cute enough," those babies were made to go away. 
Wingate told WBUR, "[Tann] had people to send the child [away]. … And that person's job was to not bring the baby back, wheel the baby out in the sun or whatever, and let it expire."
Dozens of others died due to epidemics that spread through the children's home. According to Insider, children were kept in terrible conditions and allegedly abused by not only staff, but also by Tann herself.
Georgia Tann was never charged with a crime
In 1941, the Child Welfare League of America learned that Georgia Tann had regularly destroyed records of the adoptions, and the children's home lost its endorsement from the organization, per the Tennessee State Library and Archives. A judge also found that Tann's practice was all about profit without regard for the children's welfare. 
An investigation was finally launched in 1950. The findings were scandalous. 
According to the Tennessee State Library and Archives, the investigation evoked headlines like, "Babies Carted Off At Midnight, Says Former Foundlings Nurse"; "State Investigator Says Force, Persuasion Used In Memphis Baby Racket"; "'Farmed-Out' Children's Plight Revealed in Baby Profit Case"; "Doctor Charges Baby 'Deathtrap' Memphis Home Losses in Diarrhea Flurry Declared 'Hushed Up'"; and "Movie Stars Bought Babies at Memphis, State Charges."
According to Insider, two of Joan Crawford's children were adopted from Tann in 1947. Other celebrities like Lana Turner along with former governor of New York, Herbert Lehman, had adopted children from the Tennessee Children's Home Society. 
Tann was never charged for her abhorrent life's work, nor was anyone else held accountable, according to the Tennessee State Library Archives. Three days before the state was going to file charges against the children's home and Tann, she died of uterine cancer.