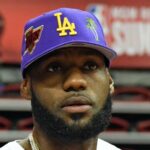 The Most Hated Players In The NBA Right Now
echo get_the_meta(); ?>
The NBA markets its stars better than any other sports organization in North America. Athletes like Odell Beckham Jr., Sidney Crosby, Aaron Judge, and Tom Brady are recognizable names, but they can't match the most famous basketball players on the planet in popularity and fame. In March 2019, ESPN posted their World Fame 100, a list of the top sports stars and "their most Googled moments of the year." LeBron James ranked second between Lionel Messi and Cristiano Ronaldo. Two men who won multiple titles together with the Golden State Warriors filled slots No. 9 and No. 11. 
That kind of stardom and popularity inevitably creates a hatred felt by passionate fans and casual observers, not to mention among peers who are jealous of the richest and best players in the NBA. This isn't to suggest NBA villains aren't worthy of scorn. Many have, over the years, been guilty of basketball crimes such as dirty play, avoidable fouls, and whining to officials in pitiful attempts to earn calls. As is the case in just about any sport, fans only hate any of the NBA players spotlighted in this piece because those stars don't play for their favorite teams. 
To steal from cinematic masterpiece Major League II: It's amazing how a new uniform can change your attitude about a guy.
Matthew Dellavedova has been called dirty by his peers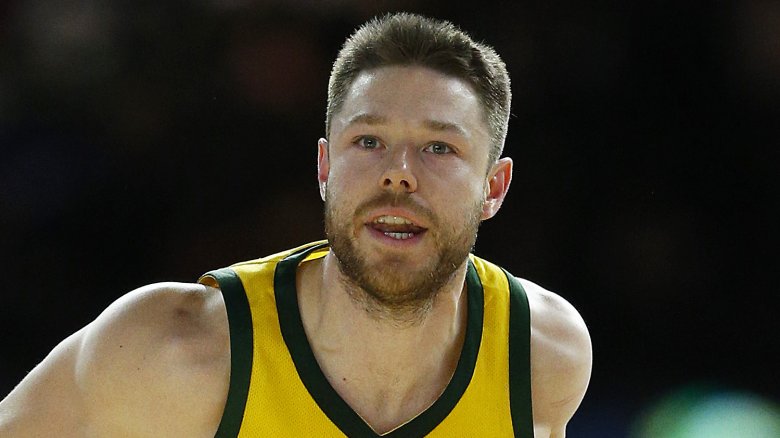 Daniel Pockett/Getty Images
Supporters of the Cleveland Cavaliers and Milwaukee Bucks may fail to understand how guard Matthew Dellavedova made the list. Delly became a beloved member of the Cavs roster that defeated the Golden State Warriors in the 2016 NBA Finals, and he enjoyed a brief stay with the Bucks before returning to Northeast Ohio in late 2018. But throughout his tenure in the NBA that began in 2013, Dellavedova earned a reputation as one of the Association's well-known unsporting characters among those who've faced him. 
In 2016, fellow players and coaches voted Dellavedova the league's dirtiest player, per Sports Illustrated. Washington Wizards guard John Wall echoed those sentiments after Dellavedova was ejected for a foul committed against Bradley Beal during a game that occurred in January 2018. Delly defenders may retort that he's "scrappy" or a throwback to the brand of basketball seen throughout the NBA during the 1980s. Those who oppose him on the court don't share such opinions, in part because they likely don't want to be on the wrong end of one of his fouls.  
JR Smith has both entertained and aggravated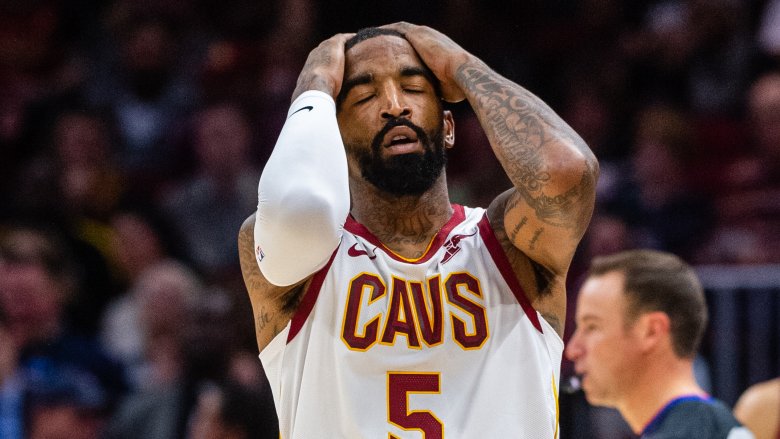 Jason Miller/Getty Images
After the Cleveland Cavaliers waived three-point shooter JR Smith in July 2019, Chris Fedor of Cleveland.com wrote why Smith's time with the organization was "complicated." That word perfectly describes Smith's roller-coaster career. In 2009, Smith spent 24 days behind bars after he pleaded guilty to reckless driving regarding an accident that killed his best friend. He held out for more money after the Cavs won the 2016 NBA Finals. Those watching the 2018 Finals won't soon forget his mental mistake in the closing seconds of Game 1 that cost Cleveland a chance to open the series with a win. 
For the most part, Cleveland fans care little about Smith violating the league's drug policy while with the New York Knicks or even about the blunders he committed with the Cavs. They, instead, choose to focus on "Shirtless JR" celebrating a championship down the streets of downtown Cleveland on a hot July day, and they recall the many beyond-the-arc shots he buried playing alongside LeBron James during the King's second stint with the club. As Fedor explained, Smith's standing within the NBA community is complex. 
Rajon Rondo isn't shy about blasting former teammates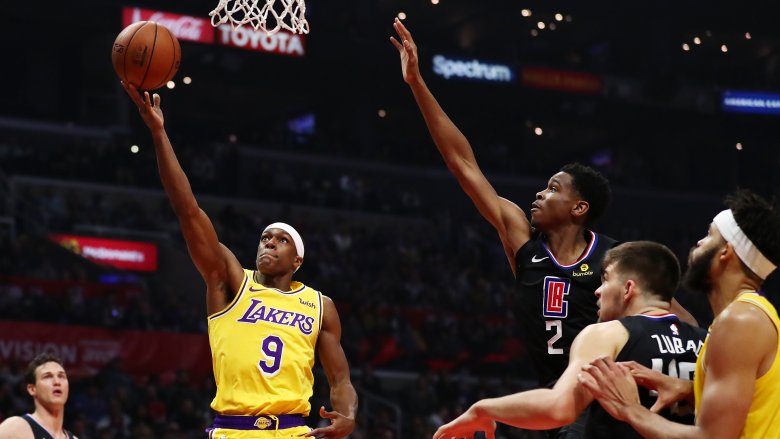 Yong Teck Lim/Getty Images
In the fall of 2018, Rajon Rondo and Chris Paul exchanged blows during a game after Rondo allegedly spit on CP3. Rondo maintained his innocence following the encounter, but the guard hasn't earned the benefit of the doubt during his career. In February 2015, Mavs Moneyball chronicled Rondo's multiple run-ins with coaches, issues that began during his college days. As reported by ESPN in April of that year, the Dallas Mavericks made up an injury to explain for Rondo's absence in the closing days of his tenure with the club to help him "save face."
In December 2015, Rondo had to apologize for directing homophobic slurs toward referee Bill Kennedy during a game. After that contest, Kennedy announced he is gay. Per NBC Sports, Rondo took veiled shots at Jimmy Butler and Dwyane Wade in an Instagram post while the three were playing for the Chicago Bulls in 2017. Last but not least, Rondo angered ESPN NBA analyst Mark Jackson when the guard sat with fans during a game in March 2019. LeBron James apparently wasn't too bothered by the antics of his former rival, as the Los Angeles Lakers re-signed Rondo the subsequent summer. 
Chris Paul's feuds with current and former teammates are well known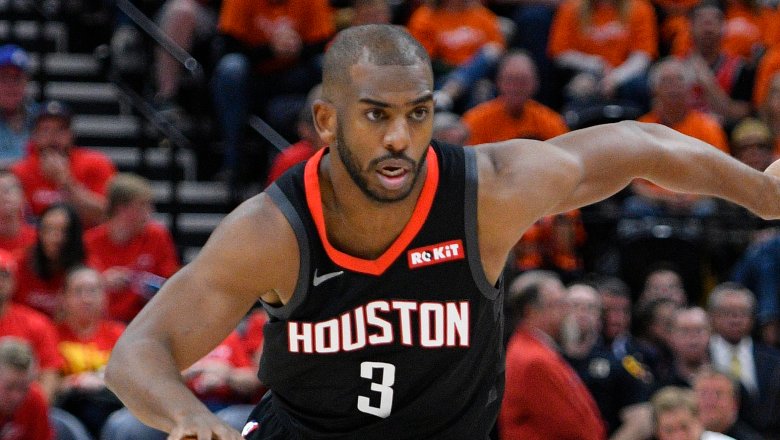 Gene Sweeney Jr./Getty Images
A funny thing happened after Chris Paul and Rajon Rondo traded punches during an October 2018 game: As explained by USA Today, multiple players around the NBA defended Rondo and lashed out at Paul. After Rondo called Paul a horrible teammate, Ryan Hollins referred to Rondo as "hands down one of my favorite teammates ever" while also saying Paul "has some growing to do." Glen Davis, who played with both CP3 and Rondo, added he also viewed Paul as a "horrible teammate." In October 2017, Austin Rivers told Sports Illustrated "the dynamic" between Blake Griffin and CP3 was "weird" when the two played together with the Los Angeles Clippers. 
We may never know the full story about the "friction" between Paul and James Harden during the 2019 NBA Playoffs which was first reported by ESPN's Tim McMahon. After the Golden State Warriors bounced the Rockets from the postseason, Houston orchestrated a trade that included shipping Paul to the Oklahoma City Thunder for Russell Westbrook. The main reason Paul remained on the OKC roster through Labor Day 2019 was that no other team wanted to accept his massive contract. It nevertheless remains a safe bet Paul won't retire a member of the Thunder when all is said and done.
Lonzo Ball was a villain before he played in the NBA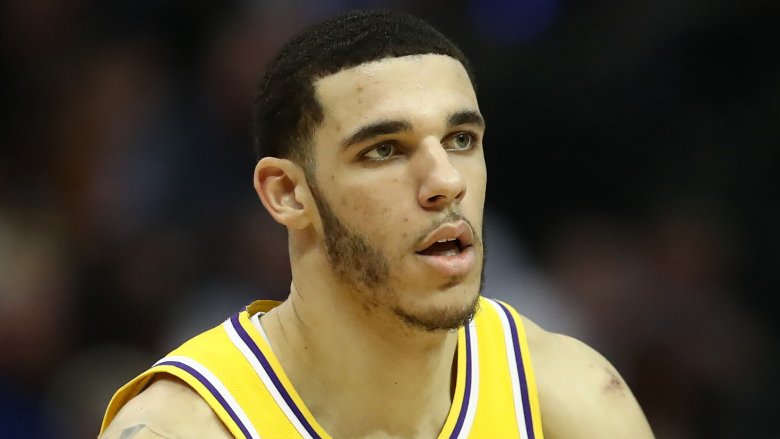 Ronald Martinez/Getty Images
Point guard Lonzo Ball was always destined to be among the most hated players in the NBA even before the Los Angeles Lakers selected him in the 2017 NBA Draft. Per Bleacher Report, Channing Frye touched upon this subject in May of that same year, explaining LaVar Ball, Lonzo's outspoken and eccentric father, made it "disgustingly easy" to hate on the young guard. Frye was right. LaVar's public persona, his numerous over-the-top interviews spoofed on editions of Saturday Night Live and the Big Baller Brand turned Lonzo into a villain despite anything he achieved or failed to accomplish as a pro. 
One of the least surprising developments of the 2019 offseason was LeBron James and the Lakers jettisoning Ball in a trade package that delivered All-Star Anthony Davis to Los Angeles. Ball responded to that transaction by releasing a track where he said his former employer will regret the decision to move him to the New Orleans Pelicans. Even though LaVar behaved himself after James signed with the Lakers in the summer of 2018, the three-time NBA champion probably isn't sad he no longer has to worry about the BBB circus. Lonzo must now shade his haters where it matters most: on the court. 
Will we ever seen a "grown up" DeMarcus Cousins?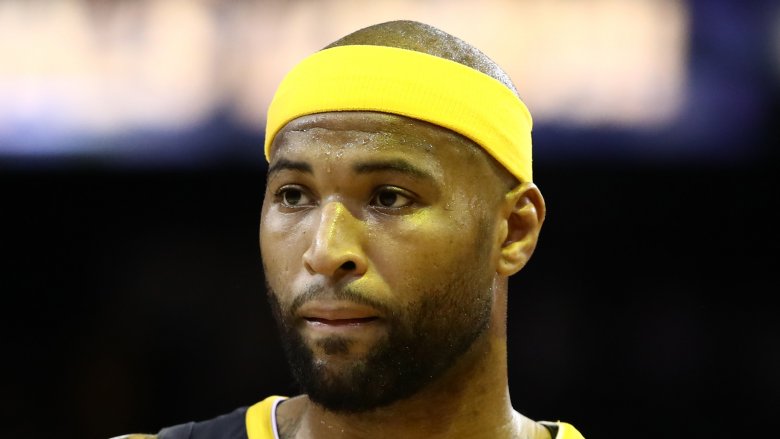 Ezra Shaw/Getty Images
After DeMarcus Cousins was forced to settle on a one-year "prove it" contract with the Golden State Warriors coming off a torn Achilles in the summer of 2018, Forbes' Don Yaeger gave reasons for why Cousins found no suitors: "Cousins is one of the best centers in the game, but he's a notorious disruptor in the locker room, fighting with his teammates, staff, and other players. He's hard to coach, hard to play with and has gotten away with it because he's so talented." Cousins was once suspended following an alleged scuffle with then-teammate Donte Greene, and it was nothing short of bizarre when Cousins refused to let Isaiah Thomas shake hands with Chris Paul following a contest. 
Talent, not personality, dictates a player's value on the market, and Cousins' All-Star skills coupled with the hope that he'll return to that form explain why the Warriors acquired him in 2018 and why the Los Angeles Lakers took a flier on him in July 2019. Cousins tore his ACL during an August workout, though, an injury that will cost him at least one season. Later that same month, he was sought on an arrest warrant regarding a domestic violence charge after he allegedly threatened an ex-girlfriend. 
Draymond Green may have cost the Warriors a title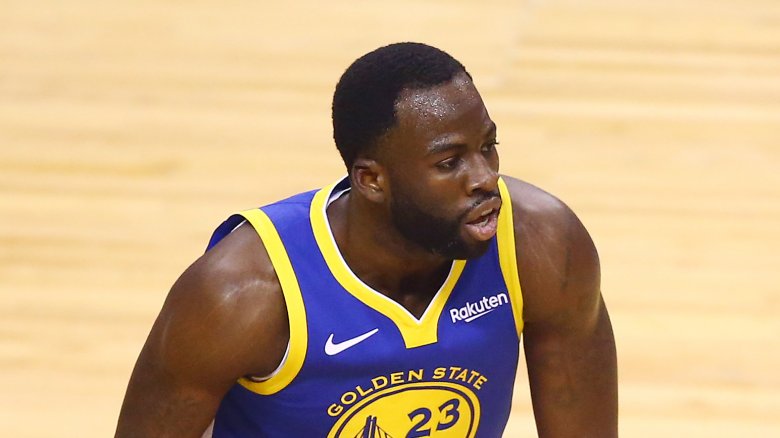 Vaughn Ridley/Getty Images
Draymond Green is the type of competitor a fan loves to hate while wishing Green played for his team, particularly during the playoffs. The irony there, of course, is that Green's antics, distinct kicking motions, and shots toward a particularly sensitive area of an opponent during the 2016 postseason all got him suspended for Game 5 of the 2016 NBA Finals when the Golden State Warriors possessed a 3-1 series lead over the Cleveland Cavaliers. The last three games of that championship showdown were so infamous, they got the meme treatment. 
Green antagonizing foes with physical play down low and trash talk is one thing. Daring Kevin Durant to leave the Warriors in free agency like he reportedly did in November 2018, according to Yahoo Sports, is quite another. It turns out Green was wrong in claiming that the Warriors didn't "need" Durant to win a third consecutive title, as the Warriors fell to the Toronto Raptors in the 2019 NBA Finals. Durant, meanwhile, took Green's advice and left the west coast for the Big Apple and the Brooklyn Nets. It won't be until 2020 or 2021, but Green and Durant will eventually face-off as members of opposing teams. Depending on their moods, that could be a lot of fun for casual fans. 
Russell Westbrook turned averaging a triple-double into a meaningless stat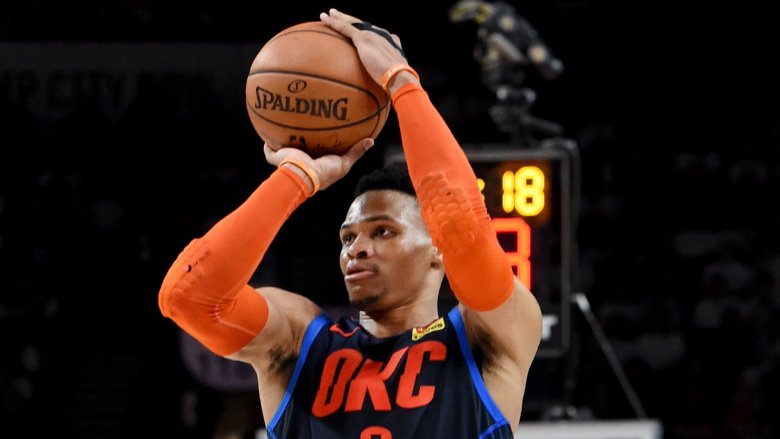 Steve Dykes/Getty Images
One may assume a player who averages a triple-double in his sleep would be universally respected and admired. Russell Westbrook has tested that theory across multiple seasons. Fans and also television analysts looking to attract ratings and attention have accused the one-time NBA MVP of padding his stats and stealing rebounds from teammates during games, and the fact that Westbrook once offered a NSFW response to such individuals probably didn't help his likability in the eyes of critics. The polarizing figure has also seen his shot deteriorate, making him an offensive liability during postseason contests. 
The Oklahoma City Thunder ending an era and trading Westbrook to the Houston Rockets could ultimately define his reputation. If Westbrook can become an ideal teammate and sidekick playing alongside James Harden, he could evolve into the Association's best and most popular Robin to a Batman. However, those who already dislike Westbrook may find additional reasons to further vilify him if he's more concerned with his numbers than with winning while wearing a Rockets jersey. There's only one basketball for Westbrook and Harden to share, after all, and Harden's frustrations are bound to grow while watching Russ brick shots on a cold January night. 
Stephen Curry is just too good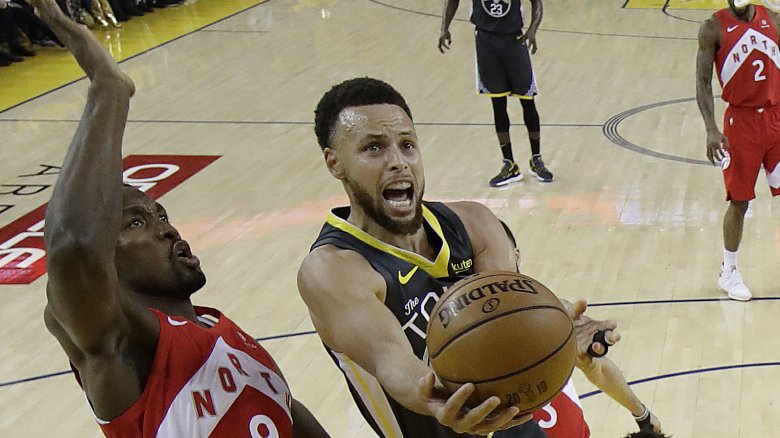 Pool/Getty Images
Plenty of you dislike Stephen Curry because he's lit scoreboards up when facing your favorite team or favorite player — yes, we're talking about you, Cleveland Cavaliers supporters. In June 2019, The Undefeated wrote Curry "doesn't fit the stereotype of NBA greatness" and, thus, should not be on the receiving end of slander from basketball viewers. While Curry isn't seemingly built like a Greek God or blessed with superhuman physical abilities, he and the Golden State Warriors "broke" the NBA and forged a dynasty. This reality coupled with his undeniable popularity all make him easy to hate. 
Curry also hasn't always been the prototypical model spokesperson for the league. Intentionally or not, he once whipped his signature mouthpiece toward a fan during an NBA Finals game, and the notion that somebody who routinely performs a shimmy after draining a three-pointer is some humble and quiet star is laughable. Detractors can also mention that Curry was never the best player in his first four NBA Finals appearances when describing why he's among their most hated NBA personalities. Maybe winning another championship without having Kevin Durant by his side would turn him into a more admirable athlete. 
Can Carmelo Anthony earn a retirement tour?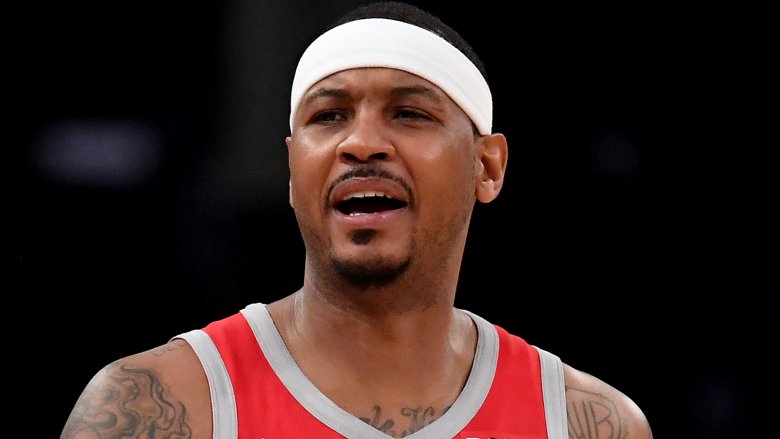 Harry How/Getty Images
Any chance Carmelo Anthony had to silence those who are convinced he's a "me-first" player vanished after ten games with the Houston Rockets. Ahead of the 2018-19 season, some viewed Anthony as a potential Sixth Man of the Year candidate and an offensive weapon who could help propel James Harden and the Rockets past the Golden State Warriors and to a championship. After only ten contests, however, the Rockets banished Anthony from the roster before trading him to the Chicago Bulls, a team that waived him as quickly as possible. 
As of September 2019, only 21 players have scored more career points than 'Melo. How is it possible that he went nearly an entire year without an NBA home even though he's shown that he can still contribute to a playoff team? Not a single franchise in need of a scorer made him a legitimate offer after the Bulls let him enter free agency in February 2019, and he went all of the summer without receiving a contract. Somebody who allegedly has close friends throughout the Association couldn't get work despite his reported desire to extend his career and enjoy a one-season retirement tour. 
Kyrie Irving has ditched multiple teams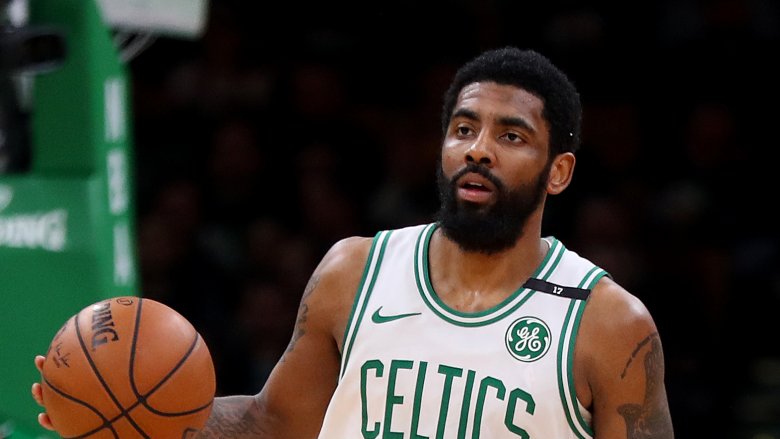 Maddie Meyer/Getty Images
Years after he's played in his last NBA game, Kyrie Irving may live to regret some professional decisions from earlier in a possible Hall of Fame career. Irving should have been one of the most popular athletes to ever feature for a Cleveland sports franchise, but he instead ditched LeBron James and the Cleveland Cavaliers ahead of the 2017-18 season so that he could be the main star for the Boston Celtics. That experiment went so poorly that both Irving and the Celtics had zero desire to continue their relationship after two campaigns. 
Irving marches to the beat of his own drum. He's a one-time champion who converted one of the most clutch three-pointers ever buried during a Game 7 of a championship series. He's also made it abundantly clear that he's going to play where he wants to play, when he wants to play, and with his chosen teammates. It's not a question of if he will become a villain among those who root for the Brooklyn Nets. That day will come. Brooklyn fans just hope it arrives after Irving guides the Nets to a title. 
Kevin Durant, the "snake"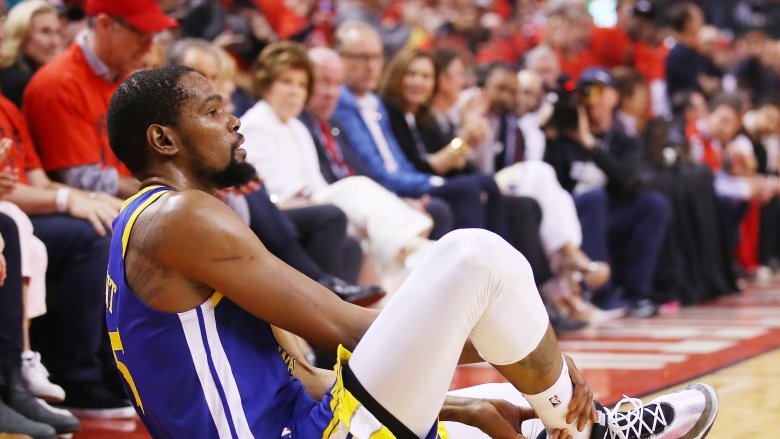 Gregory Shamus/Getty Images
There was once a time when Kevin Durant was an ideal answer for LeBron James. Unlike the NBA's reigning King, Durant never took his talents to South Beach to form a "superteam" with the Miami Heat. KD was his own man in 2014, an MVP who never had to make an emotional return to his hometown to repair his reputation and chase a ring. Durant was well on his way to establishing himself as the greatest Oklahoma City Thunder player ever, and it's possible he'd still be with that franchise if OKC didn't blow a 3-1 lead to the Golden State Warriors in the 2016 Western Conference Finals. 
Durant's legacy forever changed when he signed with the Warriors after Golden State failed to defeat the Cleveland Cavaliers despite jumping out to a 3-1 lead in the 2016 NBA Finals. Fans viewed Durant as somebody who took the easy way out and joined an already existing potential dynasty, and KD winning a pair of NBA Finals MVP awards didn't alter such perceptions. After Durant suffered an Achilles injury that will probably cost him the entire 2019-20 season, he followed Kyrie Irving to the Brooklyn Nets. Once again, Durant is a hired gun rather than somebody who built a championship roster. 
You probably either love or hate LeBron James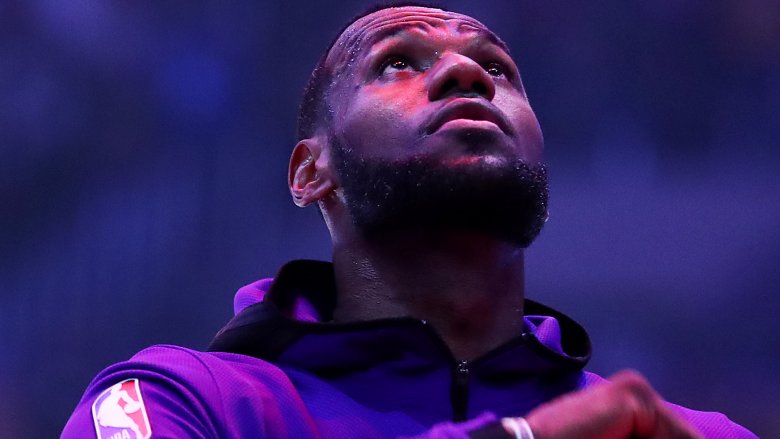 Yong Teck Lim/Getty Images
You probably can't find a diehard basketball fan who is neutral regarding LeBron James. Everyone either loves LeBron or they hate him. You either think he's the G.O.A.T., or you laugh that his teams lost in six of his first nine NBA Finals appearances. Truth be told, we're most bothered that James is trying to trademark "Taco Tuesday." You may be the greatest basketball player in history, Mr. James, but you can't just own Taco Tuesday. Taco Tuesday belongs to us, the public masses who want an excuse to enjoy a fun meal during our otherwise boring work weeks. 
James is his own brand, which may be the most annoying thing an athlete or any public person can become. He probably won't ever catch Michael Jordan in rings, but the three-time champion is going to be a billionaire before he turns 45-years-old unless he makes a handful of unexpected poor business decisions. Whether or not they want to admit it, normal people begrudge those who accumulate such wealth and power. Even worse, James has twice left his hometown team, the Cleveland Cavaliers, and he did so a second time after pledging to fans that he was staying put once he signed with the Cavs in the summer of 2014.