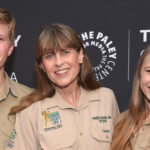 The Stunning Number Of Animals Steve Irwin And His Family Have Rescued
echo get_the_meta(); ?>
Australia faced an extreme and catastrophic bushfire season from September 2019 until March 2020. After its hottest and driest year on record, wildfires swept the country. By the time the last fire was brought under control on March 4, 2020, they had burned through 46 million acres of land. As reported by the Center for Disaster Philanthropy, the fires also destroyed at least 3,500 homes and other buildings and left 34 people and over a billion animals dead. 
The Irwins are perhaps the world's most famous zookeepers and are among the most well-known conservationists. Per Britannica, Steve Irwin rose to fame in 1992 with his television series "The Crocodile Hunter," which thrilled viewers with his close encounters with endangered and often deadly animals. The show began in the Australian Outback and eventually took Irwin around the world. His family owned the Beerwah Reptile Park — eventually renamed the Australia Zoo — which Irwin took over in 1991 and ran with his wife, conservationist Terri Irwin. 
The Irwins also established Australian wildlife preserves and the organization Wildlife Warriors Worldwide. Their children, Robert and Bindi, joined the family business to help Terri keep the organizations going after Steve's 2006 death at the hands of a venomous bull stingray in the Great Barrier Reef. Bindi is known to keep fans and animal lovers on top of life at the Australia Zoo via her Instagram. Notably, she spotlighted the zoo's rehabilitation efforts amid the 2019-2020 wildfires that left so many animals, including many endangered species, vulnerable and in need of care.
Ollie the platypus was patient 90,000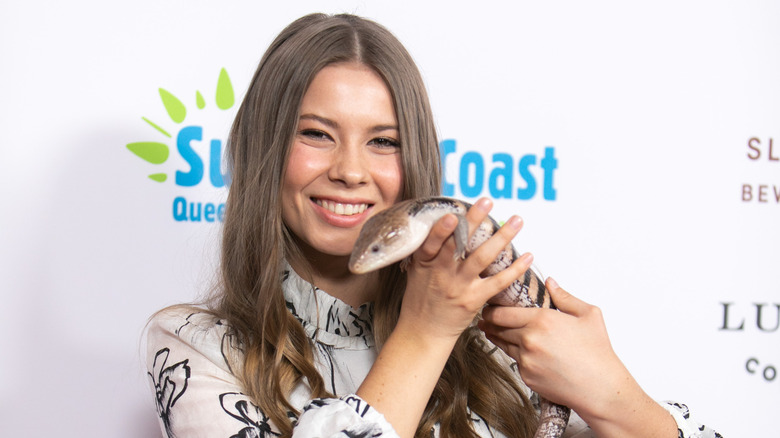 John Wolfsohn/Getty Images
The Irwins took to social media to show how the Australia Zoo's Wildlife Hospital was coping with and treating animals displaced or injured by the wildfires. On January 2, 2020, Terri Irwin tweeted that the Sunshine Coast, where the zoo and hospital are located, wasn't experiencing the fires at the time. She also shared a video of an exhausted patient — a platypus appropriately named Smokey who had been found by the side of the road. 
The Irwin family brought Smokey in and checked for injuries before releasing it back into the wild. The day before, Robert Irwin took to Instagram to share the story of Ollie the orphaned platypus. As noted by Robert at the time, Ollie was "patient number 90,000 that the Australia Zoo Wildlife Hospital has treated." Robert assured that Ollie would be receiving 'round the clock care until he, too, could be released. 
Bindi (shown above) followed suit on Instagram on January 4, 2020, sharing the news about the hospital's 90,000th patient and writing that even before the wildfires, the hospital had been coping with an enormous number of patients. The influx necessitated a sea turtle rehab center, a sea snake ward, and a bird recovery area, which still apparently wasn't enough to meet demand.
The post featured an adorable video of the hospital's medical team caring for and bottle feeding a group of grey-headed flying foxes that had been brought to the Wildlife Hospital after their original rehabilitation center was evacuated due to the wildfires. Bindi wrote that in September 2019, the flying fox hospital admissions had "skyrocketed by over 750% due to drought conditions and lack of food."