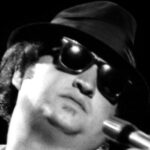 The Surprising Connections Between The Blues Brothers And Star Wars
echo get_the_meta(); ?>
The second film in the original "Star Wars" trilogy, "The Empire Strikes Back," premiered on May 21, 1980. Per Box Office Mojo, it was immediately the number one movie in the United States and stayed that way for weeks. Just under a month later, on June 20, 1980, "The Blues Brothers" premiered. The action comedy, an adaptation of a "Saturday Night Live" sketch, starred John Belushi (pictured above) and Dan Aykroyd as a pair of Chicago blues musicians who are "on a mission from God" to put their old band back together in order to save the Catholic orphanage in which they grew up. According to Mental Floss, "The Blues Brothers" premiered in second place behind "The Empire Strikes Back" in terms of box office numbers. This means the top two movies in the United States in June of 1980 shared two surprising connections. 
The first connection is the presence of Carrie Fisher, who of course starred in "The Empire Strikes Back" as Princess Leia and made a cameo appearance in "The Blues Brothers" as "The Mystery Woman," the spurned former fiancée of "Joliet" Jake Blues, played by Belushi. The Mystery Woman spends the movie attempting to kill Jake in increasingly complicated and violent ways until he convinces her to give him one more chance … just before abandoning her yet again. Ironically, Fisher and Aykroyd, who played Jake's brother and partner-in-crime Elwood Blues, became engaged on the set of "The Blues Brothers" after he saved her from choking on Brussels sprouts. (The wedding never took place.)
Could the Blues Brothers have been Star Wars monsters?
Gustavo Caballero/Getty Images
The second connection between "The Empire Strikes Back" and "The Blues Brothers" is another shared cast member. Per Mental Floss, Frank Oz (shown above) is both the voice and lead puppeteer of Yoda, who made his debut in "The Empire Strikes Back." Other puppets brought to life by Oz include Miss Piggy and Fozzie Bear from "The Muppet Show" and Grover and Bert from "Sesame Street." Oz also appeared in "The Blues Brothers" as the straight-laced corrections officer who returns Jake Blues' belongings as he leaves jail; he reprised his role in the 1998 "Blues Brothers" sequel "Blues Brothers 2000."  In a 2011 interview with The New York Times, "Blues Brothers" director John Landis explained that he and Oz met after he asked a friend who was a publicist for "The Muppet Movie" to introduce him to Jim Henson and Frank Oz, as he was a fan. Landis said Oz went on to appear in "about nine" of Landis' movies, starting with "The Blues Brothers."
In 2019, Vulture published an excerpt from Sheila Weller's book "Carrie Fisher: A Life On the Edge" that revealed how "The Blues Brothers" and "The Empire Strikes Back" very nearly had yet another connection. Per Fisher, her cameo in "The Blues Brothers" came to be because "Danny and John wanted to be monsters in 'The Empire Strikes Back,' so I said, 'Okay, then let me be in your movie, too.'" George Lucas reportedly nixed the idea because, according to Fisher, "Belushi was such a focus puller."