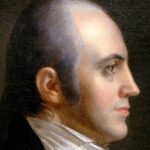 The Tragic Death Of Aaron Burr's First Wife
echo get_the_meta(); ?>
Aaron Burr lost his first wife, Theodosia Bartow Prevost Burr, to cancer after she spent many years in pain and ill health. The couple had quite a scandalous start to their relationship. She was married to James (or Jacques, according to some sources) Marcus Prevost, a major in the British 60th Regiment when the two first met. Despite having a British officer as a husband, Theodosia opened her family's New Jersey home to the Continental Army during the Revolutionary War (via the National Archives). She even extended an invitation to stay there to George Washington himself.
The Burrs seemed to be an unlikely pair with Theodosia being 10 years older than Aaron. But he admired her outspokenness and her intelligence, according to "The Heartbreak of Aaron Burr" by H.W. Brands. Their secret relationship moved into public view after the death of her husband in 1781, and the couple wed the following year. According to the Aaron Burr Association, he adopted her five children from her first marriage. They soon welcomed their daughter, Theodosia, in 1783. The couple experienced several tragic losses during their marriage, including having two stillborn sons and the death of their daughter Sally when she was only three years old.
Theodosia Burr suffered for years before her death
Aaron Burr became a U.S. senator in 1791, taking over the New York seat once held by Philip Schuyler, father-in-law to his political adversary Alexander Hamilton (via United States Senate). Theodosia's health, which had already been poor, soon took a turn for the worse, and her husband became very concerned. He often received reports of Theodosia's health from their daughter while he was away.
Burr frequently wrote to their daughter, whom he nicknamed Theo, looking for updates on Theodosia's condition. "I'm extremely impatient for your farther account of mamma's health. . . . Your letter was written a week ago, which since I have no account" (via "The Heartbreak of Aaron Burr"). Theodosia was given all sorts of medications from the time, such as taking laudanum twice a day. Laudanum is a painkiller solution derived from opium (via Britannica). She was thought to have cancer, and none of the treatments had any effect on the progression of the disease.
Theodosia died in 1748 (via Aaron Burr Association). After Theodosia's death, Burr wrote "The mother of my Theo was the best woman and finest lady I have ever known." She reportedly was laid to rest in St. John's Burying Ground in New York City, which later became known as James J. Walker Park (via Find a Grave).