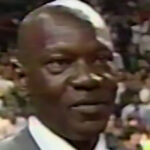 The Tragic Murder Of Michael Jordan's Father
echo get_the_meta(); ?>
At the dawn of the 1990s, the National Basketball Association was going through a transition. The 1980s had been dominated by the Larry Bird-led Boston Celtics and the Magic Johnson-led Los Angeles Lakers, and the two stars had popularized the sport, which had suffered from low fan interest during the 1970s. By the start of the '90s, both Bird and Magic were worn down and would be out of the league before the end of George H.W. Bush's presidency.
In their place stepped in a lone player, one who had captured the imaginations of both fans and non-fans alike. When Michael Jordan arrived in the NBA in 1984, no one knew that the most important athlete of the era had just arrived. Jordan's gravity-defying dunks and "Air Jordan" shoes made him iconic before he was old enough to rent a car. He effectively ended the NBA of the 1980s when he defeated Magic Johnson to capture his first NBA title in 1991. And by Jordan's side the entire time was his father, James Jordan Sr.
During the first decade of his career, Jordan relied on the calming presence of his dad. This bond would be shattered in July 1993 when James Jordan was murdered in the family's home state of North Carolina. The shock waves around the nation as the investigation and trial unfolded are still felt to this day. Here is the tragic story of the murder of James Jordan, father of Michael Jordan.
Who was James R. Jordan Sr?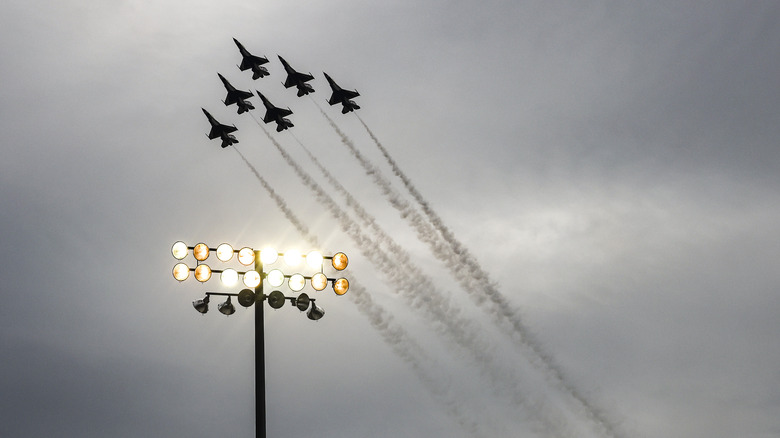 Michael Ciaglo/Getty Images
James Raymond Jordan Sr. was born on July 31, 1936, in Wallace, North Carolina. According to CBN, James met Deloris Peoples at a basketball game in 1954. He had previously competed against her brothers in high school basketball. When the two met, they fell head over heels in love. Ray (as Deloris referred to him) said he planned to marry her one day, and despite the objections of her father, the two began to date.
After graduating, James entered the United States Air Force and was sent to San Antonio, while Deloris went to trade school in Alabama. However, the pair missed each other too much to be separated. Two years after meeting, they were married. James transferred to Virginia, and Deloris left school and moved in with her parents-in-law. Over the next few years, the pair would have three children as James left the Air Force to work at a local textile mill in North Carolina. Dreaming of a better life, the family moved to New York, where James attended trade school under the G.I. Bill and learned how to work with hydraulic equipment. During this time, Michael was born, the fourth of James and Deloris' five children.
Soon, the family resettled in Wilmington, North Carolina. James took a job in General Electric until he retired in the late 1980s, as told by Jrank.
James' relationship with Michael Jordan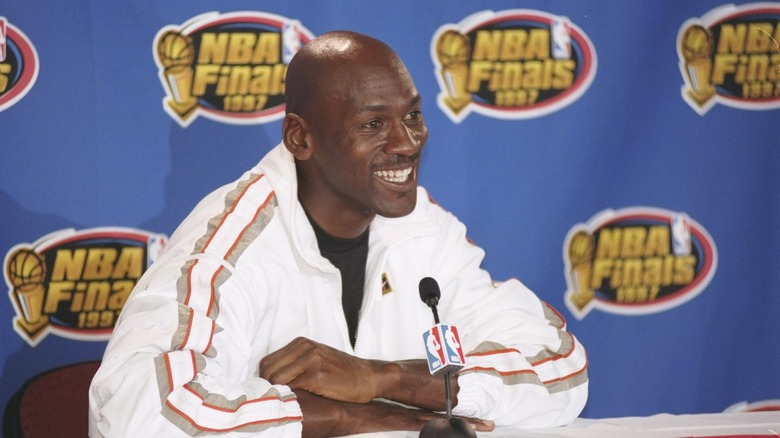 Jonathan Daniel/Getty Images
While Michael Jordan was only one of five children James Jordan Sr. and Deloris had, he and James Sr. were joined at the hip throughout his entire childhood. Michael was the fourth of the five kids and mirrored his father in his everyday life. According to Jrank, Michael's famous trademark of sticking his tongue out came from his father, who would do the same action when concentrating intensely on a project. Even their handwriting could be mistaken for each other's!
Surprisingly, James did not start his future star son on the hardwood but instead on the baseball diamond. Michael said that when he was six years old, James got Michael into his first sport, baseball. Despite becoming a basketball phenom, with his parents watching all of his games at nearby University of North Carolina at Chapel Hill and with the Chicago Bulls, James still desired his son to play baseball.
Do not take this to suggest that James did not appreciate his son's basketball skills. On the contrary, he was the closest member of Michael's entourage and became a common face on television as he watched his son wow audiences. In a 1991 sideline interview, James spoke about being "Michael's No. 1 fan" and how he thought his son would be a baseball player.
Jordan said after the 1993 season, when Michael won his third-straight NBA title, his father suggested he leave basketball for baseball. Unfortunately, James would not see his son play another professional game.
The last time James Jordan was seen alive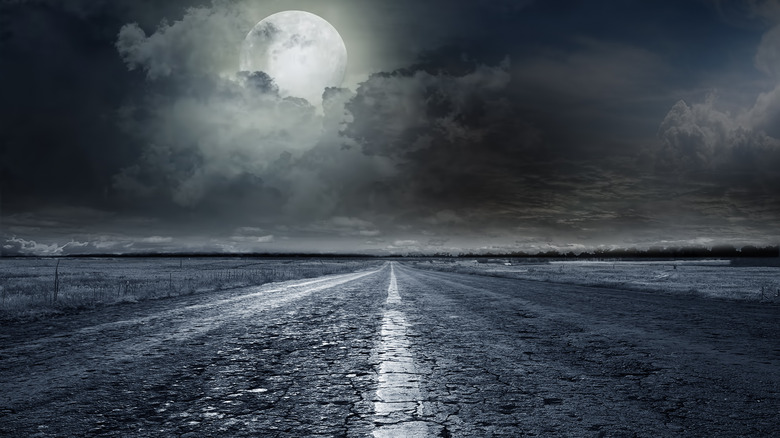 Shutterstock
For Michael and James Jordan Sr., the month of June 1993 was a celebratory time. Michael had just gotten his third-straight NBA title, the first three-peat in the sport's history since the Boston Celtics won eight straight titles from 1959 to '66. This came as the conclusion of a postseason run marred with controversy, as Jordan had been seen gambling during an earlier series, prompting a national spotlight and the NBA opening an investigation into his gambling habits, as detailed by "SportsCentury." According to the Chicago Tribune, during this time, like throughout his career, James Sr. was standing right by his son's side. Author Sam Smith said of the father-son pair, "I have no doubt he [Michael] was closer to James than anyone else in his life."
On June 19, 1993, the Chicago Bulls defeated the Phoenix Suns in a best-of-seven series to win their third-straight NBA Finals, and Michael was named the series MVP. One month later, James had set off in a red Lexus SC400, gifted to him by his superstar son, to Wilmington, North Carolina. An old colleague had passed away, and James had gone to the funeral. The plan for James was to attend the funeral in Wilmington, drive to Charlotte, and then hop on a plane to Chicago. The funeral was the last time James was seen alive, as he never made it to Charlotte.
The robbery and murder of James Jordan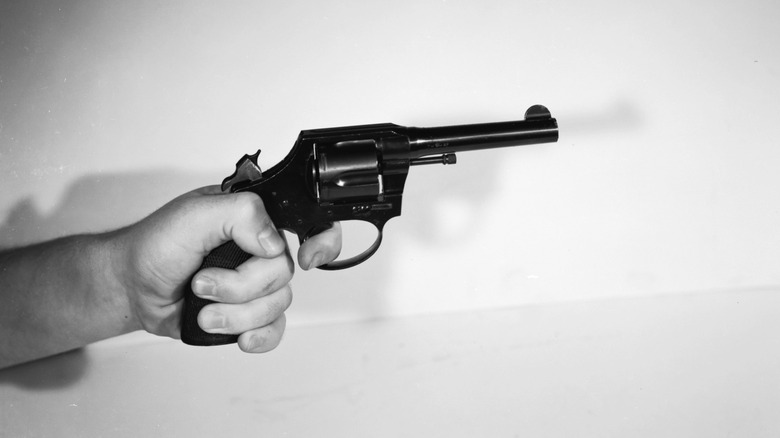 Orlando/Getty Images
According to the Chicago Tribune, on July 23, 1993, a month after James Jordan Sr. watched his son once again win the NBA Finals and Finals MVP and a about week before his 57th birthday, he was sleeping in his car on the side of the road in Lumberton, North Carolina. He had grown tired during his drive to Charlotte and had decided to park his car at the intersection of U.S. 74 and Interstate 95 and take a rest for the night before commencing with the trip. His sports car attached the attention of two local young men, Daniel Green and Larry Demery, who decided to take the car and all the contents in it.
During the robbery, one of the two men fired a single fatal gunshot into James' chest. Authorities said that after murdering the passenger, the two began to rummage through the car for any valuables, finding, among other objects, two championship rings that Michael had given to his father, the South Florida Sun-Sentinel reports. The two had discovered they'd killed the father of the most popular athlete in the world. The boys then took the car and dumped James Jordan's body in a swamp in South Carolina.
James Jordan is reported missing
Despite James Sr.'s absence and their obvious concern, the Jordan family took three weeks to report their patriarch's disappearance. By this time, James Sr. had been found and cremated as a John Doe. A day later, he was identified by his dental records, as told by the Chicago Tribune. The family had been contacting people privately, hoping that they had seen James Sr. All they knew was that he had gone to the funeral of his former colleague but did not arrive at his destination following the gathering. According to ESPN's "Top 5 Reasons You Can't Blame," 18 days after his murder, James' vehicle was found in Fayetteville, North Carolina. The discovery of the vehicle prompted the already worried Michael Jordan to become petrified about his father's safety.
As the Jordan family had worried and prayed, Green and Demery had stripped and abandoned James' car in Fayetteville, North Carolina, and made off with the valuable contents on Jordan's person. However, before dumping the car, the two young men made three dozen phone calls with James' car phone during a four-day period. It was these calls between July 23 and July 26 that would be their inevitable undoing, as officers, after discovering the car, could track the calls made during the days after James had disappeared.
James Jordan's body is found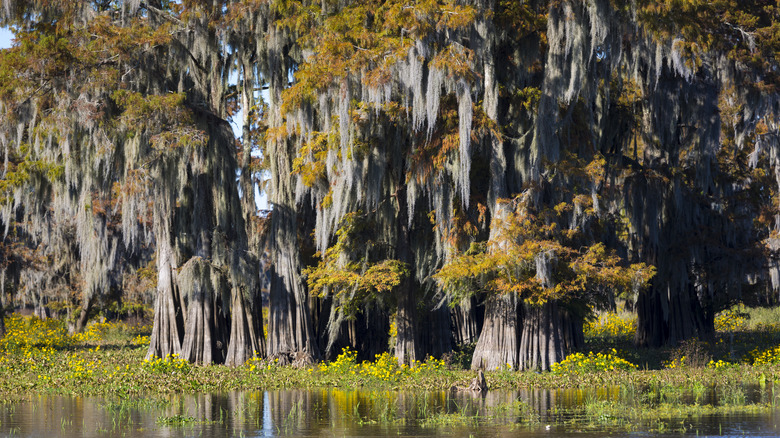 Tim Graham/Getty Images
The body of James Jordan Sr. was not discovered until August 3, 11 days after his murder, when a local fisherman came across the remains, the Chicago Tribune reports. However, no one could identify the body. Exposure to the elements had left it so unrecognizable that it could not be identified as a man or woman initially. The body was in McColl, South Carolina, more than 40 miles from Lumberton, where James had been murdered.
After a coroner's report found that he was, in fact, murdered by a single bullet wound to the chest and that he was a man, James Jordan was cremated as a John Doe. It was only through the dental records taken prior to the cremation that the officers and the Jordan family were finally able to identify James Jordan. Three weeks after beginning their own investigation into their patriarch's disappearance, the Jordan family had finally learned the truth. Michael, his siblings, and Deloris had to face the reality that James Sr. was gone. The questions that were now being asked by the Jordan family and the rest of the nation were by who and why.
Daniel Green and Larry Demery
While the murderers of James Jordan have given different stories about that fateful evening, both are forever linked with their victim. Larry Demery (left) and Daniel Green (right), as told by the Chicago Tribune, had been lifelong friends in Lumberton, North Carolina. However, the friends did not spend their days playing video games, as former Robeson County DA Johnson Britt details: "I was dealing with two kids who were on a crime spree, and that culminated with the death of Mr. Jordan. And each crime they committed together became increasingly more violent."
Robeson County Sheriff Hubert Stone told the South Florida Sun-Sentinel at the time that the boys had been inseparable, with one notable exception. He said, "They grew up together in southern Robeson County. They started school together. They've been together day in and day out except when one … was in prison."
While James Jordan was watching Michael compete for his third-straight championship, Daniel Green was being released from prison after serving two years for armed robbery and assault with a deadly weapon. DA Britt said that in the summer of 1993, the two had worked together on at least two other robberies. Britt says that during the second robbery, Green stole a .38-caliber gun from a store clerk, whom he then shot and injured. This led Britt to conclude that Green was the mastermind of the murder, as he believes the .38 was the murder weapon, something Green has always denied.
The trial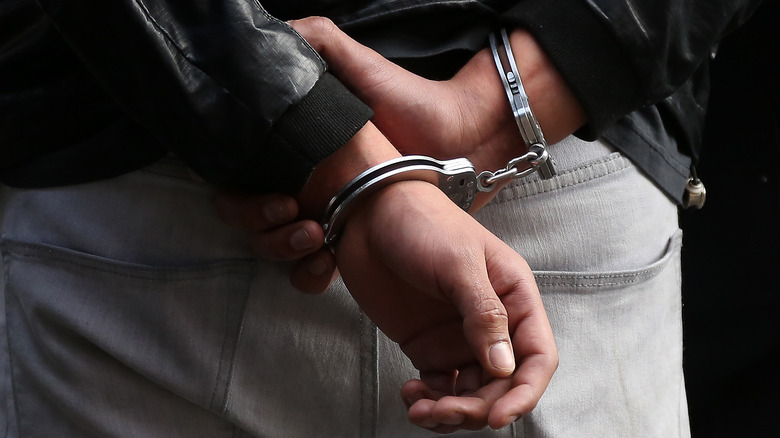 Adam Berry/Getty Images
The trial of Larry Demery and Daniel Green came with a heightened media spotlight. The evidence against them was overwhelming, as both had made phone calls from James' stolen Lexus before abandoning it, as told by the Chicago Tribune. Green had also made home videos rapping while wearing James' stolen jewelry.
Given the all the evidence against them, as well as for multiple armed robberies, Larry Demery agreed to pleaded guilty and testify at the trial. While disappointed in his friend, Green was not surprised by Demery's decision. Still, Demery's testimony was both a strength for the case and very controversial.
According to his testimony, Demery said the two had planned to simply rob unsuspecting tourists at a nearby Quality Inn when they spotted Jordan's Lexus. Demery claims that Green desired the car, and their plan was to tie up the owner by the side of the road. However, when James awoke, Green shot him without hesitation.
Green and his lawyers argued against both the idea that he was the triggerman and Demery's credibility, as he had much to gain by not being the shooter, and his testimony contradicted his previous version of events. (He had previously claimed not to have been in the area when the murder occurred.) Both Green and Demery were convicted of first-degree murder and given life sentences, each maintaining that the other was the triggerman, as told by Oxygen.
Michael Jordan's Retirement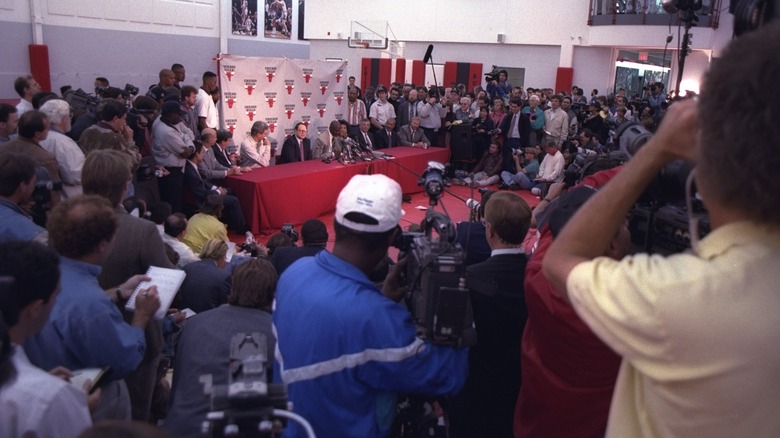 Jonathan Daniel/Getty Images
James Jordan Sr. was Michael Jordan's father and his best friend. He had been next to his son throughout his life, from childhood to NBA stardom. This was evident in 1991 after Jordan won his first NBA title: James is seen consoling an emotional Michael as he cries into the Larry O'Brien trophy. And all of a sudden, a little more than a month after winning his third title and following the scrutiny of the media, Michael decided enough was enough.
On October 6, 1993, Jordan announced his retirement from the NBA at the age of 30. Surrounded by his then-wife, Juanita, Bulls owner Jerry Reinsdorf, general manager Jerry Krause, head coach Phil Jackson, and the rest of the of the championship team's roster, Jordan told the press that he had lost his passion for the sport: "When I lose the sense of motivation and the sense to prove something as a basketball player, it's time to for me move away from the game of basketball."
One of the first questions asked, of course, was how much his father's murder had to do with his decision. While he downplayed the effect of the murder, few people believe that his retirement was not influenced by it. Journalist and author Bob Greene, who wrote two biographies about Jordan, told "Top 5 Reasons You Can't Blame," "Michael Jordan would have never tried to play baseball had his father not been murdered."
Why did Michael Jordan take up baseball?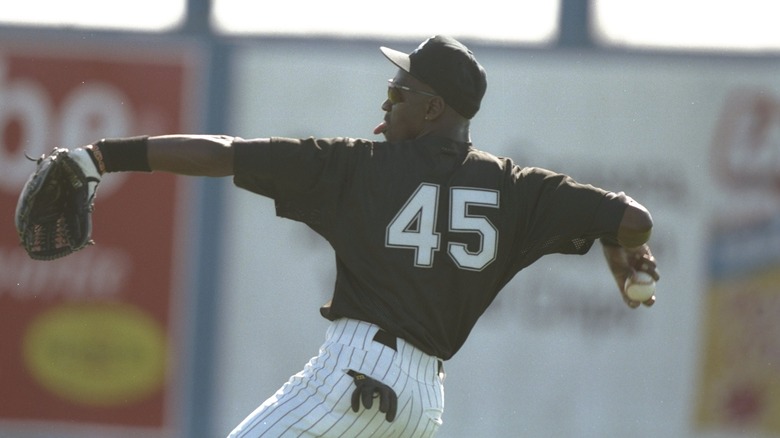 Al Bello/Getty Images
As journalist and author Melissa Isaacson detailed in "Top 5 Reasons You Can't Blame," James Jordan Sr. did not raise his son with a basketball in his hand but a bat and glove. "He [James] did not idolize Oscar Robertson," she said. "He idolized Roberto Clemente. He wasn't necessarily shooting baskets with Michael outside, he was playing catch with Michael."
Despite his son reaching the top of the basketball world early in his NBA career, making the All-Star Game in his rookie season and setting records by just his second, James still reminded and even challenged Michael to pick baseball back up. Shortly after his retirement, to the surprise of the world, Michael would sign with the Birmingham Barons, the minor league affiliate of the Chicago White Sox. The White Sox are also owned by Chicago Bulls owner Jerry Reinsdorf. 
Reinsdorf told ESPN that after the Bulls won their first championship, James advised his son to retire and play baseball. In his one season with the Barons, Jordan both faced accusations of being delusional and showed improvement throughout the season. However, the 1994-95 player's strike and his desire not to cross the picket line led him to retire from baseball. Jordan, however, would soon shock the world again following his premature retirement. 
Returning to basketball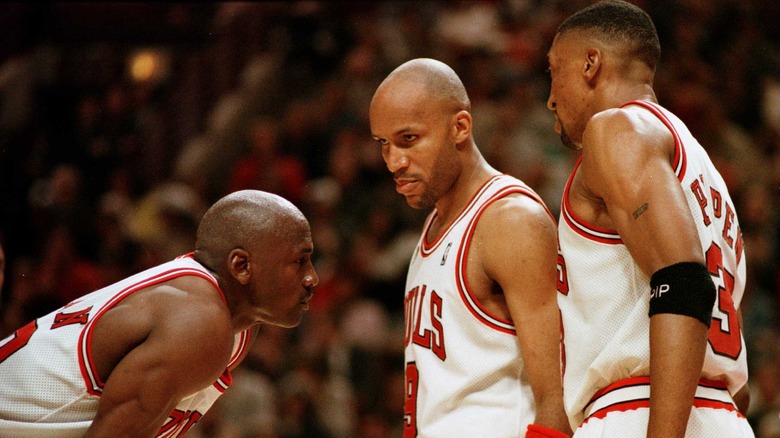 Jonathan Daniel/Getty Images
According to the Chicago Tribune, at his press conference announcing his retirement following his father's murder, Jordan said, "The most positive thing I can take from my father not being here with me today is that he saw my last basketball game. And that means a lot."
Well, ultimately, Jordan would honor his father not by staying away from the game they loved but returning. A year and a half after his initial retirement, as his professional baseball ended in the midst of a work stoppage from a player's strike, Michael returned to the NBA.
Jordan returned to the Chicago Bulls for the remainder of the 1994-95 season. After falling to the Orlando Magic in the playoffs, Jordan and the Bulls would complete their second three-peat of the decade, winning three straight titles between 1996 and 1998. In 1996, his first full season back, the Bulls set a then-record with 72 regular-season wins as Jordan won his fourth MVP award. In true Hollywood fashion, the team clinched their fourth title of the decade on Father's Day. The moment overwhelmed Jordan, who was left sobbing in the Chicago locker room, as shown in the documentary "The Last Dance."
Demery's parole, Green's appeal, and Jordan's viewpoint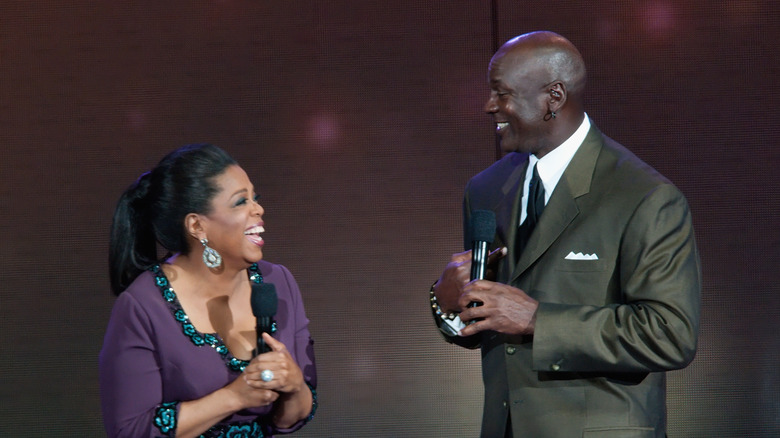 Daniel Boczarski/Getty Images
Both Larry Demery and Daniel Green were convicted of the murder of James Jordan Sr., though Demery's guilty plea and testimony against his friend and co-conspirator allowed him to be the first of the two to have the chance of parole. According to The New York Times, in August 2013, two decades after the murder, Demery had his first shot at parole. He was denied then and again in 2016. In his third attempt, Demery was granted parole and is set to be released on Aug 6, 2023.
As for Daniel Green, he has maintained that while he robbed and hid Jordan's body, he was not the murderer. According to Oxygen, Green attempted to get a new trial but was rejected by an appeals court in 2019. Now 43, he remains in Lumberton Correctional Institution, as told by the Chicago Tribune. 
In an interview on "The Oprah Winfrey Show" three months after the murder, Jordan said that he did not want to meet his father's murderers or ask them why they did it, saying, "[I]t would probably hurt me even more just to know their reason because it would be totally meaningless."