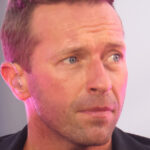 The Tragic Real-Life Story Of Coldplay
echo get_the_meta(); ?>
Coldplay is, by far, one of the most successful bands in the world. The British group was created in 1996 in London (via Grammy.com). The musicians made a splash with their debut album, "Parachutes," which won Best Alternative Music Album at the 2002 Grammy Awards. According to Hits Radio, the band was formed when Chris Martin came across guitarist Jonny Buckland while in college. Guy Berryman and Will Champion became part of the group later.
According to The Guardian, the band members didn't immediately start jamming right after they met, and it was 15 months before they had their first proper rehearsal in January 1998. The four musicians had a rule: They wouldn't put something on an album unless all of them were okay with it. Martin felt that they were simply meant to stick together. He said, "If one member left, we'd split up. I don't have any doubt about that."
Coldplay has definitely crossed several milestones since 1996 and is a force to be reckoned with, but the ride wasn't always been easy. Here's a glimpse into the harder parts of the band's riveting journey.
They have haters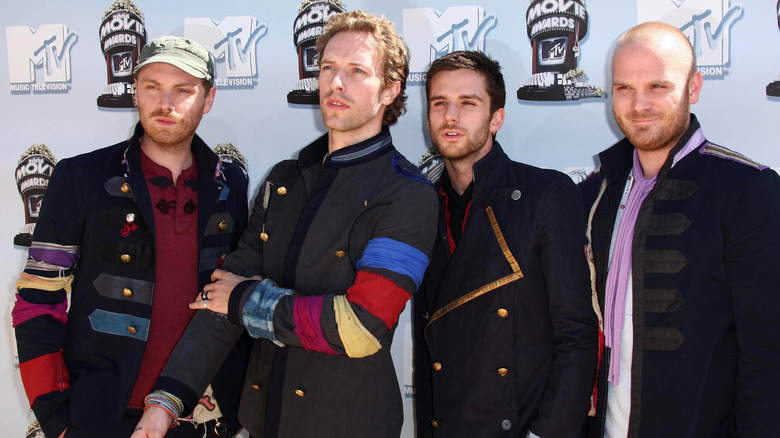 Shutterstock
While it's undeniable that Coldplay is an international phenomenon, not everyone is a fan. In 2016, when the band was selected to play at the Super Bowl during halftime, folks were annoyed, taking to social media to express their thoughts and making fun of them (via Vogue). Many felt that Coldplay didn't deserve the honor. All the same, they ended up sharing the stage with fellow musician Beyoncé.
As a Vice piece explained, many critics feel that Coldplay's style is dull and that their songs simply aren't exciting. For many listeners, the most disappointing bit is the lack of variety in their music. Martin, before the release of Coldplay's album "Viva La Vida or Death And All His Friends," said that the band members were aware that they were failing to strike a chord with some listeners and that it was something that they consciously worked on. "On our last album ['X&Y'], we took a real beating from some people, and by the end we felt like no producer would really want to work with us, basically," Martin told Rolling Stone. "We were bigger than we were good — we were very hungry to improve on a basic level."
As a result, they asked musician Brian Eno for help and worked with him to figure out how they could be better.
Success hasn't been easy for Coldplay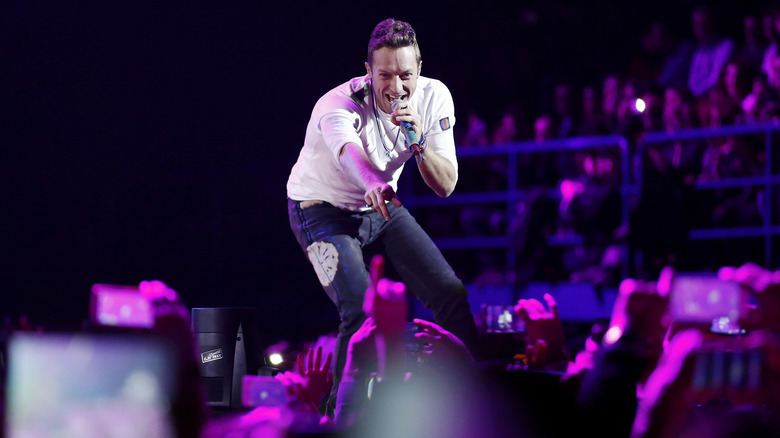 Shutterstock
According to Chris Martin, Coldplay's journey has not been a smooth one, especially when they first started making a splash in the music industry (via The Guardian). The singer said that he's always been the worrying type, but being a part of Coldplay made things tougher. Whenever he felt overwhelmed, he'd call his father for advice. Martin said, "I always ring my dad when I want to quit. And he goes, [in a plummy voice] 'Well I wouldn't give up yet. boy.' So I think, 'All right then. I won't.'"
It wasn't just Martin who found himself feeling unsteady — his bandmates were wary of fame as well. They were particularly overwhelmed after their debut album, "Parachutes," became hugely successful. After a tour in their early days, Jonny Buckland became severely ill and couldn't be there for the Mercury Awards. Martin remembered that evening, saying, "[I] felt extremely paranoid. I thought my hair was falling out." There was just too much going on, and Coldplay didn't have a second to slow down and breathe.
Also, according to Martin, it was a huge blow for Coldplay as a team when they faced severe criticism for "X&Y." They had to regroup and think hard. But they also saw that as opportunity to try new things.
They were criticized for supporting Palestine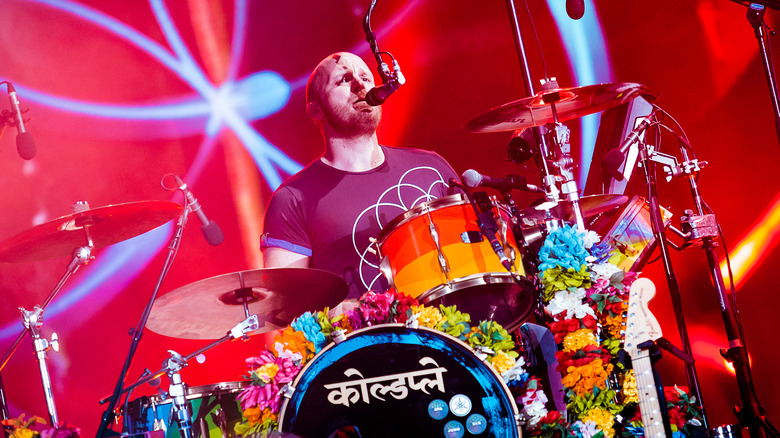 Mauricio Santana/Getty Images
In 2011, Coldplay found themselves dealing with an unexpected controversy. According to The Washington Post, many fans were furious after a video was posted on the band's Facebook page. The video in question was of a song called "Freedom for Palestine." The post blew up in no time, and many claimed that they would boycott the band. Some even said that the band members should issue a formal apology to Israel.
Certain well-known figures got involved, too. Comedian Mark Thomas said that he supported the band's move, while political commentator Glenn Beck said that the video was basically "propaganda." Beck even teared up on camera. The link was removed by Facebook after complaints poured in. According to The Guardian, the song addressed topics such as human rights, prison camps, justice, and more. It included the line, "We are the people and this is our time, stand up, sing out for Palestine."
Fix You is connected to the death of Gwyneth Paltrow's father
Shutterstock
Chris Martin's ex-wife, actress Gwyneth Paltrow, was linked to one of Coldplay's greatest hits of all time, "Fix You." According to Showbiz Cheat Sheet, the song was meant, in a way, to comfort Paltrow after she lost her dad, television producer Bruce Paltrow. Later, the actress spoke about the song, stating, "'Fix You' was about him [Martin] trying to put me back together after my dad died. I think it's pretty nice." 
As per E! Online, Bruce Paltrow died in 2002 after coming down with pneumonia. He also had throat cancer. Gwyneth Paltrow has said that Coldplay's music really helped her and her brother to cope with their loss.
"Fix You" caused difficulties for the Coldplay, as well, primarily because the team knew that it set very high standards for the rest of "X&Y." Martin said that it took a long time to finish the album. He added, "I don't know what it is — this pressure or something, because you can hear that it's good." The song was, of course, a massive hit that moved scores of listeners and fans around the globe.
Will Champion was let go for a brief period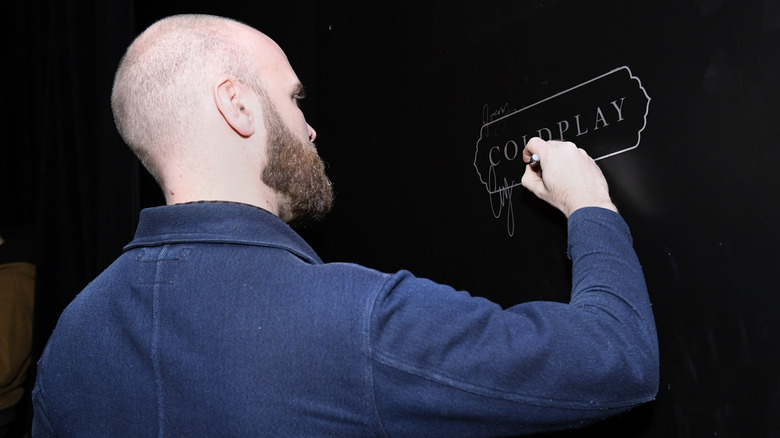 Timothy Norris/Getty Images
Coldplay's drummer, Will Champion, almost wasn't part of Coldplay, having been asked to leave early on. As per a piece by Paste Magazine, this incident hasn't been discussed very much. Why was Champion let go? Well, the drummer's bandmates felt that he simply couldn't stay on track with their recording sessions when they were working on the first album. They felt that it was wise to ask him to quit.
According to The Daily Echo, Chris Martin and his mates felt that Champion wasn't as technically sound as he should be, and a producer had told them they weren't up to the mark. Martin said, "We didn't really know that music is supposed to be about the feel of it, we thought it had to be technically perfect because we have a record deal now, so it ended up with us asking Will to leave."
Fortunately, they realized their mistake, and Martin begged Champion to come back and be a part of Coldplay again. He agreed.
They've been criticized for collaborating with others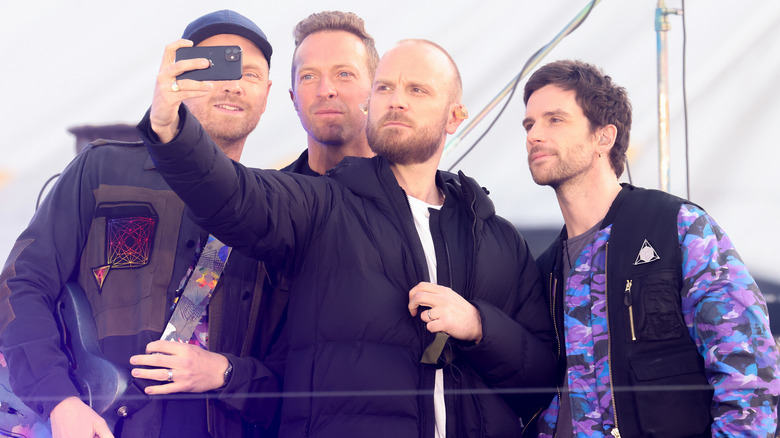 Jmenternational/Getty Images
Coldplay has been criticized as a band for teaming up with other musicians. An Esquire piece came down heavily on the band and stated that none of the band's collaborations were good. The piece basically went on to highlight the idea that Coldplay had somehow become far too commercial after "X&Y" and that all of their collaborations only led to terrible music. In fact, the band's work with hip-hop singers Jay-Z and Kanye West even caused an ugly fight between the two artists.
Also, not all singers have been enthusiastic about working with Coldplay, Take Beyoncé, for example. Even though she did perform with them at Super Bowl, when they approached her with a song idea, she refused to be a part of it (via The Independent). Talking about the incident, Martin said, " [She said no] in the sweetest possible way: She told me, 'I really like you — but this is awful.'"
Chris Martin's breakup was linked to Coldplay's Ghost Stories album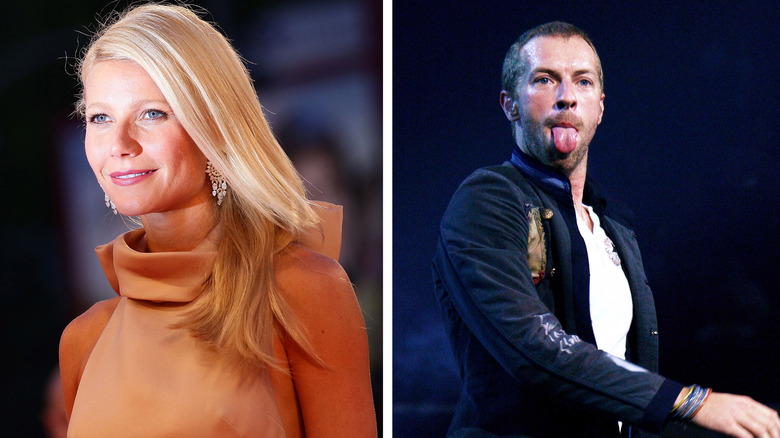 Vittorio Zunino Celotto/Getty Images
Despite spending more than a decade together, something went awry in Chris Martin and Gwyneth's Paltrow's relationship. According to The Guardian, Coldplay released their album "Ghost Stories" a few months after Martin announced the breakup in 2014. He didn't hold himself back at all in the album, expressing his feelings and thoughts on loneliness, heartbreak, and more.
A music producer, Tom Wilcox, feared that such a dark album could be disastrous for the band. He said, "Breaking away from that catchy, anthem formula is obviously a risk because it is what has built Coldplay up into one of the most successful bands of our time and that massive audience they've built up might not go with them." However, he acknowledged that break-up albums in general are always welcome.
Martin told "Today" that it felt important for him to open up and not be afraid of love. He said, "[W]hat 'Ghost Story' means to me is, like, you've got to open yourself up to love and if you really do, of course it will be painful at times, but then it will be great at some point."
Their manager gave up his position for his health
For Coldplay's ex-manager, Phil Harvey, taking care of the band's needs proved to be far too stressful. According to the Irish Examiner, he was a friend of Chris Martin's from school, and he decided to quit his education to work for Coldplay and help them out. Harvey was a part of the band from its early days and was instrumental in helping Martin and his bandmates achieve success. However, this proved to have a rather detrimental effect on his health. 
Eventually, the manager became very ill from the stress, and his doctor told him that his health was at risk. Harvey was forced to make the tough decision to step down as manager for his own well-being. He spoke about it later, saying, "I remember this all as being an isolating experience. I normally think of myself as, literally, an upbeat kind of person — it was all quite a shock. Regardless of how the world might perceive it [a mental health problem] can strike any person." He later studied psychology and now helps others living with mental illnesses.
If you or someone you know is struggling with mental health, please contact theCrisis Text Lineby texting HOME to 741741, call theNational Alliance on Mental Illnesshelpline at 1-800-950-NAMI (6264), or visit theNational Institute of Mental Health website.
Chris Martin has been addicted to sleeping pills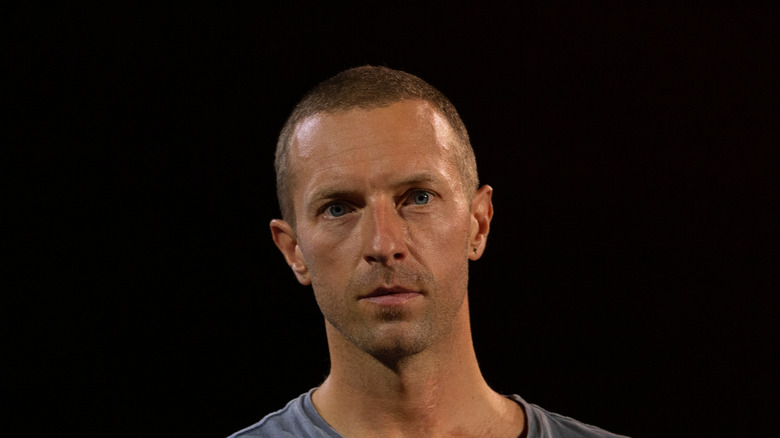 Shutterstock
Coldplay's lead vocalist has been vocal about staying away from addictive substances such as drugs and alcohol. He once told The Guardian that he'd only been drunk two times in his life. After one of those instances, he said he was left in bed "dribbling red stuff." He added that alcohol simply doesn't entice him and that he feels okay about avoiding it. Martin said, "I don't feel like I'm missing out."
That said, Chris Martin has had addiction issues. As he detailed to Cosmopolitan in 2008, he'd developed a sleeping pill habit and would turn to them often. He explained that sometimes, he'd pop one to pass out but then think about a song and start working on it then and there. Martin recounted, "And then it [the sleeping pill] kind of kicks in halfway through. I wake up the next morning and find these strange notes to myself!" 
If you or anyone you know is struggling with addiction issues, help is available. Visit theSubstance Abuse and Mental Health Services Administration websiteor contact SAMHSA's National Helpline at 1-800-662-HELP (4357).
David Bowie once rejected Coldplay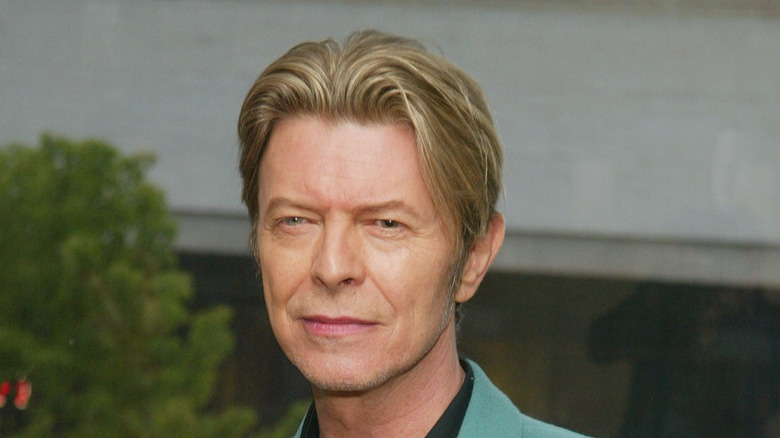 Evan Agostini/Getty Images
According to NME, Coldplay was enthusiastic about working alongside renowned musician David Bowie, but he wasn't keen on taking them up on their offer. The song was "a multi-part harmony" (via Pitchfork), and Bowie was asked whether he'd like to be a part of it. His opinion was pretty obvious when he replied with, "It's not a very good song, is it?"
Champion felt that Bowie was impressive and appreciated the fact that he was careful about the choices he made instead of rushing into anything. The drummer said, "He was very discerning — he wouldn't just put his name to anything. I'll give him credit for that!" As a band, Coldplay loved Bowie's music. Johnny Buckland spoke about the singer after his death in 2016 and said that he was gutted when he heard the sad news. He added, "We've all loved his music for as long as we've known about music."
They've struggled together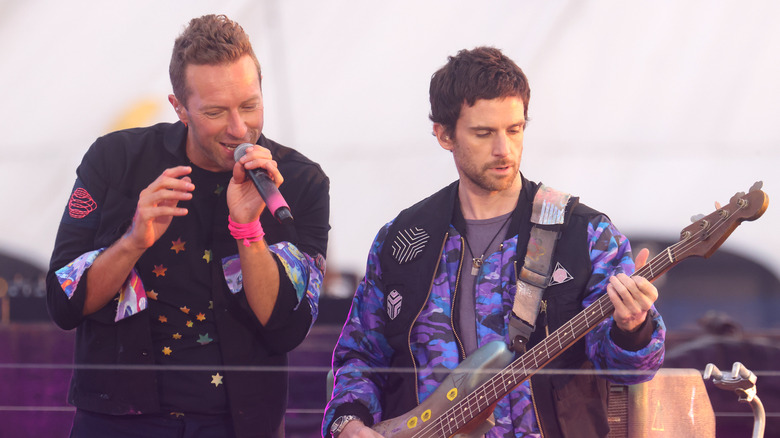 Jmenternational/Getty Images
Things may seem relatively great on the surface, but Coldplay's band members have gone through periods of uncertainty when they've had to really depend on each other for support. As per the Evening Standard, they ended up experimenting with drugs and booze despite wanting to stay away from such things. Chris Martin said, "Success and fame, alcohol and drugs. We've been through all of those things. They're just pitfalls, and that comes from a lot of travelling and a lot of down time."
He also mentioned that touring was extremely lonely for the band. What helped them was supporting each other to the best of their abilities. They also tried to play fair and share songwriting credits and everything else equally as a rule. Martin said, "It means when one of us is having a hard time or a problem, then we all have the best interests of each other at heart."
Guy Berryman got divorced from the love of his life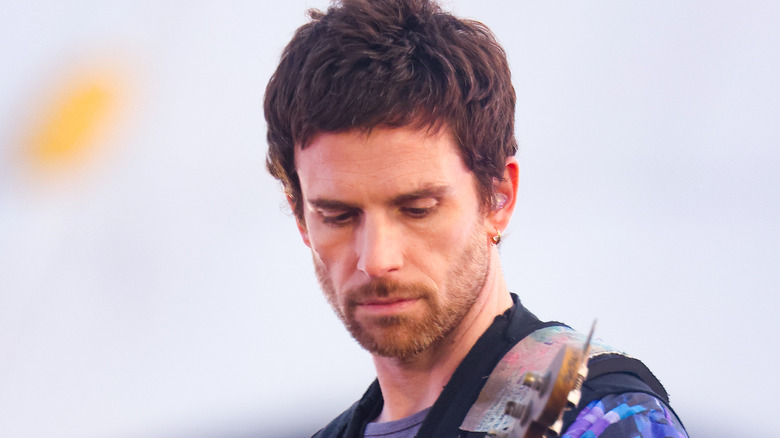 Jmenternational/Getty Images
Chris Martin isn't the only Coldplay member who's experienced heartbreak. Bassist Guy Berryman went through a turbulent time when his relationship broke down. He had been married to his longtime girlfriend, Joanna Berryman, until they split in 2007, six months after having a baby. A friend who was close to them said, "They are both absolutely devastated but the relationship has been on the rocks for a while" (via the Mirror). The couple had hoped that the baby might help them sort out their differences, but that wasn't the case. Many friends believed that Guy's work schedule made things very difficult for his relationship.
Joanna moved on and later married an entrepreneur named Philip Bergkvist (via Baby Magazine). She once said that she and Guy had a rough time during her pregnancy, spending a lot of time apart and somehow coping with their highs and lows. She also mentioned feeling insecure, recalling, "I had naively read horrible online forums where people would call me fat, unglamorous and question why Guy was with me. It was hard not to read them."
Chris Martin gets a major chunk of the attention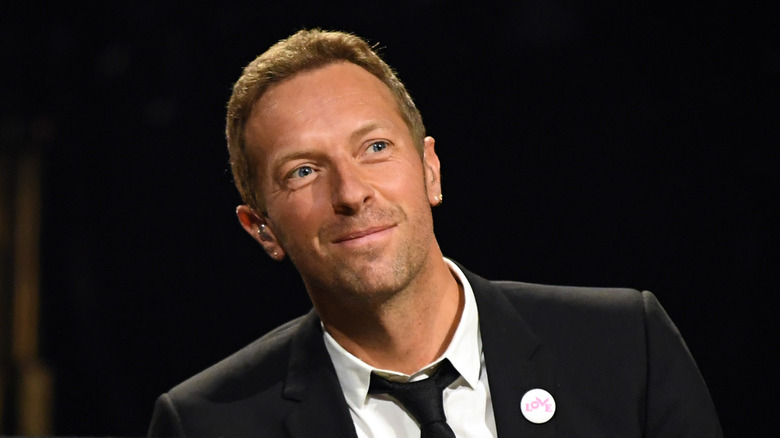 Kevin Winter/Getty Images
One of the problems with Coldplay is that Chris Martin often gets a major chunk of the publicity, while the rest of his bandmates, by comparison, are in the shadows. According to a piece by Paste Magazine, this pattern did upset Martin's mates quite a bit, especially when they first started working together and got noticed for their collective talent and music. They were annoyed before they realized that not being in the limelight was actually a good thing for them because it meant that they weren't being constantly stalked in public.
Martin had his own demons to fight, something that he admitted to the BBC in 2021. He said, "Last year was a quite an eye opener. I was like, 'Who am I without Wembley Stadium saying, 'you're awesome'?" He said that he had learned to stop being so dependent on external validation, explaining, "I'm trying in my life right now to not attach too much to being a pop star."
Will Champion lost his mom right before Parachutes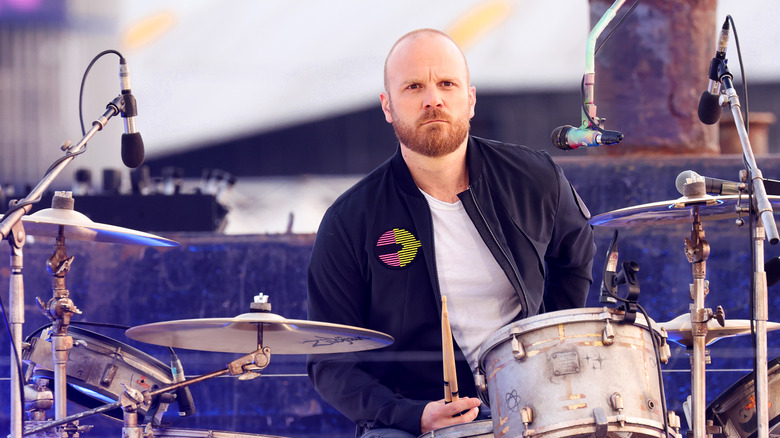 Jmenternational/Getty Images
For drummer Will Champion, the release of "Parachutes" was a bittersweet experience because he was coping with a personal tragedy. According to Cancer Active, his mother died of cancer right before the release of the album in 2000. The drummer shared a close bond with his mom and told Drum Magazine that she helped him embrace his love for music and inspired him in many ways. He said, "I think music first clicked as a creative pursuit when my mom taught me how to play three chords on guitar."
As per Radio X, Champion's mom, Sara, was a respected archaeologist who made several contributions to her field and supported women who chose to join the industry. She was 54 years old when she died, and her funeral was held on the day Chris Martin filmed the music video for the band's hit song "Yellow."