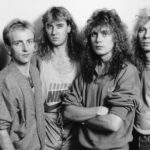 The Tragic Real-Life Story Of Def Leppard
echo get_the_meta(); ?>
Def Leppard are a pretty big deal. You might think they're just another hair metal band from the 1980s who had a good run, but they're one of the most successful musical acts of all time. Not only do they sport two diamond-certified albums with more than 10 million sales each (1983's "Pyromania" and 1987's "Hysteria"), they've also sold more than 100 million records worldwide. And there's also the fact that they were inducted into the Rock and Roll Hall of Fame in 2019.
So, yeah, a big deal. Def Leppard started off as baby-faced teenage sensations in England, then went on to perfect a sound that blended perfect pop hooks with crunchy metal guitar. But that doesn't mean their success came easy, or that they've lived any sort of charmed lives. In fact, it's been quite the opposite — Def Leppard spent years slaving over a single album, and they have withstood more than their fair share of tragedy and heartbreak.
In fact, once you dig into everything this band has been through, the fact that they're still together, still recording, and still touring is kind of remarkable. Here's the tragic real-life story of Def Leppard.
Def Leppard's drummer lost his arm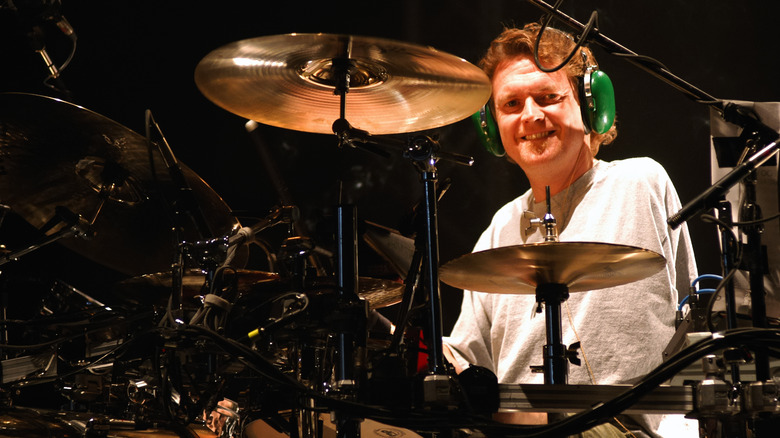 TDC Photography/Shutterstock
If you don't know anything else about Def Leppard, chances are you know that drummer Rick Allen lost his left arm in a car accident. For reasons both obvious and not so obvious, this tragic event almost killed the band outright just as they were getting huge.
The Def Leppard Tour History explains that Allen was driving in Sheffield, England with his girlfriend, Miriam Barendsen, when he lost control of the vehicle while trying to overtake another car (some reports state he was drag-racing) on New Year's Eve 1984. He was wearing his seatbelt, but incredibly it tore his arm off as he was thrown through the sunroof. Even more incredibly, surgeons were initially able to reattach his arm, but within weeks it had to be amputated when infection set in. 
Metalhead Zone reports that Def Leppard lead singer Joe Elliott was devastated by the news because he assumed, naturally enough, that Allen's drumming career was over. The band had been riding high on the success of their 1983 album, "Pyromania," which had become their huge breakout hit (via Ultimate Classic Rock). Allen's injury and his determination to re-learn his instrument despite the loss of his arm delayed their followup album, potentially costing the band crucial momentum in the fickle world of music.
But Allen's recovery was incredible. He had a custom drum kit created, reworked his style and many of his drum fills, and less than two years later was drumming in live performances again.
Rick Allen went to a dark place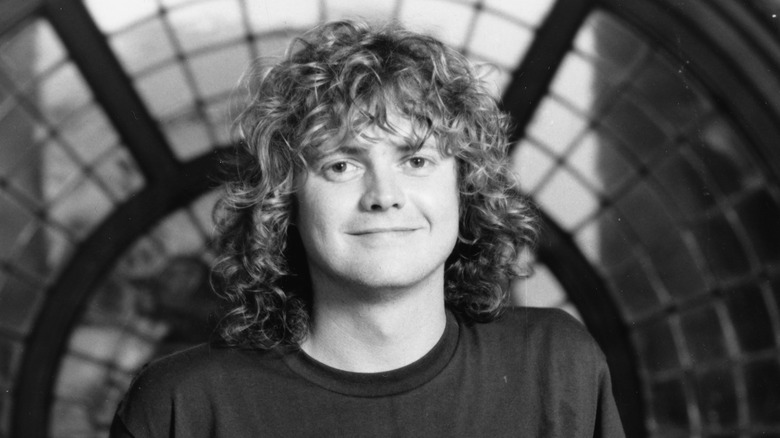 Dave Hogan/Getty Images
When the story of Def Leppard drummer Rick Allen losing his arm in an auto accident comes up, it's easy to focus on the inspiring aspects of it. As Louder explains, Allen initially thought his career was over, but he began tapping a foam insert on his hospital bed with his feet while listening to music. His friend Pete Harley built a custom electric drum kit for him, and Allen dedicated himself to learning a whole new way of drumming, leading to his triumphant return to live performances in 1986. After three gigs with a backup drummer just in case, Allen took over on his own.
That's an amazing story, but as Monterey County Weekly notes, it hides the darker side of Allen's recovery. Allen has admitted that by focusing exclusively on the band and getting back behind the drum kit, he didn't deal with his trauma at all. He began to self-medicate with alcohol, going to a very dark place. "I literally threw myself right back into the band, didn't do any work on myself or therapy," he told Monterey County Weekly. It all culminated in a 1997 domestic abuse charge. Allen pled guilty and was sentenced to community service and Alcoholics Anonymous meetings. It wasn't until Allen met his future wife, a massage therapist, in 2000 – 16 years after his accident — that he began to confront his pain and heal.
The biggest recording session of their lives was delayed by months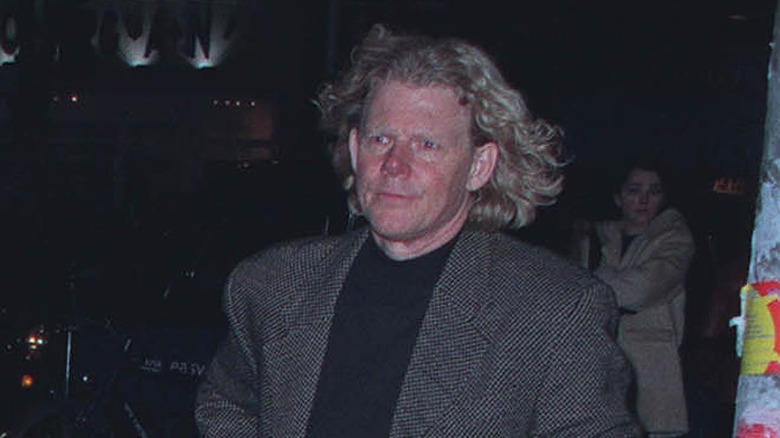 Gareth Davies/Getty Images
After the megasuccess of 1983's "Pyromania," Def Leppard were under pressure to produce a fantastic followup. But the recording sessions for what would become "Hysteria" soon seemed cursed.
Louder reports that lead singer Joe Elliott said that the band was terrified and had zero ideas for new songs. They struggled to write while touring, and they'd done nothing but tour until Allen's accident. Luckily, their long-time producer Robert "Mutt" Lange (pictured) helped inspire them to begin producing material, but just as they were making some progress, Lange begged off from the project due to exhaustion.
According to Rolling Stone, the record label brought in Meat Loaf collaborator Jim Steinman to produce, but those sessions were disasters. The band eventually paid Steinman to go away without having recorded a single note. They worked briefly with another producer before drummer Rick Allen's 1984 car crash threw everything into chaos, delaying work on the album for months. But Allen's remarkably quick comeback enabled them to get back to work sooner than expected, and the delay meant that Lange was able to return to work with them again. However, Lange's first decision was to throw away everything the band had recorded over the previous 16 months. The costs involved with all these changes also meant that the band would have to sell at least five million copies to break even, as reported by Louder.
Def Leppard almost didn't finish their biggest album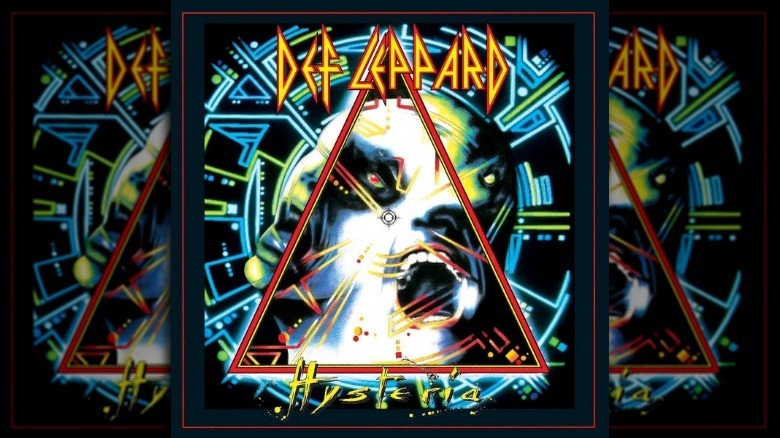 Mercury Records
After suffering endless delays ramping up to recording their follow-up to "Pyromania," things were finally looking up for Def Leppard in the beginning of 1987. Then, as the Sun-Sentinel reports, their producer "Mutt" Lange — who had worked with the band on their previous two albums and had been described as an unofficial sixth member of the band — was involved in a serious head-on car crash. His injuries set back the long-delayed recording sessions even more.
Then, as the band was recovering from that shock, Rolling Stone reports that lead singer Joe Elliot came down with a serious case of the mumps while working on vocal overdubs to finish the album. All of these delays took a toll on the band, who were feeling a lot of pressure to match the success of "Pyromania," which had sold six millions copies up to that time. Rick Allen described the delayed sessions as "getting to be like a prison sentence" (via the Sun-Sentinel). It all ended well, of course — "Hysteria" went on to sell more than 10 million copies.
Def Leppard struggled with addiction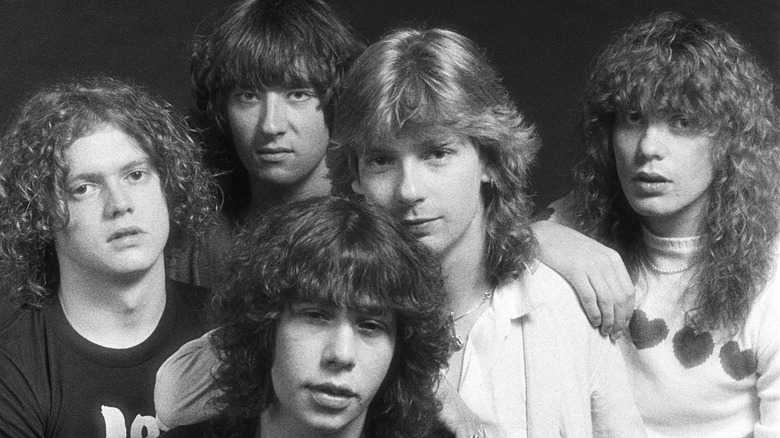 Tom Hill/Getty Images
Problems with drugs and alcohol are so common in the stories of successful rock bands that they're pretty cliche, but that doesn't take away from the personal tragedy these afflictions can cause. And Def Leppard has had to deal with the cost of substance abuse more than most bands.
Ultimate Classic Rock reports that the band had to fire one of its founding members because of his drinking. Guitarist Pete Willis had been with Def Leppard from the very beginning, and was working with them on the future classic "Pyromania" when his drinking got so bad he could barely function. When he was incapable of playing on a track in the studio because he was drunk, the band fired him. Willis has no bitterness — in fact, he told Classic Rock "It wasn't nice to go that way, but it was something that needed to happen for them, and the best thing to happen health-wise for me." (via Ultimate Classic Rock).
Willis' replacement, Phil Collen, loved to drink as well, and he found a buddy in fellow guitarist Steve Clark. According to Loudwire, the two quickly became great friends and serious drinking buddies. They earned the shared nickname "The Terror Twins" because of their wild, booze-fueled ways. Clark's drinking was so bad he would wake up in the morning shaking uncontrollably and had to have a drink to make it stop. After losing his arm in a car accident, drummer Rick Allen struggled with alcohol too, eventually entering Alcoholics Anonymous after a court order.
Steve Clark relapsed with the love of his life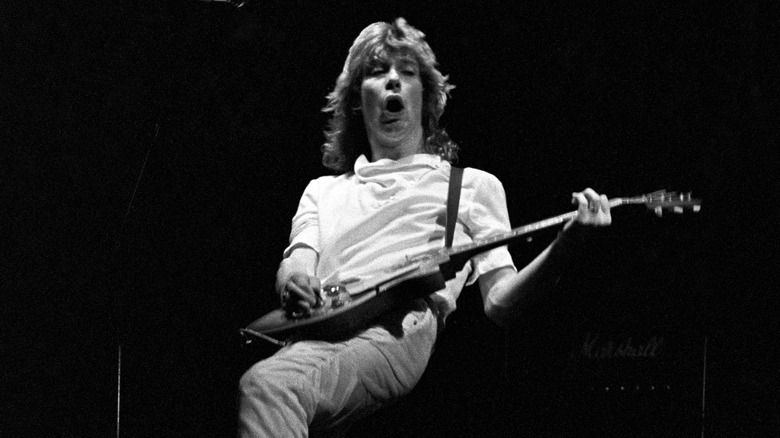 Tom Hill/Getty Images
Def Leppard's founding guitarist Steve Clark was a virtuoso on his instrument, and he was the creative heart of the band during its first 15 years. The list of songs co-written by Clark includes most of the band's biggest hits.
He was also a functioning alcoholic for years. Loudwire reports that Clark drank so heavily that in the late 1980s that he would wake up shaking from withdrawal and have to start drinking just to calm down and steady himself. When guitarist Phil Collen joined the band, he and Clark bonded over alcohol, but according to Louder, Collen's decision to sober up in 1987 left Clark "isolated."
Things came to a head in 1989. Clark was found unconscious in a bar after a night of heavy drinking, and the band staged an intervention while he was hospitalized. Clark went into rehab with the band's blessing. That should have been the beginning of a new chapter for Clark, and things looked good when he met the love of his life there, a fellow patient named Janie Dean. Sadly, when the two left rehab, they quickly descended into their addictions. According to Phil Collen, it became impossible to keep track of where Steve was or what he was doing as the couple slid into the abyss.
Steve Clark died young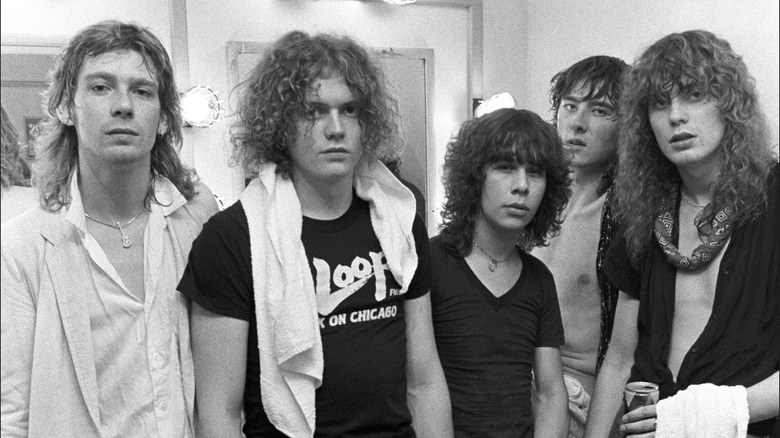 Tom Hill/Getty Images
After almost dying as a result of his drinking, guitarist Steve Clark was encouraged to enter rehab by his bandmates. According to Loudwire, the band made it clear that Clark's health was a priority, and that his place in the band he'd helped launch would be waiting for him when he got better. When Clark met and fell in love with a woman named Janie Dean — who was recovering from a heroin addiction — while in rehab, he seemed to be turning a corner. They got engaged and agreed to support each other.
Unfortunately, as bandmate Phil Collen wrote in his autobiography (via Louder), Clark and his fiancee soon began enabling each other. She began using heroin again, and Clark started drinking as heavily as before. The band lost track of Clark and didn't know where he was or what he was doing.
During one of Clark's benders, he fell and cracked a rib. He was prescribed pain medication and warned not to combine the pills with alcohol — but Clark didn't, or couldn't, listen. On January 8, 1991, Collen received a phone informing him that Clark had accidentally overdosed. Clark was just 31 years old. Sadly, according to Collen, Dean died from a drug overdose a few years later.
If you or anyone you know is struggling with addiction issues, help is available. Visit theSubstance Abuse and Mental Health Services Administration websiteor contact SAMHSA's National Helpline at 1-800-662-HELP (4357).
Def Leppard almost broke up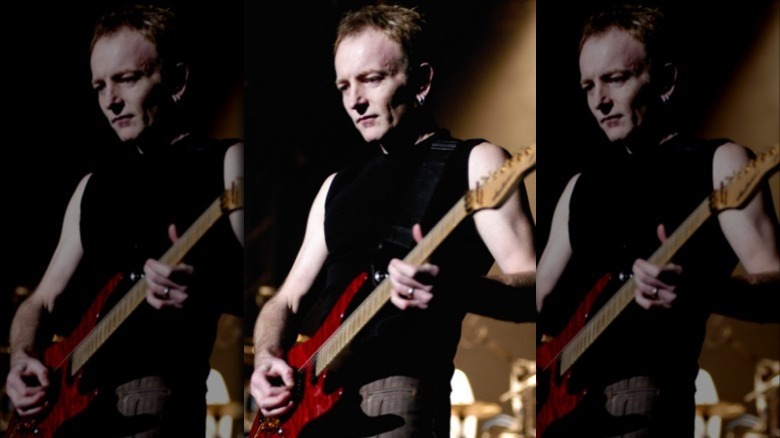 TDC Photography/Shutterstock
According to Louder, after Def Leppard drummer Rick Allen miraculously recovered from losing his arm in an auto accident and continued to play, the band thought they'd seen and faced it all, and that nothing would ever be so bad. But when guitarist Steve Clark died of an accidental overdose in 1991, it nearly shattered them.
Loudwire reports that Collen — who had been Clark's best friend and drinking buddy in the band — went into mourning for his friend and quit the band, convinced that it would be impossible to keep playing after what had happened. The loss of both guitarists might have broken the band for good despite the incredible success they'd enjoyed.
Lead singer Joe Elliott spoke with Collen and convinced him to stay. He told Collen that Clark had been ashamed of his addiction, and would have never wanted the band to suffer because of his affliction. The talk brought Collen back from the brink. He decided to stay with the band and used songwriting and performing as therapy. In 1992, the band hired Vivian Campbell to replace Clark, and Def Leppard have released six more albums since then.
Everyone in Def Leppard is divorced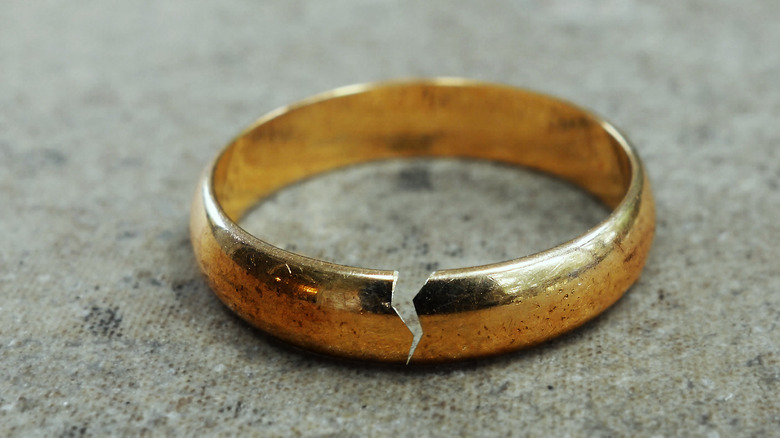 zimmytws/Shutterstock
It's pretty well-established that stable marriages and rock stardom don't necessarily mix. For every Sting and Trudie Styler, there are dozens of marriages that don't make it to the finish line. Sadly, the members of Def Leppard are included in those dozens.
According to POW! Showbiz, lead singer Joe Elliott married his first wife, model Karla Ramdhani, in 1989. The couple had met at a nightclub in 1982, but were divorced in 1996. Maybe it had something to do with the way Elliott described the experience of being in Def Leppard as "all these groupies started making moves on us. Yes, we certainly took advantage of it …" Elliott is currently married to Kristine Wunschel.
Drummer Rick Allen was married to Stacy Lauren Gilbert, but in 1996 Allen was arrested for spousal abuse after allegedly choking his wife and slamming her head into a wall. The couple remained married until 2000, when they divorced. Allen married Lauren Cuggino Monroe in 2003. 
Guitarist Vivian Campbell, who joined the band in 1992, brought the divorce count for the band up to three when he split from his first wife, Julie, in 2012 after 25 years.
And then there's guitarist Phil Collen, whose two divorces to bring the band's total to five. He was married to Jacqueline Collen-Tarolly from 1990 to 1995 and Anita Thomas from 1999 to 2010, both ending in divorce. According to Ace Showbiz, he married his current wife, Helen Simmons, just nine days after his second divorce was final.
If you or someone you know is dealing with domestic abuse, you can call the National Domestic Violence Hotline at 1−800−799−7233. You can also find more information, resources, and support attheir website.
Def Leppard never got much respect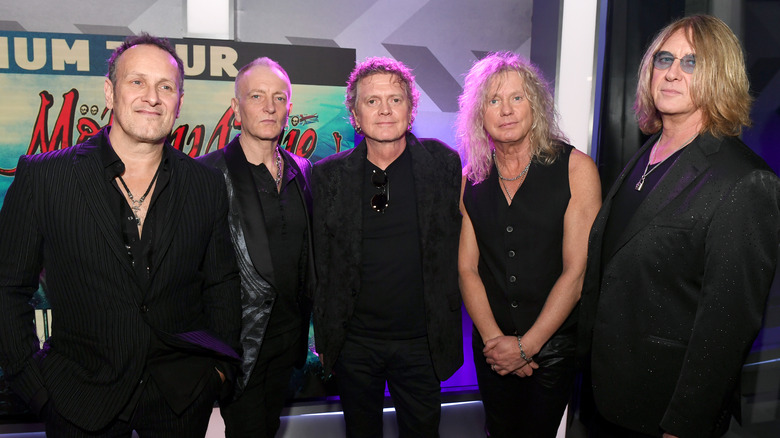 Kevin Winter/Getty Images
Despite selling more than 100 million albums, logging two diamond-certified albums ("Pyromania" and "Hysteria"), and two No. 1 albums — not to mention remaining a popular band for more than 40 years — Def Leppard never got much respect.
For one thing, they are often dismissed as a "hair metal band." According to Loudwire, Joe Elliott and the rest of the band are annoyed by this, and go to some pains to note that they "couldn't have been so far removed from that if we tried." Certainly, the layered production their 1987 album "Hysteria" is unlike anything else being done in the heavy metal scene at the time.
The New York Times reports that the band even initially refused to license their music to the hit Broadway musical "Rock of Ages" precisely because they resented being lumped in with the other "hair metal" bands, saying it was "a play based on everything that we stood against." They relented when the show was adapted into a movie starring Tom Cruise, with Elliott quipping "There isn't a person alive that's never changed their mind."
Another sign of the lack of respect the band has gotten is the fact that the band was also left off the Rock and Roll Hall of Fame ballot for years. According to Ultimate Classic Rock, that led them to dismiss the honor as "nice but not important" and claim they wouldn't attend the ceremony anyway. They were finally inducted in 2019, and they did attend.
Def Leppard peaked in 1992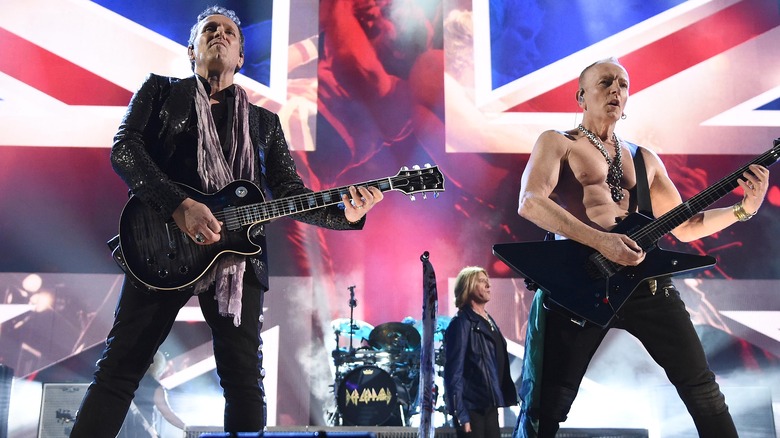 Dimitrios Kambouris/Getty Images
You know things aren't going great when your guitarist quips "we probably did suck" when a some smart aleck kids shout insults at the band. But that's what Def Leppard guitarist Vivian Campbell admitted to the Guardian.
Def Leppard's fifth album "Adrenalize" was released in 1992, hit No.1 on the charts, and sold more than three million copies. But those numbers seem soft compared to 1987's "Hysteria," which has sold more than 10 million. As noted by the Guardian, music shifted in the early 1990s and suddenly the pop-infused "hair metal" that Def Leppard made was no longer in fashion.
Worse, the quality of their music went into steady decline. "Adrenalize" received mixed reviews — AllMusic's Steve Huey calls it "tired, formulaic, and bland" — despite its sales. And when Ultimate Classic Rock ranked all of Def Leppard's albums, everything that came after 1987 was at the bottom of the list (with the exception of their 2006 all-covers album "Yeah!"), showing a clear artistic decline. The inescapable conclusion is that Def Leppard peaked in 1987 with "Hysteria" — which is also perhaps not coincidentally the last time they worked with producer Robert "Mutt" Lange.
Vivian Campbell was diagnosed with Hodgkin's Lymphoma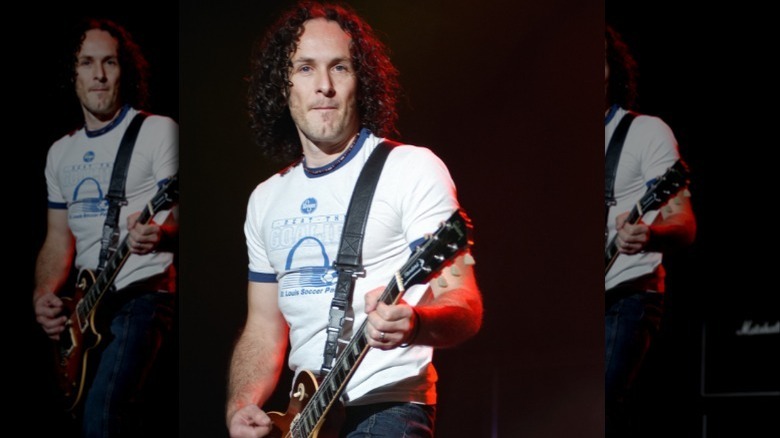 TDC Photography/Shutterstock
Guitarist Vivian Campbell joined Def Leppard in 1992 to replace Steve Clark. Sadly, according to Loudwire, he was diagnosed with Hodgkin's lymphoma — a cancer of the lymphatic system — in 2013. Although treatments for Hodgkin's lymphoma have improved and there is hope of recovery, Campbell has struggled over the years. He endured rounds of chemotherapy and then a stem-cell transplant that failed to beat back the progression of the disease, leading him to seek cutting-edge treatments.
Eventually, Campbell became healthy enough to resume his work with the band, and for years he appeared to be healthy. Unfortunately, according to Rolling Stone, in 2015 his cancer returned, forcing the band to cancel tour dates as he returned to treatment.
In 2019, the Belfast Telegraph reported that Campbell had been aggressively fighting his cancer ever since. After other treatments weren't doing the trick, he began a regimen of immunotherapy which has been very effective in keeping the cancer in check, although it hasn't eradicated it. While his disease hasn't been defeated, he's still able to perform and live his life. He continues to tour with Def Leppard and his side band, Last in Line.