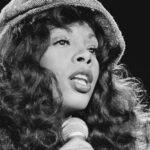 The Tragic Real-Life Story Of Donna Summer
echo get_the_meta(); ?>
Under the disco balls and lights of every night club in New York City in late 1975, dancers shuffled and thrusted to the sound of Donna Summer moaning and groaning in her first international hit, "Love to Love You Baby" — a song with a catchy beat and over ten minutes of an induced orgasm. From that moment on, year after year, her songs made the Billboard Top 100, many in the top 10, defining the era and earning her the title, "Queen of Disco." 
Before Summer became the face of the 1970s dance scene, she was born LaDonna Gaines of Boston, Mass., in 1948. She got her start singing at church and high school musicals. At age 19, she was cast in the German tour of the musical Hair, jump-starting her rise to fame in Europe. While Summer enjoyed early success in her singing career, she found plenty of trouble navigating her way through life and love. Here is the tragic real-life story of Donna Summer.
Donna Summer suffered from childhood depression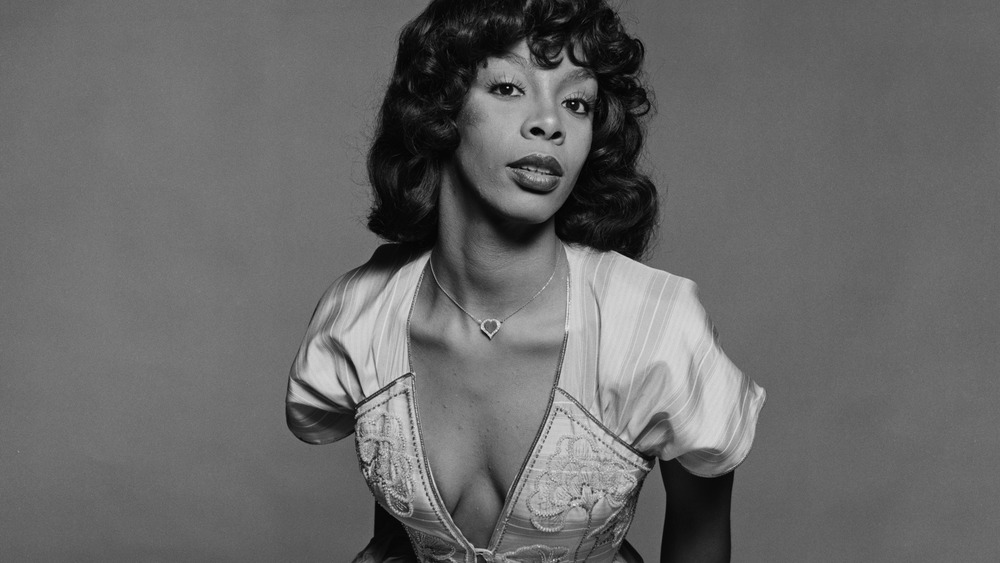 Michael Putland/Getty Images
In her memoir, Ordinary Girl, Donna Summer wrote, "I was always the type of person to dive into things, literally and figuratively, regardless of whether or not I fully knew what I was getting into." This sentiment can be seen throughout the adventures of her life, but it started when she literally jumped into a pool and almost drowned at age 8. Her brothers and sisters (she was one of seven children) pulled her out. She had no idea how long she was unconscious but remembered when she came to that she believed God had saved her and had a special life planned for her. With a new sense of purpose she prayed, "God, please teach me how to sing better."
Though willing to jump into anything, Summer wasn't always confident once she got in the water. At age 7 she accidentally cut a large gash in her cheek on a kitchen chair her father was repairing. It left a scar that for the entirety of her childhood made her feel ugly and insecure. She wore wigs trying to hide it. For years, she was teased by her siblings and neighbors. This triggered a childhood depression, a bed-wetting habit, and an obsessive need for perfection. She saw a therapist until she was 16 years old. While Summer laments this time in her life, she also claimed it helped her to develop a sense of humor and a strong desire to prove herself.
Donna Summer was threatened as a teenager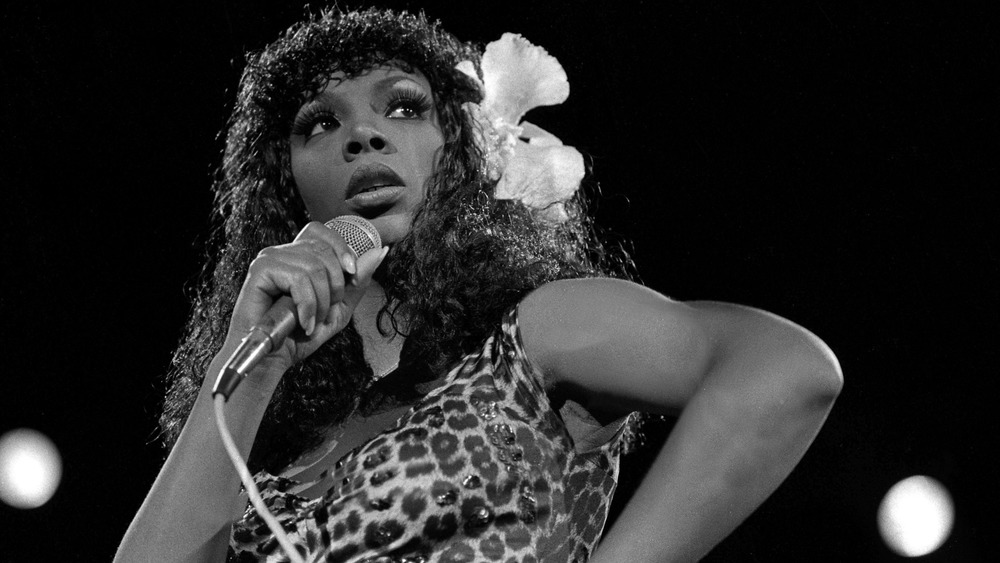 Joan Adlen Photography/Getty Images
As a teen, Donna Summer wandered the streets of Boston at night. Curious, she walked into a nightclub where she was asked if she was there for an audition, she wrote in her memoir. She said, "Uh, yeah sure." Being a free spirit — a talented one — she auditioned and got the part as the lead singer for the band Crow. 
In order to play nightclubs and attend practice, Summer skipped school. One time she witnessed a group of boys attacking an elderly woman. The woman was left unconscious and not breathing. Summer performed CPR on her until an ambulance arrived. Later Summer learned the woman had died, and that the cops were looking for witnesses. Summer was scared to come forward because she thought she'd get in trouble for being a truant. 
Her conscience got the best of her, and Summer decided to talk to the police. She told an officer the names of the boys and what she saw. They were arrested, and Summer was called to testify in court. Though the boys were found guilty and sent to prison, they had friends who threatened Summer, making her feel unsafe in her own neighborhood. Three weeks before graduating high school, she moved with her band to New York to further her career but to also get out of Boston.
Donna Summer had many failed romances in Europe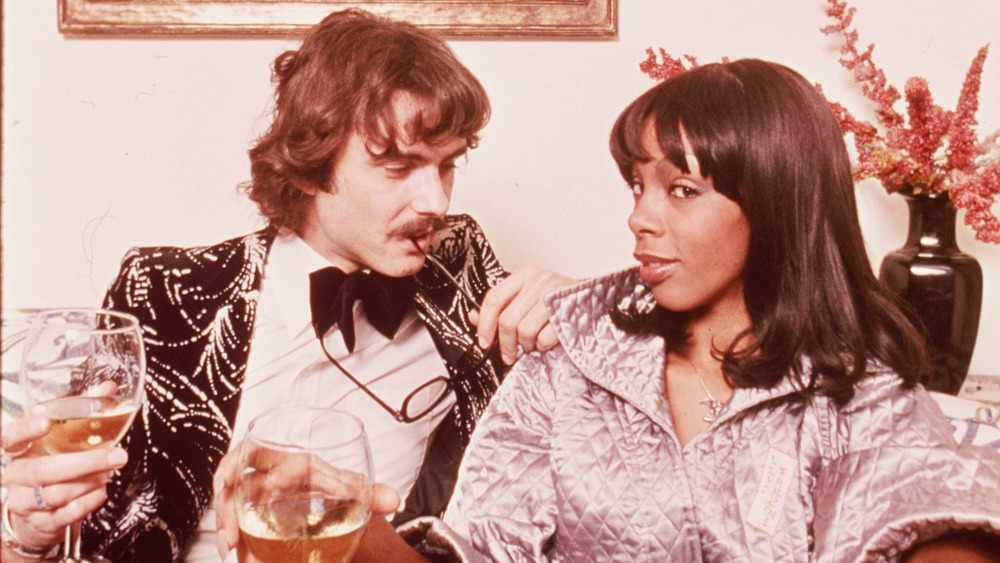 Michael Ochs Archives/Getty Images
While living in Greenwich Village in the summer of 1968, Donna Summer enjoyed the counterculture lifestyle — playing in the band at night, sleeping all day, and hanging out in public parks. In an interview with Rosie O'Donnell, she discussed how she auditioned for Hair and got the part. When asked what country in Europe she'd like to perform in she said, "Germany." The 19 year old then got a passport and jumped on her first international flight. 
In Ordinary Girl, Summer said she dated another performer named "Ronnie" from Hair. He was American and Black. She said, "I quickly came to understand, liberal post-war generation Germans … wanted to make some sort of personal statement about the Civil Rights movement in America. Frequently that statement took the form of friendship, support, and work for anyone of color who happened to be from the States. Yippee! I was in the right place at the right time." While Ronnie was helpful in getting her acclimated to life in Germany, she found him a bit cocky and the romance lasted only two weeks. 
While performing Hair in Vienna, she met a man she only refers to as "Dr. Meyer". He was a psychiatrist that believed in the healing power of music. She said, "By the end of my first year in Vienna, I was completely in love with him." 
As Summer's fame grew in Europe, she approached Meyer on the topic of marriage. He wanted to marry but knew Vienna was too small of a town for her. "Our romance was over but not our friendship," she said in her memoir. Summer went on to date men in the socialite scene but never found anyone to commit too. She had a hard time reconciling the life she thought a God-fearing girl should have with the one she was being given.
Donna Summer had a difficult pregnancy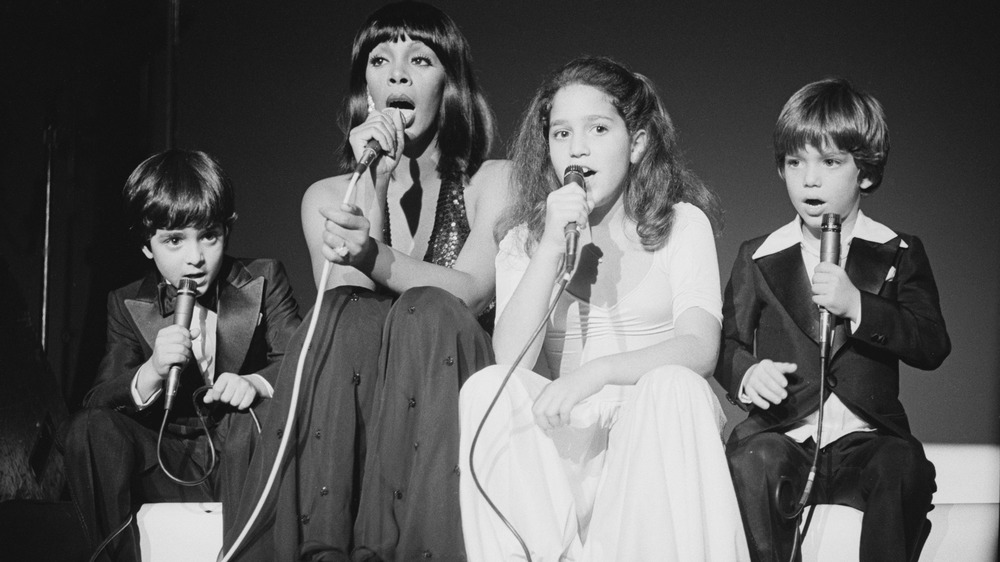 Michael Putland/Getty Images
According to The Globe & Mail, Donna Summer started dating Helmuth Sommer, a Viennese actor she met in Berlin while doing Hair. The couple rekindled their friendship when they were both cast in the Hamburg production of The Me Nobody Knows. The two went on to perform in other productions together, and when their final tour was over they went home to Vienna where Sommer asked Summer to marry him. They married in 1972. Soon after, Summer discovered she was pregnant.
In her memoir, she described a morning she was rushed to the hospital by her husband. A doctor told her she was in danger of miscarrying. The couple decided to move to Sommer's parents' apartment, where Summer remained on bed rest for the remainder of her pregnancy. In February 1973, Summer gave birth to her first daughter, Mimi.
Donna Summer had a complicated divorce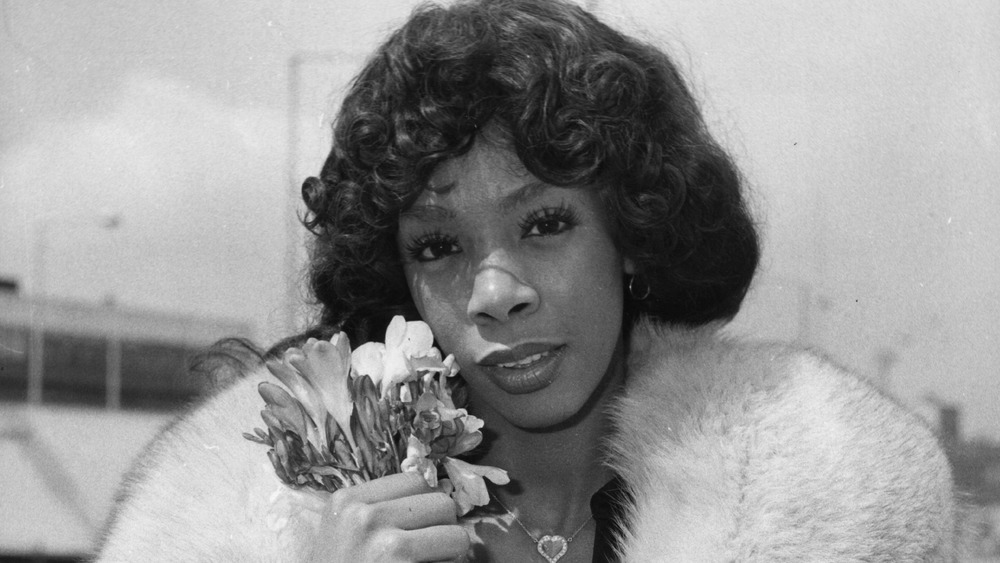 Keystone/Getty Images
The year following the birth of her daughter, Donna Summer dived into a deep depression. She felt unprepared for motherhood. Her husband worked a lot, leaving her alone to care for their child. She didn't go out or sing anymore. In her memoir she said she felt "isolated."
Summer turned to a friend she only refers to in her book as "Anna." Anna taught her to bathe Mimi and how to get her to sleep. Through Anna, Summer met a man she only refers to as "Gunther." Gunther was a painter and what Summer described as a "wild man." She was attracted to him instantly.
Desperate to move out of her depressed state, Summer and Helmuth Sommer temporarily separated. Summer then moved in with Anna and often saw Gunther. Gunther, also being a married man, confided in Summer and she with him. After many long talks combined with many glasses of wine, the two crossed over from friends to lovers, as reported by ABC News. Sommer learned of the affair and confronted Summer. They made their separation official and divorced. Donna kept Helmuth's last name "Sommer" but changed it to Summer.
Donna Summer had an abusive beau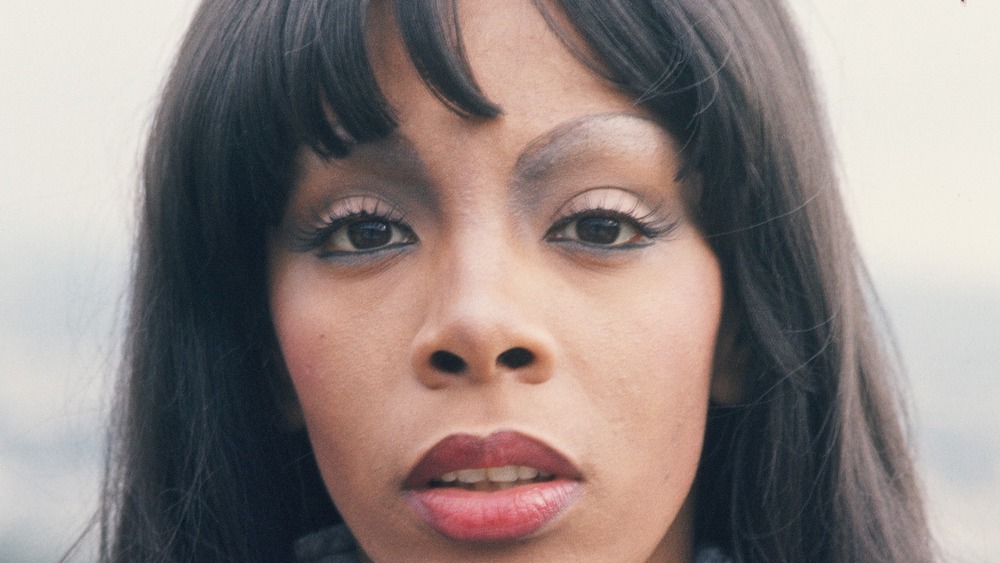 Michael Ochs Archives/Getty Images
Donna Summer knew Gunther could be violent and an angry drunk. She tried to keep her distance but had come to rely on him for emotional support in her career and motherhood. According to her memoir, when she tried to leave him he kicked in her bathroom door, slapped her, and threw her into a glass cabinet. Her skin and hair was covered in shards. She knew she should break up with him but was afraid to be alone. Summer continued dating Gunther for years, even after becoming an international success. 
In 1977 Summer met Brooklyn Dreams singer, Bruce Sudano, while living in Los Angeles. They were drawn to each other, but like her, he was also in a committed relationship. After going out with Sudano and his band, Gunther asked Summer where she'd been. She said, "Before I could say anything, he grabbed me, threw me up against the wall, and proceeded to slap me around." She went on to say, "He threw me into the laundry room, where he continued to beat me up. I fell into a heap, and Gunther disappeared. After a moment he returned with a gun in his hands."
Gunther was charged with assault and battery and was deported. Summer said, "Battered, bruised, and beaten nearly to death, I realized that God had come to my rescue yet again." She took time to heal and waited for Sudano to break up with his girlfriend. In 1978, Summer showed up at Sudano's doorstep to confess her love. The two married on July 16, 1980. 
Donna Summer struggled with the controversy over "Love to Love You Baby"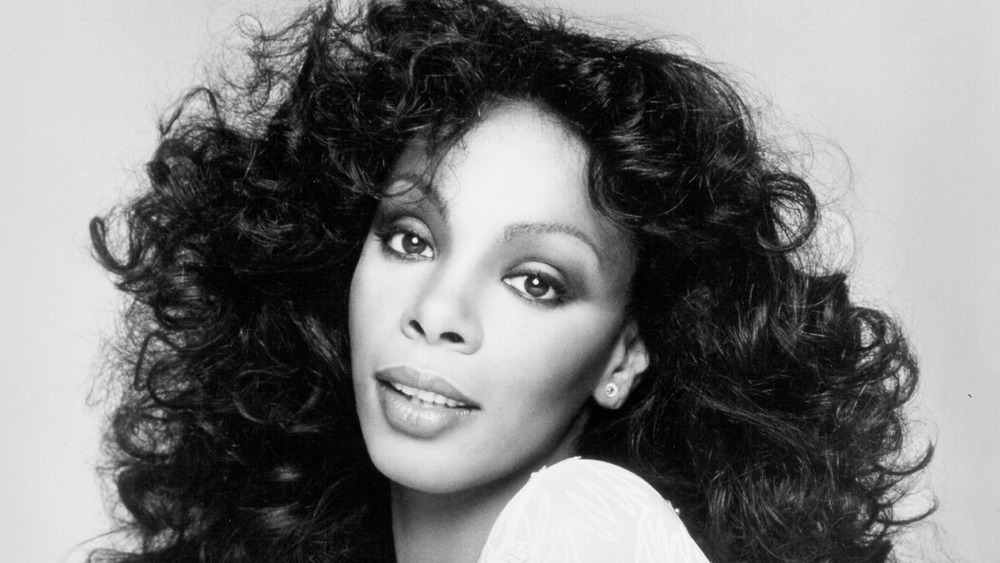 Michael Ochs Archives/Getty Images
In the early 1970s, Donna Summer met Giorgio Moroder, the "Father of Disco" and pioneer of electronic music. According to her memoir, Summer recorded a few singles with Moroder and then brought him her idea for the song, "Love to Love You Baby."He "loved" it and immediately started laying down tracks.
Moroder took the song to Neil Bogart of Casablanca Records, and Bogart wanted to make it into a record. To do that they had to add 14 minutes. Since Summer only brought a mere idea of a song, she had no other lyrics. That is why most of the song is filled with "oohs and ahhs."
In November 1975, Summer moved back to the United States to promote the record. The moment she got off the plane she was hit with celebrity — limos, press, and parties. It was expected she keep up appearances as the sex goddess character she created for the song, which she felt was not who she really was. Summer worried she'd get a reputation for selling sex and not for being a talented vocalist.
The Hollywood Reporter stated the song was so risqué it was banned by many stations. Audiences took off their clothes and threw them at Summer. Songfacts reported at a concert in Italy an actual riot broke out making Summer fear for her life. She eventually stopped performing the song live. 
Donna Summer attempted suicide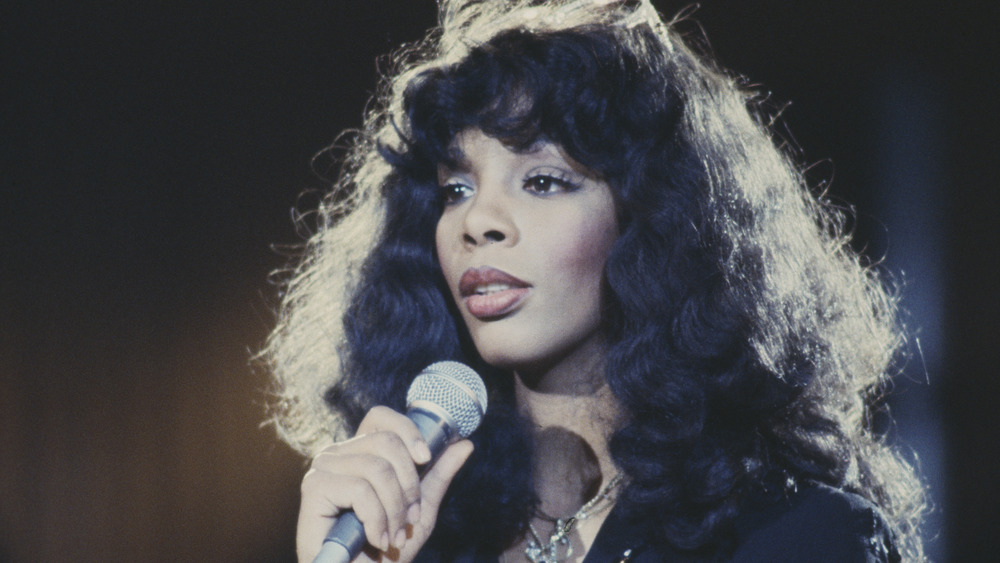 Michael Putland/Getty Images
In an interview with the The Washington Post, Donna Summer said her success came with intense physical and psychological pressure. She hated having to sell an image that was not her. According to her memoir, while on tour in Europe, her ex-husband Helmuth Sommer tried to take their daughter, Mimi. Given the circumstances, with Summer always working, he had a good case and could have won custody in Austria.
In 1976, while living at the Navarro Hotel in New York City, Summer thought about how the world was caving in on her. Between the men in her life at the time — Gunther and Sommer — and her career obligations, Summer felt she had no power of her own life. She walked to the hotel's window and put her leg on the sill. It got caught in the drapes just as a maid walked in. In an interview with Mary Hart, Summer said this disruption helped her to snap out of it.
Within 24 hours Summer saw a therapist, who helped her to understand that the culture shock of moving from one continent to another was enough stress for anyone. She was put on medication to help her focus, but it made it hard for her to sleep. She decided what she really needed was to work on her relationship with God, and soon after Summer became a born-again Christian.

If you or anyone you know is having suicidal thoughts, please call the National Suicide Prevention Lifeline at 1-800-273-TALK (8255).
Donna Summer destroyed her relationship with the gay community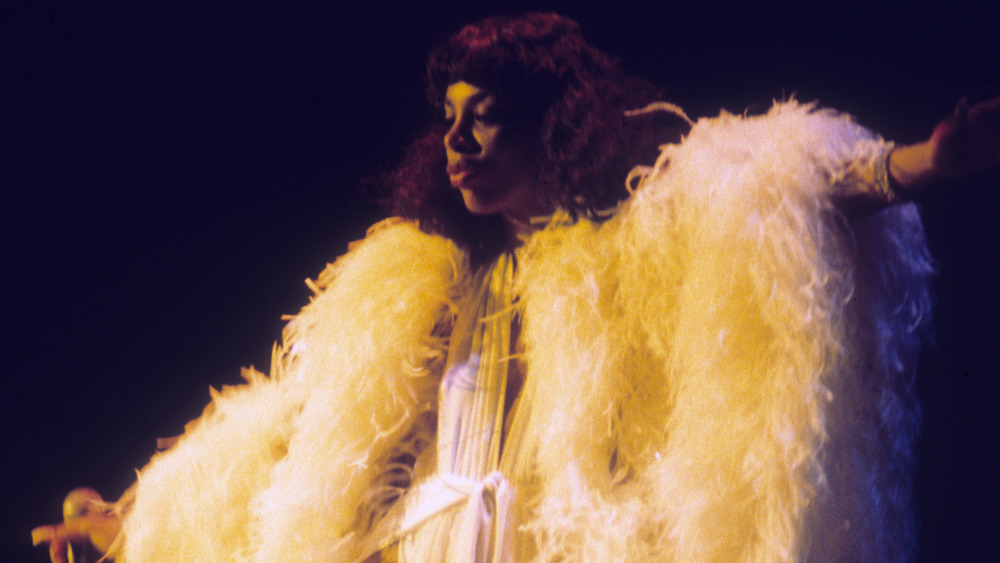 Michael Ochs Archives/Getty Images
The gay club scene was coming of age just as Donna Summer's star was rising. Her openly erotic and "easy to dance to" music became iconic in the community. When her career declined in the early 80s, just as disco started to die, her gay fans remained her most loyal. 
Jim Feldman, writer for the Village Voice, wrote a review of Summer's comeback concert in Atlantic City in 1983. He alleged she said, "It's Adam and Eve not Adam and Steve," and "I've seen the evil homosexuality come out of you people… AIDS is the result of your sins. Now don't get me wrong; God loves you. But not the way you are now" (via The Advocate).
She denied the comments and tearfully lamented her loss of friends to the AIDS epidemic. She said many people she worked with in the music business were gay, and she would never make those kinds of remarks. 
The Huffington Post states that her 1989 performance at a Boston Pride parade was protested by the AIDS activist organization ACT UP. She sent them a letter asking them to forgive her. She claims it took her so long to respond to the accusation because she gave birth to her other two daughters, Brooklyn in 1981 and Amanda in 1982, and was busy with life. Her connection to the community has been tainted ever since, with some choosing to forgive and others not.
Donna Summer was traumatized by 9-11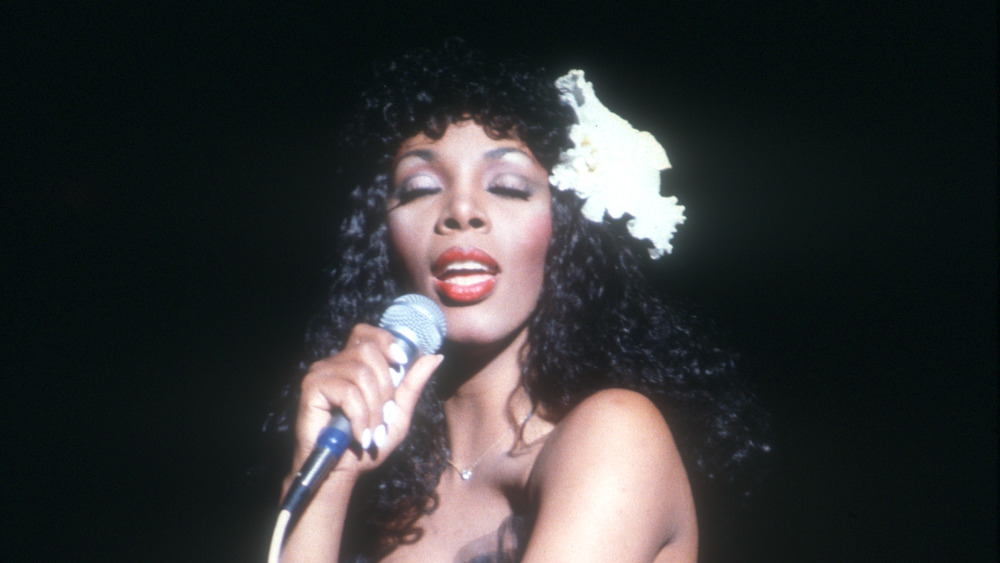 Michael Ochs Archives/Getty Images
During the 1990s, Donna Summer focused on her family. She still toured the country but wasn't working at the break-neck pace she was in the 70s and 80s. She closed out the decade with "I Will Go With You," a dance version of Andrea Bocelli's "Con Te Partirò" which, according to Billboard, reached No. 3 on the dance charts.
In the fall of 2001, Summer lived a few blocks from the twin towers in New York City. The Tampa Bay Times reports that after 9-11, she became depressed and paranoid. She stated she never left home and kept her blinds closed. Dance Fever host, Deney Terrio, told Popcrush that Summer was always spraying disinfectant in the air and hung silk sheets in her dressing room to block "dust."
Summer believed she inhaled smoke and ash from the plane crashes. She claimed to be a victim of 9-11, thought the attacks were against Christianity, and being a Christian, she felt it was personal. Summer was later diagnosed with lung cancer, which she attributed to 9-11.
Donna Summer died of lung cancer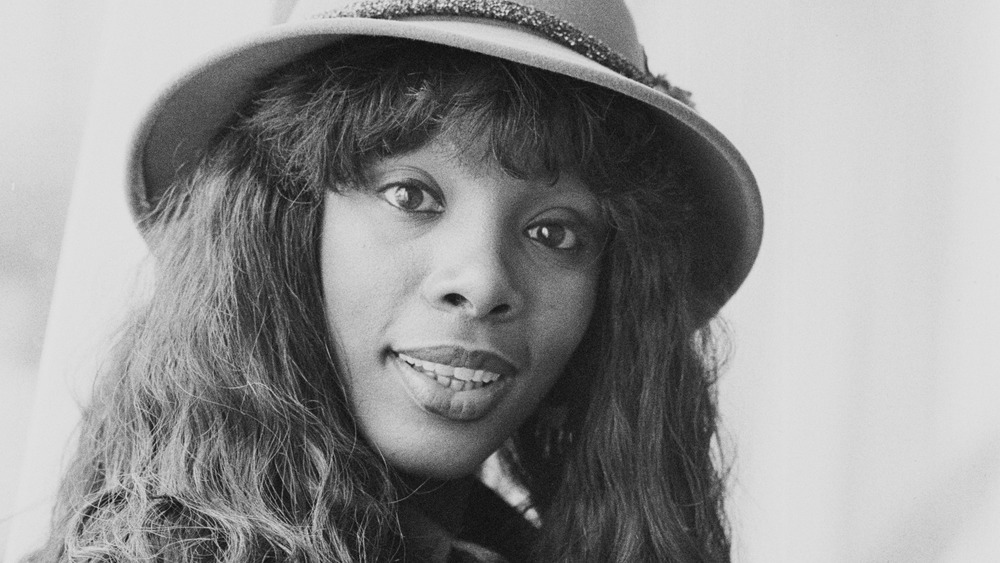 Evening Standard/Getty Images
On May 17, 2012, Donna Summer died at home in Naples, Fla., at age 63 from lung cancer. According to Rolling Stone, no one knew she had cancer except her immediate family and few close friends. Some said she wanted to keep it hidden, so she lived as a recluse the year before. Chemotherapy made her lose a lot of weight, and if anybody saw her it would be obvious she was sick.
In the LA Times, Rachel Schwartz from the Lung Cancer Foundation of America said it was typical for people with lung cancer to shy away from telling others because of the stigma of smoking. People reported that her family wanted to make it clear her cancer was not due to smoking. While alive, Summer told people it was caused by the asbestos in the air from the fall of the twin towers on 9-11.
Instead of taking Summer and her family at their word, many have openly debated whether or not she got cancer from asbestos or smoking. According to Amo Mamma, it was even in an episode of "Autopsy: The Last Hours of…," a show where the cause of death is explored. The host, Dr. Michael Hunter, stated while it is likely she was exposed to debris following the terrorist attack, it was not likely she would have gotten cancer from it. Many believe it was from smoking when she was younger and singing in smoke filled clubs. Also, lung cancer ran in her family, killing both her mother and younger sister.
Summer left behind three daughters and her husband of thirty-two years, Bruce Sudano.
Donna Summer did not live to see herself inducted into the Rock and Roll Hall of Fame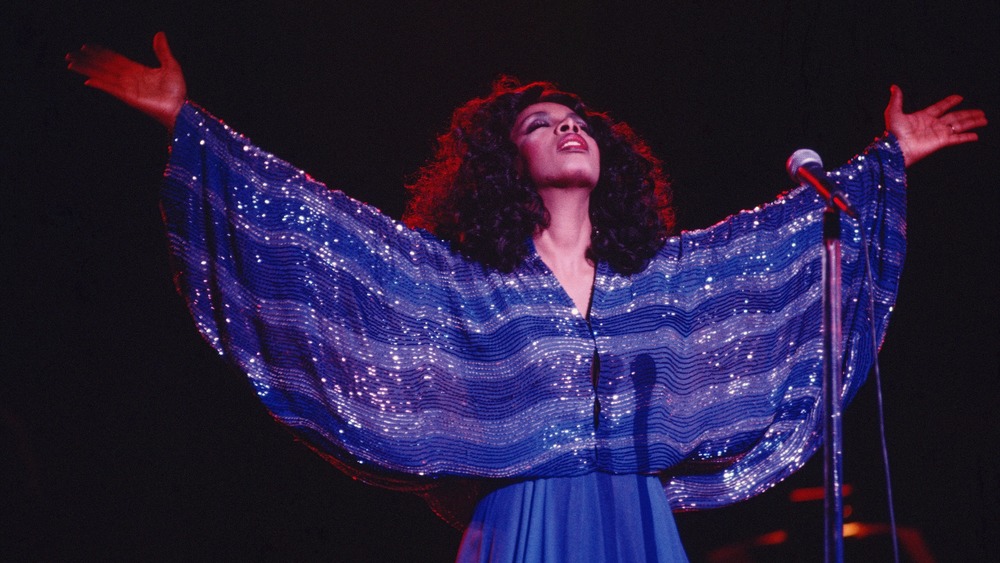 Michael Ochs Archives/Getty Images
Donna Summer was nominated for the Rock and Roll Hall of Fame the year of her death but was snubbed. Billboard reports the chairman of the nominating committee, Jon Landau, admitted this was wrong. He said, "Regrettably, despite being nominated on a number of occasions, our voting group has failed to recognize her — an error I can only hope is finally and permanently rectified next year."
Elton John called the snub "a total disgrace." While it could be argued Summer was only a disco singer, it would fail to recognize she created hits in every single decade until she died. She racked up 32 hits on the Billboard Top 100, 14 of them being in the top ten, and four of them number one. 
The Rock and Roll Hall of Fame states at the 2013 Rock and Roll Hall of Fame ceremony, Donna Summer was inducted by Kelly Rowland, singer of Destiny Child fame. She was recognized as the inspiration for Madonna, Beyonce, and the entire EDM movement. The Hall of Fame went on to say, she was "no producer's puppet," but a collaborator, writer, and innovative artist in her own right. Summer worried her talents wouldn't be fully recognized until after she died, that people would put her in a box as a sex-symbol and a mere relic of the disco era — and she was right.