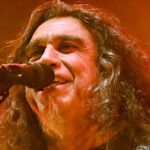 The Tragic Real-Life Story Of Slayer
echo get_the_meta(); ?>
On November 30, 2019, the Big Four of thrash metal effectively became a Big Three when Slayer — the fastest, angriest, and lyrically, the most "evil" of the four — played their final show ever at The Forum in Inglewood, California. It was undeniably the end of an era, one that started in 1981 when two teenaged guitarists named Kerry King and Jeff Hanneman had a chance meeting and discovered they had very similar musical tastes (via KNAC). Soon after, they added an even younger drummer, Dave Lombardo, and when vocalist-bassist Tom Araya similarly joined in short order, the band was complete.
You may think that a band that built its reputation on songs about war, death, serial killers, the devil, and other dark topics must have been molded by rough childhood experiences or deep-seated personal angst. Far from it, actually — the men who made up Slayer were, by most accounts, regular guys who just so happened to enjoy playing dark, heavy, and controversial music. Heck, they're even counted among the richest metal bands in the world, as their extensive discography continues to earn them big money even if they no longer exist as a group. But their 38-year career definitely included its share of trials and tribulations, and these are what make the story of Slayer tragic in more ways than one.
They were accused of influencing three teens to murder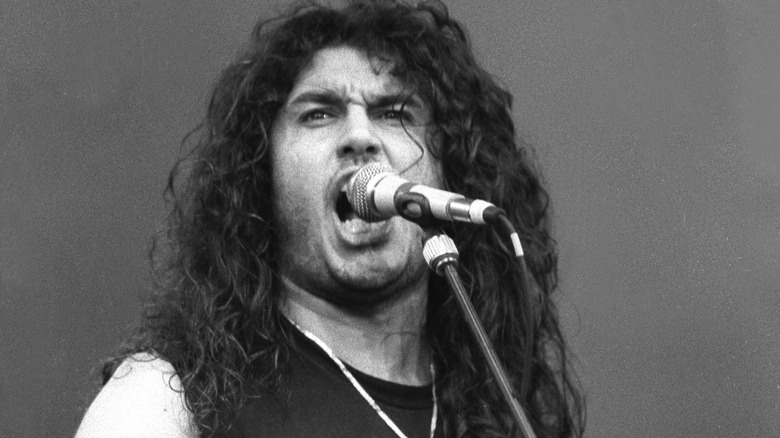 John Atashian/Getty Images
Sadly, it isn't uncommon for heavy metal bands to face unfair accusations of corrupting impressionable youngsters who listen to their music. That's what happened to Slayer in 1995 when the parents of 15-year-old Elyse Pahler filed a lawsuit against the band for making music that influenced three teenagers to murder their daughter. As noted by Rolling Stone, Jacob Delashmutt, Joseph Fiorella, and Royce Casey were members of a band called Hatred, and their plan was to "sacrifice a virgin to Satan" in order to give their group additional success and credibility. Pahler's body was found eight months after her death when Casey, who had apparently converted to Christianity (via The Lineup), confessed to a clergyman. The three boys were later sentenced to 25 years to life behind bars.
Ultimately, the Pahlers' case against Slayer was thrown out, and a second lawsuit against the band — this time accusing them of willfully distributing "harmful" music to minors — was similarly dismissed, with the judge saying that he "[does] not consider Slayer's music obscene, indecent or harmful" to young people, according to Metal Hammer. And in one particularly telling comment, Delashmutt suggested to The Washington Post a few years after the crime that Slayer's "destructive" music had nothing to do with the actual motive behind it. "That's not why Elyse was murdered," he continued. "She was murdered because Joe [Fiorella] was obsessed with her and obsessed with killing her."
Slayer's polarizing attempt to go nu-metal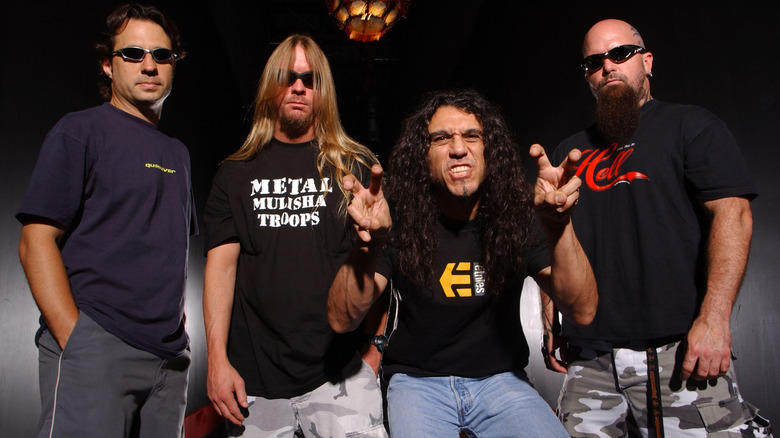 Larry Marano/Getty Images
In the late 1990s, metal was finally making a comeback as a genre after years of playing second fiddle to grunge, and later alternative rock. However, it wasn't bands from the old school who were leading this comeback. Dreadlocks, baggy shorts, down-tuned guitars, rapped verses, I-hate-my-parents lyrics, and a decided lack of guitar solos were all hallmarks of the nu-metal scene, and bands like Korn and Limp Bizkit were among the champions of this new trend. Bands like Slayer? Old hat.
At some point, Slayer realized that they might as well see what all the hype was about, and that was what led to the release of 1998's "Diabolus in Musica," which saw the thrash titans make their biggest departure yet from their signature sound. Sure, the dark and evil-sounding lyrics mostly remained, but the more modern sound left a lot of fans scratching their heads in bewilderment. Critics weren't too enthralled with it either; in its retrospective review of "Diabolus," Album of the Year wrote that the record, despite not being awful, was "very underwhelming, boring, and mediocre."
Perhaps Slayer guitarist Kerry King said it best when looking back on the legacy of "Diabolus in Musica." As quoted by Kerrang, he once quipped that the album is "kind of our 'Turbo'" — a reference to the record where Judas Priest surprisingly went hair metal.
Slayer returns to form, releases new album at the worst possible time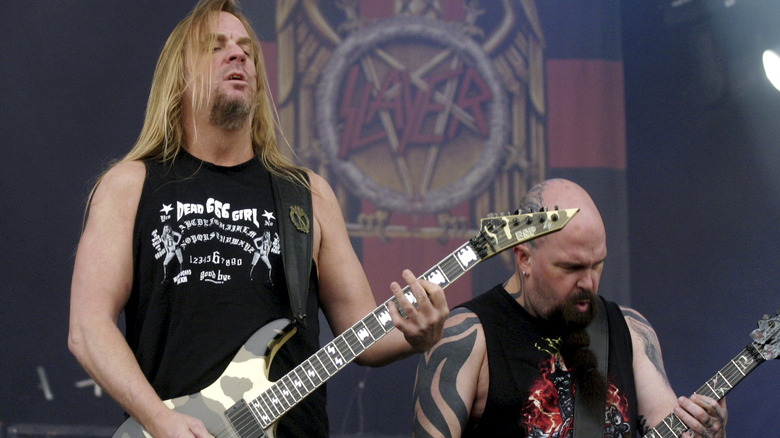 Photoshot/Getty Images
After the divisive nu-metal experiment that was "Diabolus in Musica," Slayer returned to their thrash roots with their next release, "God Hates Us All." As opined by Kerrang, the album was a return to form for the band — not their best record, but one that "cemented their contemporary relevance to a new generation of metalhead." It was just an extremely unlucky coincidence that "God Hates Us All" was released on September 11, 2001, mere hours before the terrorist attacks on the Twin Towers of the World Trade Center.
We can't stress it enough — no one in Slayer could have possibly anticipated that the release of their new album would coincide with one of modern history's most tragic events. But that didn't stop people from cooking up conspiracy theories, claiming that the group somehow predicted 9/11. One such person was "Howard Stern Show" associate producer KC Armstrong, who claimed in 2003 (per Blabbermouth) that the track "God Send Death" featured airplane sound effects and a woman's screams and noted that some of the songs on "God Hates Us All" were about "terrorists and stuff."
Given how "God Send Death" does not feature any of the sound effects described by Armstrong, among other holes in his theory, it's no shock that Stern dismissed his producer's remarks as a bunch of malarkey.
Jeff Hanneman's tragic death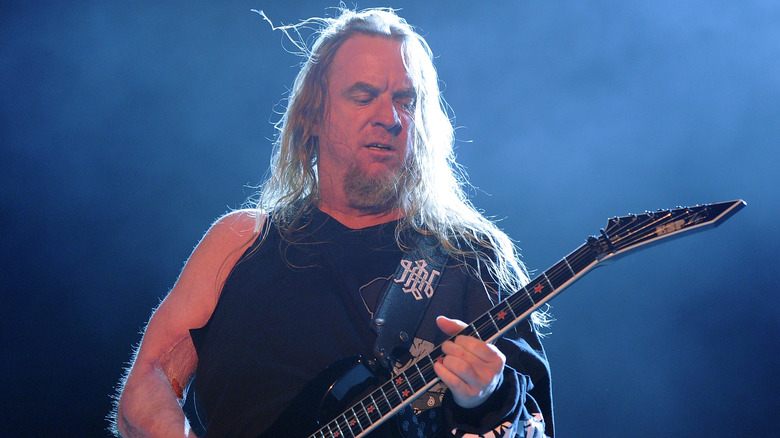 Kevin Winter/Getty Images
In the two years prior to his untimely death at the age of 49, Jeff Hanneman's involvement with Slayer was very limited due to health issues. According to Loudwire, the guitarist was sidelined with necrotizing fasciitis in early 2011 after he was bitten by an insect, and while his infected arm was nearly amputated, doctors instead chose to treat his illness with antibiotics.
Hanneman was able to return onstage on April 23, 2011, as he played two of Slayer's most famous songs — "Angel of Death" and "South of Heaven" — at a show in Indio, California. Soon after, he realized that he was no longer able to play the guitar for extended periods of time, and this seemed to further lead him down a path of binge drinking that started when his father died in 2008. "I did notice that Jeff was relying on alcohol to start off his day," his wife, Kathryn Hanneman, explained. "But I couldn't say much at that point, because I just knew we'd wind up in a verbal confrontation about it."
Although Hanneman outwardly looked to be on the road to recovery, he was back in intensive care in April 2013. He died on May 2 of that year, with his official cause of death listed as alcohol-related cirrhosis of the liver, and not his previous bout of necrotizing fasciitis as originally speculated (via ABC News). He was replaced by Exodus guitarist Gary Holt.
Dave Lombardo leaves Slayer on a bum note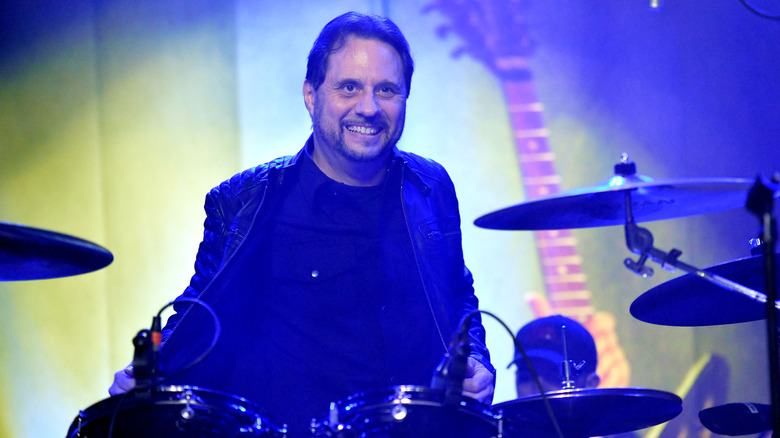 Scott Dudelson/Getty Images
There's no doubt that Dave Lombardo is one of the greatest metal drummers to ever pick up a pair of sticks and blast away on the skins. But he wasn't the man behind the drum kit when Slayer played its farewell tour, and when he was fired in February 2013 and replaced by Paul Bostaph, it was far from the first time he exited the band, per Blabbermouth. 
As quoted by Loudwire, Lombardo blamed his firing on unfair business practices that Kerry King was apparently okay with. "Last year, I discovered 90% of Slayer's tour income was being deducted as expenses, including the professional fees paid to management, costing the band millions of dollars and leaving 10% or less to split amongst the four of us," he alleged in a Facebook post. "Kerry made it clear he wasn't interested in making changes and said if I wanted to argue the point, he would find another drummer."
Explaining his side of the story, Tom Araya told Steppin' Out (also via Loudwire) that Lombardo had no right to complain because he wasn't a partner, despite the fact he'd been back with Slayer for over a decade at that point. While he was vague about why Slayer had "ongoing issues" with their longtime on-and-off drummer, the singer-bassist stressed that it was "wrong" and "upsetting" for Lombardo to make claims about legally binding matters, some of which supposedly weren't true.
Six years later, Lombardo didn't seem publicly salty, but he made it clear to Detroit radio station WRIF (via Metal Injection) that he wouldn't be able to attend Slayer's final show due to multiple onstage commitments.