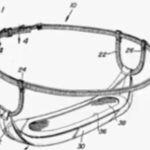 The True Story Of The Inventor Who Revolutionized Women's Periods
echo get_the_meta(); ?>
Although Mary Kenner came up with the idea for a belt for menstruation pads when she was still in high school, it took her several decades to patent her invention, because patenting your invention isn't cheap. But after patenting it, even though there were companies that were interested in the invention, once they found out that she was Black, their interest disappeared. Then, as soon as Kenner's patent expired, companies began manufacturing her product for themselves and Kenner got no recognition or money. And before long, sanitary belts were replaced by adhesive pads and Kenner's invention was forgotten.
Coming from a legacy of Black inventors meant being aware that it took more than just a great idea to get what you've earned. With her five patents, Kenner actually has the most patents ever "awarded [to] a Black woman by the U.S. government." Despite this, Kenner never made money from any of them. But her "inventions had an enduring impact on everyday life." Kenner was also an early advocate for accessibility, especially after her sister, who was also an inventor, was diagnosed with multiple sclerosis. 
Despite the trials she faced, Mary Kenner never regretted a life spent inventing, saying, "Although selling just one invention would bring joy to my heart, I invent because it's my talent." This is the true story of the inventor who revolutionized women's periods.
Mary Kenner's early life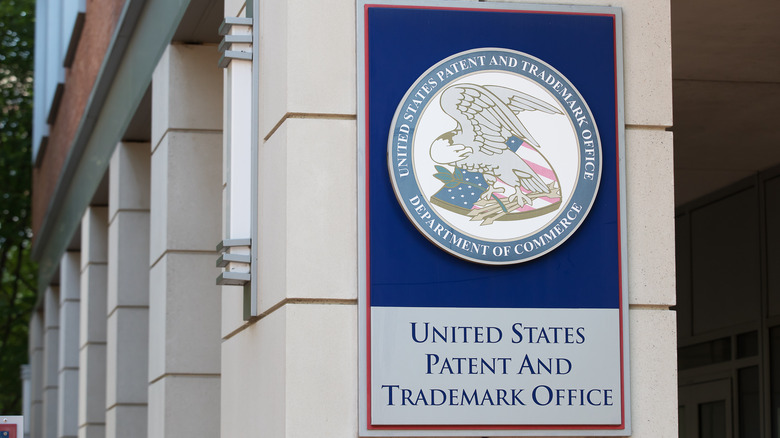 Shutterstock
Mary Beatrice Davidson Kenner was born in Monroe, North Carolina on May 17, 1912 to Nellie Phroneberger and Sidney Nathaniel Davidson. Her mother came from Native, German, and Irish ancestry, "while [her] father was considered a mulatto, whose parents were slaves owned by the Davidson family. His mother was white, his father a slave," according to an interview given by Kenner. She also had several siblings, including her sister Mildred Davidson Austin Smith. They were musical children, and at one point formed a jazz group together.
When Kenner was five years old, she suffered a serious burn injury. Although she survived, she was unable to get any skin grafts and was often teased by the other children. But Kenner stated that the comments of "she ain't never goin' to be nobody" only made her more determined to be somebody.
Lemelson-MIT writes that Kenner and her family moved to Washington, D.C. in 1924 and in 1931, she graduated from Dunbar High School. It helped to live in D.C., where Kenner could keep an eye on the new patents coming through. By this point, Kenner had already come up with an idea and according to Vice, "[she] would stalk the halls of the United States Patent and Trademark Office, trying to work out if someone had beaten her to it and led a patent for an invention first." By 12 years old, Kenner already knew that she had an idea that nobody else had.
An early inventor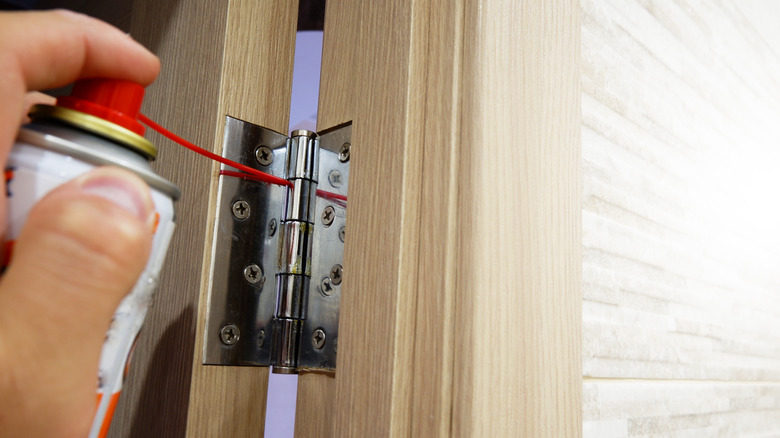 Shutterstock
Mary Kenner started inventing at a very young age. Black Past writes that one of Kenner's first inventions was at the age of six, "when she attempted to invent a self-oiling door hinge." Growing up, Kenner would always be woken up by their home's squeaky door whenever her mother left the house for work. So one day Kenner said, "'Mom, don't you think someone could invent a self-oiling door hinge?' … I [hurt] my hands trying to make something that, in my mind, would be good for the door. After that I dropped it, but never forgot it."
And that was just the start. Soon, Kenner was sketching up ideas for "a convertible roof that would go over the folding rumble seat of the car, a sponge tip at the end of an umbrella that would soak up rainwater, and a portable ashtray that would attach itself to a cigarette pack."
As an inventor, Kenner followed her family's legacy. Her father patented a "stretcher with wheels for ambulances" and a trouser press. Meanwhile, her maternal grandfather, Robert Phroneberger, was going to patent "a tricolor light signal for trains," but three white men patented it themselves after seeing his demonstration. According to the North Carolina Museum of History, Phroneberger was known for "tinker[ing] with objects to make them work better." Meanwhile, her mother wrote a book called "Eternal Triangle," but according to Kenner, her mother "could never get it publish[ed] because she was a woman."
Mary Kenner files her first patent
Although Mary Kenner originally enrolled at Howard University after finishing high school, she was forced to drop out "due to financial constraints." And because the patent process was also expensive, it would take another 30 years for Kenner to make enough to file her first patent. Kenner initially invented the adjustable sanitary belt in the 1920s and over the years, she repeatedly improved upon her invention. By 1954, she had the $200 necessary to apply for her first patent. Kenner applied for a patent for the "adjustable sanitary belt" on July 20, 1954 and on May 5, 1956, her application was granted.
The adjustable sanity belt was a belt with adjustable straps that could connect to disposable menstrual pads. And according to Science Museum Group, three years later, Kenner filed another patent for a "'sanitary belt with a moisture proof' pocket, making it even more unlikely for blood to leak on to clothing." This was a big breakthrough at the time because, as Diversity Inc. writes, at the time, adhesive menstrual pads didn't exist, and with the "moisture-proof napkin pocket built into the belt," leaks could be prevented much more easily.
Kenner aimed not only at making life more comfortable during menstruation, but towards challenging the "status quo." Since some people ended up confined to their homes during their period if they didn't want to deal with leaking, the adjustable sanitary belt offered to restore their mobility.
A brief history of catamenial products
Throughout history, there have been a variety of items used by people who menstruate that resemble the tampons and pads of today. In ancient Japan, mulberry paper was one of many types of cloth used, while in ancient Egypt, papyrus was used similarly to tampons, according to Blood & Milk. Before commercial disposable menstruation products were invented, cloth was often used and it was then washed and reused. The Smithsonian writes that even though a "disposable sanitary napkin" was made by Johnson & Johnson in 1896, "it was met with limited acceptance." It took until the First World War, when designs for menstrual pads were influenced by the recent innovations in surgical dressings, that commercial menstruation products started being used.
Some Indigenous societies in North America used Sphagnum moss and animal skin, and the Sfag-Na-Kins product, created in the 1910s, copied this technique. Kotex was also created around the same time, using a wood pulp product covered in a gauze sheath, and "the success of Kotex jumpstarted the feminine hygiene product market." However, the Kotex pads were disposable, but not self-adhesive, which meant that people needed to hold them in place with safety pins.
Although tampons were also used in medicine, they weren't patented for menstruation until the late 1920s. The first successful design was patented in 1931 by E.C. Hass. "This design, with its paper-tube applicator, became the Tampax tampon." However, their use was discouraged since it was "thought to be sexually improper."
The patent expires
Although Kenner saw some interest expressed in her patent, she always came up against the same obstacle. Black Past writes that upon hearing of this new invention in 1957, Sonn-Nap-Pack Company contacted Kenner in the hopes of marketing her invention. But upon learning that the invention had been created by a Black woman, they changed their minds. "You'd thought that they had seen a ghost. They had absolutely no idea that they had been negotiating with a Black person. They would've turned and ran if they could've. Every inch of their bodies signaled that that's what they wanted to do. Instead of running away, they came in. Then they tried to find every reason under the sun as to why I couldn't sign that contract."
Science Museum Group writes that Sonn-Nap-Pack Company wasn't the only business that ignored Kenner once they discovered that she was Black and that other companies did the same. And according to an interview with Kenner, the Sonn-Nap-Pack Company even tried to patent and manufacture Kenner's invention themselves, "but [her] patent was already recorded and they couldn't do it." Kenner had tried to manufacture and sell the device herself, but she couldn't afford to do so.
Kenner's patent for the adjustable sanitary belt expired on May 5, 1973, at which point her invention became public domain. Almost immediately, companies began to manufacture it. But Kenner "never made any money off it."
From government work to a flower shop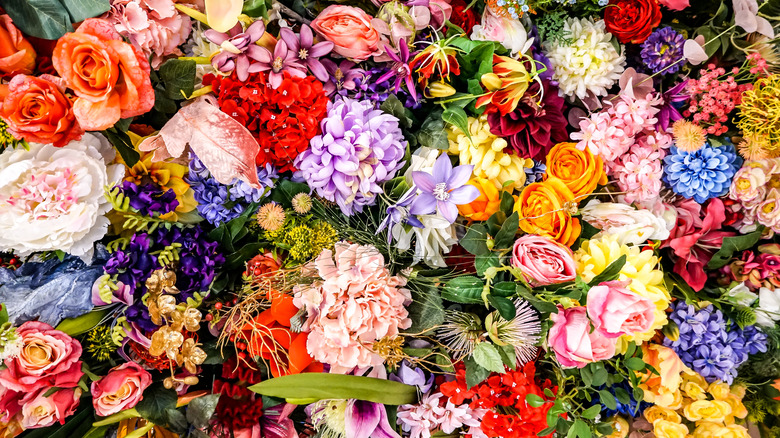 Shutterstock
Kenner first started working when she was just 14 years old at a woman's hospital in Washington, D.C. After dropping out of Howard University, she worked various jobs to get by. By the time the Second World War came around, according to Houston Style Magazine, Kenner got a job working for the Census Bureau. She remained in government work for almost 20 years, later working for the General Accounting Office as well. But after 18 years of working for the United States government, in an interview Kenner stated that "when the government promoted people with less seniority than me and with less experience just because they were white, I knew it was time for me to move on."
Kenner was also sometimes a chaperone for young women who went to dances at military bases. There, Kenner met a soldier whom she'd marry in 1945, but their marriage only lasted until 1950. The following year, Kenner married James "Jabbo" Kenner, an ex-heavyweight boxer. After being a housewife for a year, Kenner ended up opening a flower shop and for almost two decades, she ran up to "four flower shops scattered throughout Washington, D.C." But even while running the flower shops, Kenner kept inventing in her free time.
Kenner and her husband fostered and raised five boys, although "Jabbo died before we could finish raising the children." And according to Black Past, they also ended up adopting one of the foster children, Woodrow Kenner.
Mary Kenner's five patents
Throughout her life, Kenner ended up patenting three other inventions, with her second patent being "an improvement on [her] first." As Diversity Inc notes, many of Kenner's inventions were made with accessibility in mind. When Kenner's sister, Mildred, was diagnosed with multiple sclerosis, Kenner invented a number of different items to help her sister's day-to-day activities. 
One of Kenner's patents was a "serving tray and soft pocket" that was attachable to a walker or a wheelchair, so Mildred could carry things around herself, which Kenner patented in 1976. According to Style Magazine, Mildred herself stated that "after seeing [Mildred] trying to get around on her walker, I thought it would be more convenient if she had a tray to help her carry things." In the 1980s, she also patented a toilet paper holder that kept the loose end "in an easily accessible place […] a similar mechanism to the feed on packing tape," according to The Folding Chair History. Another patent granted on September 29, 1987 featured a back washer for the shower that "could be mounted to a shower wall."
And while the patent for the adjustable sanitary belt cost only $200, the patent for the shower back washer cost Kenner $2,200. But although Kenner has never made a profit from her inventions, she says that she never did it for the money. "Although selling just one invention would bring joy to my heart, I invent because it's my talent."
The inventive sisters
Kenner wasn't the only inventive sister. Her sister Mildred also ended up being an inventor, creating a board game. When Mildred became diagnosed with multiple sclerosis and was "largely confined to her home," according to the North Carolina Museum of History, she ended up coming up with a game to "teach family relationships."
According to Board Game Geek, the game was called "Family Treedition" and featured cards representing various people in one's family tree. "The object of the genealogy game is to earn points by placing on a board three cards from your hand that represent a correct relationship between blood relatives. For example, 'my father's first cousin is my second cousin.'" Mildred patented the game in 1980 and even copyrighted the written instructions of the game. And even though the game was intended for young people, "to help them understand their place in the extended family," adults fell in love with the game as well. After printing just 100 games in October 1981, she'd already sold out by Christmas and had made plans to produce 500 more.
Despite strong early sales, Mildred didn't invest a great deal in marketing and distribution, so sales eventually petered out. However, she was able to make back some of the money that she put into marketing the game.
What happened to Mary Kenner?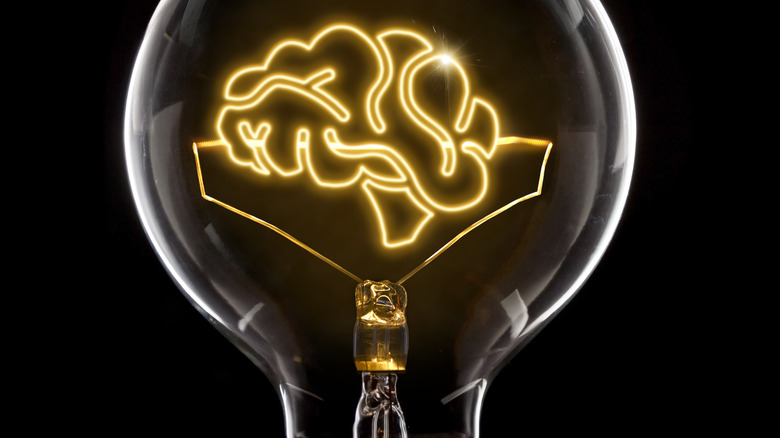 Shutterstock
At Mary Kenner's last count, she'd had ideas for at least 100 inventions, drawn up 30, and patented only five. And up till the end of her life, even when she was trying to fall asleep, she'd lie in bed coming up with ideas and drawing up plans. And according to "Biographies of Black female scientists and inventors" by Arlene Hambrick, the ideas didn't stop there. "The next morning I try to make a model. I used to go to the commerce department and complete my search, but now at 79 years old, I can't do that. I leave it up to the attorney. If I have a legitimate claim, he'll proceed." One of Kenner's last inventions was a portable garage, and she even had a company that was interested, but "until that time comes, I'll continue to invent."
According to Black Past, although Kenner's inventions "helped pave the way for subsequent innovations," she never received any formal recognition for her work. And with her five patents, as of 2020, Kenner still holds the record for "the greatest number of patents awarded [to] a Black woman by the U.S. government."
On January 13, 2006, Kenner passed away in Washington, D.C. at the age of 93.
What happened to the adjustable sanitary belt?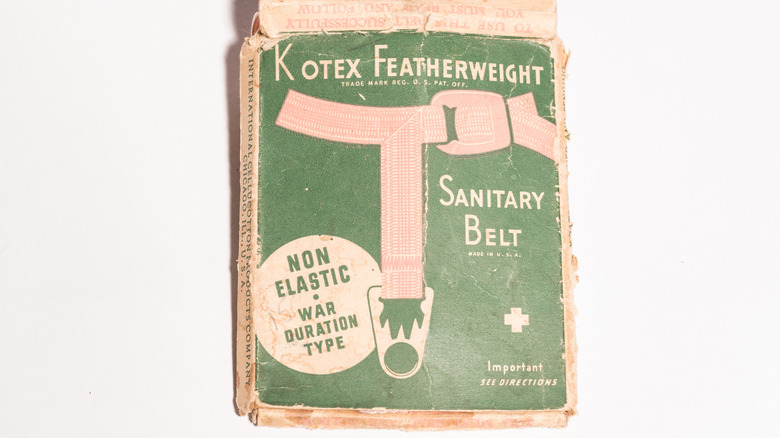 The Washington Post/Getty Images
When disposable menstruation pads started coming with an adhesive strip on the bottom, the belted menstruation pads soon fell out of favor. According to "Mothers and Daughters of Invention" by Autumn Stanley, adhesive pads were developed in the late 1960s, when companies like Kimberly-Clark came out with "beltless pads." As noted in Bustle, when compared with adhesive pads, the belt presented significantly more problems. Since the pad was attached to the belt rather than underwear, it would move around while one walked, going from chafing one moment to giving "a wedgie the next."
And due to the movement of the pad with the belt, leaks were significantly more common and were happily given up when adhesive pads came into the picture. The shift was so major, and sanitary belts were so quickly left behind and forgotten, that some books like "Are You There God? It's Me, Margaret" ended up rewriting out the use of sanitary belts because they so quickly "became obsolete."
Tampons also became more popular as the obsession with virginity started to slowly wane and by the 1980s, a majority of people who menstruated were using tampons. However, some of these innovations caused problems, such as the deodorant tampon released by Playtex or the "super-absorbent tampon" made by Rely, both of which were linked to Toxic Shock Syndrome, according to Blood & Milk.