The Truth About David Crosby And Joni Mitchell's Relationship
echo get_the_meta(); ?>
Two of music's most legendary talents, Joni Mitchell and David Crosby, hooked up in the late 1960s for a short and stormy relationship. Crosby met Mitchell in Florida, as he explained to the Tampa Bay Times. "I walked into a coffeehouse in Coconut Grove, and she was standing there singing those songs, and I just was gobsmacked," he said. It was love at first sight for Crosby, but he knew that it wouldn't be smooth sailing as "she's kind of a turbulent girl." ("It's a little like falling into a cement mixer," he added.)
At the time, Crosby was in between bands, having been forced out of the Byrds in 1967 (via Far Out magazine). He helped Mitchell with her debut album, 1968's "Song to a Seagull," serving as a producer on the project (via Discogs), though Mitchell would later call Crosby "incompetent" (via Rolling Stone). While the duo seemed like a match made in folk rock heaven, Crosby had problems with fidelity. And when Mitchell learned that, she got her musical revenge. According to Far Out magazine, Crosby was reconnected with an old flame while still with Mitchell. She penned "That Song About the Midway," which spoke of a cheating lover, with Crosby in mind. In fact, she played it for him at a dinner as a type of "her goodbye song to me," Crosby once explained to Closer Weekly.
Joni Mitchell and David Crosby's 'summer affair'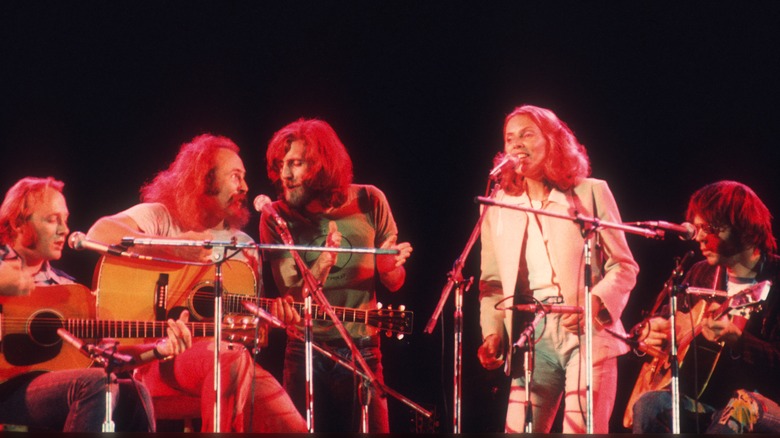 Armando Gallo/Getty Images
In the biography "Reckless Daughter: A Portrait of Joni Mitchell" by David Yaffe, Mitchell had a different recollection of her relationship with Crosby: "I was impressed. He was a star. He loved my music." But "it was a summer affair" that started in Florida and "did not translate to another city, or anywhere else." It wasn't long before Mitchell moved on to a relationship with Graham Nash, and it was in Mitchell's living room that David Crosby, Graham Nash, and Stephen Stills came together to form their own musical group.
No matter what actually happened between Crosby and Mitchell, Crosby has remained one of Mitchell's biggest fans. He considers her "the best singer-songwriter that we've had in the past 100 years" (via the Tampa Bay Times). And while the pair have definitely had their ups and downs over the years, they share a unique musical connection. Crosby has stayed in touch with Mitchell after her traumatic health crisis in 2015 when she experienced a brain aneurysm. He told Closer Weekly in 2019 that he met up with Mitchell at her house. "I love her. I don't think she's happy with me, but I don't think she's really happy with anyone."