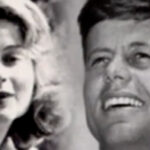 The Truth About JFK's Swedish Mistress
echo get_the_meta(); ?>
President John F. Kennedy is known for a lot of things, such as being the first Catholic President of the United States, successfully navigating the Cuban Missile Crisis, and leading the world's exploration into space. However, he was also known for his womanizing ways, with Hollywood actress Marilyn Monroe serving as one of his most famous rumored paramours.
However, the current auction of a set of letters from the late president is shedding light on another romance, this time with a chic Swedish socialite named Gunilla von Post, per CNN. The eight-page collection is up for sale by Boston-based auction house RR Auction until May 12, 2021, and the executive vice president of the company, Bobby Livingston, has said he expects the letters to fetch around $30,000 (via People).
Livingston believes that part of the interest comes from the emotional openness from Kennedy expressed throughout the correspondence. "You can read all the biographies you want to learn about someone's character, but here you can read someone's thoughts in full," he explained to People. Meanwhile, the new letters are also drawing attention to the chic aristocrat who was the object of JFK's affections.
The Swedish stunner had a very chic upbringing
According to The Palm Beach Post, Karin Adele Gunilla von Post, who went by Gunilla, was born in Stockholm, Sweden, on July 10, 1932, to a wealthy aristocratic family. She attended the exclusive Ecole Lémania in Switzerland, where she found a passion for the hospitality industry. Gunilla went on to study at both hotel and culinary schools. She loved to travel, especially throughout the United States and Europe, and learned to speak English, French, and German (as well as her native Swedish, of course) through her various itineraries. "I feel as if home is mid-Atlantic; I love me [the] United States and Europe," she once said.
Gunilla even confessed in her memoir, "Love, Jack" that she had actually first met JFK on the French Riviera because she had been hoping to improve her French. At the time, Kennedy was a fresh-faced 36-year-old senator from Massachusetts who was engaged. But even though the chance encounter occurred just weeks before his wedding, it did not stop the couple from beginning an affair (per The Daily Mail).
The romance left a lasting impression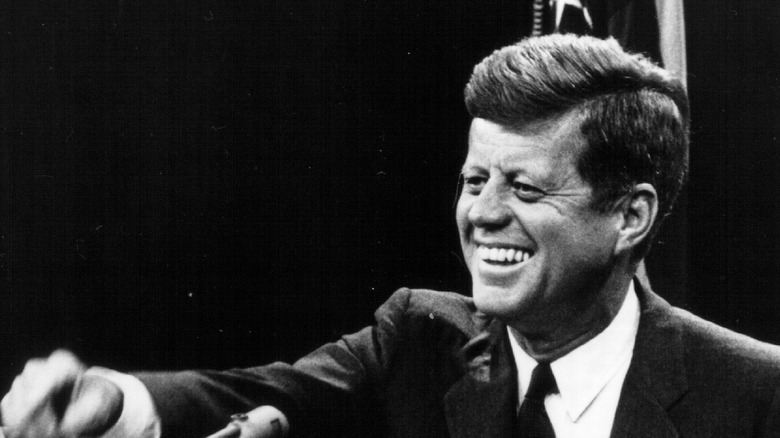 National Archives/Getty Images
Gunilla said that she and the future American president spent an evening together where they ate dinner, danced, and took a romantic moonlit walk along the Mediterranean (per The Sydney Morning Herald). Though it was relatively chaste, he did end up kissing the Swedish 21-year-old.
"He turned and kissed me tenderly and my breath was taken away," Gunilla wrote about her date. "The brightness of the moon and stars made his eyes appear bluer than the ocean beneath us," she added (via The Daily Mail).
Gunilla added that though Kennedy had been upfront about the fact that he was engaged, he expressed intense feelings about their romance. "If I had met you one week before, I would have canceled the whole [wedding]," he allegedly told her, per The South Florida Sun Sentinel.
But despite the passionate declaration, Kennedy ended up marrying Jackie Bouvier three weeks later. Nevertheless, Gunilla and Kennedy's connection was strong enough to spark lasting communication between the two in the form of letters and trans-Atlantic phone calls. In 1955, Kennedy decided to visit Sweden to see Gunilla once more. It was that August when Gunilla claimed the two consummated the relationship.
JFK even allegedly considered divorcing Jackie over Gunilla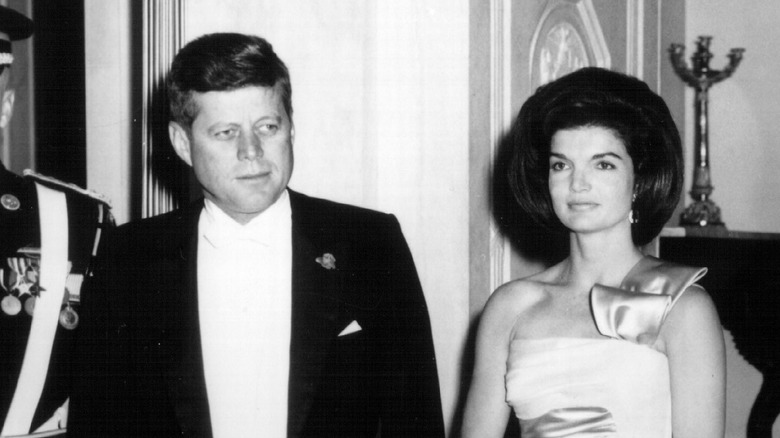 National Archives/Getty Images
Gunilla was surprisingly open about her fling with the famous American politician and even called their intimacy a "revelation," per The Sydney Morning Herald.
"I was relatively inexperienced and Jack's tenderness was a revelation," she wrote in her memoir. "He said, 'Gunilla, we've waited two years for this. It seems almost too good to be true and I want to make you happy.'"
Hoping to continue their physical relationship, Kennedy asked Gunilla to move to New York and find work as a model. However, the Swedish socialite refused to do so without an offer of marriage (via The Daily Mail). In a shocking confession, Gunilla also claimed that Kennedy was serious enough about their potential future together that he spoke to his father about divorcing Jackie. However, his father, patriarch Joseph Kennedy Sr., warned that ending his marriage would destroy any chances of ever winning the presidency.
The affair cooled after Gunilla realized there was no future
After realizing the futility of their romance, Gunilla turned her sights onto a more appropriate relationship and decided to marry wealthy Swedish landowner and industrialist Anders Ekman. Upon learning about the engagement, Kennedy expressed his regret in a series of letters, and even snarkily referred to Ekman as a "farmer."
"I must say I was sad to learn that, after all, you are not coming to the U.S. and you are marrying a farmer," he wrote in one of the letters, per CNN. Kennedy also expressed his hope that there could still be another reunion between the pair.
"I was planning to come back again next summer to see you … and now what will happen. In any case, let me know what you are going to do," he added. However, the rendezvous did not occur. Instead, Gunilla had two daughters with Ekman before his accidental death four years later.
Gunilla eventually made her way to the United States
Ironically, Gunilla did eventually end up leaving her native Sweden for the United States. She moved to Palm Beach after marrying IBM executive Wisner Miller and had two children with him, though one son tragically died at seven months.
Gunilla later split her time between the United States and Europe and finally decided to publish the details of her affair with Kennedy after Jackie Kennedy Onassis's death in 1994 (via Publisher's Weekly). In addition to writing her memoir, Gunilla also dedicated her time to a number of charities, including Save A Pet, the Peggy Adams Animal Rescue League, the Christian Children's Fund, and The Humane Society.
Gunilla herself died in 2011. In her obituary, she was described as having a "sensitive, kind, and caring nature" as well as a "zest for life." "She was truly an authentic and inspirational woman," the obituary declared, per The Palm Beach Post.