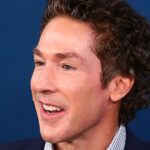 The Truth About Joel Osteen And Kanye West's Friendship
echo get_the_meta(); ?>
An alliance between Joel Osteen, one of America's most well-known televangelists, and rapper-mogul Kanye West, as much a household name for his eccentric public persona as for his critically acclaimed music, makes total sense once you see how much the two men have in common.
Both have built massive audiences. Both are very wealthy. Both are savvy businessmen, and both West and Osteen feel compelled to share their love and appreciation for everything they believe God has gifted them. Jack White wrote the lyric "Any man with a microphone can tell you what he loves the most," and, in that regard, both Kanye West and Joel Osteen shine.
While Osteen has been giving sermons since 1999, following in his late father's footsteps to become the leader of Houston's Lakewood Church and greatly expanding it (according to Joel Osteen's website), West's public devotion to God took off in 2019, per Billboard, and that was the year he reached out to Osteen.
A mutually beneficial relationship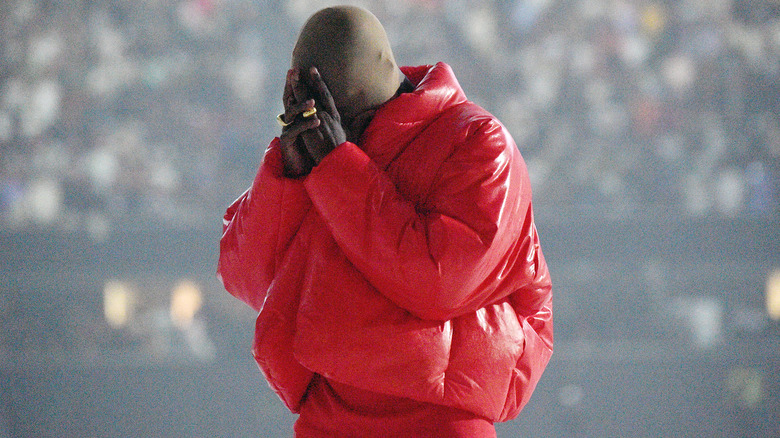 Kevin Mazur/Getty Images
People Magazine reported in October 2019 that due to West's newly embraced religion, he wanted to spend more time with Christian leaders. An unnamed source that People cited as "close to the rapper" told the magazine that West and Osteen had been messaging each other and had become friendly while having "deep conversations."
Osteen invited West to come to Lakewood Church that November, a mega-church where as many as 50,000 people a week go to hear Osteen's sermons, not to mention the 10 million more who tune into live streams, per People. In November of that year, West joined Osteen on the stage that serves as his pulpit. In a video posted to Instagram, West stood next to Osteen in front of a sea of people, under stage lights and jumbotrons, very much like at a rock concert, and spoke of God's love.
West stood up for Osteen against those who would criticize him saying that Osteen "keeps on showing you how good God is," to a roar of applause. When West was done speaking Osteen said, "That's so good. I love that. When you got Kanye defending you, you've made it, man."
West was also there to promote his new gospel album, "Jesus is King" and bring his "Sunday Service" to Lakewood Church. Osteen told Good Morning America that he "watched Kanye's journey as he began to turn toward the Lord," and said West he appreciates how West reaches people "we will never reach in the church world."
The time Kanye West and Joel Osteen 'walked on water'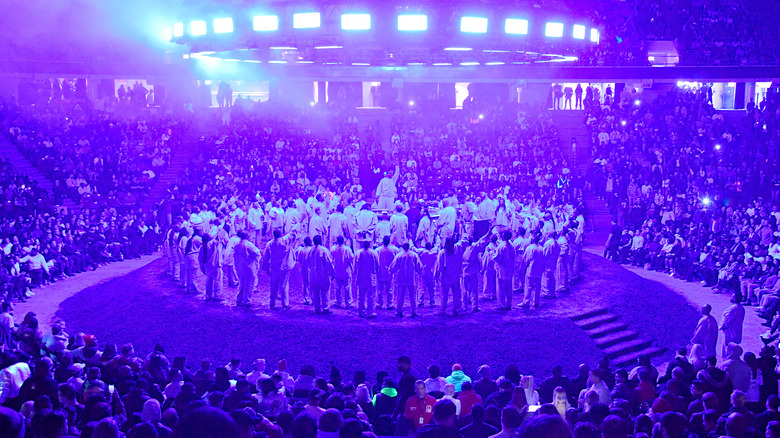 Kevin Mazur/Getty Images
By the time Kanye West and Joel Osteen hooked up to share their ministries with their audiences, West had already started what he called "Sunday Services" in January of 2019. The Fader called it "religion hand-crafted for the social media age." The locations would change, services were invite-only and people had to sign non-disclosure agreements. There was a dress code with choir outfits designed by West himself. Per The Fader, the gatherings were largely music-based, with occasional sermons.
West told David Letterman on Netflix's "My Next Guest Needs No Introduction with David Letterman," about the motivation for the gatherings. He said, "It's just an idea we had to open up our hearts to make music that we felt was as pure and as positive as possible and just do it for an hour every Sunday, and have something where people can just come together and feel good with their families," per Twitter.
In September 2020, Osteen even joined West for a pared-down yet theatrical version of the "Sunday Service." At the gathering of 150 invited guests held in Fayetteville, GA, Osteen and West, along with the choir, looked as if they were walking on water during the services, as a nod to Matthew 14:22-33, according to the website, Church Leaders. 
The goal was to remind people that sometimes the impossible is possible with God's help. According to Church Leaders, the illusion of walking on water was done with the aid of a clear platform. 
West and Osteen's relationship has raised some eyebrows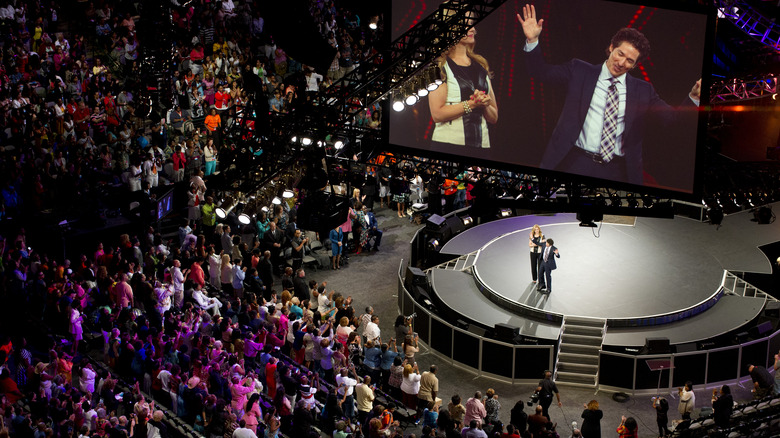 Cooper Neill/Getty Images
The collaboration between West and Osteen has drawn some criticism. First, the walking on water imagery offended some Christians who posted their disdain on Twitter, per Okay Player. In another article by Highsnobiety, the relationship between Osteen and West is met with side-eye, as writer Thomas Hobbs accuses the two men of "turning the communion table into a merch stand."
The underlying suspicion is that Osteen and West are using one another to grow their audiences and their bank accounts. Per Hobbs, Osteen teaches that "God grants health and wealth to his followers," and West also embraces the idea that prosperity comes to the devout. But Deadline reported that when West took his show to the Lakewood Church, they gave free tickets to 45,000 people. 
For Osteen's part, he told Good Morning America in December 2019 of West that he just liked the dude. "I'm a believer in people," he said. "I found him to be very genuine and just a fantastic person."
As per West, he once told Osteen during an interview that it took him so long to find his way back to God because "the devil has been distracting me for a long time," but "Now the greatest artist God ever created is now working for him," per Deadline.