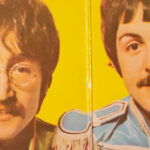 The Truth About Paul McCartney's Relationship With John Lennon
echo get_the_meta(); ?>
When John Lennon told the journalist Maureen Cleave that The Beatles were "more popular than Jesus" in March 1966, little did he foresee the furor that was about to engulf him. As reported in Rolling Stone, the comment barely made a splash in the U.K., but in the U.S., where the article was soon circulated, a series of critical responses in leading religious and conservative publications saw the Fab Four vilified. The band received death threats, and Lennon was forced to apologize.
But though Lennon's off-the-cuff quote represented one of the first of many missteps that the four Beatles would make in the second half of their career together, it must be said that its sentiment isn't, on reflection, unjustified. The Beatles were already the biggest band in the world, and, with the benefit of hindsight, we can see that no other group has managed to rival them in the half-century since.
But while all four members have remained iconic musicians, it is the relationship between John Lennon and Paul McCartney, the band's principal songwriters, that most powerfully continues to capture audiences' imaginations. Here is the true story of their rollercoaster friendship, from its humble beginnings to its tragic end.
Paul McCartney and John Lennon met at a church fete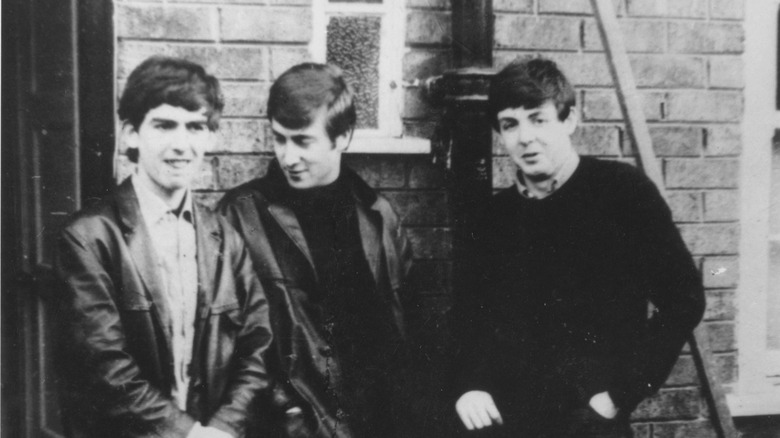 Keystone/Getty Images
The cultural landscape in which the two key Beatles songwriters met was very different from that in which they rose to prominence in the early 1960s. The year was 1957, and John Lennon was the lead singer and guitarist in a ragtag teen band called The Quarrymen, named after Quarry Bank High School in Liverpool where the 16-year-old Lennon and his bandmates were all classmates, per udiscovermusic. And while the early music of The Beatles would be predominantly rock and roll, The Quarrymen's stock-in-trade was skiffle: a pre-rock folk and blues genre.
According to History, on July 6 of that year, The Quarrymen had a gig at a church fete on the outskirts of Liverpool, performing on the same bill as a dog show and a traditional brass band. And in the bustling crowd as Lennon rattled through The Quarrymen's repertoire on a temporary stage set up on the back of a truck was Paul McCartney, then aged just 15. Per udiscovermusic, McCartney, having been introduced to the band, impressed the group of older teens with his musicianship, showing his ability through a string of rock and roll cover versions. It wasn't long before McCartney was invited to join the group, and petitioned for the recruitment of another talented young musician: George Harrison.
Lennon & McCartney shared a common grief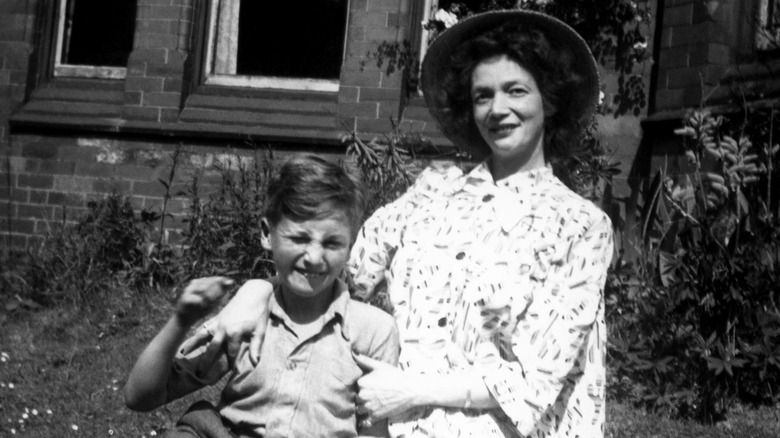 Icon And Image/Getty Images
On July 15, 1958 — just over a year after he met Paul McCartney for the first time — John Lennon lost his mother, Julia, in a traffic accident, according to Beatles Bible.
Though he didn't live with Julia — there are conflicting stories about why this is — John Lennon adored her: she had introduced him to rock and roll and enthusiastically taught him his first chords on the guitar which she bought for him. Her death crushed young Lennon, who began to act out more than the famously rebellious pupil ever had before. But in Paul McCartney he had found a kindred spirit — the younger Beatle's own mother had died of breast cancer when McCartney was 14, per Biography. "So we had a kind of bond that we both knew about that, we knew that feeling," said McCartney (via Rolling Stone).
While Lennon would later write songs such as "Julia" and "Mother" that directly addressed his sense of loss, McCartney would never consciously write about his mother in a Lennon-McCartney song but later admitted her death would have spurred him on as a songwriter. "I never thought that it affected my music until years later," claimed McCartney, per Biography. "I certainly didn't mean it to be. But it could be, you know those things can happen."
Lennon & McCartney's teenage agreement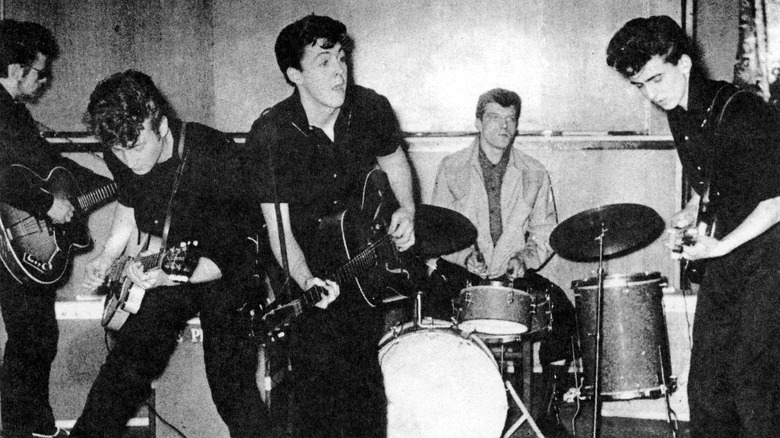 Michael Ochs Archives/Getty Images
Famously, any Beatles song written by either John Lennon or Paul McCartney was listed as a "Lennon-McCartney" composition, a tradition that was maintained throughout the band's existence. The decision was made very early on, back when the pair were taking their first steps to becoming songwriters. "We always had that thing that our names would go on songs even if we didn't write them. It was never a legal deal between Paul and me, just an agreement to put both our names on our songs," said Lennon in "All We Are Saying," one of the final interviews he gave in his lifetime.
One exception was their debut album, "Please Please Me." The initial pressing credited McCartney-Lennon for the original songs on the album, reports Rolling Stone, but Lennon "pulled some strings" to get that changed. "I wanted it to be McCartney-Lennon, but John had the stronger personality and I think he fixed things …," said McCartney in his biography, "Many Years From Now" (via Rolling Stone). "I remember going to a meeting and being told, 'We think you should credit the songs to Lennon-McCartney. … Lennon-McCartney sounds better, it has a better ring. …' I had to say, 'All right, sod it.'" 
Even in 1969, when The Beatles were starting to record and perform with other artists, the pull of the old co-credit was still strong. Lennon's anti-war anthem "Give Peace A Chance" was actually written in collaboration with Lennon's wife Yoko Ono, but was still credited to Lennon-McCartney on the record. Old habits die hard.
More recently, McCartney received some criticism for attempting to change the iconic credit, and to have songs he penned alone listed as "McCartney-Lennon" compositions on his later solo and live albums (per The Guardian), but McCartney eventually backed down: "I'm happy with the way it is and always has been. Lennon and McCartney is still the rock 'n' roll trademark I'm proud to be a part of – in the order it has always been."
The Beatles' wild early years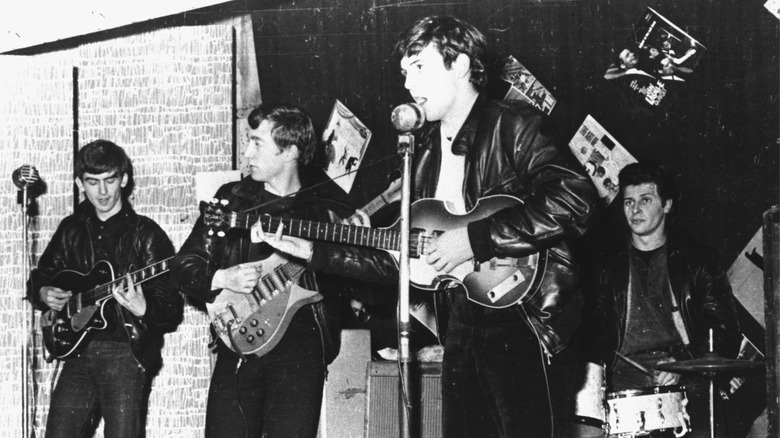 Hulton Archive/Getty Images
In the early days of their friendship, John Lennon and Paul McCartney were inseparable, writing compulsively, "eyeball to eyeball," as Lennon described it to Playboy in 1980 (via Beatles Interviews). But to suppose that Lennon and McCartney's bond was established purely through nerding out over chord progressions and strumming patterns would be way off; around the same time, The Beatles' manager, Brian Epstein, had the up-and-coming group booked for hectic gig schedules, including lengthy residencies in Hamburg's notorious red-light district.
As well as becoming a top-notch live act thanks to thousands of hours spent on stage performing together night after night, the Beatles also grew together through a shared indulgence in Hamburg's riotous nightlife, copious alcohol, and sex, which occurred at close quarters as the near-penniless Beatles shared hotel rooms and bunkbeds. "There weren't really orgies, to my knowledge. There were sexual encounters of the celestial kind, and there were groupies," McCartney told GQ, and addressed rumors that he and the other Beatles witnessed George Harrison losing his virginity. (Per the same source, Harrison once recalled: "they all applauded and cheered. At least they kept quiet whilst I was doing it.")
The incredible intimacy between the band members was key to their legendary chemistry. "In music, it made us a very tight band, but as friends it made us able to read each other. When we were super close," McCartney added.
A friendly rivalry spurred Lennon & McCartney on
Fox Photos/Getty Images
Businesspeople will tell you that competition can be productive, and in the music business, it's no different — at least if the relationship between Paul McCartney and John Lennon is anything to go by. As well as the "eyeball to eyeball" style of songwriting that created some of The Beatles' most famous early recordings, the Lennon-McCartney songwriting partnership often operated separately — even in the early days — with one writer bringing the majority of a song to the other for critique, edits, and additions. Even when they were apart, they were working under the other's influence. "John needed Paul's attention to detail and persistence. Paul needed John's anarchic, lateral thinking," said Lennon's first wife, Cynthia, according to The Atlantic.
Per Slate, producer George Martin described their relationship as: "two people pulling on a rope, smiling at each other and pulling all the time with all their might. The tension between the two of them made for the bond." According to the book "Conversations with McCartney" (per OverSixty), such rivalry was "necessary" for the two creatives; even a decade after the Beatles broke-up, Lennon was inspired to return to music after a five-year hiatus after hearing a song by McCartney that impressed him.
"I'm still very competitive," McCartney told GQ in 2018, whose productivity and collaborative impulses — he has worked with everyone from Kayne West to John Homme — remain undimmed.
Lennon & McCartney conquer the world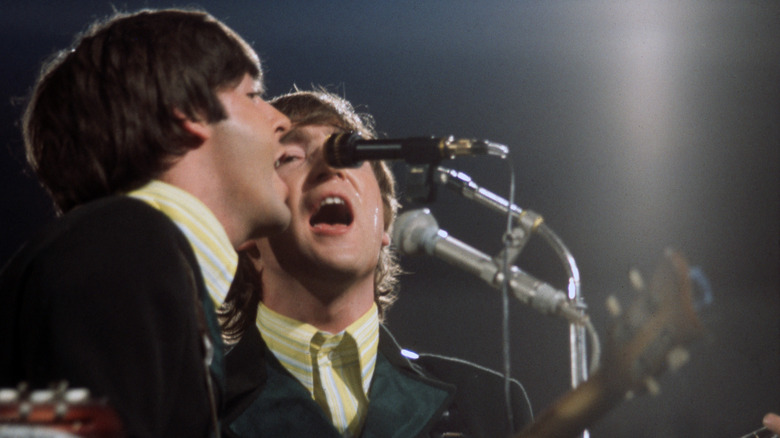 Icon And Image/Getty Images
The Lennon-McCartney partnership scored its first big hit in the U.K. in October 1962 with "Love Me Do," a single that Paul McCartney had originally begun writing in the late '50s before asking for Lennon's input, according to Rolling Stone. Three months later, they released "Please Please Me," their first chart-topper which heralded the start of Beatlemania. 
Today, the story of The Beatles is looked back on in its entirety as a 7-year-long recording miracle. But 50 years on, the immediacy of Lennon and McCartney's success as songwriters is perhaps easy to overlook. In 1966, music critic Michael Lydon published a profile of The Beatles in which he explored the incredible popularity of their songs, whether performed by the Fab Four or others (per TeachRock): "By February 1, 1966, the 88 Lennon-McCartney songs had been recorded in 2,921 versions … Versions by the Beatles have by now sold close to 200 million record tracks; total sales of all Lennon/McCartney-recorded compositions must be pushing half a billion. Only songwriters established for 30 years or more, giants like Cole Porter, Rodgers and Hart, Irving Berlin, and Jerome Kern, could hope to match the records set by the two boys in three years."
They were barely halfway through their collaboration.
Tensions increase within The Beatles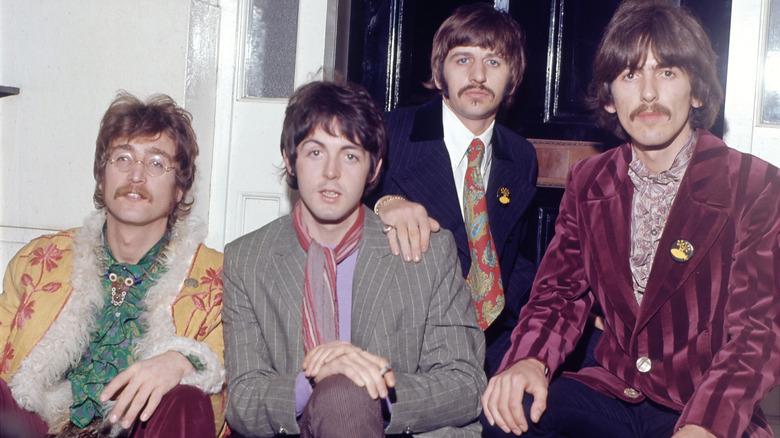 Icon And Image/Getty Images
The year 1967 was a transformative one for The Beatles, the decisive period in which the friendly rivalry that propelled the Lennon-McCartney songwriting partnership to the highest possible critical and commercial heights began to disintegrate. May that year saw the release of "Sgt. Pepper's Lonely Hearts Club Band," which critics including Rolling Stone's Kurt Loder have argued is, if not definitively the best Beatles release, certainly their most iconic and representative work, the perfect soundtrack to 1967's Summer of Love and a release that has become indelibly linked to the '60s counterculture.
But "Sgt. Pepper" also signaled the moment Lennon and McCartney's interests started to diverge, and the power struggle between the two, which would complicate final years of the band, began. As Rolling Stone notes, the concept album was primarily McCartney's idea, whose role in the group was expanding as Lennon found himself in crisis, withdrawing from the world amid the last turbulent months of his unhappy first marriage. "I was still in a real big depression in 'Pepper,' and I know Paul wasn't at that time. He was feeling full of confidence … I was going through murder," Lennon commented.
Though the "Sgt. Pepper" tune "A Day In The Life" represents one of the greatest successes of the Lennon-McCartney partnership, the song is emblematic of their increasingly separate songwriting, being a combination of two different compositions. As time went on, it became obvious that the "eyeball to eyeball" songwriting of the early sixties would never be revisited.
Lennon felt betrayed by McCartney calling time on The Beatles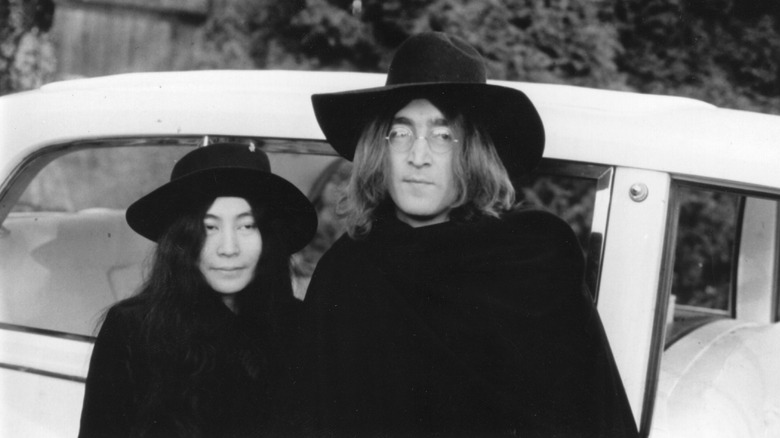 Keystone/Getty Images
As the 1960s wore on, The Beatles were wearing out. As noted by Rolling Stone, in 1968 both John Lennon and Paul McCartney were creating some of their greatest work during the making of the band's famously sprawling "White Album" (George Harrison was also beginning to come into his own as a songwriter at the time, increasing competition for space on the record). However, the creative directions that the songwriters were going in began to deviate significantly, as did their personal lives. Lennon, head over heels in love and beginning a whirlwind romance with his new partner Yoko Ono, became alienated amid a growing heroin addiction, according to Beatles Bible.
But when the band's break-up finally hit the papers in April 1970, it seemed to have all been Paul McCartney's doing. From nowhere, he announced that The Beatles were no longer making music together, and that he was going solo. His announcement made him look like a mercenary, and Lennon was quick to characterize McCartney's actions as a betrayal. However, McCartney wasn't the first to leave the band — in fact, he was the last. Lennon had announced he was leaving a year earlier (per the Independent) while George and Ringo had each walked out earlier than that. But in terms of PR, it was McCartney who took the hit for the end of The Beatles.
Lennon & McCartney's public row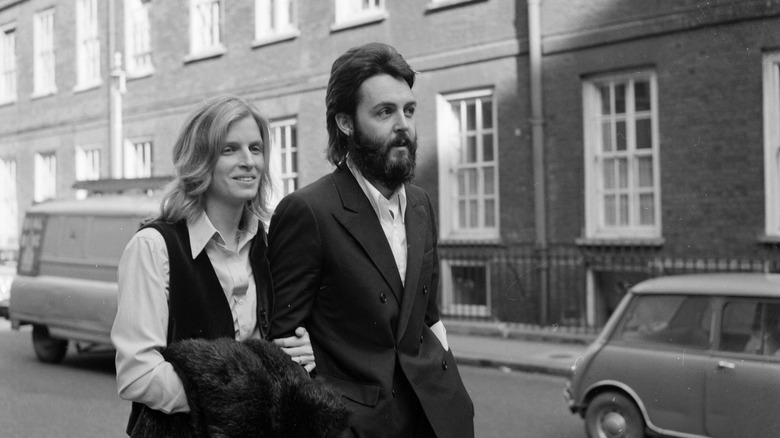 Leonard Burt/Getty Images
While Paul McCartney's announcement that The Beatles were no more certainly meant he attracted plenty of ire from fans and critics alike, it managed to enrage John Lennon in that it inherently suggested that McCartney was the band's de facto leader. "I started the band, I disbanded it. It's as simple as that," declared Lennon (per the Independent), who was keen to broadcast the fact he had kept his end of the bargain and kept quiet about the band's break-up for the sake of future releases.
But the war of words didn't just occur through the press — it was also waged on wax. In 1971, McCartney released "Ram," his second album with his wife, Linda, containing the song "Too Many People," which Lennon interpreted as a swipe against him and Yoko Ono. Lennon hit back with the brutal "How Do You Sleep?" which features the line: "Those freaks was right when they said you was dead," a reference to the longstanding urban myth that McCartney died in the early '60s and had been replaced by an imposter.
For many, the disunity that characterized the post-Beatles relationship was symbolic of the end of the '60s counterculture, something that Lennon himself noted in his 1970 Rolling Stone interview: "I don't believe in it. The dream is over. I'm not just talking about the Beatles, I'm talking about the generation thing. It's over."
The Beatles continue to work together … but never Lennon with McCartney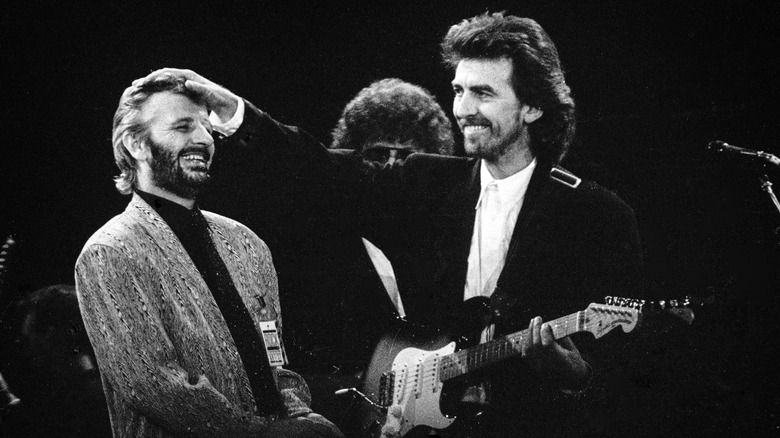 Dave Hogan/Getty Images
Though the Beatles "dream" was over, all members of the Fab Four continued to enjoy a great amount of productivity and continuing success. George Harrison, who was the first Beatle to release a solo album, "Wonderwall Music," way back in 1968, released his third in 1970, the critically-acclaimed "All Things Must Pass," a double album that cemented Harrison's emergence as a fully-fledged songwriter and which topped charts around the world. Similarly, despite being the member of The Beatles with the fewest writing credits to his name, Ringo Starr began his own solo career in earnest … albeit with a little help from his friends.
His third solo album, "Ringo," came out in 1973, and is notable for being the only album released in the '70s to feature songwriting, vocals, and instrumental contributions from all four former Beatles, according to udiscovermusic. The album demonstrates the collaborations were frequent in the early post-Beatles years, but it is telling that Lennon and McCartney's contributions are distinct from each other: never does their work overlap on the same song, a state of affairs that occurred throughout the '70s. While all the of the other Beatles would collaborate directly on each other's solo work multiple times during the decade, Lennon and McCartney — formerly pop music's greatest duo — never worked on an official release together again.
Lennon & McCartney's feud thaws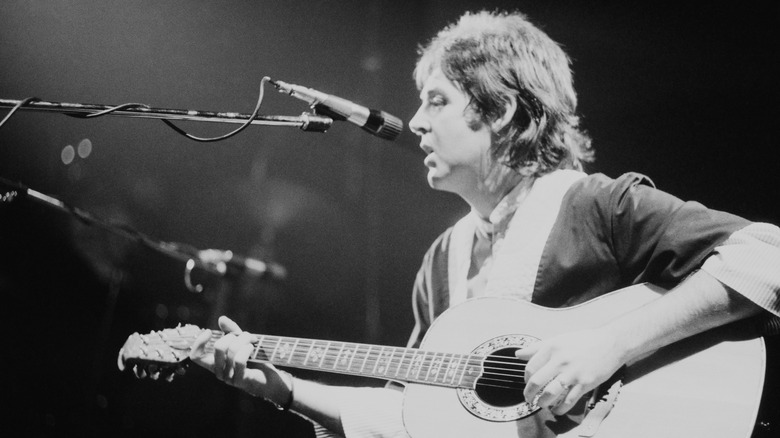 Evening Standard/Getty Images
The only record on which John Lennon and Paul McCartney can be heard playing together after the dissolution of The Beatles is a bootleg: the poorly received "A Toot and a Snore in '74," a recording of a drug-fueled jam session; Pitchfork recently called the record "atrocious."
But the fact that the two most bitterly at odds former Beatles were in the same room and finally making music together again — however fragmentary and chaotic the results — is testament to one thing: that by the mid-'70s the animosity between Lennon and McCartney that had fueled their feud for so long was finally beginning to dissipate. In interviews from around 1974 and 1975 (via YouTube), Lennon was relaxed enough about his relationship with McCartney to openly discuss the idea of a Beatles reunion, even admitting that he would "go along with it" if someone else organized it.
Although Lennon and McCartney never did work together again, it wasn't a conscious decision — rather, the chance just never arose. Lennon effectively retired from music for five years in 1975 to care for his newborn son, Sean, while McCartney claimed it was "pot and politics" that meant he was unable to reconnect fully with his erstwhile songwriting partner in his final years, per Ultimate Classic Rock, as he was banned from entering America due to drug offenses, while Lennon and his young family were splitting their time between Los Angeles and New York.
McCartney's response to Lennon's tragic death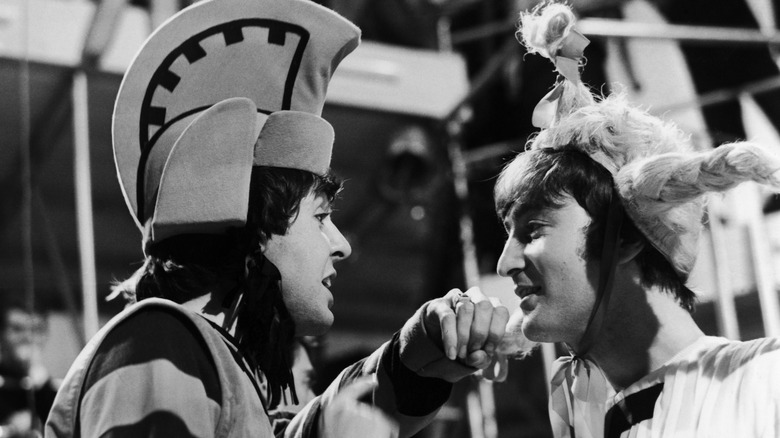 Keystone/Getty Images
John Lennon was murdered in the street in New York on December 8, 1980. He was 40 years old, and had recently returned to the public eye with the release of his first album in five years. In a now infamous clip, McCartney, who had spent the day following Lennon's murder in a London studio, tells the assorted press outside that Lennon's death was "a drag," a comment for which he received plenty of criticism (per CNN). But McCartney was in shock, as he later explained per the same source: "I was at home, and I got a phone call. It was early in the morning. … It was just so horrific. You couldn't take it in, and I couldn't take it in."
In 2020, McCartney described how, even today, he still recalls the dynamic of his time with Lennon, when, "eyeball to eyeball," they created some of popular music's best-loved tunes, and noted how thankful he was that the two rivals had patched up their relationship before Lennon's tragic death (per The Times):
"We had certainly got our friendship back, which was a great blessing for me, and I now will often think, if I'm writing a song, 'OK, John — I'll toss it over to you. What line comes next?'"