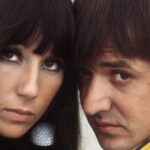 The Truth About Sonny And Cher's Divorce
echo get_the_meta(); ?>
One of the most famous couples of the 1960s was Sonny Bono and Cher. The two captured the interest of American fanfare when they recorded their debut No. 1 song, "I Got You Babe," in 1965 (per Billboard). The singing duo would have other hit songs on the charts, but that pop song would be the one and only single that earned them the top slot. Subsequently, they'd score another hit song with "Baby Don't Go" the same year, solidifying their stardom.
Not only were they a professional twosome that performed music together (simply known as just Sonny and Cher), they were a couple first and foremost — a couple that sang music and made money together. Before making their hit song, they got married a year earlier. The couple met at a party in 1962 when Cher was 16 years old, and Sonny was 27. The teenager had just dropped out of high school to chase her Hollywood dreams (via IMDb), and the promising artist was working with famed music producer Phil Spector. At the party, Cher revealed in 2018 that he wasn't initially drawn to her and was more so into a friend with her (via People Magazine).
"I was with my girlfriend, who was really beautiful. He liked her so he didn't really say anything to me. He was like, 'Oh yeah, kid,'" said Cher.
Sonny and Cher become 'Sonny and Cher'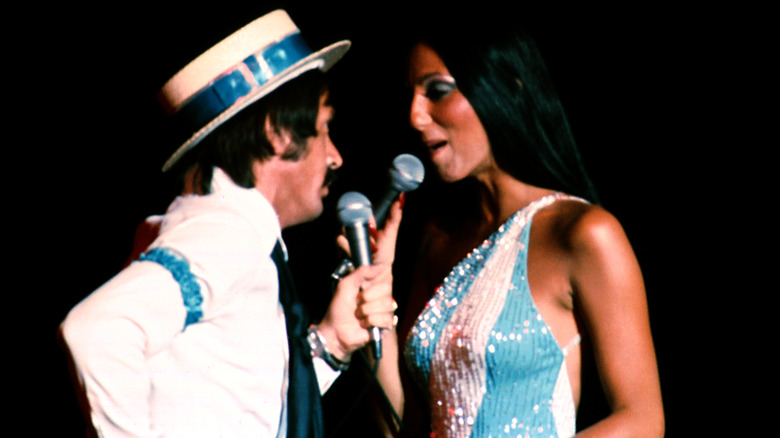 Michael Ochs Archives/Getty Images
Lucky for Cher, Sonny would actually move next door to the apartment she was about to get kicked out of, and she was in a position of need (via People Magazine). After approaching him about her living situation and a possible alternative, Sonny apparently invited Cher to stay with him under the condition she would housekeep. He also let her know upfront he didn't exactly have heart eyes for her.
"He said, 'Okay. I have twin beds. You can stay in my house. I don't find you particularly attractive,'" said Cher. But she agreed to perform domestic duties for a place to stay.
The pair would hit it off later, and they became a couple. Then at some point, Cher, too, began working with Phil Spector. First she was singing background, then as a solo artist, and finally singing duets with Sonny, says IMDb. On October 27, 1964, the pair wed and quickly became one of the most iconic couples of the time. They are also very successful in music, finding their way to the charts every year from 1965 to 1968. In 1969, Cher gave birth to Chaz Bono — their only child together. After a break, Sonny and Cher didn't reappear on the charts again until 1971 but continued to chart through 1973, per Billboard. They even landed a television show called "The Sonny and Cher Comedy Hour" in 1971.
Sonny and Cher fall out of love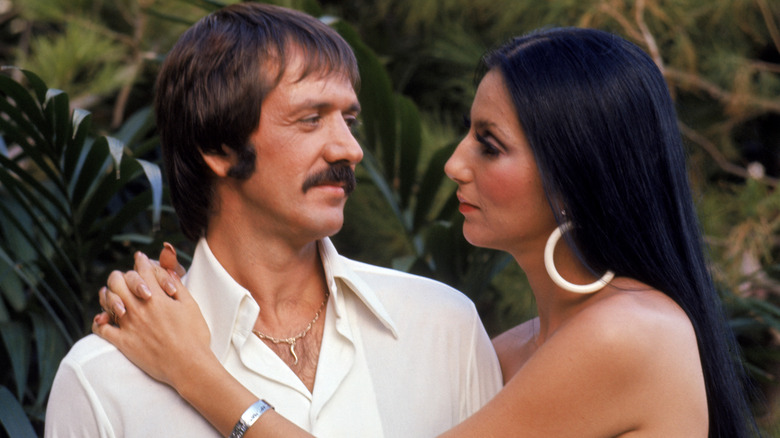 Martin Mills/Getty Images
In a decade's time however, their matrimony came to a bitter end. After almost 11 years of marriage, Sonny and Cher split on June 26, 1975, per History. Apparently, they were separated long before any paperwork was filed. It all began in 1972 when the relationship started going downhill. Both were having affairs. Sonny was seeing a woman named Connie Foreman (via The Washington Post), and Cher was seeing several lovers but would begin seeing label executive David Geffen (of Geffen Records).
Contractually, they remained together for business. Yet, despite being known as a pair, only one half was fully profiting off "Sonny and Cher," and it wasn't the latter. Cher Enterprises was the company Sonny created and managed. He was collecting 95 percent of the company's earnings even though Cher's work was also contributing to it. In 1974, Sonny filed to separate, but Cher followed by one-upping him in filing for divorce.
The bitter and costly divorce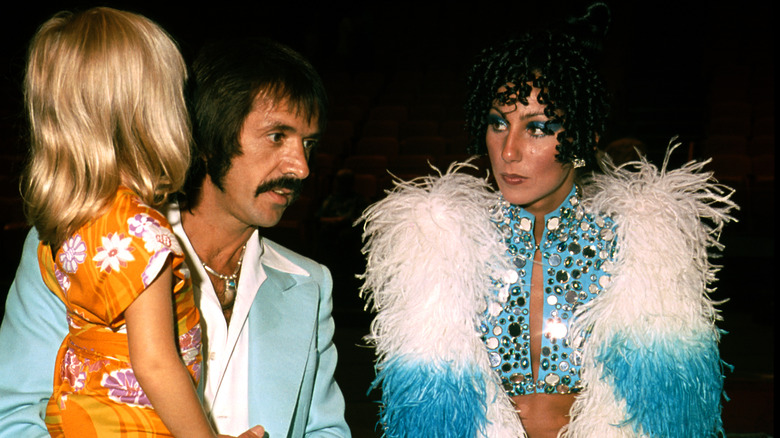 Michael Ochs Archives/Getty Images
As a result, their show was canceled and their split was now in the public eye. It would be Cher's new beau Geffen, who acted as her white knight and helped get her out of the limiting contract imposed by Sonny (via The New York Times). He apparently likened her contract to "slave labor," per The Hollywood Reporter. In divorce proceedings, Cher notably said her soon-to-be ex-husband relegated her to "involuntary servitude," an accusation that Sonny detested and talked about in his autobiography, "And the Beat Goes On," according to The Washington Post.
When the divorce was finalized, they were ordered to equally split their earnings as a duo and their properties. But Sonny was also told to pay for all of Cher's legal fees, in addition to paying her $25,000 a month for half a year and pay child support, according to IMDb. Both went their separate ways and remarried. Cher would launch a solo career and television show and find success, and Sonny went into politics and became a California congressman.
Sadly, he died in a skiing accident in 1998, says History. Cher would speak at his funeral (per Biography).