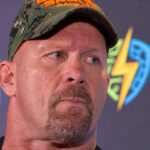 The Truth About Stone Cold Steve Austin And The Rock's Friendship
echo get_the_meta(); ?>
It all started with inauspicious beginnings for these future wrestling icons. One of them began his WWE run as a bland, generic heel called "The Ringmaster," the other was booed by fans despite his good-guy alignment and his status as a third-generation wrestler. However, the pieces eventually fell into place for these two men, and by the peak of WWE's Attitude Era in the late '90s, there was hardly anyone out there who didn't recognize the names "Stone Cold" Steve Austin and The Rock.
If you were a WWE fan back in those days, you probably remember how Stone Cold and The Rock feuded regularly, with both of them bringing the house down with their blistering promos just as much as they did with their intense matches. But just as it often turns out in professional wrestling, these two bitter on-screen rivals were good friends away from the cameras, and it was that close relationship that helped them click so well in the ring. Let's dive deeper into the friendship between "Stone Cold" Steve Austin and Dwayne "The Rock" Johnson, and see how exactly it brought the best out of them during their heyday as WWE Superstars.
The Rock was happy to drop his title to Austin at WrestleMania XV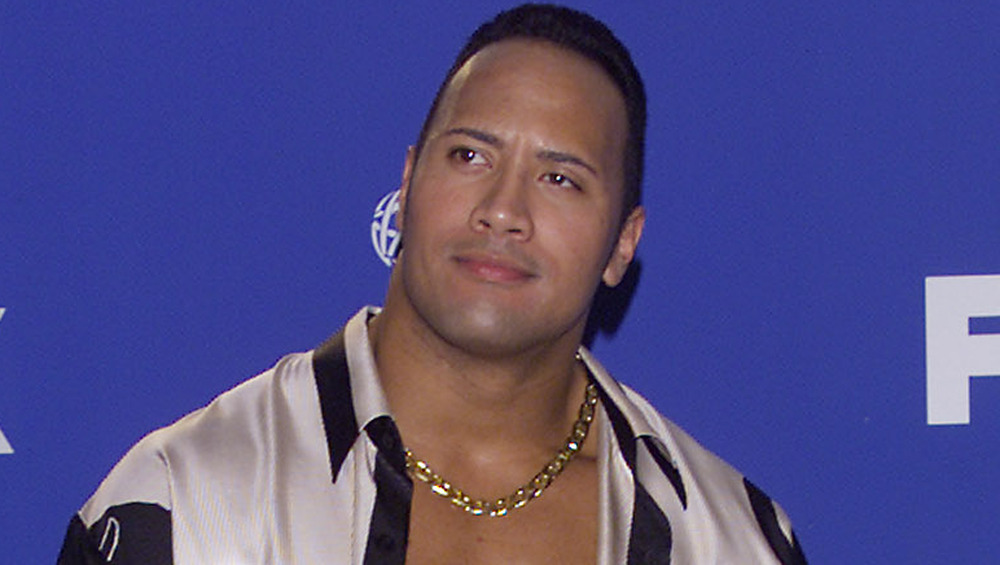 Frank Micelotta Archive/Getty Images
One of the first notable examples of "Stone Cold" Steve Austin and The Rock's friendship came during their match for the WWE Championship at WrestleMania XV in 1999. It was already decided that Austin would win the title from The Rock, and as the future Hollywood megastar recalled in his autobiography, The Rock Says, he was more than happy to do the honors for the Texas Rattlesnake.
"Far from being upset about dropping the belt, I felt a sense of pride. I was happy to be doing this for Steve, not only professionally but personally. Steve is, quite simply, a good son of a b****, and one of my closest friends in the business," The Rock wrote, via Pro Wrestling Stories. "I wanted to do this right, not only for myself and our fans but for him."
The Rock recalled that he and Austin would exchange ideas in the weeks leading up to WrestleMania XV, but weren't quite able to make more detailed plans for the match until the day itself. That didn't faze him, however, considering how he and Austin had good chemistry in the ring and trusted each other.
When everything was said and done, Austin won the match and the championship, and the bout was well-received by everyone in the locker room. But no one seemed happier than he and The Rock, who "hugged for a good 10 seconds," realizing that they wrestled a great match at WWE's biggest pay-per-view of the year.
Austin chose The Rock as his final opponent before retiring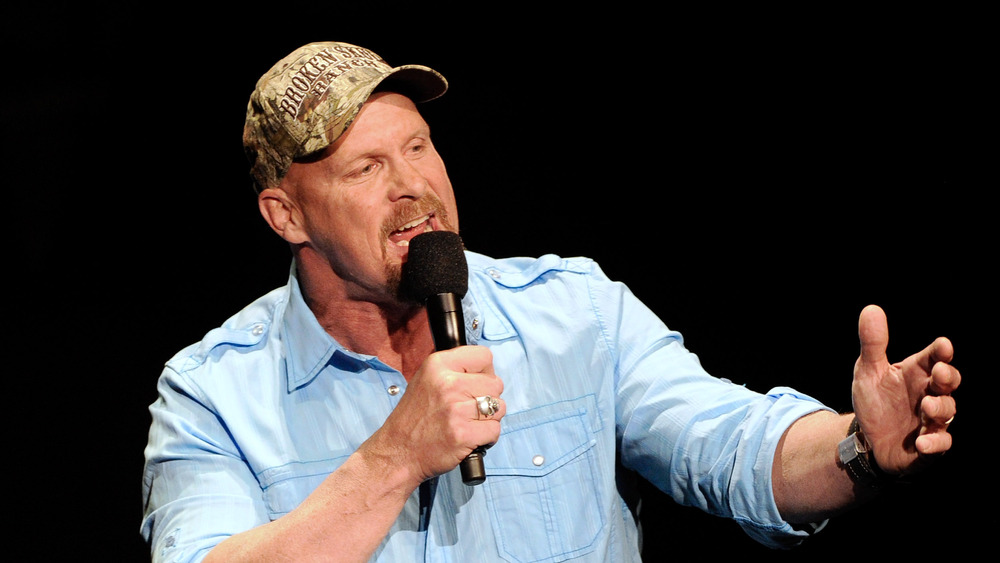 Ethan Miller/Getty Images
As noted by Bleacher Report, the "Stone Cold" Steve Austin vs. The Rock rivalry would be revisited multiple times in the years after WrestleMania XV; at WrestleMania X-Seven in 2001, Austin became a six-time WWE Champion, defeating The Rock with the help of Austin's longtime foe, Vince McMahon. Two years later, the feud was once again renewed ahead of WrestleMania XIX, but at that time, Austin had missed six months due to creative disagreements with real-life WWE chairman McMahon, while The Rock was out for the same period of time, making a movie. Their days as full-time wrestlers were coming to an end, and Austin's long history of injuries was about to force him into retirement.
According to Biography, Austin wanted only one man as his final opponent before hanging up his wrestling boots, and it was The Rock, whom he handpicked for his farewell match at WrestleMania XIX. As is the custom for a departing wrestler, the Rattlesnake lost the bout to the Brahma Bull, and when it was all over, The Rock made sure to thank Austin for the match and tell him that he loved him. 
Austin, meanwhile, had no problem telling Rock that he felt the same way. "I told him I loved him," he recalled. "Verbatim, I said, 'I love you, too.' Two big-a**, tough-a** guys telling each other that they love the other one in front of millions of people."
The Rock and Stone Cold Steve Austin are friends to this day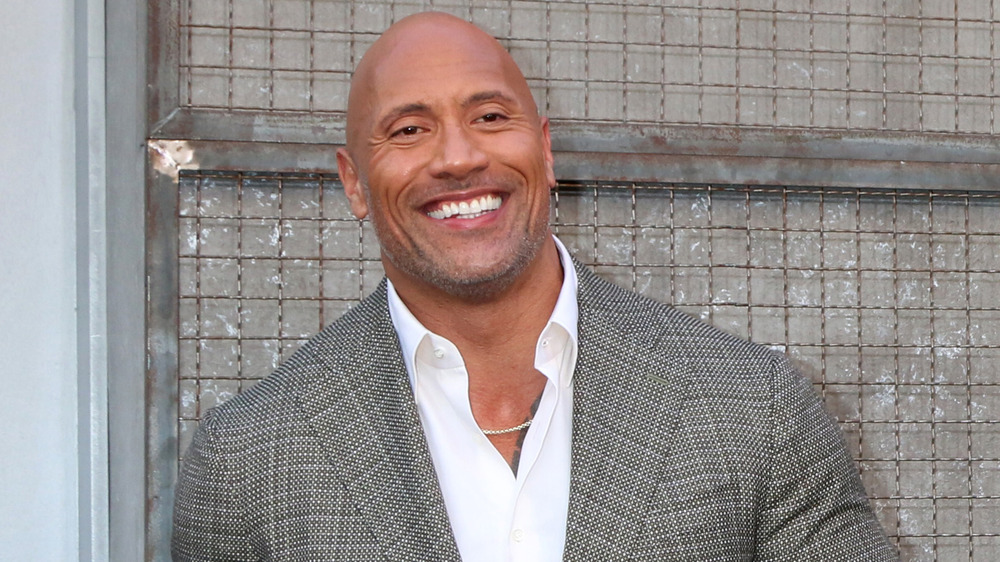 Shutterstock
Close to two decades have passed since that final "Stone Cold" Steve Austin vs. The Rock match, and both men remain very close to each other despite the different paths they took — Austin as a podcaster and television personality, and Rock — that is, Dwayne Johnson — as a major box-office draw in Hollywood. This was proven when Austin told Cinema Blend in 2019 that he wanted Johnson to appear on his USA Network show, Straight Up Steve Austin. "He's a very good friend of mine," he said. "We headlined three WrestleManias together. No one ever has done that. He's the biggest movie star in the world. He probably doesn't have time for the show, but you pick him because people would love to see myself and him sit down and do something together."
For his part, Johnson tipped his hat to Austin in a 2016 Instagram post, where he looked back on their WrestleMania XV match and thanked his old friend for teaching him the finer points of the wrestling business when he was a young rookie in WWE. "Love that dude and I'll always be grateful to him for takin' me under his wing, teaching me the business philosophy that I still utilize today of 'F*** them we're here to make money' and making me drink more beer nightly than I've ever had in my life," he wrote.
A&E's Biography kicks off its "WWE Legends" series Sunday, April 18. with an episode devoted to "Stone Cold" Steve Austin.