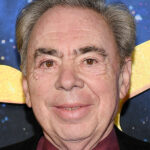 The Untold Truth Of Andrew Lloyd Webber
echo get_the_meta(); ?>
The numbers show it all. Composer and impresario Andrew Lloyd Webber has created a theatrical empire, staging 21 musicals, including the popular hits "Evita," "Cats," "School of Rock — The Musical" and "Sunset Boulevard."
For this work, he's won more than 45 awards: seven Olivier Awards, seven Tonys, three Grammys, two Emmys, one Oscar, and one Golden Globe, making him one of the rare EGOT (Emmy, Grammy, Oscar, and Tony) recipients, reported the Andrew Lloyd Webber website. Between the film adaptations, anniversary concerts and judging competitions, he's racked up hundreds of TV and movie credits, according to IMDB. 
His current net worth is $800 million, according to Celebworth, and earns so much money from his theatrical creations that his salary breakdown is $27,397.26 per day — $1,141.55 an hour.
Lloyd Webber called himself the "luckiest man in the world" in Forbes three years ago. He credits much of his success to chance. At 13, he wrote a letter to Broadway musical composer Richard Rodgers and received his response the night he saw Rogers' musical "The Sound of Music" in London. It was a moment that helped lead him toward creating musicals of his own. Now, Lloyd Webber shows have sold more than 330 million tickets and the cast recordings from his theatrical pieces have sold more than 40 million albums.
A child prodigy, Lloyd Webber showed musical talent by the age of three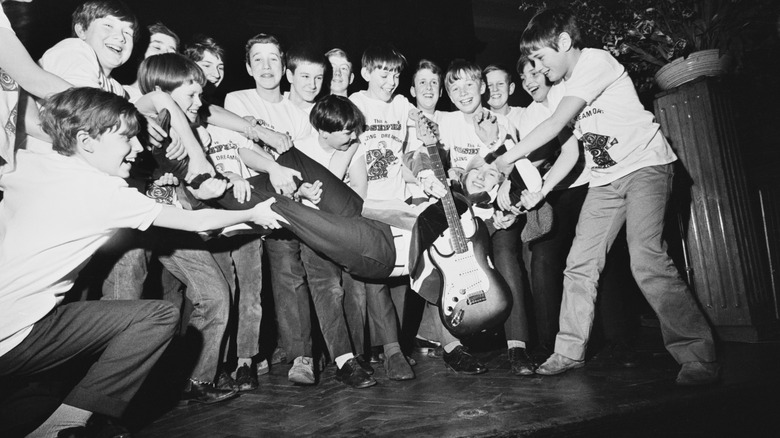 Mccarthy/Getty Images
Lloyd Webber grew up in a musical family: his father, William, served as the director of the London College of Music, and his mother, Jean, taught piano. By three, Lloyd Webber played the piano and violin, reported The Mirror. 
Not satisfied with two instruments, by six he also started studying the French horn and began writing his own music, according to Over Sixty. At nine, his first professional piece, "The Toy Theatre Suite," was published. By his teen years, he was composing full musicals, including his first: "Cinderella Up the Beanstalk and Most Everywhere Else" at 13, according to Official London Theatre. 
He joined forces with lyricist Tim Rice while studying at the Royal College of Music, and together the two wrote "Joseph and the Amazing Technicolor Dreamcoat" when Lloyd Webber was 19. Initially designed as a 15-minute Easter concert for St. Paul's Preparatory School (in photo above) in London in 1968, it became his first staged piece, said the Ogunquit Playhouse. 
The twosome also created the rock opera "Jesus Christ Superstar," which first began as a concept album in 1970, since no producer wanted to back a musical telling Judas' perspective on Christ's betrayal, reported Mental Floss. The 87-minute record (two LPs, back in the days of vinyl) succeeded so well that the show netted unprecedented advance ticket sales before opening on Broadway in 1971, reported William D. Romanowski in the book "Risky Business: Rock in Film."
He shares a birthday with another famous composer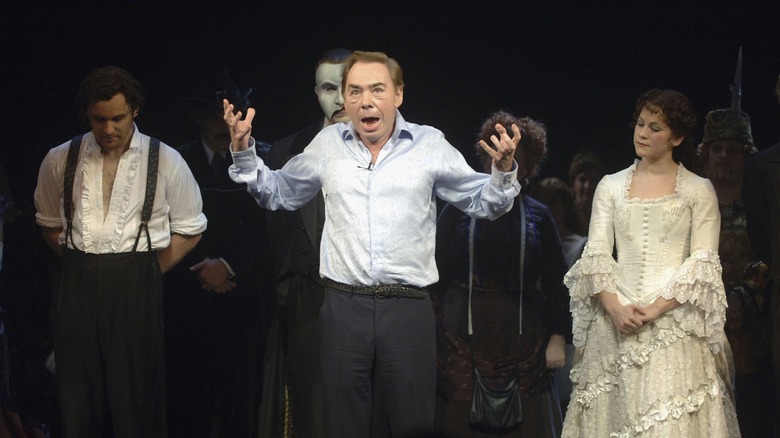 Dave M. Benett/Getty Images
The 73-year-old Lloyd Webber celebrates his birthday on March 22, the same day as famed American composer Stephen Sondheim ("Sweeney Todd," "Company," "Into the Woods"). Sondheim, born in 1930, is 18 years older. The two theater legends share many commonalities — both have written long-running shows, both have won numerous theater awards, and are celebrated as masters in musical theater.
While the two never really feuded, critics and theater-lovers have compared them throughout their careers. Many people cast Sondheim as the one most likely to please critics, and Webber, the British phenom, more of a provocateur of popular appeal. Or, as the The New Yorker put it, "Sondheim became the god of smart, Lloyd Webber of spectacular." 
The two have sometimes vied for the same prizes, especially in 1988, when Lloyd Webber's "The Phantom of the Opera" beat Sondheim's "Into the Woods" for Best Musical, reported the Charlotte Observer. Sondheim's show didn't go home empty-handed; it earned Best Score (Stephen Sondheim), Best Book (James Lapine) and Best Actress (Joanna Gleason). 
Still, all's fair in love and musicals, and Sondheim and Lloyd Webber would go on to perform a piano duet in "Hey, Mr. Producer! Hey, Mr. Producer!," a concert tribute to producer Cameron Mackintosh in June 1998 (posted on YouTube). 
Records made and records broken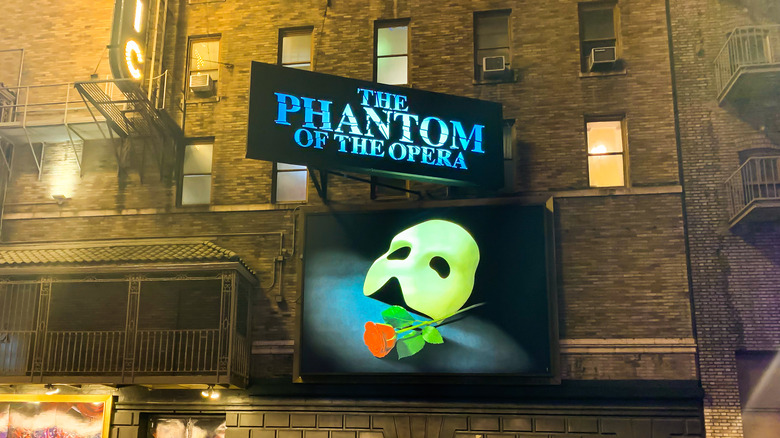 Shutterstock
Lloyd Webber's success is itself record-breaking. In 1991, he had six productions running at the same time on London's West End — their Broadway — the first and only composer (so far) ever to do so, reported the Mirror. In 2017, he had four on Broadway simultaneously: "Sunset Boulevard," "Cats," "The Phantom of the Opera," and "School of Rock — The Musical." This made him the record holder for most concurrent-running shows, a feat only shared by Richard Rodgers and Oscar Hammerstein II, creators of "The Sound of Music," "Carousel," and "The King and I," said London Theatre. 
"Cats," a show based on T.S. Eliot's poetry, ran 21 years in London after opening in 1981, and was the city's longest-running musical, according to Biography. It also became the longest-running show on Broadway after entertaining audiences for 18 years, until another Lloyd Webber show, "The Phantom of the Opera," surpassed it, said Broadway.org. The story of a soprano inspired and haunted by a mysterious masked musical genius opened in 1988 and is still playing on Broadway.
Even using a pseudonym, Lloyd Webber finds success, according to Medium. As "Doctor Spin", he created a Eurodance remix single, "Tetris," in 1992 that used the video game's theme music and even topped the charts, landing at number six (and posted on YouTube).
Lloyd Webber also wrote songs for famous singers. He and Tim Rice, for instance, collaborated on "It's Easy for You" for Elvis Presley's 1977 "Moody Blues" album, recorded during Elvis' last session on Oct. 29, 1976, said Broadway World. (Listen on YouTube.)
With love, three times is the charm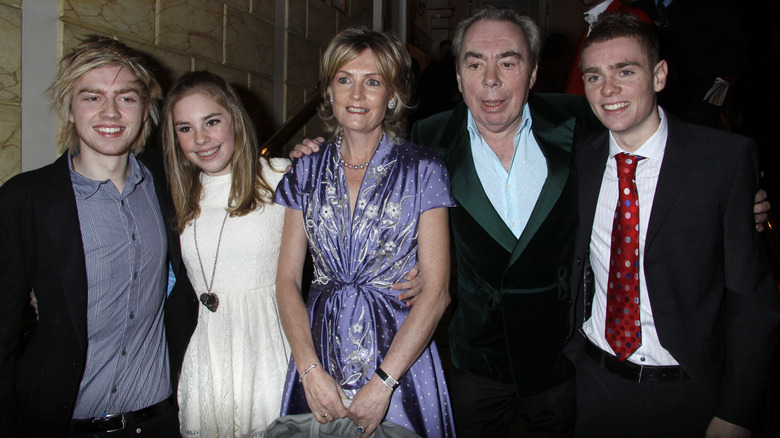 Dave M. Benett/Getty Images
Lloyd Webber married Sarah Hugill in 1971 and they had two children, Imogen Lloyd Webber in 1977 and Nicholas Lloyd Webber in 1979, before divorcing in 1983, according to Sun Signs.
His second wife, Sarah Brightman, was cast in "Cats" in 1981. They married in 1984 and Webber wrote the lead role of Christine Daaé for her in "The Phantom of the Opera," a role that she originated in 1986. But many things complicated their relationship, including careers. "Sarah's work meant she was increasingly away from home," said Lloyd Webber to People. "Less than two years into our marriage there was often no one to come home to." 
The couple would divorce in 1990, according to Classic FM. The two remained friendly and Brightman continued to collaborate with the composer, even recording a 1992 CD, "The Music of Andrew Lloyd Webber," according to her website. He wrote in the album's liner notes, "It is perhaps easier to write what I feel about Sarah's talent now that we are no longer married. I believe her voice is unique in its range and quality and that her sense of pitch is the truest I have ever worked with."
He met Madeleine Gurdon, a former equestrienne, and they married in 1991. They had three children: Alastair Lloyd Webber (1992), William Lloyd Webber (1993), and Isabella Lloyd Webber (1996). Just his son, Nicholas, so far, has followed him into theater, composing several musicals, including 2011's "The Little Prince."
A baron, a knight, and a business owner who can spot talent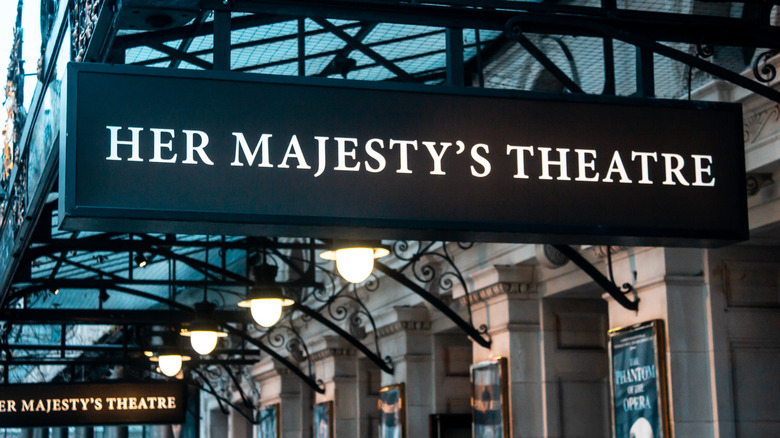 Shutterstock
Besides creating theater, Lloyd Webber profits from producing it. He formed the Really Useful Company (now the Really Useful Group) in 1977. The production company now handles Lloyd Webber shows and others, including a revival of "The Sound of Music" in 2006, said Britannica. He also owns seven West End theaters: The Other Palace, Adelphi Theatre, Cambridge Theatre, Gillian Lynn Theatre, Her Majesty's Theatre (pictured), The London Palladium, and Theatre Royal, Drury Lane.
While many stars have had roles in his musicals, Lloyd Webber excels at spotting theatrical talent. Before he was Wolverine in the Marvel Cinematic Universe, Hugh Jackman appeared in an Australian version of "Sunset Boulevard" in 1996, and singer Jessie J performed in the West End's "Whistle Down the Wind" when she was 11, according to the Mirror.
Queen Elizabeth II acknowledged Lloyd Webber's accomplishments twice. In 1996, he was elevated to the British peerage, and named Baron Lloyd-Webber of Sydmonton in the County of Hampshire, reported Broadway Show Tickets. He was also knighted in 1992 by the Queen for services to music.
His newest musical, "Cinderella," a reinvention of the classic tale with lyrics by David Zippel ("City of Angels") opens in July 2021 at the Gillian Lynne Theatre in London. "All I want to do now, in my rather advanced age, is to make sure that we pass on everything we're doing in theaters to a new generation in a better way," said Lloyd Webber to Variety.