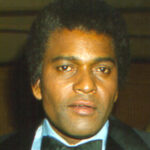 The Untold Truth Of Charley Pride
echo get_the_meta(); ?>
Country music enjoyed one of its commercial and artistic peaks in the 1970s, thanks to excellent songwriting and indelible performers like Willie Nelson, Conway Twitty, Dolly Parton, Loretta Lynn, and, perhaps the biggest of them all, Charley Pride. Charismatic, authentic, and quintessentially American, the Mississippi-born singer and guitarist interpreted dozens of classic country songs in the 1970s and beyond that defined the rapidly changing genre for a generation while also staying true to traditional country styles. Pride had the perfect, emotionally resonant song for any occasion, loving, celebrating, and aching right along with his millions of fans on massive hits like "Kiss an Angel Good Mornin,'" "Is Anybody Goin' to San Antone," "Someone Loves You Honey," "You're So Good When You're So Bad," and "Mississippi Cotton Picking Delta Town."
Pride's long, ultra-successful career made him a Nashville legend and nothing less than an icon of American music. Here's a look into the long and remarkable life and career of the country music superstar.
Charley Pride grew up loving music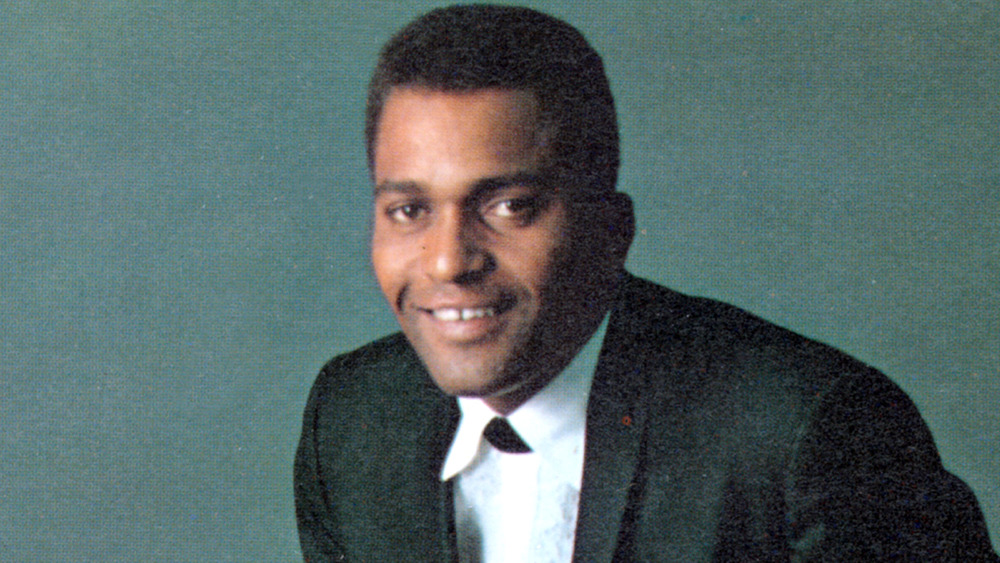 Michael Ochs Archives/Getty Images
Charley Pride dominated the country music world in the 1970s and 1980s, reaching heights that lay in stark contrast to his very humble beginnings. According to TheNew York Times, Pride was the fourth of 11 children, born in 1934 to parents Tessie Stewart Pride and Mack Pride, Sr., who worked as a cotton sharecropper (meaning he paid for his land with a portion of his crops) in Sledge, Miss. Pride's father had intended to name the baby Charl (not Charles), but owing to a clerical error made on his birth certificate, the future star wound up with the name Charley (not Charlie). So his parents decided to stick with it.
Pride worked on his father's farm when he was old and capable enough and earned a small allowance for his labor, which he saved until he had $10 (the equivalent of about $110 accounting for inflation), enough to a buy a basic Silverstone model acoustic guitar from the Sears Roebuck catalog when he was 14. Pride taught himself how to play it by listening to songs on the radio and was most interested in the blues, but his father steered him to country by putting on Grand Ole Opry broadcasts.
Charley Pride was a really good baseball player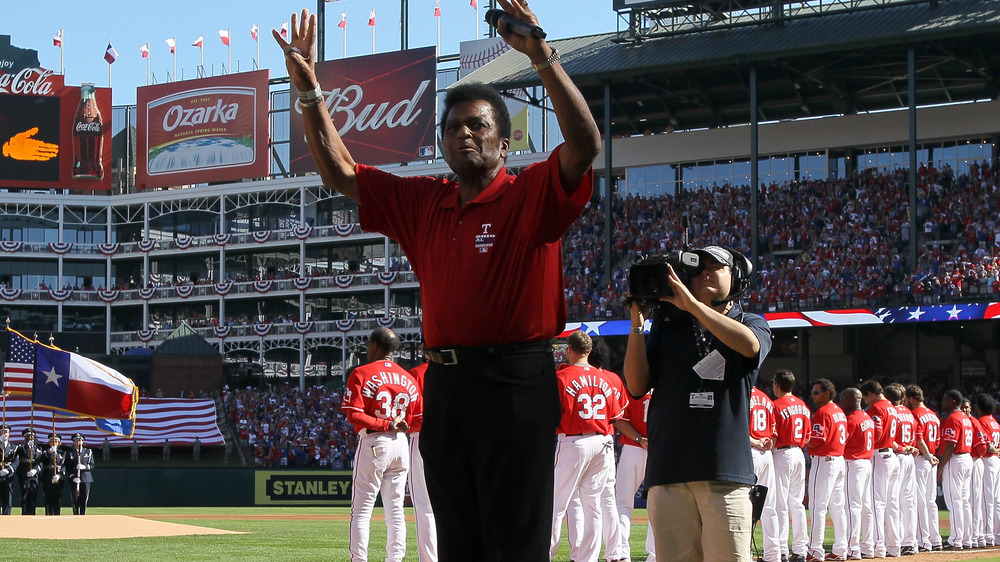 Stephen Dunn/Getty Images
As much as Charley Pride loved music, he initially strived to be a professional baseball player. "I wasn't a blue streak but I could run, throw, field, hit," Pride told Songfacts. "I had all three pitches: fastball, curveball, changeup." 
According to TheNew York Times, Pride left his Mississippi home at age 16 in pursuit of making a living playing ball, but in his American Experience documentary (via Rolling Stone), he failed his tryout when he attempted to join the Memphis Red Sox, a team in the Negro American League. Undeterred, he made it onto a C-level New York Yankees affiliate in Boise, Idaho, in 1953, but a shoulder injury diminished his pitching skills. By 1956, Pride had recovered and won a spot on the pitching staff of the Memphis Red Sox (the first of a few Negro League teams for which he pitched), and in 1956 he made the all-star team and won 14 games. 
What ultimately ended Pride's baseball career — he was drafted at the end of that stellar season and served 14 months, mostly at an Army base in Colorado. After he was discharged, his game wasn't the same, and invites to try out for the New York Mets and California Angels in the early 1960s proved fruitless. He gave it one last go, playing for the East Helena Smelterites, a Montana semipro team consisting of employees of a smelting plant, including Pride.
How Charley Pride made it to Nashville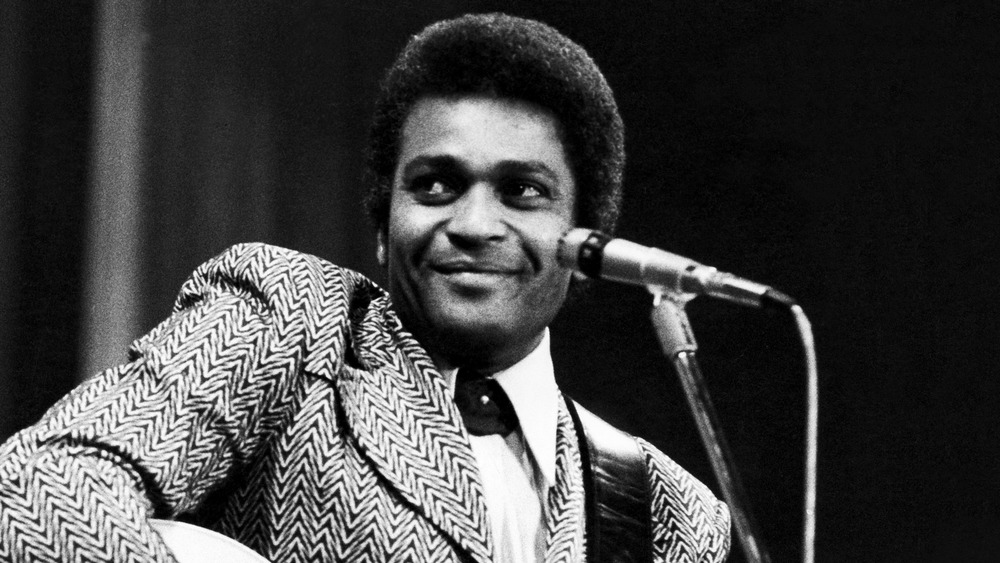 Michael Putland/Getty Images
After settling into a life in Montana in the 1960s as a smelter who played a little baseball on the side, Charley Pride rekindled his interest in music. According to his American Masters episode (via Rolling Stone), he'd sing country songs at clubs and bars in Helena and between innings at his games. At one such contest, his landlady witnessed him singing and helped him land a regular performance slot at one of the city's premier venues, the Main Tavern. It paid $20 a day (not bad for the time), which led to a regular nightclub gig in Anaconda, Mont., that paid $40 a show. 
A local disc jockey named Tiny Stokes set up a meeting and audition for Pride with a couple of country stars he knew — Red Foley and Red Sovine — who helped him get some demos recorded. Pride recorded a sample recording at Cedarwood, a major Nashville music publisher, and while there, met and aligned himself with manager Jack Johnson. By the time Pride arrived back home in Montana, via long-haul bus, Johnson had secured him his first recording contract. According to TheNew York Times, that deal came because country legend (and RCA executives) Chet Atkins had heard the tapes and found something special in Pride.
Charley Pride's earliest hit could have and should have come earlier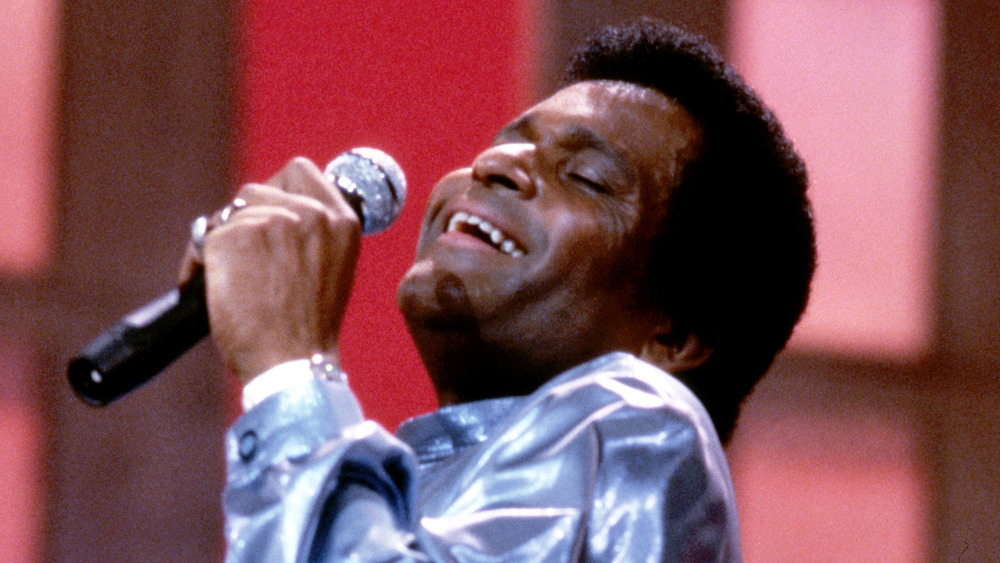 Silver Screen Collection/Getty Images
Charley Pride released his first album, Country, in 1966, but it didn't produce any hits. In 1967, "Just Between You and Me," the lead single off of Pride of Country Music, reached the top 10 of the Billboard country chart, which would become a common occurrence for the singer for decades. Pride actually wanted to release the song as a single in 1966, but Jack Clement, his producer and the writer of the tune, wouldn't allow it to be his debut. "He said he didn't want me singing any gospel song, any love song, and 'I don't want you singing my song because I don't want people thinking I got you here and I'm going to push all of my songs on you,'" Pride recalled to Songfacts. 
But when the song went to No. 9 and earned a Grammy nomination, it proved Pride right, giving him the clout and confidence to trust his instincts, and fight for them, when it came to song selection. "I said, 'So now what I'm going to try to do is if I hear a song make sure Charley, level with yourself, do you like that song?' That's what I've tried to do and still do all these years," Pride said in Michael Streissguth's Voices Of Country: Interviews with Classic Country Performers.
Charley Pride was enormously successful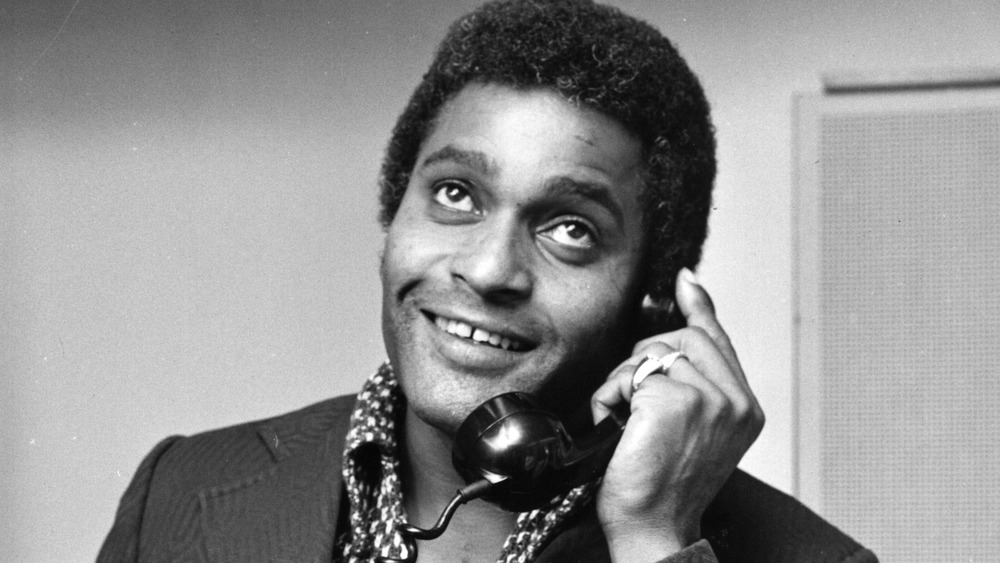 Doug Mckenzie/Getty Images
Obviously, Charley Pride was a popular musician, but because his achievements primarily occurred a few decades ago and in country music, a genre long considered not-quite-mainstream and thus not given all the attention it deserved, the singer's accomplishments have been overlooked. Between 1967 and 1988, a period that spanned several country music movements and evolutions, Pride took a whopping 52 songs to the top 10 of Billboard's country singles chart. That would be impressive in its own right, but if Pride got to the top 10, he was more likely than not to head all the way to the top — of his 52 top 10 singles, 29 of them hit No. 1. (Only five acts have amassed more No. 1s, icons like Alabama, Conway Twitty, and George Strait.)
Pride wasn't just a singles act either — he released 12 albums that topped Billboard's country album chart. At one time, according to TheNew York Times, RCA Records, Pride's label for 30 years, cited the singer as its second-best-selling act of all time… behind only Elvis Presley. The industry gave credit where credit was due, too, as Pride was named the Country Music Association's Male Vocalist of the Year twice, its Entertainer of the Year once, and he also won three Grammys off 13 nominations, and a lifetime achievement award from both bodies.
Charley Pride had one big non-country hit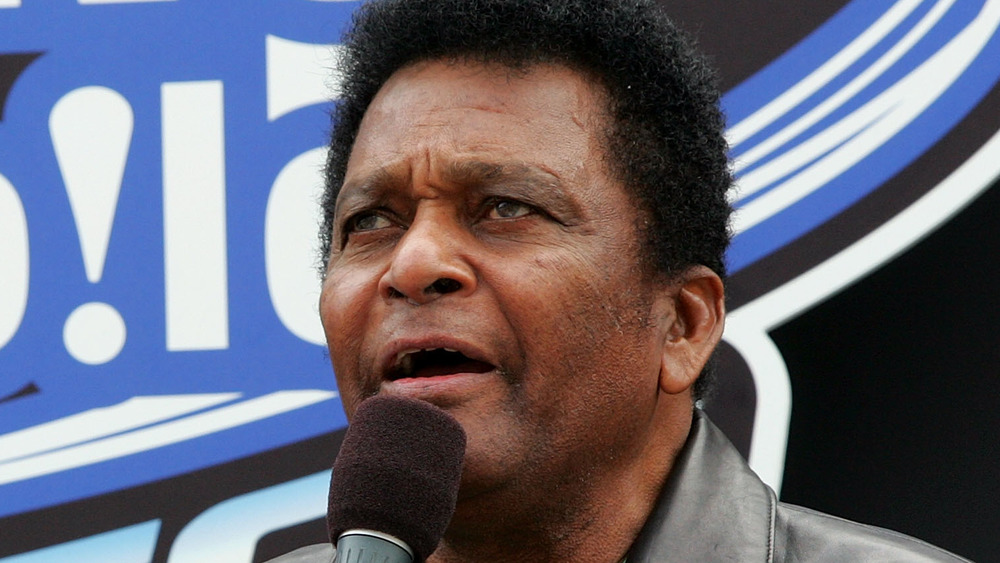 Jerry Markland/Getty Images
Charley Pride could almost always be found in the upper reaches of the country chart in the 1970s and 1980s, such as when he had a song go No. 1 for the eighth time in 1971 with "Kiss An Angel Good Mornin.'" The song spent five weeks at the top, a personal best for Pride, and also making it his technically biggest hit, according to Billboard. The song about how to properly treat loved ones — with tenderness and affection — so resonated with the public that it moved over to the pop chart. It reached No. 21 on the Billboard Hot 100, the only mainstream pop hit of Pride's career. Pride had a feeling it would be big before he even recorded it. "I couldn't wait to get into the studio" to lay down his vocals, he told Songfacts. But he still didn't have any inclination it would make an impact outside of the country music world.
"'Kiss An Angel' is a clear example of a record that was not recorded to be a crossover record, and all that sort of hocus-pocus, and it became a million-seller," Pride told Alanna Nash for Behind Closed Doors: Talking With The Legends of Country Music), adding that the song hit big despite a number of pop radio stations refusing to play it because it was too country.
Charlie Pride broke country music's racial barrier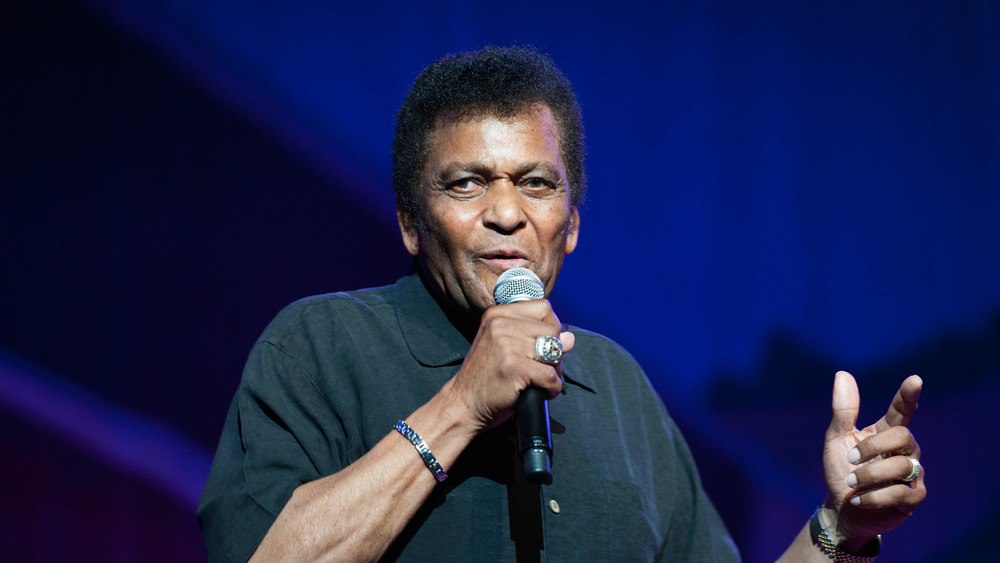 Erika Goldring/Getty Images
Charley Pride was of African-American heritage, and that's an important part of his story as a performer in country music, a genre extremely dominated by white acts. According to TheNew York Times, Pride earned one of country's most prestigious honors when he was invited to perform at the Grand Ole Opry, only the second Black person to ever take the stage, following harmonica player DeFord Bailey, an Opry mainstay in the 1920s and 1930s. Pride was the first African-American country music star, and in 1969 became the first Black singer to top the Billboardcountry chart, with "All I Have to Offer You (Is Me)." The second African-American country chart-topper — Darius Rucker, with "Don't Think I Don't Think About It," nearly 40 years later.
Pride sought to address his race early in his career. In his American Experience episode (via Rolling Stone), Nashville DJ Ralph Emery remembered introducing Pride at one of the singer's first big concerts, in Detroit. He was introduced by name, then walked out on stage… and the audience stopped applauding when they realized Pride was Black. The singer then quipped, "I realize that I've got that permanent tan, but my name's Charley Pride and I am from Mississippi, my daddy was a farmer down there. And I sing country music. I want to entertain you if you'll let me." That won them over.
Charley Pride faced significant prejudice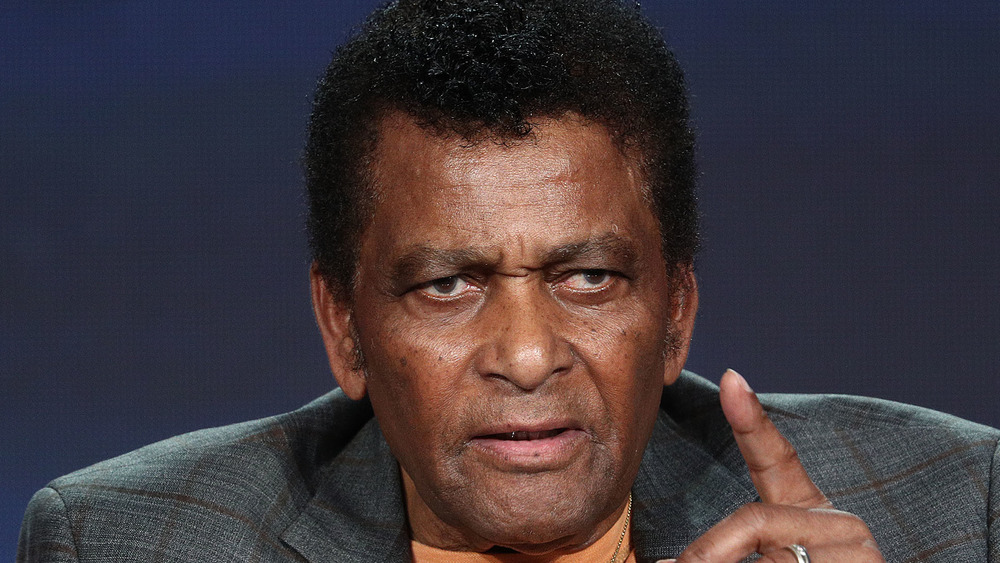 Frederick M. Brown/Getty Images
Despite his many hits and desire to move past it even being an issue, the color of Charley Pride's skin remained a point of contention or discussion in country music for a long time. "They used to ask me how it feels to be the 'first colored country singer.' Then it was 'first Negro country singer,' then 'first Black country singer.' Now I'm the 'first African American country singer.' That's about the only thing that's changed. This country is so race-conscious, so ate-up with colors and pigments," Pride told the Dallas Morning News in 1992.
In the 1960s and early 1970s, according to Texas Monthly, many country music gatekeepers had reservations about Pride, simply because he was Black. Early promotional materials from RCA Records didn't include his photo because the company knew it would diminish airplay. Even after Pride found stardom, some radio stations wouldn't play his songs, leading other country artists to take a stand. Star singer Faron Young flat out told one station manager that if he removed Pride from its playlist, he'd have to ban his records, too. Willie Nelson made an even more public declaration of his support of Pride — at the Big D Jamboree music festival in Dallas, he went out on stage and kissed Pride on the lips.
Charley Pride was huge in Ireland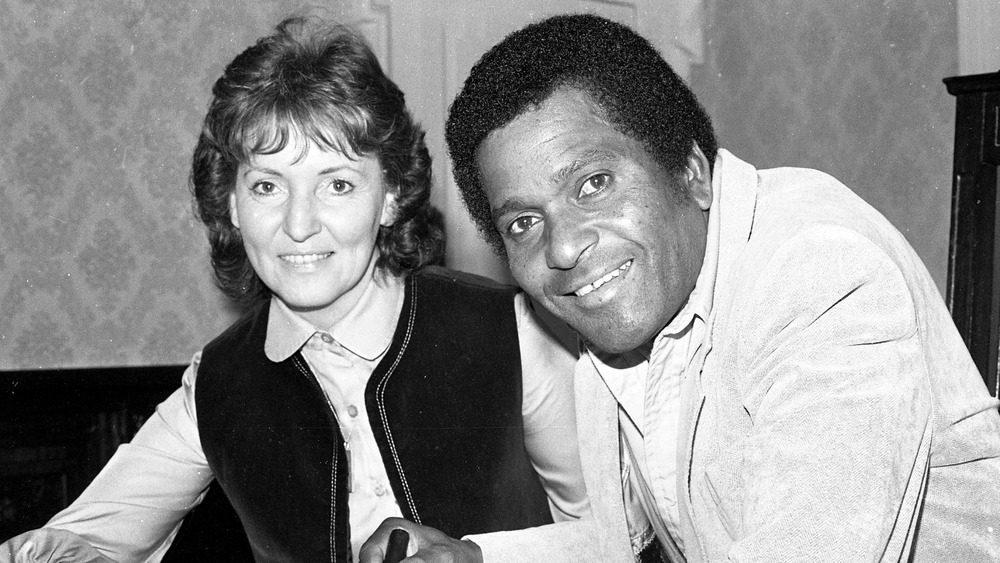 Independent News And Media/Getty Images
According to the BBC, in 1975, Charley Pride booked an extensive tour of the United Kingdom, and the organizers sold four shows in Ireland to promoter Jim Aiken. This was a big deal, because in the 1970s, the violent political struggle known as "the Troubles" was raging in the area. (In short, the conflict concerned Northern Ireland. Unionists wanted the largely Protestant country to remain part of the British-controlled United Kingdom, while predominantly Catholic Irish Nationalists wanted it to be a part of Ireland.) Not wanting to agitate anyone or put themselves in danger, very few musicians toured Ireland in the mid-1970s. But Pride went through with his scheduled appearances in Ireland, performing at the Ritz Cinema in Belfast, Northern Ireland. Both sides of the Troubles appreciated Pride for coming to the Emerald Isle when nobody else would, and his single "Crystal Chandeliers" became a huge hit in Ireland and the U.K., per the Belfast Telegraph. 
Following Pride's lead, the unofficial touring ban of Ireland faded away, and major acts like the Rolling Stones and Rod Stewart started to play concerts there again. Pride enjoyed popularity in Irish communities throughout his life (a Telegraph reporter recalled Pride receiving rounds of applause when doing something as simple as leaving a restaurant), and he returned for many tours over the years, long after the Troubles died down.
Charley Pride, Texas Ranger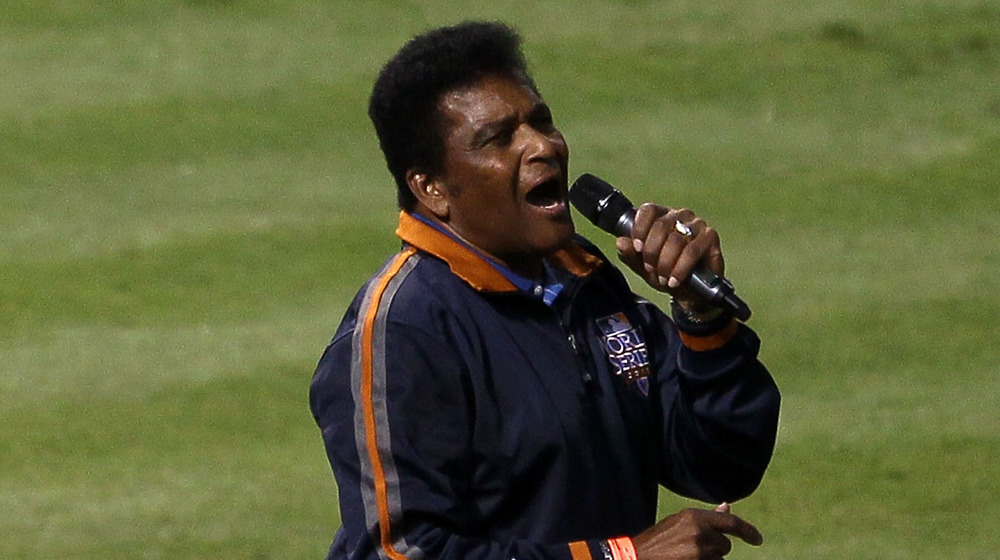 Elsa/Getty Images
While he spent a few years in the Negro leagues and with Major League Baseball-affiliated minor league teams and was only moderately successful, Charley Pride never quite gave up on baseball. When the American League's Washington Senators moved to the Dallas area and became the Texas Rangers in the early 1970s, Pride showed up to spring training to workout with players, even after he'd started to top the country music charts and when he was almost 40 years old. "He took it seriously," Rangers player and broadcaster Tom Grieve told MLB.com. "He wasn't just some celebrity out there running around. He worked hard, just like the rest of us, and did all the same drills." Pride got to play in one spring training game, where he got a base hit off of Hall of Fame pitcher Jim Palmer.
Pride stayed close with the Rangers organization for years, singing the National Anthem for the team at regular season and World Series games. In 2008, he was finally drafted by the Texas Rangers — in recognition of Negro League players' contributions to baseball. Every Major League Baseball team honorarily selected a living veteran of those baseball organizations. Two years later, Pride bought a stake in the Rangers.
COVID-19 claimed Charley Pride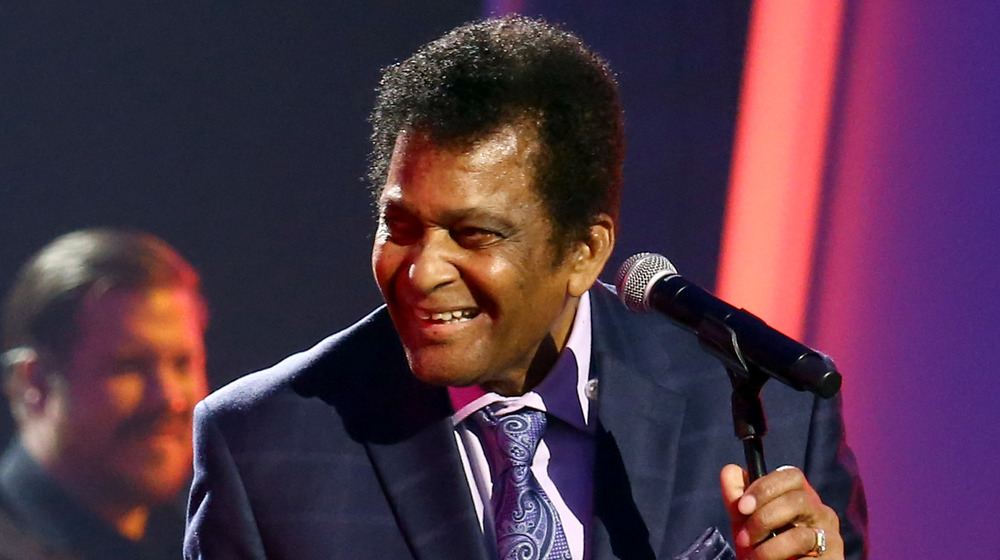 Terry Wyatt/Getty Images
In November 2020, Charley Pride capped a storied career with a momentous appearance at the County Music Association Awards. In addition to the presentation of the Willie Nelson Lifetime Achievement Award for being "an iconic artist who has attained the highest degree of recognition in Country Music," Pride performed his signature, 1971 hit, "Kiss an Angel Good Mornin'" alongside rising star Jimmie Allen. It wasn't supposed to be Pride's final performance, but that's how it turned out. 
On Dec. 12, 2020, Rolling Stone reported that the country legend died in Dallas, Texas, from complications of COVID-19 infection. Almost immediately, controversy developed over Pride's death. While the Country Music Association Awards were held without an audience due to anti-coronavirus measures, and nominees and performers socially distanced during the show, masks weren't widely used. "Everyone affiliated with the CMA Awards followed strict testing protocols outlined by the city health department and unions," the organization said in a statement, adding that Pride tested negative for COVID-19 both immediately before and immediately after the show. It's unclear how Pride contracted the virus, which ended his life at age 86.