The Untold Truth Of Diana Ross
echo get_the_meta(); ?>
Diana Ross is an embodiment of her own song with The Supremes, "I'm Gonna Make You Love Me." Born in Detroit, Michigan, Ross and her girl group, The Primettes, got involved in the prime years of Motown — largely due to their talents, but also due to the admiration Ross inspired in her friend Smokey Robinson and onetime lover Berry Gordy. Ross was soon promoted to frontwoman of The Supremes, leading the group to be renamed Diana Ross & The Supremes. They became one of the best-selling girl groups of all time, defining the sound of Motown, the sound of the '60s, and ultimately the sound of soul.
Once she left The Supremes, Ross proved she was a shining star in her own right with her solo music career and her foray onto the silver screen. Ross' life has been full of bright lights and thunderous applause, but there have been phases of darkness, too. Here's more about the life of the supreme star.
Smokey Robinson was Diana Ross' childhood neighbor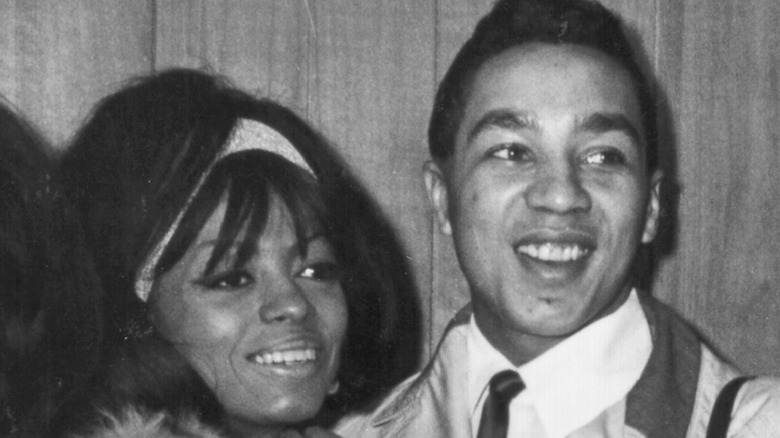 Michael Ochs Archives/Getty Images
Diana Ross grew up in a house at 633 Belmont Street in northeast Detroit, per the Detroit News. When she was 8 years old, she met her neighbor, the singer Smokey Robinson, who was four years her senior. "Right down the street from me there was a young man by the name of Smokey Robinson," Ross told Interview magazine in 1981. "I was very proud to live down the street from him because he was our only celebrity in town. He was singing with the Miracles. His niece, Sharon, was one of my best friends so I spent a lot of time [at his house]."
In fact, Robinson could be credited with starting Ross' career. He was involved with Detroit's only recording studio, Tamla/Motown, and he connected Ross' group with executive Berry Gordy after Ross asked him to listen to their music. Robinson also wrote some of The Supremes' earliest releases, including "Breathtaking Guy" and "Ask Any Girl." According to Oprah, Aretha Franklin also grew up down the street from Robinson and Ross.
Diana Ross did not see overnight success with The Supremes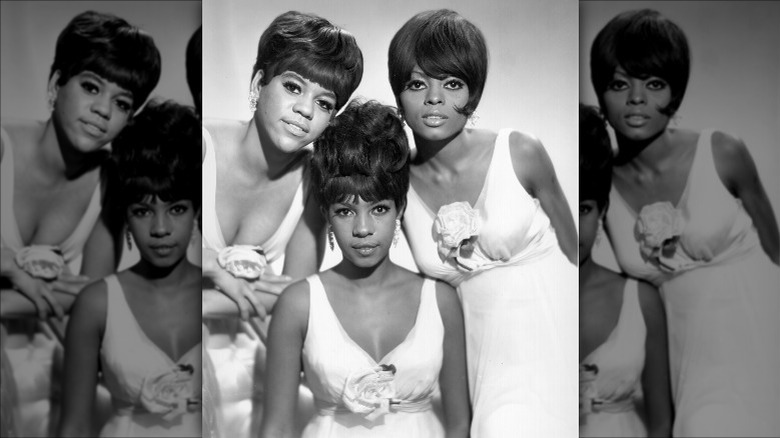 Michael Ochs Archives/Getty Images
The Supremes — then called The Primettes — were invited to audition for Motown following their participation in a Canadian talent show, as noted in Suzanne E. Smith's "Dancing in the Street: Motown and the Cultural Politics of Detroit." With a leg-up from Diana Ross' former neighbor Smokey Robinson, the group auditioned for Motown executive Berry Gordy in August 1960. But when Gordy learned the members of The Primettes were just 16 years old, he told them to come back when they graduated from high school, as Ross recounted in an interview with Pop Chronicles (via UNT Digital Library).
And come back they did. Gordy agreed to sign the group in 1961, on the condition that they change their name to something more marketable, per Smith. The group considered names such as The Melodees, The Sweet Ps, and The Jewelettes, before landing on the very marketable name The Supremes. Still, even as the year 1964 dawned, the group was often referred to as the "No-Hit Supremes" by employees and executives at Hitsville, U.S.A., according to History. The group's breakthrough hit, "Where Did Our Love Go," came later that year and sparked a chain reaction. The hit-making Supremes went on to see a streak of five consecutive number-one hits between July 1964 and May 1965.
Diana Ross was romantically involved with her biggest fan, Berry Gordy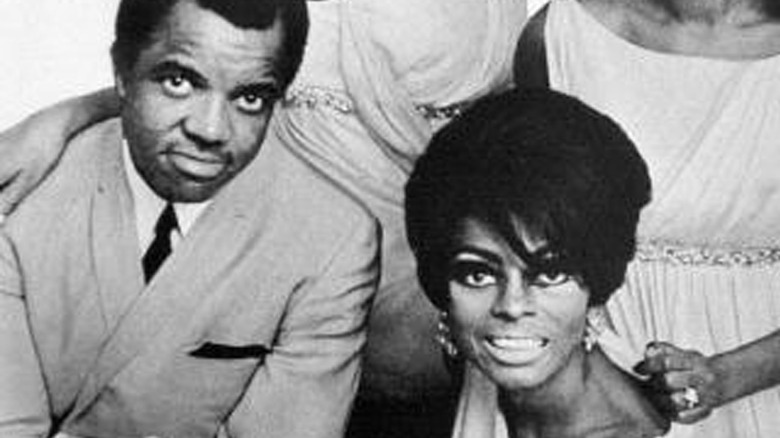 Apic/Getty Images
Following The Primettes' first Motown audition in 1960, Berry Gordy hired Diana Ross as his secretary, with poor results. "She was so bad as a secretary that I had to let her go," Gordy told Rolling Stone in 1990. "You know, my messages were mixed up and everything." Still, Gordy's fondness for Ross was apparent soon after he signed The Supremes. "I made the choices of who sung lead, and my opinion was always that Diana had the magic and Mary [Wilson] didn't," he told Rolling Stone. "And it was perhaps favoritism, because Diana was a favorite of mine. But she had the talent to justify that favoritism."
Gordy got involved with Ross, who was 14 years his junior, at some point after his 1964 divorce. "It's very clear why I fell in love with Diana," he told Vanity Fair in 2008. "She was my star, and she came from the bottom up. With her it was not only fun, it was just like heaven working with her because she would surpass anything … and she always kept her self-esteem. She always told me, 'If you think it, I can do it.' And she did."
Still, Gordy and Ross did not end up together. In an interview with Barbara Walters, Gordy said the pair split because he was "more in love with her becoming the biggest star in the world," adding, "I said if this is going to get in the way, we can't do it."
Diana Ross and Berry Gordy had a 'secret' child together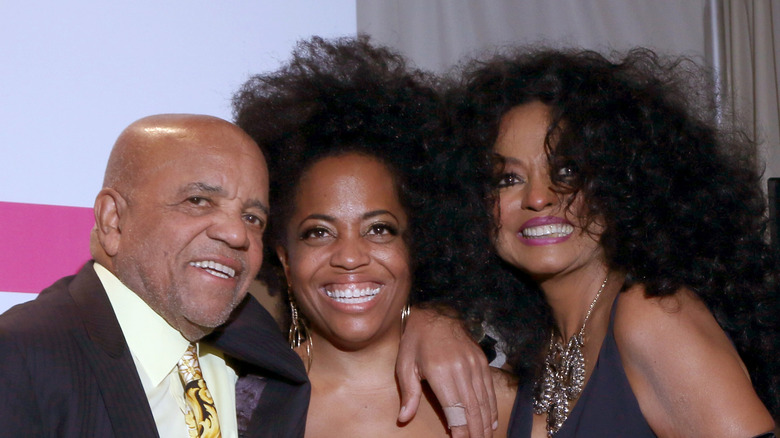 Kathy Hutchins/Shutterstock
In late 1970, after their initial breakup, Diana Ross and Berry Gordy slept together, per InStyle. A month or two later, Ross married music executive Robert Ellis Silberstein. About seven months after that, Ross gave birth to a girl named Rhonda, who was presumed to be Silberstein's daughter. Silberstein was white, and Rhonda clearly resembled Gordy, which led Ross and Gordy to acknowledge the truth. "When she had the child, we had no idea that it was mine," Gordy told Barbara Walters. "[But] Diana and I discussed it and we realized that it was indeed my child."
Rhonda did not know Gordy was her father until she was 13 years old. "She felt that the child should not know anything until she was able to handle it and understand it," Gordy told Playboy. "She made a wise decision, because when she did tell her, Rhonda was able to handle it well." Rhonda later said she wasn't totally surprised by the revelation. "The bottom line was, I looked just like [Gordy], and my sisters looked just like their father, a 6-foot-tall Jewish American man," she told the New York Post. Ross revealed the information to the public during a 1993 interview on The Oprah Winfrey Show (via the Chicago Tribune).
The stress of The Supremes affected Diana Ross' health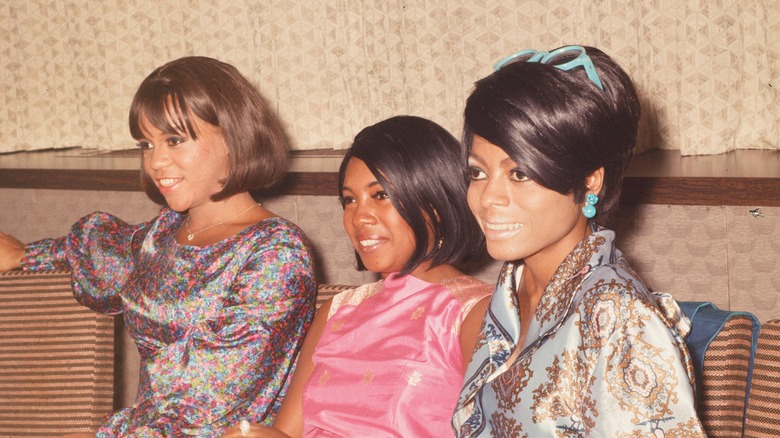 Koh Hasebe/shinko Music/Getty Images
By March 1966, Diana Ross and The Supremes had been caught in a flurry of concert performances, television appearances, interview requests, and endless rehearsing and recording efforts. According to J. Randy Taraborrelli's "Diana Ross: A Biography," Ross was down to just 93 pounds at the time. Ross wrote about her weight issues in her 1993 memoir "Secrets of a Sparrow." "Sometimes the stress got so bad, I couldn't eat," she recalled. "I just couldn't swallow anything. I'd put food in my mouth, but my jaws would clamp together and I couldn't chew. It got so bad that I couldn't even tolerate the smell of food. It was too pungent for me. Perhaps it was a form of anorexia. I was becoming skin and bones. Although The Supremes were at the top, I felt as if I were sitting at the bottom of a deep, dark pit."
While performing in Boston in 1966, The Supremes emerged onstage through a "shimmering pink curtain," wearing "white chiffon floor-length gowns," illuminated by blue and white spotlights. But halfway through a performance of "I Hear A Symphony," Ross stopped singing, backed away from her microphone, and covered her ears. "What's happening to me?" Ross said onstage. "I feel so small. I'm getting smaller, smaller … smaller." Ross was escorted offstage, and the remainder of The Supremes' Boston concert run was cancelled.
Diana Ross was falsely credited with discovering the Jackson 5
Kevin Winter/Getty Images
The Jackson 5 appeared on television for the first time on a 1969 edition of "The Hollywood Palace" that was hosted by Diana Ross, per John David Ebert's "Dead Celebrities, Living Icons: Tragedy and Fame in the Age of the Multimedia Superstar." The group's first album was released on December 19 of that year and named "Diana Ross Presents the Jackson 5."
Ross has long been credited with discovering the Jackson 5, though some have pointed out that this was simply a marketing move by Motown. In fact, it was another Motown singer, the "Empress of Soul" Gladys Knight, who played a pivotal role in launching the group. Knight told Oprah that she had placed a call to Motown executives singing the group's praises after seeing them perform for the first time.
Still, Ross played an undeniable role in the rise of the Jackson 5. According to Ebert, Michael Jackson and his brothers even lived with Ross in Los Angeles during the summer of 1969. Berry Gordy served as a father figure for the Jackson brothers, and Ross — who was seeing Gordy at the time — became maternal toward the rising stars.
Sparks flew when Cher introduced her boyfriend Gene Simmons to her friend Diana Ross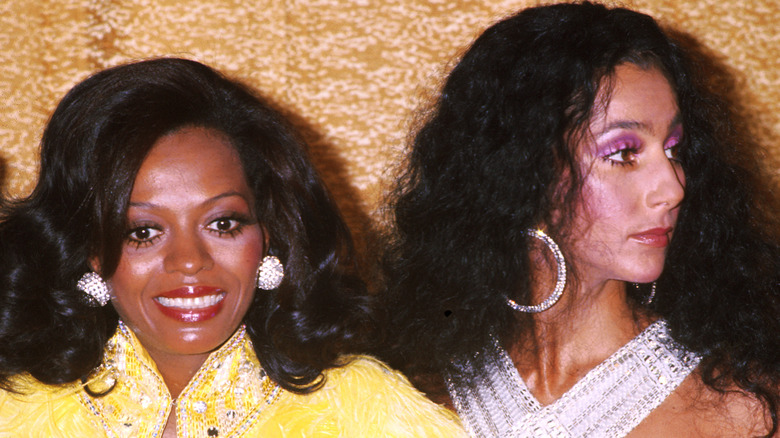 Michael Ochs Archives/Getty Images
In 1979, Cher instructed her then-boyfriend, Gene Simmons of the band Kiss, to shop for her Christmas present with her friend, Diana Ross. Simmons journeyed to Ross' home in New York City before the shopping trip. "I remember coming in and immediately thinking two things about her: first, that she was very sensual, and second, that she was in firm control of her career," Simmons wrote in his 2002 memoir "Kiss and Make-Up."
Following the shopping trip, Simmons and Ross became friends and racquetball partners, and his relationship with Cher "sort of ended," as he told Andy Cohen during a recording of Radio Andy on Sirius XM. According to People, Cher wasn't too bitter about the split. "She's turned into our biggest fan," Simmons said of the Goddess of Pop during a 1980 interview with the magazine, while he was dating Ross. Simmons and Ross remained together until 1981.
"Diana Ross kept me on my toes and I ended up having a relationship with her for two years," Simmons later told The Sunday Mirror's Notebook magazine (via the Washington Post). "I loved that she was such a strong woman who was confident in her own skin. That's the most seductive thing. If a man thinks a woman can live without them, that's it."
Diana Ross donated funds to build a playground in Central Park
James Kirkikis/Shutterstock
On July 21, 1983, Diana Ross attempted to play a concert on the Great Lawn in Central Park. She had volunteered to play for free to benefit the park, with the intent to use the profits from televised broadcasts to fund a new playground, per The New York Times. "I take my kids to Central Park, and I've noticed that there's no real playground, with soft ground for little kids," Ross said onstage (via The New York Times). "I'm a dreamer, but I'm not the kind of person who says things are impossible and can't be done. I dreamed of building a playground in the park for some time, and now that playground is going to be a reality."
But forces of nature intervened when a torrential rain-and-thunderstorm began about 30 minutes into Ross' performance. The remainder of the concert was called off, but Ross returned to play a full concert the following day. Still, the damage was done: Five months later, Ross' team announced there was no revenue and no profits from the performance due to the additional expenses for the second concert. According to the Daily News, Ross ultimately decided to remedy the problem by donating $250,000 from her own pocket. The Diana Ross Playground opened in Central Park in September 1986. "Creating this playground for the children of New York," Ross told The New York Times, "has been one of the most fulfilling aspects of my life and career."
Diana Ross sparked controversy for touching Lil Kim's breast at the 1999 VMAs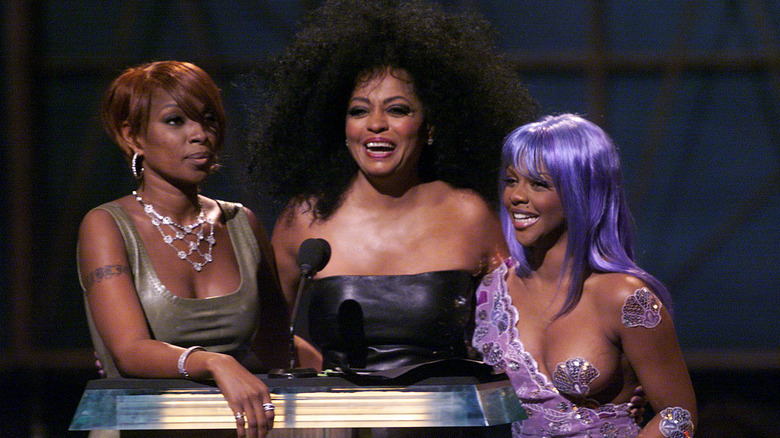 Scott Gries/Getty Images
The outfit that rapper Lil Kim wore to the 1999 MTV Video Music Awards is among the most memorable red-carpet looks ever. She wore a lilac, bedazzled, mermaid-inspired jumpsuit cut diagonally to expose one breast, which was censored with a shell-shaped nipple pasty. The look was made even more memorable by an onstage moment the rapper shared with Diana Ross.
That night, Lil' Kim, Ross, and Mary J. Blige took to the stage at the Metropolitan Opera House in New York City to present the VMA for Best Hip-Hop Video, per Us magazine. "I think it's the new Supremes!" Ross said of the trio. As they took the stage, Ross reached over and jiggled Lil' Kim's exposed breast. "I think it was more of like a friendly, 'Oh, my God, you look sexy, girl, but do you know you have a boob hanging out?'" Lil' Kim said during a 2013 interview with MTV. "By the way, if I ever did a movie of my life, I would get her to play my mom."
Blige was a little less forgiving. "I was embarrassed for Kim and I was pissed when that happened because that's my little sister and my friend," she told Andy Cohen during an interview for Watch What Happens Live. "Kim is courageous. She's gon' do what Kim does, so I think we all should respect it like we should respect Megan Thee Stallion and Nicki Minaj and Cardi. Respect Lil' Kim. This is what they do. Respect them."
Diana Ross attempted to reunite The Supremes in the early '00s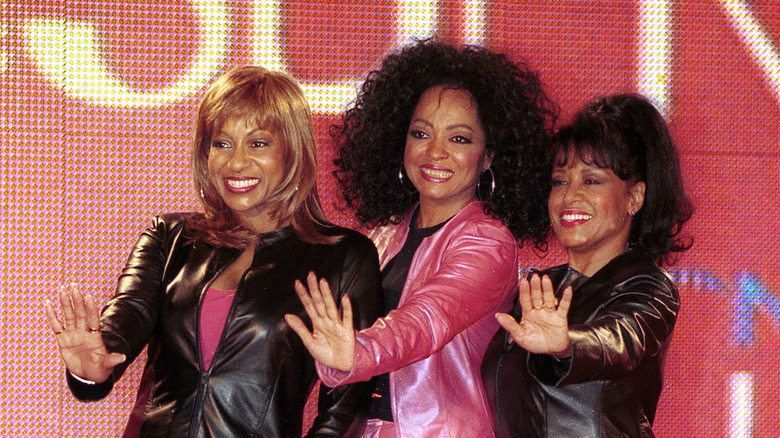 Chris Hondros/Getty Images
Following Florence Ballard's departure from The Supremes, the group's second lineup — Diana Ross, Mary Wilson, and Cindy Birdsong — played their final show in January 1970, as noted by Time magazine. But in 2000, three decades after her own departure from the group, Ross decided she wanted to reunite The Supremes for a comeback tour. Both Birdsong and Wilson refused to participate because they would earn millions of dollars less than Ross for the tour. In an interview with ABC's 20/20 news that year, Wilson discussed the proposed deal in which Ross would earn "$15 to $20 million" for the tour, while Wilson would get "two million … maybe three," and Birdsong would receive even less, per the Telegraph.
"There is a certain thing about Diana," Wilson said. "She wants everything herself." Wilson had previously discussed her feelings toward Ross in her 1986 autobiography "Dreamgirl: My Life as a Supreme." "She craved attention, and in her attempts to get it, she could seem almost ruthless," she wrote. "Sometimes she would throw a childish tantrum, then moments later pretend it was all a big joke, that she was just being silly. Her bluntness could be disconcerting and feelings were hurt … we saw Diane's actions as the product of thoughtlessness."
Ross decided to tour instead with Linda Laurence and Scherrie Payne, women who had joined The Supremes after Ross' departure. But, with some venues filled to less than 20% capacity, the unsuccessful comeback tour was cancelled halfway through.
Diana Ross received treatment for an alcohol problem and was arrested for drunk driving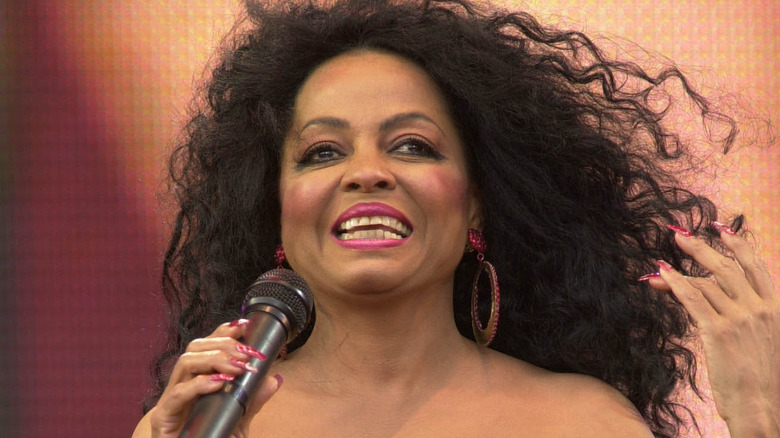 Dave Benett/Getty Images
In May 2002, Diana Ross checked into Malibu's Promises treatment center, a facility for "individualized treatment for drug addiction, alcoholism, and other chemical dependencies" through "daily educational lectures, relapse prevention skills, group therapy sessions, equine therapy and art therapy," per CNN. Her publicist, Paul Bloch, released a statement that said Ross was at Promises "to clear up some personal issues" because she "wanted to be in great shape because she is someone who feels a sense of responsibility to her family and her fans." That August, she cancelled her summer concert tour, per ABC News.
Seven months later, in December, Ross was arrested for driving drunk in Tucson, Arizona. A breathalyzer test revealed she had a blood-alcohol level of .20, more than twice the state's legal limit of .08 and higher than the .15 mark for an "extreme DUI." According to Today, she was convicted of a DUI and sentenced to two days in jail, which she completed at the Greenwich Police Department in Connecticut.
Diana Ross never won a Grammy award for her music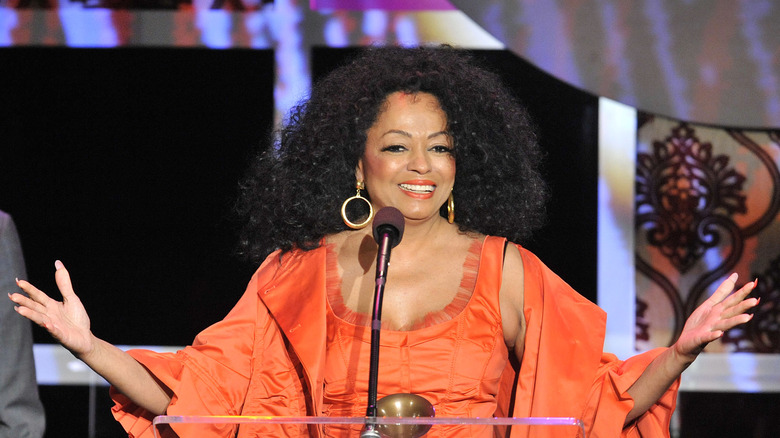 Toby Canham/Getty Images
Despite her iconic status in music history, Diana Ross has never won a Grammy for her music — neither with The Supremes nor solo. The Supremes were nominated twice, for their singles "Baby Love" and "Stop in the Name of Love," but did not win either award, per the Grammy website. Ross has been nominated a total of 12 times, including a 1970 nomination for her rendition of "Ain't No Mountain High Enough," and a 1981 "Record of the Year" nomination for "Endless Love," per Grammy.
Still, Ross presented seven times at Grammy awards shows over the years, and finally earned a Lifetime Achievement Award in 2012. "To me, my lifetime achievement — ladies and gentlemen, and the rest of the world — are my children," she said during her acceptance speech (via Grammy). "I always like to think of myself first as a parent, and as an artist, [parenthood] actually has been very important for my creativity."
Ross was also featured alongside her fellow Supremes as the subject of the 2015 Grammy Museum exhibit "Legends of Motown: Celebrating the Supremes."