The Untold Truth Of Jon Gruden
echo get_the_meta(); ?>
This month has been a rather checkered one for NFL coaches, and it's not just the Jacksonville Jaguars' Urban Meyer and that viral video that showed him having some fun with a much younger woman who definitely isn't his wife (via the Florida Times-Union). Proving even more controversial than Meyer and his shenanigans, Jon Gruden also found himself in hot water when an expose from The New York Times revealed his apparent history of using homophobic and misogynistic language in a number of emails. The outlet also reported the week prior that he used racist stereotypes in a 2011 email disparaging NFL Players' Union president DeMaurice Smith. Soon after those emails were leaked, Gruden resigned as the Las Vegas Raiders' head coach, ending his second stint with the team just five games into the 2021 NFL season.
In the days since Gruden's resignation, Twitter has been very vocal about the news, with some wondering why it took so long for his comments to be unearthed while former San Francisco 49ers quarterback Colin Kaepernick was quickly blackballed for taking a stand against systemic racism. Then you've got those who believe Gruden was unfairly forced to quit over email exchanges that happened a long time ago. It's far from clear what the future holds for Gruden following this controversy, but now might be the best time to take a look back at his career and explore some of its untold truths and lesser-known facts.
Jon Gruden had little success as a college football player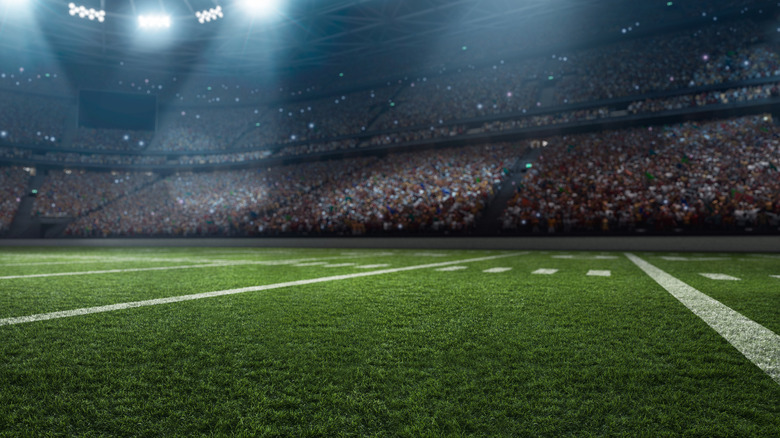 Alex Kravtsov/Shutterstock
Many NFL coaches get to where they are after playing (at least) a bit in the league and serving as assistant coaches following their retirement. Others establish themselves first as college standouts then turn to coaching after failing to catch the attention of pro scouts. In Jon Gruden's case, he wasn't even a star during his time as a college football player. In fact, a biography from the Tampa Bay Buccaneers' old Scout.com site shows that the would-be Raiders and Bucs head coach didn't see the field that much while playing for a team that was then in the NCAA's Division III.
Although he was a "solid" quarterback for Clay High School in South Bend, Indiana, in the early 1980s, the young Gruden was described as more of a cerebral player than a physical one. As such, he decided to suit up for Muskingum College in his home state of Ohio — he wanted a chance to play regularly as opposed to riding the bench at Notre Dame, where he would have studied for free due to the fact his father, Jim, was a Fighting Irish assistant. Gruden then transferred to Dayton, where he "didn't see much action," as noted on his bio, but played for a team that won 24 out of 31 games during his three years with the Flyers.
The Gruden family 'hated' the Buccaneers for a while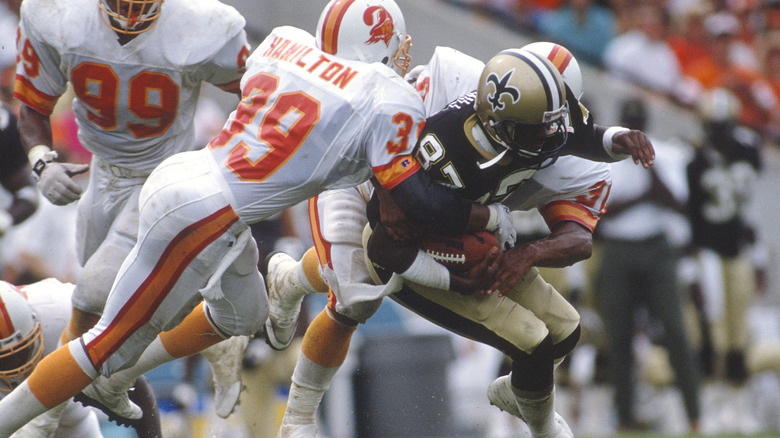 Focus On Sport/Getty Images
It might seem strange, considering how Jon Gruden guided the Tampa Bay Buccaneers to their first-ever NFL championship in 2003, with the Bucs defeating Gruden's old team, the then-Oakland Raiders, at Super Bowl XXXVII. But his bio on Tampa Bay's Scout.com site suggests that the Gruden family "hated the Buccaneers franchise" well before he accepted the job as the team's head coach.
Putting things in context, the Bucs of the 1980s were far from the team they became with Gruden at the helm. They had a rich tradition of mediocre-to-bad quarterbacking, disappointing draft picks (via Sports Illustrated), and incompetent management. They were so notoriously bad that the closest thing they had to a sure thing in the draft, Auburn running back Bo Jackson, spurned the Bucs to play in the MLB. (He would later become a two-sport star when he joined the NFL … with the Raiders.)
As for the Grudens, father Jim was an assistant to head coach John McKay from 1982 to 1983, while his sons Jon and Jay were exposed to many of the Buccaneers' activities in the years that followed. Jim later changed roles and became the team's director of player personnel, only to be fired in 1987. Jon Gruden's bio didn't go into detail as to why his family hated the Bucs so much afterward, but you'd probably feel the same way after a poorly-run NFL team just sacked your dad for no good reason.
Here's how Gruden got his most notable nickname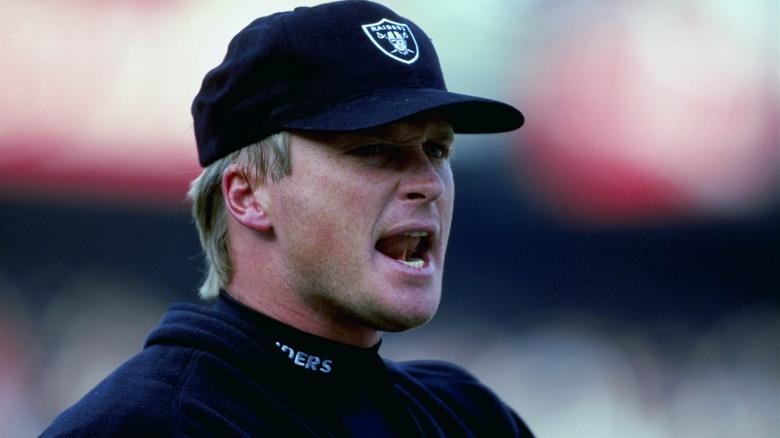 Jed Jacobsohn/Getty Images
It's no secret that Jon Gruden, after spending years as a college and NFL assistant, joined the Raiders in 1998 and was quickly bestowed with a nickname fit for an iconic horror movie villain. Of course, that nickname was "Chucky," and Gruden was known as such because of his supposed resemblance to the murderous doll of the same name from the "Child's Play" movies. But where did he get that nickname, and did he really live up to it?
According to KTVU, it's not quite clear which Raiders player first came up with the "Chucky" nickname. Some credit defensive lineman Grady Jackson for first noticing that his new coach looked like Andy Barclay's lifelong tormentor. Sports Illustrated, meanwhile, wrote that running back Harvey Williams coined the moniker after getting shouted at by Gruden for botching a play. Supposedly, Williams realized that his coach's facial expressions during his rant made him look a lot like Chucky at his angriest.
As further pointed out, Gruden embraced the nickname and the additional popularity it gave him among Raiders fans. That, despite not being as mean and malevolent as his fictional counterpart was. "Gruden is a good coach, fiery, so people tend to think he's mean," Jackson told the Baltimore Sun in 2001. "But don't buy into it."
Gruden founded a 'think tank' of sorts for fired coaches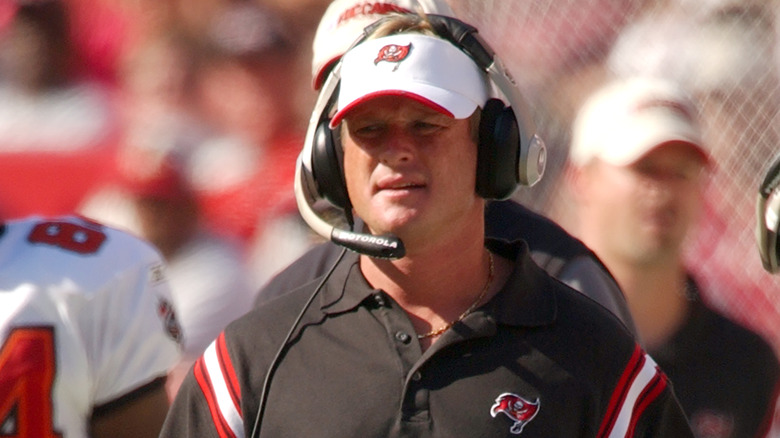 Mitchell Layton/Getty Images
Just like in any other professional sport, keeping one's job as head coach in the NFL is a case of "what have you done for me lately." After winning the Super Bowl in his first season with the Tampa Bay Buccaneers, Gruden only made the playoffs twice in the next six years (via Pro Football Reference), and despite finishing with a 9-7 record in 2008, he was fired at the end of the season. Hoping to make lemonade out of the lemons he was given, Gruden formed the Fired Football Coaches Association soon after. The FFCA's website is no longer active, but a Facebook post from 2015 describes it as a "football think-tank, which welcomes current and former coaches and players to study various phases of the game."
Speaking to Bleacher Report in 2016, Gruden explained that he kept a lot of old game tapes in the FFCA's office, where he'd let coaches, mostly those who were between jobs at the time, study the footage and learn from it. But it wasn't just fired coaches who benefited from the FFCA's plentiful resources; college coaches often visited during recruiting trips, and even those who were coaching Pop Warner or high school football dropped by to gain some extra knowledge.
What was in those emails anyway?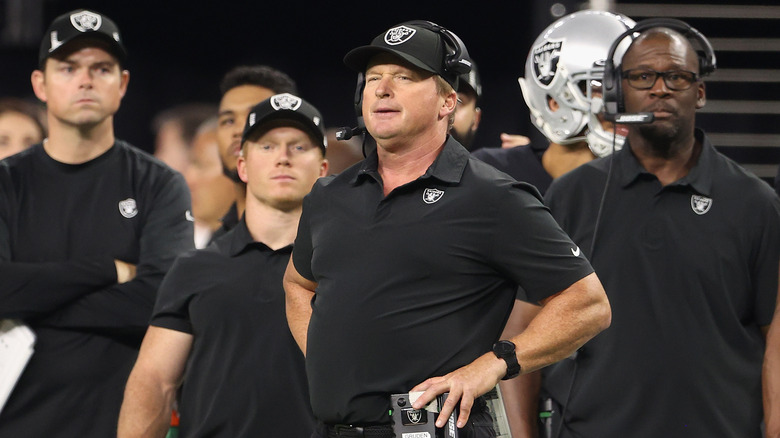 Christian Petersen/Getty Images
This month's email leaks weren't the first time in recent years Jon Gruden has been in trouble. Last year, the Las Vegas Raiders accumulated over $1 million worth of fines due to multiple violations of the NFL's COVID-19 protocols, including one instance where the coach wasn't properly wearing his face mask, per CBS Sports. However, it's still hard to top what The New York Times just uncovered, never mind the fact that Gruden's email exchanges with former Washington Football Team president Bruce Allen, among others, took place years ago.
According to the publication, Gruden targeted several individuals in the emails, not the least of these being longtime NFL commissioner Roger Goodell, whom he referred to as a "clueless anti-football p***y" and a "f***ot." Apparently, the coach wasn't happy with Goodell's efforts to make the NFL safer and reduce the risk of concussions. He also called out the then-St. Louis Rams for making Michael Sam the first openly gay player to be picked in the NFL draft; according to Gruden, the team shouldn't have been pressured into drafting "queers." Additionally, he called for the firing of former San Francisco 49ers and Carolina Panthers safety Eric Reid for his national anthem protests and dished out several insults at journalists, owners, and coaches, the Times added.
In another email to Allen, Gruden reportedly wrote that NFLPA president DeMaurice Smith "has lips the size of michellin [sic] tires," though he told subscription-only site The Athletic this month that he felt he had gone too far and was "really upset" about the possibility of a lockout shortening or canceling the 2011 NFL season.