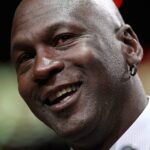 The Untold Truth Of Michael Jordan
echo get_the_meta(); ?>
Greatness, like the rarest of Pokemon, is hard to find and tougher to capture. It can take a lifetime of preparation, and often requires those who seek it to go above and beyond what is thought possible. In this sense, Michael Jordan is a rare, legendary Pokemon, able to send opponents to the discard pile with minimal energy expense and willing to become a monster in the name of victory.
Beyond coats of paint, Jordan's image is the next most likely thing you'll find up on a wall, and his studliness requires no finder, as it can be seen from space. Come to think of it, that's probably how the Nerdlucks from Space Jam spotted Jordan in the first place — purely off the gleam of his stardom, reflecting through the depths of space until it reached their home of Moron Mountain.
In terms of fame, Jordan is about as well known as any person can be, transcending his basketball stardom to become a true international legend. But behind every legend is a human being, and within every human, there are all sorts of secrets waiting to be discovered. From his impressive bank statement to his tragic backstory, this is the untold truth of Michael Jordan.
He's one of the only billionaire athletes in the world
Handout/Getty Images
As of 2019, the Forbes list of billionaires placed Jordan's net worth at $1.9 billion. Those numbers are every bit as impressive as those he posted during his playing days, and they also make him one of the richest people in the US. What's even crazier is that he's made almost all of that off the court. According to Business Insider, Jordan earned $93.8 million in NBA salary, with $63.3 million of that coming in his final two seasons with the Chicago Bulls. The rest came from a healthily diversified portfolio of endorsements and business holdings.
Although there's almost nothing his likeness wasn't tied to at one point, some of his most lucrative endeavors include his long-standing endorsement deals with Hanes, Gatorade and Upper Deck trading cards. Plus, there's his ownership of the Charlotte Hornets, which he bought in 2010 for $275 million. They're now worth over $1 billion, and Jordan retains 90 percent ownership. Of course, his partnership with Nike for Air Jordan still makes him more than $100 million a year in royalties, which is more than LeBron is making between NBA salary and endorsements. More importantly, Jordan is one of just 13 black billionaires in the world and the first American professional athlete to ever hit that milestone, proving to fans that anything is possible.
Michael Jordan once had varsity blues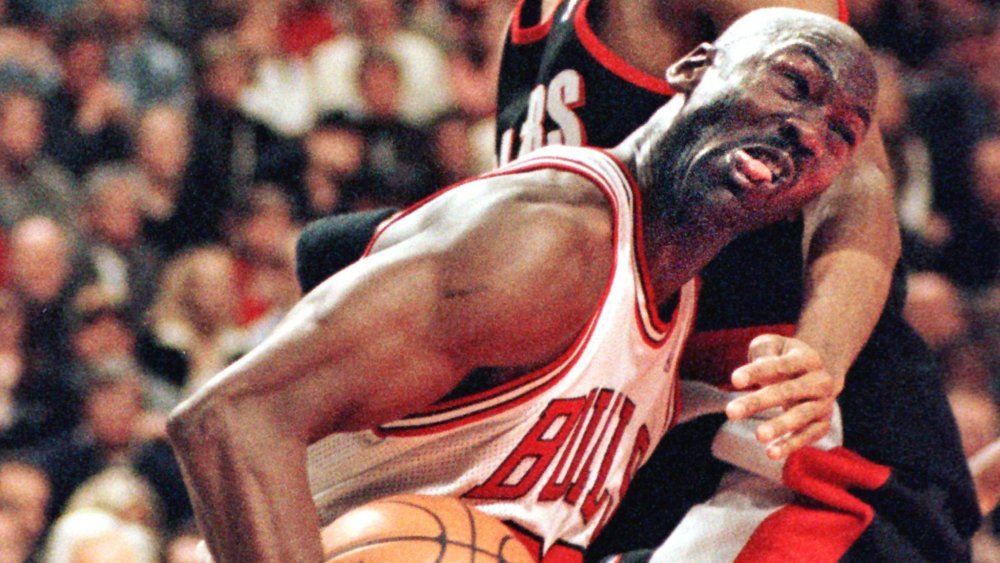 Vincent Laforet/Getty Images
When you think of a sporting god like Michael Jordan, it's easy to imagine that he emerged fully-formed straight out of the womb — a hulking basketball deity since his diaper days. But Michael's early years were anything but glorious. In fact, his childhood was spent trying to keep up with older brother, Larry, and he didn't make his high school varsity basketball team until his junior year.
According to Newsweek, in 1978 he was "just another kid in the gym … trying out for the Emsley A. Laney High School varsity basketball team." Jordan was 5'10", and he wasn't physically impressive enough to secure a roster spot. Jordan would later say that not making the team was "embarrassing," and that night, he went home and cried. However, his tears soon turned to resolve. "Whenever I was working out and got tired and figured I ought to stop, I'd close my eyes and see that list in the locker room without my name on it," he said. "That usually got me going again."
That year he put up 40-point games and drew crowds for his JV performances. Biography.com says he returned for his junior year 4 inches taller and with a better skill set, going on to become the team's star player and catching the attention of University of North Carolina, where he would eventually rise to national acclaim.
He was born a gambling man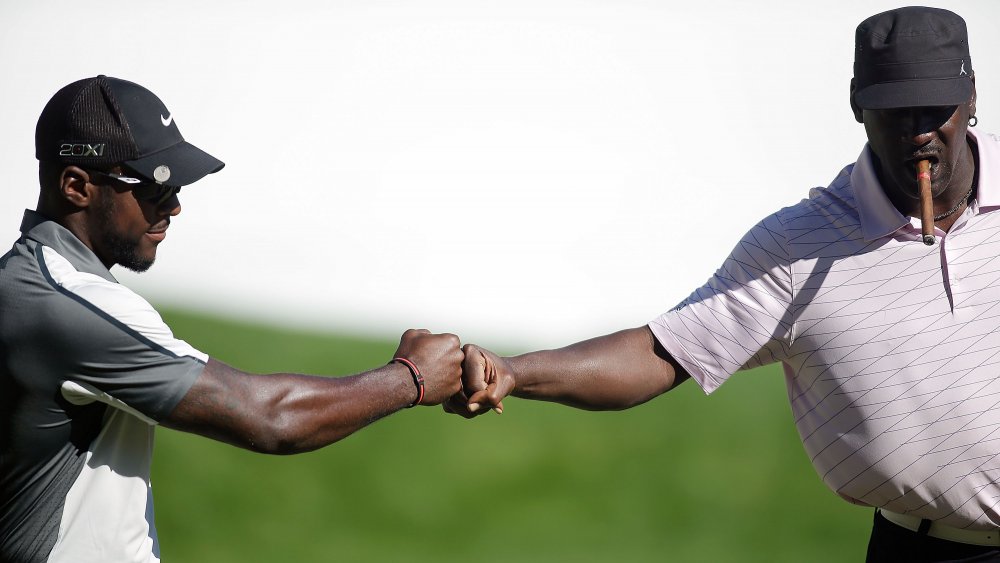 Isaac Brekken/Getty Images
An ESPN article detailing Jordan's legendary gambling habit begins, "There's a famous gambling story about Michael Jordan. Actually, there are many famous gambling stories about MJ …" The story in question involves Jordan bribing an airport baggage handler, then betting the Bulls that his bags would come out first. After half the team took his odds, he cackled all the way to the bank. The bet probably won him a few hundred bucks — all good fun in the ranks of millionaire sportsmen — but his gambling may have had far greater consequences, with some arguing his first retirement was actually a cover-up for a gambling suspension.
According to Bleacher Report, Jordan was involved in an NBA investigation shortly before he announced his first retirement, fresh off winning the league championship for the third year in a row. Considering he was still in his physical prime and generally hellbent on winning, this was an odd time for a retirement. Amid allegations he lost over $900,000 in gambling to one person, the fact that he had to testify why a drug dealer had a check from Jordan for $57,000 (for gambling), and that he was seen in an Atlantic City casino the night before an Eastern Conference Finals game, well, it wouldn't be too surprising if Jordan's "retirement" was a deal struck with league commissioner David Stern, allowing him to preserve his image and the billions of dollars attached to it.
Michael Jordan's dad was murdered, and it changed his life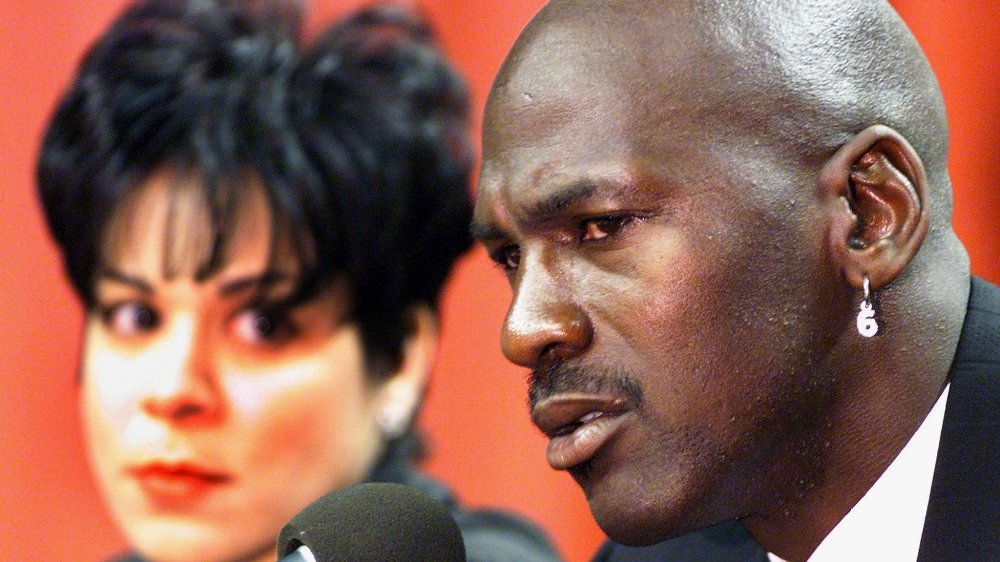 Jeff Haynes/Getty Images
While the man is incredibly successful, Michael Jordan's life hasn't been all sunshine and roses. Tragically, his father, James Jordan, was murdered on July 23, 1993, in a botched robbery. "I think about him every day," Jordan said (via the Chicago Tribune). "I'm pretty sure I always will. Every day of my life."
Jordan had just won his third NBA championship in a row, and his father had a flight booked to Chicago the very next day. Unfortunately, he never made it. After being carjacked, shot, and robbed of the championship ring his son had given him, his teenage killers dumped his body in a creek. According to ESPN, Jordan's family was tight-knit, and his father would do anything he could to help Michael out, including remodeling his townhouse while Michael was participating in an All-Star weekend. Even after the money came, the elder Jordan would "never let Michael pay for something [James] could do on his own."
The news of his father's death devastated Jordan, who would end up taking time off from basketball to try his hand at baseball, a move which many believe was made in honor of his father. "It was really his father's dream that he play baseball," longtime coach Phil Jackson observed during his stint, adding, "When his father passed away, I think Michael was kind of living out his father's dream."
Even the most superhuman of athletes has a mother and a father, and in the case of Jordan, losing his dad profound impacted his life.
He almost went pro in baseball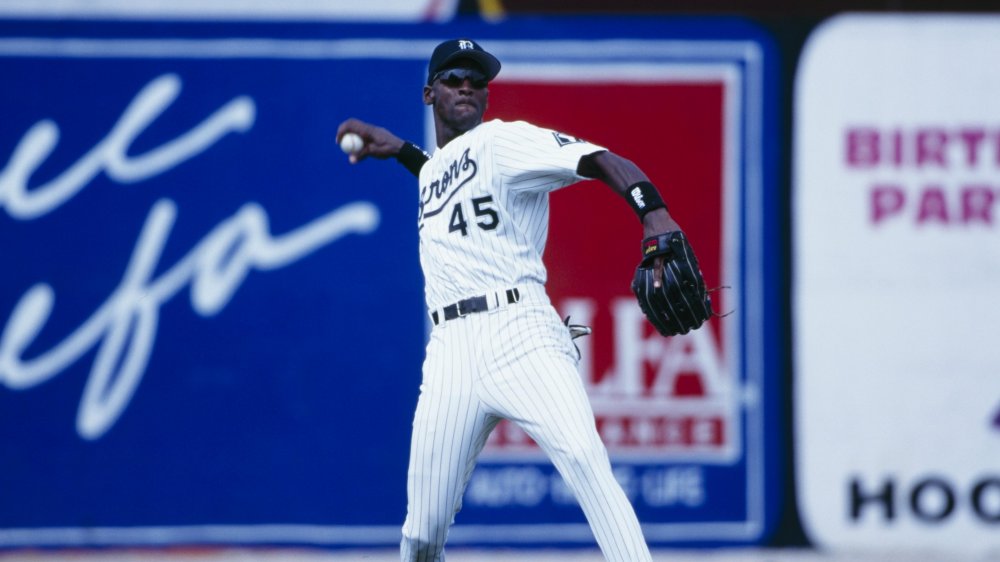 Jim Gund/Getty Images
In 1993, the greatest basketball player of all time quit playing directly after winning three NBA championships in a row. At 30 years of age, he had another ten years of NBA viability left. So why quit? To play baseball, of course.
It was more than a flight of fancy for Jordan. According to his agent, there was a clear, simple reason. "His dad had died," David Falk, Jordan's agent, said to MLB.com. "And his dad had always wanted him to try to play baseball."
So in 1994, instead of lacing up his Air Jordans, he threw on cleats and reported to the Chicago White Sox's AA squad, the Birmingham Barons. Spoiler alert: He hit .202 that season and would return to basketball the following year (winning three more NBA titles in a row). While history looks back on his baseball days as a lark, it often fails to recognize the improvement Jordan displayed throughout the season. He took batting practice five times a day until his hands were covered in blisters, and he checked his ego at the door. For some, including World Series-winning manager Terry Francona, had Jordan stuck around longer, he would've been able to make it to the majors.
"He had it all," Francona said to ESPN. "Ability, aptitude, work ethic. He was always so respectful of what we were doing and considerate of his teammates. … I do think with another 1,000 at-bats, he would've made it."
The man is a trendsetter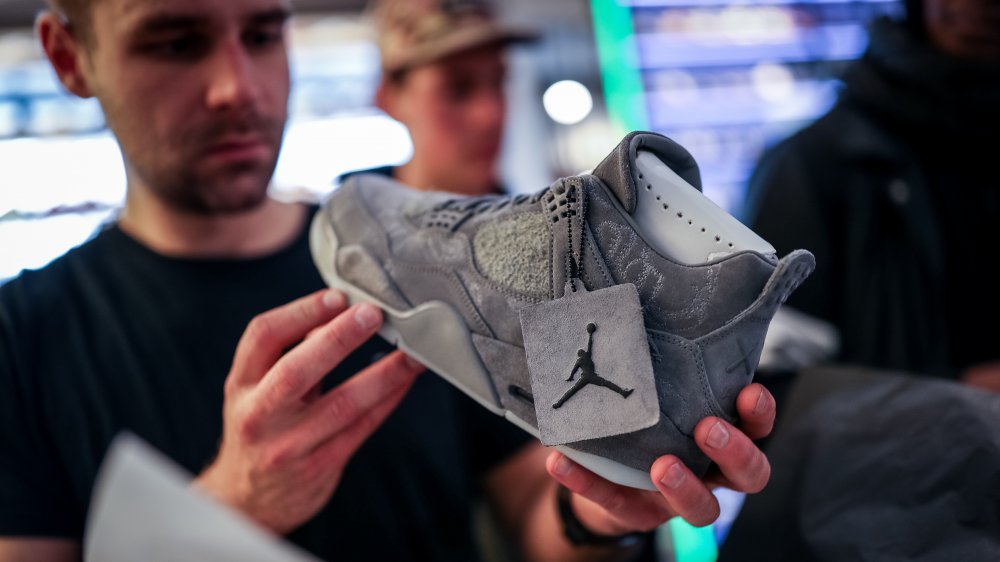 Maja Hitij/Getty Images
MJ's cultural influence can sometimes be overlooked by those focused on the finer points of his life. He was the first to wear baggy shorts in the NBA, saving generations of children from having to see the bulges of giants. He popularized the "stuck-out tongue," and his ownership of the chrome dome look made it a viable hairstyle even for those who weren't balding. Similar to how his arm extends for the winning dunk in Space Jam, Jordan's legacy extends much further than the realm of basketball.
For example, Jordans have become the gold standard for shoe collectors, and when they came out, they were the most expensive basketball shoe ever made. Just to wear them, Jordan had to pay a $5000 fine per game. Decades later, they're as relevant as ever, with the instantly recognizable Jumpman symbol providing fodder for the 5x platinum song by Drake, titled "Jumpman."
Consider the fact that in 2019, he stands to make $145 million, according to Forbes — more than all of his NBA salaries combined. About $130 million of that comes from his cut of the Nike Jordan Brand. To quote GQ, "Without Michael Jordan, there is a toupee industry. Without Michael Jordan, there is no sneaker industry. And the streetwear movement that has journeyed from asphalt basketball courts to Paris runways would never have been the same without number 23." In other words, the man knows how to launch a trend.
Michael Jordan gives away a lot of money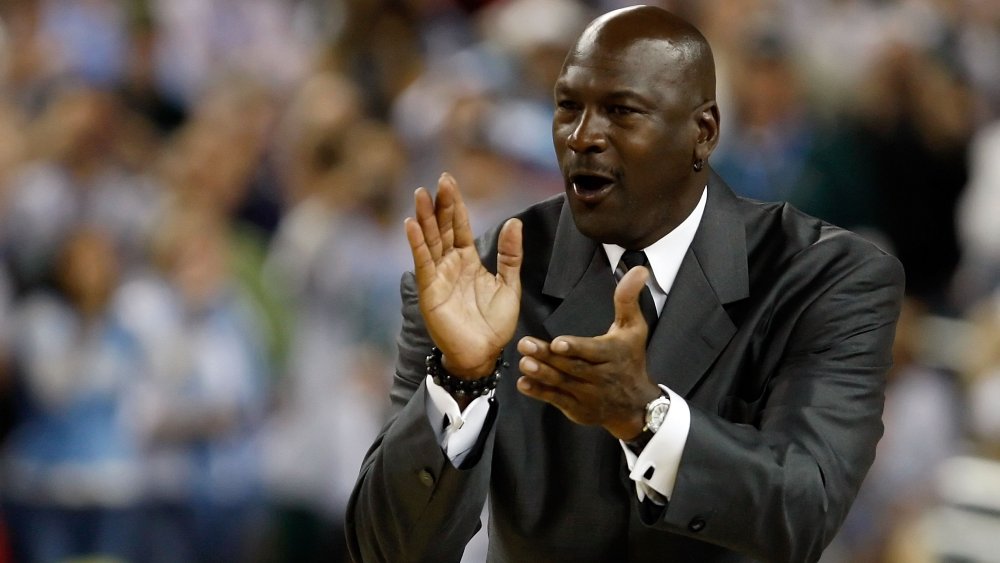 Streeter Lecka/Getty Images
He may be a billionaire, but his Royal Airness is no stranger to parting with his money in the name of a good cause. Though some may criticize the proportion of his giving in comparison to his extreme wealth, the NBA's long list of Jordan's philanthropic acts tells the tale of equally symbolic and financial contributions that seem to be guided by emotion.
Take for example, his highly publicized return to the NBA to play for the Washington Wizards in 2001 after acting as the team's president of basketball operations and part-owner. The American Special Forces Press Service reports that Jordan negotiated a $1 million dollar salary and promptly donated it all to families of 9/11 victims, offering no interviews out of respect for those involved. Between the donation and the desperate spot the Wizards were in, the highest-paid athlete of all time basically played a season for charity.
But that donation pales in comparison to recent endeavors, such as Jordan's $7 million contribution to build health clinics in at-risk areas of Charlotte, North Carolina. When the first of the clinics opened in 2019, Jordan delivered a tearful yet un-memeable speech. According to Forbes, Jordan was moved to make the donation after reading a report from the Equality of Opportunity project.
In another win-win scenario, Jordan won an $8.9 million settlement from supermarkets Dominick's and Jewel-Osco for unauthorized use of his name in an advertisement. This time, he donated his winnings to 23 Chicago nonprofits devoted to helping Chicago kids, according to the Chicago Tribune.
His trash talk could ruin careers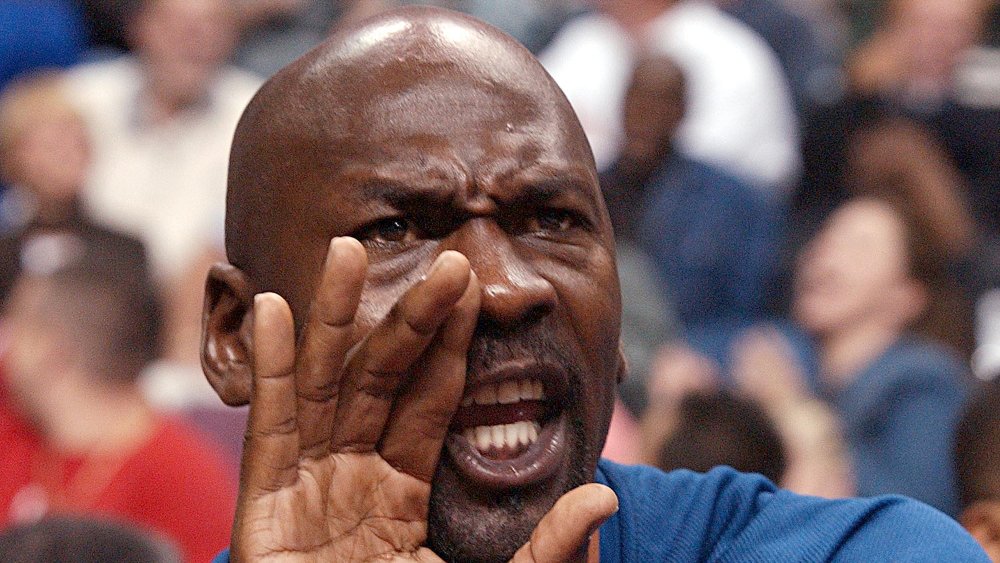 Jeff Kowalsky/Getty Images
Almost everyone who played with Jordan can recall a moment where his competitive drive forced them to change their undies. Many of these tales have been retold until they've evolved into larger-than-life, mythical legends. The stories of his pathological desire to win are nearly infinite, and here's a good example — the story of how MJ "ruined Muggsy Bogues' career" with a few choice words.
According to Deadspin, the story goes that during a 1995 playoff series, the Bulls faced Bogues and the Charlotte Hornets. On the biggest possession of the game, Muggsy had the ball with the Hornets down by one point. Jordan backed off of him and said, "Shoot it, you f*****g midget." He missed, the Hornets would go on to lose, and Bogues would allegedly tell former Bulls assistant coach Johnny Bach he believed that single play ruined his career. While there's no way of truly verifying this story, the numbers do agree. Bogues would average just 5.9 points per game for the remainder of his career after three straight years of putting up double-digit points.
Business Insider says that not even the president of the United States was safe. Once, when playing golf with Bill Clinton, Jordan called him out for not playing from the furthest-away tees, asking, "You're going to play from the little girls' tees?" Legend has it that Clinton then shot back with a clever, "It depends upon what the meaning of the word 'play' is." (Okay, not really.)
His only film saw 'looney' success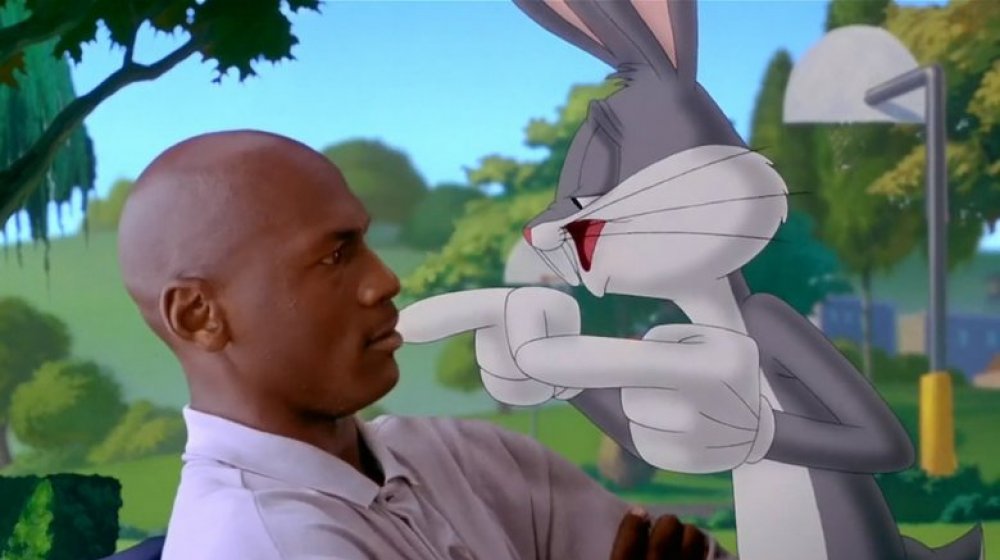 Leave it to Michael Jordan to make a Looney Tunes/basketball mashup the most popular, highest-grossing basketball movie of all time. According to The Washington Post, Space Jam pulled in more than $90 million at the domestic box office and $230 million worldwide. But the merchandise sales were even more looney, raking in over $1 billion in retail sales. 
Jordan and Bugs Bunny had actually worked together before the making of Space Jam. They partnered for a successful ad campaign titled Nike "Hare Jordan." (Those ad execs is clever, ain't they?) The original ad ran during the 1992 Super Bowl, featuring the pair balling out on the court and laying waste to challengers in ways that only a rabbit could get away with. The six months and $1 million it took to create the ad would end up being well worth it, and it seems Bugs Bunny could sense it. At the end of the ad, he quips, "This could be the beginning of a beautiful friendship." 
Space Jam was much more than just a movie. It was a pioneer in integrated product placement, and a visionary film in leveraging the potential of the Internet. Despite its 1996 launch, Space Jam had a dedicated website years before it would become a standard Hollywood practice. It was hardly noticed at the time, but it's managed to live on as one of the best time capsules of early web design, according to Rolling Stone. 
Where there's smoke, there are Westerns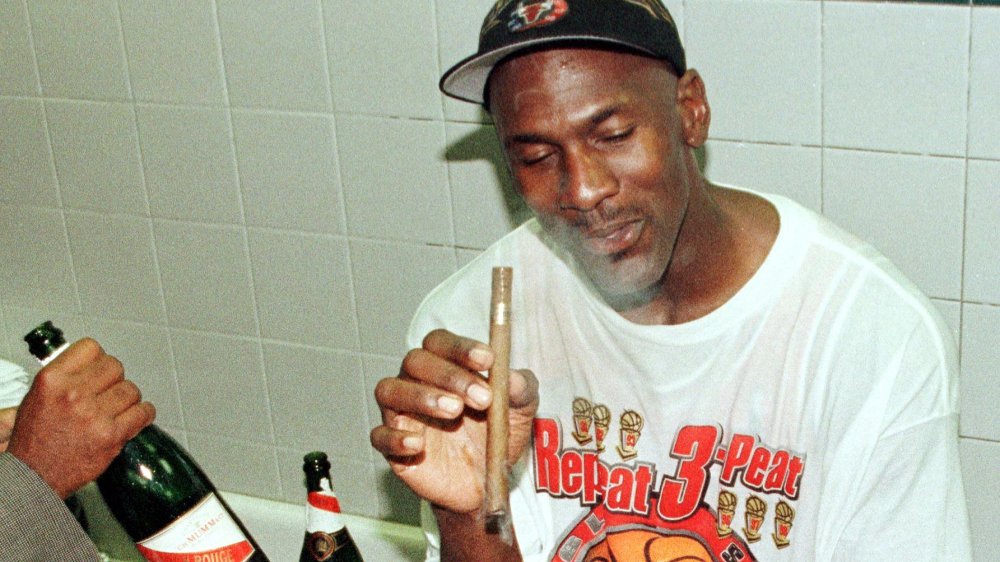 Mike Nelson/Getty Images
For all his fame and fortune, Michael Jordan is still a man with straightforward interests. Among two of his favorites are cigars and … Westerns. That's right, after a long day of slaying competition, there's nothing Jordan loves more than curling up to watch Gunsmoke in a cloud of cigar smoke. Touchingly, Jordan's fascination with Westerns comes from a childhood bonding with his father. "The thing we'd do," he told ESPN, "we'd stay up all night and watch cowboy movies. Westerns."
Jordan hasn't lost the habit, and an employee of his joked that she'd rather fly commercial than on Jordan's Gulfstream because of the non-stop Westerns shown during flights. Apparently his all-time favorite is The Outlaw Josey Wales.
As for cigars, Jordan told Cigar Aficionado that his very first came after winning the 1991 NBA championship, which might explain why you can buy a pair of "Air Jordan 7 Cigar or Champagne" shoes. He soon took up smoking them while stuck in traffic on the way to home games in Chicago, which could take a stressful 90 minutes. Cigars helped Jordan relax, and they soon became a ritual before every home game. His favorite? Partagas Lusitanias, which Cigar Aficionado says is "one of Cuba's iconic and classic cigars."
The king of link building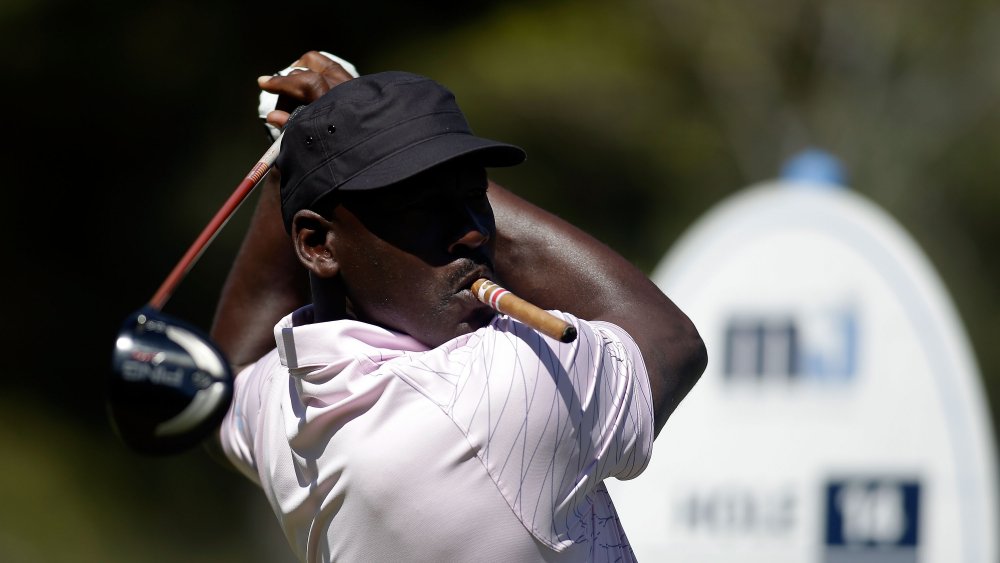 Isaac Brekken/Getty Images
As a born competitor and someone who qualifies for senior discounts, golf is perfect for Michael Jordan, and he plays it often. Even in his prime, he loved hitting the links and fixing any divots that happened to appear. According to Golf Digest, he got married on a golf course, he's got his own personalized golf cart, and in true Jordan fashion, he loves nothing more than to bet exorbitant sums on matches. 
He once won $500 cash on an impromptu bet with a fan, and he once lost $1.25 million over ten days of golf betting with a friend. He allegedly played 36 holes in Barcelona before hopping on the court with the Dream Team for the 1992 Olympics, and he supposedly awoke Dream Team coach Chuck Daly by pounding on his door, demanding a golf rematch until he agreed to play him again. Daly relented, and Jordan won.
Jordan loves golf so much that he's even opening his own exclusive course in South Florida, according to Golf.com. There's no expected completion date set, but it will be called Grove Golf Club, and it's expected to cost between $15 and $20 million. Funnily, when plans for the course were first announced, Jordan had reportedly been frustrated with the speed of play on other courses, and figured owning his own course would be the easiest way to play more. It's also just a great way to offset his golf betting habit.
Michael Jordan will put his name on everything … almost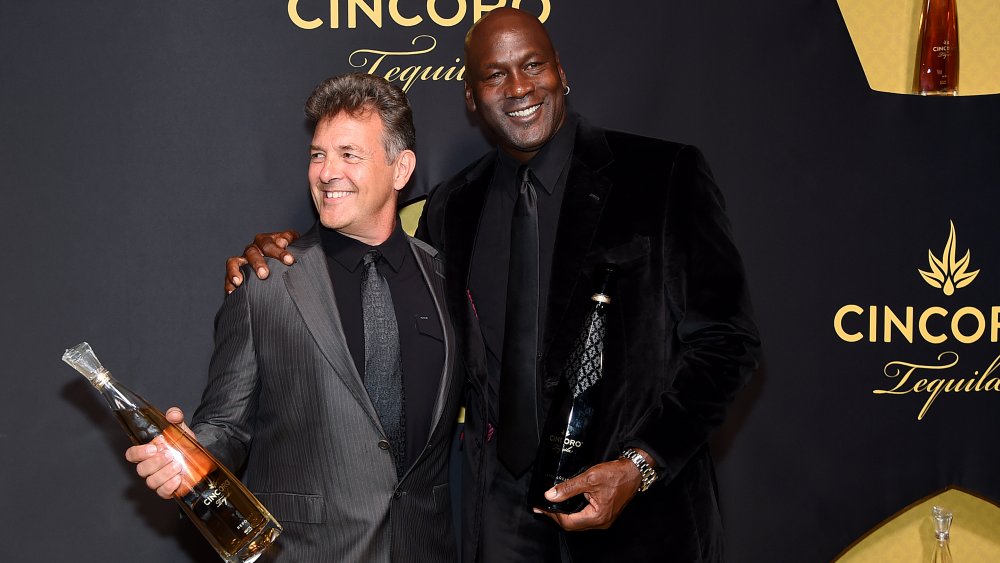 Jamie Mccarthy/Getty Images
The Jordan name has spurred billions of dollars of commerce. In fact, his net worth of $1.9 billion is higher than the GDP of around 20 countries, according to Statistics Times. Much of that wealth has come from his main squeeze, the Nike Jordan Brand, but in his prime, Jordan had his face on everything. However, even for him, there were limits. Sports Illustrated quotes a 1992 interview with Playboy, describing just where his line was drawn — at Beanee Weenees. "You ever heard of Beanee Weenees pork and beans? It was close to a million bucks a year. I'm saying, Beanee Weenees? How can I stand in front of a camera and say I'll eat Beanee Weenees?"
You can't pay Jordan a million bucks to talk about a big name in the pork and beans industry, but you can definitely pay him to talk about Hanes, which he's been doing for over 30 years. If you think hard, you can probably conjure up a memory of Jordan looking like Mr. Clean with a pristine white tee and possibly wearing his notorious "Hanes Hitler mustache." That commercial, which also coined the term "bacon neck," ended up boosting sales for the brand, according to CBS.
Jordan's had endorsement deals with McDonalds, Coca Cola, Upper Deck trading cards, Gatorade, Wheaties, and a dozen others according to Forbes, while also selling his own cologne, tequila and steak sauces, which probably go well with bacon neck.