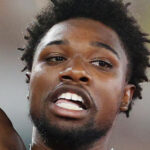 The Untold Truth Of Noah Lyles
echo get_the_meta(); ?>
With the 2021 Tokyo Olympics rolling around, after an unprecedented one-year pause while the world faced the hurdles of the COVID-19 pandemic together, eyes are turning to the athletes. People want to know all the important questions. Do they eat pineapple on pizza, Fruit of the Loom vs. Hanes briefs, that sort of stuff. And, of course, all the other details that make the heroes of athletic competition interesting and real. Team USA sprinter Noah Lyles has shared plenty of these kinds of details that help keep us interested.
Not all athletes are created equal. Some are forged through trials and hardships; others are born gifted. Regardless, competitors at the Olympic level have had to hone their skills over years and sometimes decades of focused effort. But even then, with a lifetime of athletic achievement under Lyles' belt, sports aren't the only thing to make up his person. The Olympian even has a nerdier side.
Already on track to be faster than Usain Bolt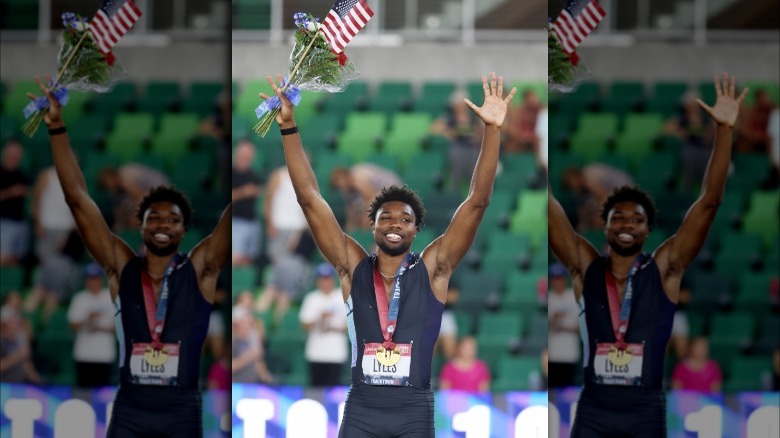 Andy Lyons/Getty Images
Usain Bolt is a legend. As Britannica points out, the Jamaican runner took home the gold for both the 200-m and the 100-m in three straight Olympics. This is pretty much unheard of and is one of the reasons he's generally thought to be the best sprinter in the world, not to mention all of the gold medals he's won in world competitions and records he's set since his feet first hit a track. But according to the Official Olympics website, USA sprinter Noah Lyles is already on track to become faster than the legendary Bolt — that is, if Lyles progresses at the same rate.
Lyles had the fastest qualifying time out of all the 2021 Olympians competing in the 200-m, making the sprint in 19.5 seconds. His 100-m sprint was no dilly-dally either, though he barely fell under qualification for this event. Bear in mind that his 19.50-second sprint makes him faster than Usain Bolt was at that age — 22 years old. If Lyles keeps pushing himself and training hard — and he's sure to, with his determination — there's no reason why he couldn't surpass Bolt to become the greatest sprinter alive. Either way, his time in the qualifying event makes him the gold medal favorite this year.
Lyles is huge fan of anime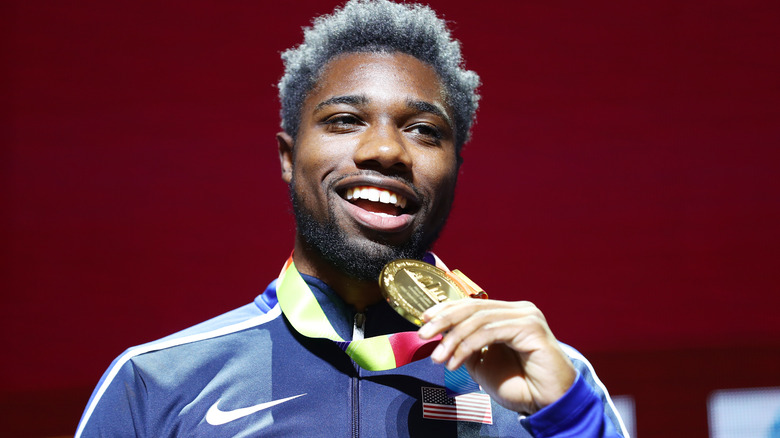 Michael Steele/Getty Images
It's awesome to see an athlete who can walk through different cliques without having to choose. Sure, this is the post-high school world we're talking about, but cliques still happen. A lot of "manly sportsheads" are likely to make fun of a dude who gets down with the nerdier things in life, but no one could rationally do that to Olympian Noah Lyles, who has a deep love for anime.
The runner's affinity for anime came to light when he showed up at the USATF Outdoor Championships with the top of his hair dyed a shining silver color. When asked why he chose that color specifically, according to The Washington Post, Lyles admitted he did so because it was the same color hair the character Goku from "Dragon Ball Z" has in his final form, saying he too was at his "highest state."
During an Instagram live chat, titled "Lunch with Ledecky," where Lyles talked to Olympic swimmer Katie Ledecky, Lyles spoke of his love for both of the popular "Fullmetal Alchemist" anime series and how he'd stay up late nights in middle school reading his favorite manga, "Garden of Eden." So, apparently, the nerdier side of this Olympian has been around as long as his athletic side.
He's open about his mental health issues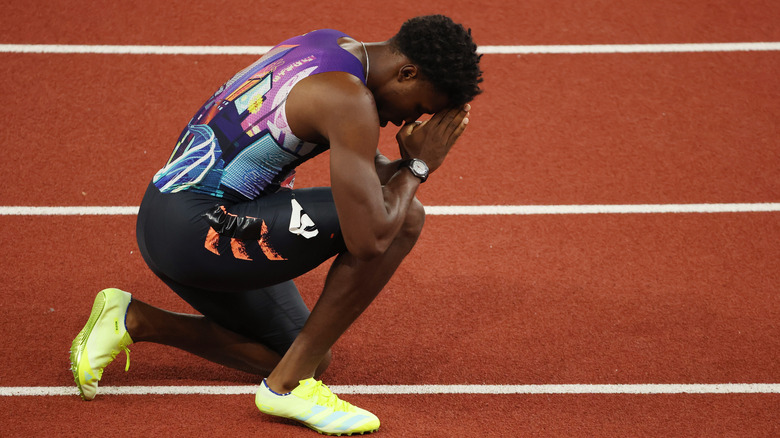 Cliff Hawkins/Getty Images
In a Twitter post from last year, Olympian runner Noah Lyles did something you rarely get to see the most talented do: He spoke openly about his depression. The post was simple but meaningful. Lyles talks about recently starting anti-depression medicine, calling it "one of the best decisions" he's ever made, and how finding treatment for his mental health issues has changed his life. But that's not the only thing that Lyles is open about.
The runner is open and honest about many of the adversities he's faced in his life. During his graduation commencement address, found via The Connection, Lyles discussed having to overcome the severe asthma he was born with in order to be one of the fastest people in the world. He also talked about his issues with ADD, dyslexia, and being bullied by his peers.
When celebrities and high-caliber athletes open up, it helps show the rest of us that the issues we face don't have to hold us back. The more athletes, movie stars, musicians, and other public figures come forward like this, the more the stigma around mental health issues shrinks, opening up the social freedom for people to get help, people who may have otherwise shrugged it off.
The runner is also a musician
Michael Steele/Getty Images
There seems to be a lot of this in sports these days. Athletes with a taste for melody start to drop music either on YouTube or with professional record labels. A prime example of this is Olympic skateboarder Sky Brown and her single "GIRL" (posted on YouTube). Another is Noah Lyles and the hip-hop career he's started on the side.
According to the Team USA website, Lyles picked up a new artistic hobby, alongside drawing and painting, in the form of music. To the runner, this form of expression is to show his emotional side, in contrast to the physical side everybody in the world has been watching for years. Under the moniker "Nojo18," Lyles has dropped at least four singles across multiple platforms such as Spotify and other streaming sites, including "Pain," "PR," "Extrovert," and "Speed Racer."
With sprinting being such a large part of the athlete's life, the sport has infiltrated his lyrics. Themes like training and grinding to the top are a big part of his songs. He even joined up with Olympic pole vaulter Sandi Morris and Baba Shrimps, a pop band from Switzerland, to make the single "Souvenir." The group then performed the song at the Zurich Diamond League meet.
He comes from a family of speedsters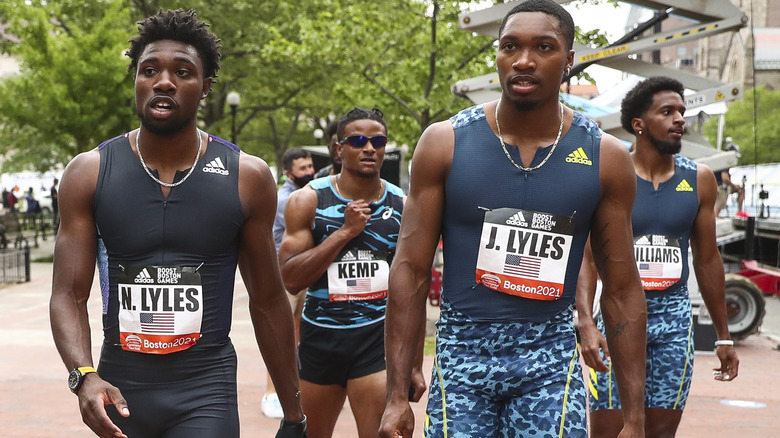 Adam Glanzman/Getty Images
With the type of record that Noah Lyles has and his ability to push his body to speeds that seem absolutely unreal to the average human, it's not surprising that this ability seems to be linked in some way to his genetic code. To begin with, both of his parents competed in Track and Field at the collegiate level back when they attended Seton Hall University, according to The Connection. Then, there's Noah Lyles' brother, who has the potential to be an Olympic speedster himself someday.
Josephus Lyles, Noah's younger brother, competes in the same races as his older brother, but isn't quite as fast — yet. As USA Today notes, Josephus has battled with a mix of health issues and injuries in the recent past, but even so, he trained hard and came out to the Olympic qualifying trials earlier this year, scoring only milliseconds behind his brother in some of the heats. Unfortunately, Josephus didn't quite make the cut and won't be sprinting next to his gold medal champion brother in the 2021 Tokyo Games, but he didn't fall short by much. He was literally one spot away from joining Team USA, which is either more gratifying or more emotionally irksome than landing in the bottom. Luckily, there are plenty of races Josephus can still compete in, and if he keeps training, we might see him striving for Olympic gold someday.