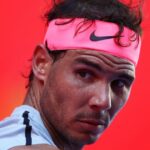 The Untold Truth Of Rafael Nadal
echo get_the_meta(); ?>
Rafael Nadal Parera is one of the most hyped and recognizable athletes the world of tennis has ever seen. The highly decorated Spaniard's name can generally be found on the top spots of ATP rankings, and he has won titles on a reliable basis since 2004. He's one of only two male tennis players to have won the career Golden Slam (all four Grand Slams and an Olympic gold medal) during their singles career, and a virtually guaranteed presence wherever best tennis players of all time are listed.
Nadal has dominated tennis courts for so long that it's easy to forget how little we actually know about the man with such undeniable athleticism. He's a familiar face on the tennis court and billboards, but once you strip away the superstitious rituals before each and every serve, what's left? Here are things you might not have know about tennis great Rafael Nadal.
Broadway musicals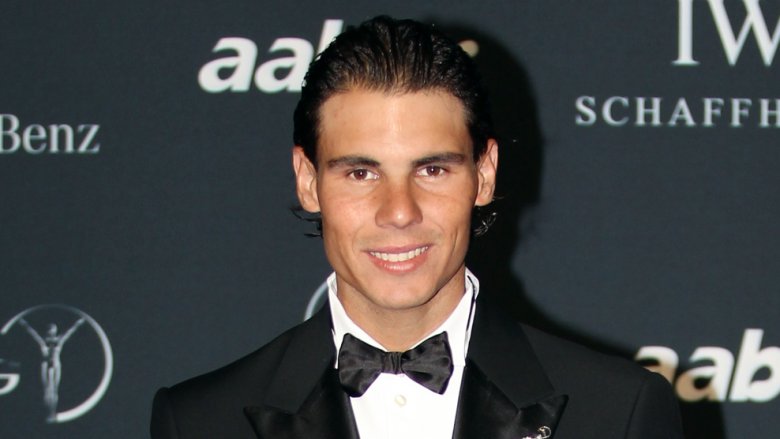 Karim Sahib/Getty Images
What kind of music does an internationally renowned athlete rock out to? In Rafael Nadal's case, it's easy to think the answer would be Shakira, considering he has starred in one of her music videos. However, according to ABC News, the answer is a whole lot stranger. The tennis star actually loves the Andrew Lloyd Webber musical Phantom of the Opera, and particularly its theme song, "The Music of the Night." Vanity Fair reports it's far from the only musical number Nadal is into. Whenever he's in New York, he makes a beeline for Broadway, where he checks out the latest musicals … often more than once. Apart from Phantom of the Opera, which he has seen six or seven times, the athlete's must-see list includes musicals such as Les Miserables,Lion King, and Mamma Mia!
According to Broadway.com, Webber is well aware of his famous superfan and has even (sort of) offered Nadal the opportunity to star in his beloved musical: "He would make a wonderful Phantom. Maybe he can sing!" Webber was almost certainly joking with that comment, but hey, weirder things have happened. And tennis careers don't last forever.
The Federer-Nadal rivalry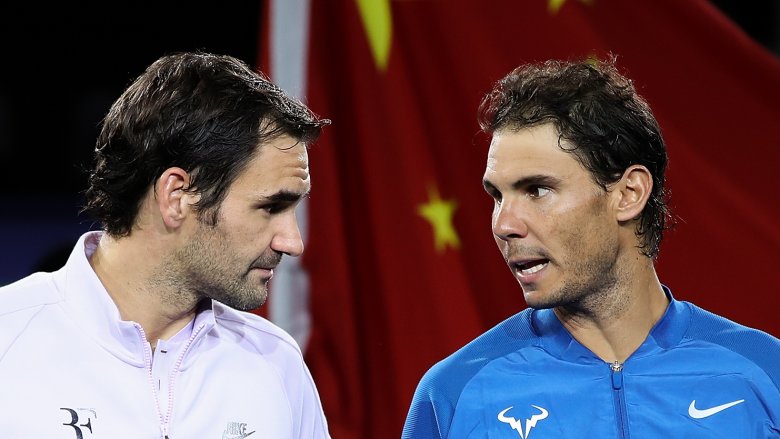 Lintao Zhang/Getty Images
It's impossible to talk about Rafael Nadal without mentioning Roger Federer. ATP Tour calls the long-standing competition between them possibly the greatest rivalry in tennis history, and while Nadal boasts 23 victories against Federer's 15, the feud is still ongoing and the Swiss athlete has dominated in recent years. The matches between the two amazingly gifted, yet vastly different players are so entertaining that tennis legend John McEnroe considers one of their meetups "the greatest match ever played." The 2008 Wimbledon final was a high-stakes match where young Nadal was attempting to win the French Open and Wimbledon back to back, and the World No. 1 Federer was gunning for his sixth consecutive Wimbledon victory. Thanks to several rain delays and both men playing at the top of their game, the clash became an almost seven-hour affair that featured more twists and turns than a Hollywood blockbuster. Nadal won just before the officials had to stop the match because of the darkness.
Of course, the fact that Federer and Nadal have battled each other numerous times doesn't mean they're enemies in their private life. As Federer has repeatedly said, the two have had their differences but have always gotten along very well and respected each other despite (and because of) their rivalry. These days, the two are good friends off the court. They play charity games for each others' foundations, and Federer showed up to help Nadal open his tennis academy.
Geeky hobbies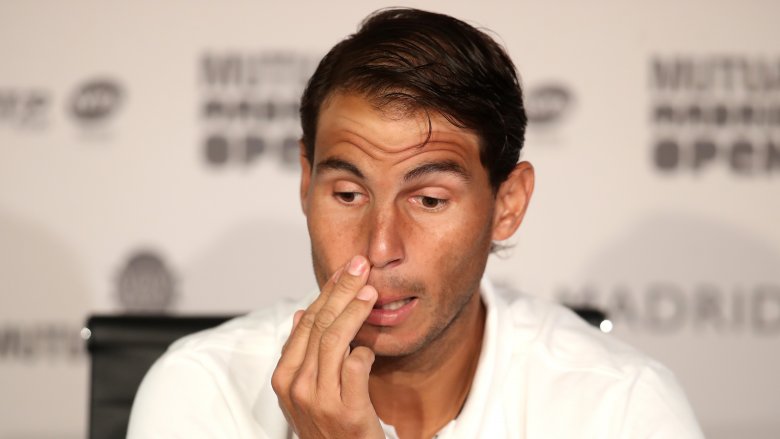 Alex Pantling/Getty Images
Despite his athletic prowess and famous abs, Rafael Nadal has been known to chill out in decidedly slouchier ways than his star athlete status would imply. As the New Zealand Herald tells us, Nadal is a massive video game fan whose gaming habits border on obsessive. He hauls his PlayStation all over the world to keep up with his gaming, and is a particular fan of the FIFA and Pro Evolution Soccer games. According to Kotaku, his PlayStation rivalry with fellow gamer and tennis star Andy Murray has reached such heights that Nadal has even boasted about his FIFA victories in a post-match press conference. Murray claims Nadal is actually a pretty bad at PlayStation and that the Spaniard's co-op partner Juan Monaco carries their team.
To go with his video game obsession, Nadal's snacking habits used to be a far cry from the healthy diet of a professional athlete. According to former player Janko Tipsarevic, Nadal used to go through a full jar of Nutella and over 100 ounces of Coke on a daily basis in the early stages of his career. If that's true, it doesn't seem to have hurt Nadal's career at all.
Nadal the hunk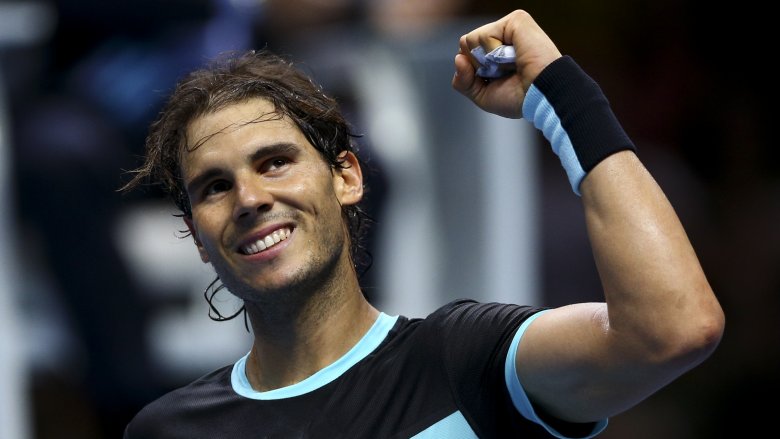 Clive Brunskill/Getty Images
As a good-looking, famous man playing a popular sport, Rafael Nadal has become a fairly sought-after model for the kinds of high-profile gigs that don't require much in the way of wardrobe. As the Daily Beast reports, Nadal has starred in underwear ad campaigns for Tommy Hilfiger and Emporio Armani, and his commercials tend to be a bit on the steamy side. To reinforce his hunky image, in 2010 he starred in the music video for Shakira's "Gypsy." In a curious spin on typical gender cliches, many of these ventures quite happily objectify Nadal, as opposed to ads featuring female tennis players such as Maria Sharapova or Serena Williams, which tend to make a point of showcasing their athleticism.
Sydney Morning Herald reports Nadal is quite comfortable in his role as the Official Hot Tennis Guy, and that he says seeing whistling women snapping photos of him changing his shirt courtside is "a very good feeling." However, according to Elle, his reaction when someone openly compliments his looks speaks a very different language. When Serena Williams jokingly interviewed him at a 2010 charity event, she complimented his body and asked to see his abs. The wide-eyed Nadal was completely caught off guard, blushing and blustering like a schoolboy.
All those pesky injuries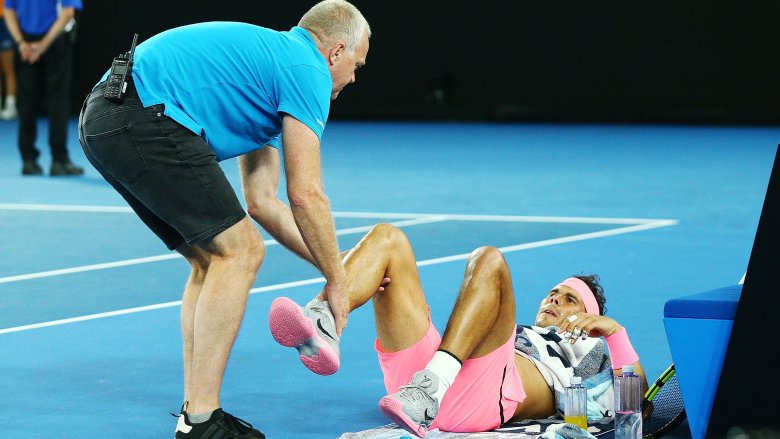 Michael Dodge/Getty Images
Rafael Nadal can beat anyone on a good day, but good days are less common than you would think. Tennis World USA writes that Nadal's considerable success has been overshadowed by a frankly ridiculous number of injuries. In 2003, an elbow injury sidelined the 17-year-old Nadal and prevented him from competing in the French Open. A scaphoid stress fracture followed in 2004 and kept him out of Wimbledon, the French Open again, and the Athens Olympics. In 2005 and 2006, assorted foot and back injuries cost him several competitions, while 2007 brought game-debilitating cramps to his left arm. 2009 came with abdominal issues, 2011 introduced adductor muscle troubles, and 2014 gave him wrist and back injuries. However, the Spaniard's most persistent troubles have been with his knees. Nadal has struggled with knee injuries since 2006, and as the Guardian reports, continues to do so. His knees essentially ruined his 2018 season, and in 2019 he had to withdraw from BNP Paribas Open due to yet another knee injury.
According to Tennis World USA, fitness trainers and fellow tennis pros agree Nadal's physical playing style is the most likely cause of his injuries, especially on hard courts where his energetic movement puts a massive strain on his joints and bones. Express reports that while Nadal believes hard courts are bad for his knees, he feels that playing over 1,100 matches on tours has contributed more to the strain on his body than any individual playing surface.
A family affair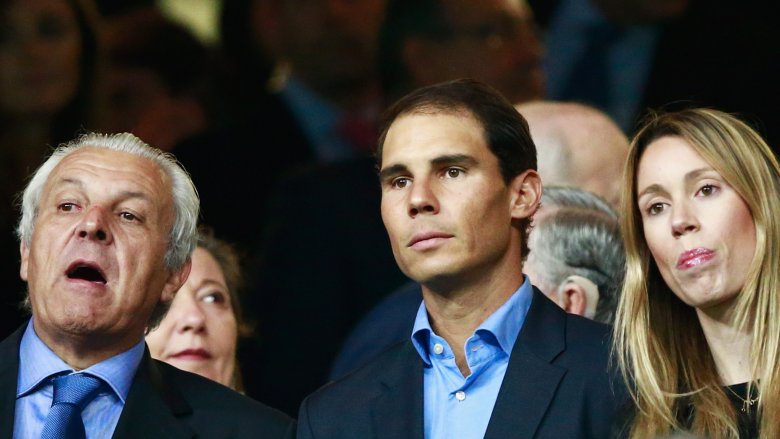 Gonzalo Arroyo Moreno/Getty Images
Rafael Nadal is a very family-centric man. In 2011, he told the Independent he considers his family extremely important, partly because he grew up in a small village in Mallorca and is used to having his relatives around all the time, but also because he dislikes being alone. You know he meant it, too, seeing as he was a superstar playing in Wimbledon yet was happily staying with his in-laws.
Apart from emotional support, his family has also provided him with plenty of genetic talent and experience in performing at the very top. According to Heavy, Nadal's father, Sebastian, is a businessman who owns a window company and a classy restaurant. The tennis star's uncles, Miguel and Toni Angel, are also actively involved in the family business, and it just so happens both of them have experience in high-level athletics. Miguel is a former soccer player who used to play for Barcelona and the Spanish national team, and even played in three World Cups and the UEFA European Championship in 1996. Toni, who Biography notes is a former professional tennis player himself, works as Nadal's coach. Nadal is also close with his younger sister, Maria Isabel, and mother, Ana Maria Parera, who often support him from the stands.
All the Nadals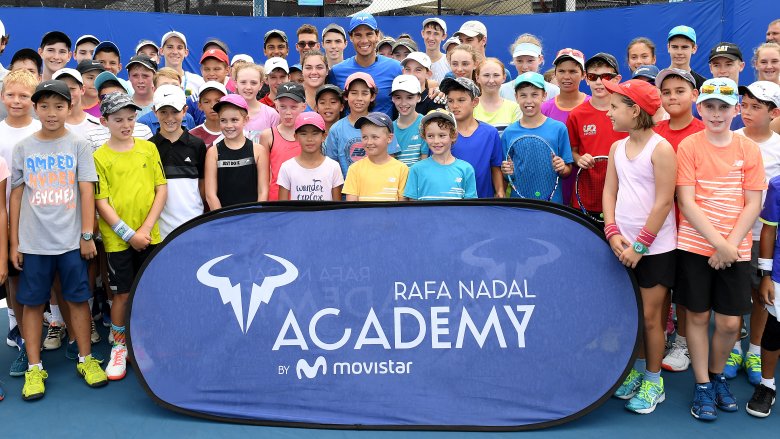 Bradley Kanaris/Getty Images
There are superstar athletes who get statues, or at least wax figures at Madame Tussauds. Rafael Nadal, on the other hand, has displayed a tendency to get all sorts of peculiar things named after him. Some of them bear his name because he played an active part in founding them: As ATP Tour notes, Nadal has his own education-focused Rafa Nadal Foundation (which operates the Rafael Nadal Tennis School in Anantapur, India) and Rafa Nadal Academy, and the Rafa Nadal Tennis Centre in Costa Mujeres, Mexico.
Then there are the stranger honors, like the Rafael Nadal Suite at the Monte-Carlo Bay hotel, and the street the Spanish town of Valladolid decided to name after him in 2017. There's also the Barcelona Center Court, which was renamed Pista Rafa Nadal in 2017 in a move that ATP Tour reports is quite a rare honor for an active player. However, possibly the farthest-reaching honor bestowed upon the tennis star is asteroid 128036. According to Tennis.com, the 2.5-mile-diameter space rock was discovered in 2003 by the Astronomical Observatory of Mallorca, which eventually named their discovery "Rafael Nadal" to honor "one of the greatest tennis players of all time." Now if we could only discover a proportionally-sized asteroid shaped like a tennis racket…
The King of Clay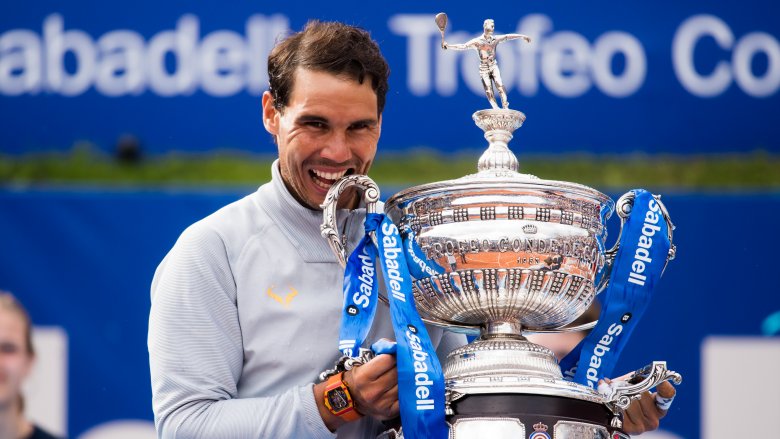 Alex Caparros/Getty Images
As Biography notes, Rafael Nadal is known as the "King of Clay." Regardless of his physical condition, the 17-time Grand Slam champion is essentially the man to beat whenever clay courts are involved, and a sudden rush of articles about his superior prowess on the surface is a telltale sign of an incoming clay court season.
CNN Sports tells us there's a reason for Nadal's dominance on the red rectangle — the Spaniard is seemingly custom-built for it. His particular blend of athleticism, stamina, and speed is a perfect fit for clay courts, along with his skillful footwork and uniquely effective top-spin technique. Is there anything that can take him off his clay court game? According to former Grand Slam winner Mats Wilander, three things need to happen for Nadal to lose on clay: His opponent has to be intimidatingly good, he has to play badly himself, and the match day has to be rainy so that the wet court reduces the effectiveness of his top spin. In other words, you have to somehow play better than the best clay court player of his generation and also hope for a weather-related miracle. No biggie!
The destructive divorce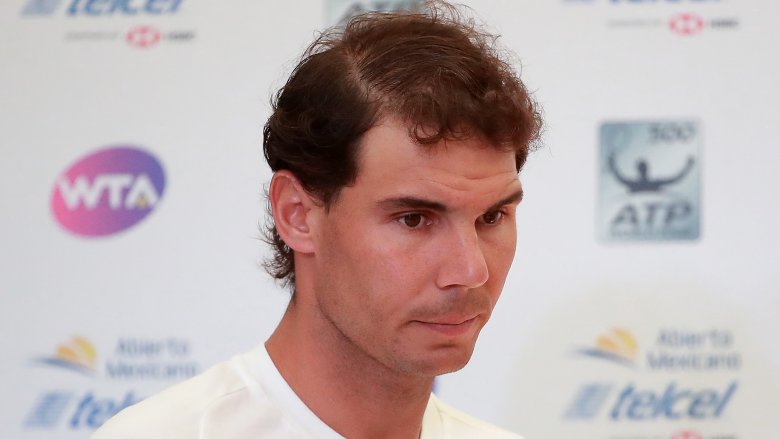 Hector Vivas/Getty Images
Perhaps strangely for a rich celebrity, Rafael Nadal doesn't have any major, well-publicized relationship turmoil weighing him down. Still, this relatively squeaky-clean personal life hasn't saved him from the destructiveness of a divorce scandal — it just wasn't his own divorce.
As Elle reports, Nadal is fond of saying that good health and family are the two things that are most important to him. In 2009, the 23-year-old Nadal was still so dependent on his family and their routines that when they weren't around, he even slept with his lights and TV on … and then, he found out that his parents were getting a divorce. With his parents separating, Nadal's safety net was suddenly taken away, and tabloids all over Europe were loving every minute of the athlete's family falling apart.
Nadal describes in his autobiography how the experience "destroyed" him, his emotional turmoil eating away at his physical condition. He became depressed, cold, and distant. His state of mind started affecting his game, and his knee injuries flared up. As a result, he started losing to supposedly easy opponents and was unable to defend his title at Wimbledon. It took him almost a year to rebuild his composure and win another title.
The hero of Spanish floods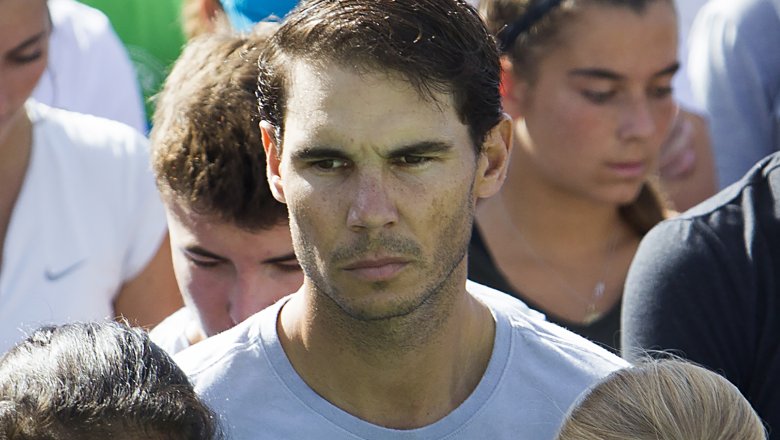 Jaime Reina/Getty Images
In 2018, Rafael Nadal's home island of Mallorca experienced a disastrous storm that the New York Post called "biblical" in size. The storm drenched parts of the island with 8 inches of rain in a matter of hours, bursting a riverbank and causing a flash flood that ravaged two towns and killed 10 people. Instead of resorting to the usual "thoughts and prayers" rhetoric, the tennis ace (who lives just a few miles from the affected areas) rolled up his sleeves and jumped into action. He converted his nearby sports academy to a makeshift shelter for people who had lost their homes, and CNN reported he personally helped out with the cleanup effort by putting on his work boots, grabbing a broom, and cleaning the streets. According to El Pais, he also donated more than €1 million to the victims of the disaster.
The tragedy struck Nadal particularly hard because his mother's family is from Sant Llorenc, one of the flooded towns. Although they all survived the disaster, one of the tennis star's best friends lost a cousin and her young son to the storm.
The low-key relationship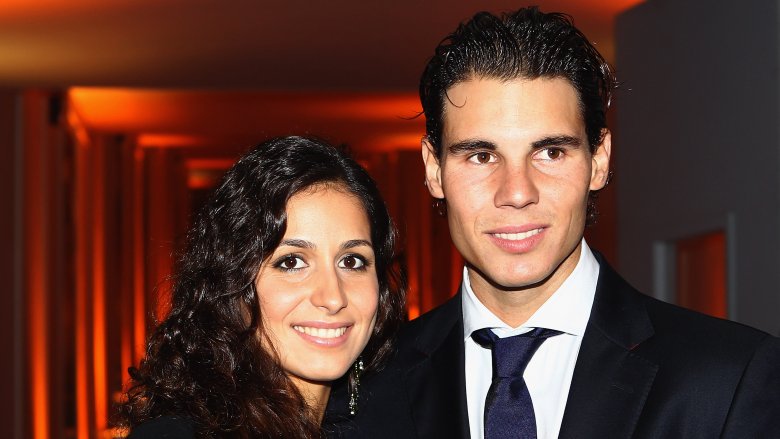 Julian Finney/Getty Images
Like many celebrities, Rafael Nadal likes to keep his personal life pretty private. According to the Telegraph, the athlete has been in a relationship with Maria Francisca Perello since 2005, and Perello says the reason they don't exactly frequent high-society events together is simple: They don't want to. Perello, who has a business degree and works with an insurance company in Mallorca, doesn't like the celebrity side of her whole "dating a sports superstar" gig. She also dislikes the idea of blindly following Nadal around the world, just hanging around without anything to do while he focuses on his games. Even when they are traveling together, she is likely to skip Nadal's sponsor events and other functions that would put her in an arm-candy position. She says giving each other space — for her the freedom to do her own thing, for him the liberty to focus on his career when he needs to — and keeping their relationship low-key is precisely what they need to function, and they wouldn't have it any other way.
According to W Magazine, their approach certainly seems to be working, seeing as Nadal proposed to Perello in 2018. As you'd expect with a couple like that, the media didn't find out about their engagement until several months after the fact.
The early years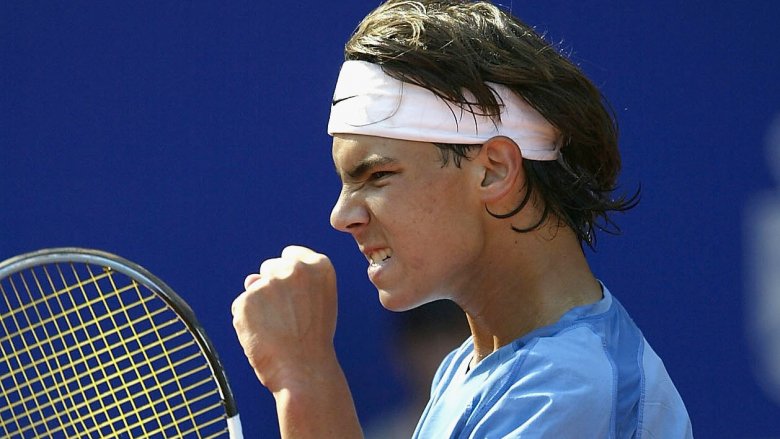 Clive Brunskill/Getty Images
Many people are at least vaguely aware of Rafael Nadal's tennis heroics, but his road to success had started long before he reached adulthood — or, for that matter, even puberty. According to Biography, Nadal started training at the tender age of 3, when his uncle, former tennis pro Toni Nadal, recognized a spark of talent in the boy. To say the training paid off is an understatement: Nadal won a regional under-12 tennis championship when he was just 8, and by the time he turned 12 he was already raking in national and European titles in his age group.
Of course, that was just the light warmup for the impact Nadal made when he turned professional (at only 15, naturally). At 16, the young star made the semifinals of the boys' singles tournament in Wimbledon. A year later, Nadal was in the third round in Wimbledon proper, the youngest man to make it there since Boris Becker. By the time he was 19, Nadal cemented his reputation as a legend by winning 11 singles titles (eight on clay courts), shooting up to No. 3 in world rankings, and earning his famous nickname, "King of Clay." That's right, the kid was already a king before he even turned 20.